K'gari Guide: Camping on Fraser Island & Best Things To Do
If you're looking for an unforgettable camping experience, look no further than Fraser Island (K'gari). This incredible island is located just off the coast of Queensland, Australia, and offers plenty of things to do for visitors of all ages.
In this Fraser Island guide, we'll discuss everything you need to know about camping on Fraser Island, as well as some of the top activities to enjoy while there.
Fraser Island Vs Moreton Island – Which is better?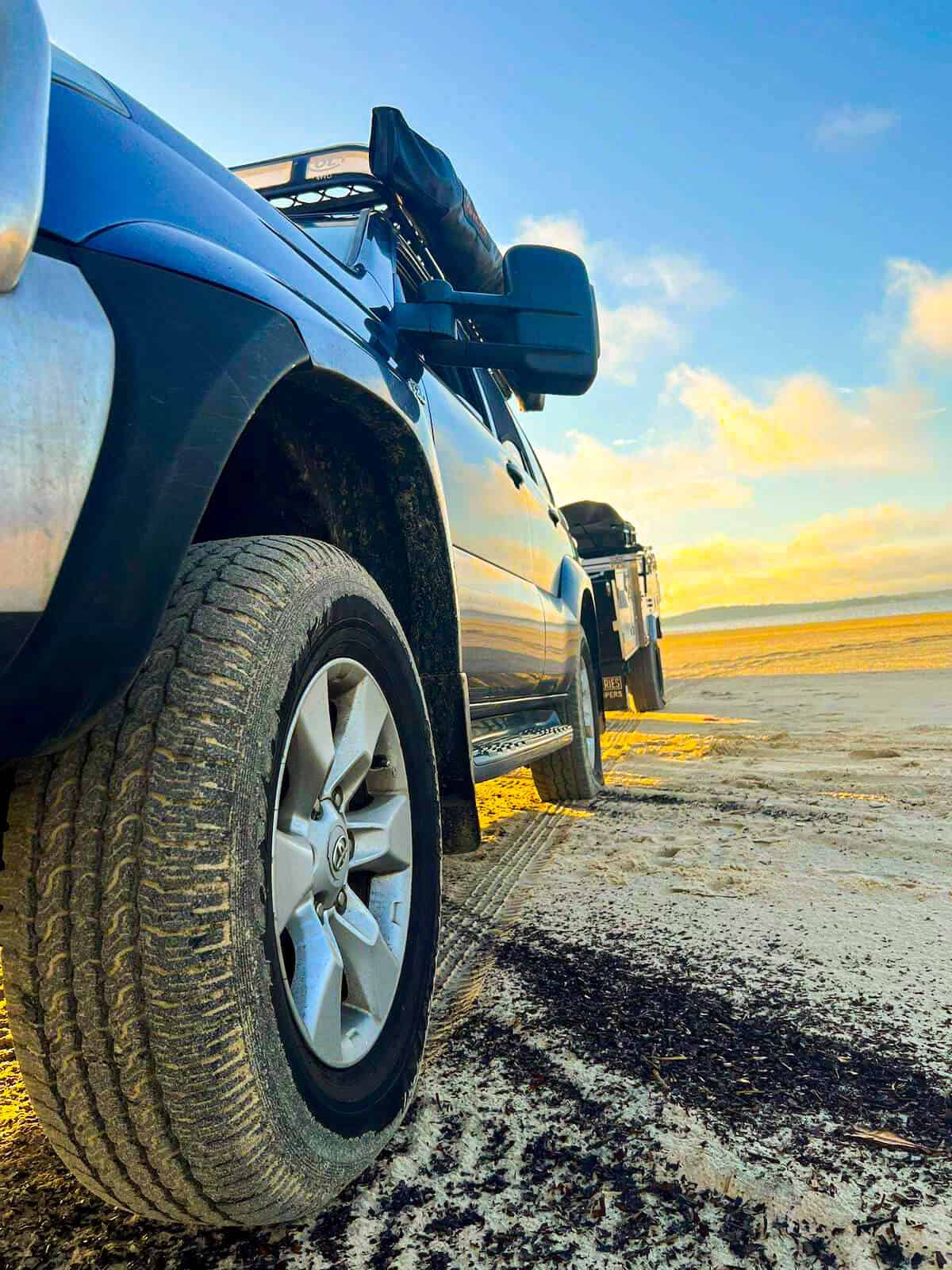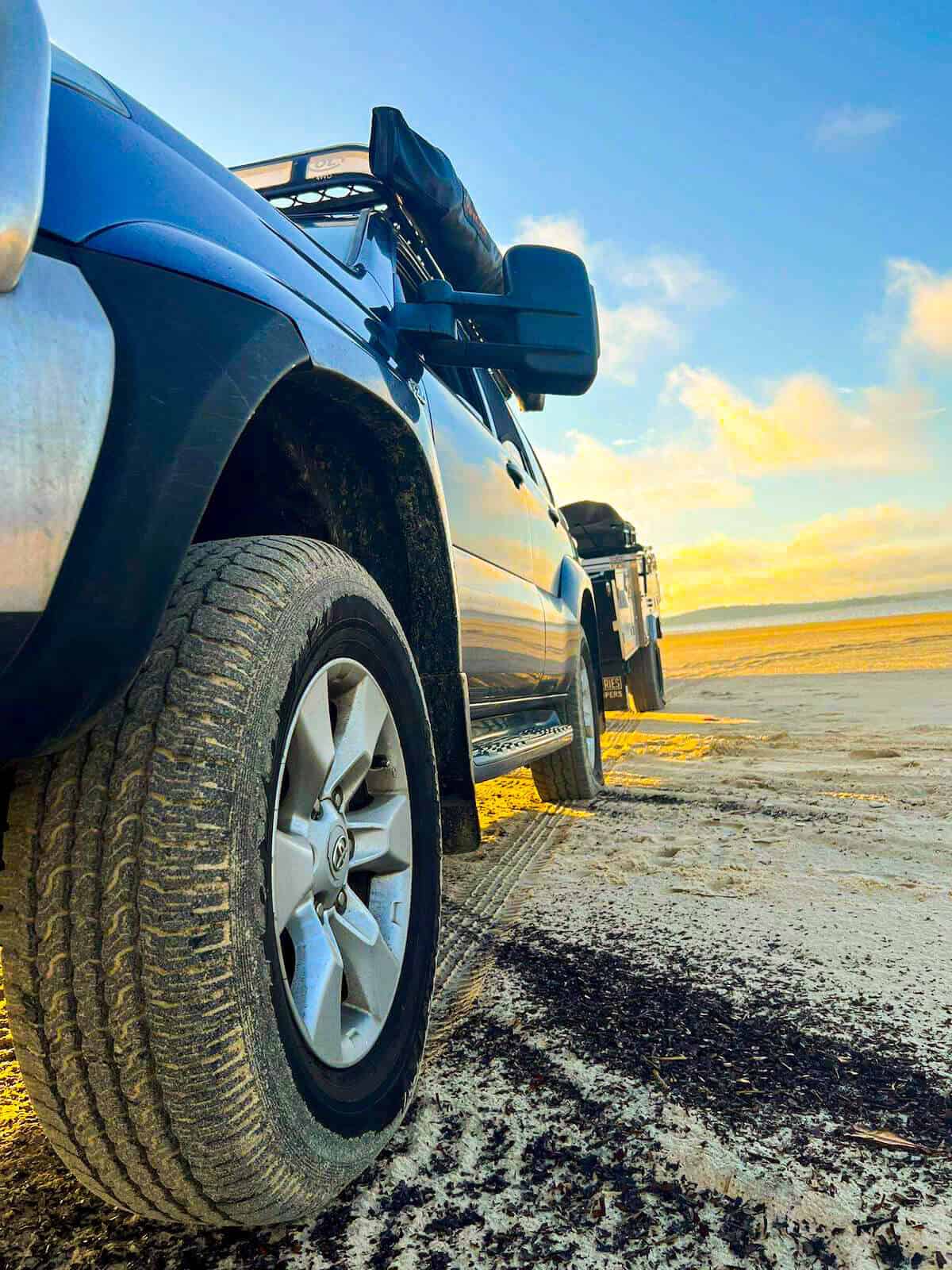 Facts About Magical K'gari/Fraser Island
Before we get into planning your K'gari camping trip, let's explore a little about this beautiful island off Australia.
K'gari is named after a goddess in an Aboriginal Dreamtime story who fell in love with the earth. The definition of K'gari is paradise. And once you spend time on this magical island, you will know why.
K'gari Island is more commonly known by its former name Fraser Island. This beautiful piece of paradise is a World-Heritage-listed island along the southeastern coast of Queensland.
The island is approximately 123 kilometres long and 22 kilometres wide and is the world's largest sand island. It is also a World Heritage National Park!
Fraser Island is part of the Great Sandy National Park, which is a coastal park – Cooloola (between Noosa Heads and Rainbow Beach) and Fraser Island.
How To Get To Fraser Island
Fraser Island is situated off the coast of Hervey Bay, which is about a four-and-a-half-hour drive from Brisbane.
To get to K'Gari/Fraser Island, you can either take a ferry from Hervey Bay or Rainbow Beach. Both ferries will take you to either Kingfisher bay or River Heads on K'Gari/Fraser Island.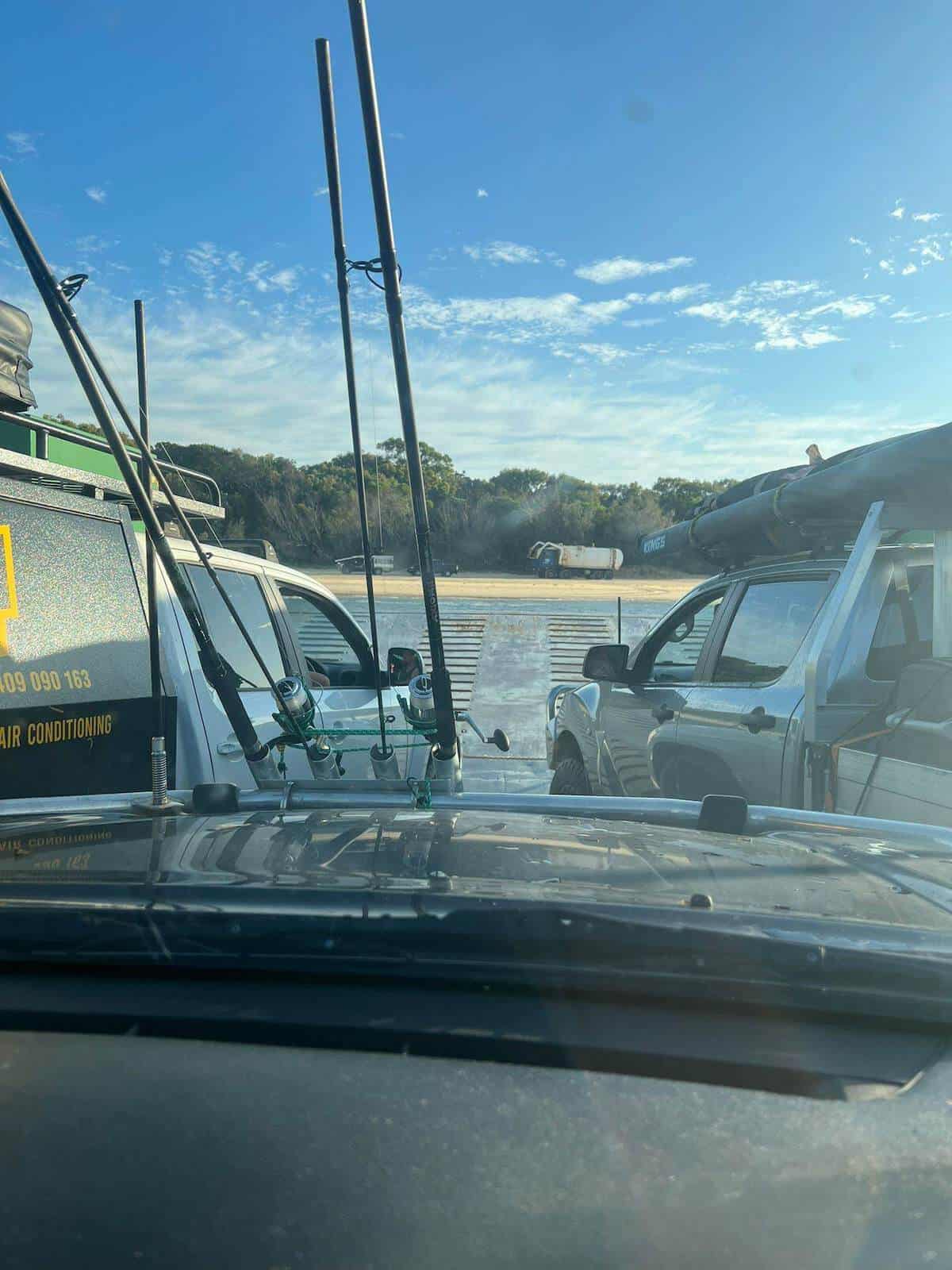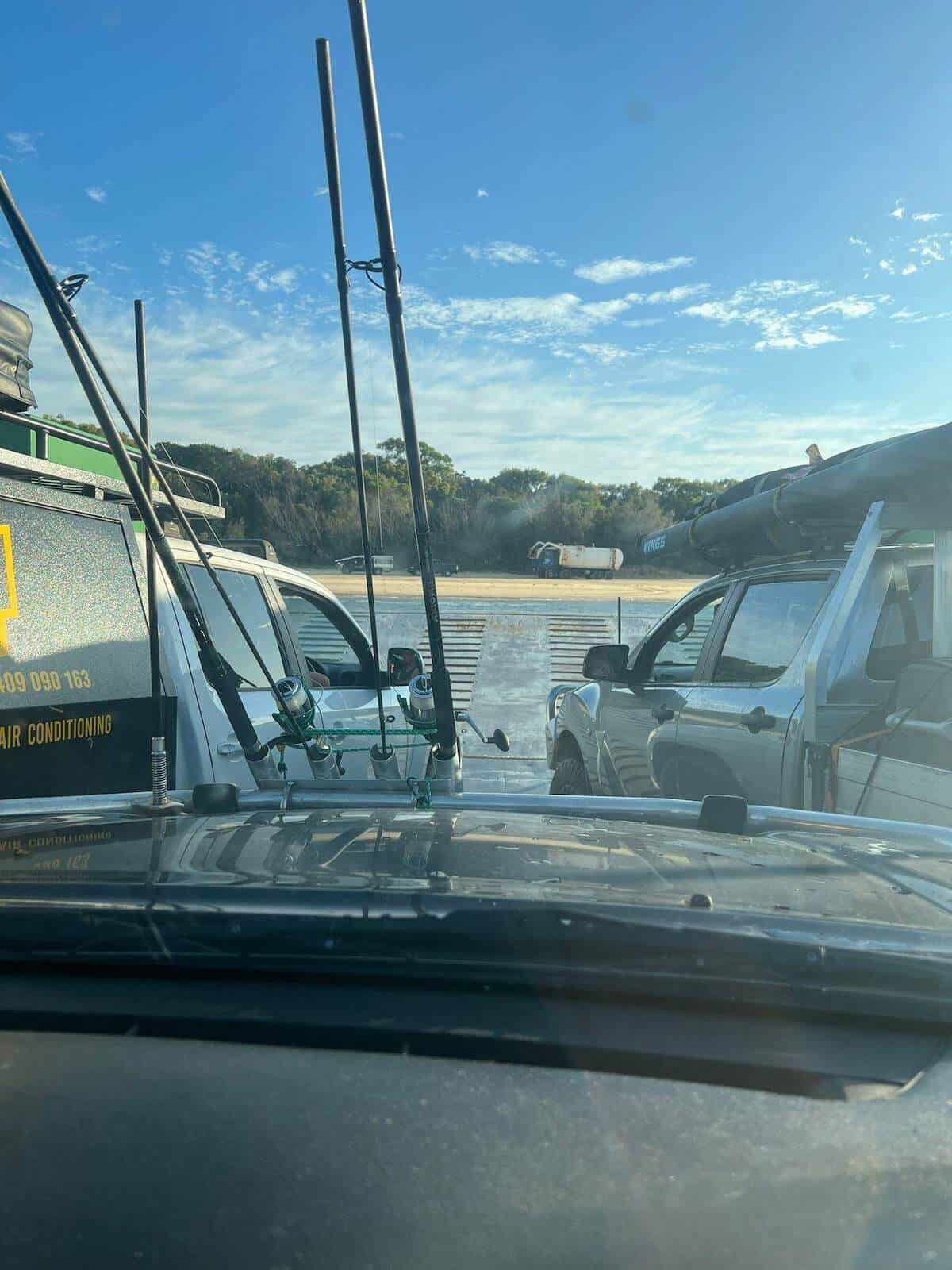 Once you arrive at Fraser Island Ferry
Fraser Island can only be reached by boat or ferry. You can take a ferry from Inskip Point (approximately 25 minutes) or from Hervey Bay (approximately 45 minutes).
Inskip Manta Ray (operating from 6:00 am to 5:15 pm)
Not a great deal of planning is required for the Manta Ray Barge at Inskip, you can pay for your tickets with cash on the day and no bookings are required. The barge arrives and departures every 15 minutes.
Tickets & Fares – Manta Ray Fraser Island Barge
Sealink at Hervey Bay (check the site of the varying operating times)
The Sealink at Harvey Bay has certain availability. For this reason, bookings are required before arrival.
Book K'gari (Fraser Island) Ferry | SeaLink K'gari (Fraser Island)
Camping On Fraser Island/K'gari & Where To Camp
Fraser Island camping is a must! In fact, camping is the most popular way to visit Fraser Island and experience this unique location.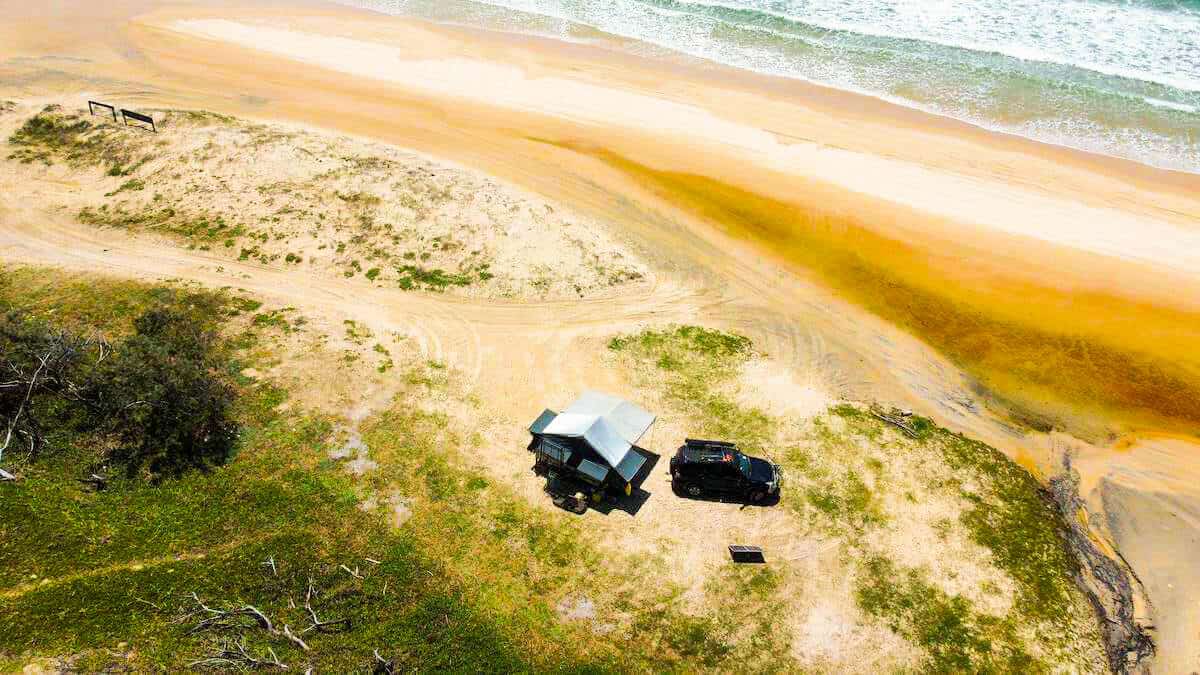 Beach camping can be spectacular with stunning ocean views and camping inland offers a more secluded camping experience (with less sand).
There are many camping spots to explore with varying levels of facilities. During peak season, especially during the summer school holiday season in Australia, camping spots do book out quickly so plan in advance.
National Park Camping
National Park camping requires a printed camping permit visible at the site. You can find out more about Fraser Island camping permits on the Queensland Parks website.
Along the beach camping zones, there are dingo deterrent fences around waste areas. Check out the site to pick your spot.
We personally stayed at Zone 4 at Eli and Zone 7 at Burad. Our favourite spot was Burad.
Fenced Camping Areas
For anyone with young children or hoping to remove the stressors of the dingoes on Fraser Island, they also offer fenced camping sites:
Dunddubara Camping Area
Lake Boomanjin Camping Area
Wongai Camping Area
One Tree Camping Area
Central Station
Cornwells Camping Area
Waddy Point Top Camping Area
Cathedrals on Fraser Island
Why We Picked Fraser Island For Camping
After our Far North Queensland honeymoon, we had the travel bug, especially for crisp white sand and rainforests. For our first wedding anniversary, we were stuck between Moreton Island and Fraser Island.. we decided on Moreton as our first Island trip as we figured closer to home was the best option!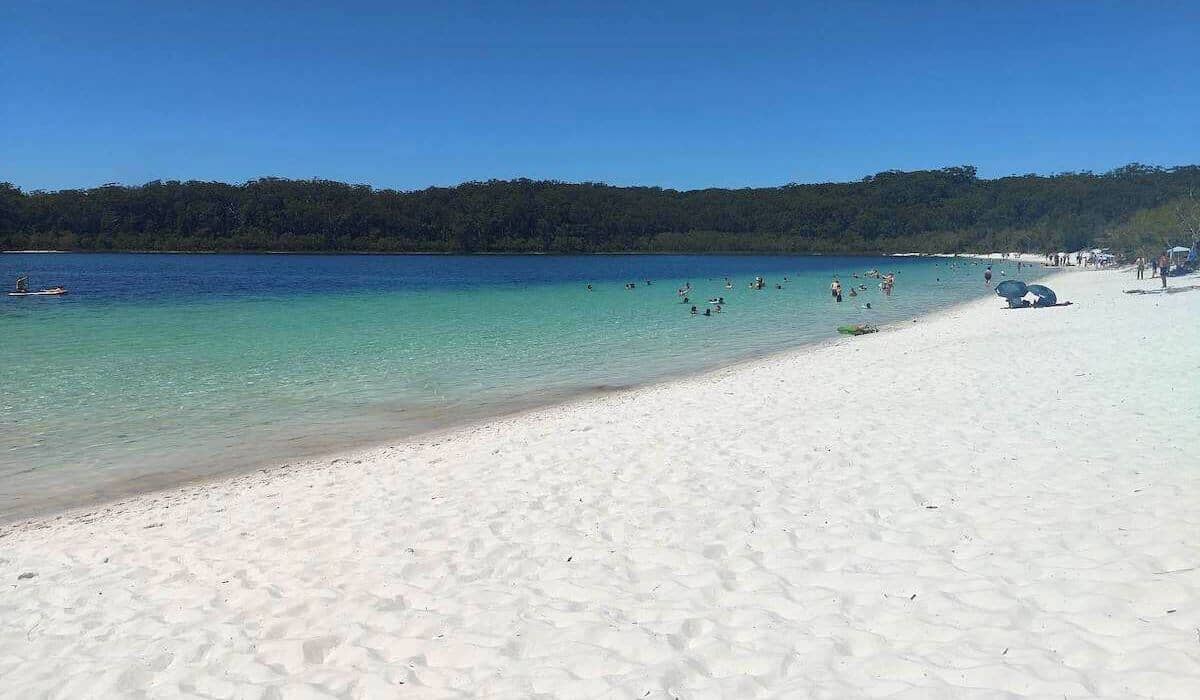 As we all know, the Moreton Island trip opened some problems for us in regard to our home on wheels. This took us back to the drawing board to begin planning how we would travel Australia. Finally, we settled and focused on preparing for this camping trip on beautiful Fraser Island.
We spent months modifying the car, even removing all the seats (a 7-seater to a 2-seater). We built storage in the back seat and added our fridge/freezer along with mechanical upgrades (we won't bore you with the details here). 
Finally, it was time to begin our Fraser Island adventure. We were so excited. We travelled the night before (a 3.5-hour trip) to sleep in the car to board the ferry at 6 am the next morning.
Our magical holiday ended before it truly began when we ran into car problems..but let's get through the itinerary before I share our personal hurdle at the end.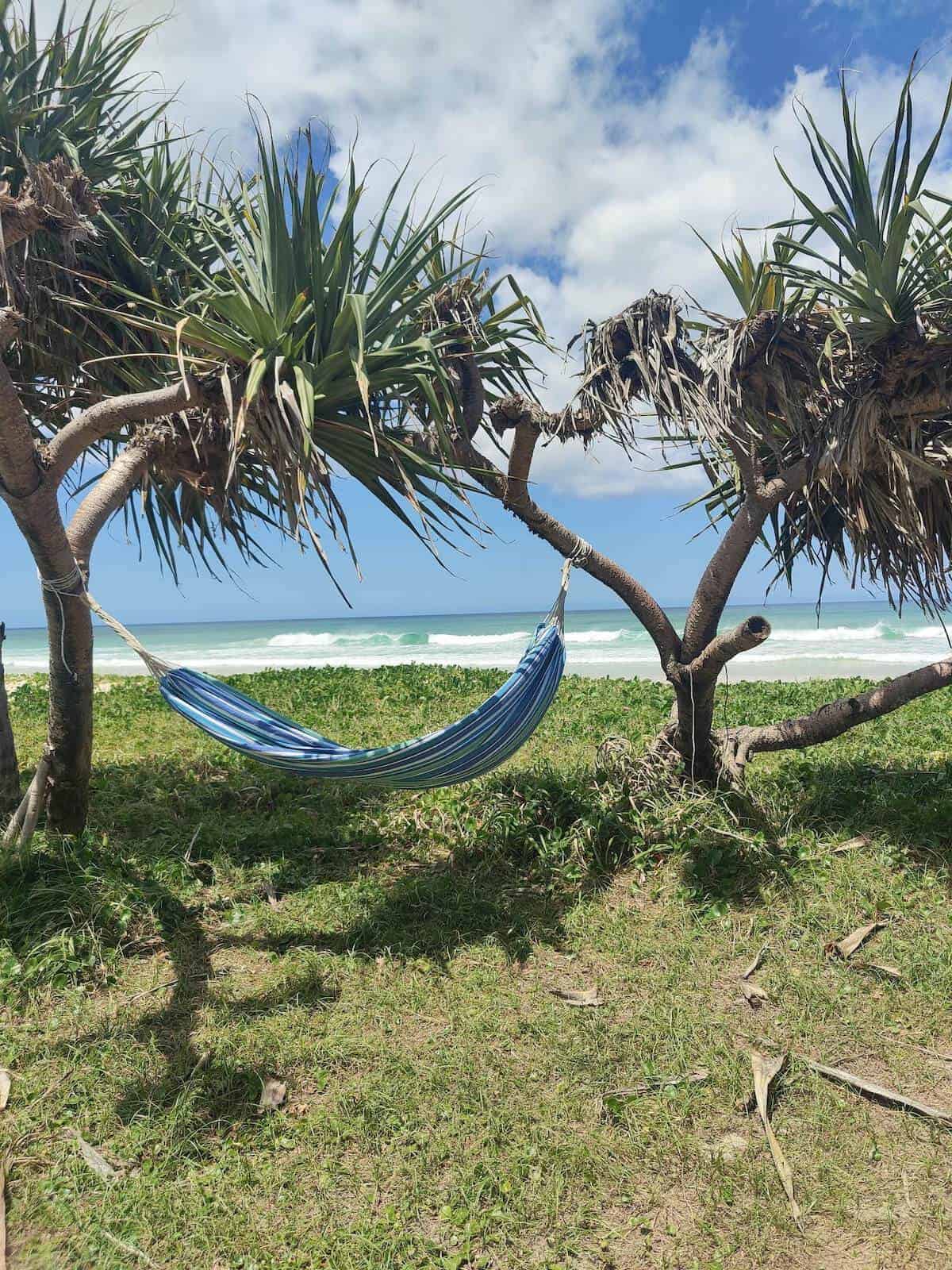 Not Sure About Camping? Fraser Island Accommodation Options:
If you're unsure about camping or if you only want to camp for part of your stay on the island, there are also camping alternatives. Fraser Island has a range of accommodation options for all budgets and camping styles including Eco Lodges, cabins and cottages, and resorts.
Here are two of the most popular places to stay in K'gari:
K'gari Itinerary: Best Things To Do On Fraser Island
This magical sand island offers crisp white beaches, crystal clear lakes, a heritage-listed rainforest, stunning creeks, an abundance of fishing spots and so much more.
With camping on Fraser Island being such a popular holiday destination, there are many activities to keep you entertained.
Here are the best things to do on Fraser Island to help you create your own Fraser Island itinerary:
Visit The Maheno Shipwreck
The Maheno was built in 1905 and was one of the first turbine-driven steamers. The Maheno's regular route was between Sydney and Auckland until commissioned as a hospital ship in Europe during World War One.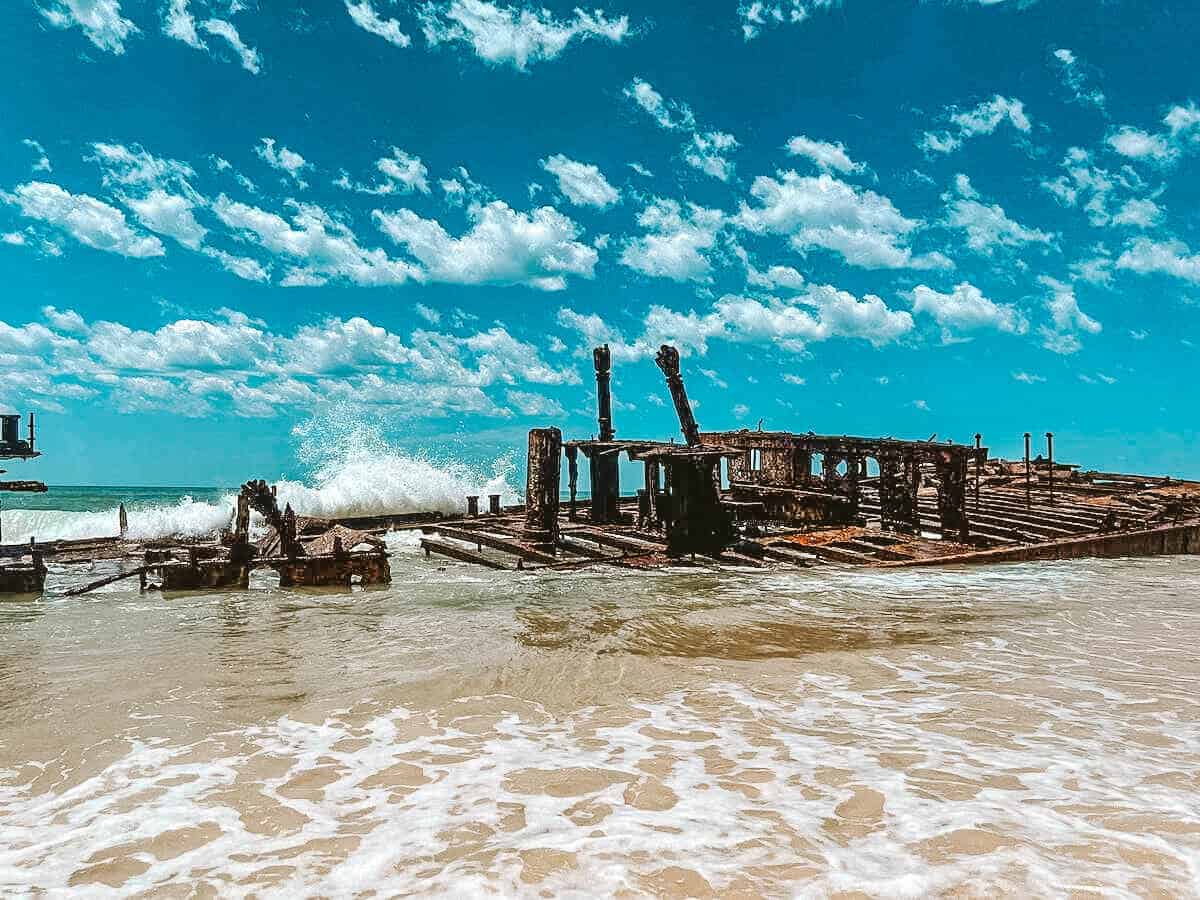 In 1935, Maheno was sold to Japan for scrap. During the tow, while travelling in Queensland waters a cyclonic storm snapped the tow chain, resulting in the Maheno finding her new home on the Fraser Island beach near the Pinnacles.
The Maheno still rests in this place, almost 90 years later.
Our first camping spot was close to the Maheno, so we took the opportunity to visit this piece of history at different tide times and would recommend multiple visits to take in the beauty of this shipwreck with different lighting and ocean levels.
For safety, it is recommended not to enter the Maheno as the sand has buried a lot of her remains.
Spend The Day At Lake Mckenzie (Also Known As Boorangoora)
Lake Mckenzie is one of the most visited sites on the island – and for this reason, we arrived early one morning to enjoy the view with fewer people. We attempted a visit the day before but could not even find a park!
Fun fact – Lake Mckenzie is a 'perched' lake which means it contains only rainwater. It is not fed by streams, groundwater or anything from the ocean. The sand also creates organic matter which prevents the water from draining away.
The sand is pure white silica which is not only stunning to look at but also acts as a filter, making the water so pure not many species can survive in the water.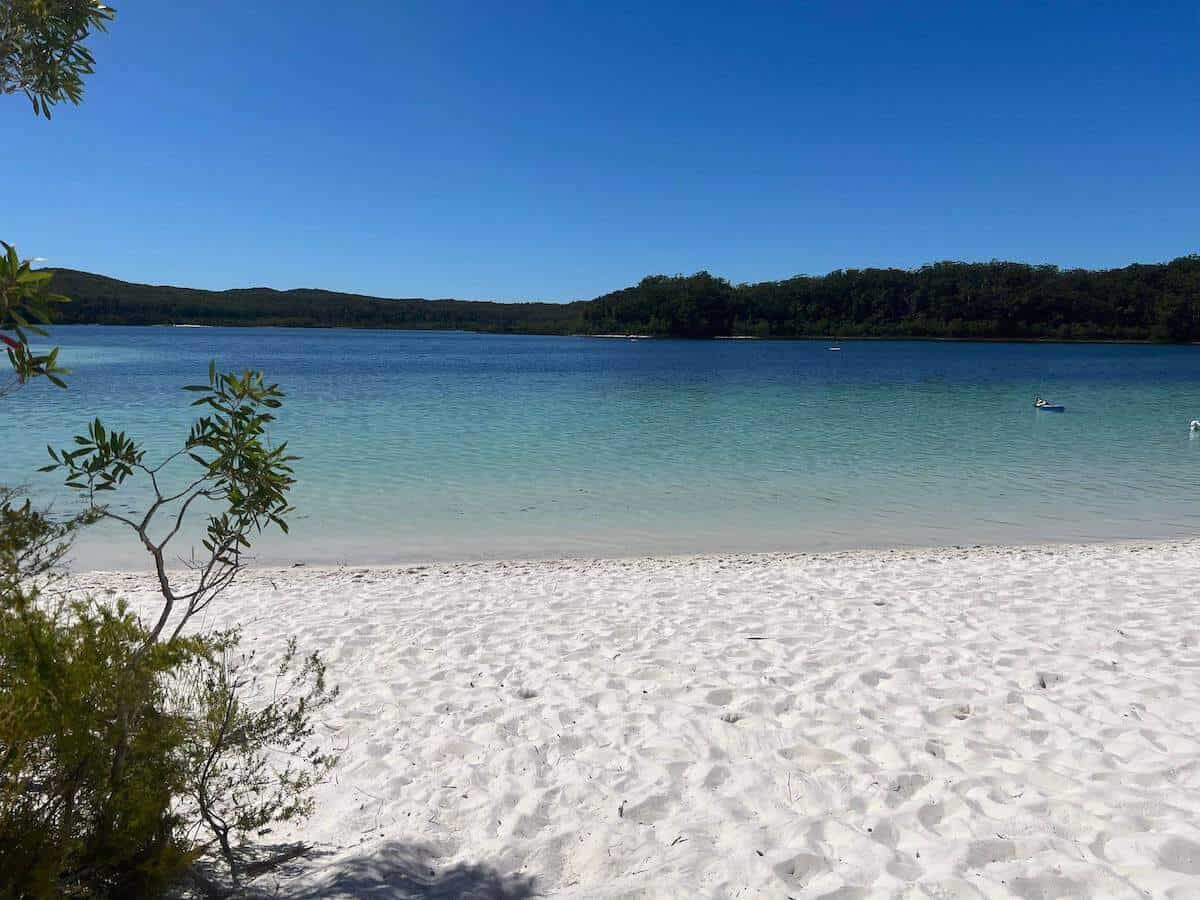 For dingo safety, it is recommended that you only consume water while at the Lake. You will find fenced eating areas with picnic tables in the parking area. This discourages dingoes from approaching humans for food.
We took our floaties down to the Lake and could have spent the entire day soaking up the sun rays. We were blown away by how beachlike the Lake appeared – such a magical view. You really have to see this one to believe it! The Lake is a perfect destination for a kayak or SUP.
Float Down Eli Creek
This is my personal favourite of the Fraser Island attractions we experienced!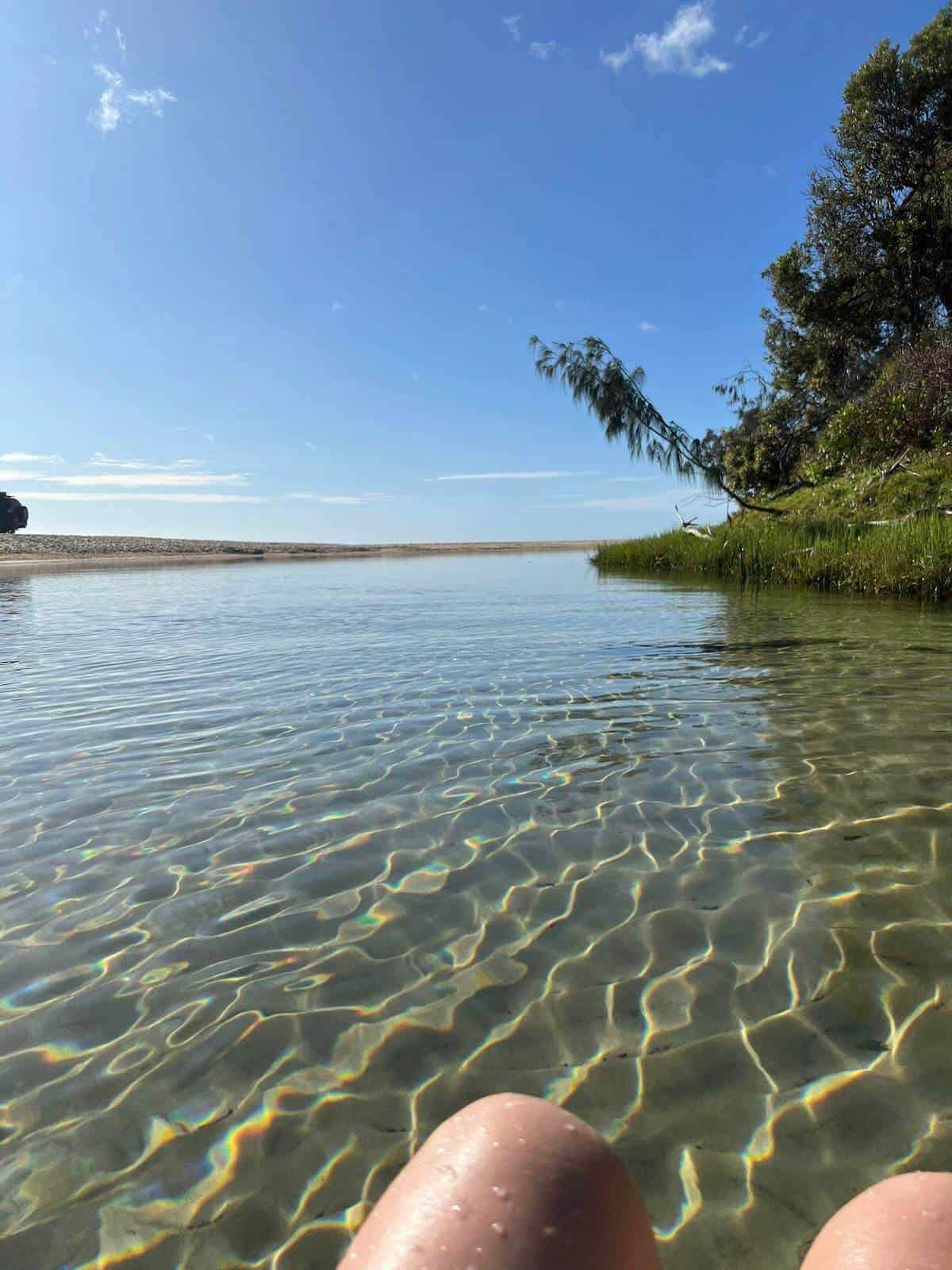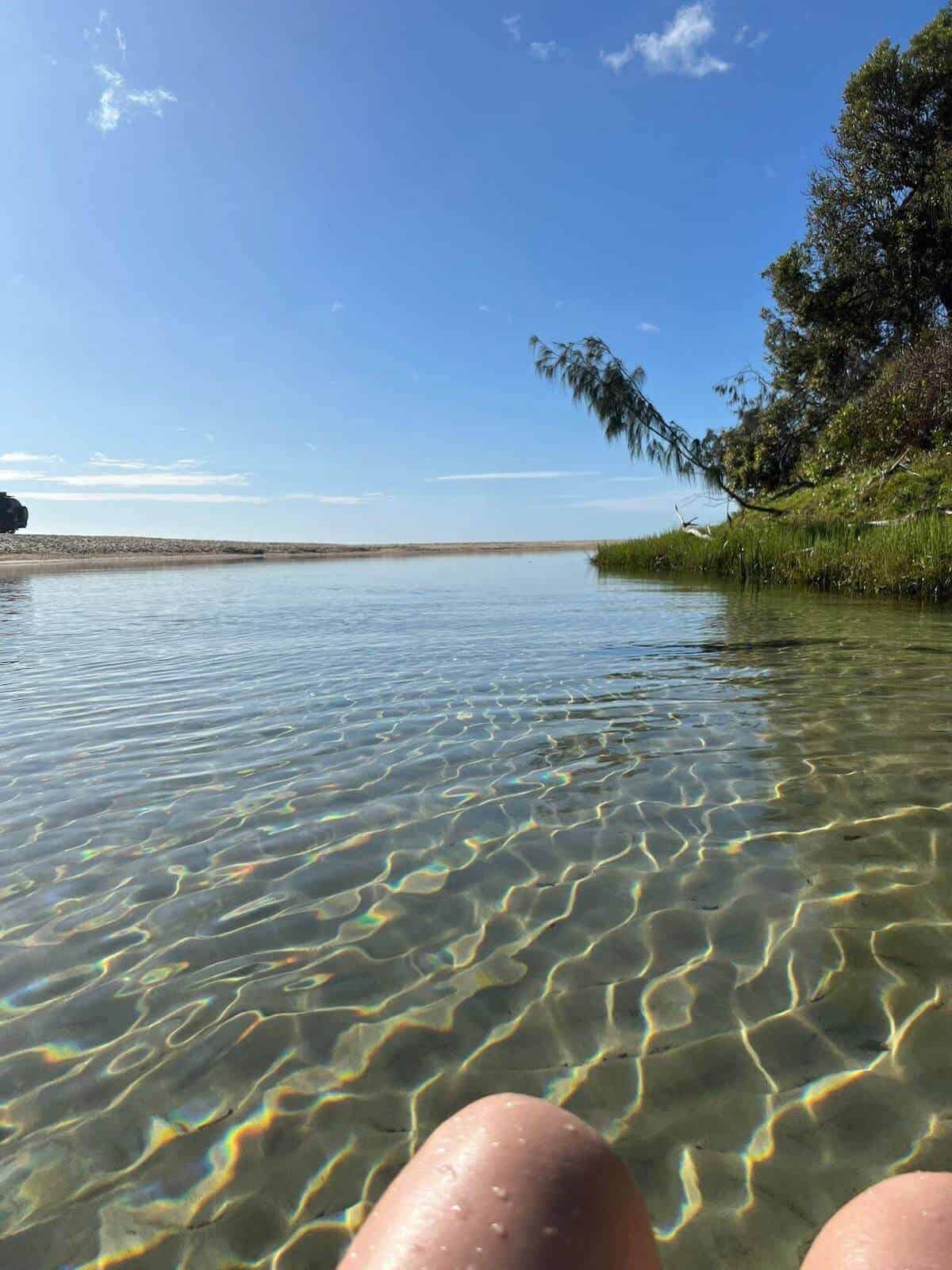 Eli Creek is the largest creek on the Eastern beach of Fraser and is a popular picnic and swimming spot (yes, you can eat and drink here). This beauty pours up to four million litres of clear, fresh water into the ocean every hour – how incredible!
You can park along the creek and venture up the boardwalk with an inflatable floatie or just yourself. Once you reach the end of the boardwalk, you'll enter the creek via some stairs and begin your float. 
I can't even explain the experience as the water floats you through the banksia, pandanus and other plant life. Not only do you have beautiful views above water level, but you can also spot plenty of small fish swimming by too.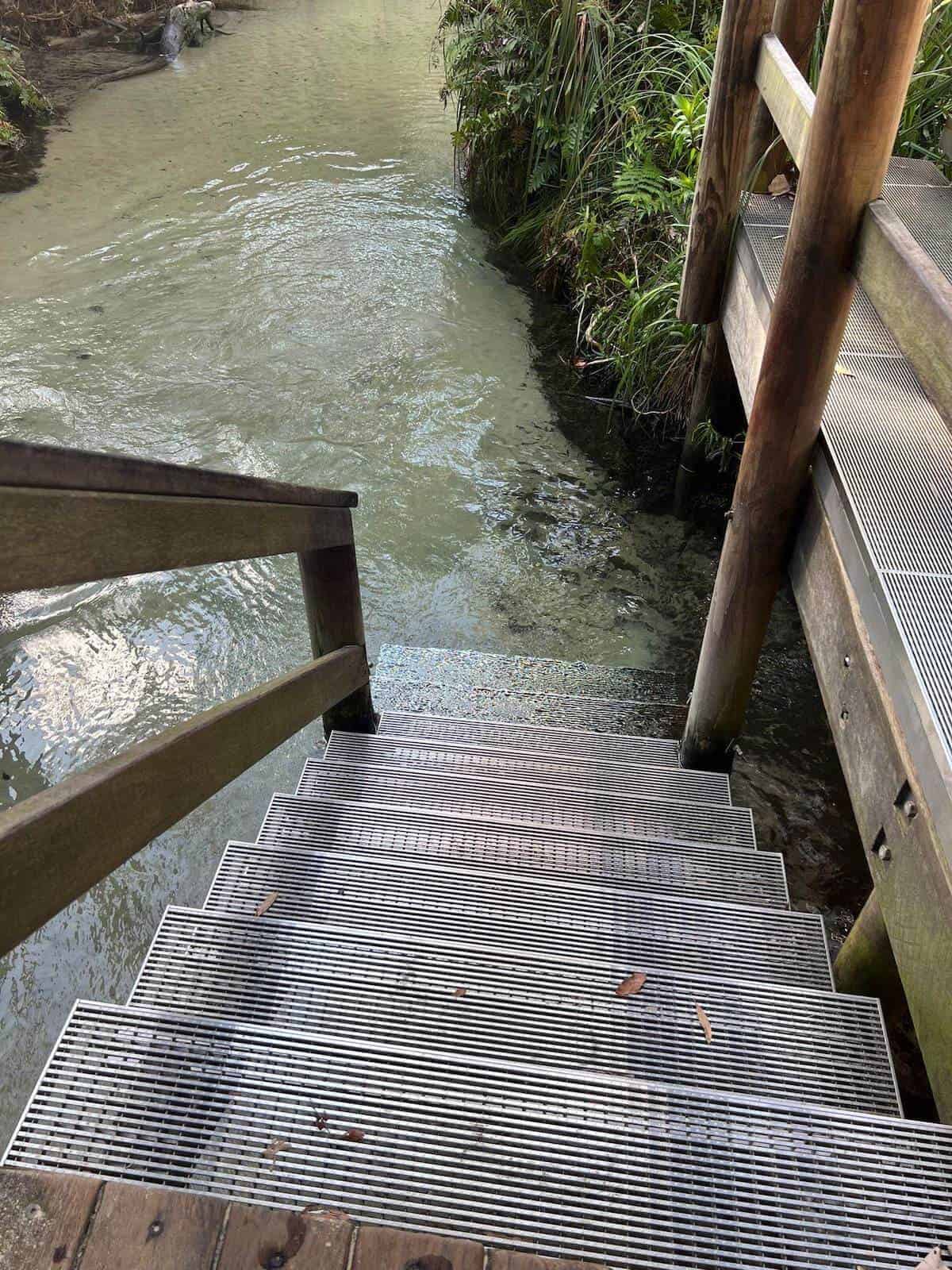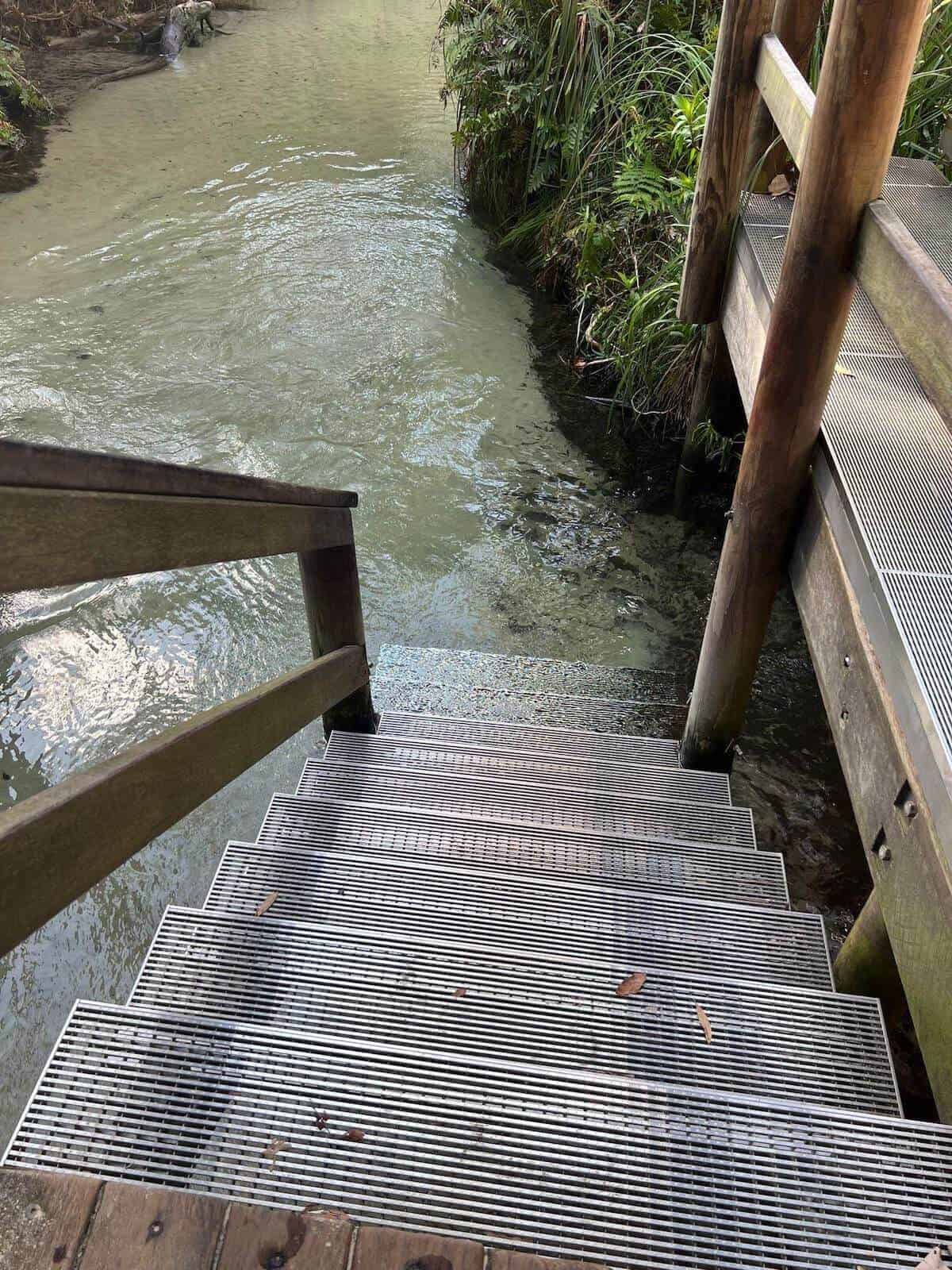 We camped in the Eli Creek zone and stopped in for a swim a couple of times but saved the float for an early morning with fewer people. And HOLY MOLY – this was magic and sent us back to our childhood as we ran back up the boardwalk to float again and again!
We would absolutely recommend a stop here, even if you only had time for one float or swim down the creek. The flowing stream takes you to a large swimming hole where you can stay and enjoy the sun and cool water.
Take A Picture At The Pinnacles
Along your travels on 75 Mile Beach, approximately 3km from the Maheno Shipwreck you will find 'The Pinnacles'.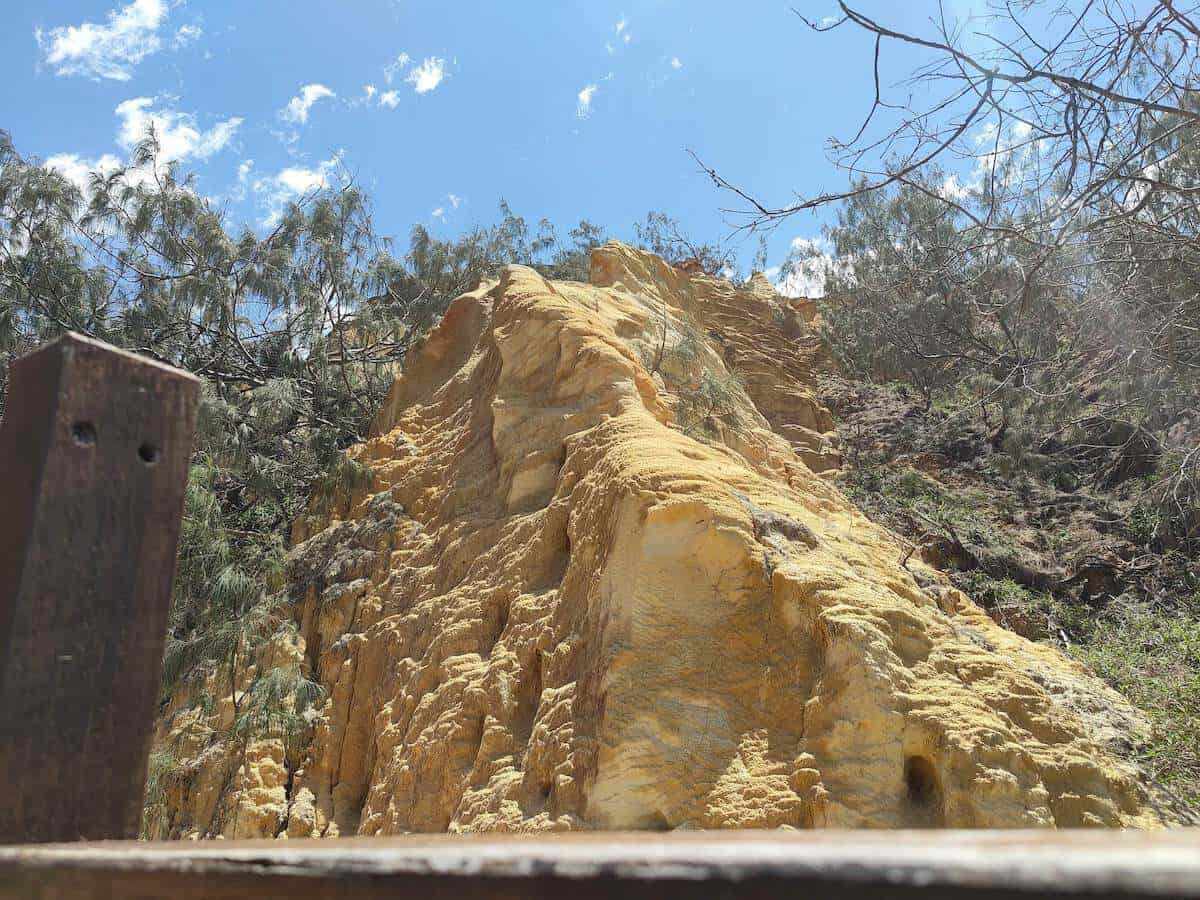 With plenty of space to park your vehicle, you can reach the bottom of this natural beauty after a short 50-metre walk. The Pinnacles are fenced to protect the sand formation and are made up of 72 different coloured sands.
You won't need much time here, with a short walk, a moment to take in the beauty and a quick snap… then you can move on with your adventures!
Explore The Local History At Central Station
Central Station once served a purpose as a forestry camp when logging was a part of everyday life on K'gari/Fraser Island. In the earlier days, there were approximately 30 houses at Central Station.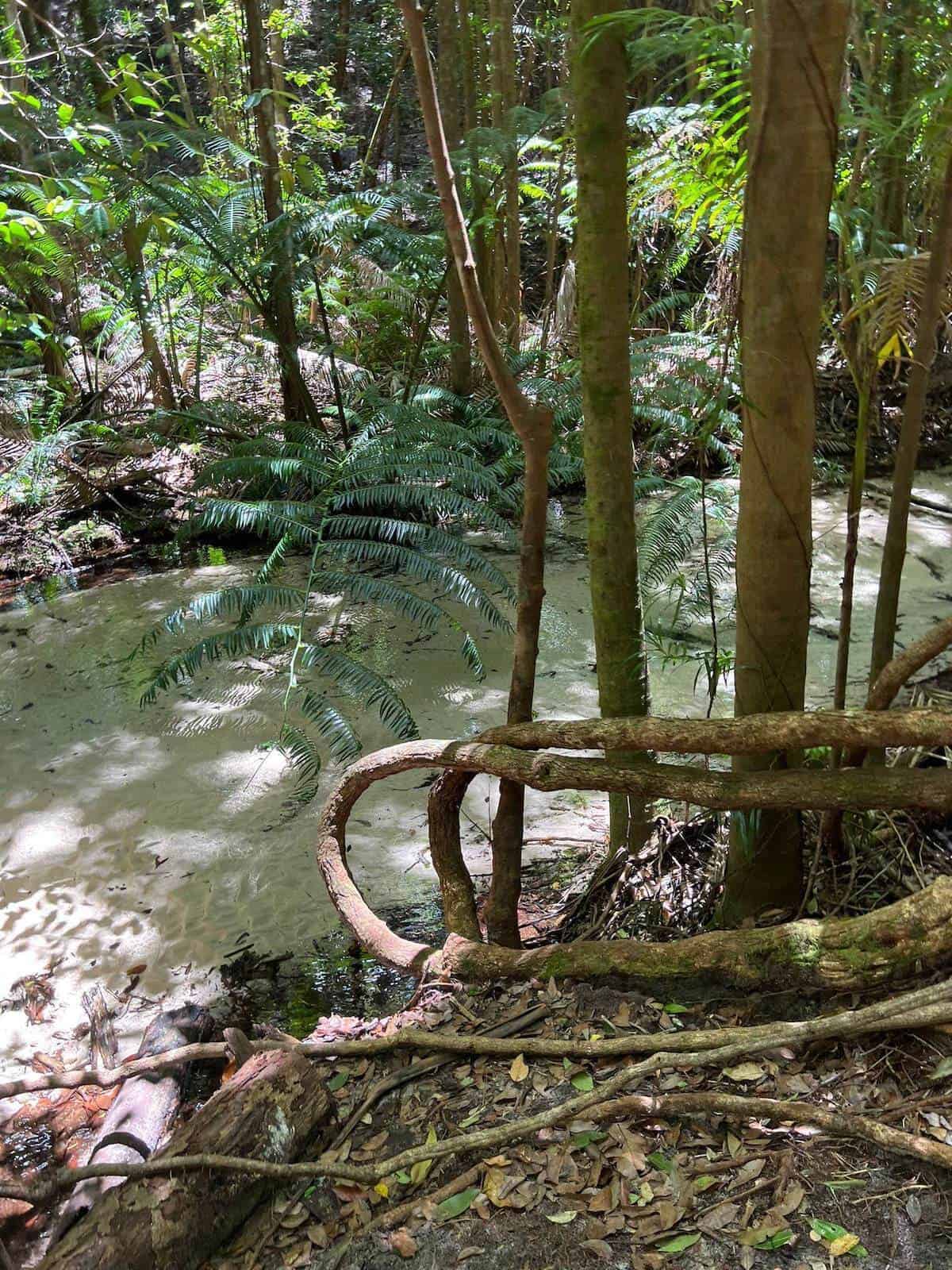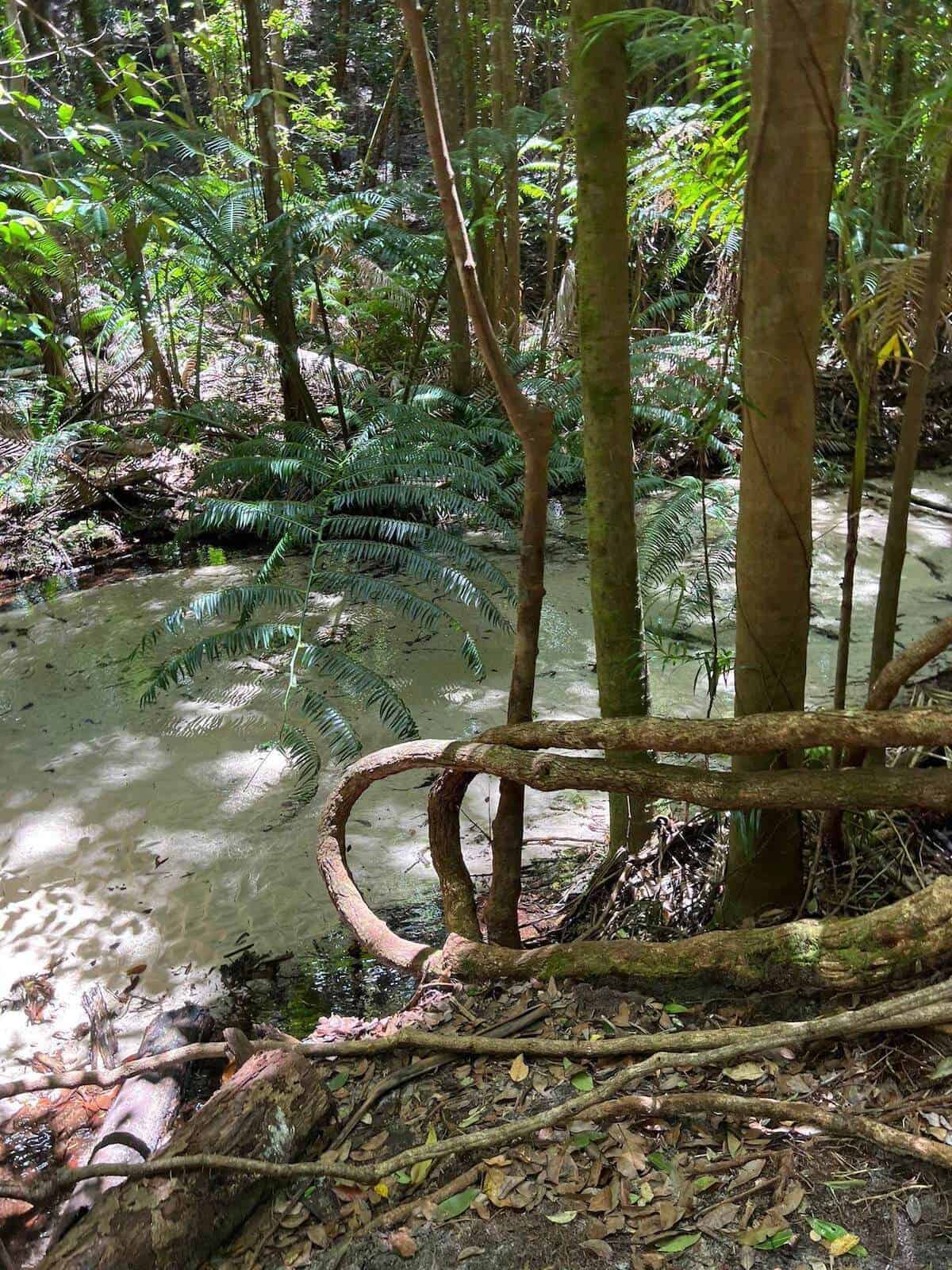 Central Station is one of the top most magical places to visit on your Fraser journey.
Who wouldn't want to visit a rainforest in the middle of a sand island, right?
You will find Central Station along the banks of Wanggoolba creek. This is a stunning location and well worth a visit. As you drive closer to the Station, you will notice the environment changes as suddenly the tree's become larger and the shrub becomes greener.
Once you reach the car park, you will navigate to the middle which has displays of the history of this magical area. From this area, you can begin the short boardwalk or try one of the longer walking trails instead.
Not only can you take in the history, walks and the atmosphere, but there are also camp grounds in this area.
Drive The Circuit Of 'The Valley Of The Giants'
This Valley of the Giants is probably exactly what you think. It's a surreal experience as your scenery changes from tight scrub and canopies to trees with the open sky views.
As you head deeper into the centre of the Island, the track will get tighter and tighter, just as you start thinking about turning around your views will change again as the tree's become larger than life. Some of these trees are over 40 metres high!
The loop track through the valley is quite an experience. Not only can you drive the track, but you can also experience this beauty on the Fraser Island Great Walk (if you are a mad keen walker!).
Relax At The Champagne Pools
The Champagne Pools are naturally forming rook pools that create a shallow, sandy swimming hole on the right of the ocean. Considering it is not recommended to swim in the ocean while on the Island, this is a pretty awesome compromise!
As each wave hits, the pool is filled up with ocean water creating a spa-like feeling as the foam fizzles around you. Large waves can catch you off guard, occasionally bringing in fish!
It is recommended to enjoy the rock pools during low tide when the pools are calmer.
Visit The Lookout At Indian Head (Also Known As Tukkee)
Indian Head is a coastal headland on the Eastern side of the Island, which also makes it the most eastern point of the Island.
Indian Head features a lookout which is known as a great place to spot wildlife in the ocean such as turtles, dolphins, sharks, whales and much more.
Along with the panoramic views, the headland is made up of volcanic rocks which played a significant role in the formation of the Island itself.
Take A Swim At Lake Boomanjin
Lake Boomanjin is considered the largest perched lake in the world. Along with that amazing fact, the water has a unique colour of red-brown, which comes from the tea trees surrounding the lake.
The Lake is also surrounded by white sands. The red-brown colour may put you off, but being a perched lake, the water is purified making it the perfect spot for a swim.
Another bonus for anyone who loves their own space – this Lake is so large, you don't have to worry about overcrowding. You can safely pick a spot and pretend it's all yours!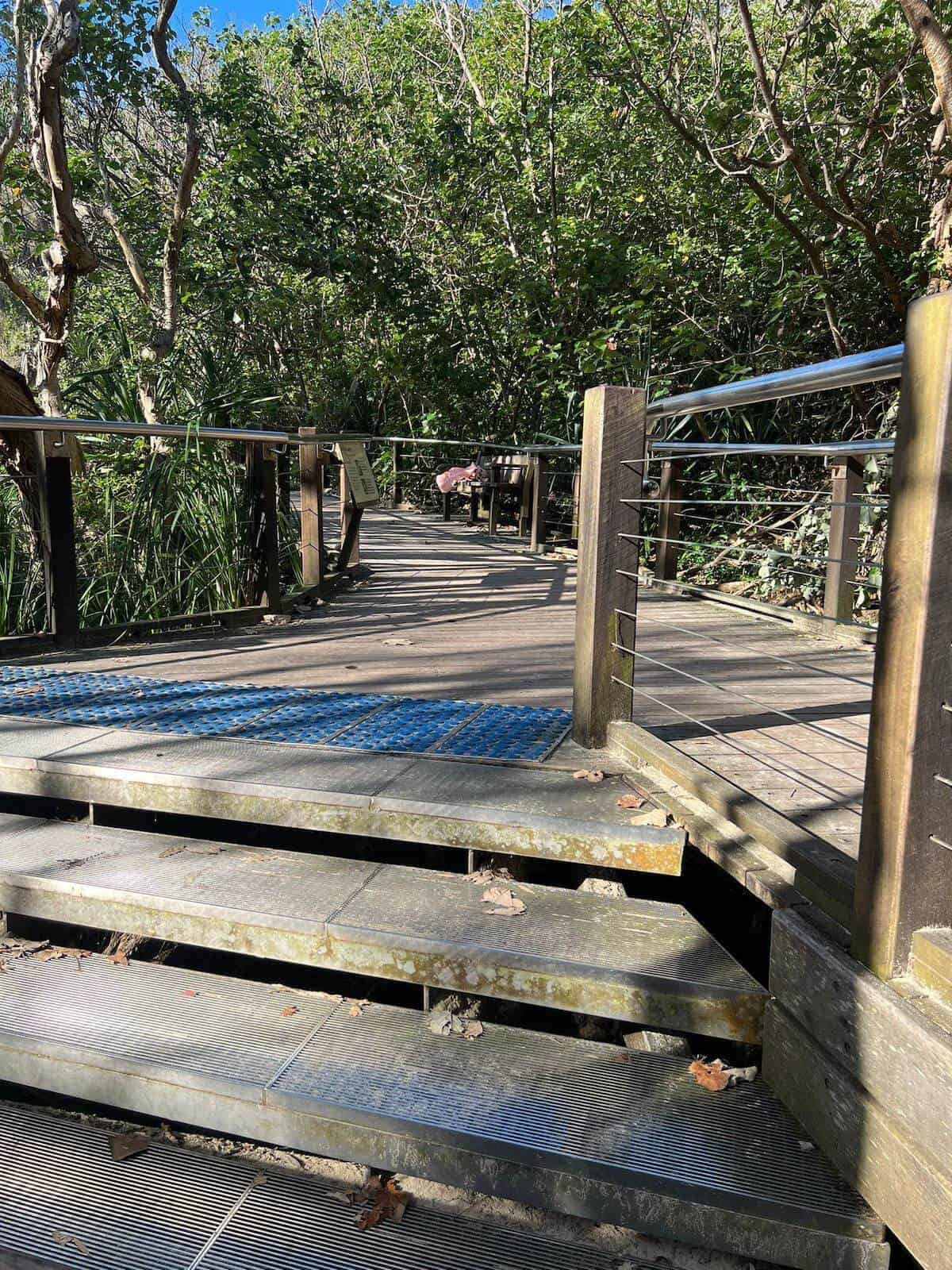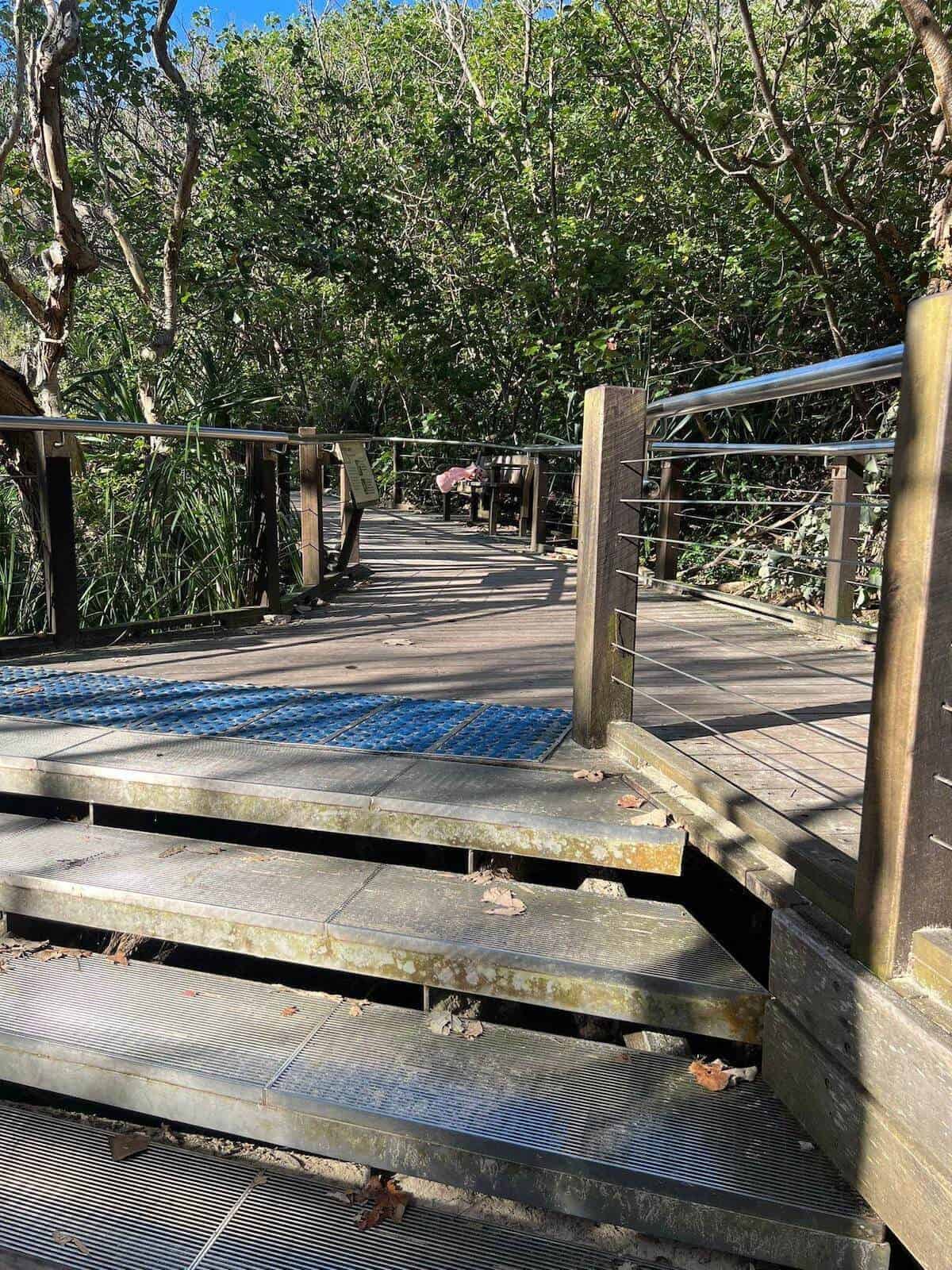 Go For A Hike
If you prefer seeing the Island on foot, there are many hikes and walking tracks on the island from multiple locations. The tracks are both hard and soft sand.
Don't forget to check the park alerts prior to venturing off on a hike, pack enough water and food, wear appropriate hiking shoes, carry a first aid kit and keep a lookout for dangerous wildlife such as snakes and dingoes.
Explore Kingfisher Bay
Kingfisher Bay is located on Fraser Island's west coast. Kingfisher Bay is the perfect location for boating, fishing and swimming with much calmer waters than the Eastern side.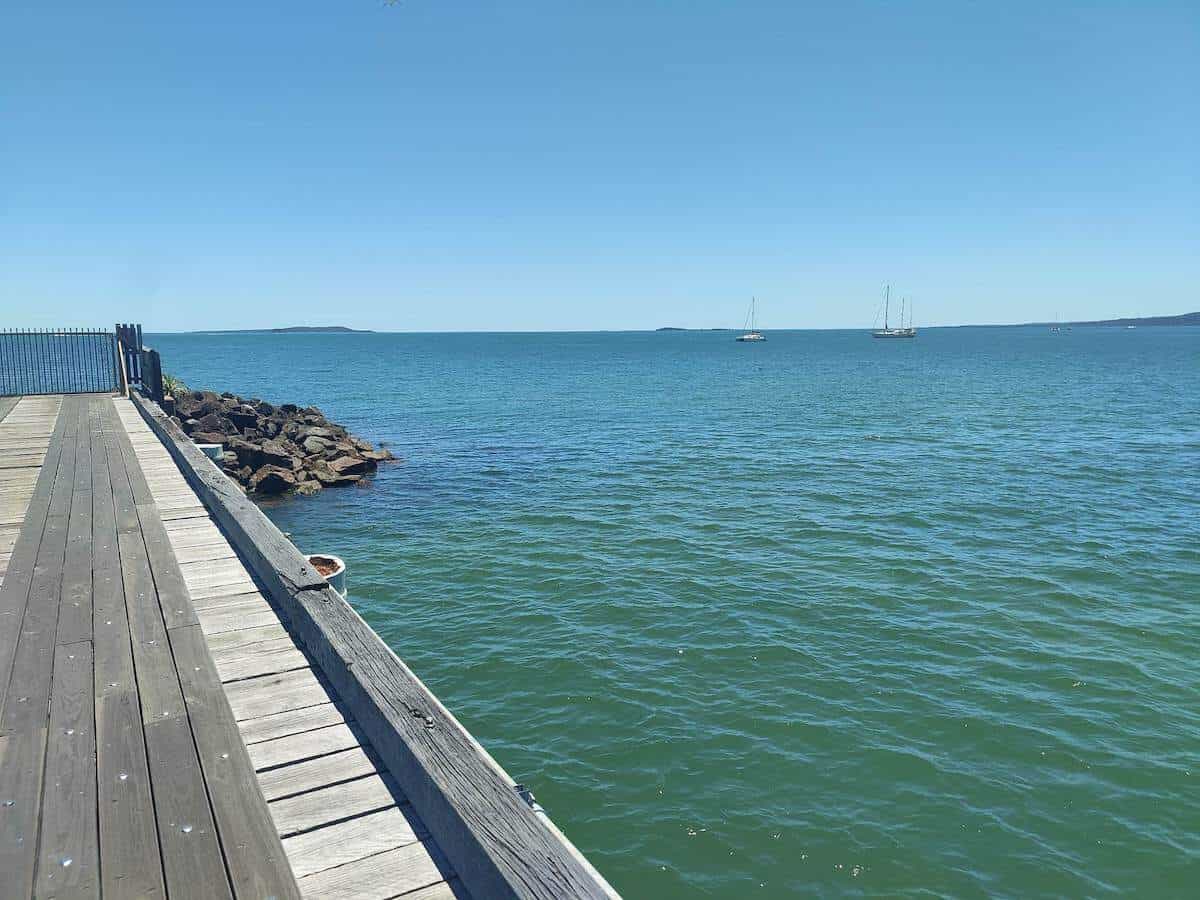 You can spot bait fish on the jetty, cast a line or head into the Discovery Centre to take in the history of the Heritage listed Island.
Take In The Beauty From A Sandblow
Take your pick, there are so many Sand Blows on this spectacular Island. Some are viewed from a platform for their protection and others are accessible on foot. There's nothing quite like taking in the beauty of a Sand Blow. How incredible nature is!
Hammerstone Sandblow is one of the most popular on the list. Hammerstone can be found on your journey to Lake Wabby and has been formed over thousands of years.
Take In The Wildlife
Fraser Island is not only known for its crystal clear lakes, breathtaking rainforest and fishing locations. You will also find an abundance of wildlife, both in the ocean and on the land. Fraser Island is home to approximately 47 species of mammals, 354 species of birds and 79 species of reptiles.
And of course, there are dingoes!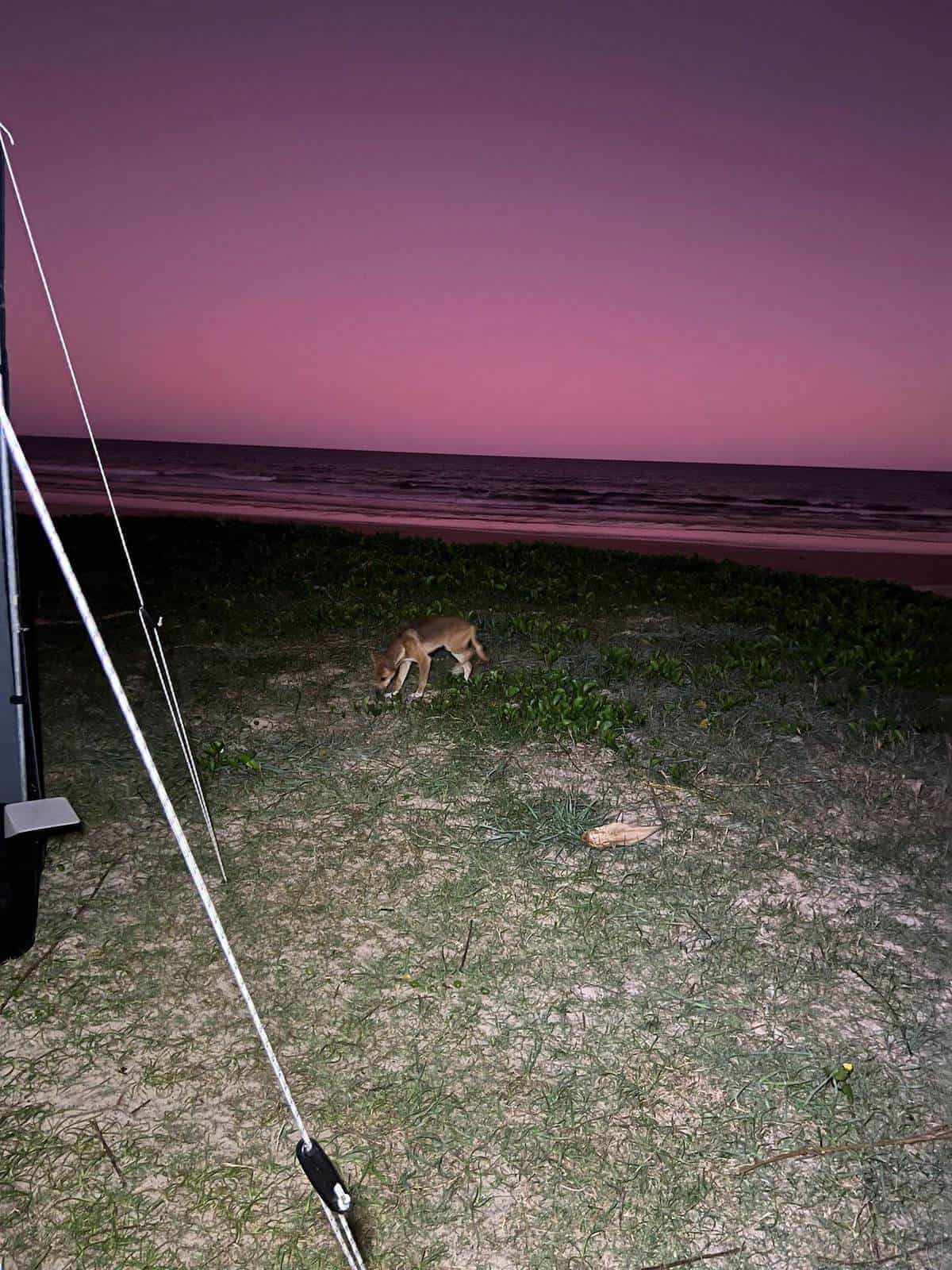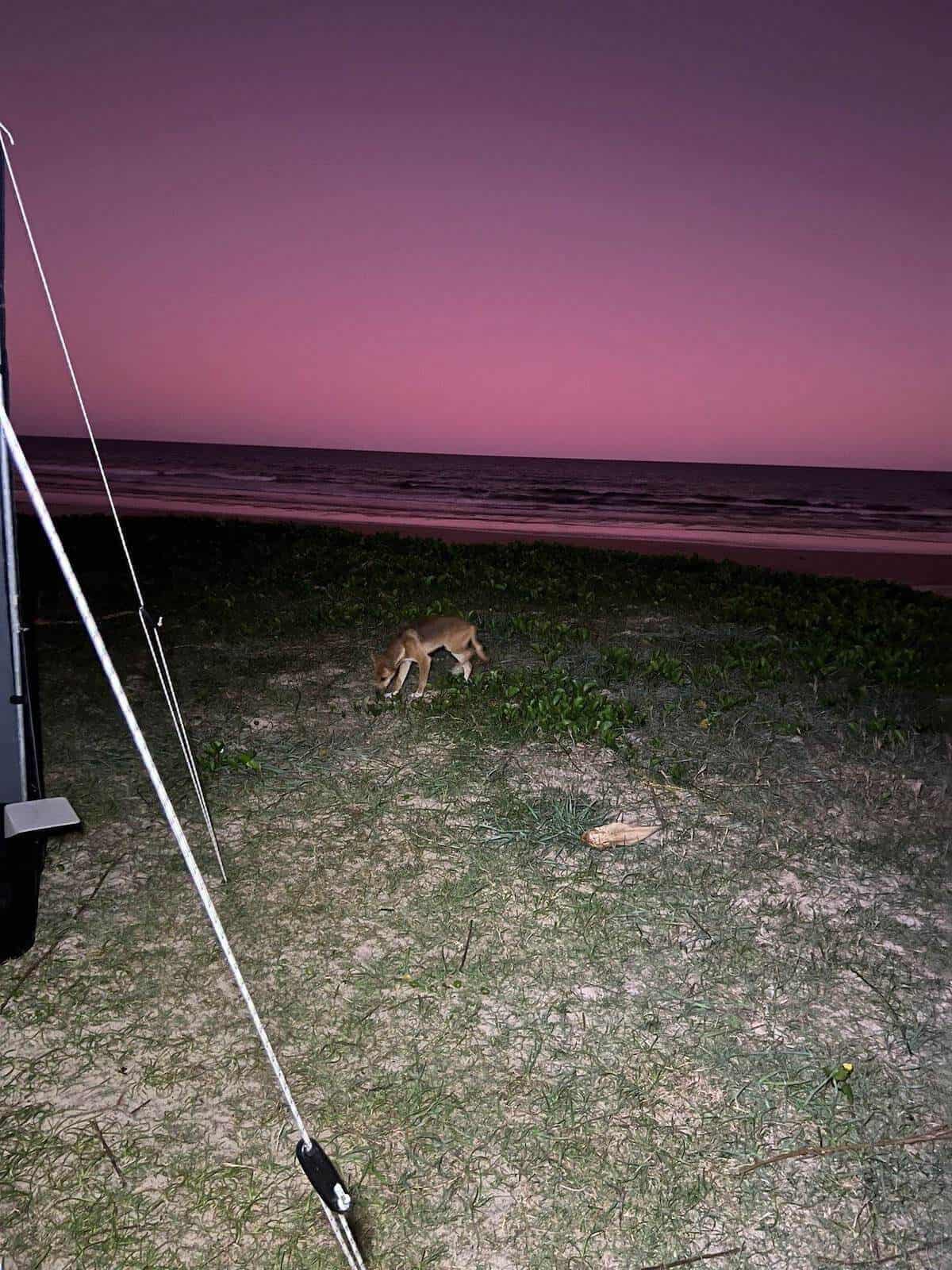 Things To Know Before Planning Your Fraser Island Holiday
Before camping on Fraser Island, it is important to plan ahead, particularly during peak season. Campsites are limited and can book out quickly due to the popularity as a camping destination.
It is also essential to be mindful of the rules and regulations set by the Queensland Parks and Wildlife Service before camping on the Island. Some areas are
Fraser Island is made from sand, which means it is four-wheel drive vehicle (4WD) access only, however, you can hire capable vehicles in the local area prior to boarding the ferry.
Don't forget your recovery gear. It is always best to over-prepare when travelling off the beaten track, such as with sand or mud with recovery tracks and snatch straps at the very least.
It is recommended to lower your PSI on the sand, especially in softer sands to widen your tyre's footprint which avoids bogging. Each vehicle and tyre is different so make sure to do your research and invest in an air compressor and tyre gauge for increasing and decreasing the PSI. 
The beaches on Fraser Island are not recommended for swimming, but there are multiple options for freshwater lakes and creeks.
Fuel is expensive – in November 2022 the price for diesel was $3.53 per litre. If possible, take extra or at the very least, make sure you fill up just before boarding the Fraser Island ferry.
You can receive a warning from the rangers for leaving rubbish in the open. All rubbish is required to be secured indoors or in your vehicle. There are fenced waste areas to dispose of your rubbish along the beach.
Food, alcohol and other consumables are expensive – if your storage allows, try to pack for the entire time of your trip. You do have options for purchasing most of your general items on the Island, but it will cost you more than would on the mainland.
Tide times – always know your tide times. The general rule of thumb is to be off the sand highway between 2 hours before and 2 hours following the high tide. Low tide is best for travel time as you will be able to utilise the firm sand, which is a much easier drive for the vehicle.
Fires are prohibited on the island in most campsites. Make sure to check before booking if a fire is a must for you.
Mobile phone coverage on the island isn't great, especially if you aren't with Telstra.
Don't forget your insect repellant.
And when it comes to wildlife, some extra special precautions are also important.
TRAVEL INSURANCE
Don't leave yourself at risk! Make sure you have travel insurance in case things don't go to plan! We recommend SafetyWing which has comprehensive monthly plans that are affordable!
Dingoes On Fraser Island: Safety Tips
Dingoes – as beautiful as these creatures are, it is important to remember they are not domestic animals. The Queensland Parks and Wildlife Service have plenty of recommendations, including but not limited to the following:
Never feed the dingoes, this includes leaving food or rubbish out
Always stay within arms reach of children and small teenagers
Walk in groups, it is recommended not to walk alone
Do not run or jog as this can trigger a negative interaction
If you feel threatened, stand still at full height and fold your arms across your chest. Face the dingo, then calmly back away
If you are with another person, stand back-to-back
Call for help with confidence
Wait until the dingo/s has gone prior to moving away
Do not run or wave your arms
A Story Of Fraser Island Camping Gone Wrong
Now for the not-so-great part of our time on the magical K'gari/Fraser Island. After spending all that time preparing the car for this adventure, we managed 2 and a half days of exploring before our car went into 'limp home mode'.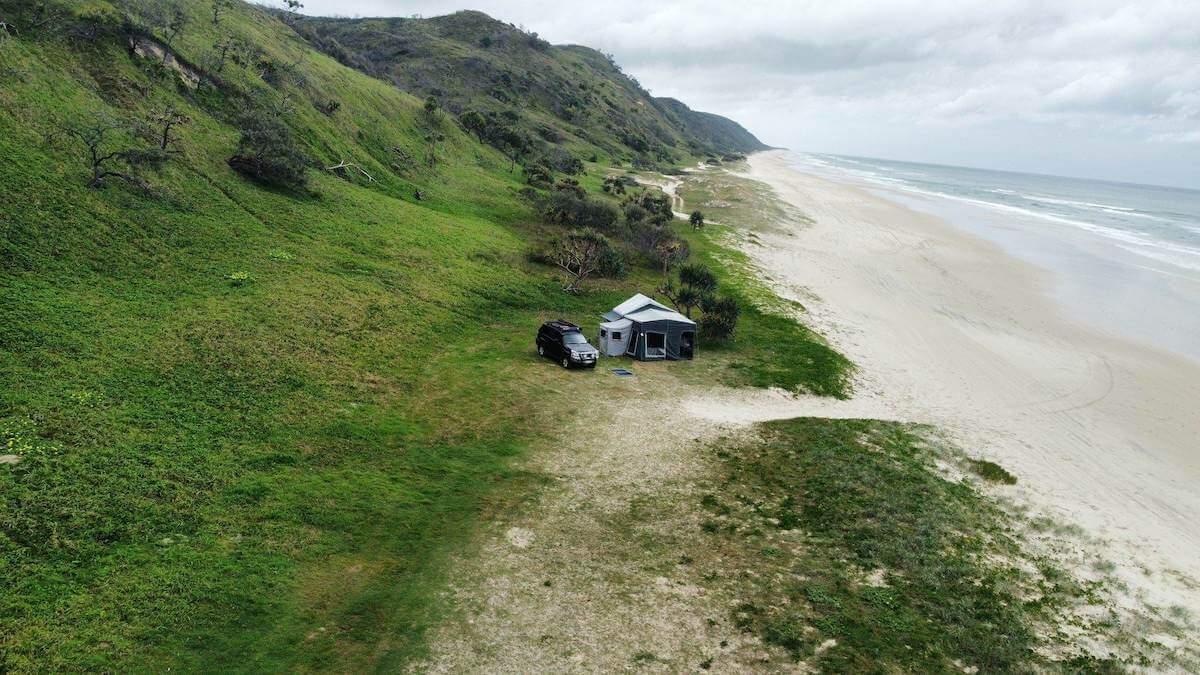 We'd made it to our second campsite at Burad (camp zone 7) and after setting up, ventured up the beach highway to find a decent area to use the cast net for bait fish. Upon heading back to camp, the car would not rev/drive higher than 20 kph. We managed to find a helpful traveller who with a scan tool removed the error code in the car's computer.
Luckily we made it back to camp driving normally and decided to give the car a "rest day". Fast forward a day and we were in the same position, the car had lost her go. We had assistance from many other travellers and were unable to fix the problem.
A big shout out to all the super friendly and helpful people who continuously stopped to make sure we had food and water and lend a mechanical hand where they could.
We found an incredibly lovely young couple named Emma and Tyson who came back every day to make sure we were still managing. They even found a scan tool up north and brought it back to us to see if it would fix the car! Absolute legends.
With 9 days booked on Fraser, we decided to leave after day 8 as we were running out of food and water (with the intention when originally packing to fish and pick up extra water as needed.)
A ranger had advised the estimated quote from the tow trucks on the Island from campsite 7 to the ferry would charge approximately $1,500.00 – $2,000.00. This was not in our budget and we still had to find a way home.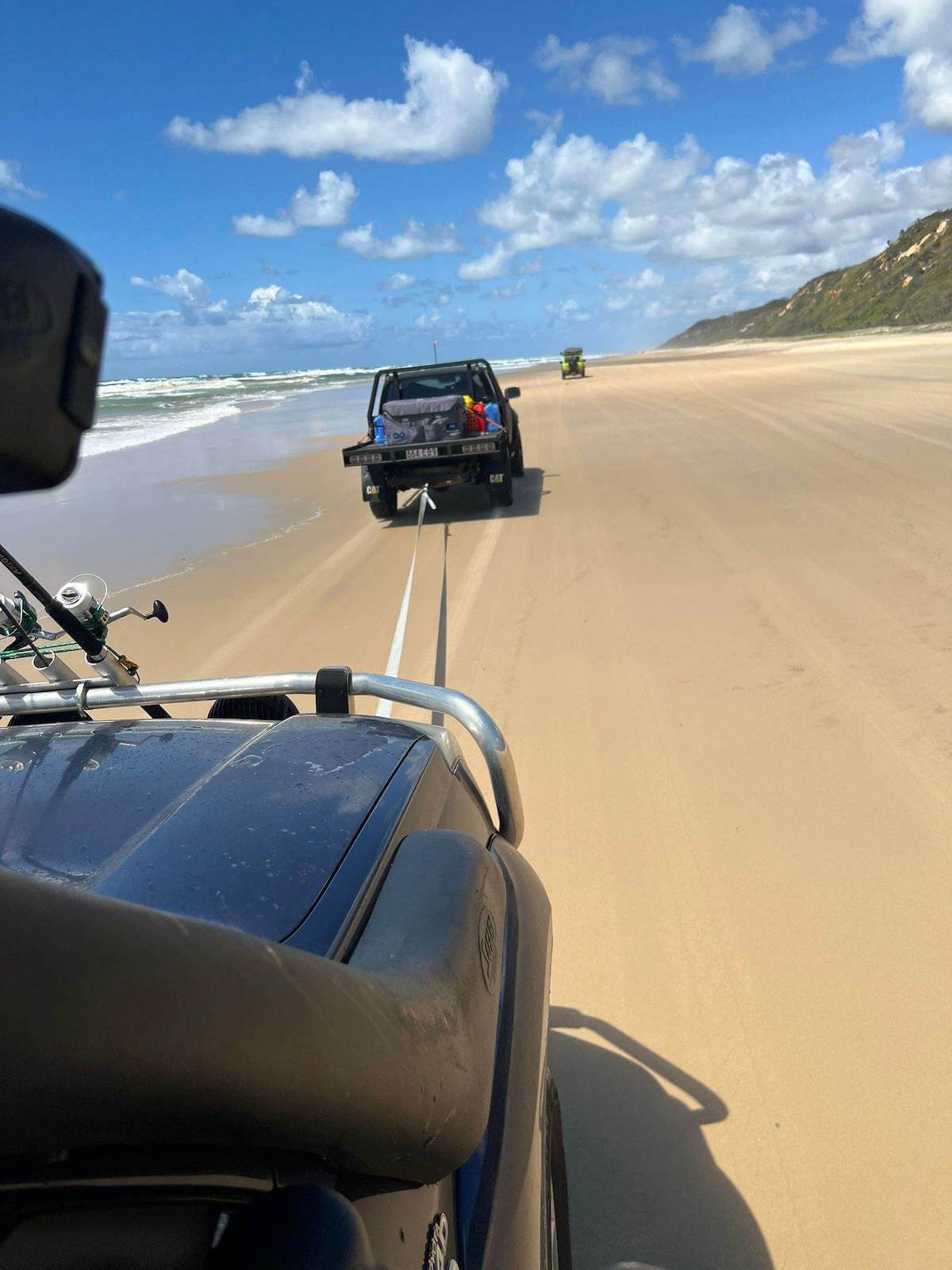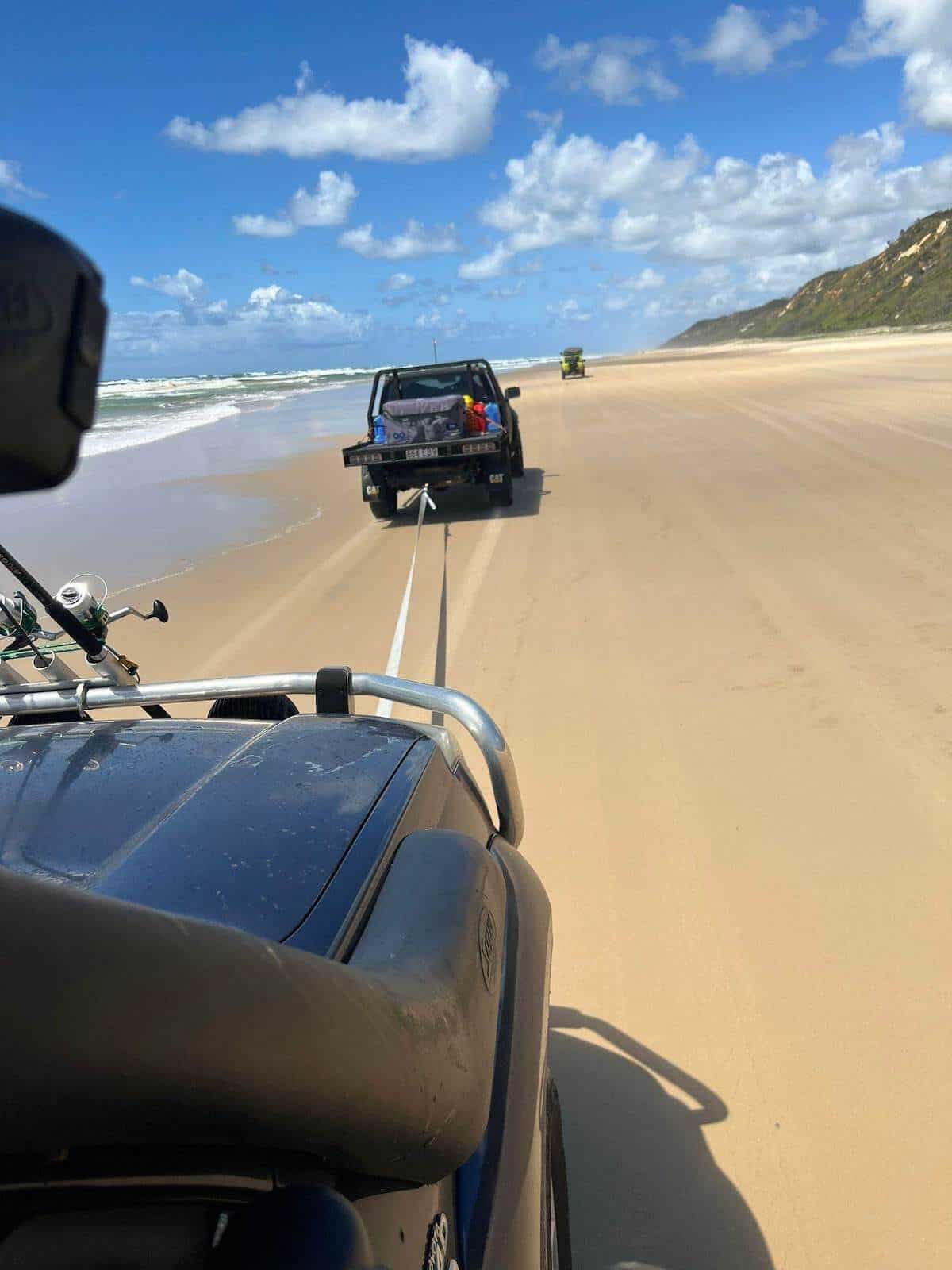 We were extremely lucky to make friends with a couple who camped nearby. They saved us a small fortune by snatch-strapping us down the beach to the ferry, so if you were travelling along Fraser Island on Saturday the 5th of November and spotted the Prado and trailer being towed – that was us!
With no reception on the Island with our Australian Optus phone network, we had to wait until we reached the ferry to begin finding plans to return home. Luckily my Mum's partner has a truck and was not away for work and saved us!
Upon returning home, the diagnosis was a few things in relation to the turbo actuator. We have since taken our beloved "Petrie" camping with the trailer and on the beach with no problems.. this was just a seriously unfortunate fluke and means we should start planning our Fraser 2.0 trip to explore the rest of the Island!
Conclusion
K'gari/Fraser Island is a top destination spot with crystal clear lakes, crisp white sand, an abundance of wildlife and much more. The island offers activities and adventures for all your wants and needs, from hiking tracks, to fishing spots and ideal swimming locations.
Be prepared when boarding the ferry with recovery gear (definitely a scan tool for us now) and enough supplies to get you through your adventure and make the most of your time on this piece of paradise! 
As we didn't get to explore the Island in its entirety as we planned, let us know what we missed so we can see it all in Round 2!
Inspired? Pin It For Later