16 Easy & Delicious Camping Desserts You'll Love
Camping is a great way to get outdoors and spend time with family and friends. And what's better than enjoying delicious camping desserts after a day of hiking, fishing or swimming? These easy desserts for camping will keep your sweet tooth happy while enjoying your time in the great outdoors!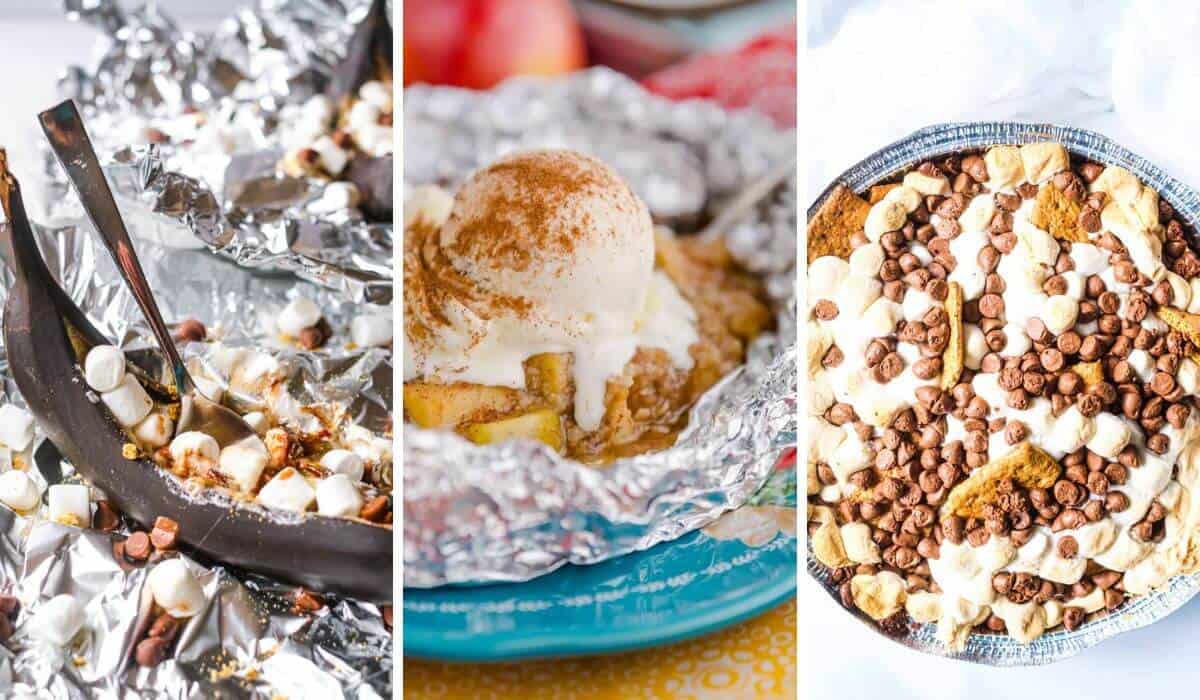 Desserts For Camping & Road Trips
Camping treats don't have to be complicated. In fact, some of the best camping desserts are the simplest to make!
Just like these one-pot camping meals, with a little planning, you can be enjoying all your favourite foods under the night sky on your next camping trip or big lap.
Make sure you check out these make-ahead camping desserts for even more yummy ideas!
Here are some easy and scruptious camping desserts that you'll love:
All Things S'mores
S'mores are a classic camping dessert favourite for a reason! They're easy to make and always a crowd-pleaser for every campfire night. For traditional s'mores, all you need is graham crackers, chocolate and marshmallows.
But if you want to get creative with your toppings, you might find a combination you love even more! Try using Nutella, peanut butter or even caramel for a fun spin on the classic S'more treat.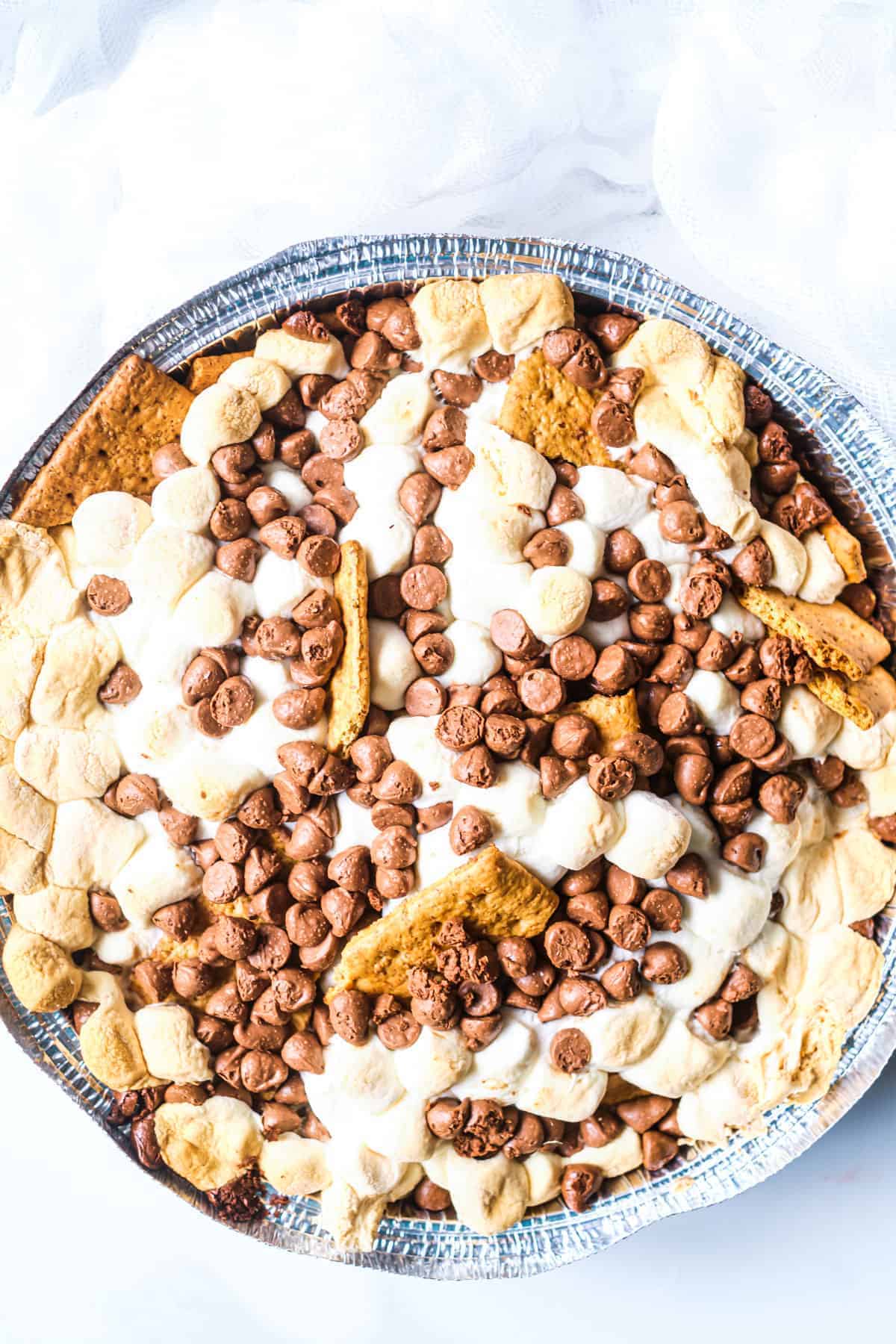 Here are some more yummy camping desserts that add a twist to traditional campfire S'mores. You can even enjoy them on the fire pit in your backyard:
More Yummy Camping Desserts
In case S'mores aren't your thing, here are some other easy camping desserts to try for your next night under the stars. After all the time spent outdoors, you likely earnt yourself a serving or two of dessert!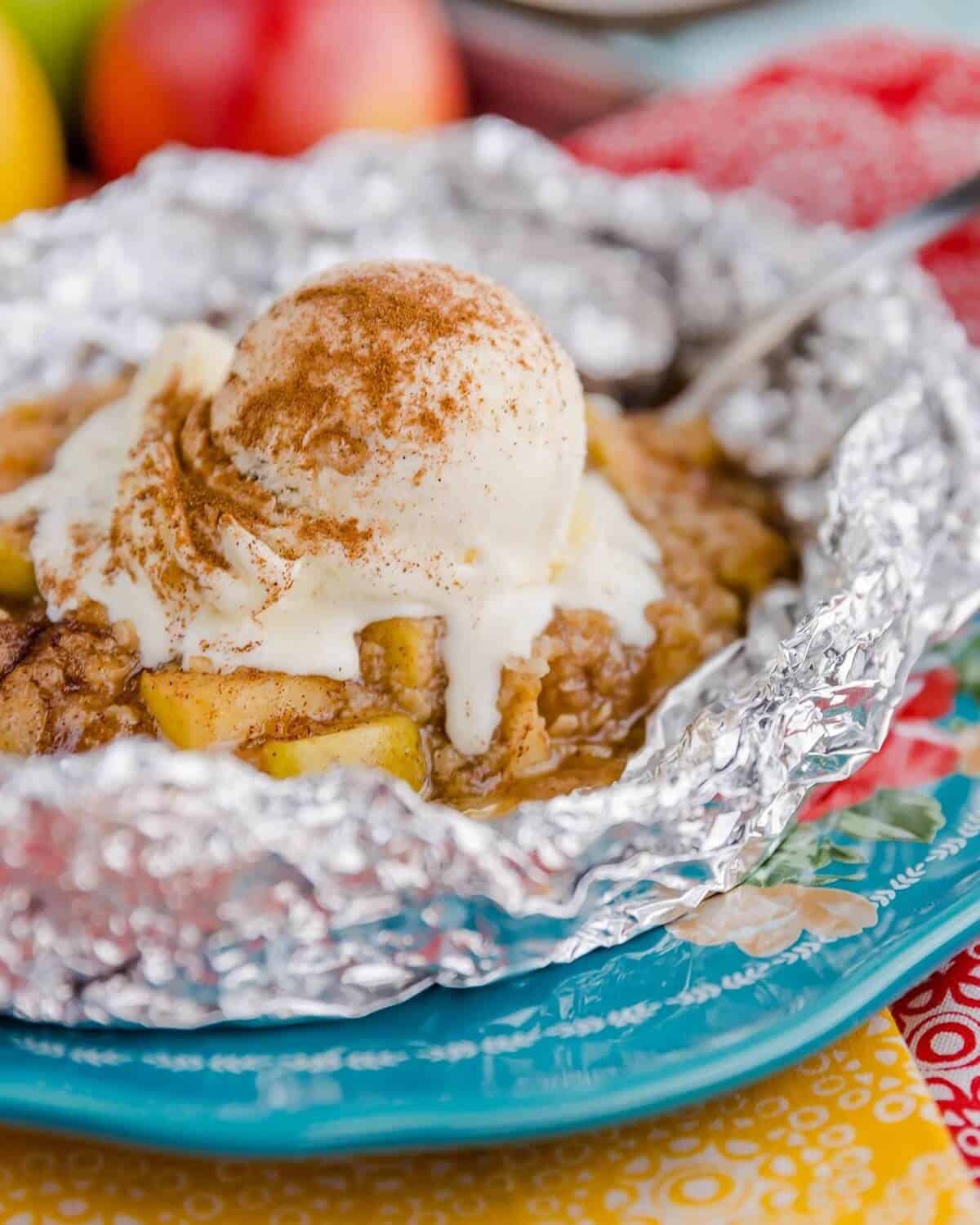 Campfire Apple Pie Packets – The best thing about aluminium foil packet camping recipes is that you can make ahead your desserts before you leave home, store them in your cooler and then cook them when you're ready for a yummy sweet treat! Bring a tub of vanilla ice cream if you've got a freezer to enjoy with your dutch oven apple pie!
Campfire Banana Boats – These Campfire Banana Boats are one of the easiest desserts to make while camping or BBQ'ing. You only need a banana and your choice of toppings! The end result is delicious!
Dutch Oven Peach Cobbler – This is another camping dessert that you will want the ice cream or whipped cream for! Or a tub of pouring cream. This peach cobbler dutch oven dessert is sure to curb those sweet cravings after a big day of outdoor fun.
Blackberry Campfire Cobbler – This blackberry cobbler has just 3 ingredients making it an easy camping dessert idea. This is a great recipe if you are short on space in your cooler.
White Chocolate Hot Cocoa Balls – Make these at home before you leave and keep them chilled until you're ready for your hot cocoa. Fill them with hot chocolate and mini marshmallows. Heat your milk over the campfire then pop one in each mug for instant hot cocoa.
Campfire Chocolate Cake – This easy chocolate cake dump cake idea for camping is a perfect way to get your chocolate fix using simple ingredients. It takes just over an hour with dutch oven cooking.
Pineapple Upside Down Cake – This pineapple upside down cake is sure to be a camping treat favourite and a crowd pleaser.
Fondue – Heat chocolate melts over the campfire and use skewers to dip cut-up pieces of fruit into the chocolate for a quick and easy dessert idea.
You can also bring your favourite cake mix or brownie mix and the extra ingredients you need and cook them in your dutch oven the way you would normally cook in the oven at home. You might need to keep an eye on it to see when it is cooked as it will likely take a little longer than your oven at home but this is a cheap and easy camping dessert.
Camp Cooking Essentials For Your Next Camping Trip
Every frequent tent camper or van life traveller should have a good camping stove and cookware set to make their desserts and meals while on the road.
It is worthwhile investing in a quality cast iron skillet. Especially one that will last with the frequent campfire and camp oven cooking, so you don't have to worry about ruining your skillet.
The other great option for camp cooking is having a cast iron dutch oven. A dutch oven or camping oven can withstand high temperatures, making it perfect for cooking in the campfire coals or over an open flame.
They come with a lid that helps to distribute heat evenly, making your food cook more evenly as well.
If you are using a dutch oven, be sure to get one that is the right size for your group. As we travel as a couple, we can get away with using a smaller dutch over compared to camping as a family.
A pie iron can be another great option, especially for easy campfire dessert ideas, such as toasted sandwiches with sweet fillings or cooking your own individual campfire brownies or campfire cookies from a mix.
Make sure you also have great quality outdoor oven mitts or gloves to keep your hands safe too!
Don't want to suffer through bad coffee while you're travelling? Check out our recommendation for the best camping coffee maker!
Camping desserts don't have to be complicated. In fact, some of the best camping desserts are the simplest to make! So what are you waiting for? Get cooking these yummy camping treats tonight! Dessert is always a good idea!