27 One Pot Camping Meals: Easy Recipes For Dutch Oven & Skillet
One pot camping meals are the perfect way to cook food while camping or travelling full-time by caravan or camper. They are easy to make and cleanup is a breeze. We have put together some of the best one pot meals for camping plus some of our top tips for making your camping meals easier!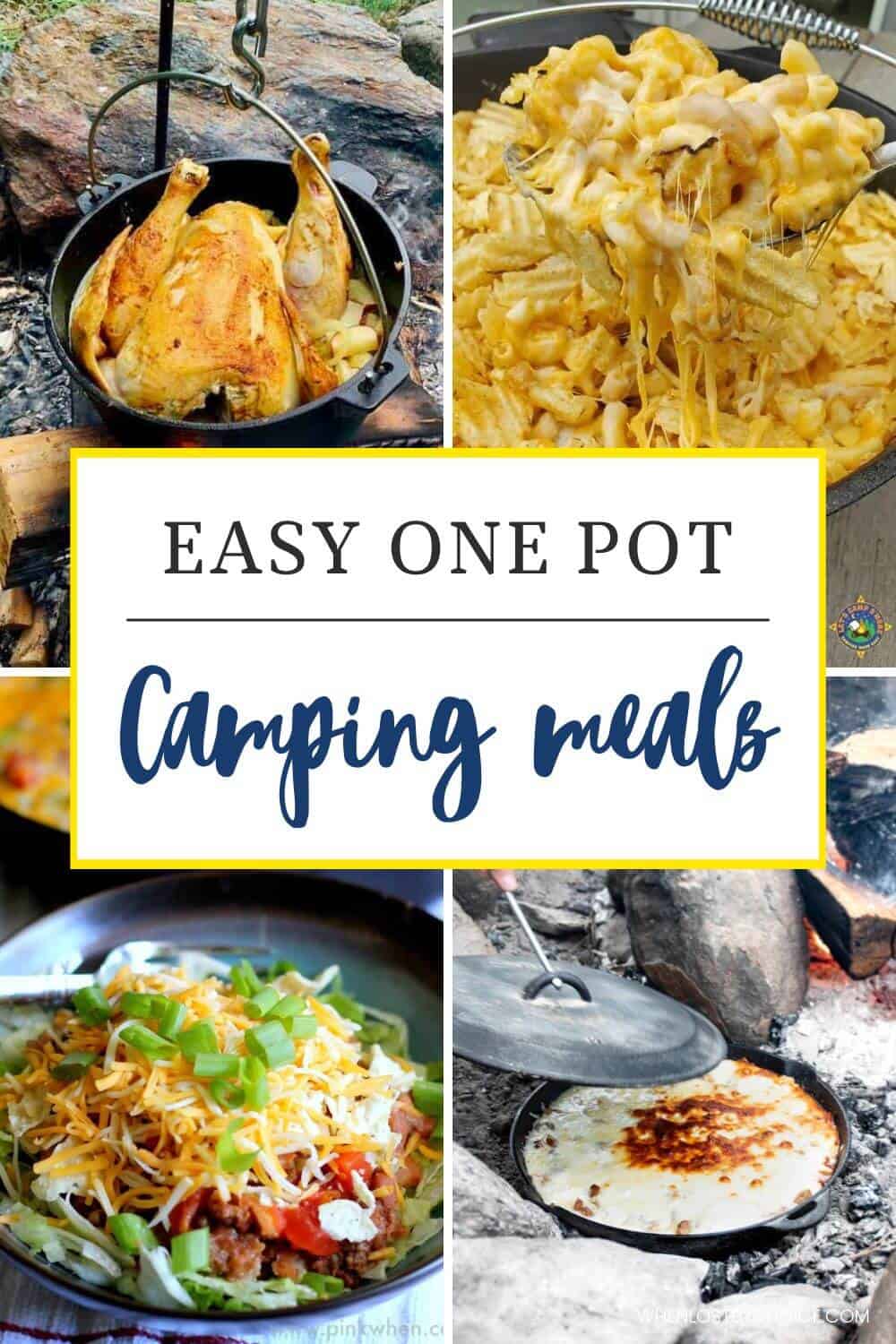 One Pot Meals For Camping: Save Time On Cooking
There is no denying that one pot meals save you a load of time. This is both when cooking at home and cooking on the road during your next camping or road trip adventure!
Let's face it, no one wants to spend hours cooking over a hot campfire when they could be swimming at the beach, hiking through the forest or playing a hilarious game of Throw Throw Burrito around the campgrounds.
You also don't want to be eating baked beans for every meal, just because it's easy!
One pot meals also tend to have fewer ingredients than your average recipe which means that you can save money while camping by not having to buy so many different ingredients.
And, if you are camping with a group, single pot meals make it easy to whip up a large batch to share with a crowd.
Make sure you check out these easy camping desserts too!
One-Pot Cooking Essentials For Camping
Every frequent camper or van life traveller should have a good camping stove and cookware set to make one-pot meals while on the road.
It is worth investing in a quality cast iron skillet that will last you many years. Especially one that will hold up over a camp oven, a BBQ and for campfire cooking, so you don't have to worry about ruining your skillet.
The other great option for camp cooking is using a cast iron dutch oven. A dutch oven can withstand high temperatures, making it perfect for cooking stews, roasts and bread.
They come with a lid that helps to distribute heat evenly, making your food cook more evenly as well.
If you are using a dutch oven, be sure to get one that is the right size for your group. As we travel as a couple, we can get away with using a smaller dutch over compared to camping as a family.
Make sure you also have great quality outdoor oven mitts or gloves to keep your hands safe too!
Easy One Pot Camping Meals
We've covered the camp kitchen essentials for skillet cooking and dutch oven camping recipes. So, without further ado, here are some delicious and easy one-pot meal ideas for your next camping trip!
Camping Skillet Meals
Skillet meals are one of the quickest and easiest ways to cook a delicious meal while camping. All you need is a hot surface and a single skillet and you're good to go!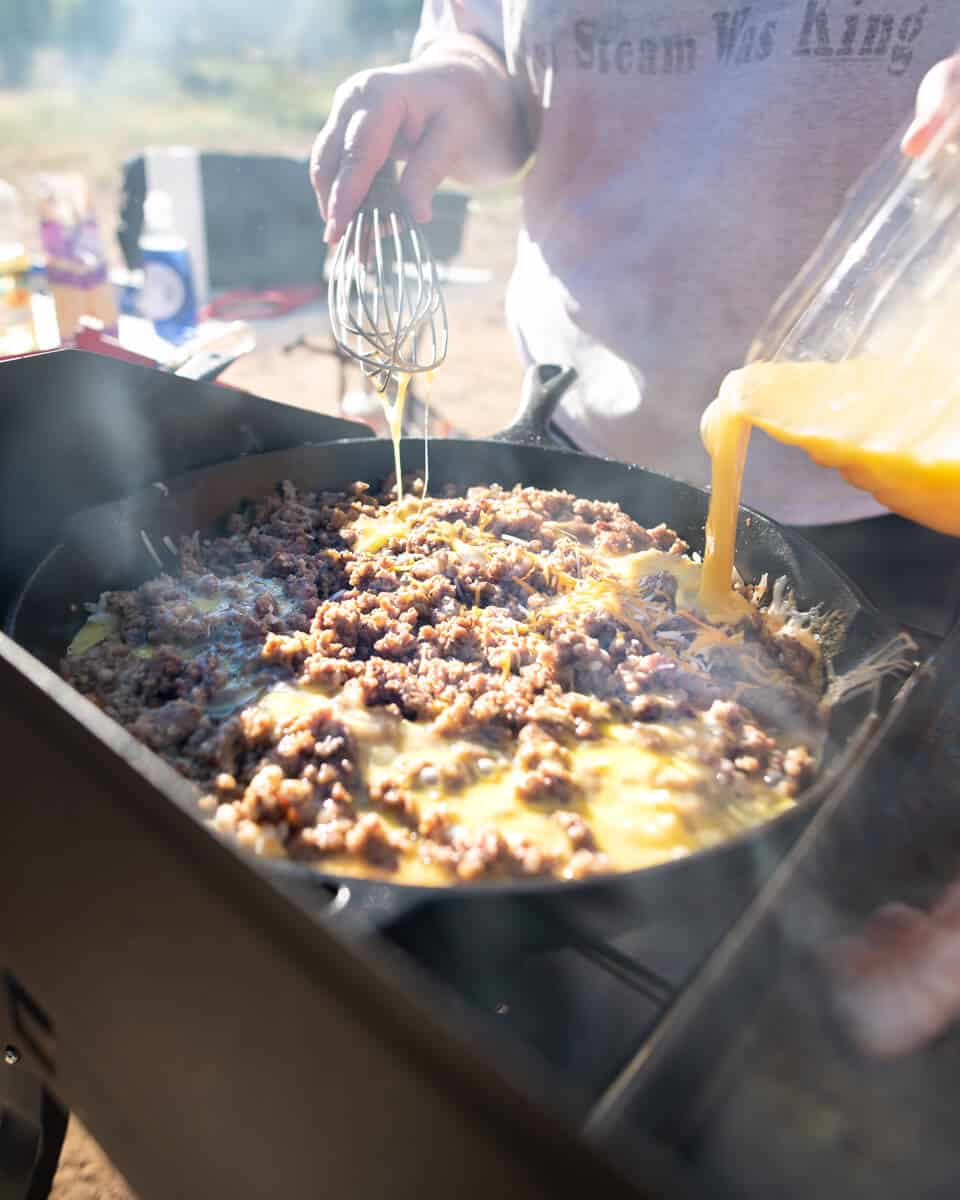 Easy Skillet Breakfast – A simple morning meal breakfast of eggs, bacon and potatoes to start your day!
Hungry Man Breakfast – Anyone can enjoy this hearty breakfast skillet recipe with hashbrowns, sausage, eggs and cheddar cheese.
Spinach & Tomato Frittata – This easy frittata recipe can be a quick breakfast, brunch or dinner recipe that can be made in your cast iron skillet.
Steak & Egg Breakfast Skillet – Start the day well with this steak and egg one-pot recipe with sauteed radishes, carrots and radish green pesto.
Healthy Creamy Chicken Sausage Skillet – Loaded with vegetables and lean protein, this is an easy dinner recipe using chicken sausages in a frying pan.
Skillet Beef & Been Taco Casserole – A quick and easy skillet recipe you can definitely cook at a campsite or on your caravan stove!
One Pan Cheeseburger Pasta – Cheeseburgers + pasta = a perfect dinner match! Make this one pan meal in no time.
Skillet sloppy joes – An easy and quick electric skillet recipe served on bread rolls.
Campfire Stew – This campfire stew is a great recipe for using up leftovers or throwing in whatever you have on hand. It includes 4 different methods of making it, including of course, how to make it over the campfire in your camp oven.
Roasted Skillet Breakfast Potatoes – This potato and veggies one pan recipe doesn't need to just be for breakfast!
Skillet Camping Nachos – One of the easiest dinners to make at home or around the campfire is nachos and you can definitely make them in one pan!
Camp Stove Chickpea Curry – Enjoy a rich flavoured curry to fill the tummy before retiring for the night.
Lemon Garlic Prawns – As Aussie's we're known for our love of prawns (shrimp) on the BBQ and these pan fried lemon garlic prawns are always a winner! Prep ahead of time by adding all your ingredients to a ziplock bag for the cooler then dump them in the pan when you're ready to cook.
Skillet Honey-Mustard Glazed Salmon – When it comes to camping food, you can't get fresher than the fish you caught today. Try this glazed salmon recipe with other types of fish too with today's catch or the fish you brought from home.
One Pot Dutch Oven Meals For Camping
A dutch oven, also sometimes called a camping oven, is perfect for cooking one-pot meals while camping. Dutch oven camping meals can cook while you're doing other things, like sleeping and waking to a hot cooked breakfast or while you're off doing fun activities for the day, ready for dinner!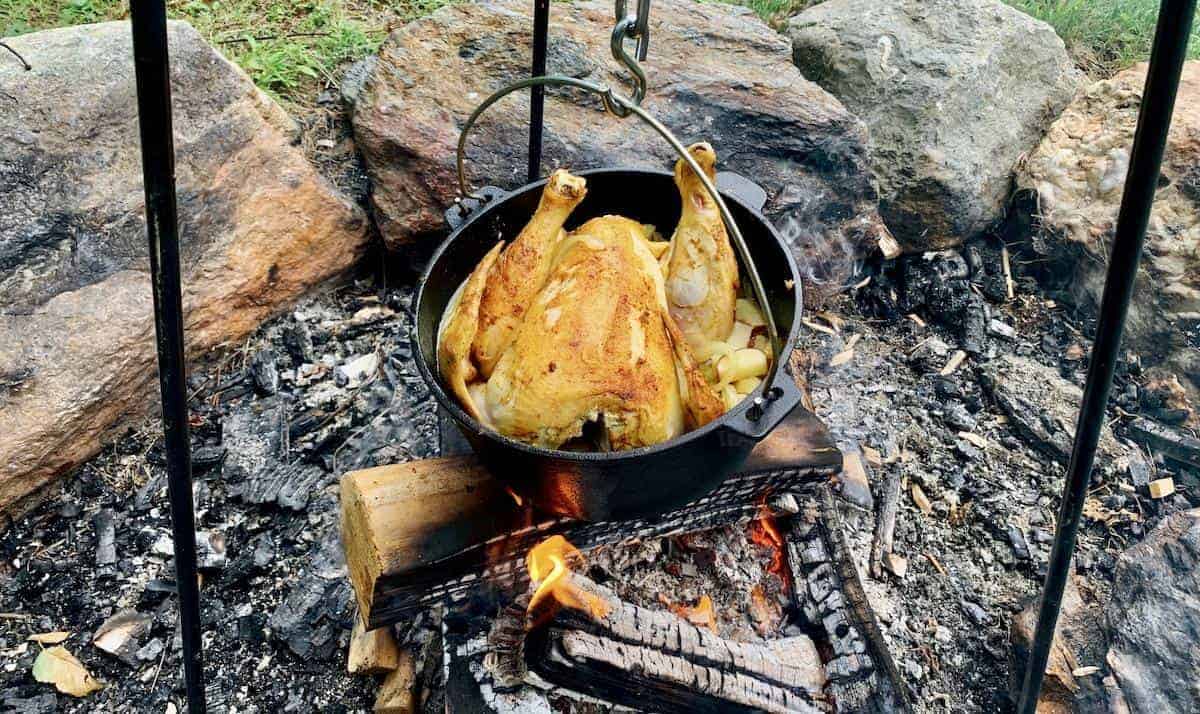 Dutch Oven Lasagna – Always a crowd pleaser, this lasagna dutch oven recipe is the ultimate campfire comfort food.
Dutch Oven Pizza – No need to skip pizza when you are amongst nature! This dutch oven pizza recipe is the perfect way to enjoy your favourite anywhere. And it takes less than an hour and a half from start to finish! Don't forget your favourite pizza toppings.
One-Pot Pork Chops With Vinegar Peppers & Potatoes – Have a hearty dinner ready in under an hour with this one-pot pork chops and veggies dinner recipe.
Camping Oven Damper – This camping oven damper recipe is an Australian classic! It's a hearty snack or breakfast that can be cooked over the campfire or in your dutch oven. Nothing quite compares to a freshly baked hot damper with butter melting into it. Yum!
Beef Dutch Oven Camping Stew – A simple camping stew recipe that works great for cooking for a crowd.
Campfire Dutch Oven Chicken and Potatoes – This chicken and potatoes recipe is an easy and tasty dinner.
Chicken And Rice – One pot camping recipes with chicken are often an easy choice, such as this chicken and rice dish cooked over the open fire.
Dutch Oven Mac and Cheese – Mac and cheese is a winter dinner staple whether you are home or taking your mobile home for a new journey!
Dutch Oven Ribs – Turn this home dutch oven ribs recipe into a camping meal you will want to make again and again!
Dutch Oven Chicken Noodle Soup – Feeling a little under the weather or simply wanting some comfort food? This chicken noodle soup is a yummy way to warm you up from the inside.
Dutch Oven Pot Roast – A pot roast recipe is always a great option and this dutch oven-style pot roast is tender and delicious.
Chicken And Squash Dutch Oven Casserole – This casserole can be made with shelf-stable ingredients, making it a great no-refrigeration camping meal, or you can use fresh chicken instead.
Campfire Chili – This campfire chilli takes just over an hour from start to finish. The ground beef one pot camping meal is topped with shredded cheese with rich smokey flavours.
One pot camping meals are the perfect way to cook food while camping or travelling full-time by caravan or camper. They are easy camping meals to make and cleanup is a breeze. Try adding some of these single-pot recipes to your next outdoor adventure!
RELATED READING: