Camping On Moreton Island – The Ultimate Guide
Moreton Island is home to crisp white sand and the clearest water, you'll feel like you're in a different country, not less than 90-minutes by ferry from Brisbane.
Being the third largest sand island in the world, this piece of paradise is a must for the bucket list! And camping on Moreton Island is the ultimate way to experience it.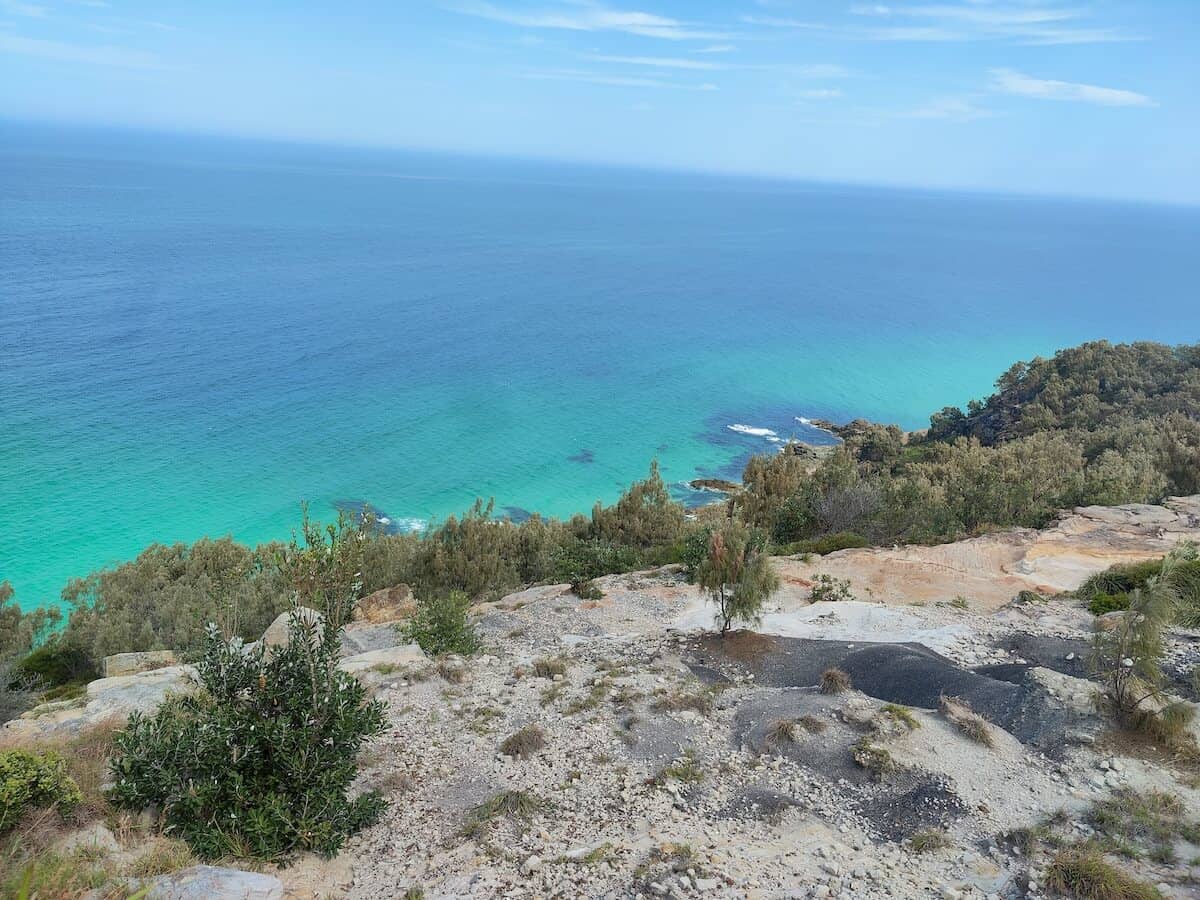 Camping On Moreton Island – The Basics
Moreton Island, or Mulgumpin, which is its indigenous name, is an island situated off the coast of South East Queensland. The island is approximately 44km long, with over 98% of the island being national park.
The Moreton Bay Marine Park extends this glorious area from the waters of Moreton Island to Caloundra, North Stradbroke Island and the southern tip of South Stradbroke Island.
This means there are plenty of places to explore!
Whether you're looking for a place to relax and unwind or an action-packed adventure, Moreton Island has something for everyone!
Moreton Island is 4WD access only which means only a few of us are lucky enough to see what the island has to offer. The island also allows for walk-in campers at the Tangalooma Wrecks camping area.
You might also enjoy our Fraser Island camping guide too! Fraser and Moreton are two of the most popular places to camp in South East Queensland! Be sure to also check out our comparison Moreton Island Vs Fraser Island!
To help you plan your perfect Moreton Island camping experience, here are some essentials you should know:
Where Is Moreton Island?
Moreton Island is located in South East Queensland, Australia. The island is situated approximately 35km off the coast of Brisbane.
How Do I Get To Moreton Island?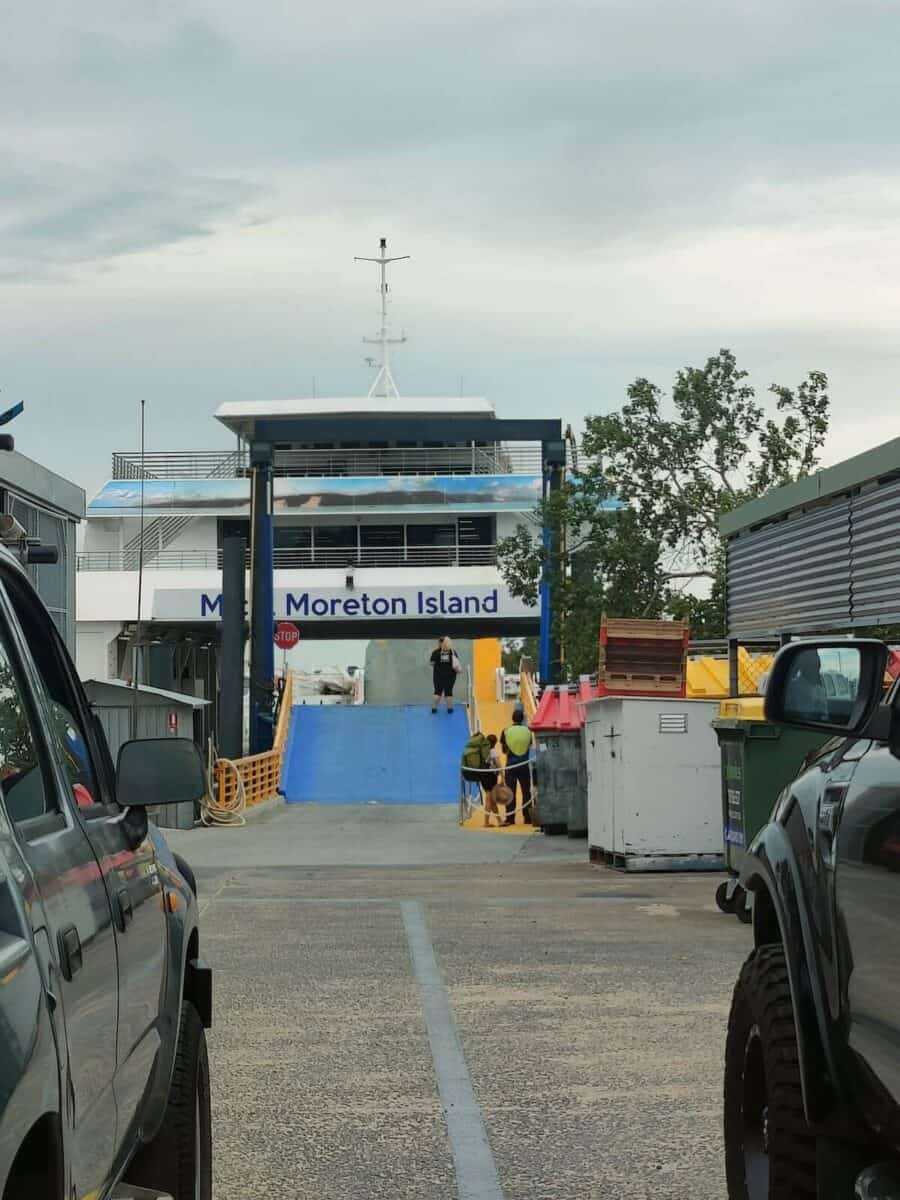 The only way to reach Moreton Island is by boat, ferry or barge. If you are planning to stay at Tangalooma Resort, you can catch the Tangalooma Flyer, but otherwise, there is the Micat Moreton Island Ferry for all other visitors. It takes approximately 75 to 90 minutes to reach the island.
The Micat ferry to Moreton Island departs from Brisbane and is the only car-carrying barge, making it essential if you are planning to take your vehicle across to Moreton.
This means it can also get very busy so make sure to book ahead so you don't miss out!
You will also require a vehicle access permit to bring your vehicle across to Moreton. Click here to book a permit or add it to your ferry booking.
Our Moreton Island Adventure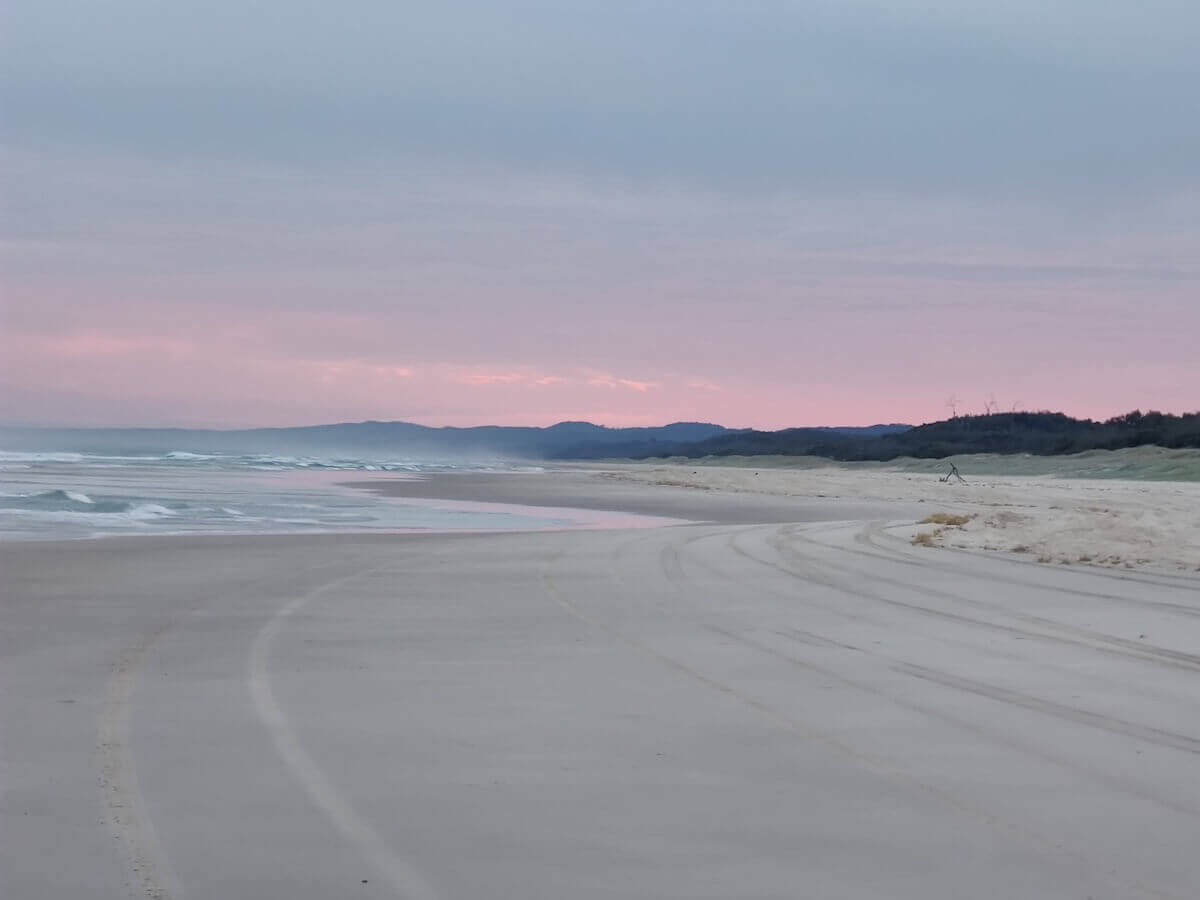 Let me take you down our memory lane of 8 days living on Moreton Island.
Our first wedding anniversary was approaching, and we were tossing up between Moreton Island or K'Gari (Fraser) Island. After too much research we decided to make our first island camping trip to Moreton.
On a beautiful Friday morning, we boarded the ferry with Wanda the Ford Ranger and Tallulah the slide on. We were bursting with excitement after our 90-minute journey over to the island. Plus this was our first true trial run of living on the road with our new home on wheels set up!
This was after we had retired the Delica camper, realising it wasn't the right option for us!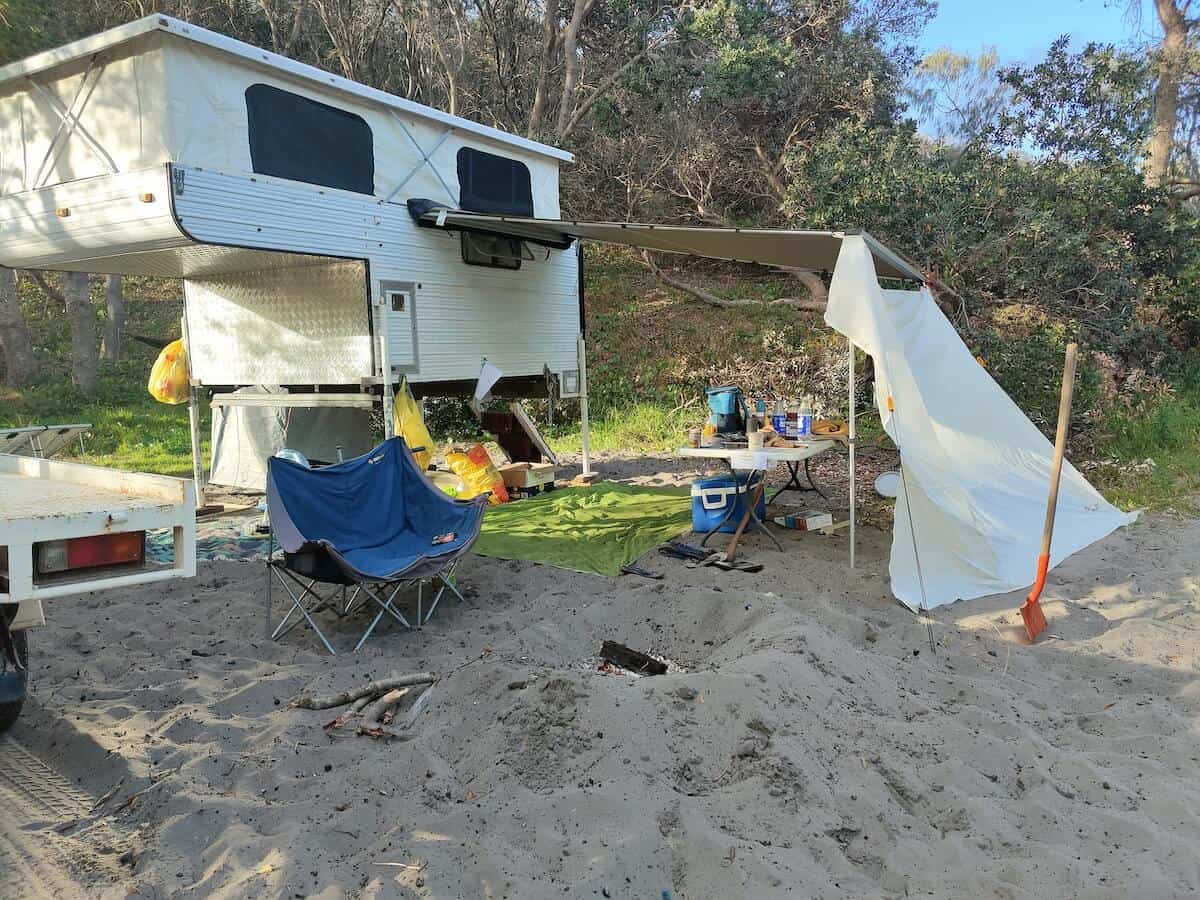 As nervous as we were about driving our heavy slide on off the ferry and onto the sand, we had success and headed up the beach. We both agree, there's nothing quite like driving on the beach with the waves crashing next to you.
Our first destination was our Moreton Island beach camping site, all the way on the other side of the island in the Blue Lagoon camp area to set up for our week of bliss!
Best Things To Do On Moreton Island
If you only have a short time on Moreton Island, our favourites were finding our first starfish on the Tangalooma side of the Island, Blue Lagoon Lake, The Desert, snorkelling at the Tangalooma Wrecks and the Champagne Pools.
If you are spending a longer amount of time, here are the best things to do on Moreton Island:
Blue Lagoon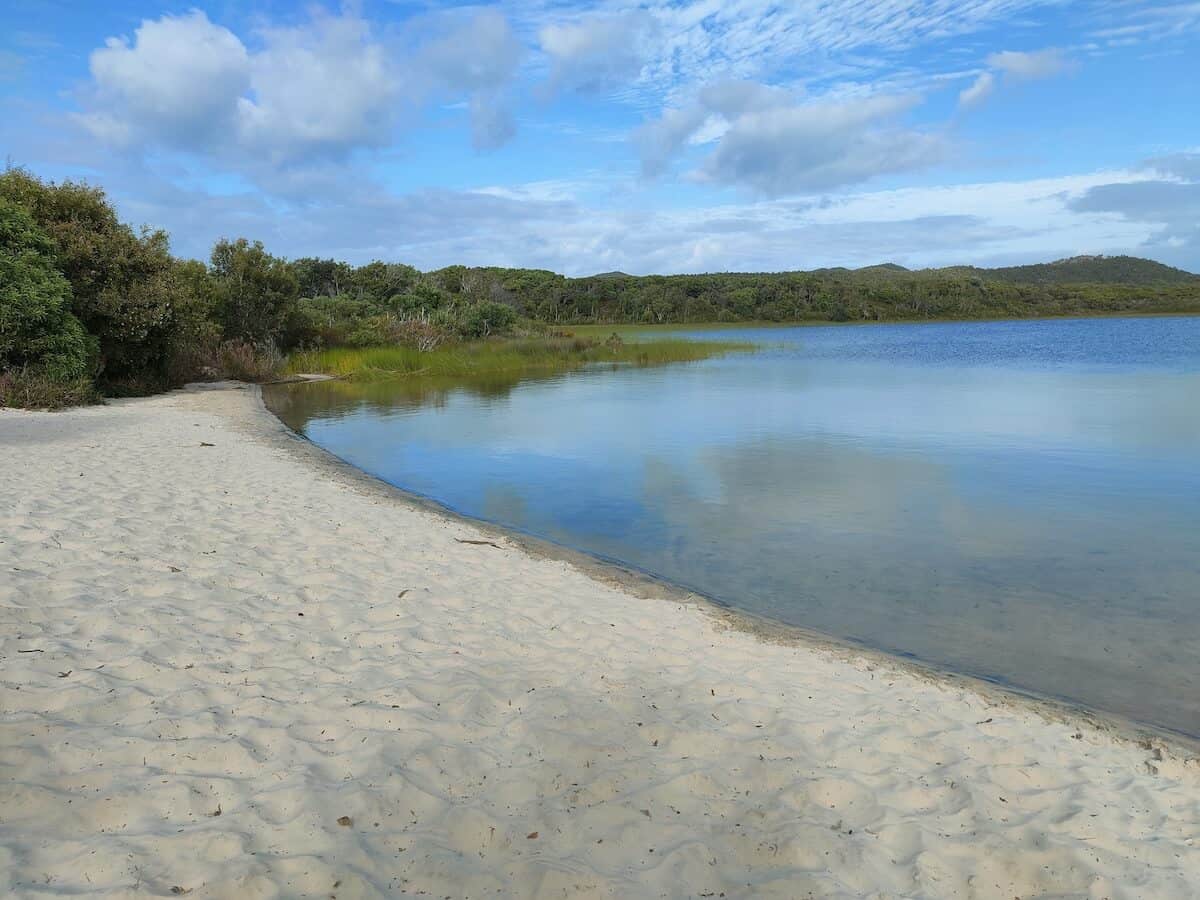 Blue Lagoon is a hidden gem on the other side of Moreton Island. After following the signs and arriving at the car park, you'll have a short 200m trek down to the stunner of a water hole.
Keep in mind, we were visiting during summer BUT our feet were on absolute fire and it felt like the longest 'walk', so you basically run down to the water as fast as your feet can go while kicking up the lava sand.
The sand is pure white and the freshwater lagoon is the perfect way to cool down after exploring for the day. What more can you ask for?
Some people took their kayaks or stand-up paddle boards.
When on holiday, we love adventuring but we also love our food and drinks. Along with our floaties, we trekked down an extra floatie to hold our cheesy meat platter and alcohol in the water. Best picnic we've ever had!
We visited the Blue Lagoon at least every second day of our trip to Moreton Island.
Moreton Bay Rock Oysters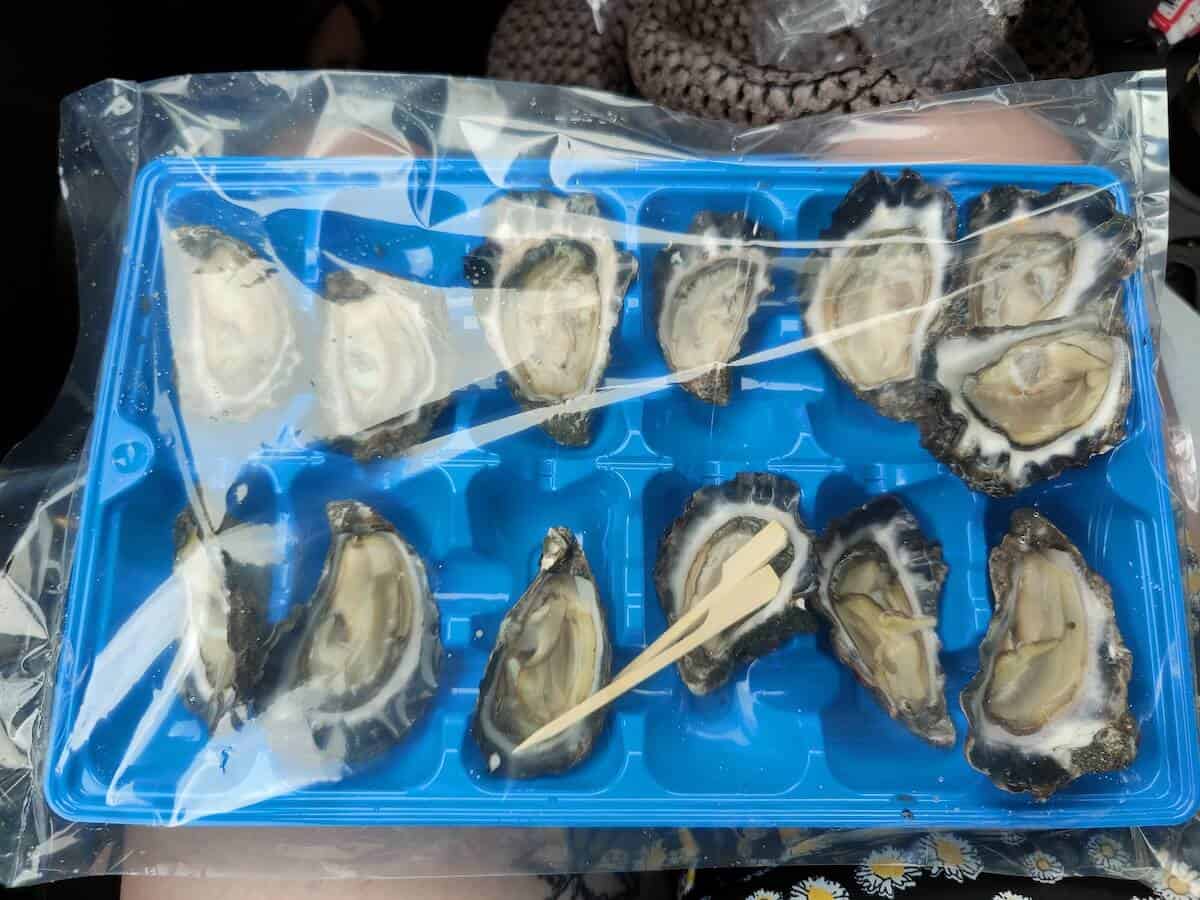 Moreton Bay Rock Oysters is a perfect little stopover at Kooringal for all the oyster lovers!
We decided one day to drive the entire island and suddenly this family-run business popped out of nowhere. You can buy fresh oysters, straight from the waters of Moreton Island that morning.
We absolutely recommend adding this to your list if you're planning on navigating the entire Island.
Tangalooma Wrecks Snorkelling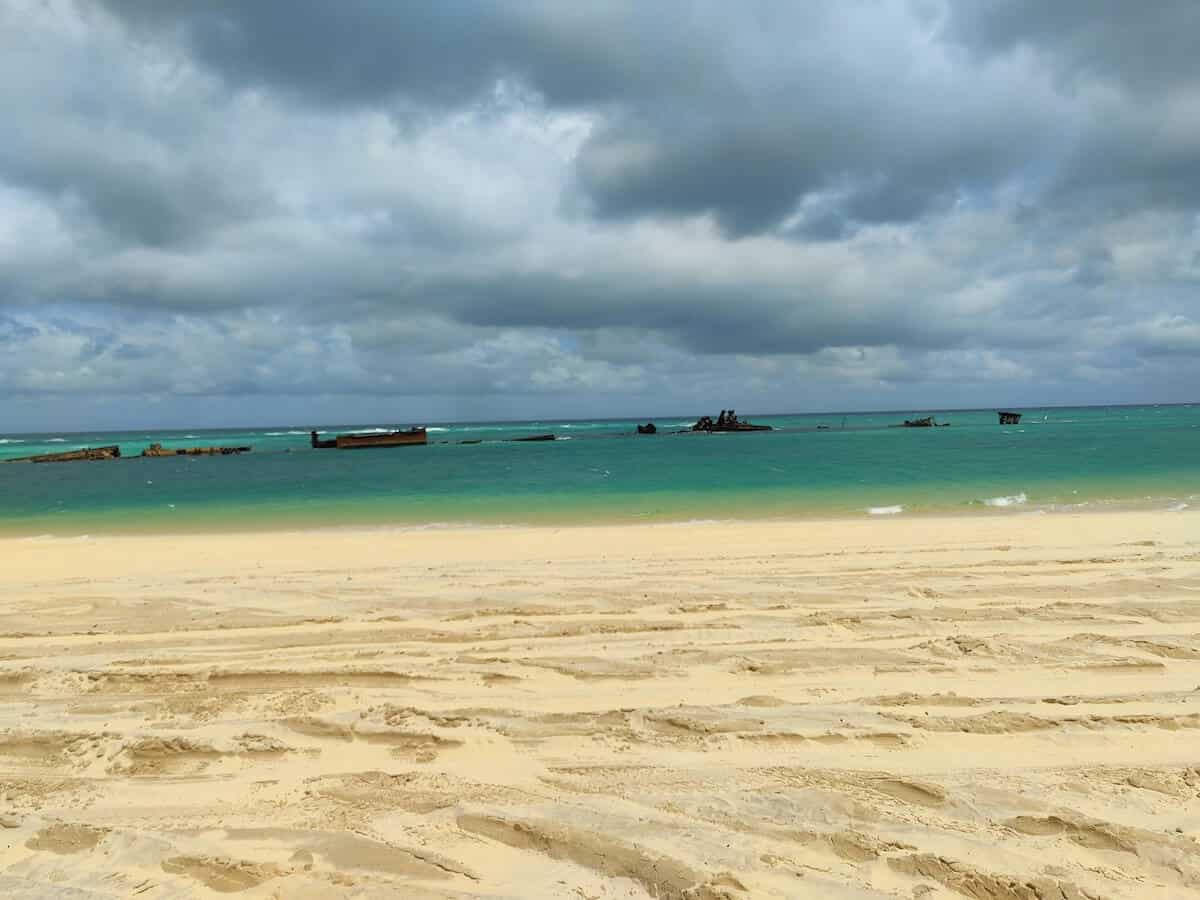 The wrecks are close to the mainland. If it's a clear day and you're a confident swimmer you can head over with your snorkel gear, straight from the beach.
I would not recommend this on a windy day or if you're lacking confidence – there are always tours or boats to take you over. Always consider your safety.
We spent hours floating over the Moreton Island wrecks and still didn't make it to the last couple of wrecks. It was a magical experience swimming amongst the fish. Unlike snorkelling the Great Barrier Reef, we swam amongst fish we'd normally catch such as bream.
This was also my first "Disney Princess" moment, as each time I turned around I was surrounded by fish. I loved every moment of swimming at the wrecks.
In the end, we were so worn out from keeping ourselves up that we freaked ourselves out by a reef shark and basically ran across the water to get back to land. Yes, embarrassing but something we can laugh at now. I'm still blaming the exhaustion.
This is easily one of the best places to go snorkelling in Queensland!
Fishing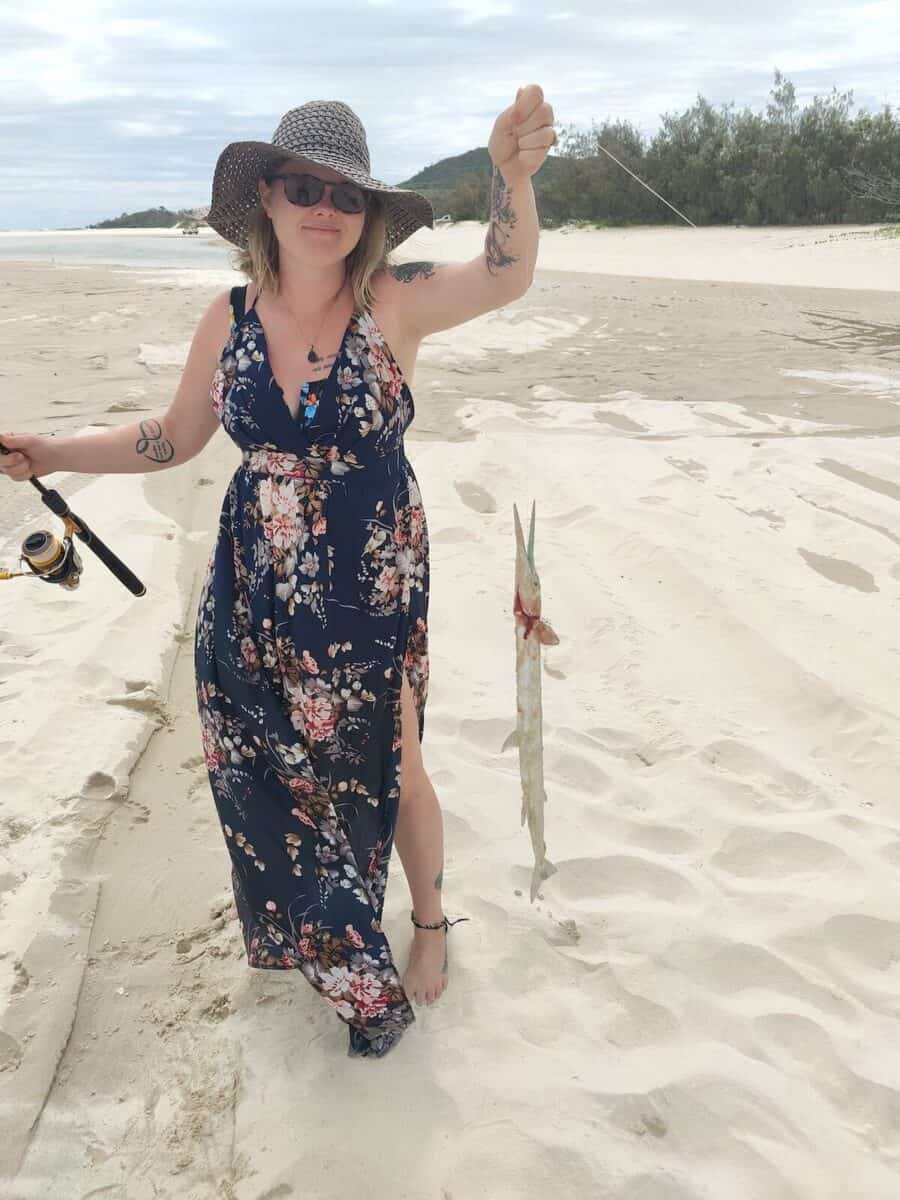 You can literally pick a spot on the beach for fishing on Moreton Island and throw a line in.
We are complete amateurs at fishing. We love throwing in a line but never have much success. We got lucky near our campsite and Nick caught a very tasty fish. We headed straight back to our campsite and made fish wraps – absolutely delish.
We tried again many times on our trip, but we honestly have no idea what we were doing and we seemed to be feeding the fish more than anything. It was still a lot of fun and enough to keep us interested as we had bite after bite!
Champagne Pools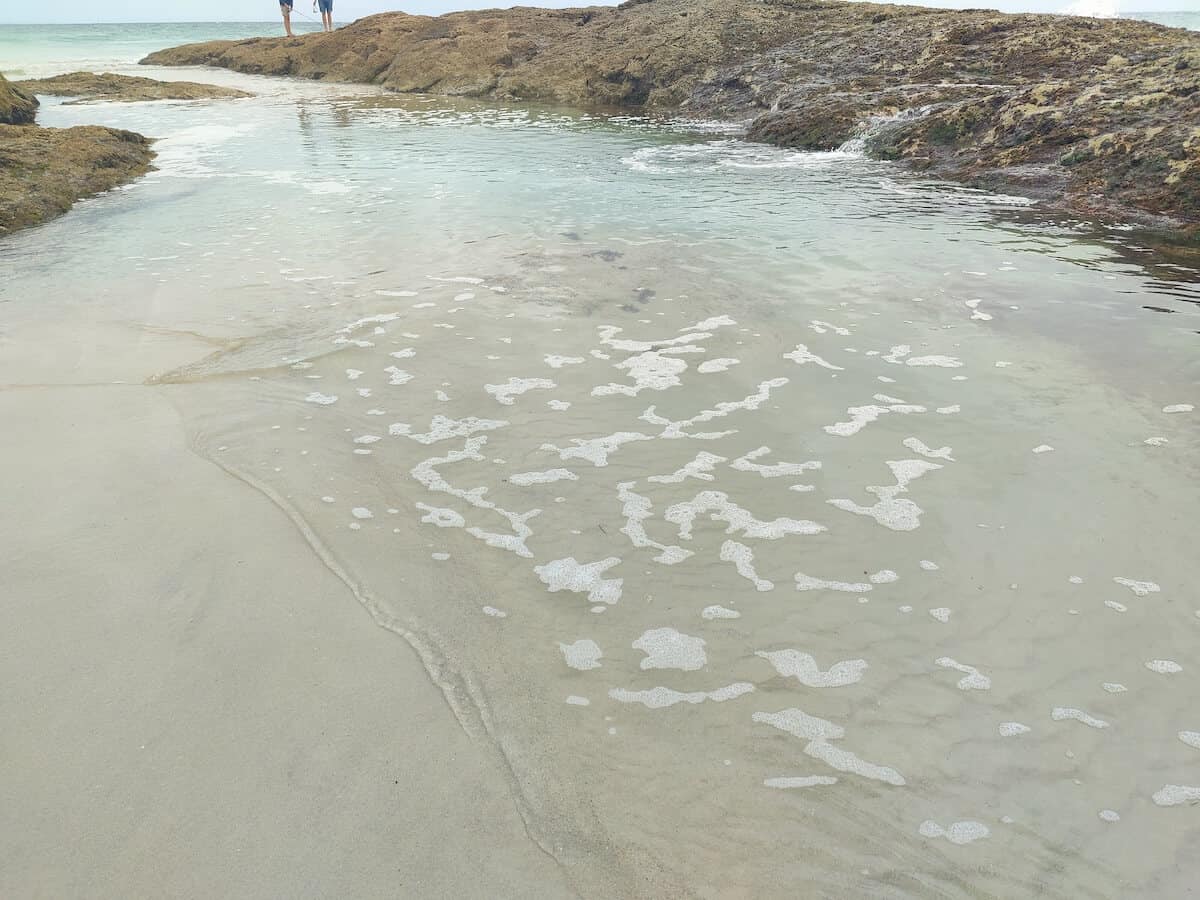 Located on the other side of Honeymoon Bay you'll find Champagne Pools. The name sounds just as beautiful as this little gem is. We spent hours studying the little fish and other sea creatures living in this safety zone.
If surfing is up your alley, head over to the outside of the Pools and you'll find the perfect spot to catch the waves crashing.
The Desert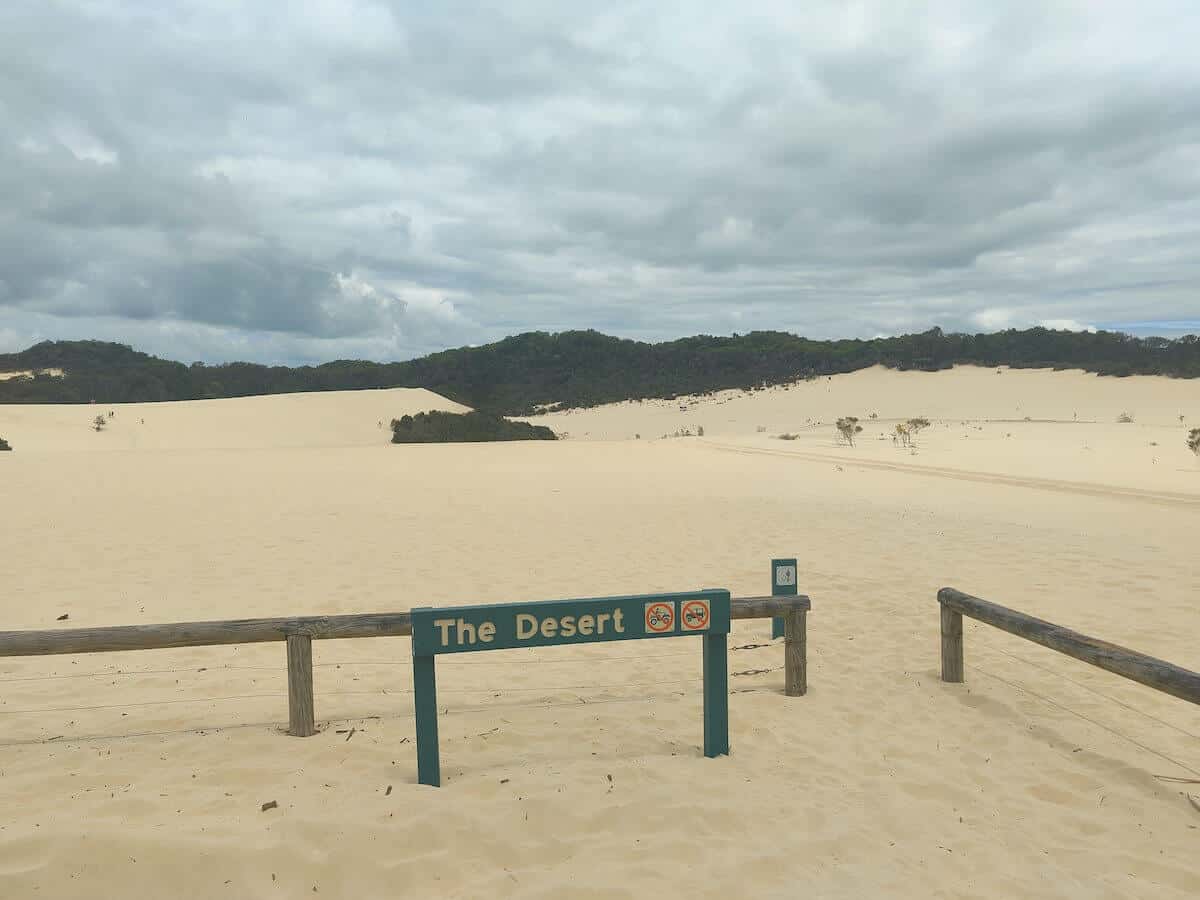 I've personally never been to a desert (yet), so this was overwhelming for my brain to take in.
Suddenly.. a white sand desert.
Your calves will burn as you trek up the sand mountain, but do it. The view just leaves you speechless.
Of course, Nick thought this was the perfect location to roll down the massive hill. His form was not so great as his arms flew everywhere and he almost went down doing cartwheels.
Five Hills Lookout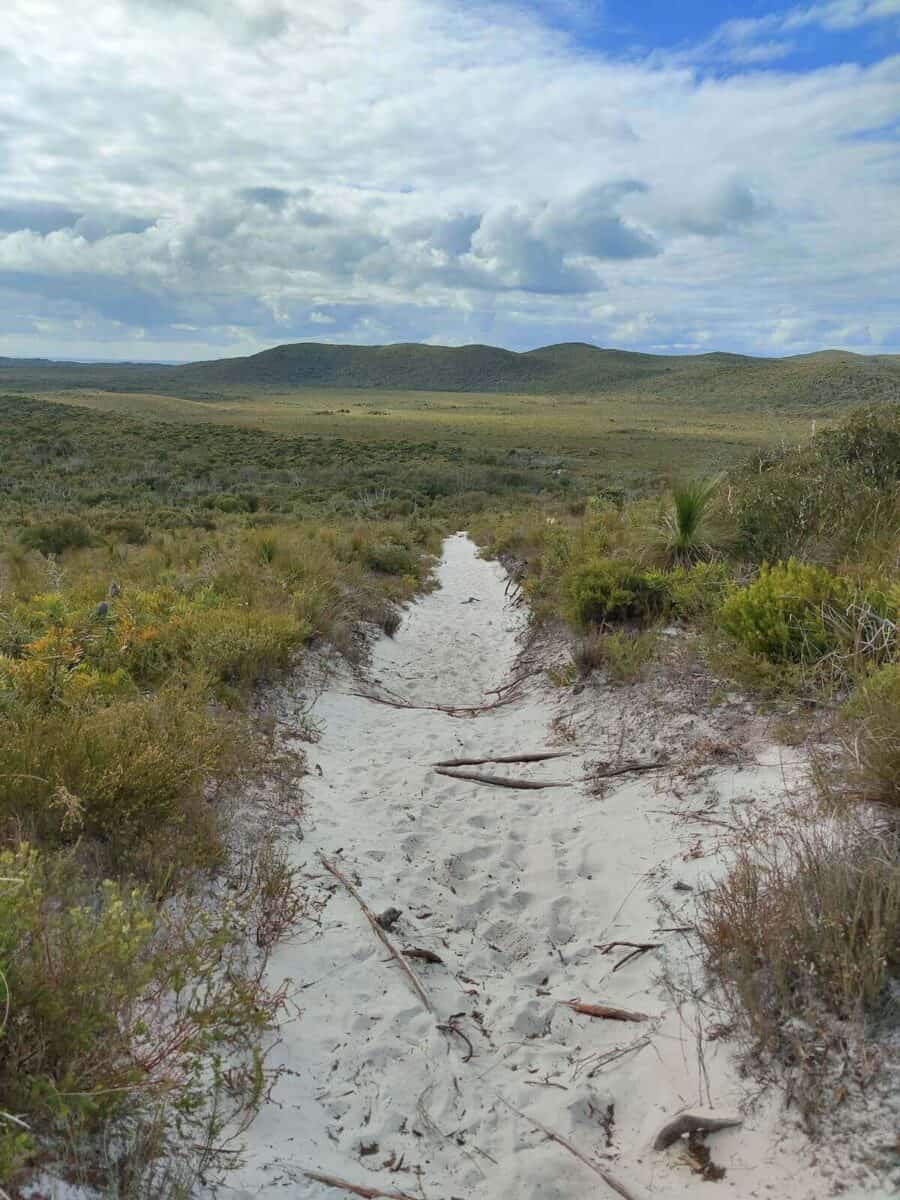 The Five Hills Lookout is a steep climb and this hike looks like it just goes forever, but we managed to reach the top and take in the stunning views of the surrounding area.
Cape Moreton Lighthouse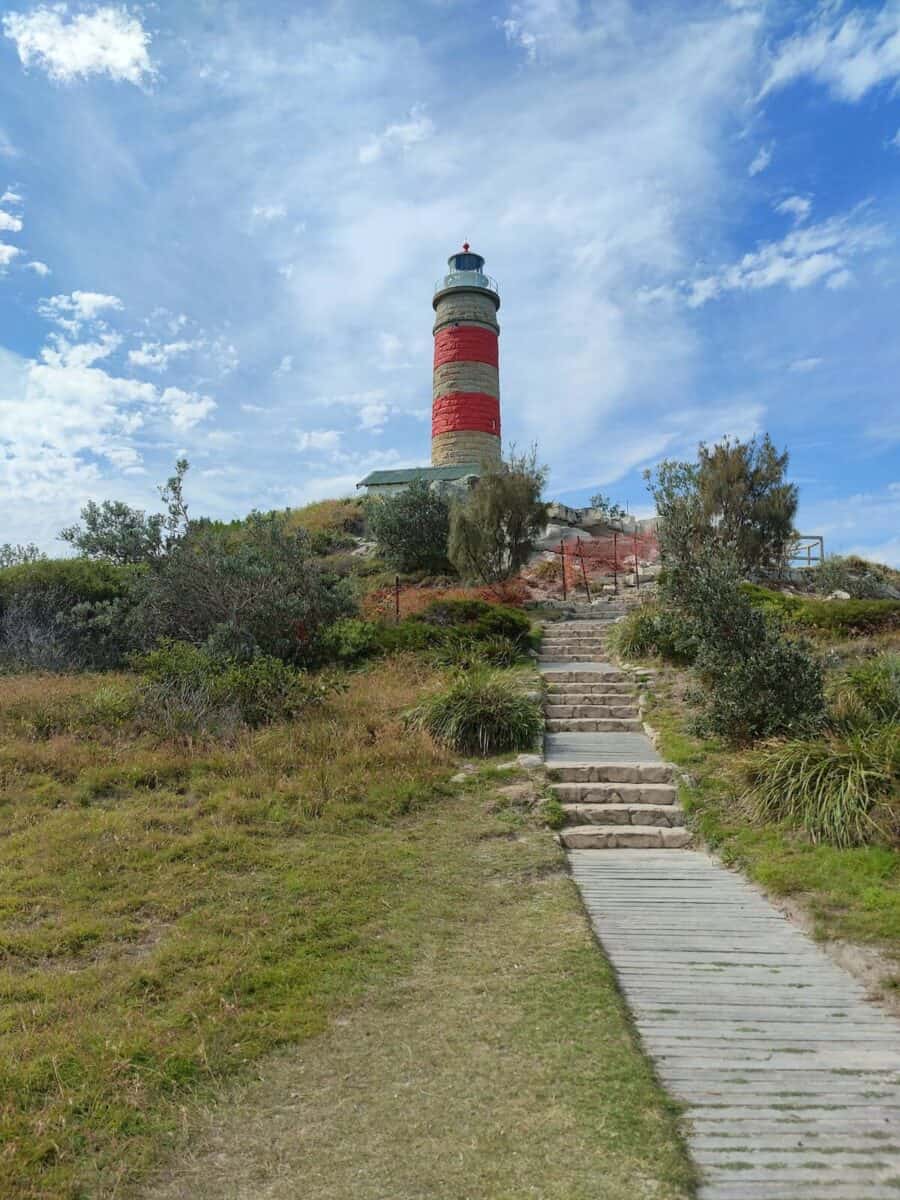 The lighthouse is located on the northern point of Moreton Island. During whaling season, it is said you can view them from the lookout area of the lighthouse.
Our time on the island was out of the usual whaling season, but the view is breathtaking and absolutely worth a small walk to the top.
Sand Tobogganing
We were eager to try this! The cheap people that we are, we purchased surf skis thinking they would work the same. It's a hard no. The skis gripped with the sand and prevented any type of movement down the sand, but this looks like so much fun!
Just make sure you take something that works.
Rous Battery
A little bit of history, these batteries were built for World War II and are still accessible by 4WD. If walking is more up your alley, alternatively you can trek the 9.8km hike to see it all up close.
Honeymoon Bay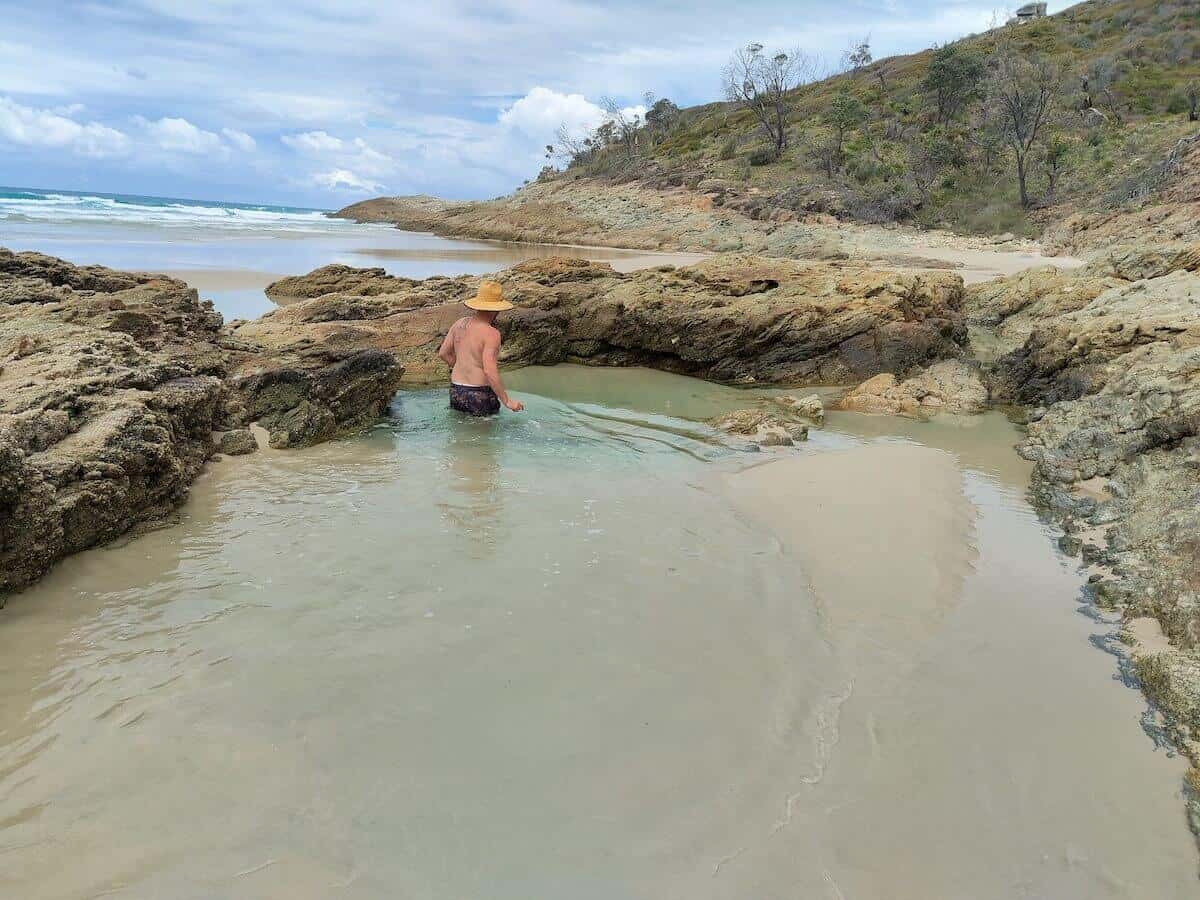 What an absolutely stunning view! We were lucky enough to have Honeymoon Bay to ourselves. We held off 'looking up' as we trekked the site to the bay and it was well worth it.
Once we emerged, we spent some time in the mini rock pools and in the caves of the large rock. This is the perfect spot for a picnic with your love.
Harper's Rock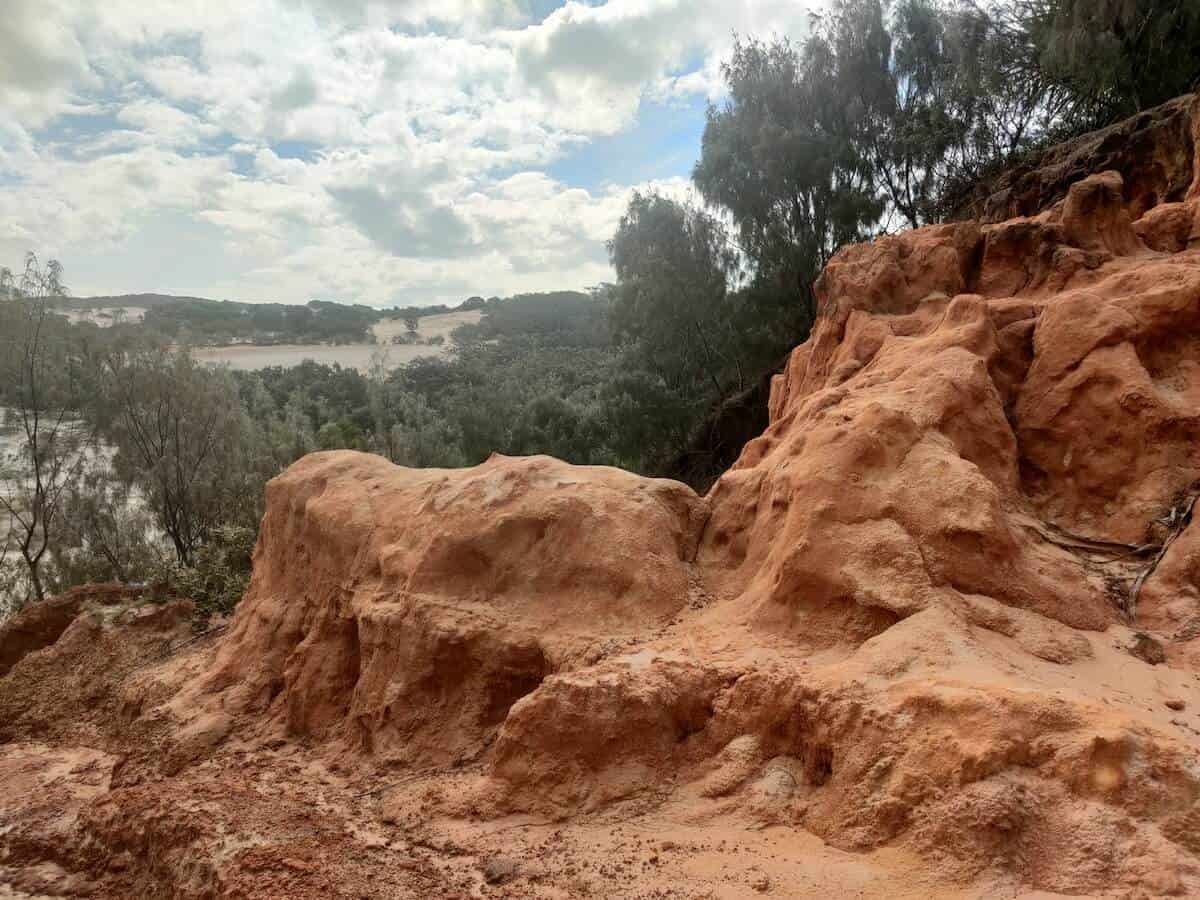 This was a fun little bonus we found along the way. It is amazing to see all the different scenery changes on Moreton Island. We trekked from the bottom to the top and back down again in awe of this additional desert-like area.
The Gutter Bar
This is such a quirky little venue located on the island. Make sure to stop for lunch and take in all the decorative materials all throughout the pub. The Gutter Bar is also 1 of 2 restaurant/takeaway options on the Island.
Tangalooma Island Resort
We do have some sad news about Moreton Island. If you are not a guest at Tangalooma Island Resort, you are unable to access the activities or restaurant. We were hoping to go parasailing, feed the dolphins and enjoy a meal we didn't have to cook.
Unfortunately, we found out the hard way, you are unable to access this part of the Island without your booking number.
We did consider booking a night just to have the opportunity to feed the dolphins, but in the end, we decided to save that for our next Moreton Island adventures.
Tangalooma Resort has many activities available to make your Moreton experience even more memorable. We still can't want to eventually feed those dolphins, they even offer night kayak tours around the Tangalooma Wrecks.
Interesting Fact: The Moreton Island National Park was renamed in 2021 to Gheebulum Kunungai National Park to reflect the strong historical and cultural significance of the site. Gheebulum Kunungai translates to 'lightnings' playground' in the language of the Quandamooka people.
Moreton Island Camping Sites
While we camped at the beautiful Blue Lagoon campground during our time in Moreton, there are actually several different Moreton Island camping grounds you can camp at. You will need a camping permit to camp on Moreton Island.
Find out more about Moreton Island camping permits here.
Here are the different Moreton campsites:
Blue Lagoon Campground – Beach camping with your own freshwater lake, with medium sites and easy access to Ocean Surf Beach. An easy walk to the Blue Lagoon Lake. Located on the eastern side of the island.
Ben Ewa Campground – This small campground is the next closest to the Micat Ferry, offering shady spots. You do need to book early though since spots are limited. It's a 5-minute drive or 30-minute walk up the beach.
Comboyuro Point Campground – This is one of the largest campgrounds on Moreton Island and a short drive to the local store for supplies. Located on the Western side of the island, it has sheltered bay waters making it great for families with young children.
North-West Zone Campground – There are no facilities at the north west camping zone so you will need to be fully self-contained, but the scenery is incredible. Sheltered by the bay waters and you can camp next to your vehicle. It is situated in the zone between Ben-Ewa and Comboyuro Point campgrounds.
North-East Zone Campground – The north east camping zone is another that requires you to be fully self-contained, offering exposed surf beaches and a great spot to fish or go surfing. You will find some secluded sites here.
North Point Campground – Large campgrounds, close to the surf beach and within walking distance to beautiful Honeymoon Bay. You need to park your car in the designated area which is a short distance from the campsites. This site is around an hour from the ferry drop point at the northern tip of the island.
South-East Zone Campground – This self-contained South East camping zone has exposed beach camping zones and surf beaches and is more secluded than the northern zones with various-sized sites.
South-West Zone Campground – For self-contained campers, the south west camping zone offers sheltered Moreton Bay waters and is more secluded in the southern zones compared to the western zones, depending on your preference.
The Wrecks Campground – The wrecks campground is great for anyone who doesn't have a car as you can only reach it on foot. The walking distance is around 5km from the ferry arrival making it a good option for short trips or overnight stays.
Yellowpatch Campground – If you are camping in a larger group, Yellow patch camping zone is perfect. Great spot for fishing, and shady sites, located between North Point and Heath Island. It can only be reached by 4WD, taking around 1 hour to reach from the wrecks.
TRAVEL INSURANCE
Don't leave yourself at risk! Make sure you have travel insurance in case things don't go to plan! We recommend SafetyWing which has comprehensive monthly plans that are affordable!
Cost Of Camping On Mulgumpin (Moreton Island)
Keep in mind our Moreton Island trip was in October 2021, so these prices will have changed. As the slide-on camper was attached to our vehicle, we did not incur the additional costs that a camper trailer or caravan would include.
Camping on Blue Lagoon for 8 nights – $109.60
Micat ferry return booking – $343.68
Additional 20L jerry can – $60.00
You can purchase your vehicle access permit as part of your Micat Ferry booking or this can be purchased separately.
Tips For Moreton Camping Trips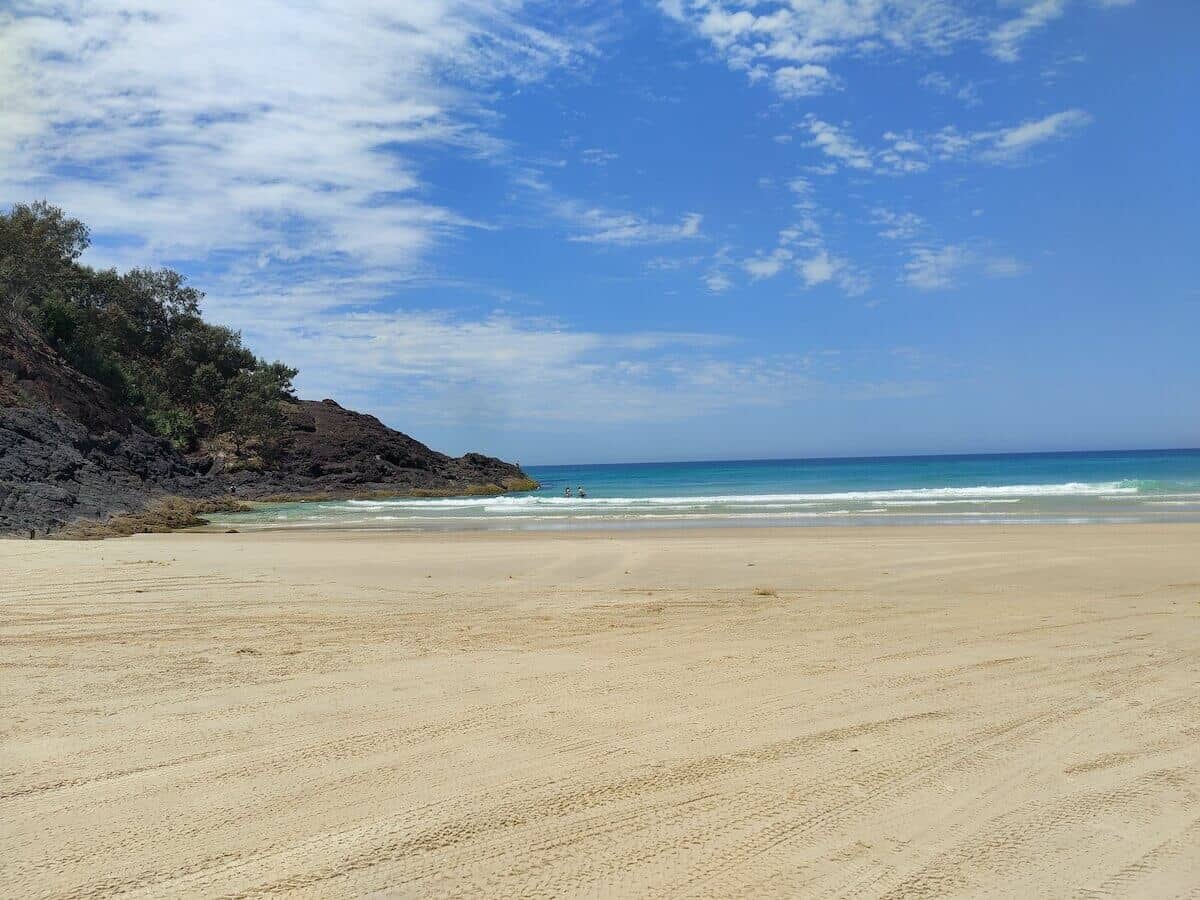 Always know the tide times, this can be the difference between life or death when attempting to drive the beach
Keep recovery gear readily available
Bring extra food and drinks, there is only one convenience store in Moreton and everything is really expensive
Make sure you have the right vehicle for getting around Moreton Island
Pack the jerry can or 2 – it cost us $60 for a 20L jerry can top up
What To Pack For Island Camping
Don't forget these essentials when packing for your camping trip to Moreton Island, along with all the usual camping essentials you need:
Good quality sunscreen and insect repellant (these are our picks)
Fishing gear
Floaties and any other water activities
And of course your food and drinks!
The Finale
Along with celebrating us, our big goal was to trial our new set-up. Besides not enjoying the drive, we had an incident that swayed our decision to head back to the drawing board.
One of our manual legs failed, which resulted in a very stressful pack-up on our last day on the Island. For more information, check out our slide on camper journey.
We absolutely loved what Moreton Island had to offer and hope to head back one day soon. You could spend a month on Moreton Island and still not be ready to head home.
We would recommend visiting Moreton Island to any family, group of friends or couple seeking an adventure or just a relaxing break!
If you are looking for more fantastic South East Queensland camping sites, check out our guide for camping with kids near Brisbane!