33 Make Ahead Camping Desserts: Easy Ideas & Recipes
When it comes to camping, one of the most important things to consider is food. While it's fairly easy to plan simple meals for breakfast, lunch and dinner, what about easy and delicious dessert options? That's where make-ahead camping desserts are a fantastic option if you want a little something to keep the sweet tooth satisfied during your time enjoying the great outdoors!
We have shared some easy camping desserts, but many of those require more preparation and cooking and sometimes after a long day of hiking, swimming and exploring, you don't want to cook more than you have to.
But still, you want to enjoy something sweet on your camping trip. Who doesn't?
That's why we love bringing some no-prep camping desserts with us too! Especially for weekend camping trips.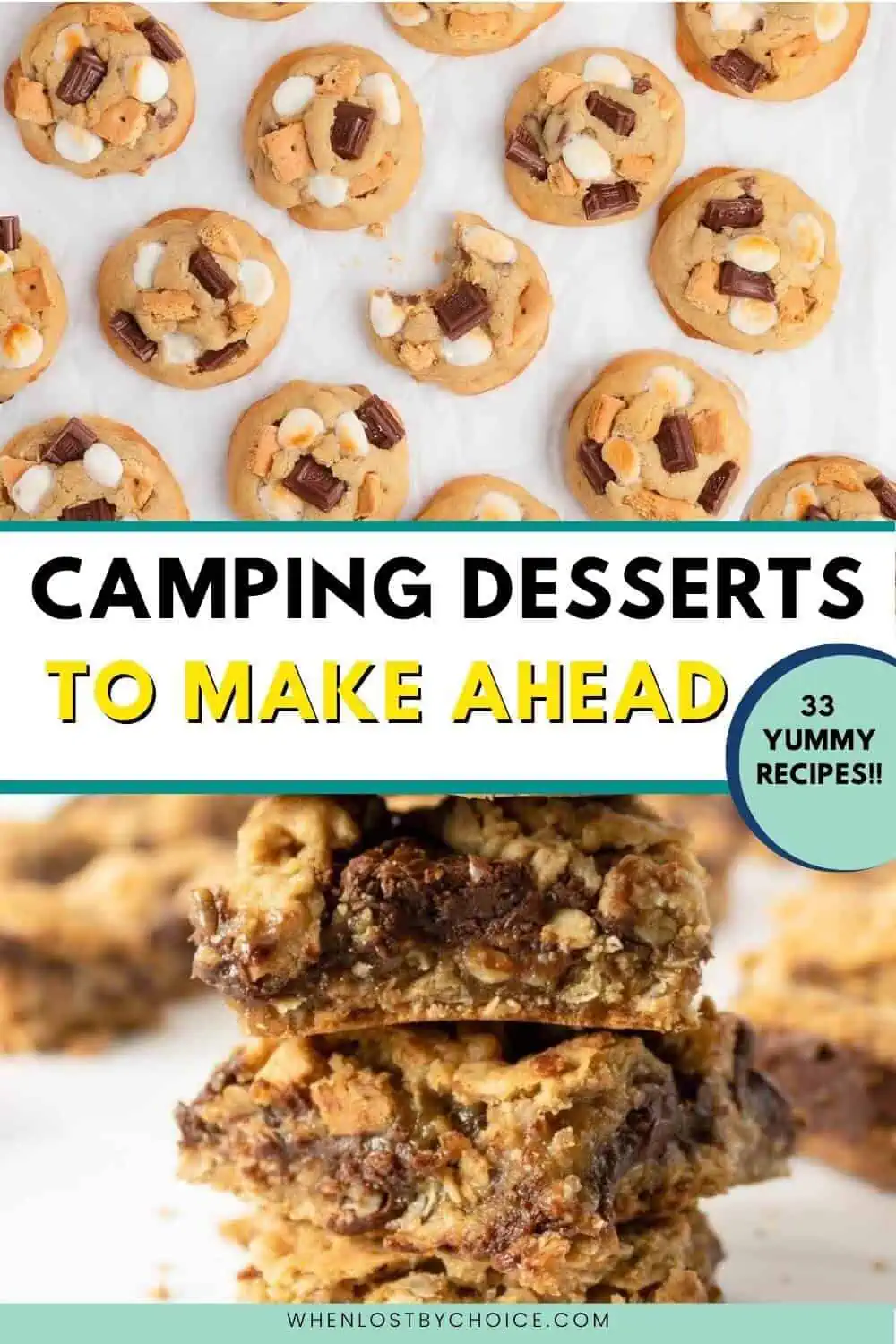 Make-Ahead Camping Desserts
Make ahead desserts for camping can come in a variety of forms, with some needing refrigeration, while others you can make ahead and store in an air-tight container and enjoy whenever you need a sweet treat.
Sure, making s'Mores around the campfire is a bit of a camping tradition, but sometimes you just want to make the whole time really easy and that's where make-ahead meals, snacks and treats will simplify your whole camping trip!
Whether you're a seasoned outdoor adventurer like us or camping for the first time, make-ahead camping desserts are a great way to add some variety to your camping menu. They are also the perfect dessert ideas to pack for a road trip too!
What Makes For A Good Pre-Made Camping Dessert?
The best easy desserts for camping are ones that require minimal effort. You just want to be able to grab it and eat it, without having to worry about any extra steps. Especially cooking!
Any desserts that don't require refrigeration are an extra bonus too since that's space in your cooler for dinner and drinks. The really important stuff, right?
We like to bring a mix of chill and no-chill food with us when we go camping. That's easy when it comes to snacks but not always the case with desserts.
Of course, you can bring a packet of chocolate biscuits or lollies to share. But sometimes it's far more fun to make something special.
The Best Make Ahead Desserts For Camping
We've put together a list of simple options you can make at home before you head off on your next camping trip. This includes some yummy dessert recipes and easy stuff to make ahead.
Cookies and Bars
Cookies and bars are a great option for camping because they are easy to pack and can be made in advance. Most of them can be stored in an airtight container or in ziplock bags as well, so you don't need to worry about keeping them chilled.
Cakes
Cakes can also be a good option for camping desserts, although you need to make sure you have enough room in the esky if you are taking anything with icing!
Muffins
Muffins are always an easy make-ahead option for camping trips or road trips. You can bake up a batch of your favourite flavoured muffins or make a few different types for variety. And mostly, they can be kept in an airtight container for a couple days, depending on what you put in your muffins. Some might need to be chilled.
Other Camp Dessert Ideas
Other simple options include things like fruit salad or a tub of ice cream (homemade or store-made), custard or chilled pudding cups. Some of these might need to be eaten earlier in your trip to avoid melting or fruit going brown.
No Chill Camping Desserts
These yummy dessert recipes can be stored in airtight containers for several days so you don't have to worry about keeping them chilled in your esky. Most of these camping dessert recipes are fine to be stored in an airtight container for up to 3 or 4 days.
Some will last longer so make sure you check the individual recipe for details.
You should consider the weather and average temperatures when you head off camping though as if you are camping in summer and it's really hot, you don't want a melted gooey mess of treats that would be fine on the kitchen bench at home. In these cases, you might need a spare esky to keep them at a cooler temperature.
Check out these yummy dessert ideas: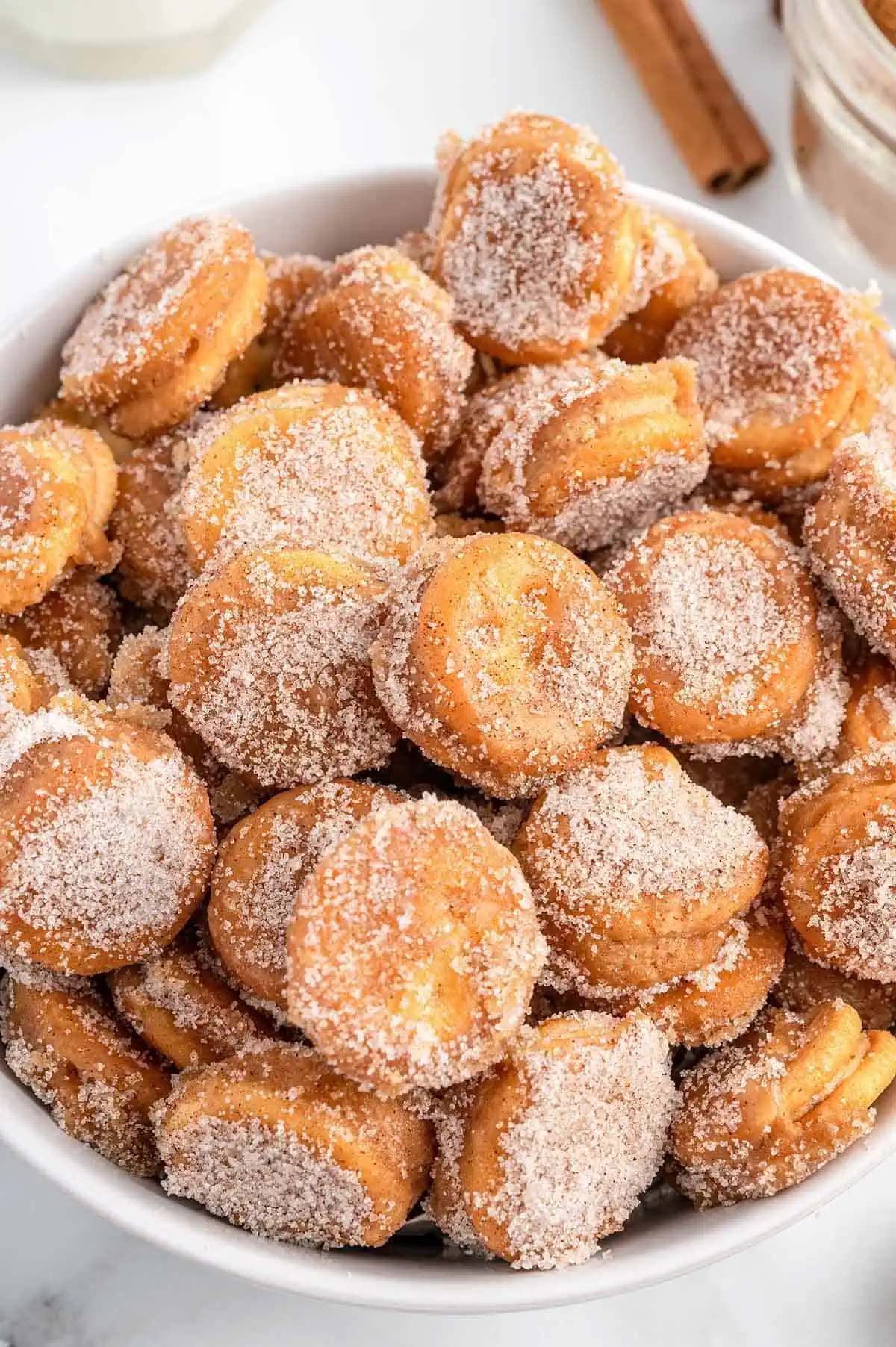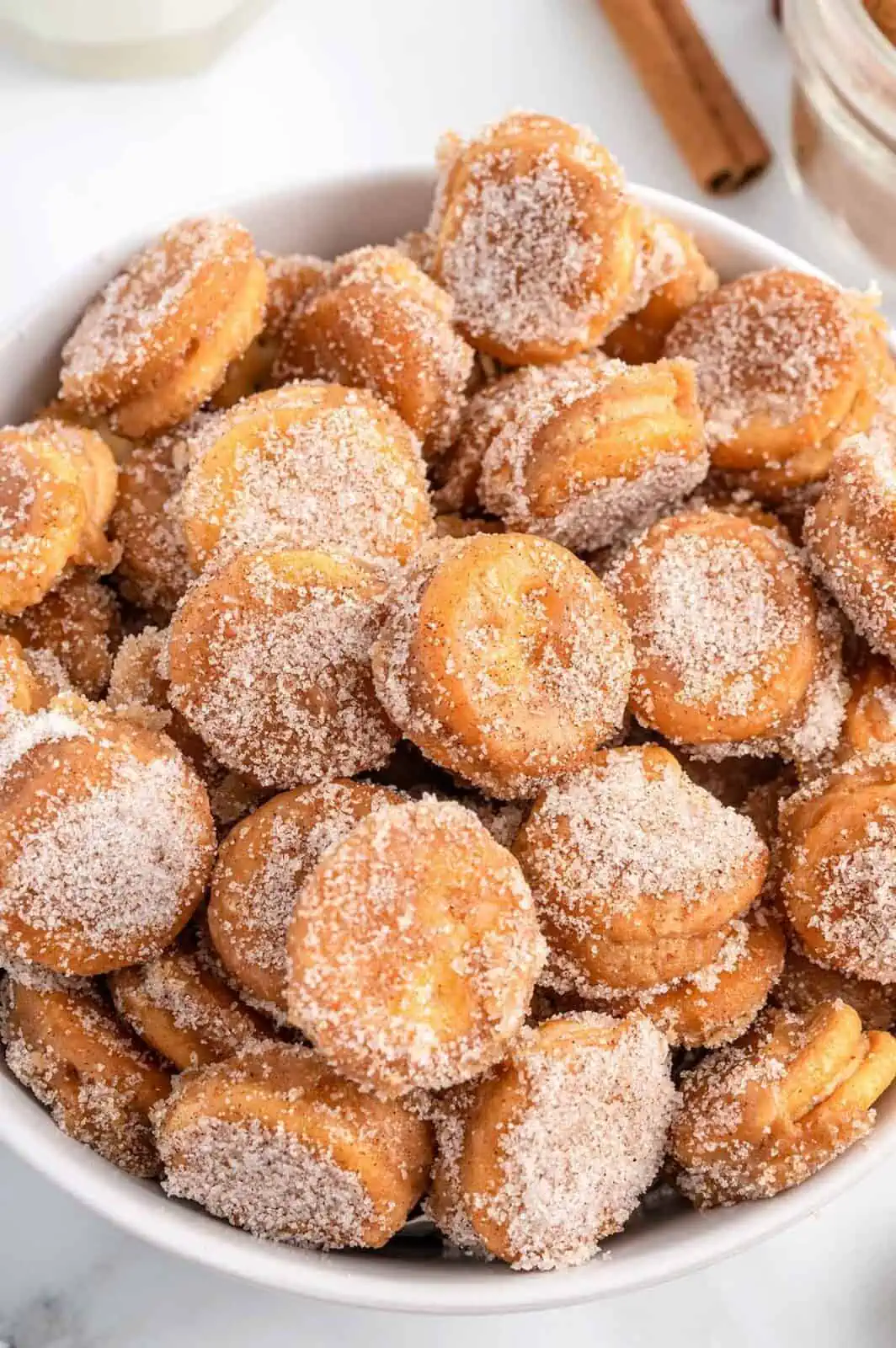 Make-Ahead Camping Desserts That Need To Be Chilled
These make-ahead camping desserts do require refrigeration so make sure you have room in your cooler to fit them and that you pack everything properly so you don't risk contamination with other foods i.e. meat that is also in your cooler: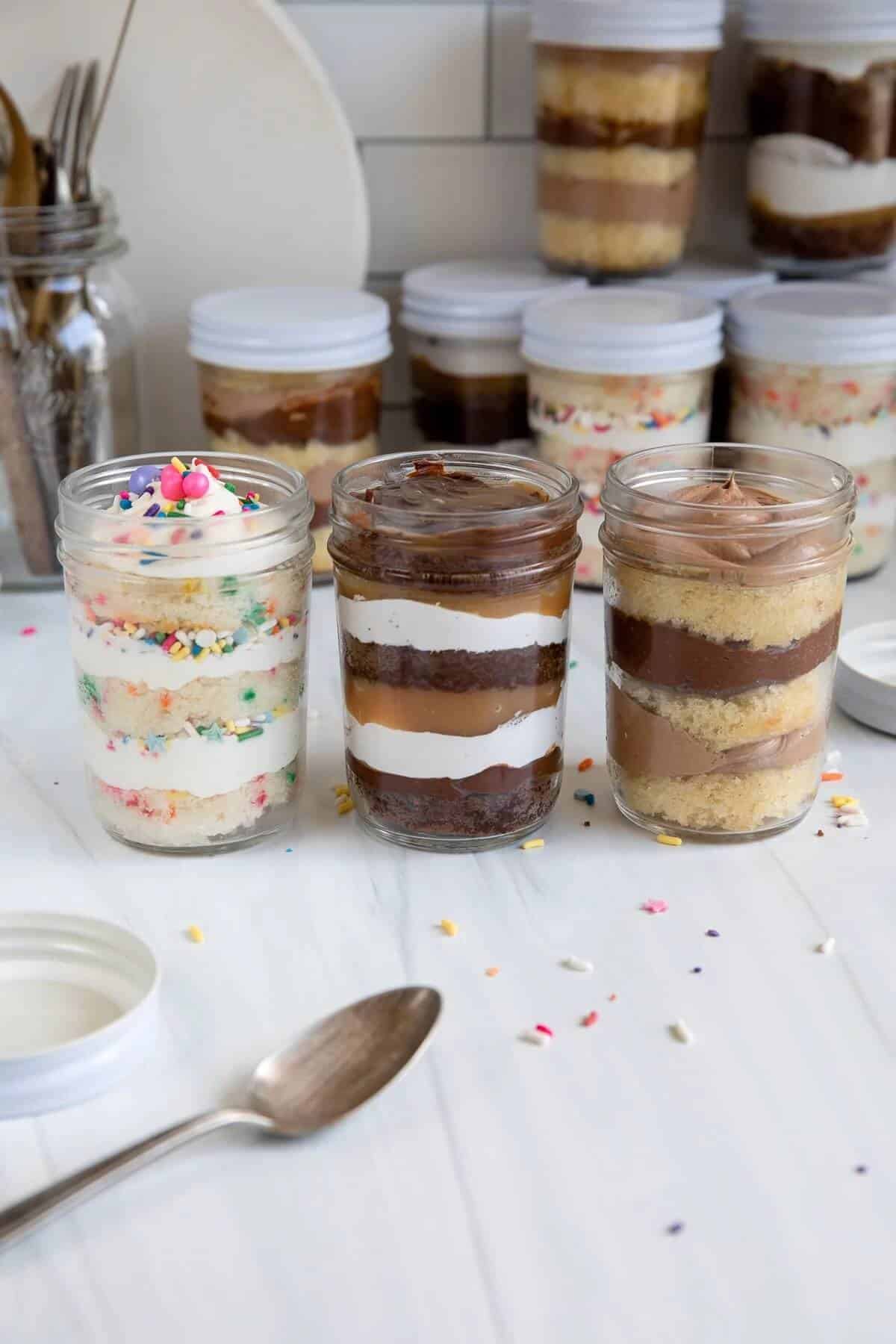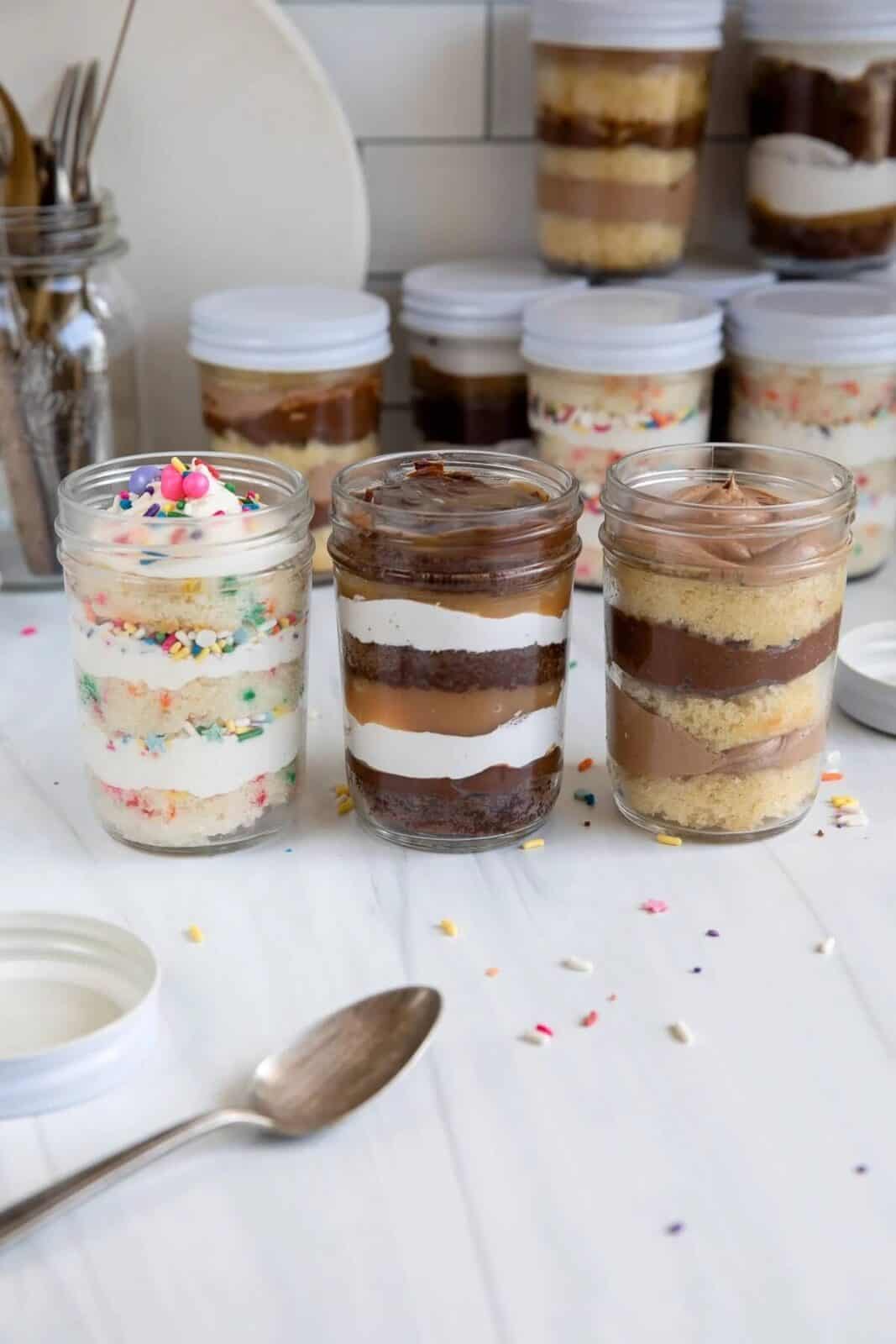 Tips for Successful Make-Ahead Desserts
When it comes to camping, make-ahead dessert recipes are a lifesaver. They allow you to enjoy a sweet treat without the hassle of preparing it on-site. Especially when you've already just spent an hour cooking an amazing camp dinner.
Here are a few tips to ensure your desserts go to plan:
Choose the right dessert: Not all desserts are suitable for make-ahead preparation. Choose desserts that can be stored easily and don't require heating.
Consider the temperature: Make sure you store your desserts at the correct temperature. Some desserts require refrigeration, while others like brownies and cookies can be stored at room temperature.
Label and organise: Unless you're using clear containers, label everything so you don't have to open every container to find what you're looking for.
Freeze for longer storage: If you're bringing desserts that can melt, like chocolate-coated anything, freeze them before you leave and it will keep them a little longer, even if you don't have room in the cooler. Tonight's dessert might be defrosting while you set up the tent.
More Camping Food Tips And Recipes
Making your camping desserts ahead of time can save you from having to spend as much time cooking and prepping food. Instead, you can sit back by the campfire with your favourite adult beverage and a treat in hand, relaxing with your friends and family!
What is your favourite camp dessert?
Find more camping tips & resources: