14 Essential Tips For Planning A Lap Of Australia
Are you planning a lap of Australia? Welcome to one of the biggest decisions of your life! It personally took us years to straighten out the kinks to prepare for our big lap of Australia and we want to provide you with some hints that could assist with your planning.
Most importantly, as with any big life-changing decision you need to start with the basics.
With planning your lap of our beautiful country, these would be timeframes, budget, what direction and potentially most importantly – what will home look like for you? (camper trailer, caravan, van etc).
Once you have decided on the above you can really begin planning your journey.
Keep into consideration your space is much smaller than a house and you will need to really evaluate everything you take for both storage and weight purposes.
The beauty of planning your journey is that it is solely your decision.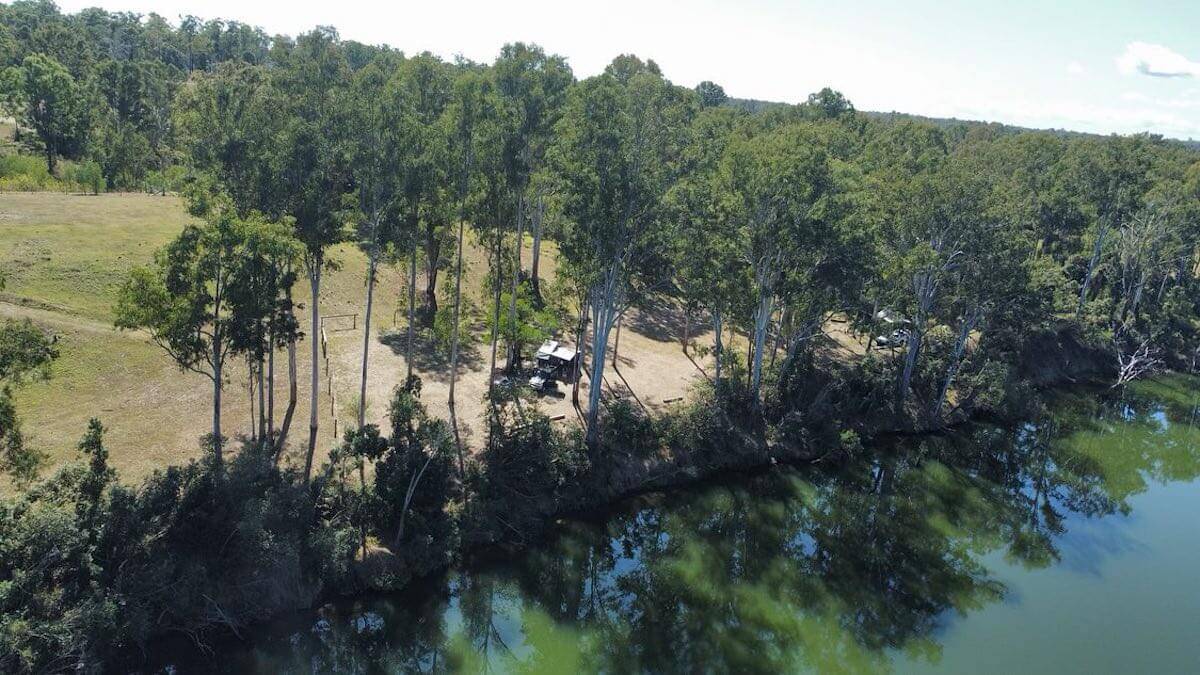 Planning A Lap Of Australia: The Ultimate Guide To Your Big Lap
Do you want to climb mountains, walk beaches, swim in waterfalls, or hit every major fishing town…the journey is yours to decide. And we are so incredibly lucky to live in a country that offers so many different environments to experience all of the above, plus more.
You can opt for caravan parks or free camping. You can follow the coastal route or take the inland journey.
It is honestly so incredible how each traveller's lap around Australia can be so different, meeting different budgets and destinations.
Make sure you also read this if you're curious about the essentials for travelling Australia full-time.
If you're still here reading, I'm guessing you're ready to hear what our tips for this planning consist of… Let's start from the start:
1. How Long Do You Want To Travel Around Australia For?
From our own personal research, most travellers take approximately 12 months to explore Australia. You may be in the position to take extended leave from your workplace for this period for security purposes.

For us, we didn't believe this was enough time and as we have no responsibilities (we don't own a home or have children or pets) we have an approximate plan of 5 years with no end date.

For each traveller, this timeframe will be different – 3 months, 6 months, 2 years. Pick the timeframe that suits your personal wants and needs.
2. What Does Your Budget Look Like?
You should start with a rough budget for your big lap of Australia.
In this decision, you will need to decide if you'll be picking up work along the way, taking a remote job with you, taking long service leave or using savings for your time away.
It is extremely hard to gauge what you will spend on the road as it can average from $500 to $2,500 a week.
This will completely depend on your budget and if you will be living frugally with resources such as fuel apps and wiki camps, free camps or if you will be treating the experience as a holiday and eating out regularly and paying for powered caravan sites.
We personally agreed to work along the way as exploring Australia for us will also include getting out of our comfort zones and experiencing different working settings.
3. Decide On The Direction Of Your Lap
Our beautiful country is HUGE and each state has a lot to offer.
There are many tips and hints about what direction is best to experience the states in their best seasons.
If you are planning this journey with a timeframe in mind, research the seasons, when is the wet season, and special events you want to experience. Begin planning your journey with these in mind.

As we will experience roughly one year per state, we decided to start heading north and will pay attention to the weather with wet seasons as we travel.
With a timeframe in mind, you may wish to book your stays and tours ahead if you will be sticking to a lap of Australia itinerary.
4. What Does Home Look Like For You? (Planning Your Set Up)
This can be a hard decision. It personally took us 3 attempts to get our home "right". We started with a Delica van to a ute and slide-on and finished with a 4WD and camper trailer.
A lot of travelling families opt for caravans as this is much easier with children. We definitely recommend trying your home before deciding it is the "one".
With regular trips away you will find the flaws in your set-up very quickly.
With this decision ask yourself these questions:
Do you wish to take your home off road? A 4WD vehicle and off-road suspension for your towing vehicle will be required
Will you be using mains power or 12v? Off-grid setup, inverters and the list goes on
Do you want to tow? Towing comes with additional registrations, fuel and more storage, but if the timeframe is shorter you may be able to opt for a roof top tent
Read our guide on pros and cons of 12 volt vs 240 volt if you're not sure where to start on this decision.
From our experience, we would recommend choosing your "home" first.
Will you be towing? If that is the case, you will have to choose a vehicle that has the towing capacity for your caravan/trailer so you may need to upgrade this also.
This is what can really challenge your lap around Australia budget before your even get started!
5. Do Your Research
This can be as simple as joining Australia travel Facebook groups, asking the questions and searching for anything you may be curious about.
The travelling community is extremely helpful and willing to assist with their own personal experiences.
You will find a lot of great Facebook group options available: "Planning a lap of Australia" and "Full-time Travellers Australia" are some to get you started.
There are also books on the market to assist with planning this journey.
We personally found Google, travel blogs and Facebook pages were enough for our research to prepare for our lap, as well as asking the experienced travellers for information on how they used to do it.
6. Start Preparing Early
Some travellers sell their homes while others rent out their property. Make sure to have all of this finalised well before you plan to leave.
When selling your home or leaving a rental, you need to organise how to store the items you are keeping.

For us, this solution was a shipping container stored on a family member's property. We didn't keep an awful lot but there are plenty of other options for storing your keepsakes while away on a trip. For example, if it's only for 3 to 12 months, it may be cheaper to rent a storage container at a facility.
Additionally, you can opt for a family member to look after your property or move in for the time being.
As we were not keeping half of our possessions, we began selling our stuff early. It is a tedious job but assists with all the additional expenses for the prep.
Garage sales can be hit and miss but a lot quicker than doing this on Facebook Marketplace item by item.
7. Make A List Of Everything You Are Taking
Write a list of all the items you think you'll need for this journey – first aid kit, snorkelling gear, fishing gear… all those items that you think are required.
Once you have completed this list, go back and create columns in these 3 categories: Definite, maybe, not required.
You will be surprised with what extra items you were going to take that are really not necessary.
Remember, most towns have shops and you can pick up any gear you may require along your travels.
You can also hire speciality items along the way, such as sandboards for visiting sand dunes or snorkelling gear if you don't expect to be using this often.
Attempt to multi-purpose a lot of your gear if possible and try not to take too much additional gear.
For example, we were gifted a thermal cooker which works as our "slow cooker" without power and also as our pots for cooking.
A little insight from someone on the road who camped A LOT (we thought we had everything down pat). We have purchased, changed and removed a lot of what we started with.
Expect a lot of changes, especially in the first couple of months!
8. Weigh Your Complete Vehicle Set Up
We were unfortunate to complete this step only a couple of weeks before we planned to leave. This led to a quick "renovation" in a family member's yard to minimise our weight on the rear axle.
We definitely recommend completing this earlier to ensure your set-up is underweight. Some vehicles also have the option of a GVM upgrade, which can make all the difference.
An example of how quickly the weight can add up – for space-saving purposes we decided to purchase sealed spice bags instead of carting all the jars. While transferring the contents of our spices, we saved 1.5 kg on half our spice jars. We have really loved how much space these bags offer us.
There are many other ways to save weight and space such as using a vacuum sealer for meat storage instead of containers and converting to lightweight cooking utensils.
9. Research And Organise Insurance
Before you commence your journey, don't forget to have your travelling home insured!

We spent quite some time searching for the right insurance for our travel. After reading PDS after PDS we soon found out a lot of insurance companies do not cover you for living in the camper/car for longer than 5 weeks.
Our final 2 choices were CIL and Club 4×4. As CIL were caravan/camper trailer only we would have to set up another policy for the vehicle.
For this reason, we opted for Club 4×4 with additional roadside assistance.
You might personally find another insurance company that works better for you, after all, we all have different requirements for coverage!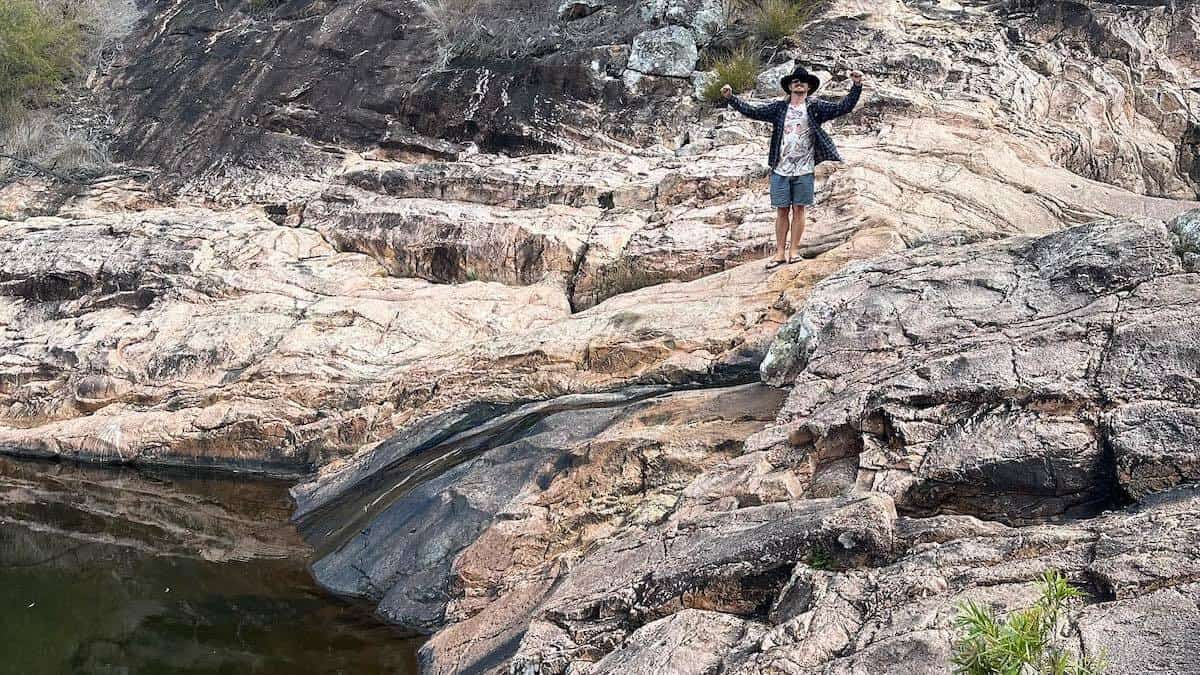 10. Be Prepared For Things To Go Wrong Early
This started for us prior to beginning our lap of Australia. As previously mentioned, it took us 3 attempts to find our perfect home.
During our first couple of weeks, all our batteries stopped working. And even after years of researching we've stumbled across multiple extra items we are required to buy for our journey.
We had to get towed from Fraser Island after a disastrous trip and issues with the turbo actuator.
Binoculars are a definite must-buy now.
Don't let these problems burst your bubble, this is a new life and with all changes you will need time to adapt!
And if we can only take one thing from our experience so far, it would be how much this lifestyle is ever changing – your set up, the way you do things.. there is much more thought processes and steps to living in a small space.
11. Test Your Set Up – More Than Once
We've always loved being remote with no reception – it is the best way to unwind.
Even though we spent a lot of weekends and a couple of week-long trips in our camper set up deciding what was going to work and what simply wouldn't, we found it difficult in our 2 weeks on a remote beach to start our trip.
We quickly learnt that 1x 10L water can was not enough to keep our water levels stocked up.. this resulted in a trip into town (almost a 2-hour round trip in an inland sand track) to buy an overpriced water jug to change our capacity from 10L to 32L each fill up.
From our personal experience, stay close to the shops before heading remote so you can work all the kinks out and you can enjoy yourself a bit more.
It's also worthwhile to set up on a friend or family member's property for a few days initially if you're able, to test your set up in suburbia. We did this also, but it's not quite the same as your first remote experience as you're mostly spending quality time with your family member you won't be seeing for a long time!
12. Learn To Budget & Live Frugally
This took some training but I personally went from having no savings to building a substantial nest egg for this trip.
There are many options available when it comes to paying bills off (setting up weekly electricity payments to prevent large bills is one of my favourites).
Alternatively, you can estimate the cost of your bills and transfer this amount into an account each week to ensure your bills are accounted for.
When it comes to grocery shopping there are many options to bring your living expenses down: Shopping at Aldi, shopping the specials, markets for fresh fruit and vegetables and the list goes on.
One of our favourites was the Funky Foods fruit and veg boxes. They use the 'ugly' stuff that the supermarkets reject, but it's all perfectly fine and a fraction of the cost! Check them out if you're in Brisbane or Sydney.
It seems like a lot of work now but it worked for us to save for our journey, and will continue to assist us with living this nomad lifestyle.
13. Learn New Skills To Assist Your New Life
This is a lifestyle change. A big one, for most of us.
It is important to be prepared and this could be as simple as learning how to light a fire without a lighting device.
Can you tie a knot in a pinch? Can you change a tire?

Basic first aid knowledge and being aware of some natural illness remedies could really assist you or your family in a pinch. Thanks to Nicks's Mum we have learnt some handy knowledge on natural remedies that will assist us with this lifestyle!
It's important to be prepared, as without some basic knowledge, this lifestyle could be dangerous and very hard.
There will be hard days no matter what, but the more prepared and knowledgeable you are the easier these problems will be to fix.
14. Be Prepared For All Weather Conditions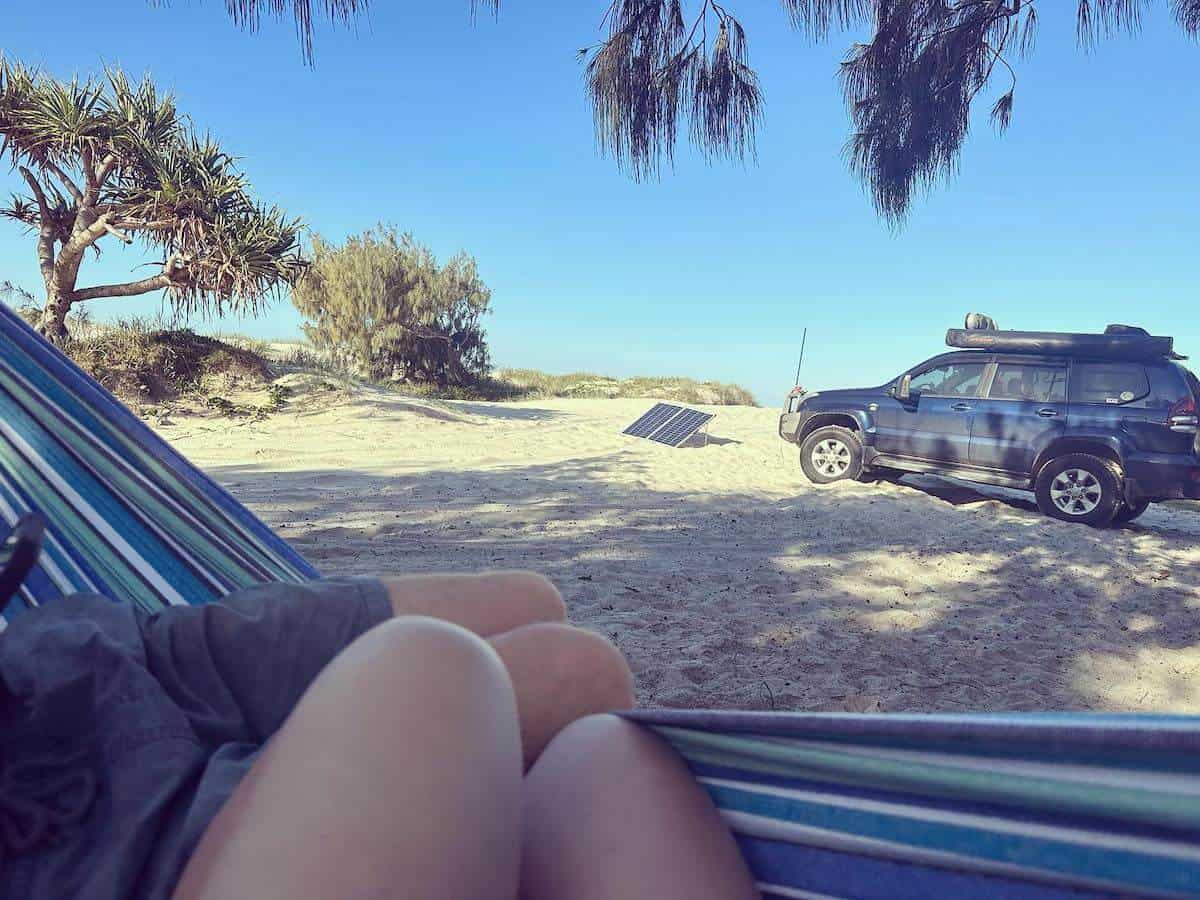 On this adventure, you will run into rain, hail and wind. And trust me, you will feel ALL the elements much worse than while living in a house.
No matter how much you pay attention to the weather apps and follow the seasons, you can't avoid it all.
Our first week at Teewah was meant to have one day of rain and sunshine for the rest. What we got was almost a week of rain… no thanks to the weather app on that one.
When setting up awnings or gazebos, attach multiple guide ropes especially in windy weather or near the beach!
If you're living in canvas – waterproof your material to prevent unwanted leaks.
Other items to prepare for weather events would include a tarp, rope, spare pegs, gum boots, and raincoats.
Don't forget to pack electrolytes in your medical kit for those really hot days!
15. Get Out There And Enjoy Your Big Lap!
I can confirm we are both SO much happier since embarking on this journey and already don't want to imagine going back to a normal life in a house. If you've ever thought about doing it, DO IT!
Now you're ready to begin your own lap of Australia! With all the above in mind, don't forget to just enjoy yourself. Take each day as it comes.
If you wish to plan your Australia itinerary to the exact day, do that.
If you want to be spontaneous, embrace this change. The world is your oyster with this life-changing experience, go and live it!
Conclusion: Big Lap Australia Planning
Thank you for taking the time to read our tips for planning the big lap of Australia! We hope we've assisted you with some of the basics, if you have any questions please don't hesitate to leave a comment or reach out. Done the big lap yourself already? Drop your best tips below!