150 Clever & Funny Caravan & Camper Trailer Names
Are you looking for fun caravan or camper trailer names? For some reason, we humans have an affinity for naming inanimate objects. We name our cars, our boats, and yes, our vans and camping trailers too! And we know how hard it can be to choose the perfect name for your home away from home, so we've put together a mammoth list of creative and funny names for your van or trailer!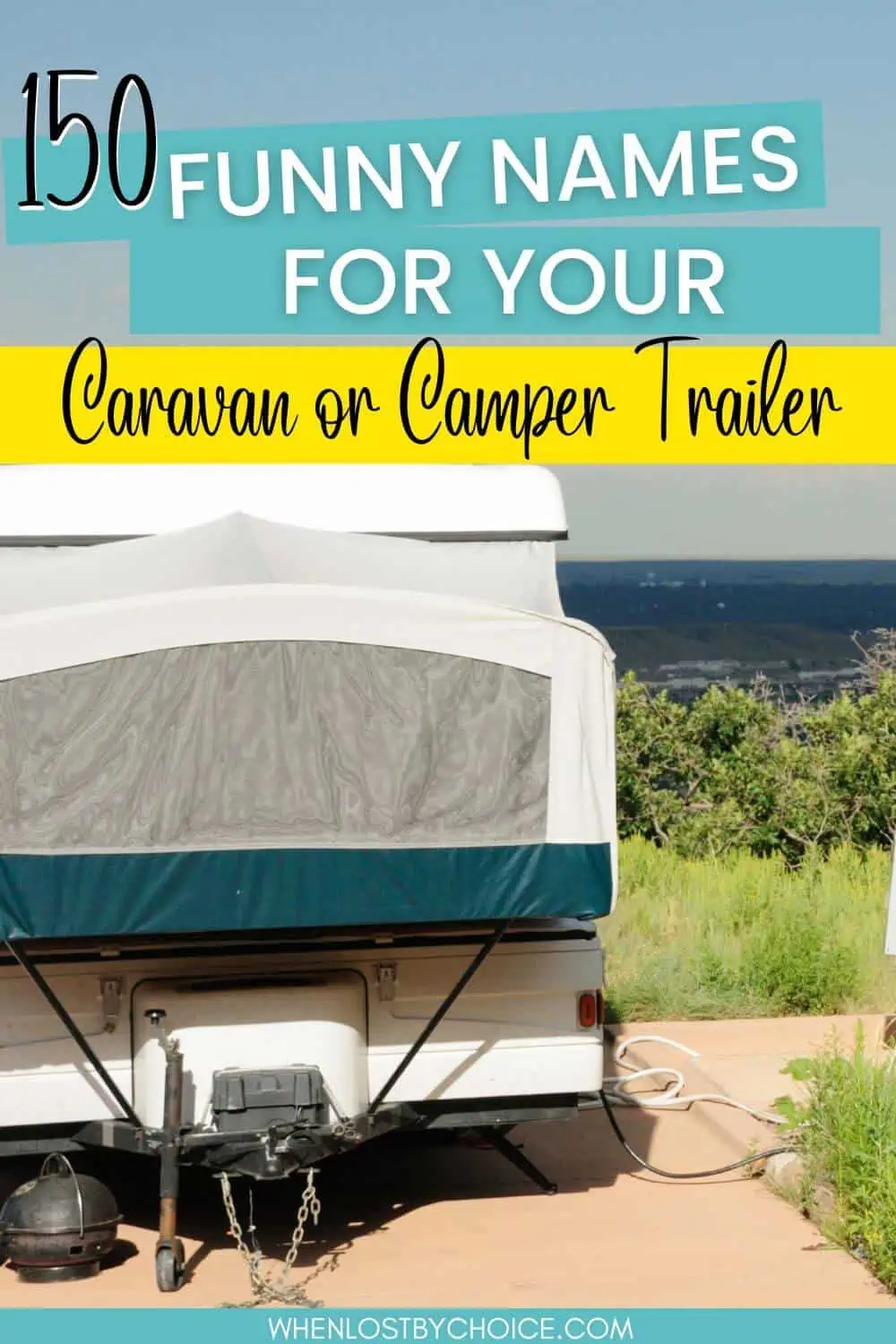 What's In A Name? A History Of Our Vehicle Names
As a couple, we've come to realise that naming our recreational vehicles has become a fun tradition for us. Our first camper, a Delica, we named Bread-Loaf, simply because of its bread loaf shape.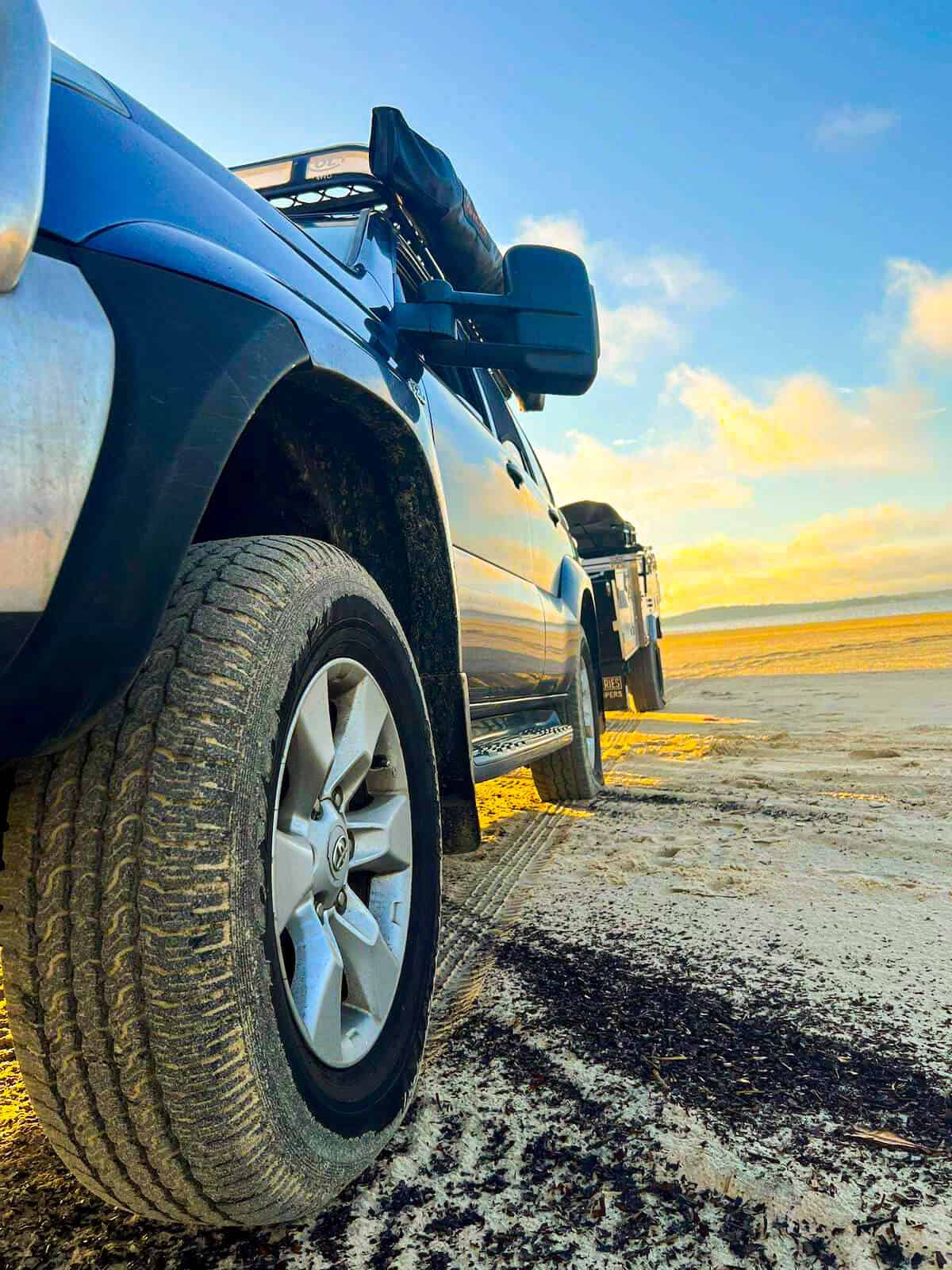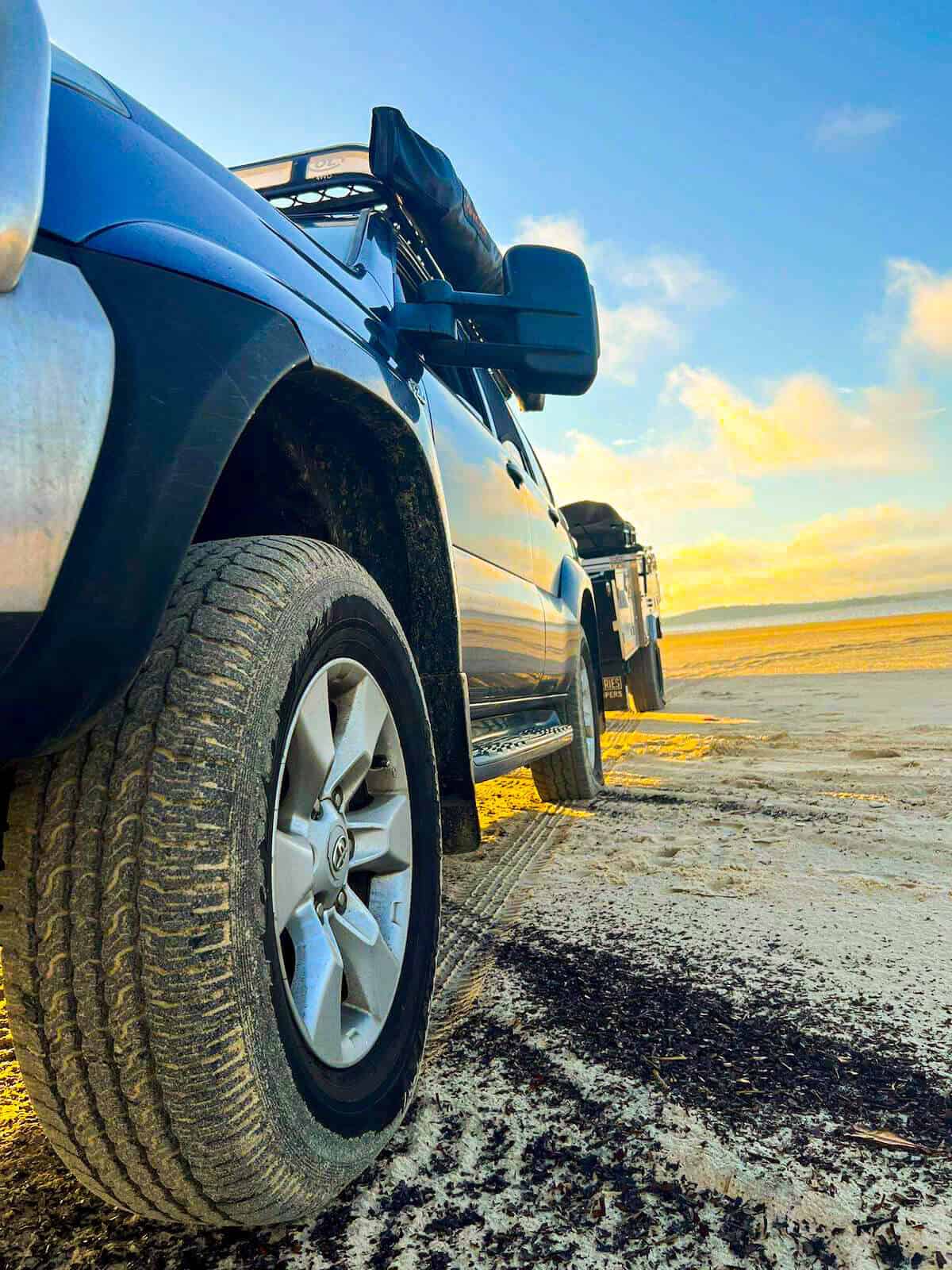 Our Slide On camper, we fondly called Tallulah and she was paired with our Ford Ranger Ute named Wanda.
And finally, our Toyota Prado and camper trailer, the current set-up we have to travel Australia full time, are known as Petrie and Bucky, without any crazy stories attached.
People name their cars because of the emotional connection we develop when we own our own vehicles. It's funny how such a small thing can bring us joy and a sense of connection to our vehicles.
Tips For Naming Your Travel Vehicle
Naming your travel vehicle can be a fun way to make it truly unique and yours. Plus you get to have a bit of fun with it!
Giving your vehicle its own personality is even more important if you plan to travel full-time or long-term since you want to make your camper travel trailer or motorhome feel like home!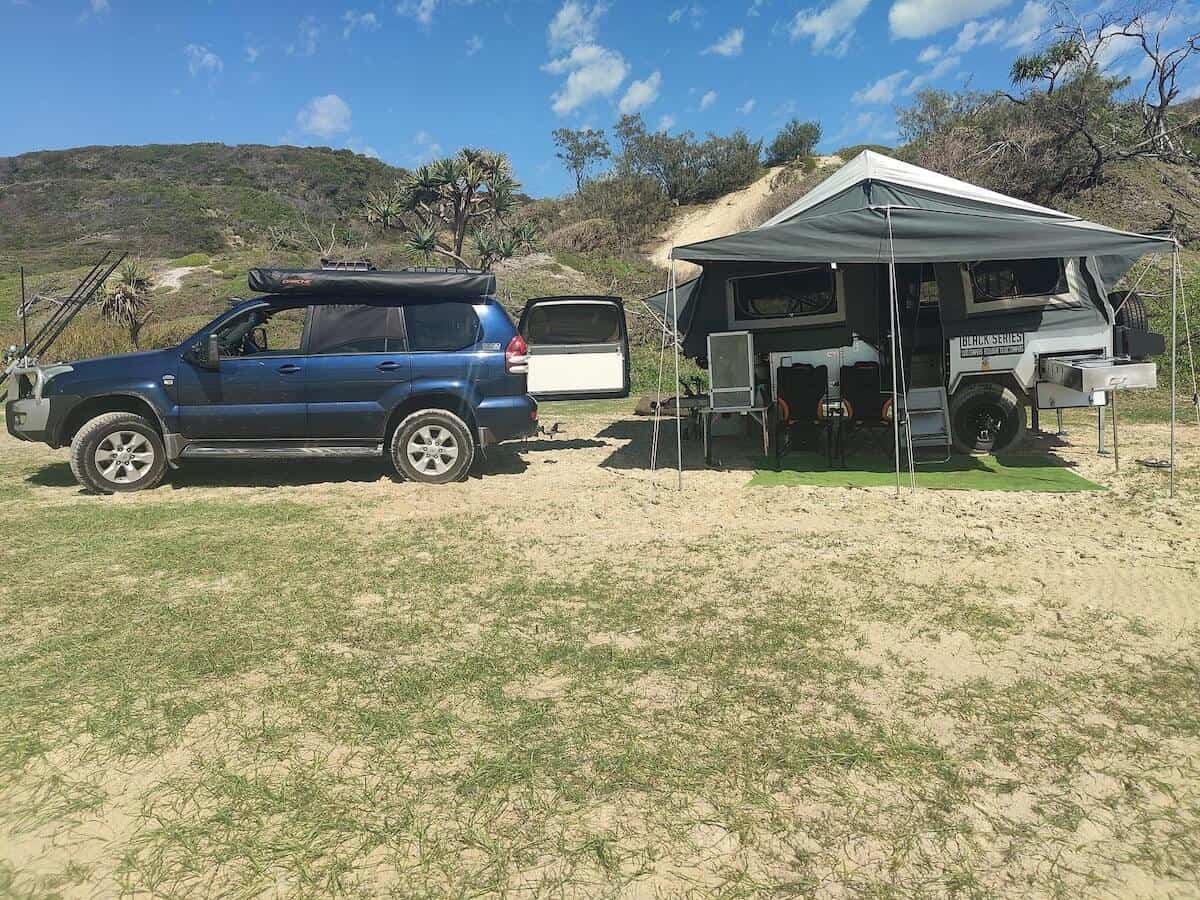 Here are some tips to help you find the perfect name for your RV, campervan, or camper trailer:
Get Creative – Look up puns, song titles and song lyrics, pop culture, and rhymes that capture your style or personality.
Do Some Research – Scour travel stories for inspiration or look up famous travel tales and quotes for ideas.
Consider The Look – Consider the shape, colour, and design of your vehicle, as well as any special features that might stand out.
Have Fun With It – The name should reflect you and your travel companions so don't worry about what others think!
Name It Together – If you're still stumped, get your friends or family to join in the naming process and see what cool names they can come up with!
List Of Caravan & Camper Trailer Names
From cutesy monikers to clever puns, here's a list of the best camping trailer names, funny caravan names and RV names that might be perfect for your recreational vehicle:
The Wanderlust Wagon
The Cozy Cruiser
The Happy Camper
Mystery Machine
The Glamper
Road Roamer
The Trailer Trash
Money Pit
The Rolling Retreat
Our Adventure Abode
The Nomad Nest
The Hitch Hiker
The Tiny Tiki
Retro Rocket
Pamper Camper
The Funky Flamingo
The Beach Bum
The Rustic Retreat
Sun Chaser
The Cuddle Cab
The Snug Bug
Love Machine
Love Shack
The Rust Bucket
The Roaming Rascal
The Trailer Treasure
The Camper Caddy
The Happy Glamper
The Trailer Tramp
Party Wagon
The Rolling Rainbow
The Nomad Nirvana
The Hippy Highwayman
Our Life Coach
The Road Runner
This Is Our Retirement Vehicle
Hot Mess
Roamer
Nomad
Wanderlust
Odyssey
Trekker
Escapade
Vagabond
The Magic Bus
Totally Hitched
Millennium Falcon
Empty Nester
The Black Pearl
Cabin Fever
The Rolling Stone
The Trail Blazer
The Rustic Roadster
Our Caravan Capers
The Travelling Tin Can
The Rusty Roamer
The Trailer Tribe
The Wandering Wheels
The Road Tripper
The Rustic Rambler
The Joy Ride
Adventure Awaits
The Bumpin' Bungalow
Hippie Hauler
Pimp My Van
The Shaggin' Wagon
The Haulin' Hotel
Our Escape Route
Wanderluster
Vagabond Roamers
Wayfarer
We Sleep Around
Drifter
Outback trekker
Voyager
Sleepin' Around
Great Aussie Adventurer
Trailer Swift
Van-tastic Voyage
Tow-tally Awesome
Haul Of Fame
Ad-van-ture Time
Neverending Road Trip
Aluminum Falcon
Expedition
Lost By Choice
Explorer
Getting Lost
Wandering Tales
One Town At A Time
Creating Memories
Unplanned Stops
Back Home Never
High On Trips
Love & Adventures
Born To Wander
Where Next, Honey?
Unchartered
Seeking Adventures
Insert Name Here
Fifth Wheel Fun
Van-Tastic
The Magic Motor Home
Life On The Move
Aussie Wanderer
The (Your Last Name) on Tour
Outback Explorer
Road Warrior
Where To Next?
Road Less Travelled
Wandering Wheels
Wanderlust Wheels
Having A Wheely Good Time
Travel With Purpose
The Travel Bug
Caravan Chaos
RV There Yet?
The Open Road
Roaming In Style
Glamp Life
Glamp It Real Good
Van-Tastic Four
Trailer-Made
RV-enturous
Trailer-Licious
Bucket List Camper
Trailer Tales
Party of (fill in the number)
RV-Lasting Memories
Camper Diem
Camptivating
The Long Haul
Wheely Wonderful
Camp It Up
Trailer Envy
Barbie Camper
Just Hitched
Life On Wheels
Born Free
Following Our Dream
Hitchin A Ride
No-Lookin-Back
Adventure Before Dementia
Waltzing Matilda
Our Tiny Home
Pac-Van
Van Wilder
It's Drive O'Clock Somewhere
Touring Tiny Home
Tourists In Transit
Other Simple & Catchy Camper Trailer Names
If none of those funny names for campers are quite your style, you can also keep it simple with things that might have a little more personal meaning or a classic name instead. Here are some more themes you can use to come up with a camper trailer or caravan name:
Girl Names – Named after someone special in your life or just a funny name, like Big Bertha.
Boy Names – Similar to girl names, you can choose something with sentimental significance such as a person who inspired you in life perhaps.
Character Names – Your favourite TV or film character can be a simple and novel name idea.
Places – Perhaps where you started or where you're headed.
As you can see, there are plenty of creative and humorous names to choose from when it comes to naming your camping trailer or caravan. Whether you prefer a more classic name or something catchy, clever or funny, there's a name out there that perfectly captures your unique style and sense of humour.
Need some tips for your next camping trip?