Camping 101: Simple Camping Tips For Beginners
Are you planning to go camping for the first time? Planning your first camping trip might seem like an overwhelming task, but these simple camping tips for beginners will help you plan for a successful first camping trip!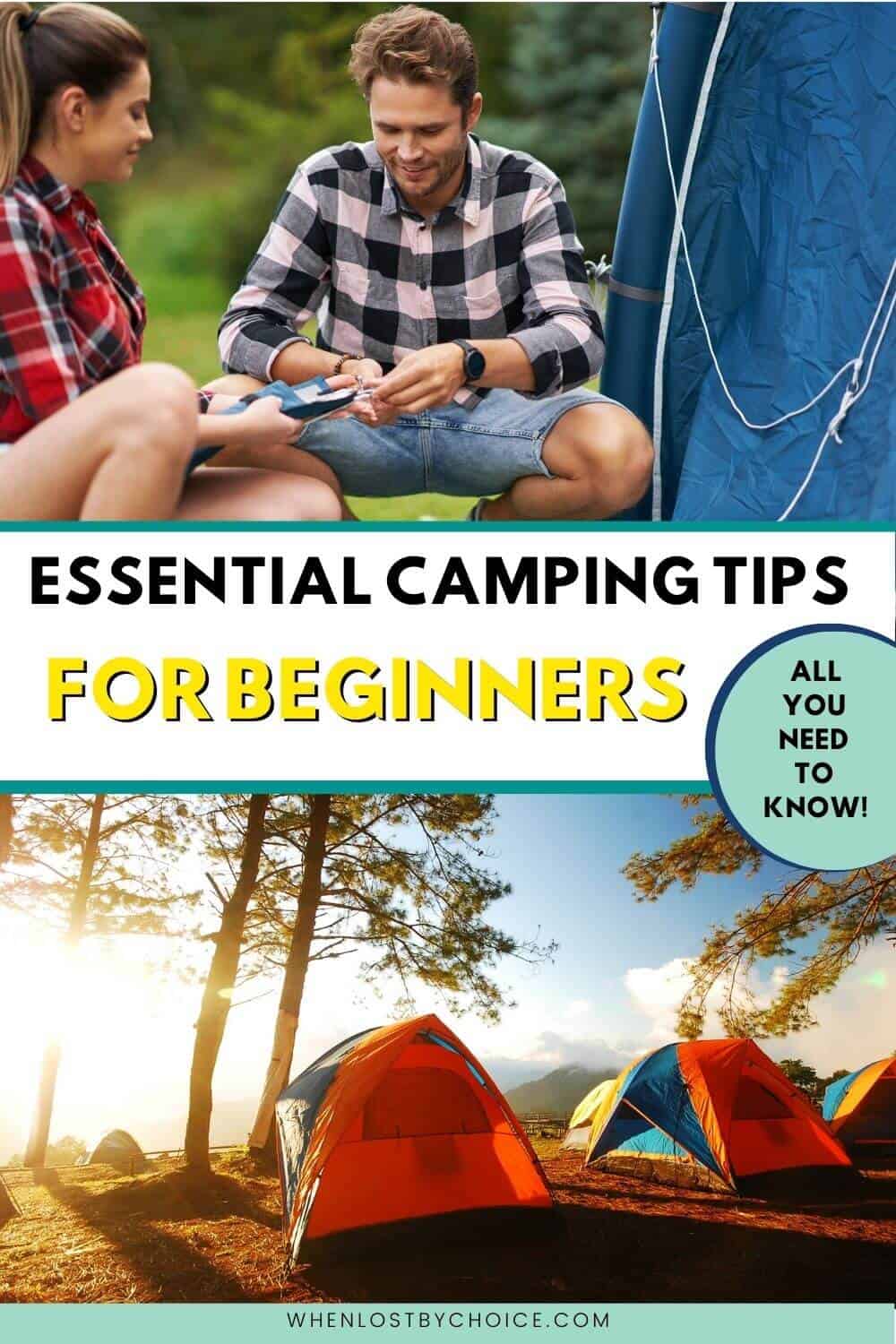 A Camping Guide For Beginners: Keeping It Simple
When you first start camping compared to where you will be in three years is completely different. You can start out with just a tent, an air mattress, and an esky full of soggy sausages and cold drinks, just as we did, and that's more than enough, no matter what the BCF and TentWorld experts will tell you!
To us, the whole point of a camping trip is to get away from the distractions that life is full of and spend quality time with the people you value most. Between the daily grind and the hustle and bustle of the big smoke, life seems to blur together and before you know it the year is half done!
When you're faced with the decision of deciding what tent to choose or where to go and what equipment you will need, it's a lot! Thankfully with a little pre-planning, you can be well-prepared for an epic outdoor adventure.
To help prevent your trip from being stressful, we have made a list of camping tips and tricks for beginners to smooth out the bumps.
After all, we want you to love camping as much as we do!
How to Choose The Right Camping Gear For Beginners
Even before you buy a single thing for your camping trip, it's important to know what type of gear you will need. There's a few things to consider before you spend a single cent.
These questions will help you narrow down what you need for camping so you can invest in the right gear:
What type of camping are you planning? Tent camping, swag camping, ute camping. This will help you decide what type of set up you need.
How many people are you camping with? This will help you to decide the size of the tent you need. For example, a family of 6 isn't going to fit in a 4-man tent, even if it's a great deal!
What type of vehicle do you have? You need a vehicle that has room for your camping gear. A small vehicle means you need compact camping gear like swags vs a ute or trailer that can fit much more equipment.
Can you borrow equipment? If you are a first-time camper, borrowing a tent and essential camping gear from a friend might be a great way to test the water to see what feels right before buying your own.
Simple Camping Tips For Beginners
Okay, we've got you thinking about the right kind of gear you will need before you rush out and buy. Now let's get onto the beginner camping tips to help you plan your trip:
1. Make a list of what to bring
Having a camping gear checklist will save you a lot of hassle the first time and each camping trip in future. We got smart with this and laminated our list with check boxes so we can reuse it each time we are packing for a camping trip.
Always double-check the list. Then check again as you pack them into your vehicle.
Forgetting things for a camping trip can be a disaster depending on what it is. We have forgotten a frypan and had to make do with a DIY aluminium foil pan.
It is way easier and less stressful to make a list and go over it before you head off than it is to make an alfoil frying pan. Trust us on this one!
You can read our essential camping packing list here to help you put together your own camping checklist.
2. Easy meals with a variety
If you bring meals that are a bit of a muck around to cook like a flavoursome curry, after a big day of adventures half the time you don't want to spend the next hour preparing and cooking (especially in an alfoil frypan).
We found it's a smart move to have good wholesome meals as well as some quick and easy throw-together meals.
These one-pan cooking meals are often an easy option. And it also helps to have some no-cook meals and make ahead meals that you only need to reheat too. Don't forget dessert!
3. Bring a raincoat
Even if it's not forecast to rain, don't leave home without your raincoats! Even a disposable plastic poncho for each member of the family is a good backup in case the weather turns bad.
There is nothing worse than making your way to the toilet (or going for a bush wee) when you're getting soaked to be bone from the rain!
4. Duct tape is essential
Things can go wrong. Equipment can break. Having a backup plan to help you fix things easily is essential.
Our tent broke a pole on one of our first camping trips together and we didn't have anything to fix it with, but a super kind soul nearby helped us out with some duct tape. Without it, we would have had to go home due to how that particular tent was set up.
So duct tape is now one of the essential items we always take camping, no matter if it's an overnight trip or a 2 week Fraser Island camper trailer trip.
Rope is another item that can get you out of a pickle fast!
5. Research the area you are going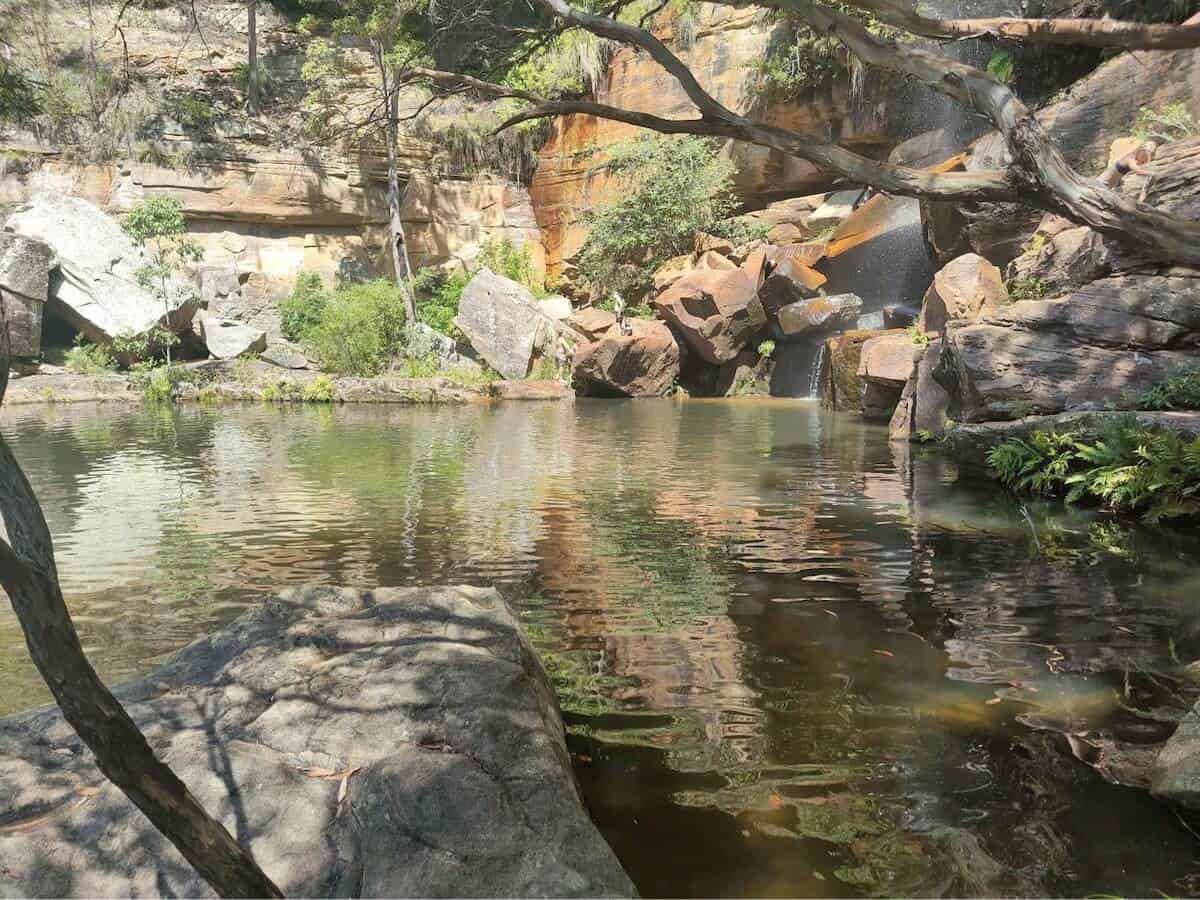 Always research your campground. In fact, do your research before you book so you know that you are choosing somewhere that has the facilities you need and allows the activities you want to do.
Some campsites don't allow fires. Some don't allow noise after 7 pm. Know what campground regulations are in place before you make your campground reservation.
It kills the buzz pretty quickly when you aren't aware of these things and the owner comes down to scold you for being a bit loud past curfew (this has even happened on a family camp trip while paying Chinese whispers with the kids and their laughter was 'too loud').
It will be a much smoother trip if know what you are in for beforehand.
6. Don't be afraid to ask for help!
The majority of people who are out camping are there for the same reasons – unwind and relax. And most of them have also been in need of a tent peg or bit of rope before!
Every time we have needed a hand or to pinch a peg from someone, they have been more than accommodating. Just remember to bring them a cold beer as a trade. It goes a long way to pay it forward with a little kindness of your own!
7. Mozzie Coils and Insect Sprays
Do not leave home without your insect repellant and mosquito coils! Industrial strength, in fact! We use this one.
Nobody is gonna have a good time if they are covered in insect bites and feeling like an itchy, red mess! And at certain times of the year, especially if you are camping in the bush or near water, you are going to look like a really tasty treat to those bugs!
Take a few different variations and test what works best for you – insect repellents, coils, the clothing patches.
8. If you have the space, bring spares
Spare essentials are often a great idea!
Spare towels, clothes, alcohol and food could be the difference between a good trip and a grumpy drive home.
You're better to have too much than run out of something part way through your trip. Especially if this means having to head home earlier than anticipated.
9. Bring a pen and paper
Always have paper and a pen with you. Even if it stays in the car.
If I had a dollar for every time we needed to write down directions or something to bring next time we wouldn't need to work ever again.
This was essential for us to create the perfect camping packing list.
10. Don't forget your entertainment
Camping can be so much fun and there's a lot of activities you can do to fill your time without planning too much. But it doesn't hurt to prepare with a few extra activities for camping too.
Some of our favourites are to bring board games and card games. These are great in case of bad weather too. Bringing sports gear like a cricket bat and ball or your kayak if you're camping near water.
Of course, camping with kids means bringing a lot more activities too but there's a lot of fun you can have even if you forgot to pack any activities too.
Try these Would You Rather questions or a bit of trivia to pass the time. iSpy, Never have I ever, Truth or Dare. There are so many fun no-prep camping games.
11. Safety First
Make safe choices and be prepared for the most common scenarios of things going wrong. This means packing a first aid kit and making sure you have a way of calling for help if you get stranded or something more serious happens.
These camping safety tips will help keep you all safe and hopefully prevent incidents.
12. Start with an established campground with amenities
For your first camping trip, it's not a bad idea to kick off by staying somewhere with amenities to make your trip a little easier.
Having a place that has camp toilets and showers, picnic tables, a camp kitchen or entertainment, will make it a little easier than going wild camping straight up for your first camping trip.
13. Camp with experienced campers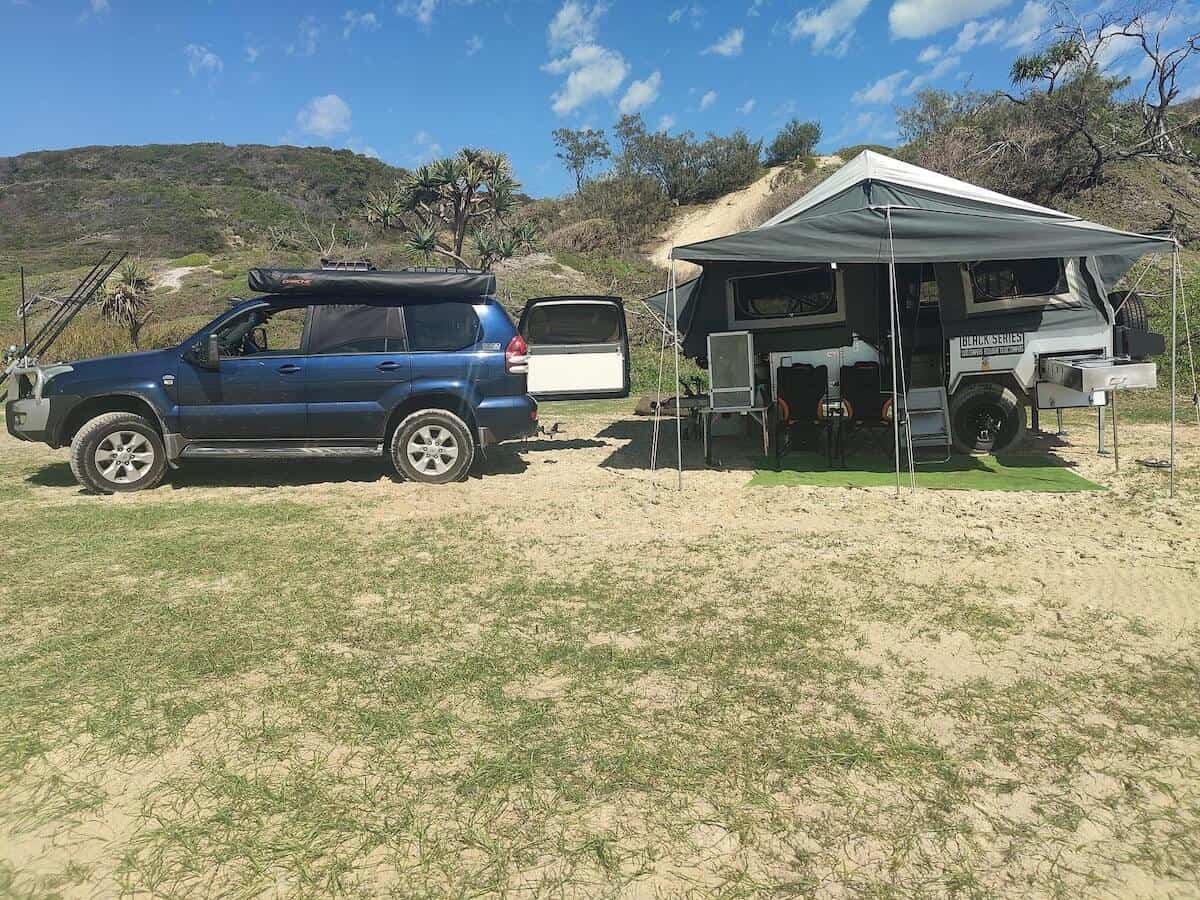 If you have friends or family who are experienced with camping, joining them for your first camp trip is a great way to ease you in with support from some experts!
This is one of the best camping tips for beginners since it means you have someone to help you out with setting up gear or knowing where to find things, or navigating the things that might go wrong.
Plus camping with friends is a lot of fun!
14. Practice at home
Before you head off on your first camping trip, test your gear at home. Particularly, set up your tent in the backyard! You don't have to sleep in it (but how fun is backyard camping). You just need to have a trial run of getting everything set up and working out any tricky parts while you're still at home.
Having a trial run of packing your car might be a good idea too or testing out how to use your camp oven or pump up your air mattress.
This helps eliminate many of the newbie camping dramas that you might otherwise face at your campsite that first day!
15. Pack the right clothing
Check the weather forecast before you pack your clothes so you know you've got the right clothing for the temperatures. Being cold and miserable is the quickest way to ruin a camping trip.
Weather can be unpredictable which is why we said you shouldn't leave home without that raincoat! But also having warm jumpers, even if it's summer. Extra socks. Light thermals. Just in case of unexpectedly cold weather or wet weather.
And enough clothes to last the trip plus a few spares!
16. Give yourself plenty of time
Don't plan to arrive an hour before sunset if you're new to camping. You need time to set up your tent, tarps, camp kitchen and anything else you're bringing.
You don't want to be doing this in the dark! So aim to arrive early in the day and give yourself more than enough time to get set up.
The same goes for cooking meals. You can't control the temperatures on your camping stove in the same way as you can with your home oven so cooking meals might take a lot longer than they do at home.
17. Prioritise comfort
When it comes to camping for beginners, if you aren't someone who is so fond of 'roughing it', especially when it comes to sleeping, taking a little extra care to plan your sleeping set-up is not a bad idea. Getting a good night's sleep is going to set you up for a better day tomorrow.
So that might mean air mattresses and sleeping bags at the most basic level. Or it might mean sleeping pads, a down sleeping bag for extra warmth and comfort, and a comfortable pillow.
Beginner campers might even like to try their sleeping gear set up at home for a night just to make sure it's comfortable.
18. Do a camping meal plan
We mentioned planning a variety of easy meals so you don't end up spending hours each night cooking dinner. It also helps to have a camping meal planner for your trip.
This can be as simple as deciding what meal you will eat for breakfast, lunch and dinner each day so you know what you've got organised for your camp cooking. Meal planning also means you know you've got all your meals covered during your camping adventure.
19. Lots of snacks
All that fun time exploring the great outdoors, hiking, swimming, and chatting around the campfire can be hungry business. Make sure you bring loads of snacks!
It's a good idea to pack some snacks into any day bags you take hiking, along with lots of water too. If you get a bit lost on the way back, you're going to be grateful you've got snacks and drinks as you find your way back to camp.
20. Don't leave food out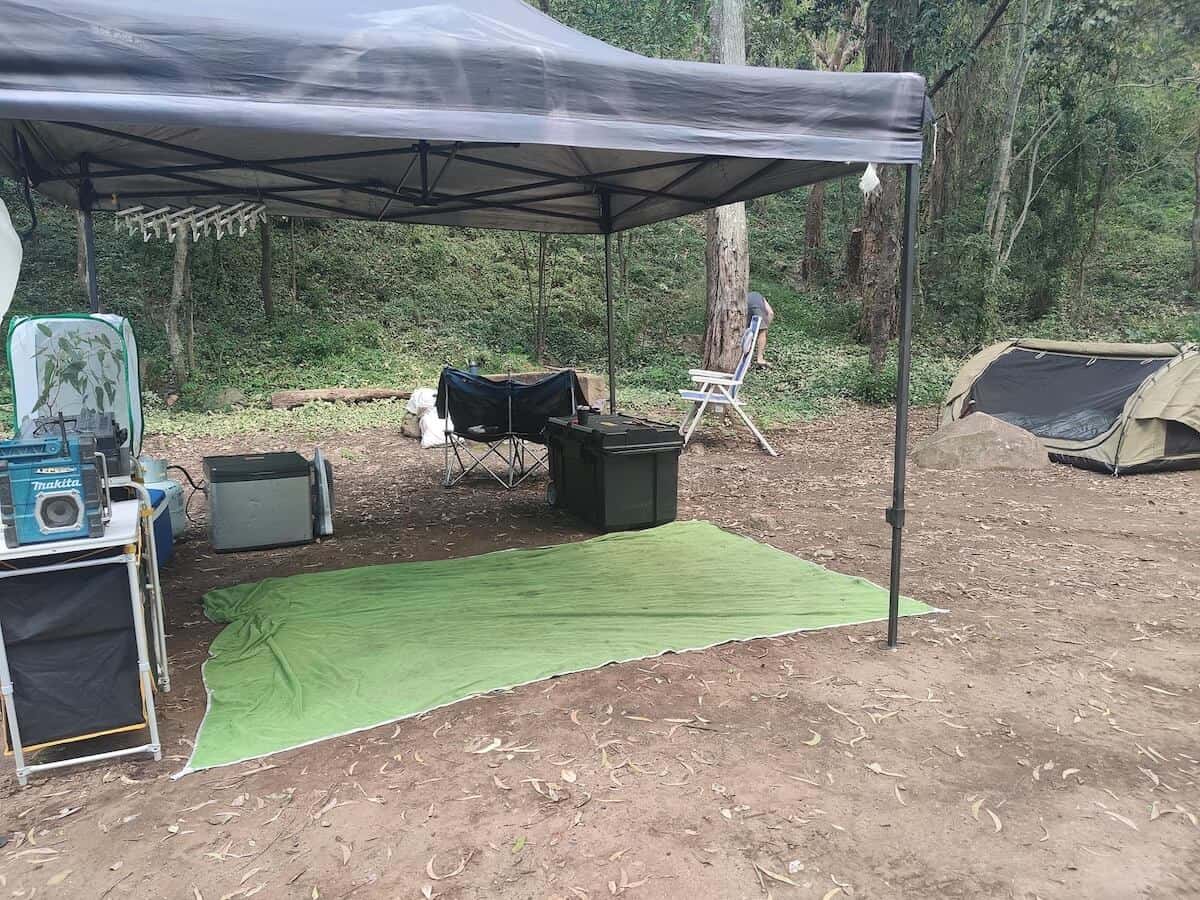 Make sure you don't leave food out at your campsite! This is the quickest way to attract wild animals and you don't want to wake up to possums digging through your fresh food!
Keep extra food secured in an esky or in containers.
This means securing trash bags too, to avoid your beginners camp turning into a dump.
21. Bring toilet paper
Even if you're staying at a campground with toilet facilities, it always pays to bring your own toilet paper. Just in case! Enough said.
22. Leave your valuables at home
There's no reason to take your prized watch or favourite earrings camping. Leave those at home so you don't have to worry about them getting lost. Or worse…stolen! You don't need them during your camping experience anyway.
23. Use a ground cover
The ground can get damp beneath your tent with the morning dew so having a ground cover, such as a tarp for your tent camping can help avoid it seeping through into your tent.
24. Dry out your tent
When you get home, make sure you lay your tent out to dry. You might even need to pitch it in the backyard for a few hours or so if you've had rain during your camping trip. This will help prevent you from ending up with a mouldy tent on your next camping trip!
25. Remember your why!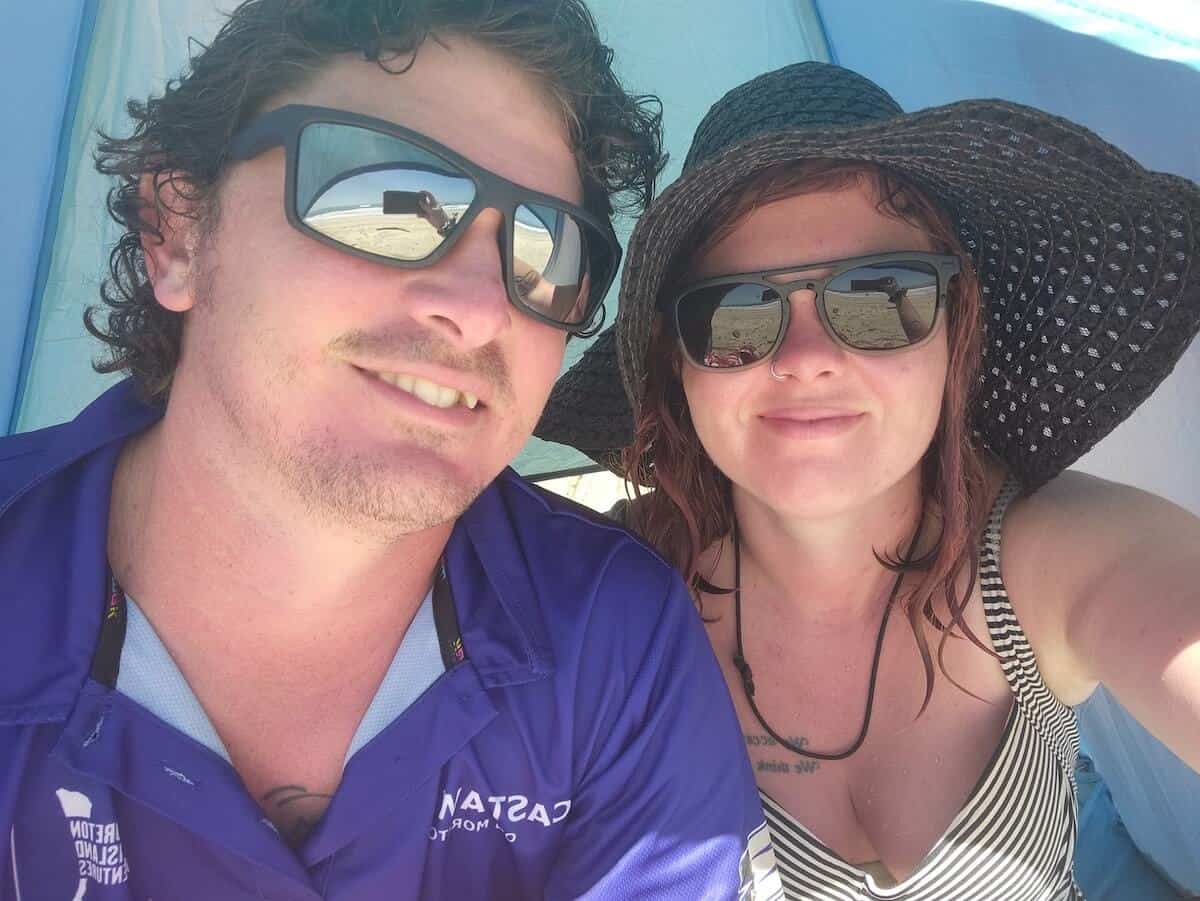 The final and most important tip I can give anyone is to remember why you are camping!

It can be easy when everything starts going wrong to get the wobbly on. But the best piece of advice I can offer is to remember that poop happens, and you can always make do.
Things break, get forgotten or lost easily.
Although it's hard in the moment, try to find the silver lining in it all. Wouldn't you rather be in the bush with a duct tape-reinforced tent pole that could break again at any moment in a storm than be stuck in the big smoke "living the dream"?

You must laugh at these moments and get by or else they will ruin your trip.
Some of our fondest moments camping have been the disasters!

A Great example of this is our Fraser Island trip. The car decided it was done driving and we were stranded for 5 days.
I'm not perfect at this either, it took me until day 3 to just go with it and make the most out of the spot we had rather than worry about all the stuff we couldn't do.
Sure, we would have loved to be in the champagne pools with an adult Fanta or casting a line out away from the surf side.
But we were stuck, and no amount of stress was going to fix that. I have learnt that the pain of anxiety is usually worse than reality.
Conclusion: First Time Camping Tips
There's no reason why you can't have an epic first camping trip! These beginner camping tips will help you plan for a lot of the unexpected and help prevent a lot of what can go wrong. But even if something doesn't go quite to plan, there's a good chance you will still have plenty of fun and be well on your way to becoming a bit of a camping expert yourself!
Plan Your Camping Trip