Swag VS Tent: Pros & Cons Of Swag Camping In A Ute
Are you wondering what is a better camping option for you – a swag or a tent? We compare swag vs tent, giving you the pros and cons of swag camping and why it might be the perfect simple camping option for you! Plus we add ute camping to the mix to show the benefits of camping with a ute and swag combo.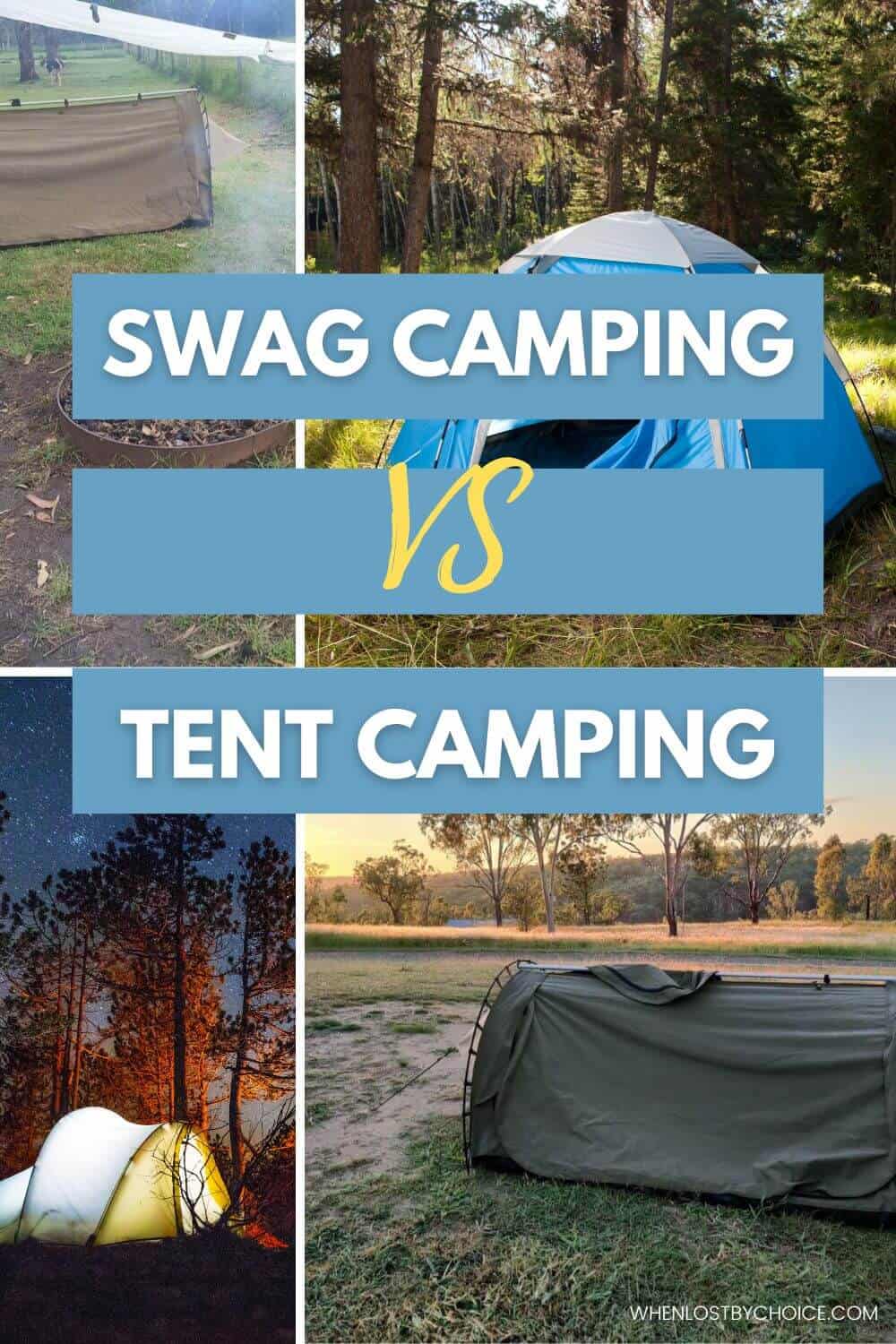 Ute & Swag Camping
What an iconic duo in the camping world. The trusty Ute with tray full of boxes and a swag. Every time you see it on the highway scooting out of town it makes you a bit jealous. Well it does for me.
This was how Shan and I explored and camped around SE QLD and northern NSW for years, perfecting the weekend getaway.
Over the time spent doing what we love most, we got it sorted pretty well and figure this is something we can share with others to show the pros and cons of swag camping compared to tent camping or car camping.
What Is A Swag Tent?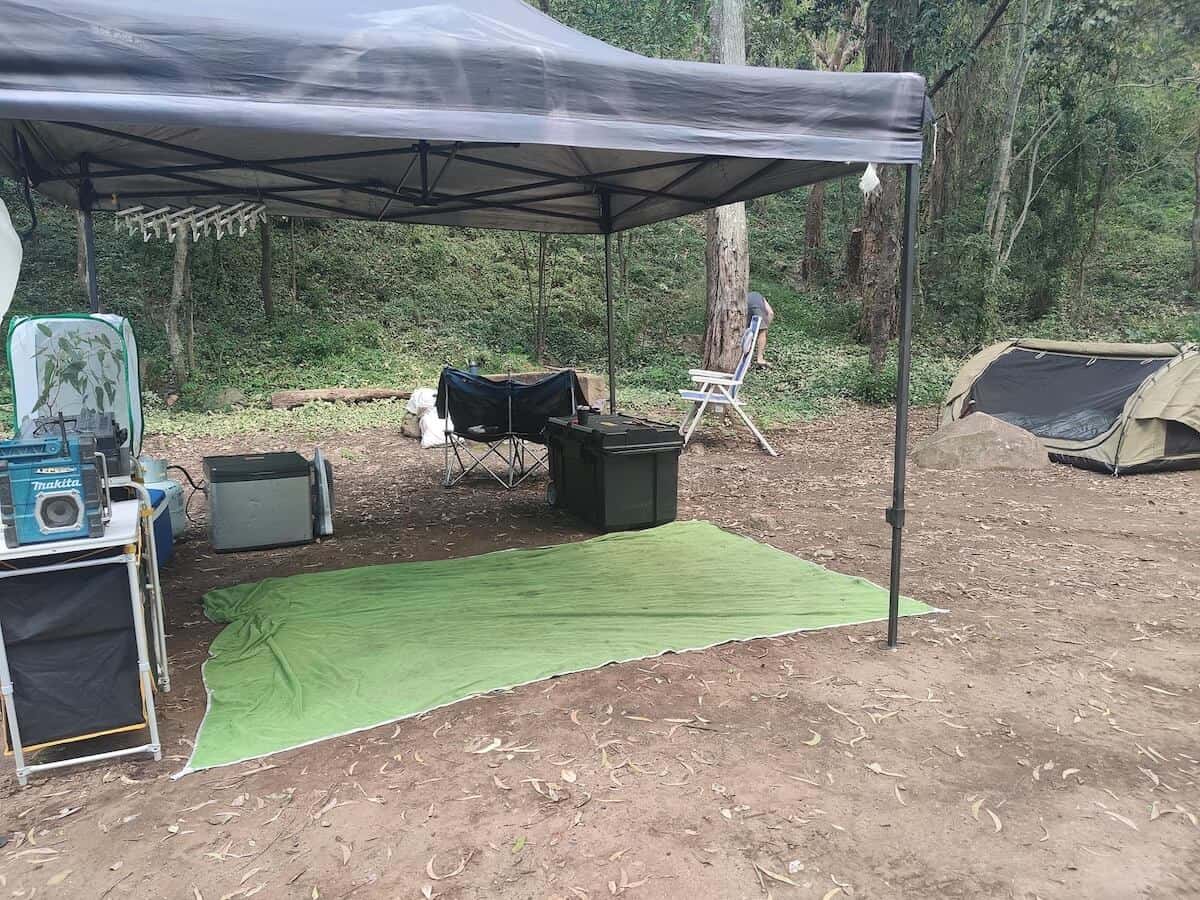 Before we get too deep into our comparison between tents and swags, we should talk about what a swag actually is!
A swag is a portable shelter that is big enough for one or two people only. It is essentially a mini tent that is quick and easy to set up.
Swags are a compact sleeping alternative to tents that are designed to protect you from the elements when camping.
Many swags come with a built-in mattress as part of their design. They are also much smaller and easier to erect compared to tents. The thickness of the mattress can vary and impact the weight of the swag overall. Thicker mattresses also mean better insulation from the cold ground.
Swags are typically made of heavy-duty canvas fabrics than tents to allow for an extra level of water resistance.
The Pros & Cons Of Swag Vs Tent Camping
Now that we've covered the basics of what a swag is. It's time to look at the pros and cons of swag camping vs tent camping.
Pros
Quick setup – How quick is a swag to set up? Less than half a beer-ish. The Kings swags are affordable and one of the easiest swags we have owned. 2 bendy poles and a spreader, you can peg and rope it down for extra security but on a trip without windy days this isn't completely necessary.
Enough room to sit up – Having enough room in your swag to sit up and get changed is a win when you're at a bush site and don't feel like giving the neighbours a show with their lunch.
No tent poles – Fewer parts to worry about when setting up
Compact – You don't need much room to set up a swag giving you options to camp in places you might not normally fit a tent
Single or double size – A double swag is perfect for couple trips or a single swag for solo camping trips (or if you just don't want to share the main tent with the rest of the family)
Durable – A well looked after swag will likely last you for years
Mattress included – No air mattress needed as your swag already has a mattress and you don't always need a sleeping bag either
Waterproof – Most swags are made with waterproof material for harsh conditions
Removable layer – Enjoy stargazing by opening up the canvas layer and just leaving the mesh protective layer on
Light-blocking canvas – Block out sunlight with the thick canvas for a good night sleep
Better for windy conditions – The smaller size and durable fabric means swags hold up better to really windy weather compared to tents
Cons
Feeling of claustrophobia – Swags don't provide much headroom, which isn't ideal if you're prone to feeling claustrophobic or uncomfortable in small spaces
Not suitable for hiking – Swags are too bulky and heavy for hiking trips and backpacking adventures, so tents might be a better
Hot and stuffy – Camping during hot weather can make swags a little more hot and stuffy due to the thick external fabric
Not suited to groups – A swag will only fit one or two people compared to a tent that can fit many
No storage space – There is no internal storage for bags, clothes and toiletries
No room to stand – You really only get in your swag for sleeping so if you've got a rainy day at camp, it doesn't give you much room for activities!
Adding a Ute Into The Mix – Ute Camping With A Swag
So swags alone are convenient for certain types of camping trips and personal preferences, but what really completes this type of camping set-up is having a ute for all your camping gear.
Pros
4×4 access with ease – As long as the Ute is a 4wd there aren't many places you can't go, within reason. Not having anything towing behind is a big advantage to manoeuvrability and fuel savings! As long as you maintain the vehicle and drive it like you love it, your adventures should be right.
Quick to pack and go – Having all our camping gear in separate tubs made this even quicker. Grab the kitchen tub and the camp tools tub and you're nearly done. The advantage of a ute tray also means it's a lot easier to pack than a wagon style vehicle.
Versatility – The Ute and swag combo is good for the weekender camping trip or a cross state adventure with one-night stops. We have been on a two-week west trip to Mt Isa in the humble Ute. We bought a big 200L esky for that trip, and filled it with frozen 10L water jugs and dry ice to last the time away. This adventure really showed us that you just need to pack the old rig a little differently and any time frame is possible.
Rego and fuel – The entire camping set-up is one rego cost and not towing a trailer saves a small fortune in fuel costs. Camper trailers aren't a lot to register but it all adds up over time or when you're on a shoestring budget.
Cons
Rain – If it rains and you don't have a canopy, you need to tarp the tray before you go or risk it all getting drenched. We have been caught out by a random rain cloud a few times with wet clothes and a less-than-desirable set up at the campsite.
Pack up at the end of camp – When you Tetris-Master it all in the tray, it's a lot harder when the beer carton has been used to start the fire and now there are 24 glass bottles to secure down instead on your trip back home. Likewise, with any rubbish, it all needs bagging and to be secured in the tray somewhere. Having those dirty bags on the spare tyre like a wagon 4×4 is a lot easier for this. Plus if you are met with rainy days, you're packing wet and soggy gear.
Securing the load – This isn't a really big issue but can be frustrating when it's odd shapes and sizes like gas bottles and 20L water containers. If one thing isn't properly secure you will find out on the first few bumps. Pullover, secure that thing with more rope and keep going. Next bump, repeat the process until nothing moves. The worse the roads the quicker you will find this out.
You have to unpack it all to use it all – Remember how you put the tubs at the front because they fit well and are stacked neatly, so it's nice and secure for the drive? Then put the swag and esky on all that and then the gas bottle tucked in somewhere safe too? When you need those tubs it all comes off. Granted when you pull up, the swag comes off and gets set up, as does most of it, but we found that more often than not the one thing you don't take off you need at 8 PM mid marshmallow melt sesh by the campfire. This gets old quickly to me!
Ute Camping Essential Gear
Here is a quick list of the stuff we think makes for a better Ute camp below:
Esky/fridge/cooler
Swag and pegs
Food & kitchen tub
Tools & electrical tub
Gazebo – This way you have some extra shelter outside of your swag
Camp kitchen with collapsible cupboards (doubles as a goanna-proof storage)
Cooker of sorts or a bbq plate for the fire
First aid kit and toiletries
Simple tools
At the end of the day with all said and done, the best camp setup is the one you have! We have changed how we do it many times trying to find the perfect setup to suit long-term and weekenders as we trial-run things.
All styles are good as long as you have a good time. We started in Shan's cute Ford Capri convertible with a 2-man dome tent, had a slide-on camper, a Delica van, and now we have a camper trailer with a Prado. We tried most things in between, even camping hammocks!
To us, that meant as long as we had the extras for fun etc, the bed is just for sleeping and the vehicle is mostly for getting from A to B for the next adventure.
All the different setups all have their limitations and advantages to suit different time frames and styles of trips. Swag tents can be great for road trips or camping out in your friend's backyard after a party!
Changing your setup takes a bit of thought and planning but we found the Ute and swag combo suits most adventures depending on the other stuff you bring along with you. It's a great option for one to two people who want to keep things really simple at the campground, with enough protection from the elements to stay warm, and dry and still enjoy the great outdoors!
Plan Your Camping Trip
Have you tried swag camping?