15 Best Things To Do In Woodgate, Queensland
Is a holiday at Woodgate Beach calling you? Well, look no further as we provide a guide on all the best things to do in Woodgate Queensland to help with planning your holiday!
Picking your next holiday destination: Why Woodgate?
Woodgate is known as a popular tourist destination for a number of reasons:
Pristine beach: Woodgate Beach is 16 kilometres long. The beach is protected by K'Gari/Fraser Island, which in turn makes the beach a calm and safe destination for swimming
Relaxed atmosphere: Woodgate is a quiet and relaxed town, perfect for a getaway from the hustle and bustle of everyday life. The town itself has a small-town feel with no large buildings and only a handful of accommodation options.
Variety of activities: There are a variety of activities to enjoy in the town of Woodgate. From swimming, sunbathing, fishing, hiking, boating and camping.
Close to Bundaberg: Woodgate is approximately a 45 minute drive to Bundaberg, which offers a number of amenities, shops and attractions if in need.
Family-friendly: Due to the number of activities available and the calm/safe beach in the small coastal town of Woodgate, it's a perfect pick for families.
Fishing hot spot: There is a number of fishing locations in the town of Woodgate from the beach to Theodolite Creek.
This makes Woodgate Beach the perfect destination for a relaxing holiday due to the small-town vibes, fishing destinations and calm beach.
How To Get To Woodgate
Woodgate is a small coastal town located in the Bundaberg Region of Queensland, Australia. A short 45-minute drive South of Bundaberg or 30 minutes East of Childers.
This secluded paradise is situated on the shores of Hervey Bay, about 300 kilometres north of Brisbane.
Top 15 Things to Do in Woodgate, Queensland
Now you've heard a little bit about the relaxing coastal town, let's jump right into what you can do while visiting the coastal town of Woodgate.
Here are the best things to do in Woodgate Queensland:
1. Go for a Swim at Woodgate Beach
Woodgate Beach is a long (16 kilometres), sandy beach that is perfect for swimming, sunbathing, and surfing. The beach is protected by Fraser Island, which in turn means the water is calm, safe and ideal for a dip in the ocean.
On a calm day, you can even spot the dolphins from the beach!
2. Take a Stroll down Woodgate Beach
If swimming doesn't appeal to you, take a stroll next to the water's edge and take in the beautiful views of the relaxing coastal town.
Added bonus, many seating areas are situated just before you enter the beach from your car park, which makes this the perfect location to take in the views with a coffee or picnic lunch.
3. Go Fishing at Theodolite Creek
Theodolite Creek is a pristine waterway that is home to a variety of fish, including whiting, bream, and mangrove jacks. Fishing is a popular activity in the creek, and you can either fish from the shore or take a boat out.
If you don't own a boat, no need to worry as you can head into the local town and hire one!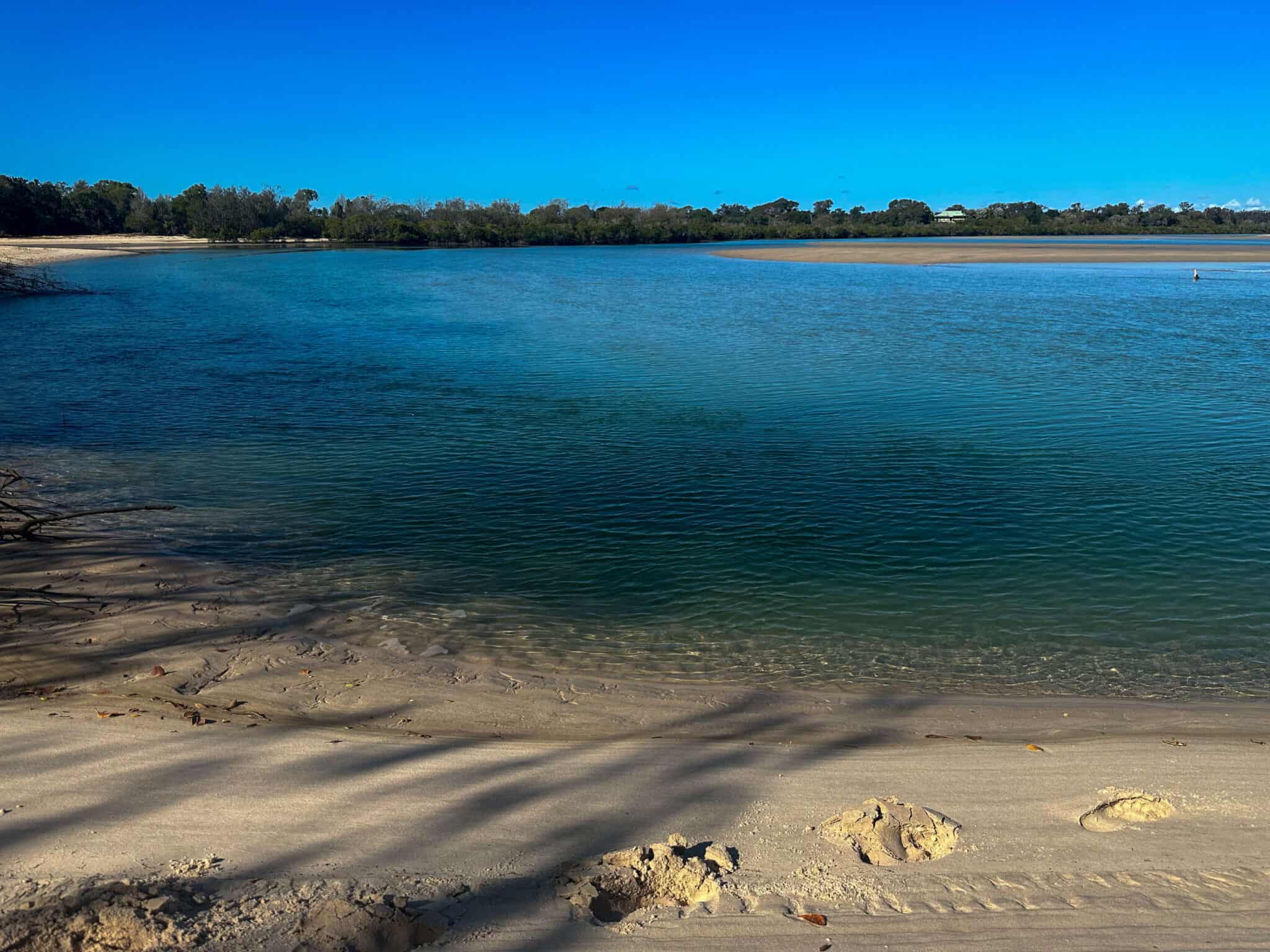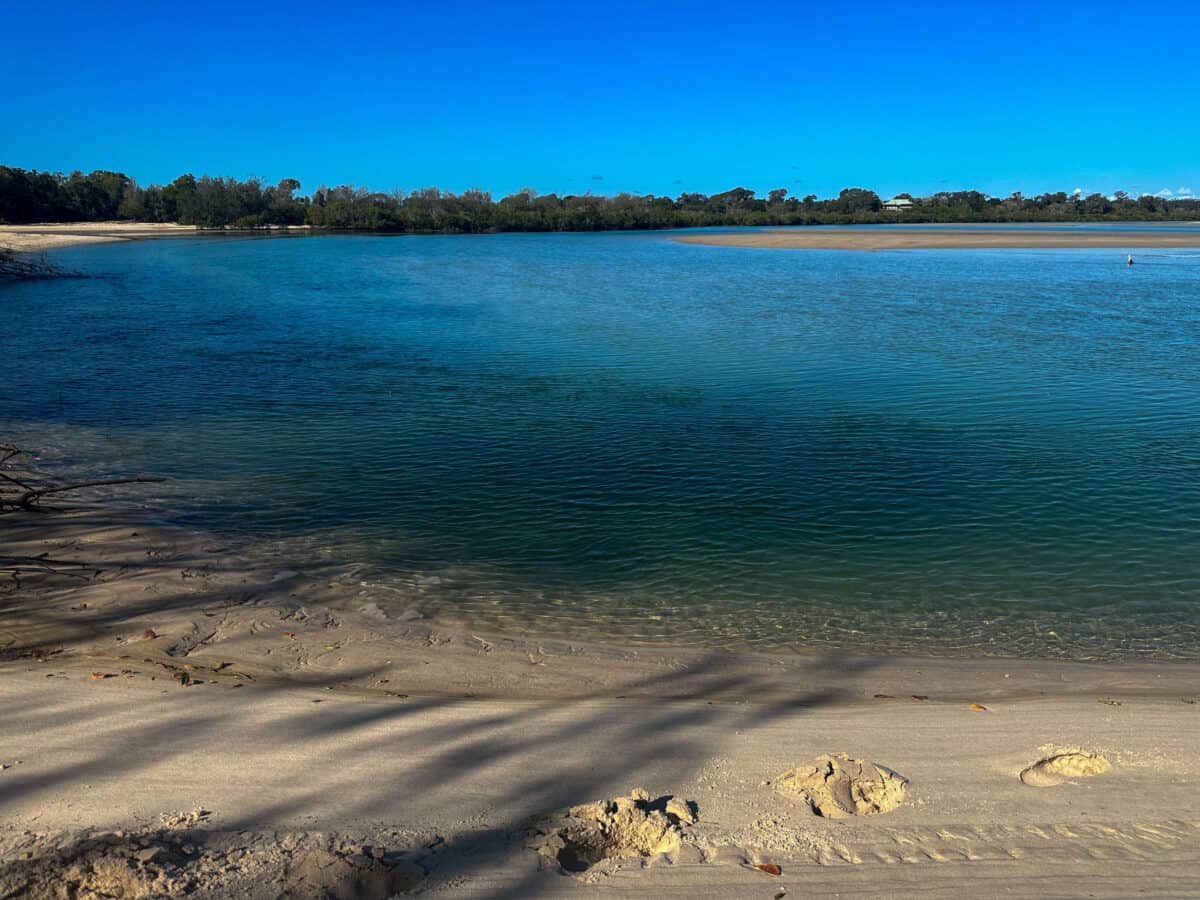 4. Hire a Kayak or Stand-Up Paddle Board
The calm waters of Woodgate Beach are perfect for kayaking and stand-up paddle boarding. You can rent equipment from a local shop and explore the scenery at your own pace.
5. Take a Hike in Burrum Coast National Park
If walking is your favourite option for exploring the area, the Burrum Coast National Park is home to a variety of walking trails, ranging from easy to challenging. You can hike through rainforests, mangroves, and along the beach.
6. Stroll the Woodgate Banksia Walking Track
The Woodgate Banksia Walking Track is a 5-kilometre loop that takes you through bushland and along the beach. The track is easy to follow and offers stunning views of the surrounding area.
7. Go Whale Watching
Woodgate is a great place to go whale watching during the winter months (June to November). You can often see whales migrating past the coast.
Added bonus – if whale spotting is high on the bucket list, head of over to Hervey Bay for a whale tour as the coastal town is known as a "Whale Heritage Site"
8. Have a Picnic at Walkers Point
Walkers Point is a scenic headland that offers stunning views of Hervey Bay. It is a great location to have a picnic lunch or enjoy a sunset stroll.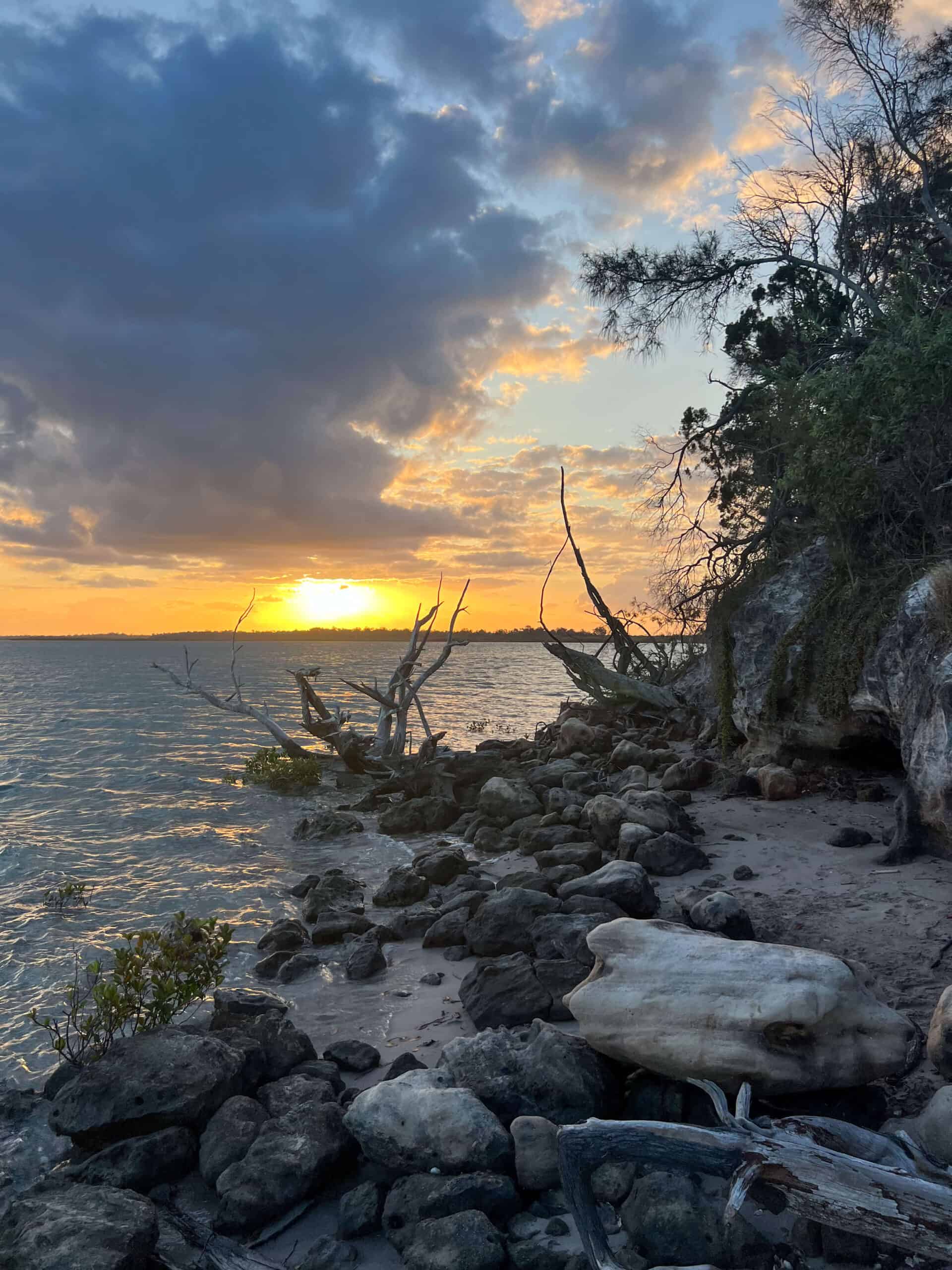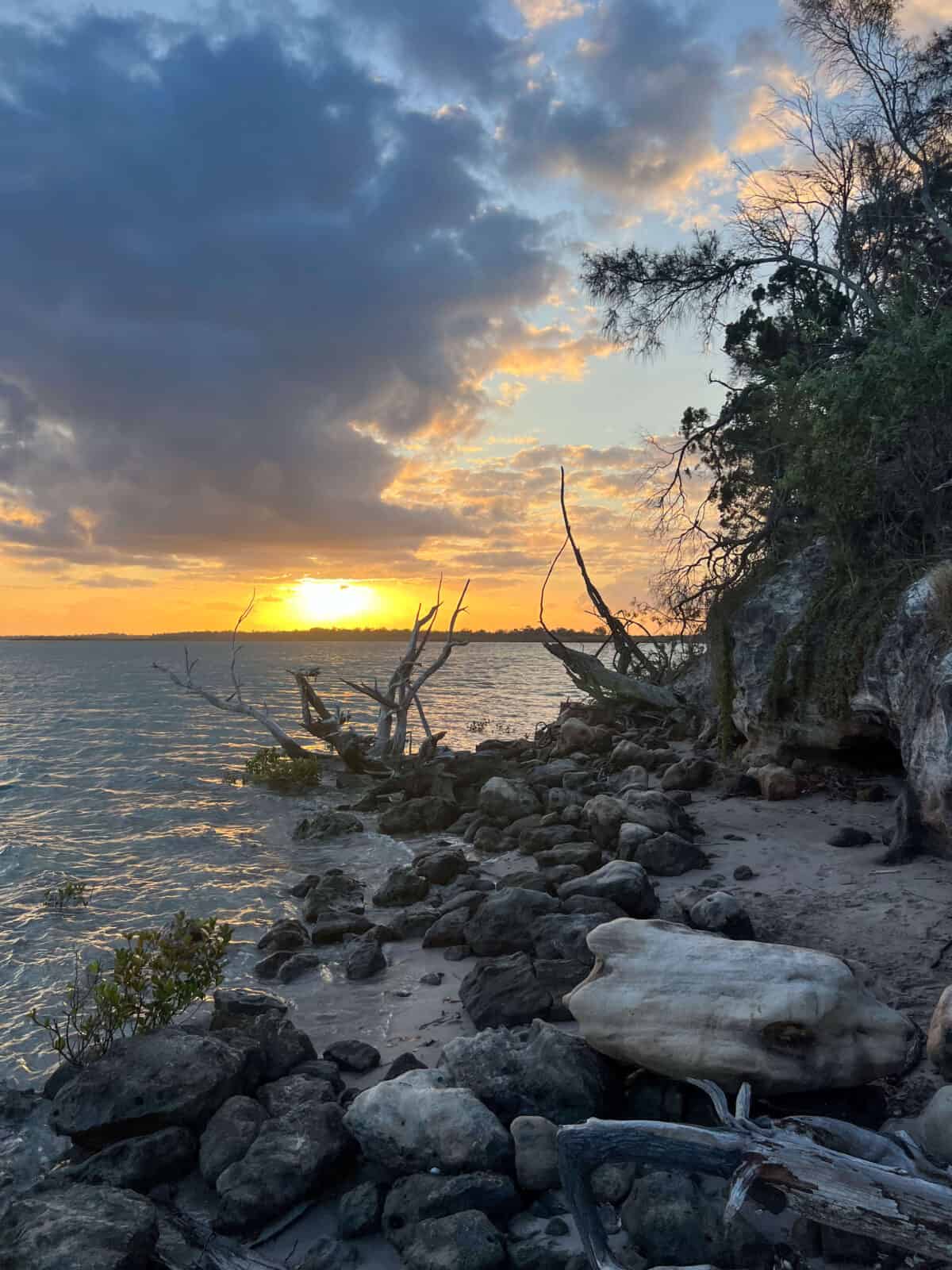 9. Go Camping
If you prefer exploring an area by camping (our favourite way) – Woodgate offers you a few options!
Here are some great options for Woodgate camping grounds: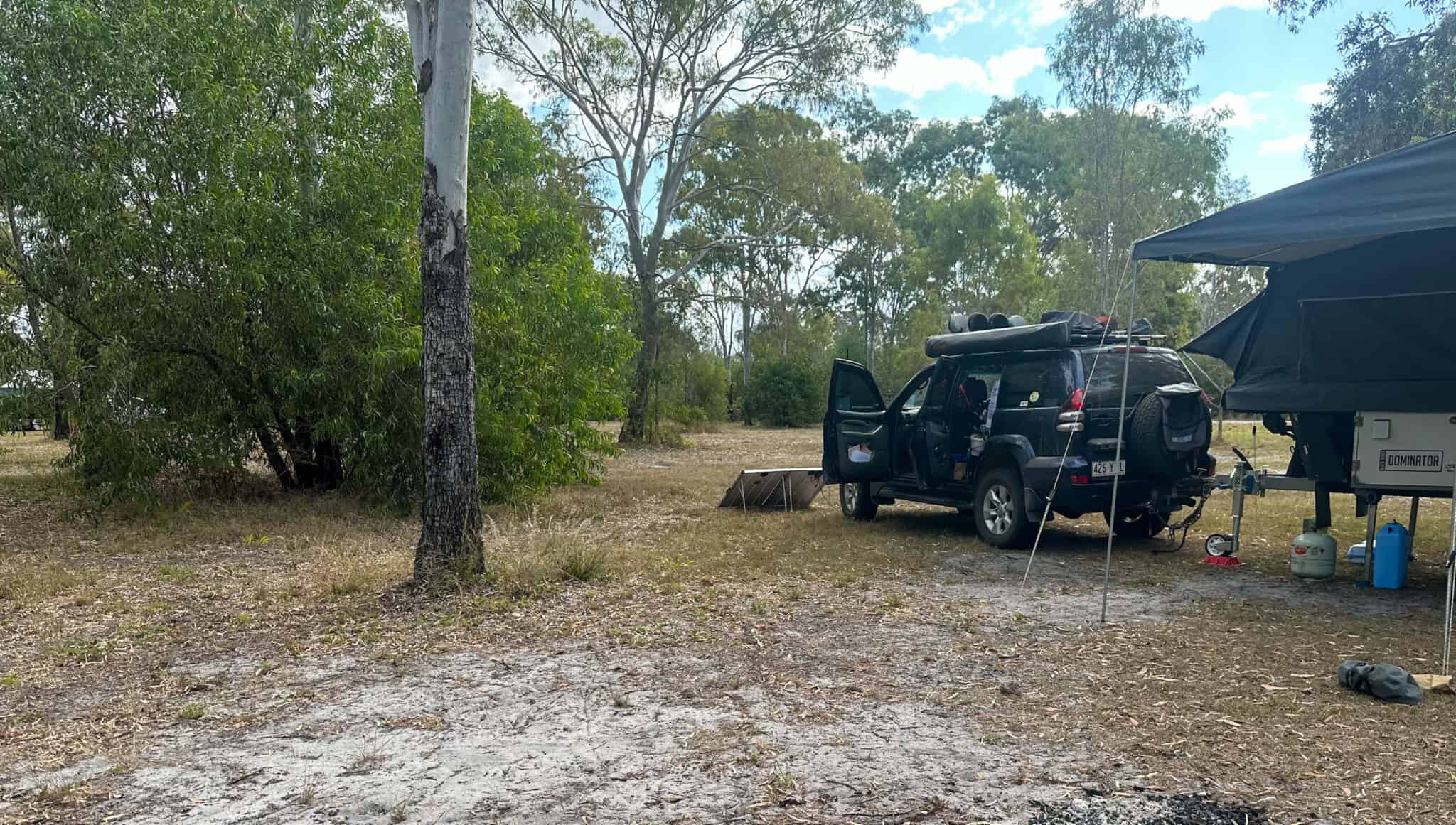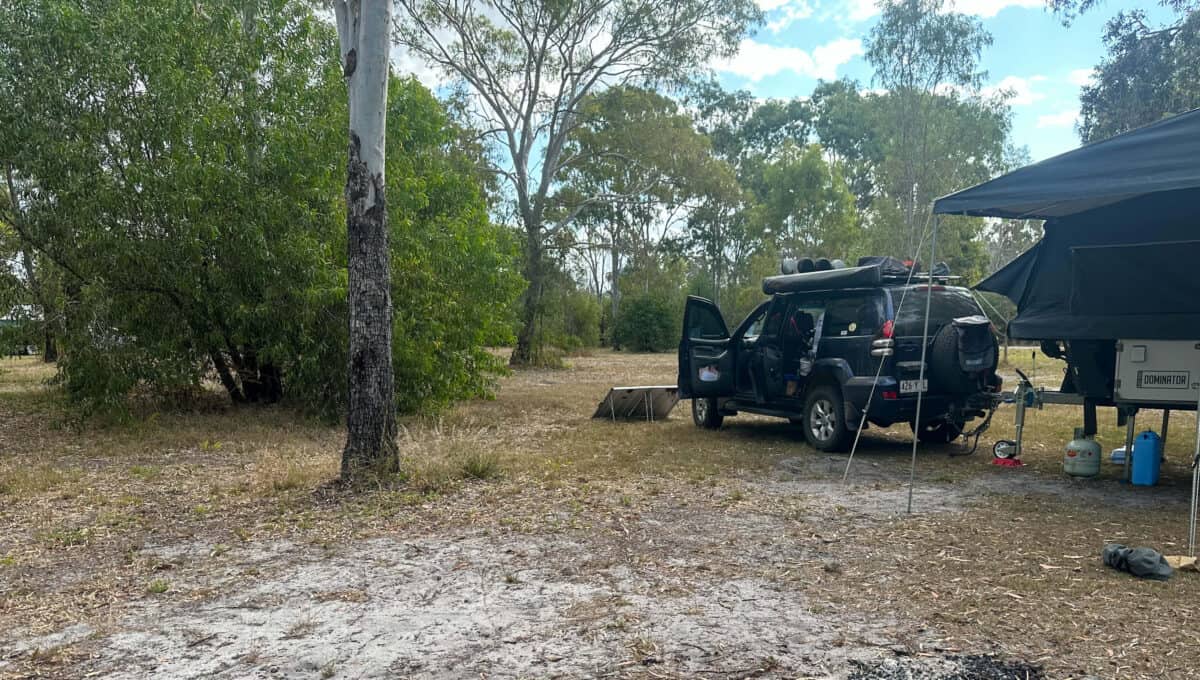 10. Take a Day Trip to K'Gari/Fraser Island
K'Gari/Fraser Island is the largest heritage-listed sand island in the world. Head on over for a day trip to explore the majestic sands, stunning rainforests and natural wonders.
11. Explore Woodgate's Wildlife
Woodgate is home to a variety of wildlife. This includes birds, kangaroos, crabs and much more. Head out on a hike and enjoy the wildlife in the area.
The kangaroos are easily spotted grazing in the local's front yards or in the campgrounds.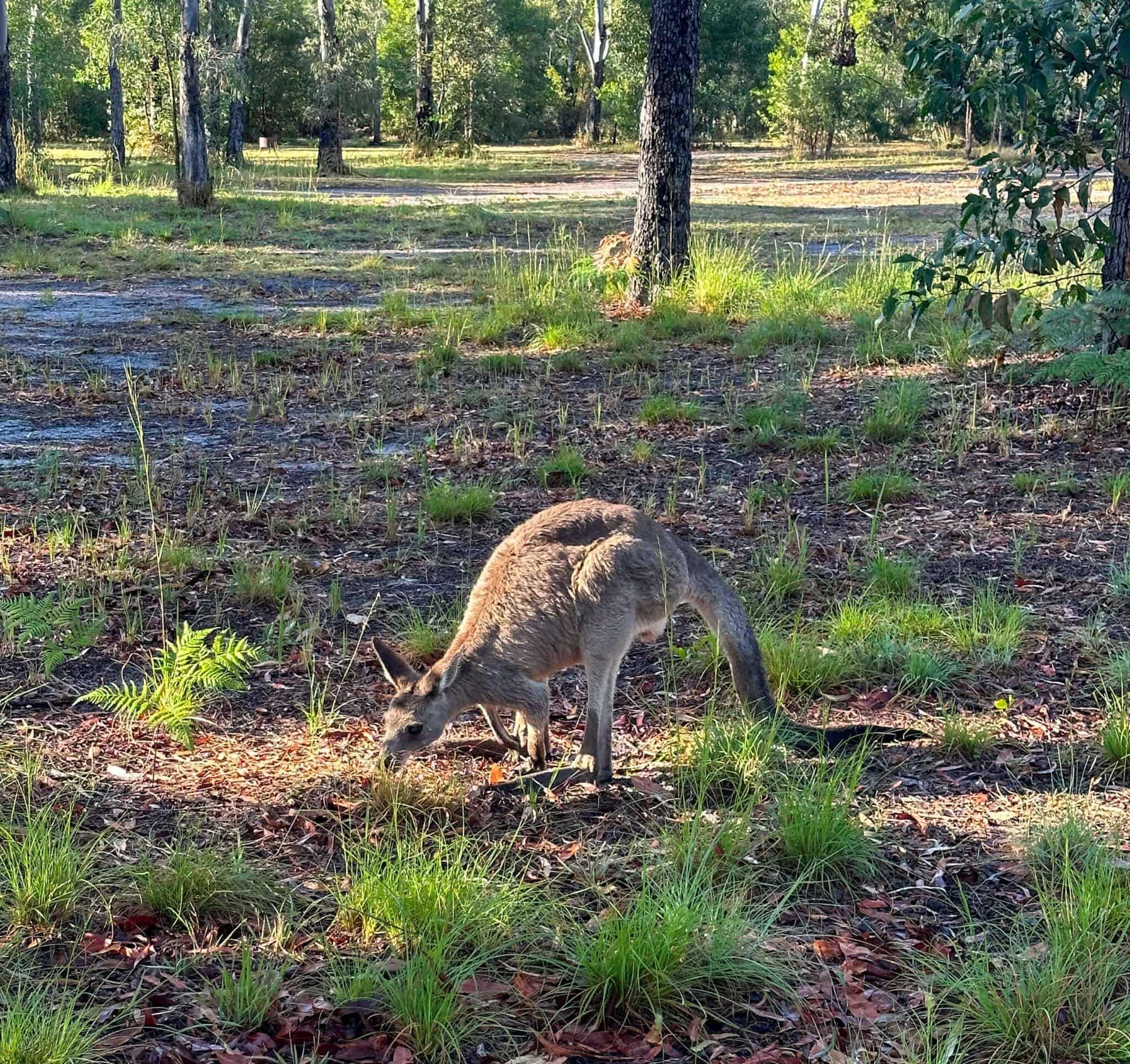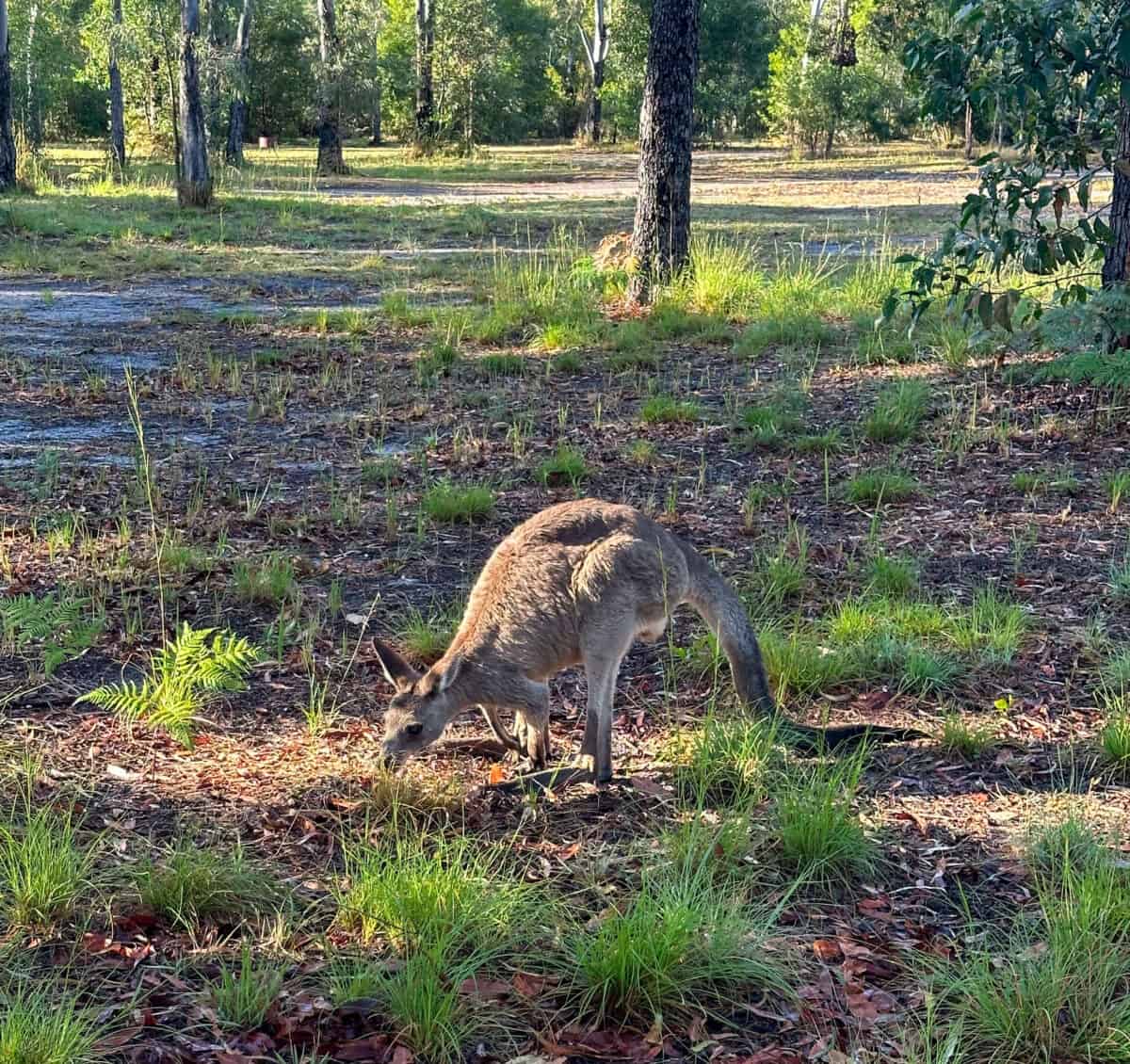 12. Dine at Woodgate Beach
Woodgate offers a variety of options for eating out. Head on down to Serenity Cove Cafe for breakfast or lunch. Or if you're looking for a larger meal the Woodgate Club or Woodgate Hotel Restaurant have you covered.
13. Throw the Crab Pot Out
Head out to Walkers Point to throw the crab pot in and check your finds in the afternoon.
Don't forget to prepare with insect repellant as the midges are known in this area (we can confirm from experience).
And no, we didn't take this crab home – this one was caught in the cast net while searching for bait fish.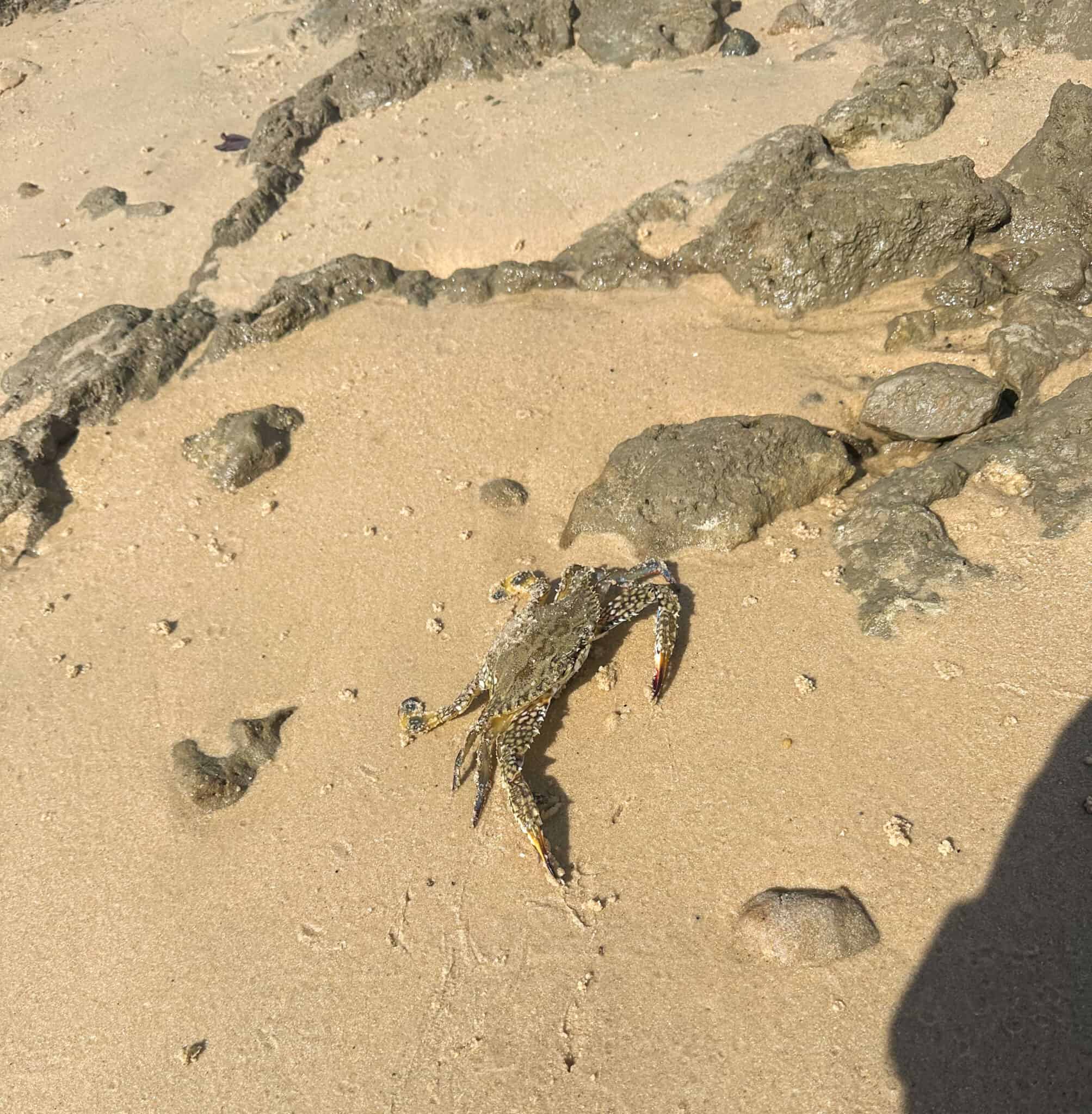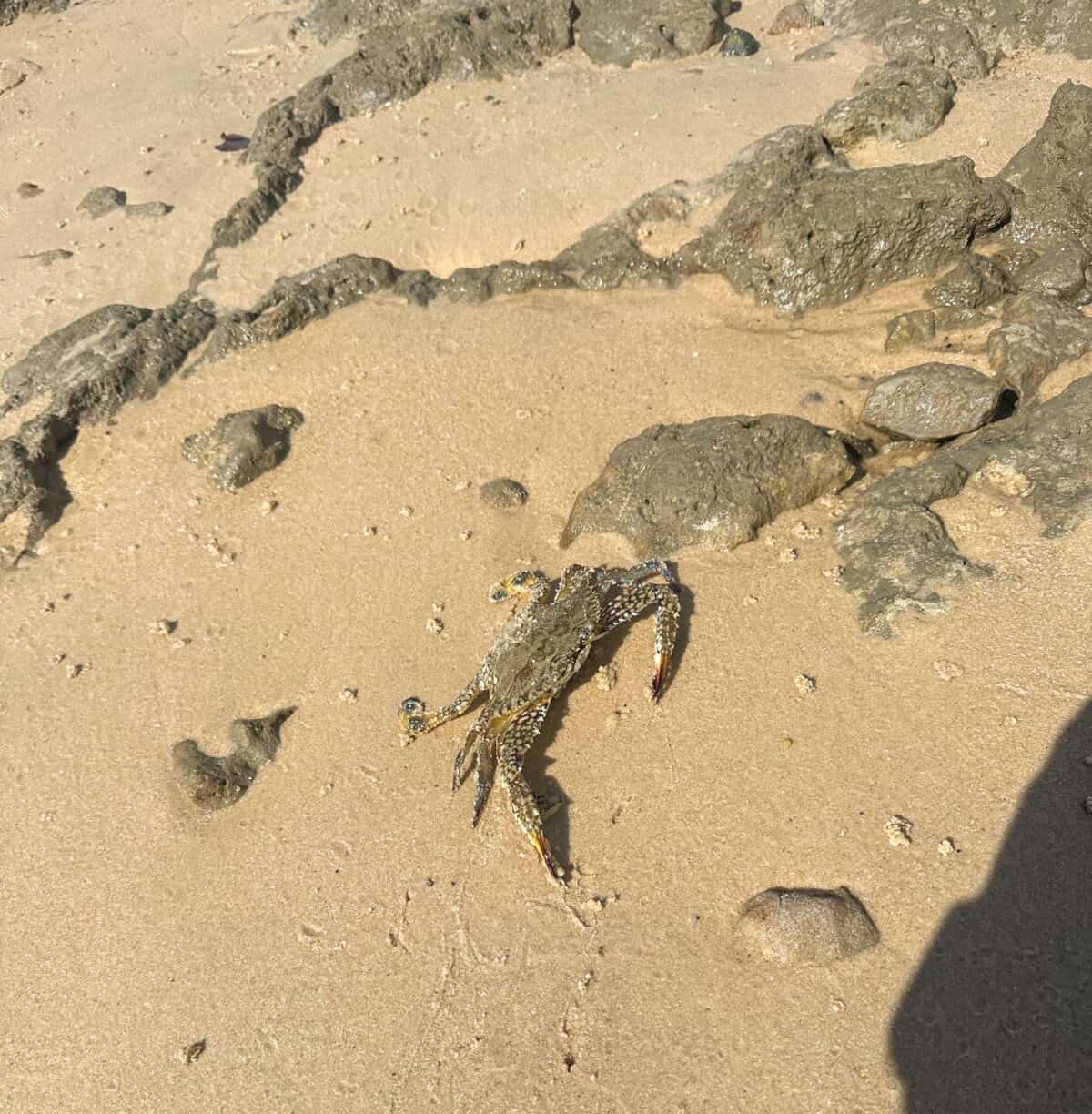 14. Hire a Boat for the day
Keen on a day in the water? The waters surrounding Woodgate Beach and Theodolite are calm due to the protection from K'Gari (Fraser) Island, which makes it a perfect destination for a hired boat!
Head on down to the local boat hiring and explore the area on the water!
15. Beach Drive with the 4WD
Beach driving is permitted from Woodgate Beach township to the Burrum Point area, with no permits required.
Don't forget to come prepared with your recovery gear and lowered tyre pressure. Remember to always obey the road rules while driving on the beach.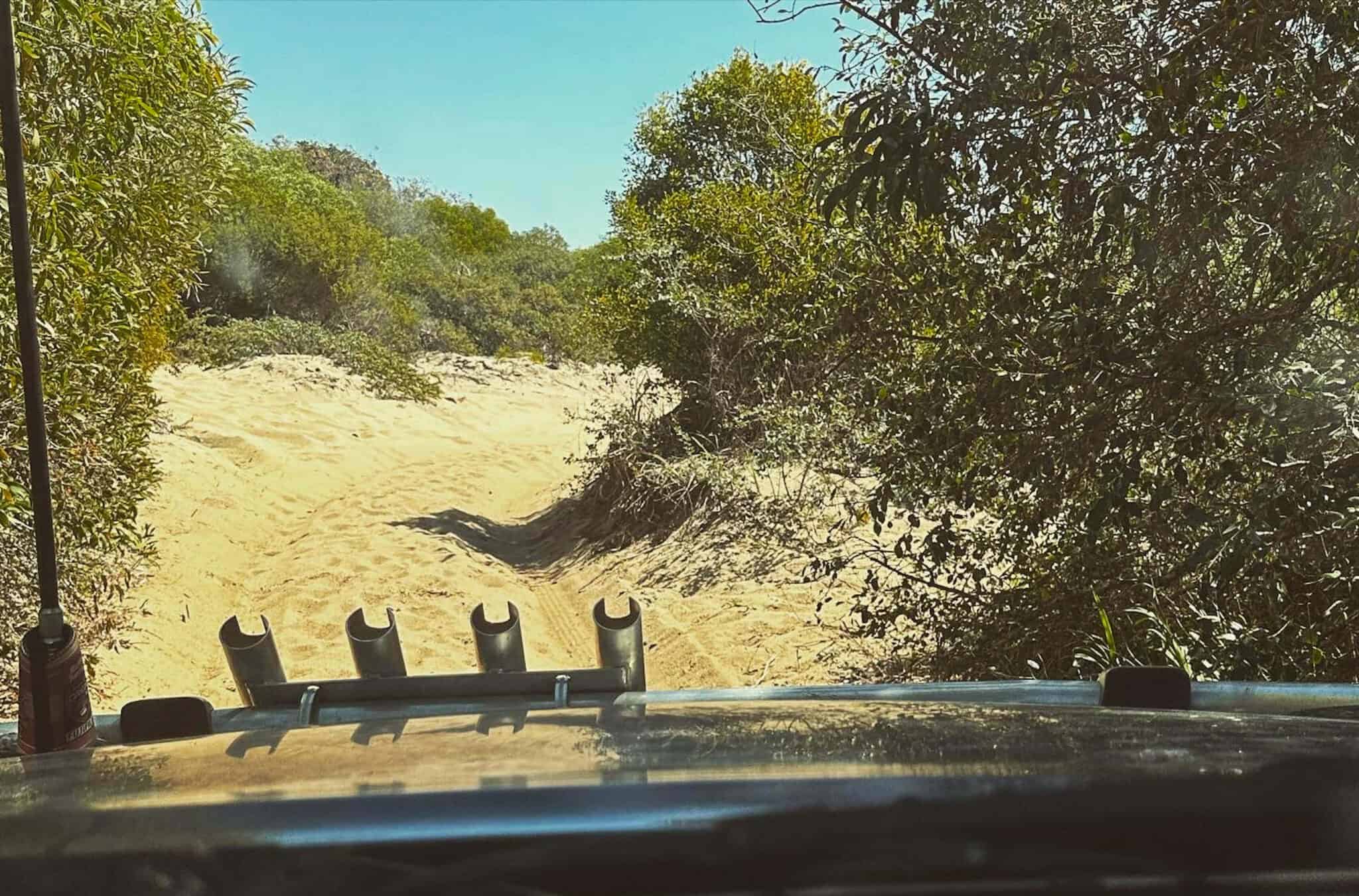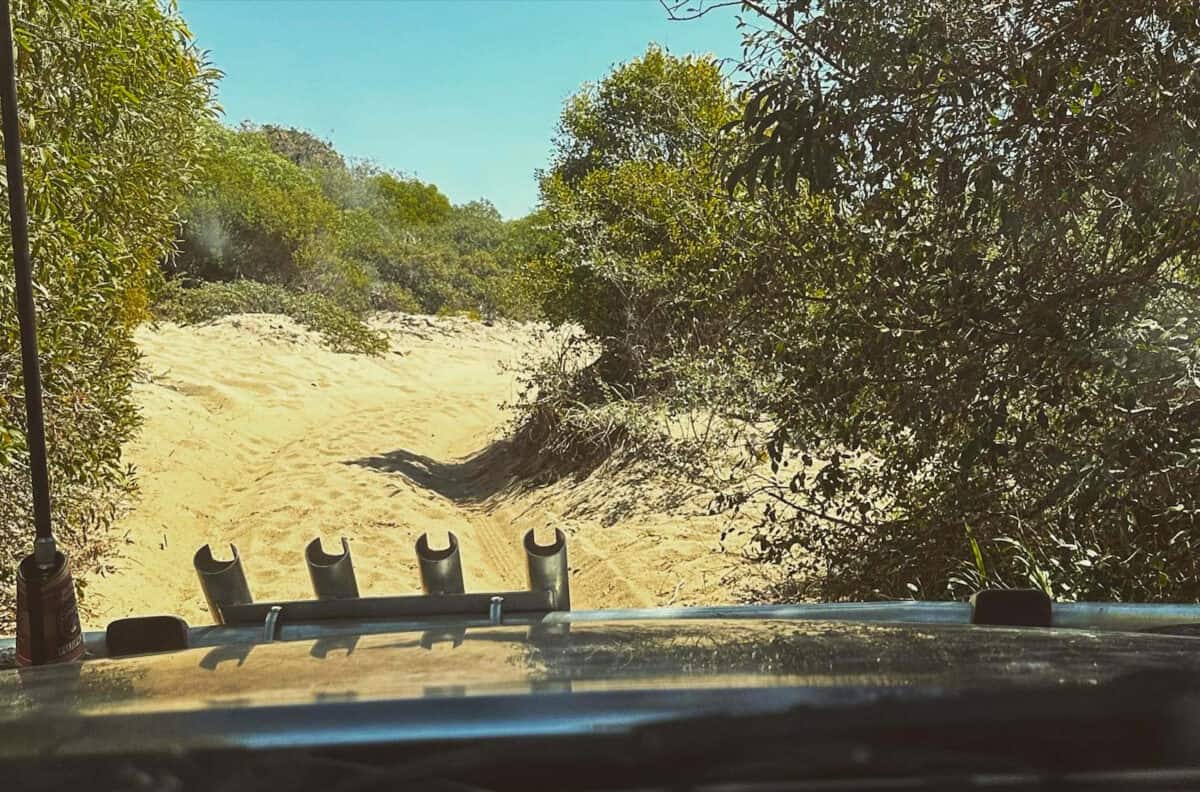 Best Places To Stay Near Woodgate
If you are looking for accommodation near Woodgate, rather than plans to camp in the area, here are some good options:
You will also find a range of holiday homes in Woodgate or in nearby Bagara, Bundaberg and Childers.
Additional Tips Before Booking Your Stay
These are just a few of the many things to do in Woodgate. Whether you're looking for a relaxing beach vacation or an active adventure, you're sure to find something to enjoy in this charming town.
Here are some additional tips for planning your trip to Woodgate:
The best time to visit Woodgate is during the dry season, from April to November.
Woodgate is a small town, so there are limited accommodation options. Don't forget to book your accommodation in advance, especially during peak season.
There are a few restaurants in Woodgate, but it is also a good idea to bring some snacks and drinks with you, especially if you are planning on spending time at the beach.
Don't forget to pack your insect repellant as the Walkers Point area is known for midges
In conclusion, if your ideal next holiday destination is away from the hustle and bustle – look no further! Woodgate is perfect for a quiet and relaxing getaway with enough options for all the family to enjoy.
We hope this has assisted with planning your holiday and finding plenty of options for what to do at Woodgate!
Explore more of Queensland: