Best Things To Do In Stanthorpe & The Granite Belt: Weekend Itinerary
If you are looking for fun things to do in Stanthorpe and the Granite Belt area, you won't be disappointed. Stanthorpe, Queensland is the perfect place to spend a long weekend enjoying food, wine and the natural attractions of the area.
Whether you're looking for adventurous outdoor activities, plan to sample your way around the Granite Belt wine region or want romantic things to do in Stanthorpe for a couples trip, you won't be disappointed in a visit to this beautiful place!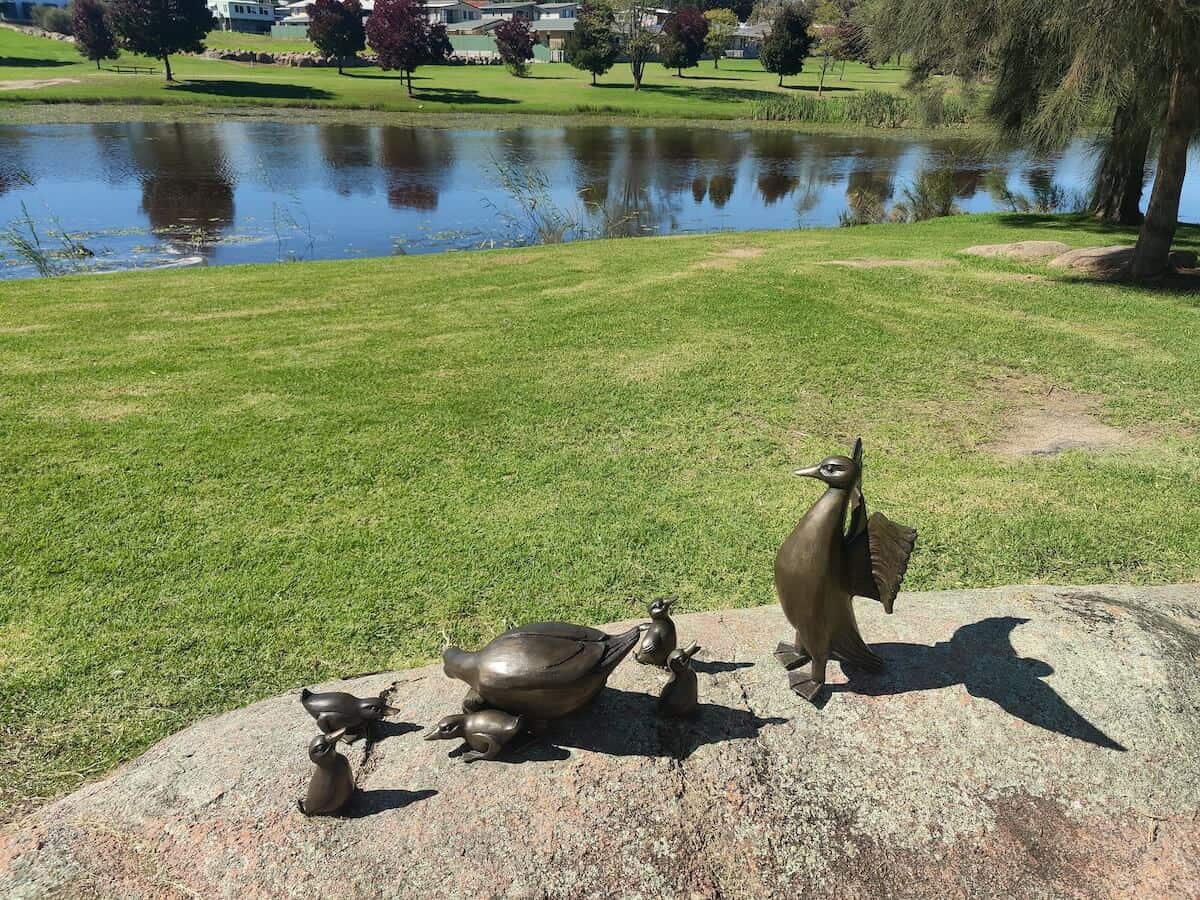 Stanthorpe & The Granite Belt
The Granite Belt is a part of the Great Dividing Range in the Darling Downs region of Queensland. The Granite Belt is centred on the town of Stanthorpe and is known for the large number of granite rocks in the area.
Stanthorpe is known as a rural town, home to a range of farmland, orchards and vineyards. Stanthorpe is also known as the coldest town in Queensland, competing with the neighbouring town of Applethorpe.
The cooler weather in Stanthorpe and the Granite Belt region makes it perfect for cool climate wines and fruit growing, putting it on the map as an essential wine tourism region in Queensland and Australia.
Stanthorpe is approximately 2 hours and 40 mins for Brisbane and is well worth the visit.
Planning a weekend In Stanthorpe
Are you looking for a weekend filled with activities for the kids, grandparents and all the ages in between?
Stanthorpe is one of those towns that you cannot simply pass through. Stanthorpe is at the very least a full weekend filled with adventures, food and nature. We personally stayed for a long 3 day weekend and still did not get everything in.
Where Is Stanthorpe?
Stanthorpe is located in the Granite Belt area of Queensland, Australia. It is approximately 2 hours and 50 minutes south-west of Brisbane and near the New South Wales border.
How To Get To Stanthorpe?
The best way to get to Stanthorpe is by car, although there are buses that travel to Stanthorpe each day too, however, having your own private transport or rental car will make it much easier to explore the many attractions and things to do in Stanthorpe and its surrounds.
Best Time To Visit Stanthorpe & The Granite Belt
The Granite Belt's climate is perfect for outdoor activities and wine tasting throughout most of the year, especially during autumn and spring. Summer can be quite humid and winter can be very cold, so pack accordingly!
After all, Stanthorpe is the only place in Queensland that occasionally snows!
Best Places To Stay In Stanthorpe
There is a range of accommodation options in and around Stanthorpe, so you'll be able to find something to suit your needs and budget
The best place to stay in Stanthorpe on a budget is the camping grounds. If you're looking for a bit of extra comfort, there are plenty of bed and breakfasts in Stanthorpe to choose from too.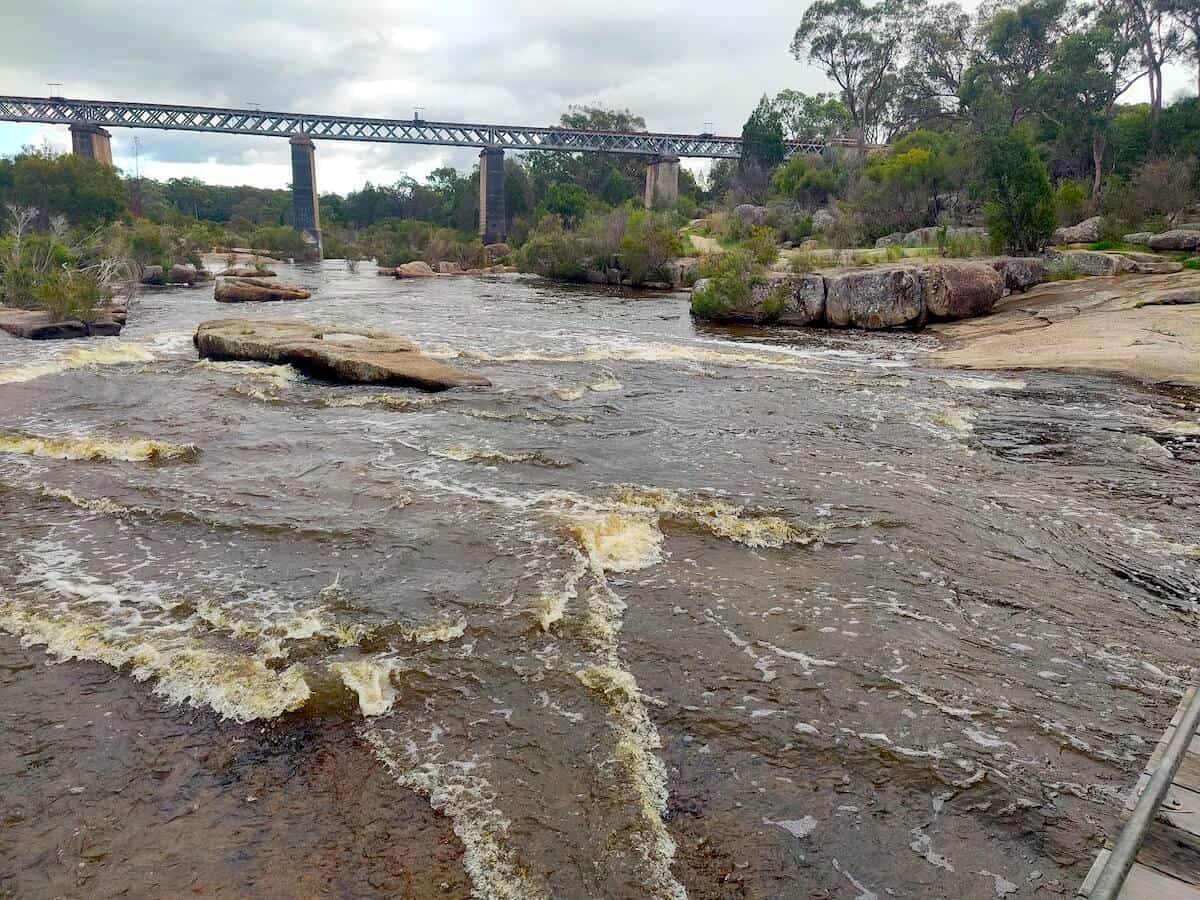 Our First Visit To Stanthorpe
For us, our first trip to Stanthorpe began when we very last minute planned our Easter long weekend. After checking multiple campsites' availability, we decided it was time to head to New South Wales.
It had been years with all the lockdowns and we were keen to spend some money in the town after the heartbreaking floods that occurred in February.
Our first destination was Nimbin, we all know what Nimbin is known for.. however, it doesn't matter what your interests are. Nimbin is such a humble town, filled with some lovely human beings.
In fact on this trip, we met "Granny Annie" casually when we stopped in at the pub for a cheeky beverage. Granny Annie is still our favourite highlight for this trip to Nimbin. She was such a beautiful soul and inspired us, even more so, to spend money in the local area to support the devastation that occurred.
Besides the humble locals, you will also come across unique shops along the main street. We would personally recommend Nimbin for a weekend stop to explore the area.
Our next destination was Stanthorpe. We didn't get long in this beautiful location but we were hungry for more. Stanthorpe had so much to offer!
Fast forward to our 2nd long weekend adventure when we headed back to really explore the town of Stanthorpe. This is what we called our "Foodie Adventure!"
Best Things To Do In Stanthorpe
If you are looking for things to do in Stanthorpe, there are plenty of options to suit all ages from unique attractions to not to be missed experiences. Not just for the wine lovers either!
Ashbern Farms – Strawberry Picking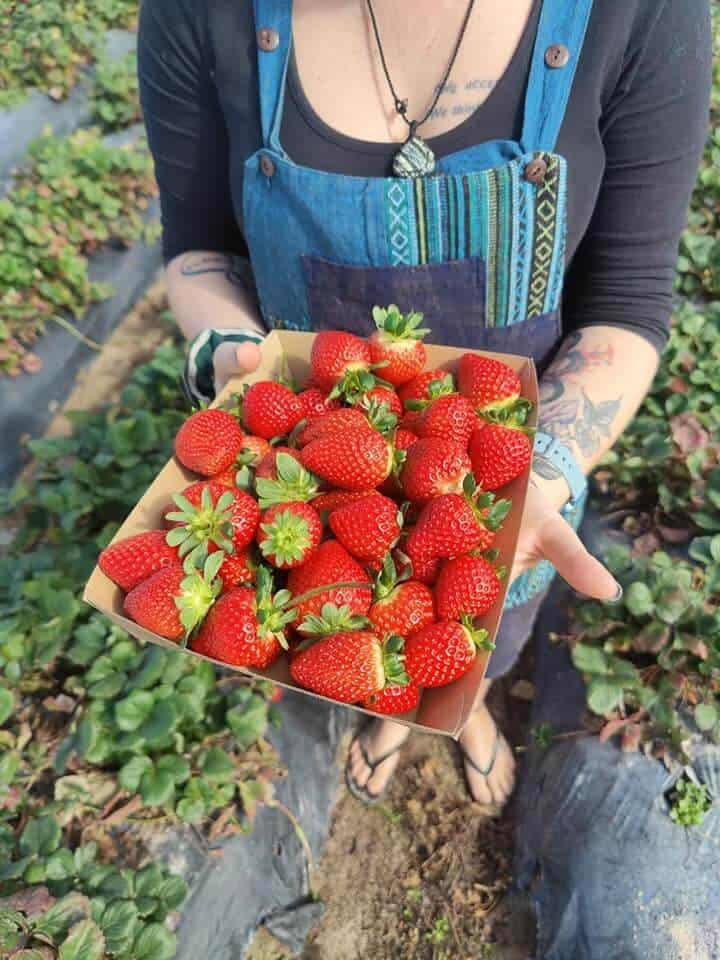 Location: 2 West Rd, Stanthorpe
Trading Hours: Ashbern Farms is open during the strawberry picking season, usually between October to May. They are open Friday to Sunday from 8:00 am to 3:00 pm and closed for public holidays.
On arrival, pop into the shop to grab your strawberry trays and head out to the field to pick your own strawberries.
We spent hours walking the fields. We decided to choose a lane each to ensure we found the best, largest and juiciest strawberries up for offer, which resulted in lots of yelling at each other "Look how big this one is!" and "What about this one?"
We can confidently confirm these are the juiciest strawberries you've ever tasted. This unfortunately meant grocery store strawberries are now ruined for us, but it was worth it!
Once your trays are filled, you pop back into the store and pay for the tray by weight. Additionally, you can also purchase homemade strawberry ice cream, jams and gifts to support the farm.
This should be on the top of your list for your Stanthorpe itinerary!
The Granite Belt Maze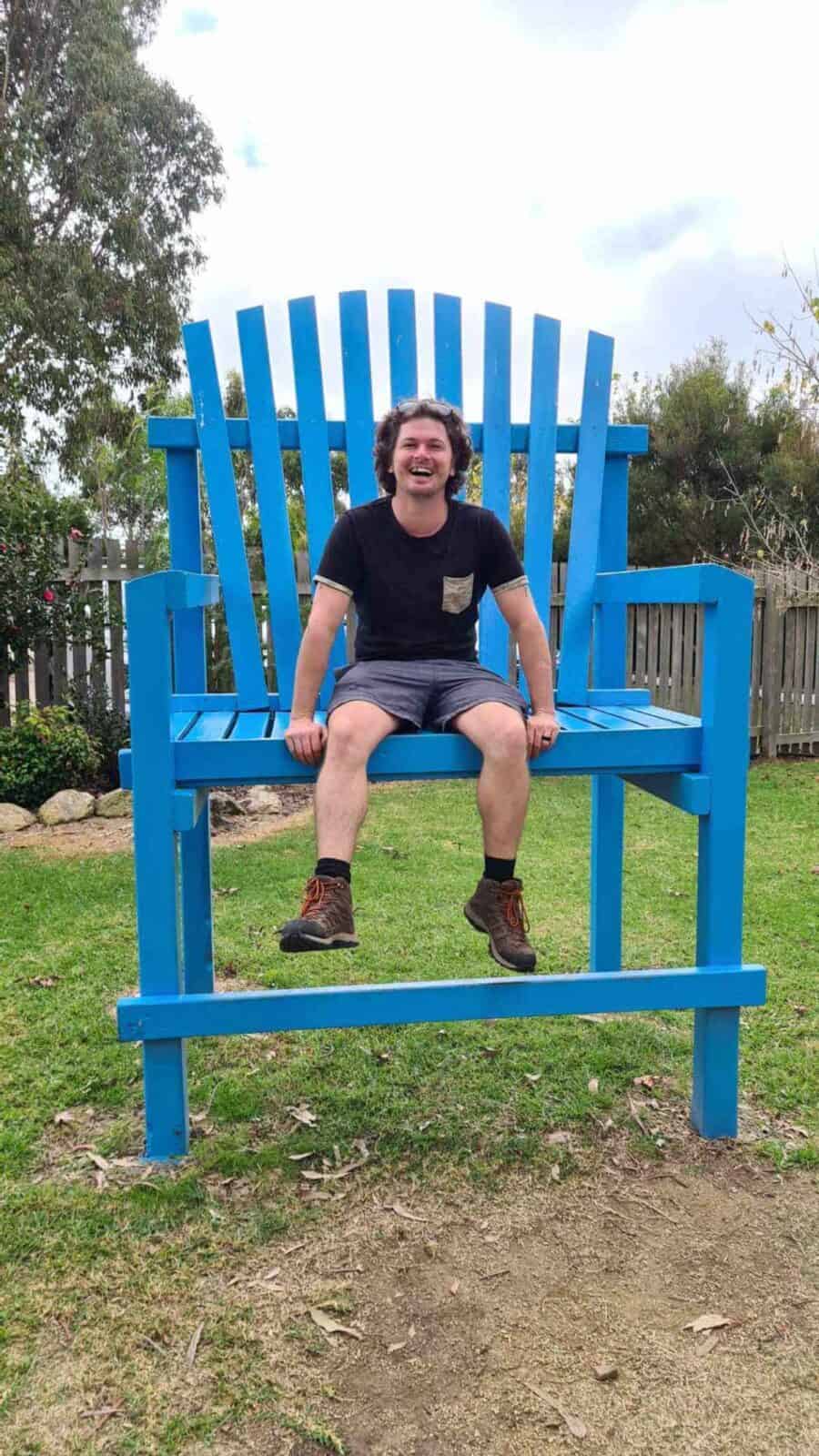 Location: 364 Old Warwick Rd, Glen Niven
Trading hours: Thursday to Monday – 10:00 am to 5:00 pm. Last entry at 4:00 pm
This tucked-away gem was a lot of fun. After paying for your ticket, you receive a riddle and pencil.
Once you enter the Granite Belt Maze you realise just how lost you can get! Besides the occasional tree to assist you with location, everything looks the same. Around the middle area, there is a viewing platform.
Otherwise, you search the maze from one end to the other, on a mission to solve your riddle!
Besides the obviously amazing maze, the entire attraction is filled with games and novelty items such as a giant wooden chair, human-sized chess, a secondary small maze and much more.
As you exit this Stanthorpe attraction, you head back to reception to receive your mini golf stick and scorecard. This is a 9-hole mini golf course, with some trickier holes to complete your fun day at the Granite Belt Maze.
The maze is designed for all ages. We would recommend this stop a 10/10 also.
Admission:
$60 family (2 adults + 2 children)
$19 per adult
$14 per child (5-16)
$14 per pensioner
Under 5's are free
(Note: These prices are for 2022 and are subject to change.)
Stanthorpe Apple Picking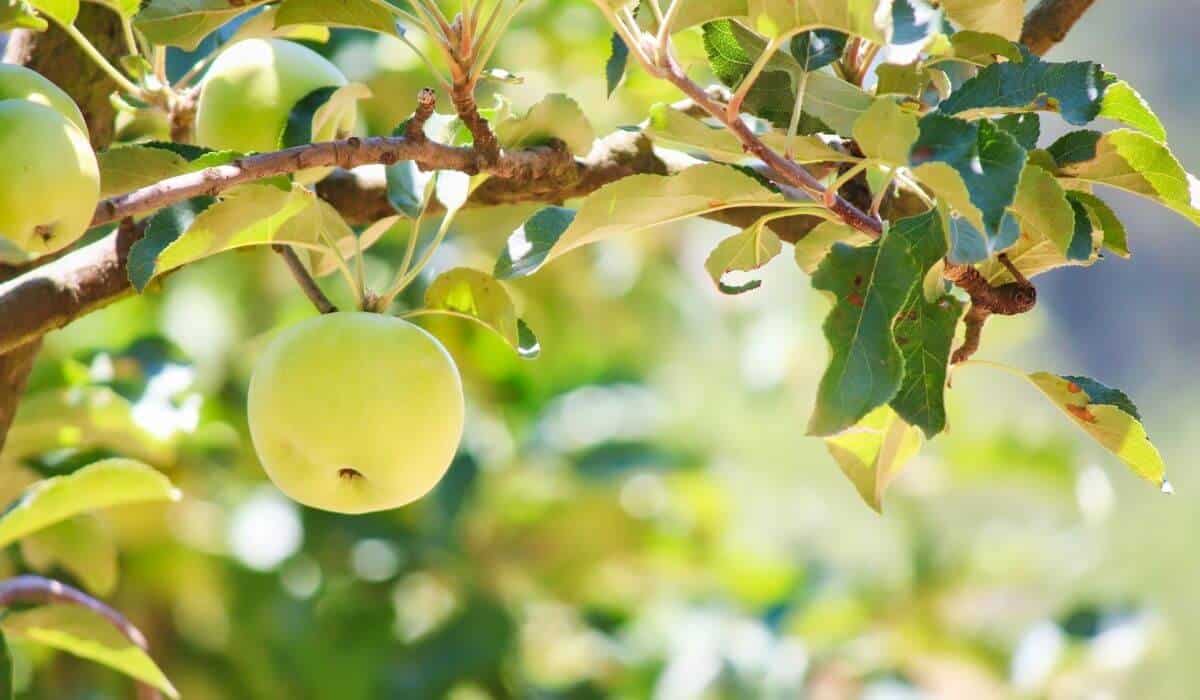 We, unfortunately, did not do enough research as this is something you have to book ahead. Instead, we purchased apples from The Big Apple (see below) and I kid you not the juice hit the windshield. Sadly, Stanthorpe also ruined grocery store apples for us!
While we cannot recommend the experience of apple picking in Stanthorpe just yet, as it's still on the bucket list, we can 10/10 recommend purchasing apples from The Big Apple.
They were a perfect compliment to our strawberry, cheese and meat platters over our long weekend in Stanthorpe!
Which leads us to The Big Apple…
The Big Apple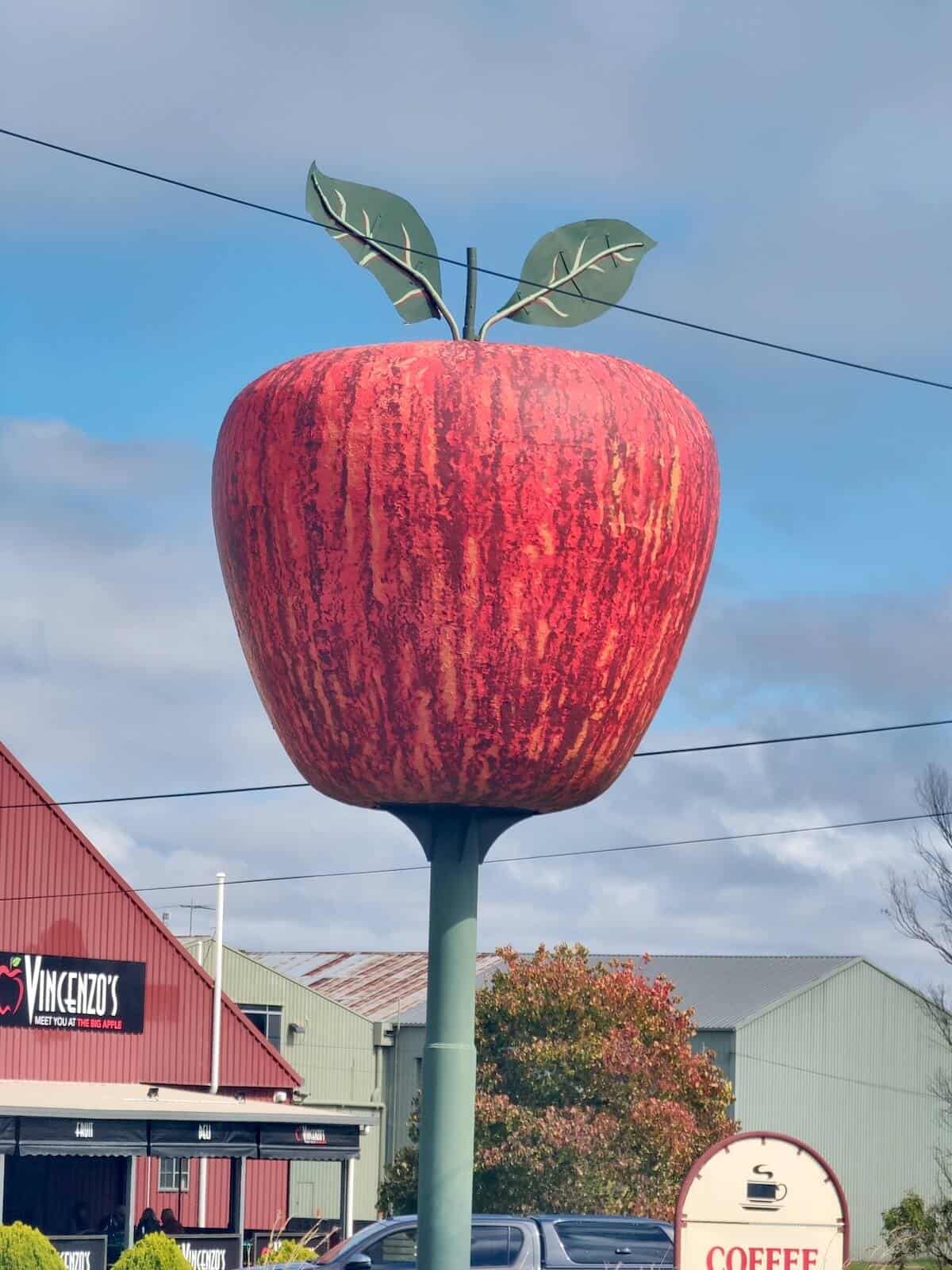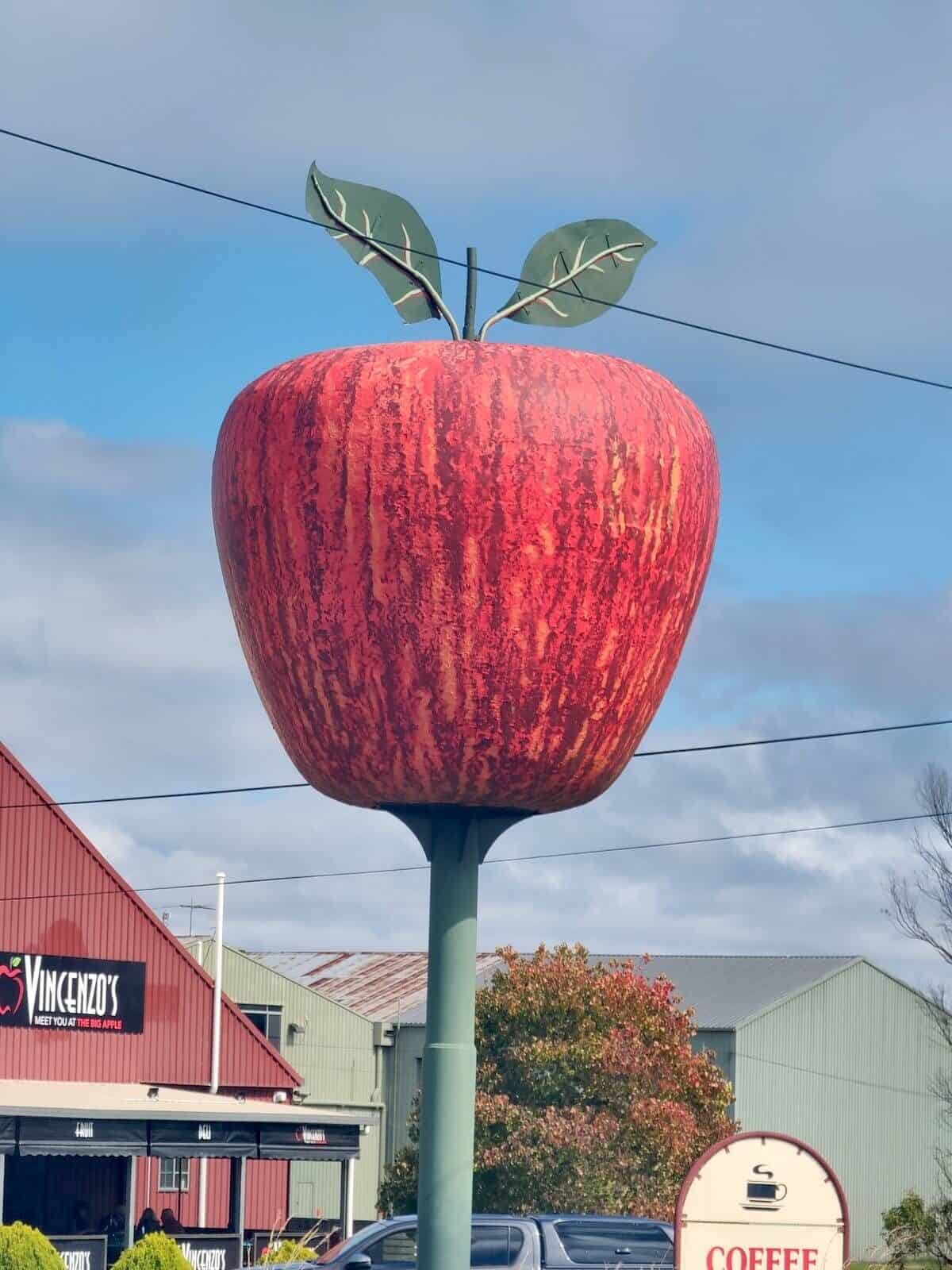 Location: 9 Watson Rd, Thulimbah
Trading hours: Monday to Thursday: 8:30 am – 3:30 pm and Friday to Sunday: 8:30 am – 4:00 pm.
While heading to Stanthorpe, you can't miss the Big Apple along the highway. This is a great little stop featuring a café, bar, gift shop and grocery store. You can pick up many different foods and gift items sourced in the local area or just a hot beverage on a cold day!
And of course, The Big Apple is just one of Australia's many 'big things' that makes for a great photo!
Castle Glen Winery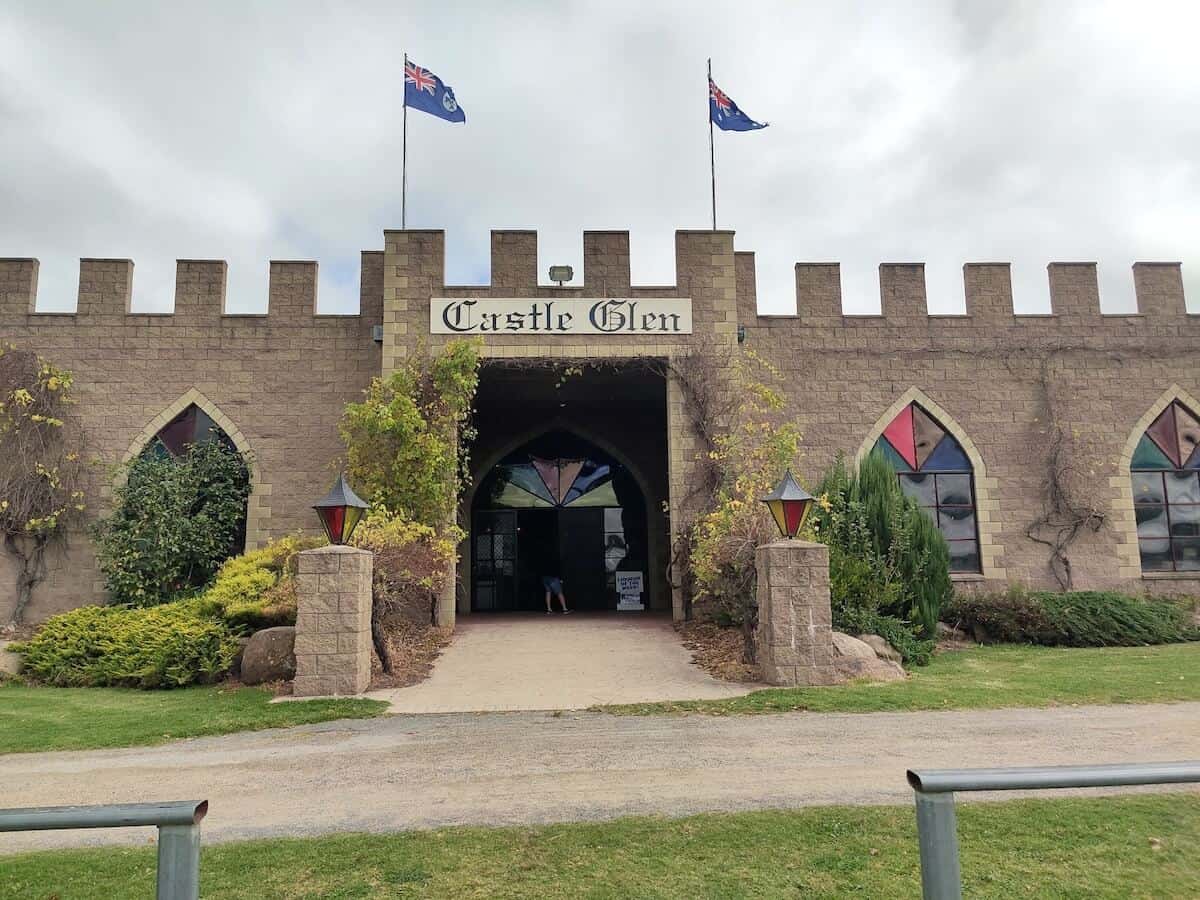 Location: 3184 Amiens Rd, The Summit
Trading hours: Monday to Sunday – 10:00 am to 4:00 pm
I'm going to be honest here. The main attraction for us was stepping foot in what looks like a castle….just to say we've been there!
We're personally not wine drinkers and although they sold an assortment of alcohol and flavours, it was all slightly out of our price range being that we are thrifty travellers saving for our big lap.
Nevertheless, it was still so much fun stepping foot into this winery just to say we've been inside a castle!
For anyone who is interested in trying different flavoured alcohol, there were so many assortments we've never even dreamed of – this winery stop is for you!
My grandmother is a fan of their wines and it is one of her favourite places to visit when she is in Stanthorpe.
Donnellys Castle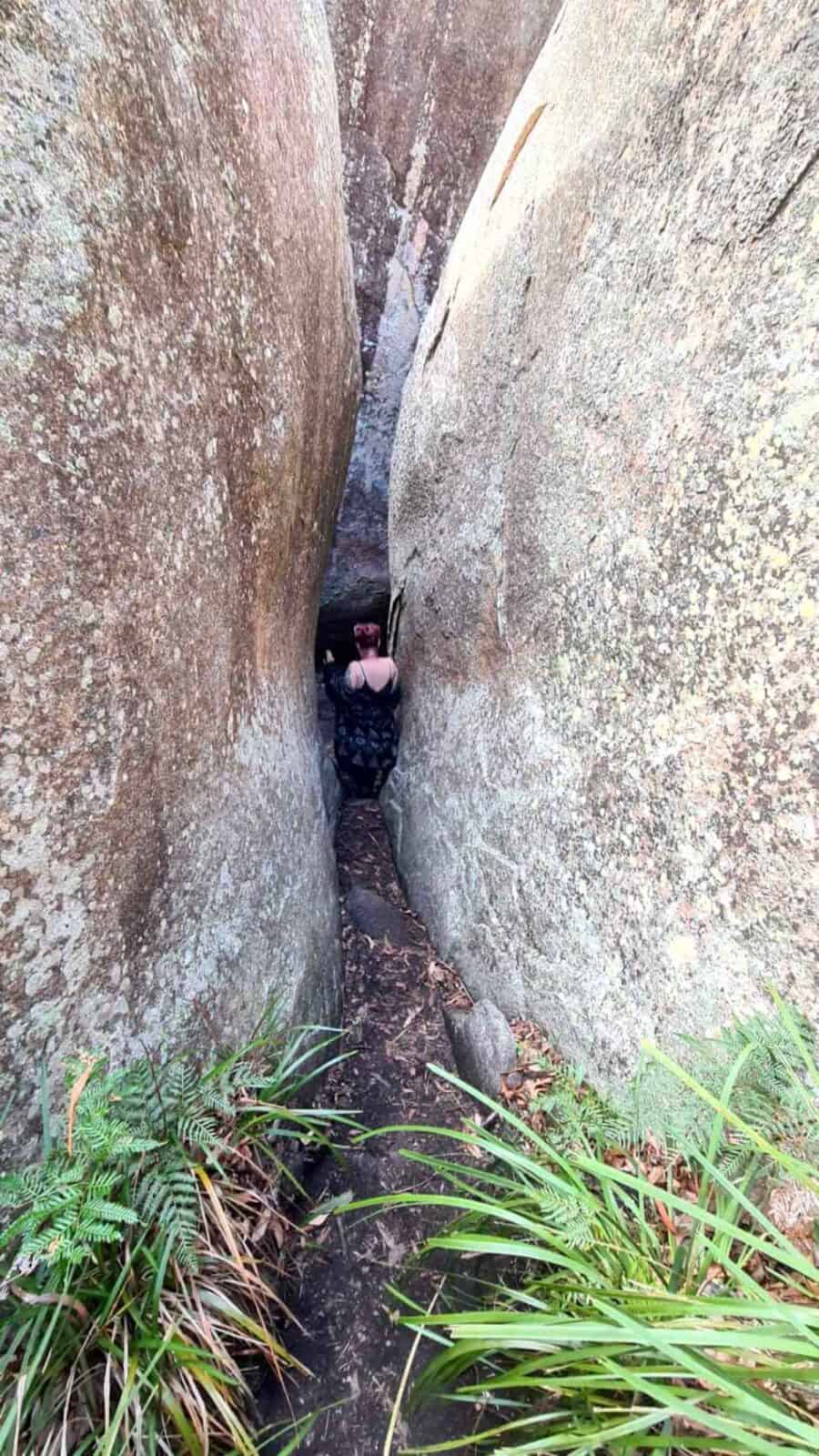 Location: Donnellys Castle Road, Pozieres
Donnelly's Castle is a granite rock formation that you can walk between and even on top of!
This beauty was named after Ned Donnelly, an early settler in the area. This recreation reserve has picnic tables and barbeques and is the perfect place for a picnic stop.
Although Girraween National Park is still on our bucket list, it is said Donnelly's Castle is much more child friendly as the walk is approximately 200m.
From the car park and picnic area, head through the archway and you'll eventually reach the metal staircase that sends you to the lookout (on top of boulders!) Make sure to leave some time to explore this beauty as you can also maze in between the caves and boulders.
We really enjoyed our time here, there is even a big foot painting on one of the boulders.
Another 10/10 – especially because it's completely free!
Girraween National Park
Girraween means: "place of flowers" and is filled with large granite outcrops, balanced boulders and beautiful wildflowers (in Spring). There are many walks available, as listed below:
List of Walks In Girraween National Park
From Bald Rock Creek day-use area:
Wyberba Walk – 280m one way (approximately 15 minutes)
Granite Arch – 1.6km return (approximately 30 minutes)
The Pyramid – 3.6km return (approximately 1.5-2 hours)
Bald Rock Creek Circuit – 2.2km return (approximately 1 hour)
The Junction – 5.2km return (approximately 2 hours)
From Dr Roberts car park:
Dr Roberts Waterhole – 1.2km return (approximately 30 minutes)
Underground Creek – 2.8km return (approximately 1-1.5 hours)
From Pyramids Road:
Castle Rock – 5.2km return (approximately 1.5-2 hours)
The Spinx and Turtle Rock – 7.4km return (approximately 3-4 hours)
Mount Norman – 11km return (approximately 4-5 hours)
As previously mentioned we did not personally achieve these great walks on our trips, but we have them on our bucket list for our next visit to Stanthorpe!
Tip: Don't forget when adventuring through any National Park to go prepared with sunscreen and protective clothing, appropriate walking shoes, food and water, especially if you are planning one of the longer hikes.
Stanthorpe Cheese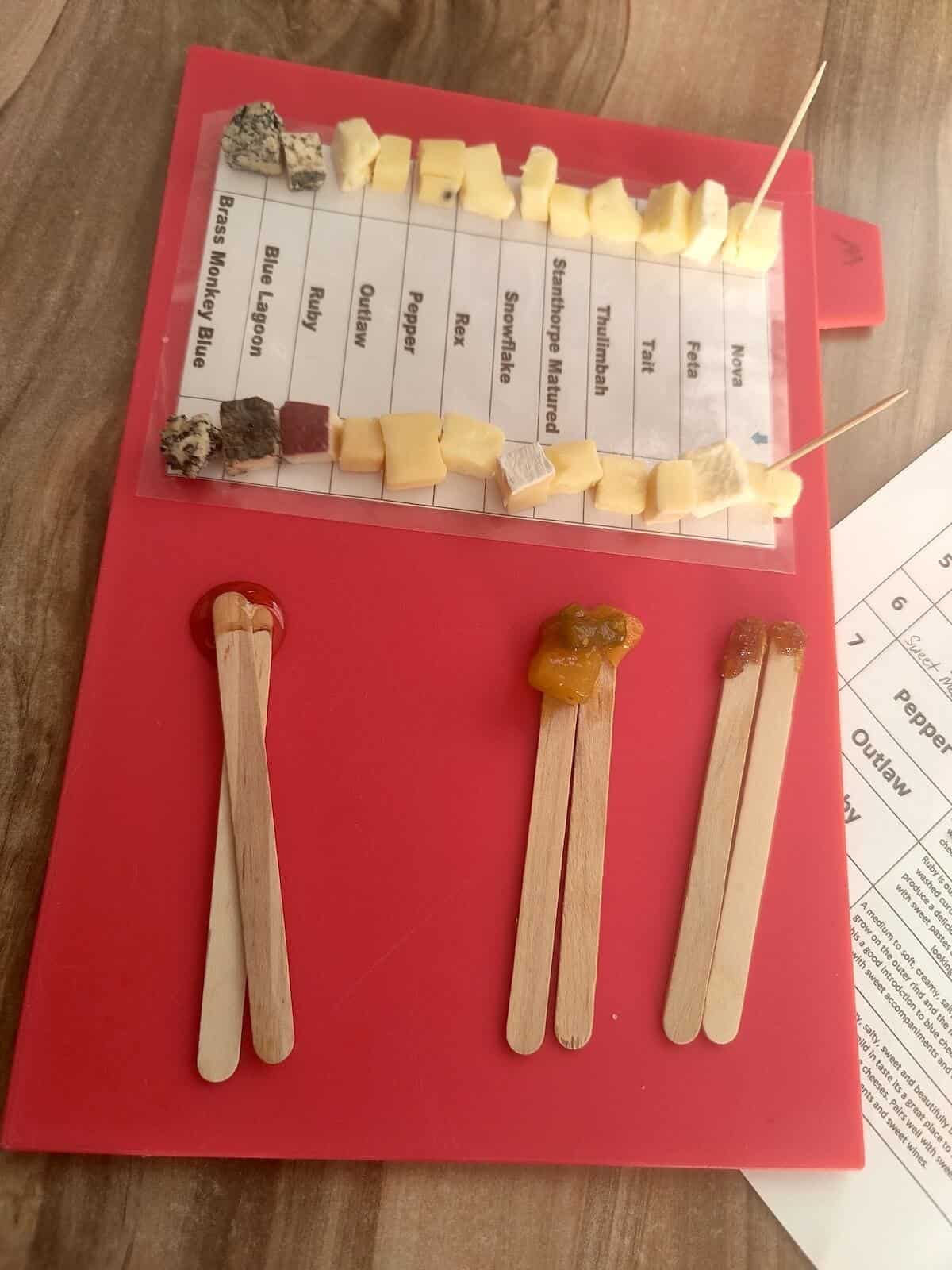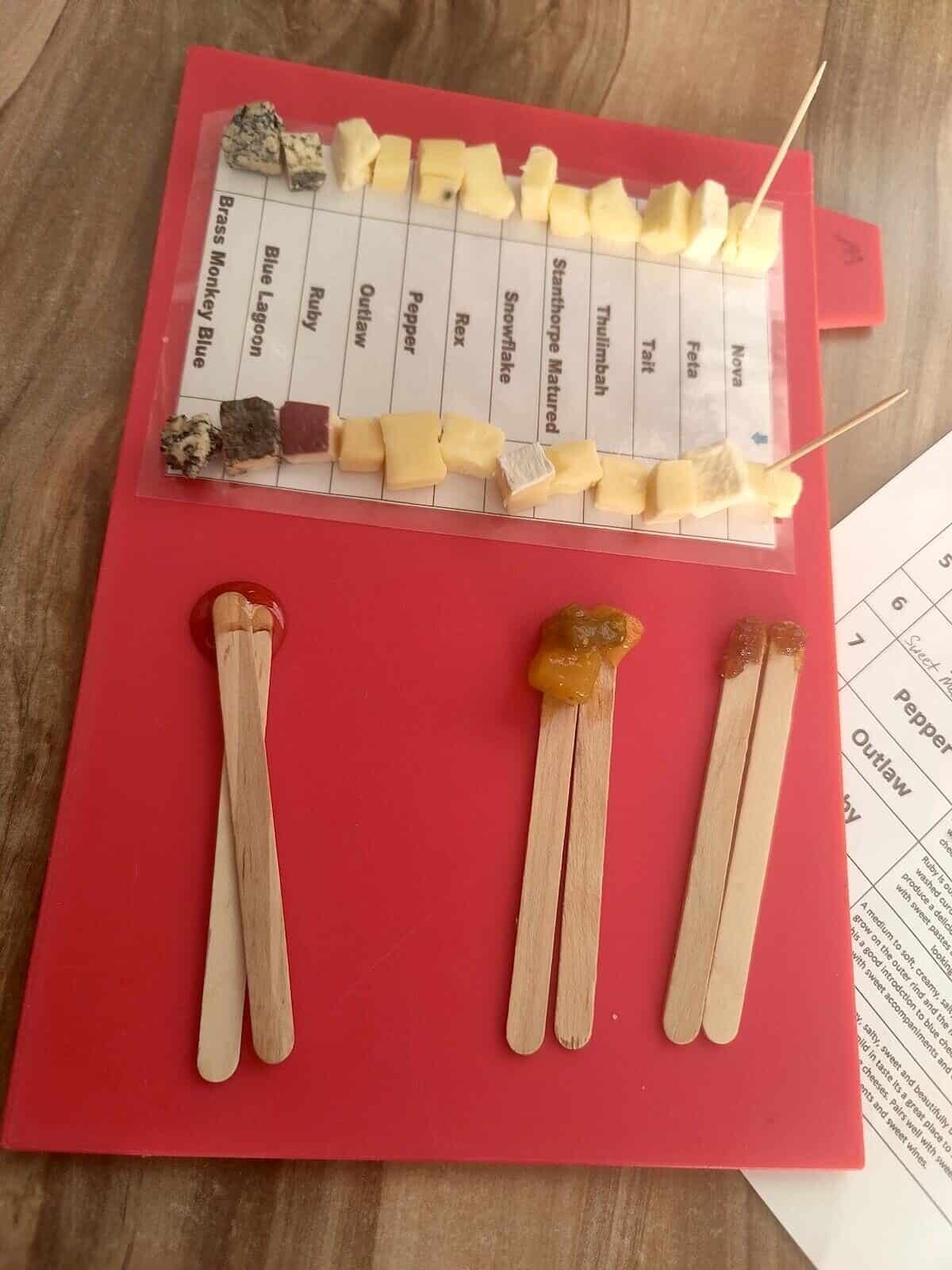 Location: 4 Duncan Lane, Thulimbah
Trading hours: 9:30 am – 4:00 pm 7 days a week
Stanthorpe Cheese factory is another worthy visit. Who doesn't love cheese to compliment a platter and a beverage any day of the week?
Not only can you buy cheese, but the factory is also a café!
We'll be the first to admit we are not very good 'adults.' After picking a mixed pack of cheeses and waiting for a coffee to go we came to the realisation that you can also order a cheese taste tester for $3 per person.
Although we had purchased Stanthorpe Cheese samples, we decided to give this a try. A little assortment of cheeses and jams arrives for you to try.
Along with taste testing, Stanthorpe Cheese also offers a range of platters – you won't regret this stop if you're a fellow cheese lover!
Lions Park & The Big Thermometer at Stanthorpe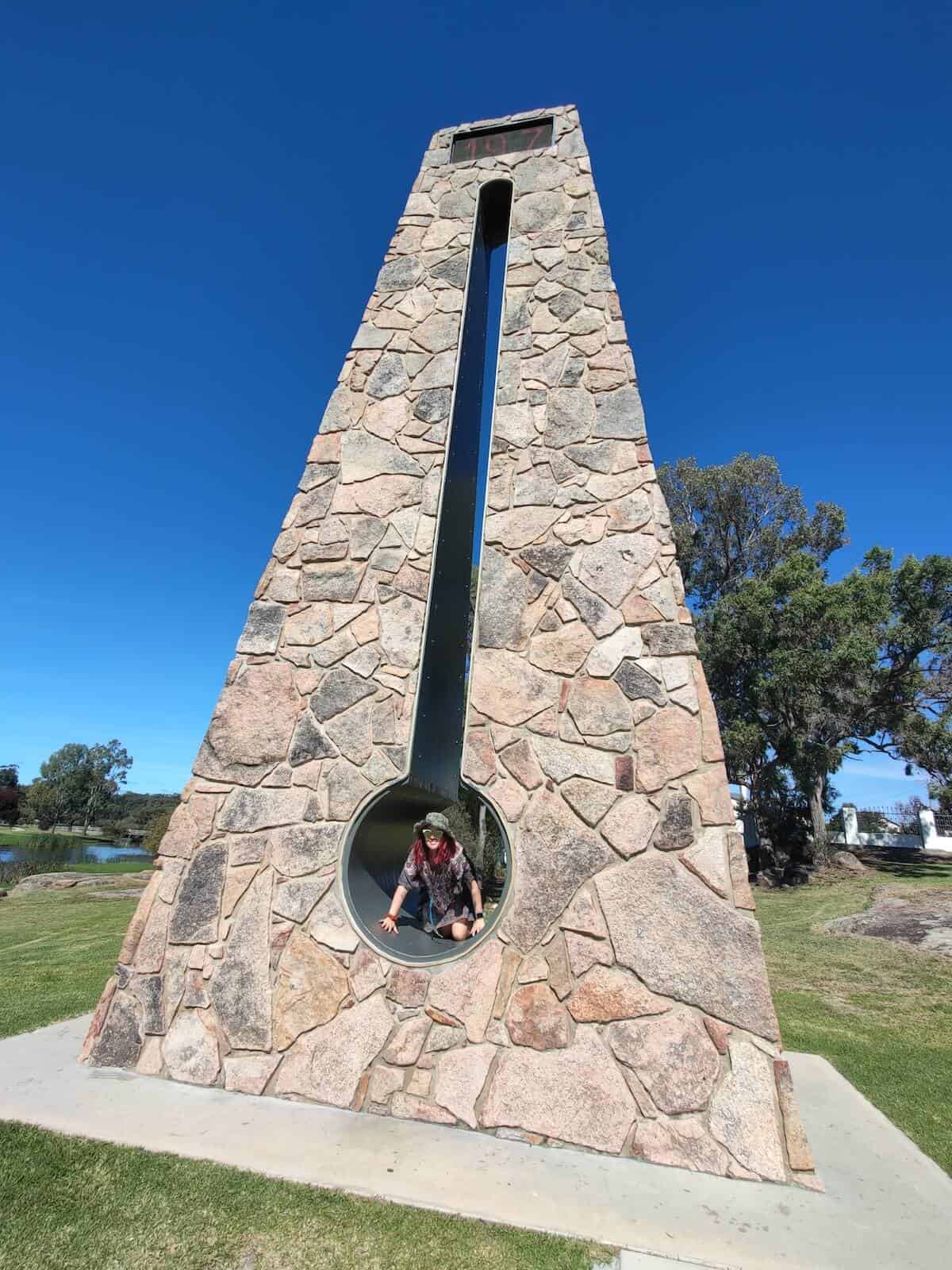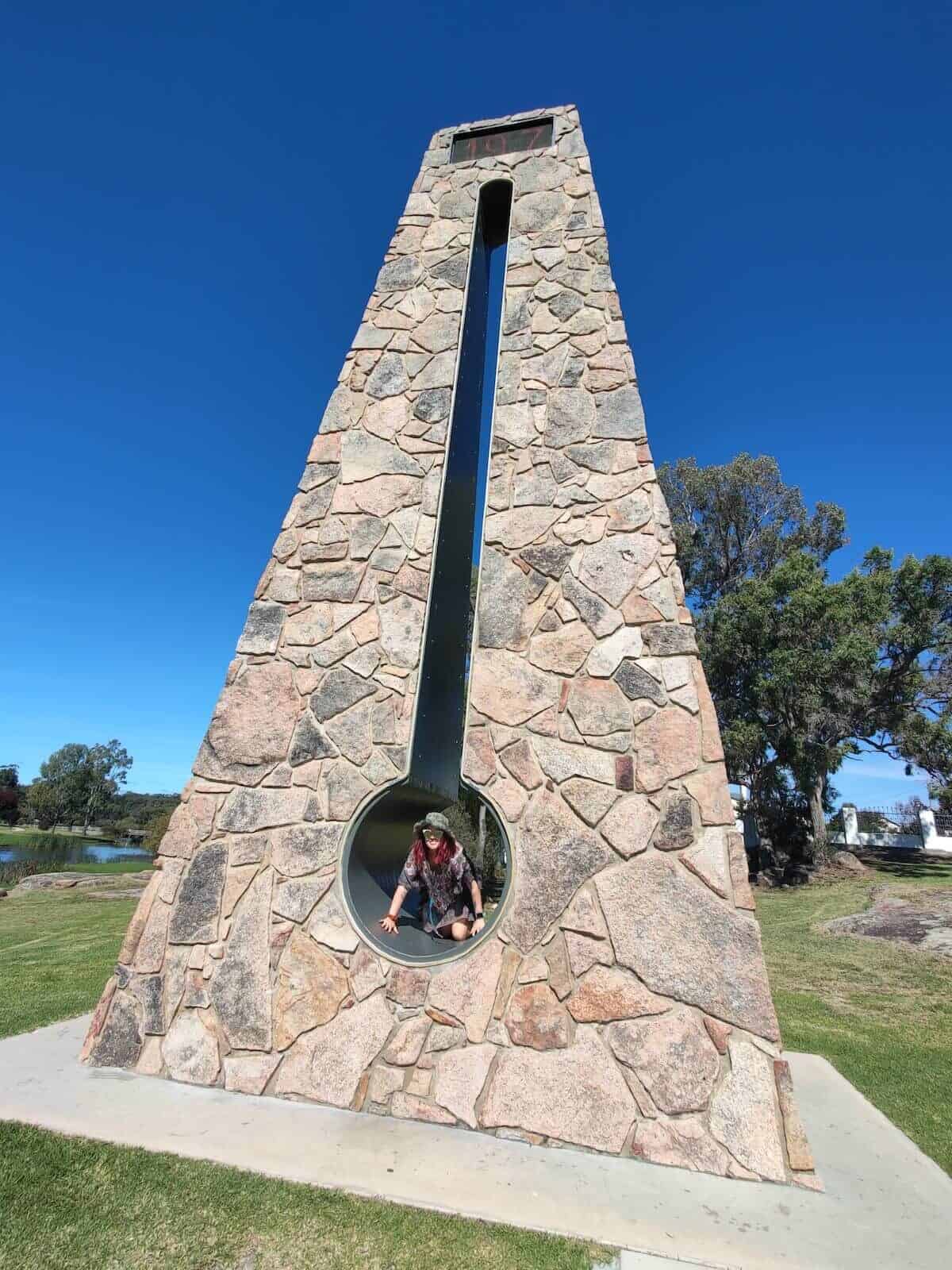 Lions Park is a stunning place to stop, filled with maple trees, boardwalks along the creek, and the biggest thermometer you will ever see!
From the car park, you can access the Stanthorpe Visitor Information Centre and public toilets. As you keep following the path, you will come across picnic tables and a short walk takes you to the big thermometer.
The Big Thermometer makes a lot of sense, as Stanthorpe is known as the coldest town in Queensland.
Fun facts: The Granite Belt is one of the only areas known to snow in Queensland. This unique attraction is approximately 10 metres high and reads the temperature through a digital screen at the very top
From the thermometer, you can begin the walk along the creek which can take you for a casual stroll through the middle of the creek or as far as the Red Bridge.
We've made a point to stop here on both our trips to Stanthorpe and will stop again when we're back. This park holds so much beauty!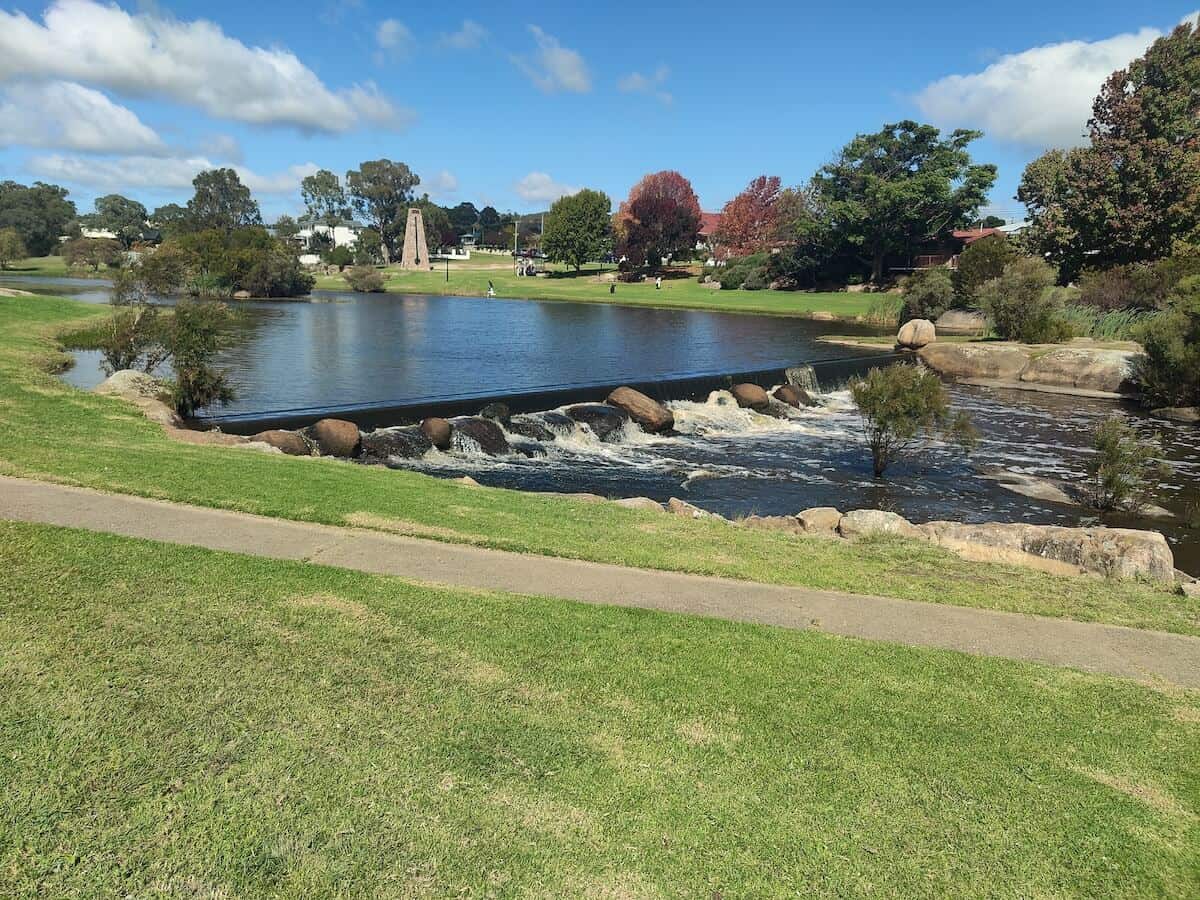 The Red Bridge
Officially known as Quart Pot Creek Rail Bridge, this bridge is more commonly known as "The Red Bridge."
Fun Facts: Red Bridge was built in 1886 and has been registered as a heritage-listed railway bridge since 1992. This part of history was built as an interstate rail link between Queensland and Sydney.
You can enjoy this part of history via the 5km boardwalk. Alternatively, there is a car park much closer and a short 'goat track' to access the bridge and creek.
Under the bridge, you will find the water flowing from Quart Pot Creek. This is a beautiful spot to take in some history in Stanthorpe.
Stanthorpe Heritage Museum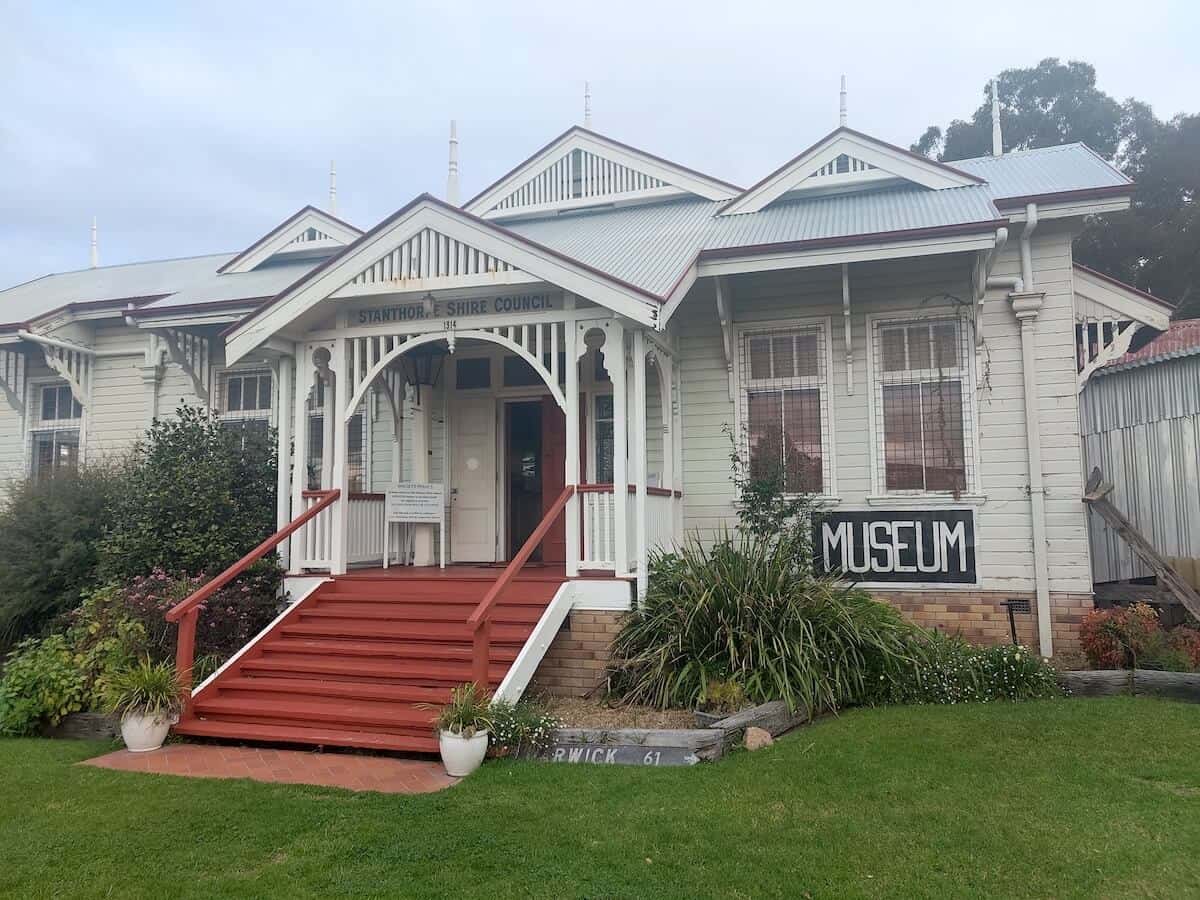 Location: 12 High St, Stanthorpe
Trading hours:
Wednesday to Friday: 10:00 am – 4:00 pm
Saturday: 1:00 pm to 4:00 pm
Sunday: 9:00 am to 1:00 pm
Price: $10 per person (Prices are correct as per 2022 and are subject to change)
Stanthorpe Heritage Museum has been operating since 1970 by members of the society. This award-winning Heritage Museum is filled with an abundance of history, including 14 buildings and over 20,000 artefacts.
The Buildings include The Shepherd's Hut (1842), Gaol (1876), School Residence (1894), Ardmore House (1920), Heath House (1940), Council Chambers (1914) and a Telecom building.
You can spend hours getting lost in this amazing maze of history. When you arrive, the staff will explain the direction which seems awfully confusing to start with as you enter and exit the building in an odd way but begins to make sense as you continue on the path.
The staff are extremely friendly and the small entry fee is well worth the time spent appreciating the history of this beautiful area.
Granite Belt & Stanthorpe Wineries
The Granite Belt is well known for its wineries. Although we are not big wine drinkers, this is still on the bucket list.
We cannot personally recommend any wineries from experience, as we did not do a lot of wine tasting during our Granite Belt weekend trips, but I've listed a few options below.
Some Stanthorpe wineries and cellar door tastings are by appointment only, so make sure to research below planning this on your itinerary!
Winery List for the Granite Belt area:
Ballandean Estate (354 Sundown Road, Ballandean)
Ridgemill Estate (218 Donges Road, Severnlea)
Pyramids Road (25 Wyberba Lane, Wyberba)
Gold Grove (337 Sundown Road, Ballandean)
Savina Lane Wines (61 Savina Lane, Severnlea)
Robert Channon Wines (32 Bradley Lane, Stanthorpe)
Hidden Creek Wines (2271 Eukey Road, Ballandean)
Banca Ridge Winery (22 Caves Rd, Stanthorpe)
Ravenscroft Vineyard (274 Spring Creek Rd, Stanthorpe)
Summit Estate Wines (291 Granite Belt Dr, Thulimbah)
Boireann Winery (26 Donnellys Castle Rd, The Dummit)
Heritage Estate Wines (747 Granite Belt Drive, Cottonvale)
Alternatively, you can take a wine tour with Filippo's Tours. The "Wine Lovers Tour" can hold a group of 14 people and offers a taste testing of up to five wineries. This tour operates Tuesday to Saturday for up to 7 hours for the price of $125 per person.
Other Things To Do In Stanthorpe
If you have more time, there are lots of other things to do in Stanthorpe. We recommend things such as visiting the local markets, going on a bushwalk, or stopping by the local breweries for a drink. Here are a few other popular things to do in Stanthorpe and the Granite Belt region.
Granite Belt Brewery
Granite Belt Christmas Farm
Stanthorpe Regional Art Gallery
Fishing or water activities at Storm King Dam
Truffle Discovery Centre Stanthorpe
Bald Rock National Park
Take a Granite Belt bicycle tour
Sutton's Juice Factory – Apparently home to the best apple pie and spiced cider ice cream!
There is also the Stanthorpe Apple & Grape Harvest Festival held every 2 years in February and March that draws big crowds and has plenty of great entertainment, from a parade to grape stomping and a gala ball.
This sums up our personal recommendations for the Granite Belt area (mostly focusing on Stanthorpe). Our favourite experience would have to be the strawberry picking at Ashbern Farm!
I'm sure we've missed something as we have so much more to do in this beautiful area! Just make sure you take a cooler with you so you can stock up on all the fresh local produce!
Let us know what we missed and what you would personally recommend.
Explore more of Queensland: