Far North Queensland Road Trip Itinerary: Our Honeymoon
If you're looking for an unforgettable Australian road trip, then look no further than Far North Queensland. This tropical region is home to some of the most beautiful scenery in the country, from pristine beaches and lush rainforests to soaring mountains and coral reefs. And speaking from experience, it's also the perfect honeymoon road trip destination!
We share our tropical north Queensland road trip itinerary that was our honeymoon. This detailed road trip itinerary will take you off the beaten track and into some of the region's most amazing destinations. So pack your gear and get ready for an adventure!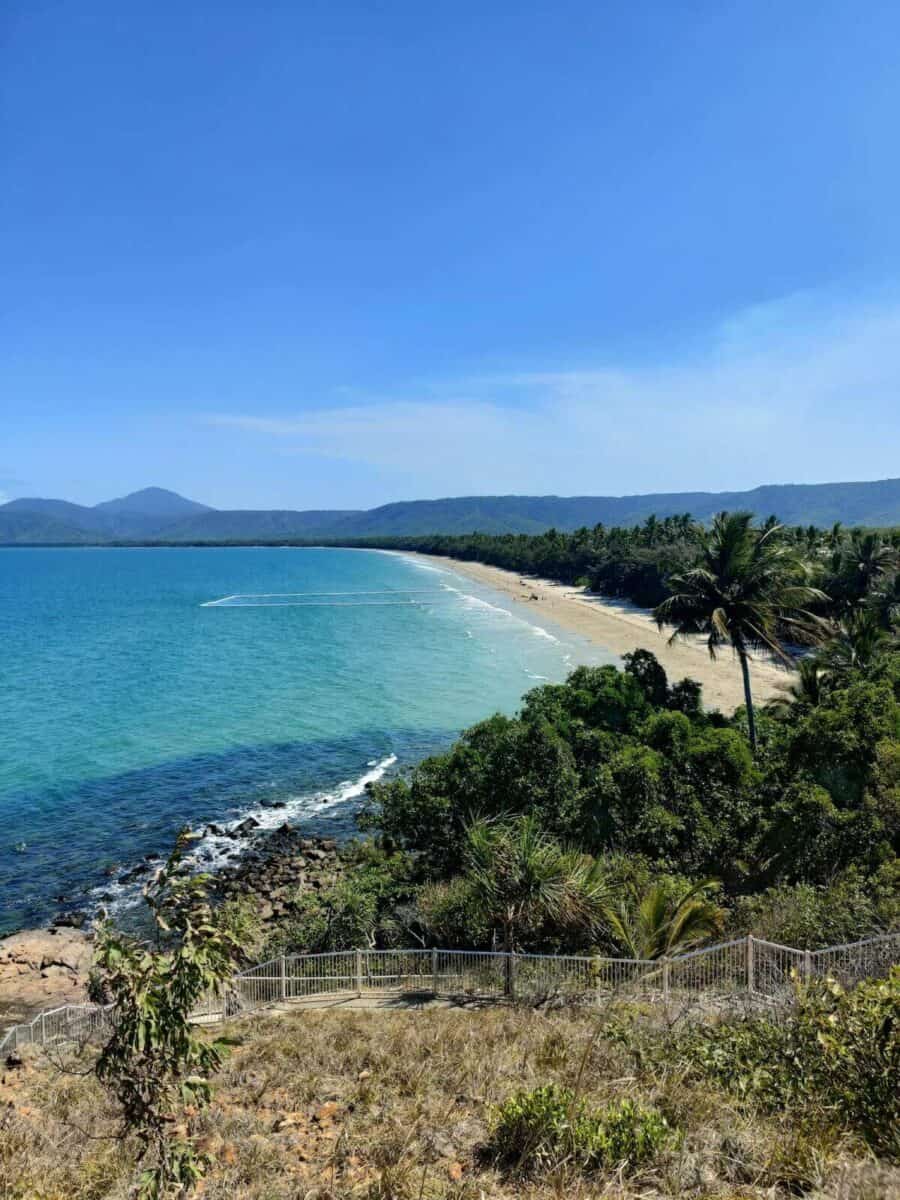 Our Honeymoon in Far North Queensland
This was the big one that made us realise just how important travelling Australia while young is to us. We had our first taste in 2017, but we got lost in the days, weeks and years as we planned our waterfall wedding and our camping trips.
It was 2020 – the year we said, "I DO!".
Our original plan was to travel overseas, but the big life changer we all know as covid had arrived. Looking back, we honestly couldn't be happier that our plans had changed! Who knows if we would have prioritised this life if our honeymoon plans lead us overseas?
As we all know, the year of 2020 was filled with restrictions when it came to crossing borders, so we decided to keep our itinerary to our home state – Queensland.
As our camping home at this time was a swag, a gazebo and a pop-up kitchen we decided it was time to make our honeymoon one to remember with a bit of luxury… you guessed it, we hired a motorhome from Cruisin' Motorhomes.
Regardless of how you choose to do your road trip, there is no denying that this is one of the best QLD honeymoon destinations!
Choosing A Motorhome For Your Queensland Road Trip
After many afternoons researching, we found Cruisin' was the best pricing with availability for our holiday. The cost to rent the 2-berth "Sand piper" for 17 days was $2,074.30. Please note these prices were obtained in 2020.
I've attached a breakdown of this total below:
Daily hire cost: $86.76 x 17 = $1,474.92
Insurance: $595.00 (optional)
Credit card surcharge: $4.38
The Sandpiper came with a full tank of fuel, an outdoor table, chairs, cassette toilet, shower, linen, gas stovetop, air conditioner, fridge, microwave, cutlery and much more. Just the right amount of luxury for us to enjoy our honeymoon in style!
We picked up our rented motorhome the day before our wedding and stayed in the Mantra Hotel at Mooloolaba for 2 nights. Although we didn't stick to the tradition of spending the night before our wedding apart, it worked perfectly for Nick to get ready at Buderim Waterfall in the motorhome.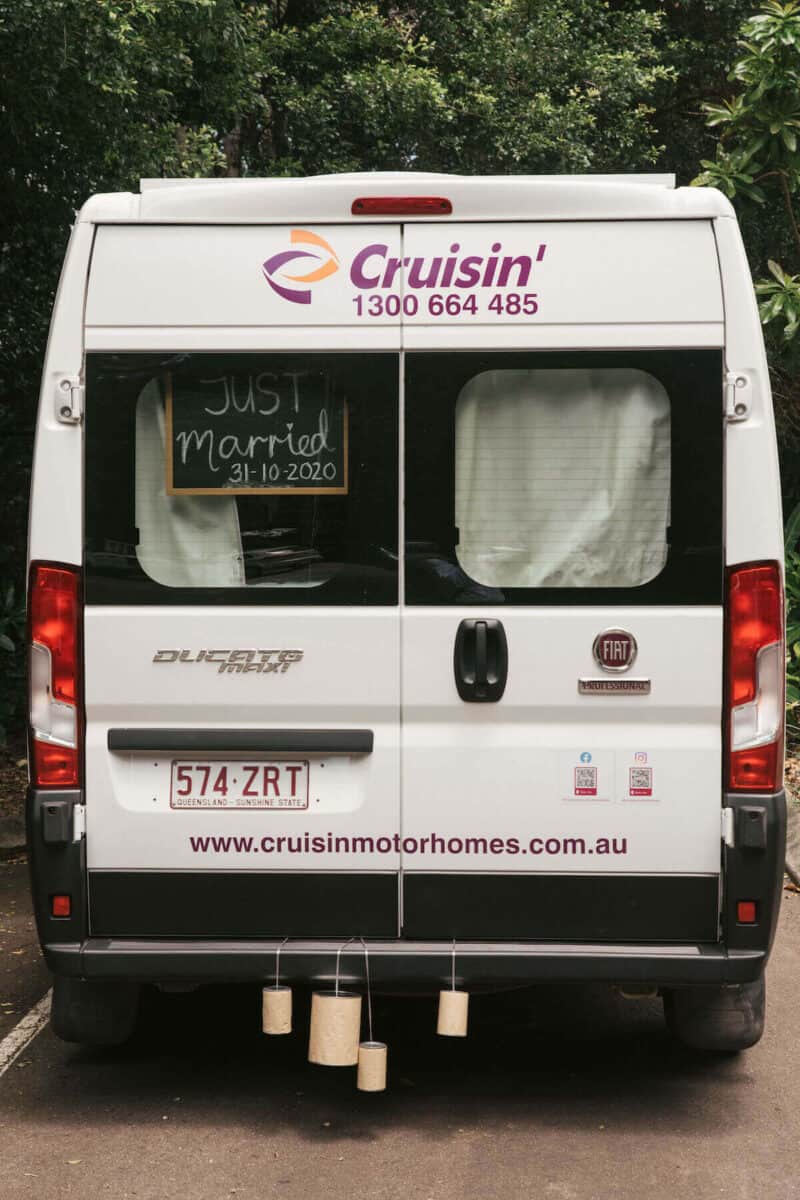 The day after our magical waterfall wedding, we said goodbye to our mums, and we headed off on the most beautiful adventure in our rented motorhome with our tin cans rattling away and our "Just Married" sign at the back.
Once we hit Cairns, I fell in love with the size of the plants, the sun, of course, the seafood and the ocean. We travelled a lot over our 14-day tropical Queensland adventure. I've added our personal 2-week itinerary below:
Our 2-Week Far North Queensland Itinerary
Day One – Mooloolaba Mantra Hotel to Parkhurst
Day Two – Parkhurst to Townsville
Day Three – Townsville to Cairns
Day Four – Cairns to Palm Cove
Day Five – Palm Cove to Port Douglas
Day Six – Port Douglas
Day Seven – Great Barrier Reef Snorkel Tour
Day Eight – Port Douglas to Daintree National Park
Day Nine – Daintree National Park to Cape Tribulation
Day Ten – Cape Tribulation to Paronella Park
Day Eleven – Paronella Park
Day Twelve – Paronella Park to Yeppoon
Day Thirteen – Yeppoon to Town Of 1770
Day Fourteen – Town Of 1770 to Ipswich (home)
Our Road Trip Food Recommendations
These are the absolute must-stop spots for any 'foodie' out there. I am personally a lover of seafood, and we struggle to get anything good quality from our hometown.
Grunske's by the River at Bundaberg – We can 310% recommend the garlic prawns!
Raw Prawn at Cairns – This was hands down our favourite seafood EVER! We treated ourselves to the seafood platter and tried crayfish for the first time. Nick made sure to personally thank the chef, yep…it was that good!
The Boulders Tavern at Babinda – the food was good, but the best part was watching butterflies casually lay eggs on the plants in the outdoor area (okay, I am definitely one of those weird insect lovers and this may not appeal to anyone else).
Ramada at Port Douglas for karage crocodile – Look, it's probably not a very authentic way to try a new protein but it tasted great!
Our Accommodation & Far North Queensland Caravan Parks Cost Breakdown
Having the motorhome, we required power which was something completely foreign for us. It also meant the cost of 'camping' was a lot higher than we were used to.
If you do your research, you will find free camping in far north Queensland in places, which will suit if you have a self-contained motorhome or caravan or if you want a few nights off the grid. We mostly stayed at powered sites at caravan parks during our trip since it was our first experience with campervan travel.
I've added our nightly destinations below. Keep in mind these totals were in 2020 and inflation has affected almost everything this past year alone.
Country Club Accommodation at Parkhurst – $23 per night
NRMA Holiday Park at Cairns – $40 per night
NRMA Holiday Park at Palm Cove – $42 per night
Tropical Breeze Caravan Park – $50 per night (our favourite caravan park, the managers were the friendliest couple and super helpful for travellers)
Safari Lodge at Cape Tribulation – $52 per night + $7 happy hour. Boy did we know it the next morning
Cape Tribulation Camping – $40ish (did not document this one)
Paronella Park – $98 (this included a self-paced day tour, camping and a guided night tour – currently this is $52 per person)
Yeppoon Caravan Park – $39 per night
1770 Campgrounds – $40 per night (another guess)
Tips For Taking A Queensland Road Trip
Make sure you have the best possible Australian road trip experience through Queensland and the tropical north with these tips:
Road conditions can be different to what you are used to. Be sure to take extra care, especially if you are driving an unfamiliar vehicle, such as a rental car or motorhome.
Be prepared for all weather conditions. Queensland is known for its tropical weather but it can change quickly, especially in the wet season (November-April).
Make sure you have comprehensive travel insurance. This is a must for any Australian road trip!
Pack good quality insect repellent and sunscreen. You will need it!
Be aware of the local wildlife. This includes snakes, spiders, cassowaries and crocodiles. Do not approach them, no matter how tempting it may be!
If it says no swimming or beware of crocodiles, take this seriously.
Leave a little room for flexibility in your north Queensland road trip itinerary. This will allow you to make the most of your trip and have time to stop and explore some unexpected stops along the way.
Best Places To Stop On A Far North Queensland Road Trip
There is no shortage of beautiful North Queensland attractions and things to do along your way between Brisbane, the Sunshine Coast and the tropical north.
Here are our favourite places, attractions and top picks for north Queensland road trip stops:
Buderim Waterfall
What can we say, this place holds a special place in our hearts as it's the exact location Nick proposed and where we became husband and wife!
This majestic spot is home to wildlife, plant matter and of course a swimming hole with a waterfall. You can even stand directly underneath the waterfall by following the path. Of course, the water is icy cold but the perfect location for a summer day swim.
I managed to hike the trek in a wedding dress, so I can confidently say it's easily accessible by small children.
Airlie Beach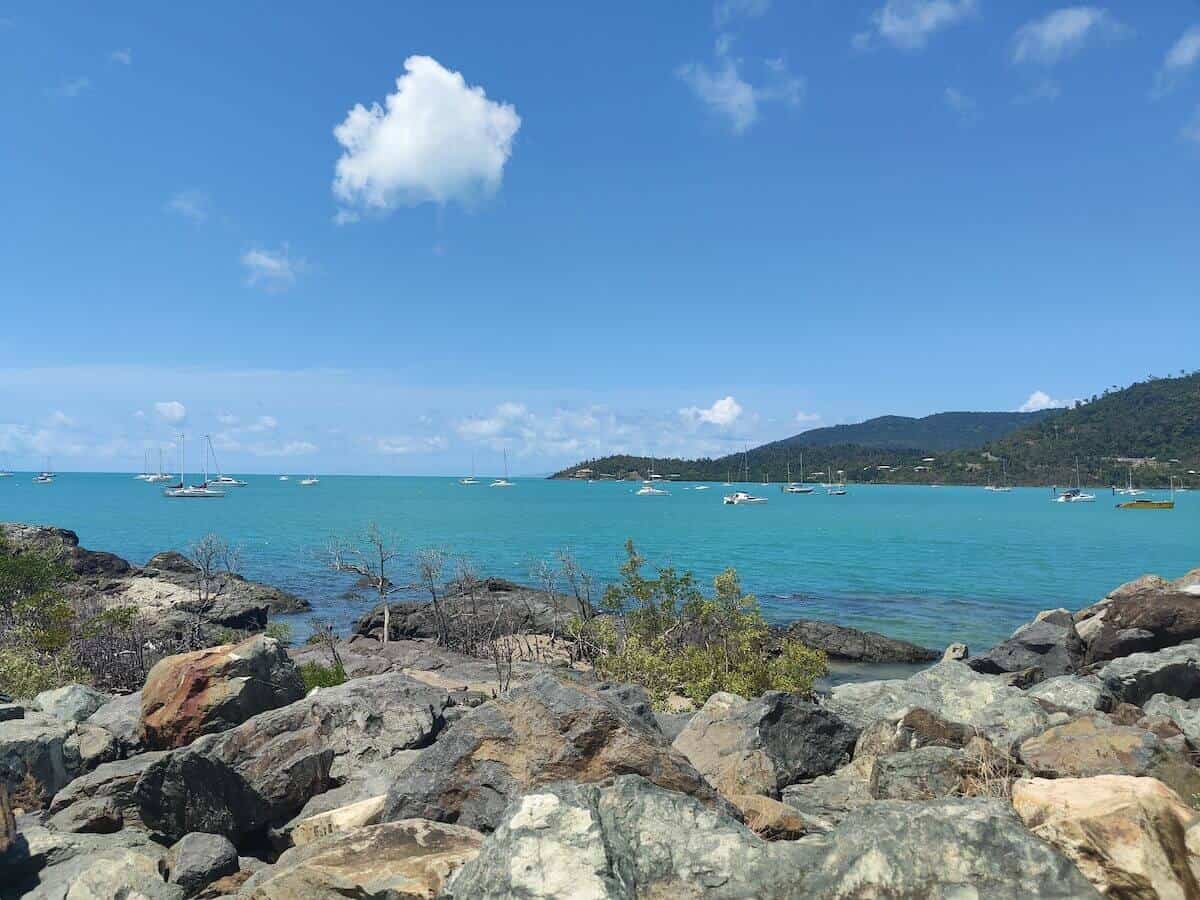 What a view! We didn't stay here long as the mountain was on fire, and we were concerned about our journey ahead. We would still recommend it as a must-stop over when passing through, just to take in the stunning views of the bay.
If you have longer, this is also the perfect place to base yourself or a day or two to explore the Whitsundays Islands, such as the world-famous Whitehaven Beach.
Bowen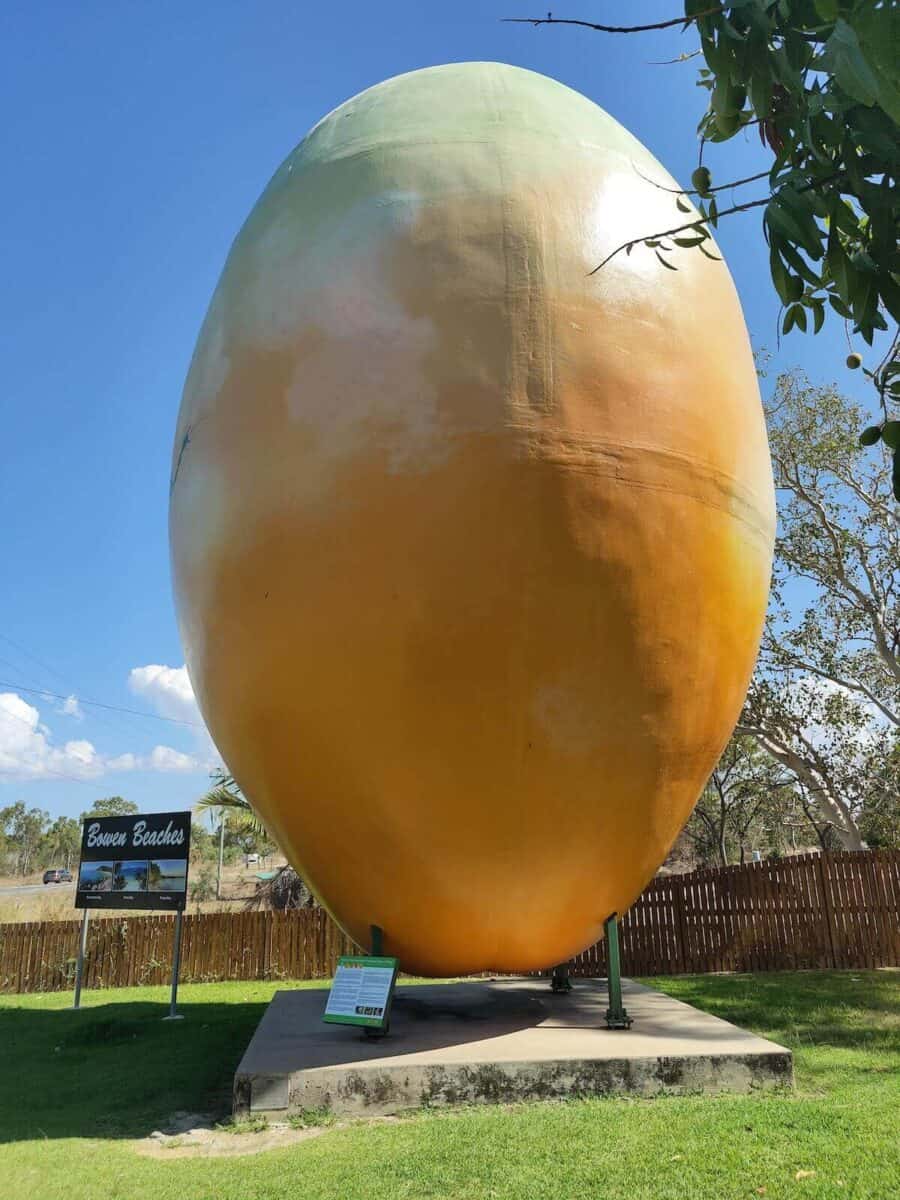 This is the first town we said, "let's move here!".
Once you hit Bowen, you'll find the Big Mango. It's a great stop for a photo opportunity with the ginormous mango and seahorse statues. You'll also find a little store to buy your touristy needs!
Horseshoe Bay at Bowen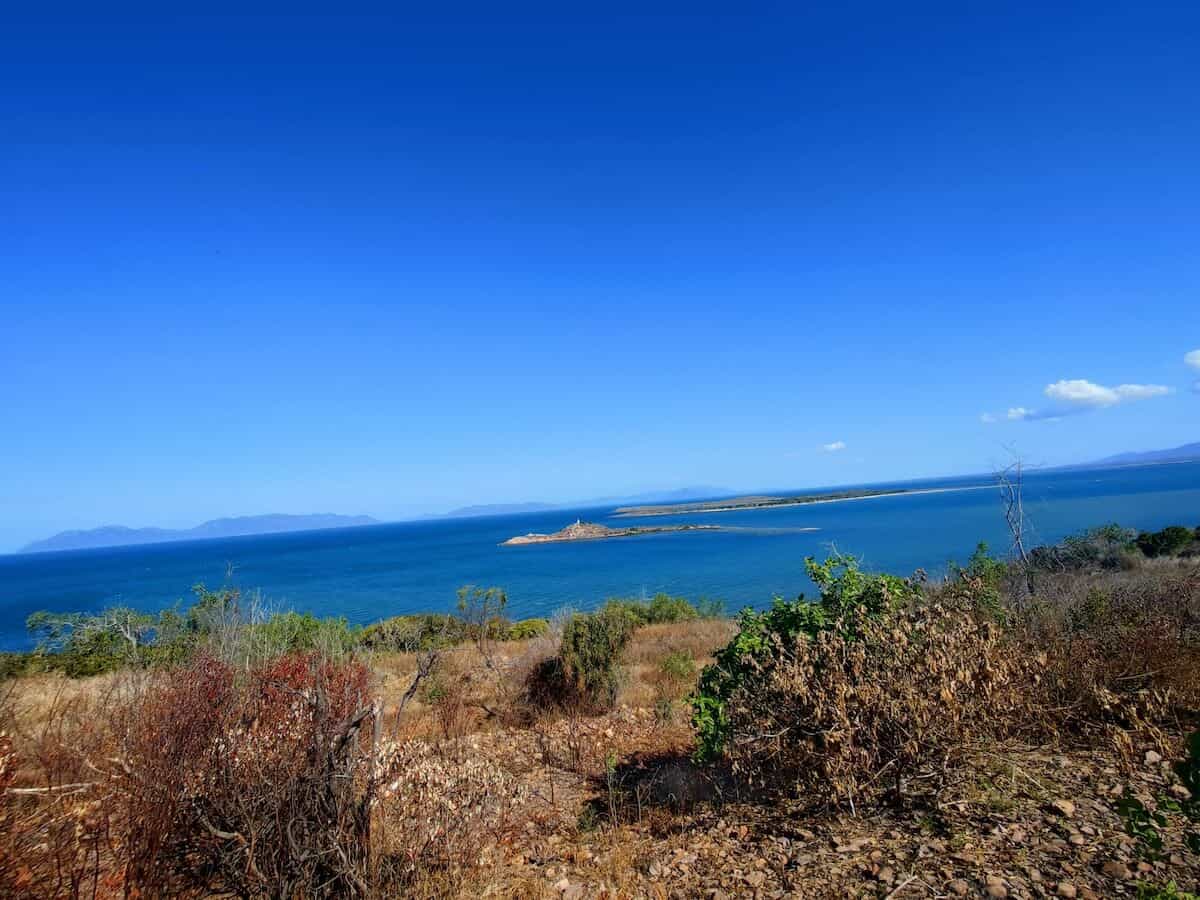 Another "what a view moment"! It's such a shame that it's not recommended to swim as the view is out of the world. We absolutely recommend taking the time out of your busy itinerary to check out Horseshoe Bay from the lookout. Maybe even plan for a picnic stop?
Little Crystal Creek at Townsville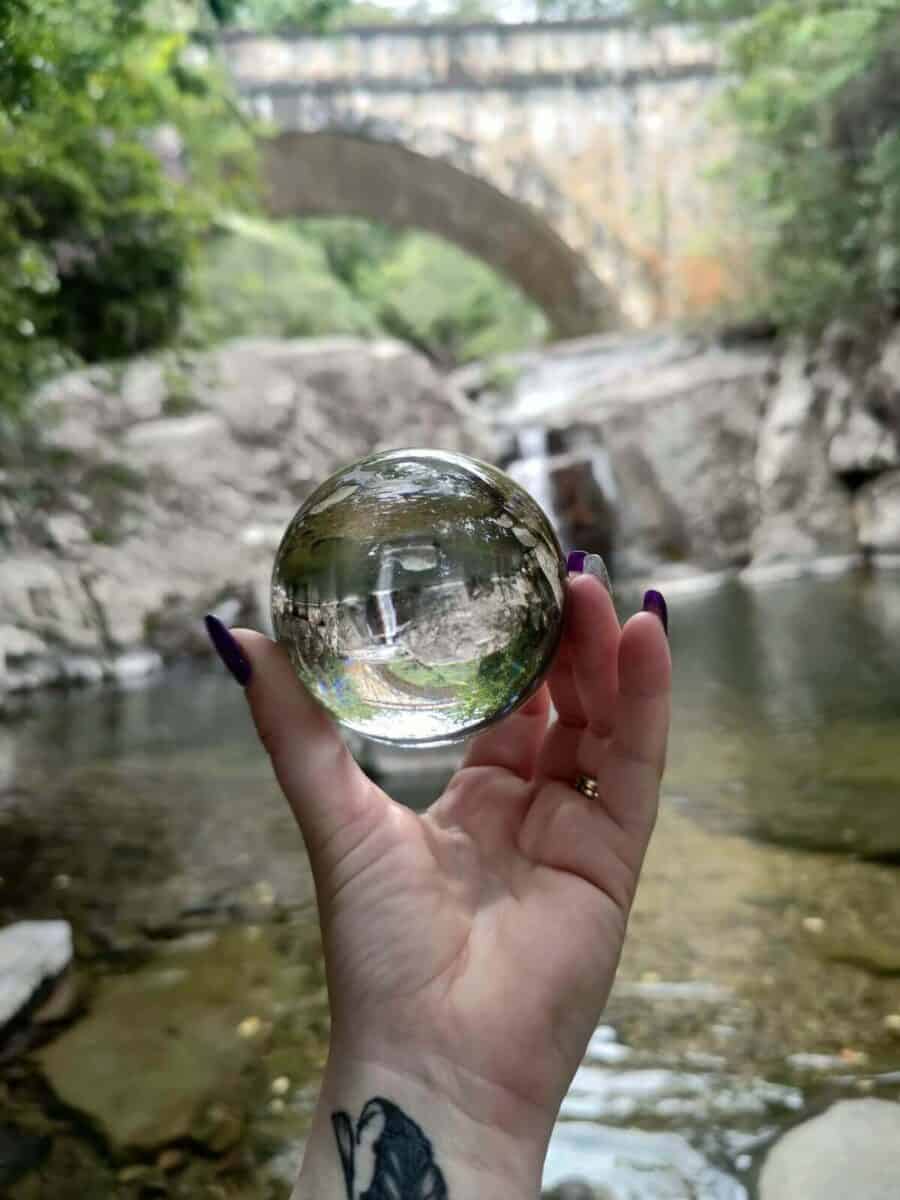 This is such a tranquil little spot. You'll feel lost along the way, but eventually, you pop out into a car park with plant and animal life.
It's a very short walk to the water where you'll spot yabbies. As the plant life doesn't allow much sunlight in, the water is very cold. Perfect for the hot Townsville weather though!
If you have extra time, a day trip to Magnetic Island by ferry is always a wonderful experience too!
Babinda Boulders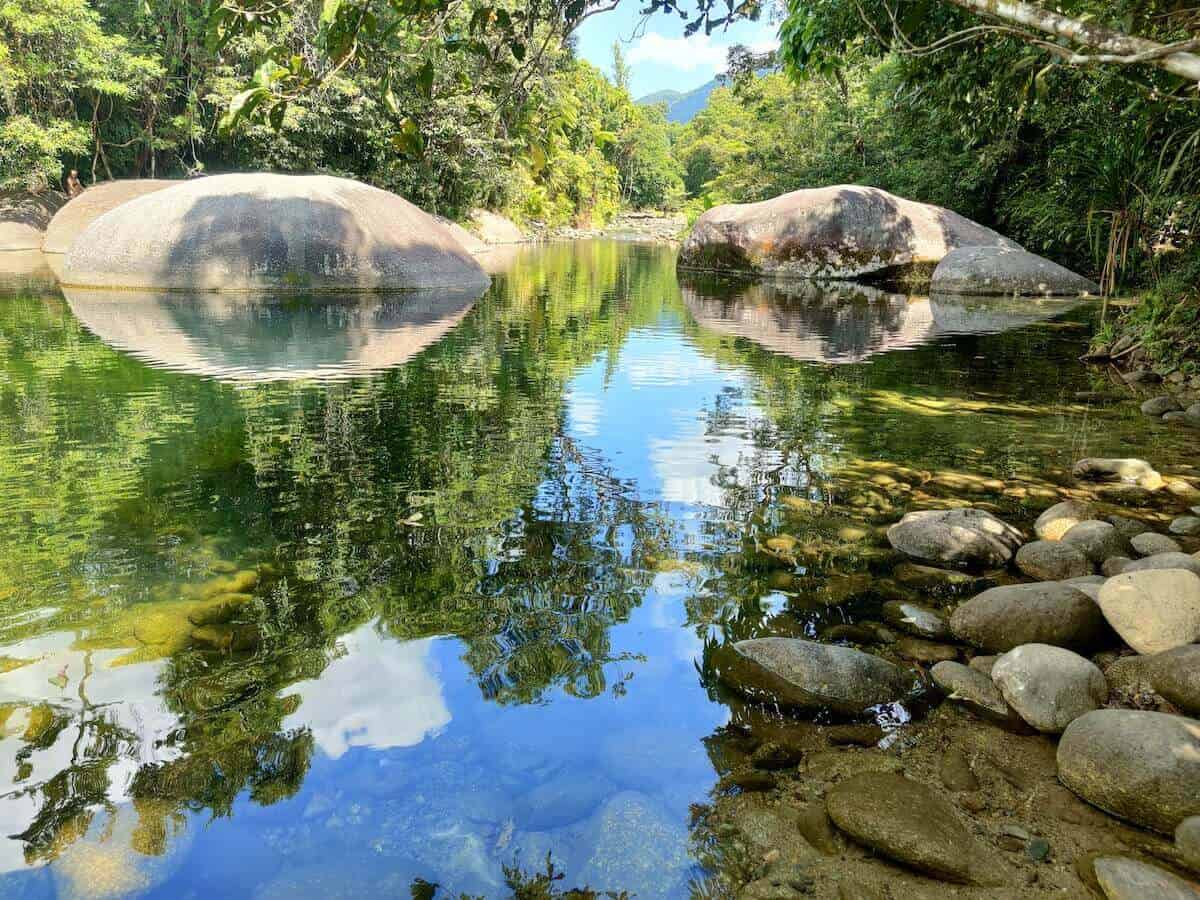 This was our second "we could live here" town. One of the wettest towns in Queensland, and gosh you can tell. The green on the mountains can only be explained as neon.
This quaint little town is home to the Babinda Boulders and feels like your own private paradise. First, travel to the lookout to peer down at the boulders magically created by nature. Once finished with this step, follow the path to the swimming hole.
I'm glad we weren't aware of the Devils Falls Legend until after our visit… Read about the Aboriginal legend of the Devil's Pool.
Josephine Falls at Bartle Frere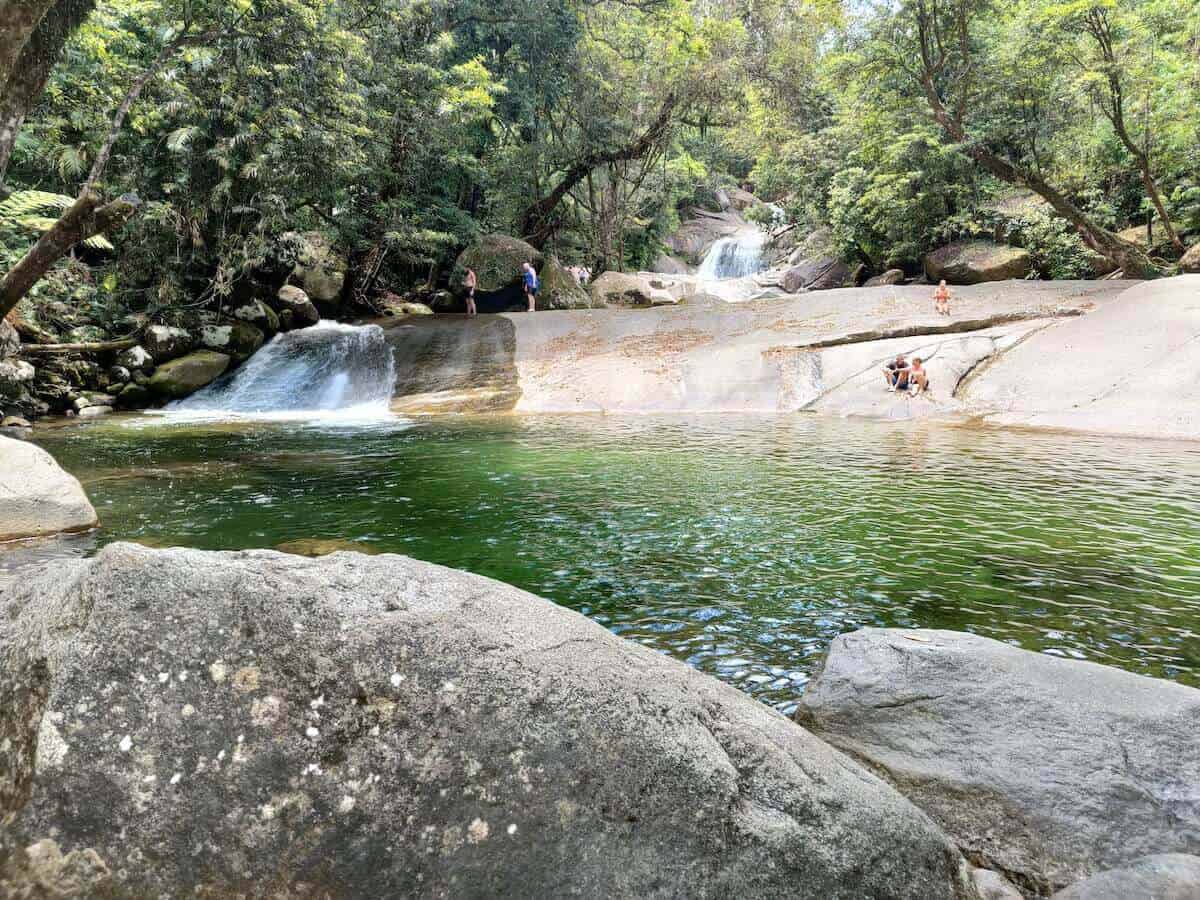 Who else wouldn't want to visit a waterhole with a natural waterslide? This is a popular day trip from Cairns if you're looking for somewhere natural to swim.
The waterhole itself is rocky so I do recommend water shoes for anyone else like me with princess feet.
This is another one of these amazing swimming holes in Northern Queensland where you can spot large fish swimming.
Cairns Botanical Gardens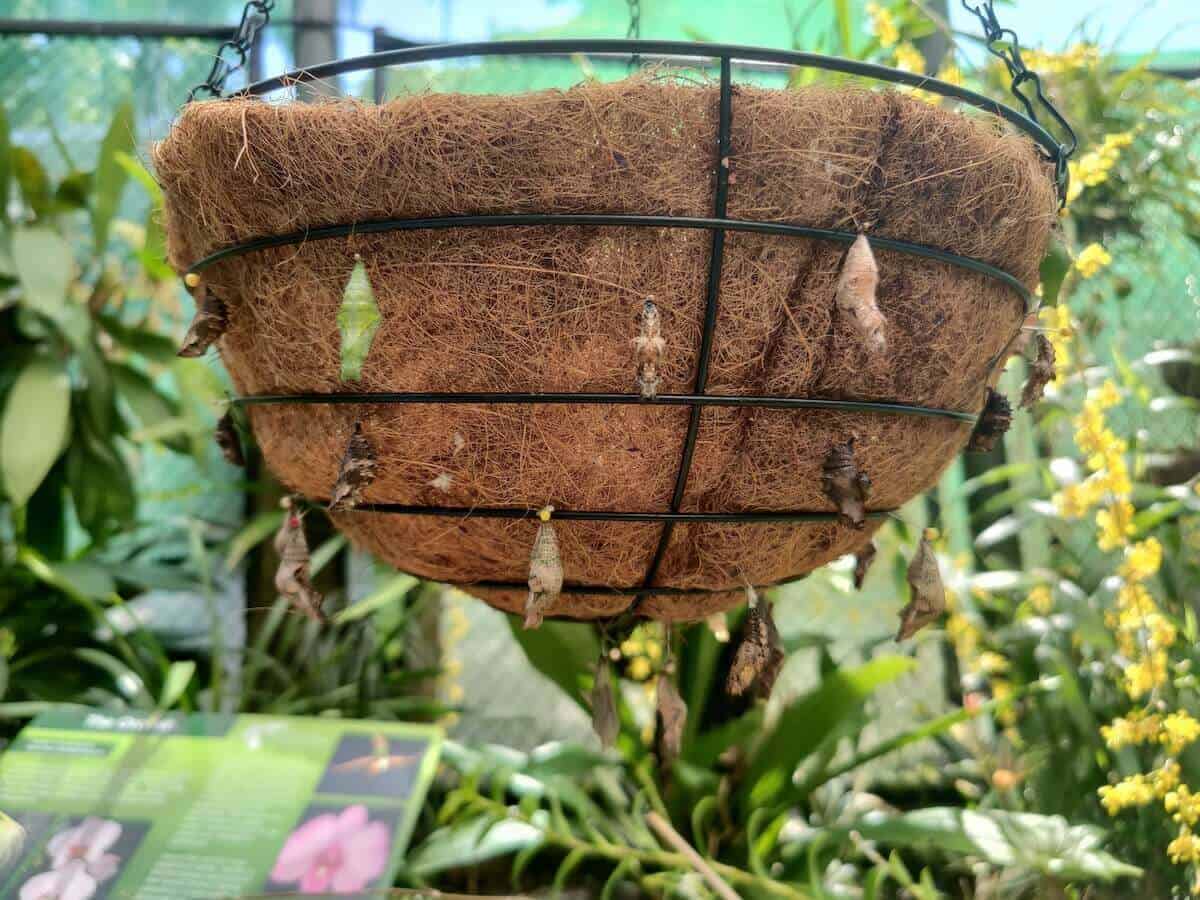 WOW! We were absolutely gobsmacked by the size of the plants in and around the Botanic Gardens. We ran from one set of plants to the next.
Nestled near the end of the walking path you'll find the butterfly oasis, filled with hanging butterfly cocoons and glorious butterflies gliding all through the greenhouse.
Well worth a stop but be sure to schedule a large slot for this adventure or you might miss something special!
Four Mile Beach at Port Douglas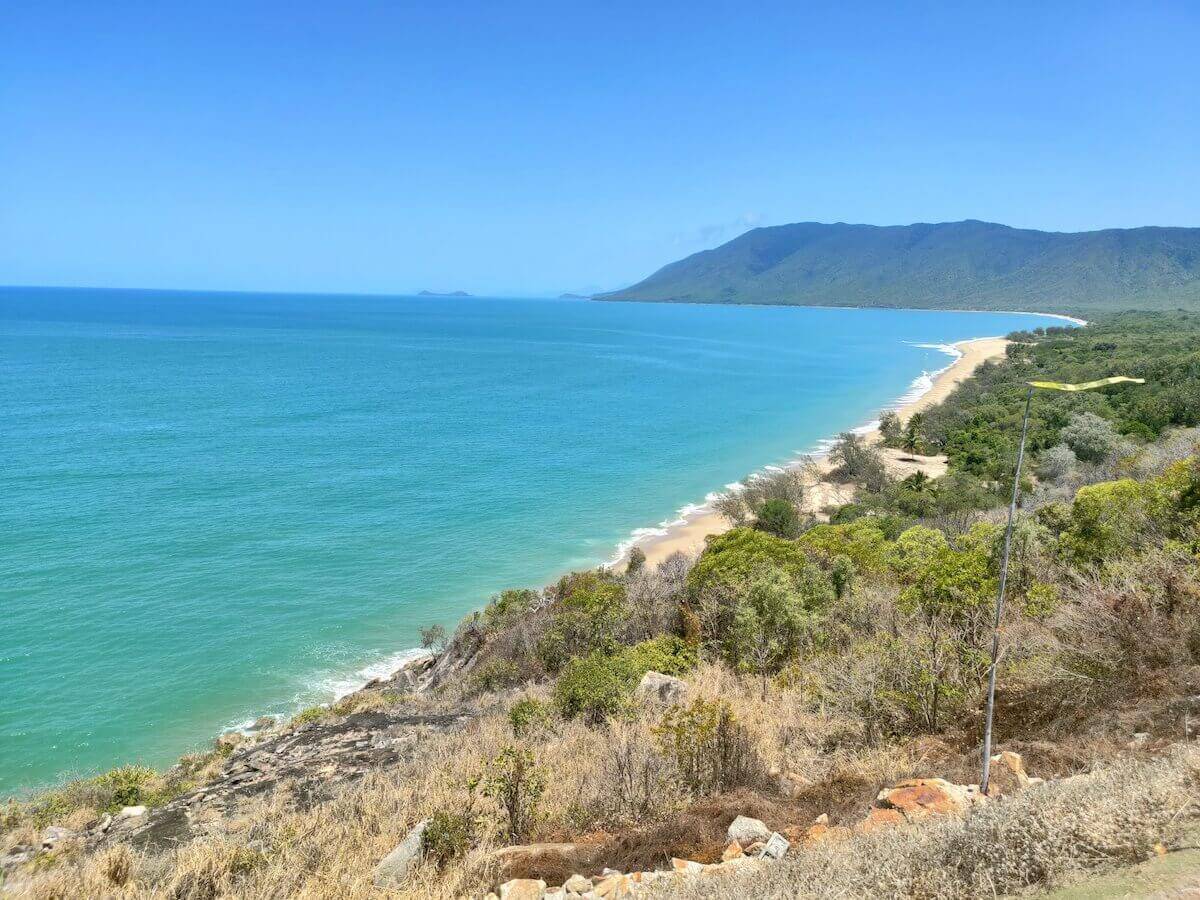 I feel like I could go as far as to say this is the most beautiful beach lookout, I have ever experienced. We witnessed sea turtles coming up for air while taking in this magical view. It's a short hike from the car park and well worth a detour.
Don't forget to pack your camera and sun protection clothes for this hike!
Port Douglas Sugar Wharf for a pontoon BBQ boat (4 hours for $200)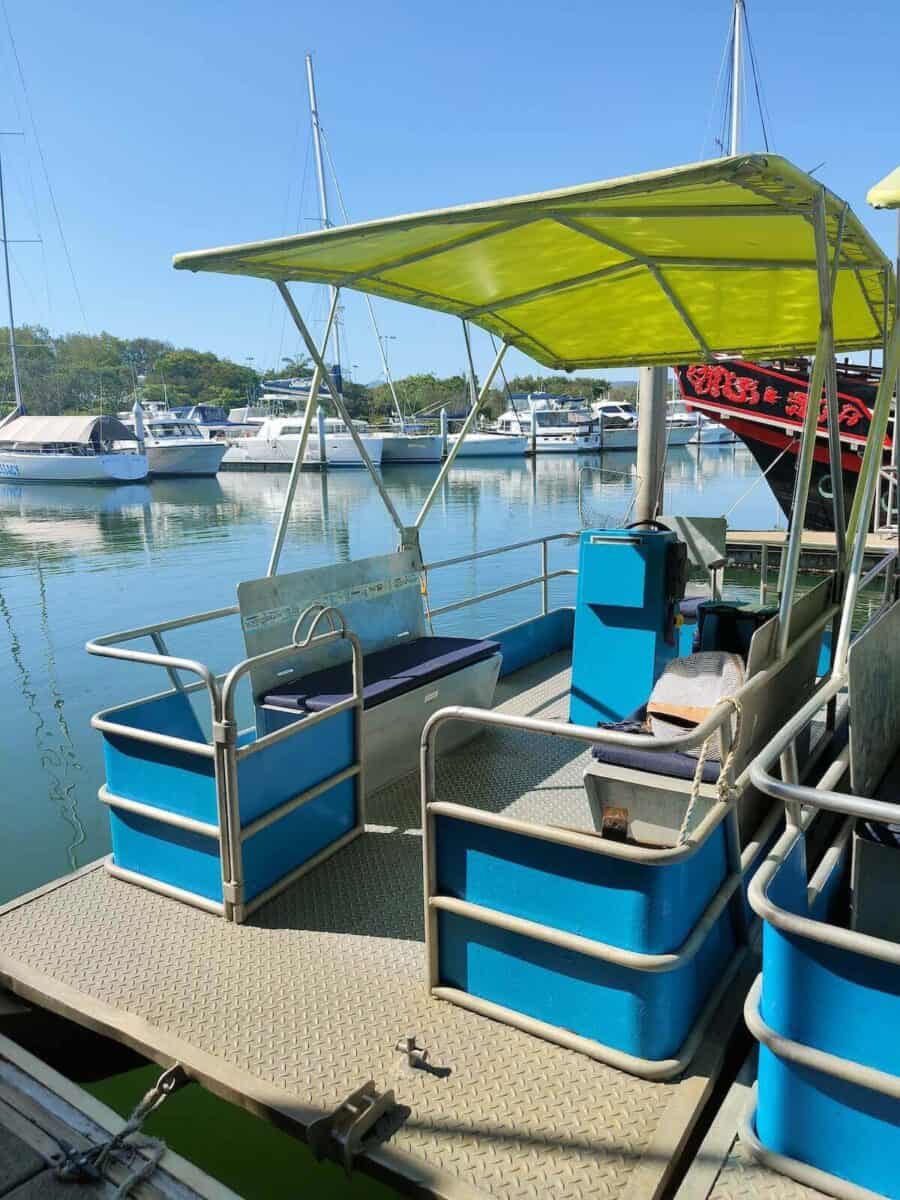 Okay, let's be real.. This was originally planned to hopefully spot some of those famous crocs everyone talks about…but of course, we didn't spot a single one.
I did catch a big trevally while fishing and we had a beautiful day cruising on the water. We would hire a BBQ pontoon again in a heartbeat!
Great Barrier Reef snorkelling
This is an absolute must! Swimming with a sea turtle is still one of the top highlights of my life! Additionally the colourful fish, the coral (even when you realise how real the bleaching is), the humongous clams.. who else wouldn't want to spend the day in the water, living amongst the sea animals!
You can book snorkelling day trips from Port Douglas or from Cairns to visit the Great Barrier Reef outer reef.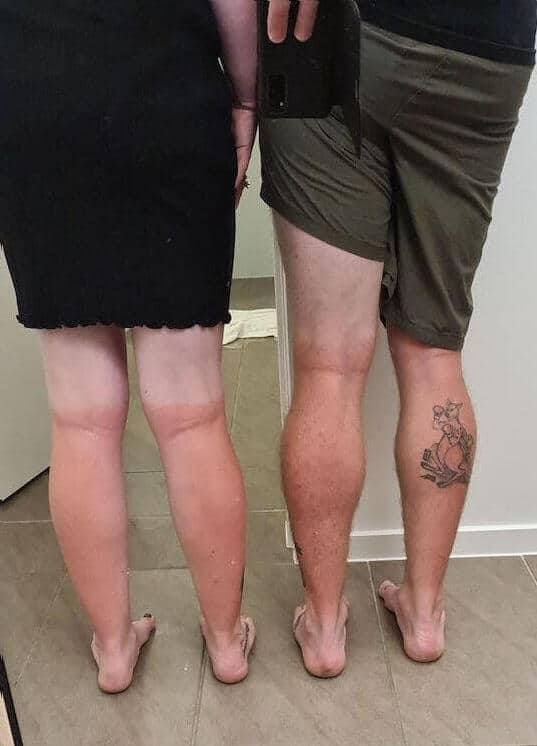 Just don't forget sunscreen on the back of your legs if you aren't wearing a full body wetsuit – we learnt this the hard way!!
Mossman Gorge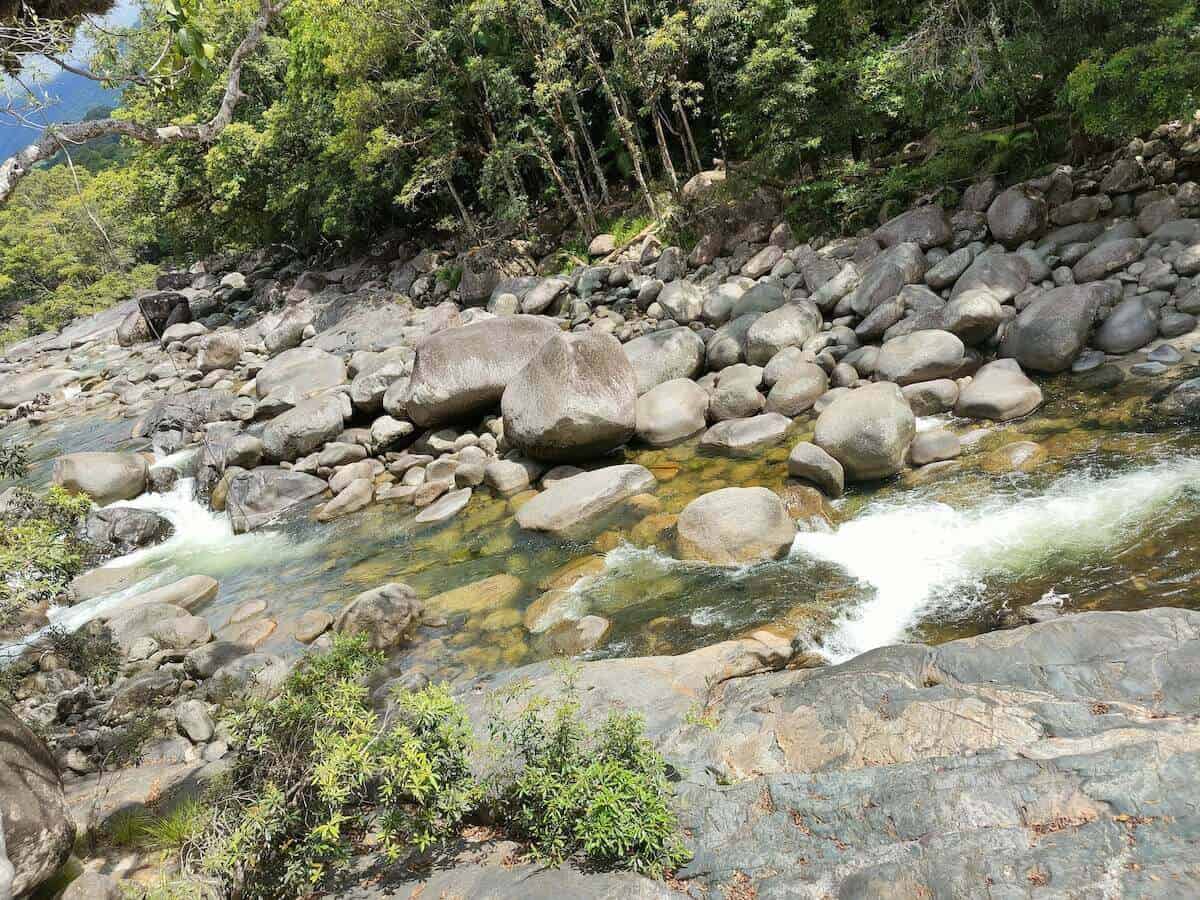 This is a unique experience. You arrive at the Cultural Centre and pay for a shuttle bus to take you down the track to the car park where you begin walking through the jungle-like oasis.
This location is filled with history and has additional perks of being run by 90% of Indigenous employees supporting the local indigenous community. We loved our visit here and will be back!
If you have extra time, spend the day at Mossmon Gorge River Drifting!
Daintree Discovery Centre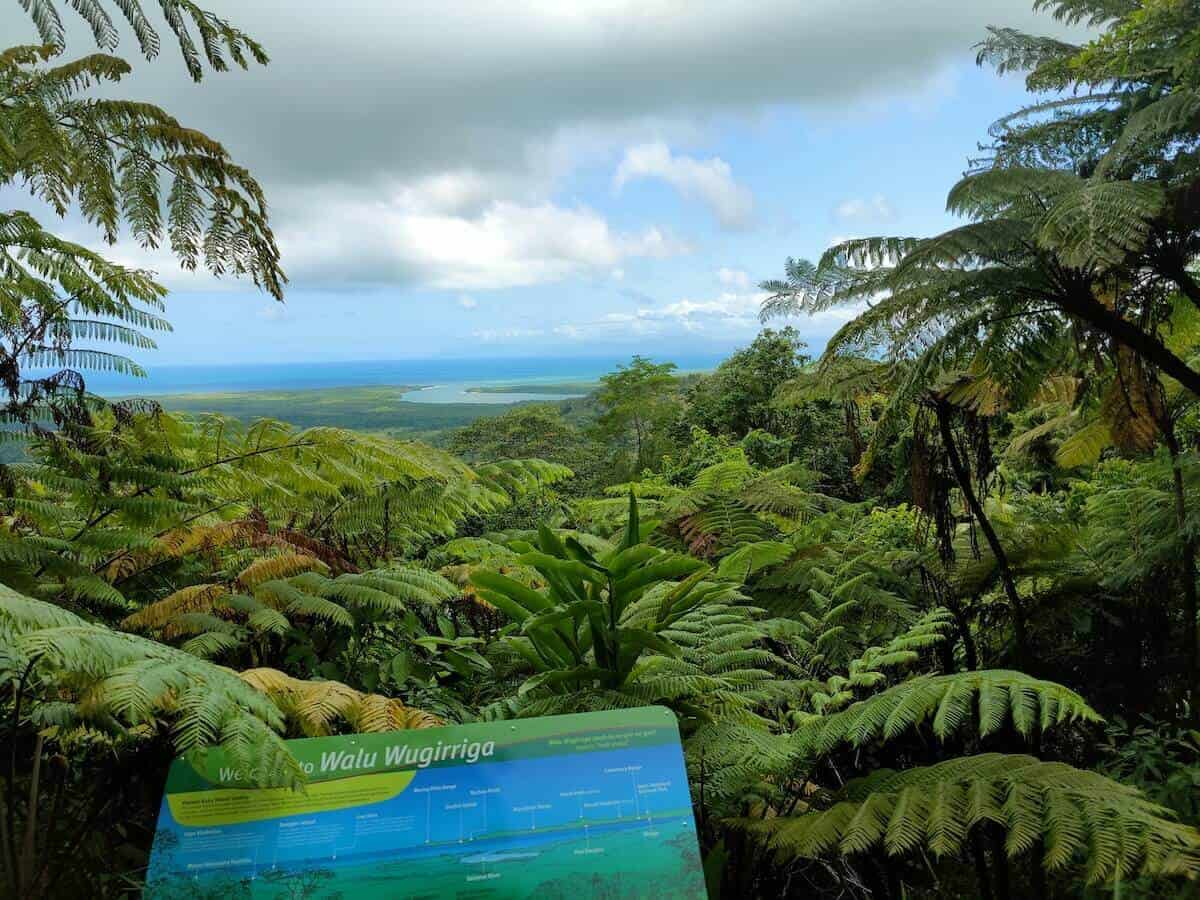 Wow, this place is filled with information and well worth the $60 cost for a visit. If you love learning fun facts about native animals, plants and the environment, this is the place for you!
Your walk includes different circuits and is also home to a canopy tour with a wicked view of the surrounding area. We even spotted our first wild cassowary in the car park!
Solar Whisper Cruise at the Daintree
We unfortunately didn't spot any crocodiles but the things we learnt about birds and mangroves were well worth the pleasant trip along the river.
Our guide was well informed and made the experience fantastic, featuring a camera at the end of the boat so we could view the birds up close.
Wildlife Habitat at Port Douglas
This was the first croc sighting of our north Queensland itinerary. We knew they existed! We had to stop in just to say we saw a croc.
But the highlight of the habitat would have to be the friendly black cockatoos that casually fly up to you in the food area.
Paronella Park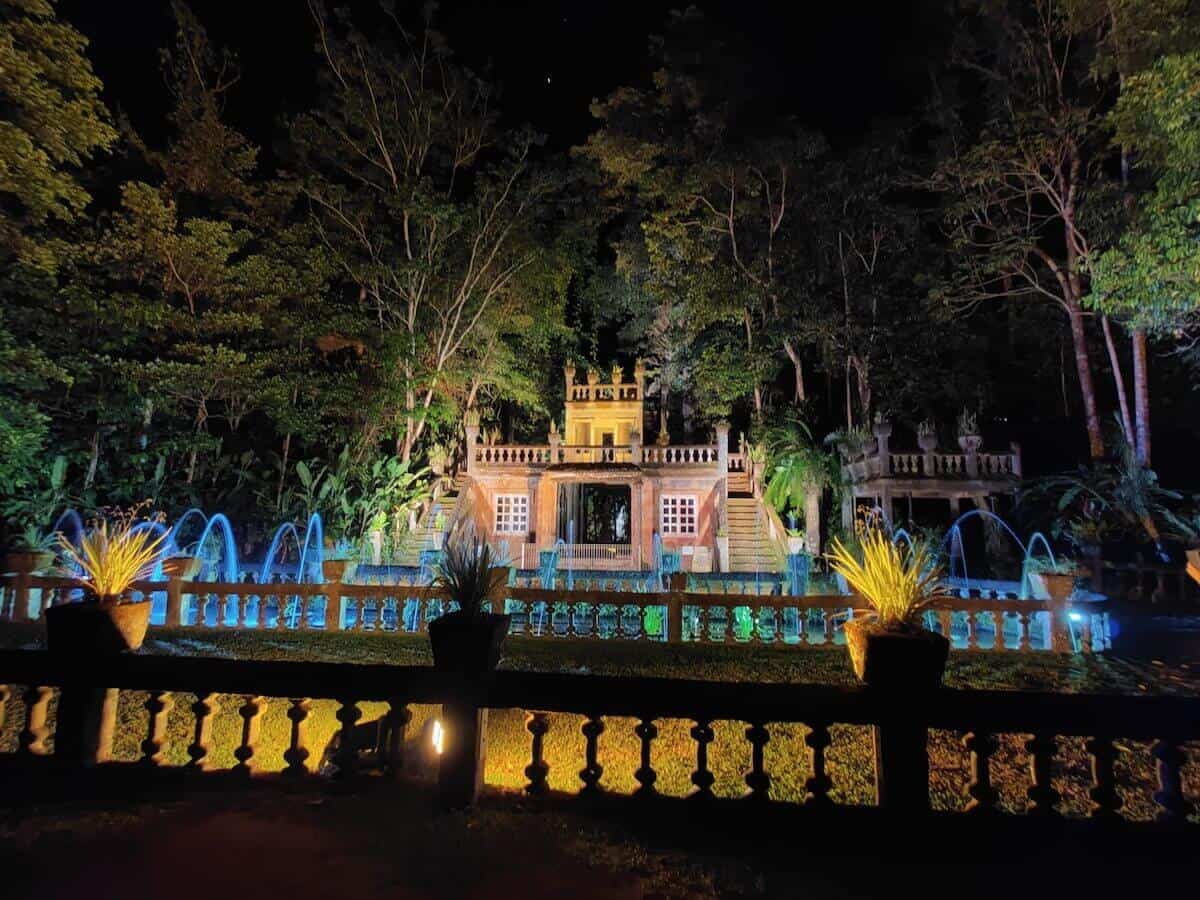 This place is magic. A castle in the north Queensland rainforest, built by hand and still intact. A visit to Paronella Park needs to be on your bucket list to experience the life of Jose Paronella and his dream that became a reality.
They have their own camping grounds on site, which is perfect if you are planning a motorhome or camping trip as it is a little out of the way otherwise, approximately 120km from Cairns or around a 40-minute drive from Mission Beach.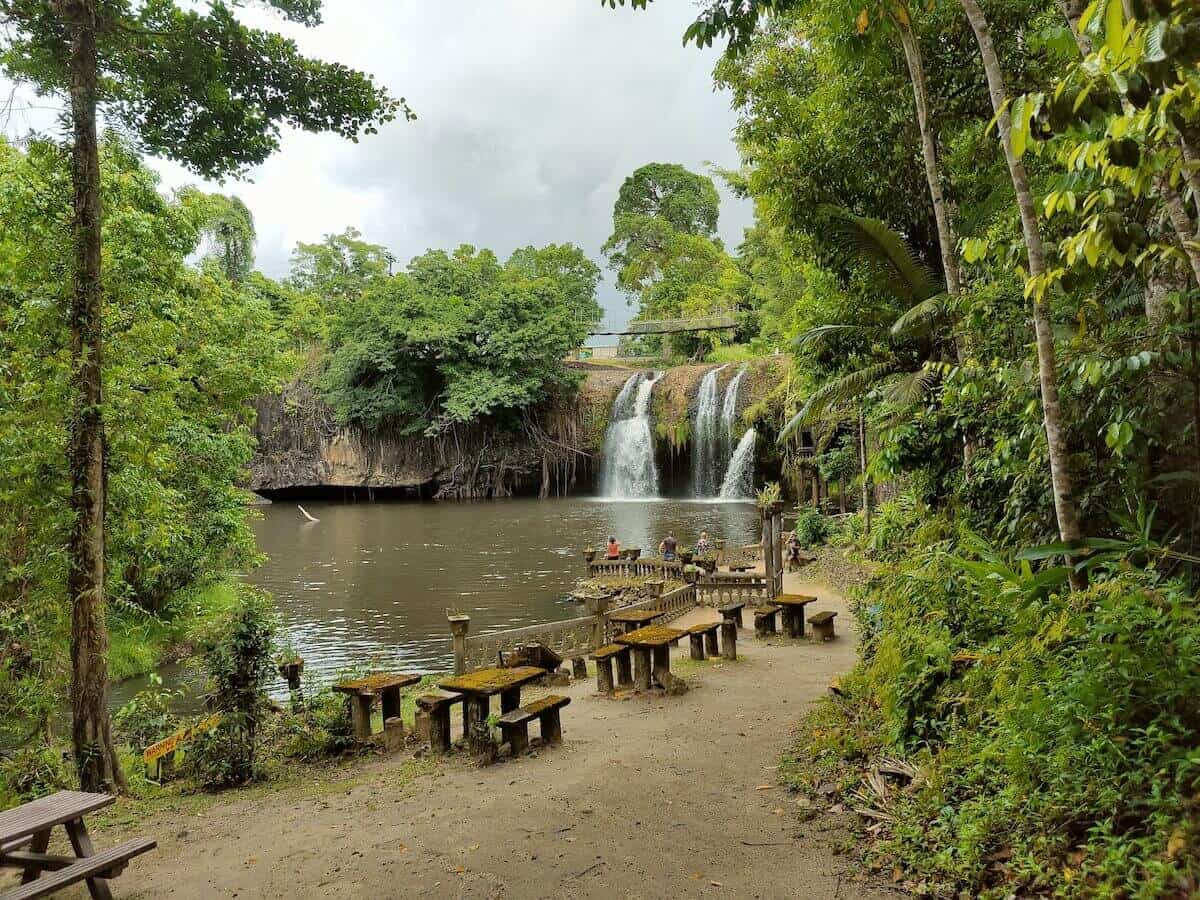 Take the time to spend the night and experience the beauty of Paronella in the day and night, both magical in their own ways. And if you do stay overnight, there is a light show that you simply cannot miss!
You can get a Paronella Park ticket package that includes camping, self-guided entry to the grounds and the nighttime light show.
If just visiting for the day, you can also get a combined ticket for Paronella Park and Mamu Tropical Skywalk.
While we can plan our travels down to the last detail, anything can happen on an adventure. To make sure digital nomads stay safe while they explore the world, SafetyWing has come up with Nomad Insurance – it's like Netflix for travel insurance! Subscription-based and affordable so you don't have to worry about being covered. Just cancel when you no longer need it. This is what we plan to use when we are travelling full time!
The Highlights Of Our North Queensland Honeymoon
Tropical North Queensland is an amazing place to visit with so many different things to see and do. While our trip was filled with plenty of adventures, these were some of the highlights that made it truly special.
Swimming with turtles on the Great Barrier Reef
Spotting our first cassowaries
Adding to the rock towers between Cairns and Port Douglas
Paronella Park (day and night)
Collecting Haig stones on the beach of Bowen
The seafood platter at Raw Prawn (yep, it deserves 2 mentions)
The Fishing
Pontoon boat cruising through the estuaries in Port Douglas. This is a must!
Daintree Rainforest lookout
"Hearding" sharks towards Shan so she can see some cool reef sharks
Our trip to Far North Queensland was over before we knew it, but we have so many amazing memories that will last us a lifetime. We cannot wait to get back to this magical part of Australia. If you're planning your own north Queensland itinerary, we hope this guide has helped give you some ideas of what to see and do.
Have you been on a north Queensland road trip? What were some of your favourite places to visit? Let us know in the comments below!