9 Best Camping Grounds In South East Queensland For Families
Are you looking for the perfect weekend away with your mini humans? You've come to the right place! We may not be parents, but I'm the oldest of 8 children and we've headed off on many adventures with the younger siblings and nephew. Additionally, I spent most of my working years as a childcare educator, so I can confidently say I know a thing or two about kids…
We share the best kid-friendly camping grounds in South East Queensland so you can plan a fun family camping trip together near Brisbane!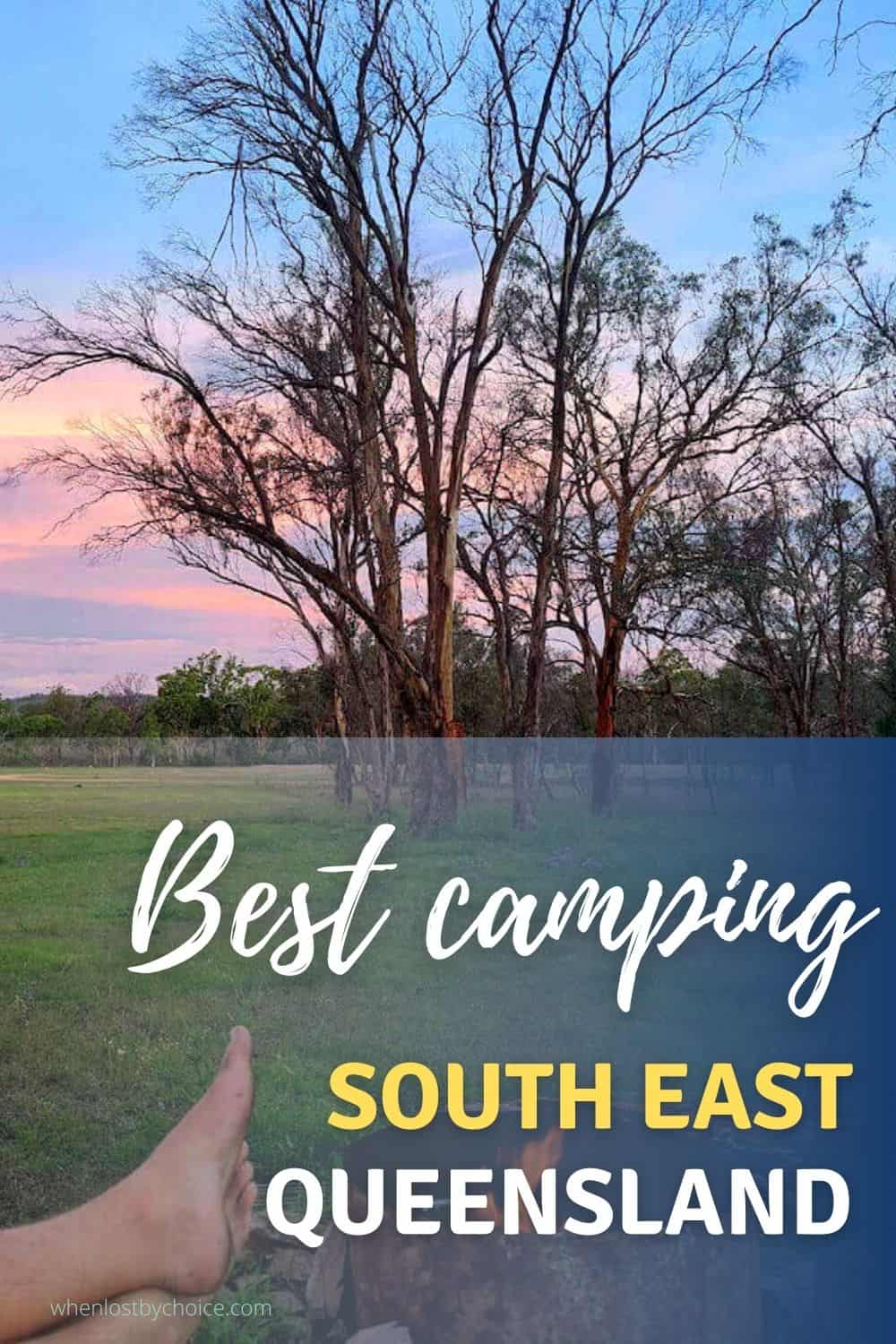 Best Camping South East Queensland For Families
While living in a house, our hometown was Ipswich, Queensland (just under an hour from Brisbane). Our aim was to travel for 2 hours maximum for our weekend trips. Otherwise, we simply don't get enough time to enjoy ourselves between all the travel time and setting up camp.
Thankfully there are some incredible camping grounds in South East QLD, only a short distance from Ipswich to off the beaten bush highlights to beautiful island campgrounds off the coast of Brisbane!
I've listed below our personal recommendations for family camping sites within 2 hours of Ipswich.
These are some of the best camping near Brisbane and by far, some of our favourite South East Queensland campsites!
Make sure you check out our ULTIMATE camping packing list guide to help you plan your camping trip!
1. Bestbrook Mountain Resort
Location: 9790 Cunningham Highway, Tregony, Queensland
Approximate Price – $100 per site, minimum 2-night bookings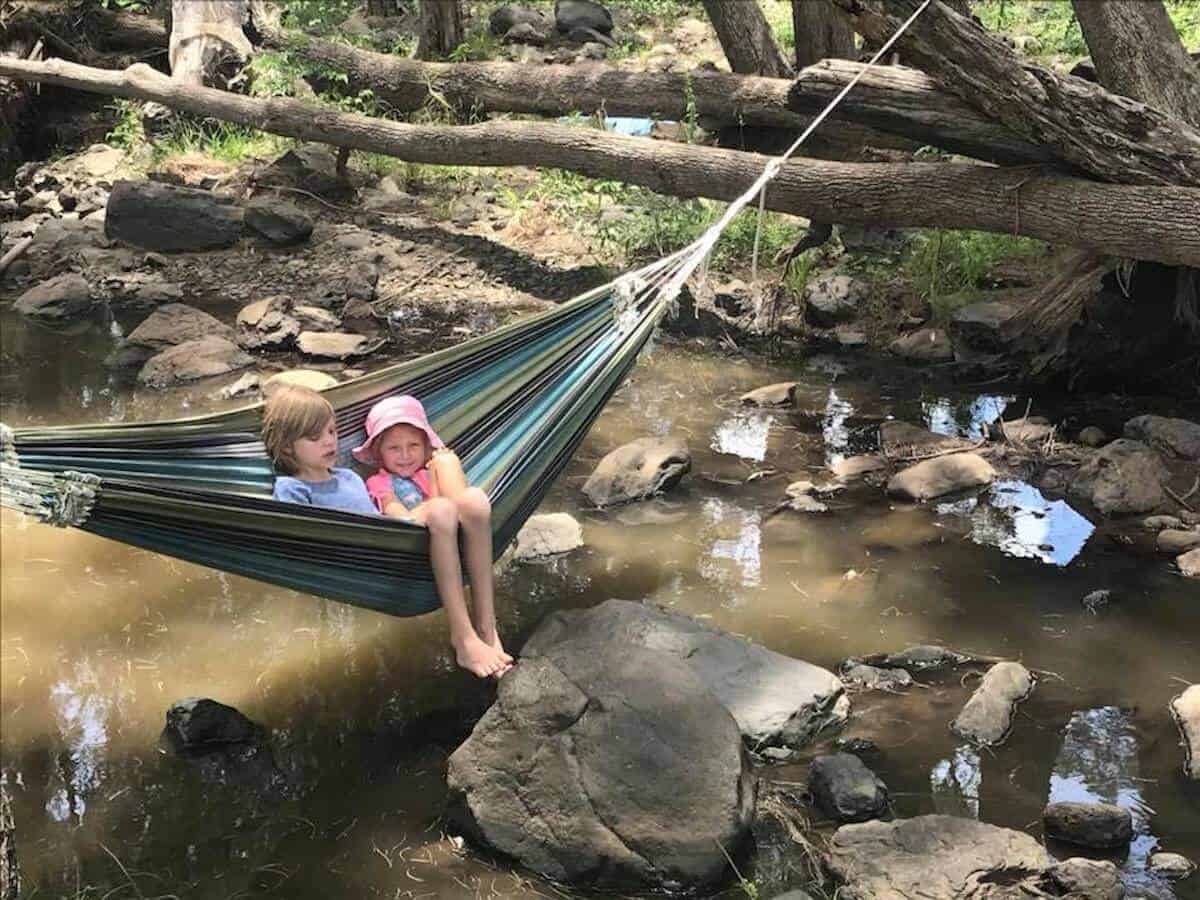 Bestbrook Mountain Resort is approximately 30 km from Aratula. The drive itself is a straight line once you hit the Cunningham Highway. Make sure to pop the address into google maps or you'll drive straight past the entrance!
Camping in a paddock is not the only option at Bestbrook Mountain Resort. They also offer fully self-contained Farm Stay Cabins and a Village Bunkhouse with shared toilet and shower facilities.
As an extra bonus, the camp sites are spread out with fire pits so no need to share your space with anyone if you don't want to!
Along with multiple accommodation options, Bestbrook is also home to many farm animals and activities for all the family to enjoy. As there as that many activities and experiences to explore at Besbrook, I feel pretty confident in saying everyone will leave this place with a smile!
Early in our relationship, we called Bestbrook our second home as we spent so many weekends here. We have an abundance of memories here and even considered hosting our engagement party and wedding in the beautiful paddocks of this campsite.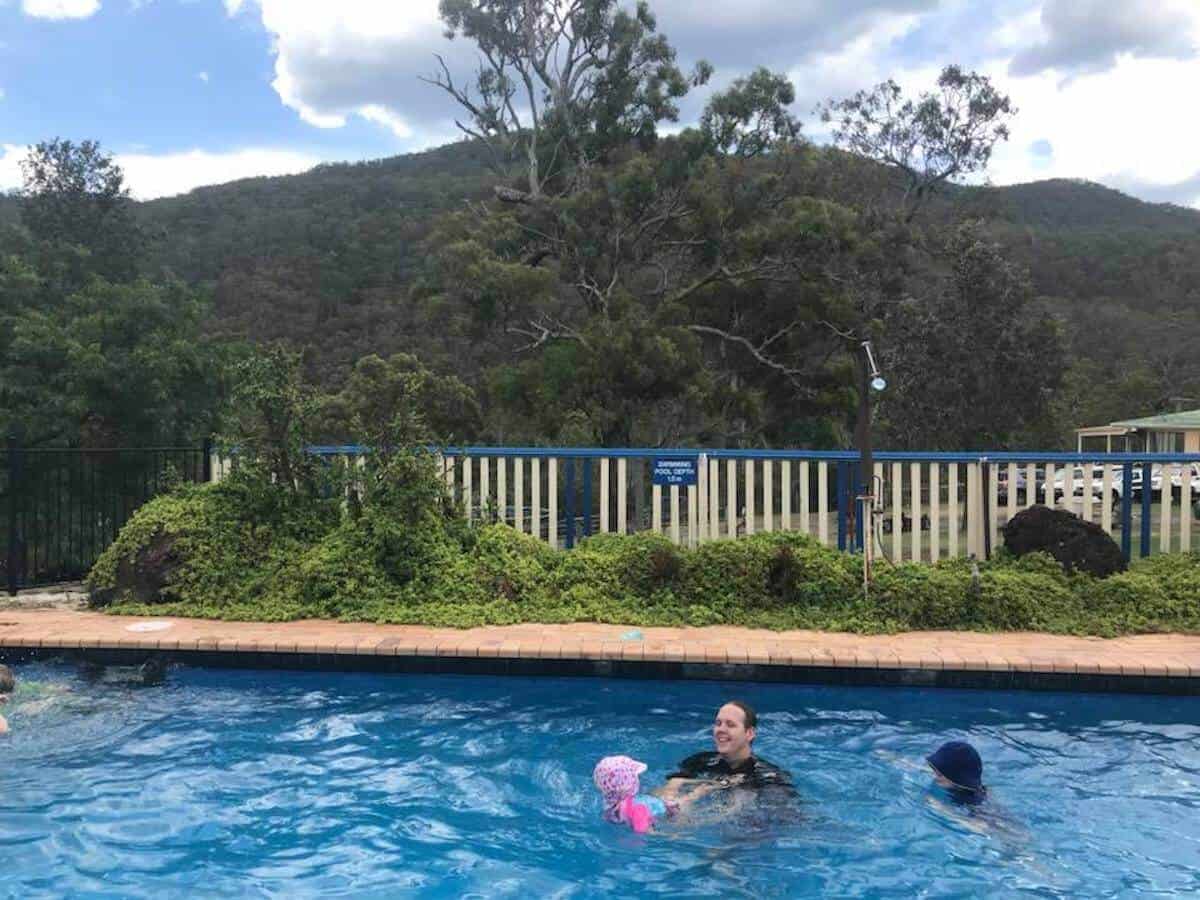 Family activities at Bestbrook Mountain Resort:
Most of these fun Bestbrook activities are included in your camping fees (besides the horse riding) making it fantastic value for a family camping trip:
Horse riding (additional charge and bookings are required)
Gnome cave walk (don't forget to pack your own gnome)
4WD tracks
Swimming pool
Creek with running water, dependent on the rainfall at the time
Butter and damper making
Whip cracking and boomerang throwing
Labyrinth
Bar and Restaurant
Yabby fishing
Animal feeding
Walking tracks
Playground
To top off all the amazing activities Bestbrook has to offer, you can also explore the surrounding areas with some of the following:
Gap Creek Farm (motorbike riding)
Main Range National Park
Darling Downs Zoo
Take a scenic drive to Goomburra National Park and Queen Mary Falls
2. Glendon Camping
Location: 222 Glendon Rd, Thane, Queensland
Approximate Price: $21 per night for 2 adults, $10 for additional adults + $5 per child (unpowered site)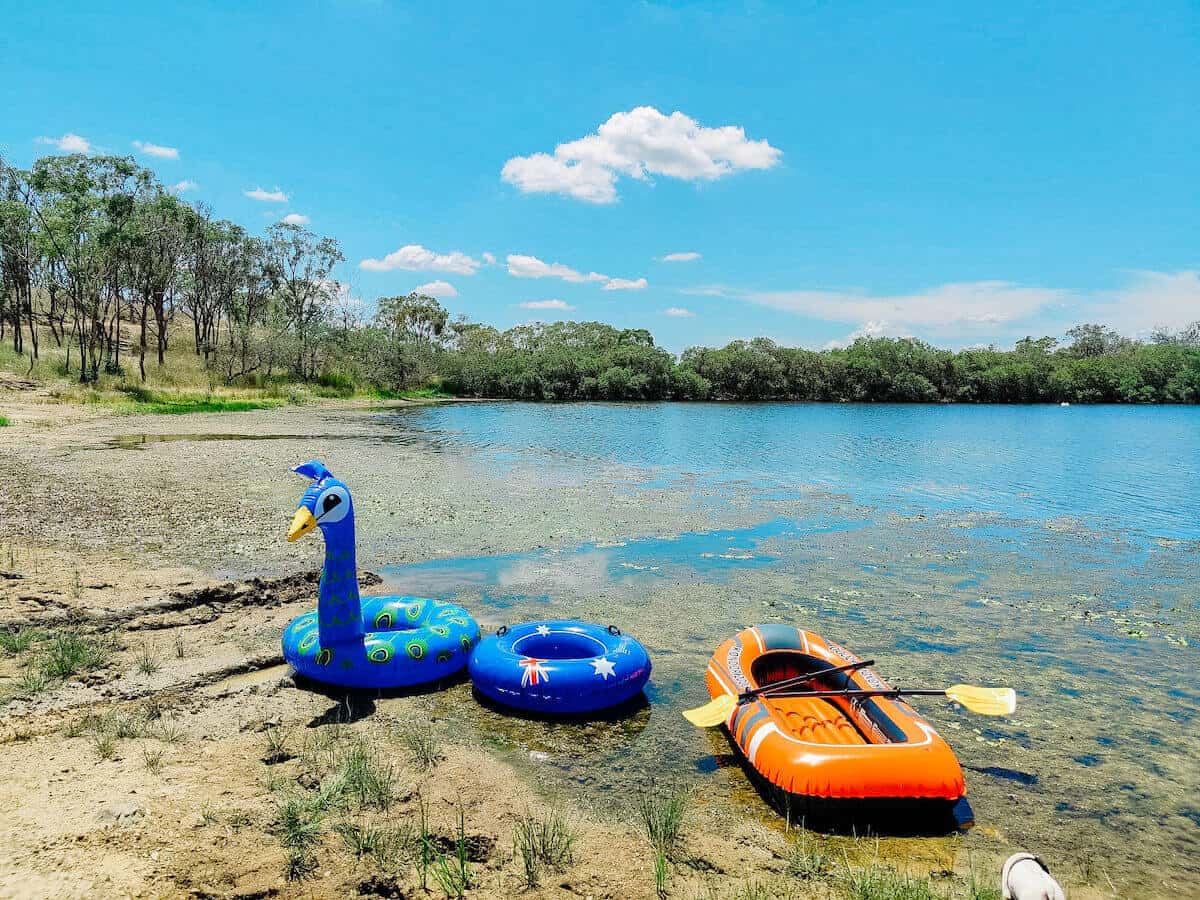 Glendon Camping is approximately 38 km west of Warwick on the Cunningham Highway. The camping area resides along Thanes Creek on approximately 1600 acres.
Besides the fact that you don't have to camp on top of people due to the mammoth size of this property, Glendon is also home to a large swimmable dam, motorbike tracks, gold panning and much more!
If tent camping is not for you, there are also a few cabins on site. Don't forget to book these early as I do believe they are often booked out in advance.
If this doesn't already sound appealing, the owners are extremely lovely – which always makes a campsite even more inviting!
This has become my family's regular campground with the variety of activities Glendon has to offer. The sites are also spread out with firepits available.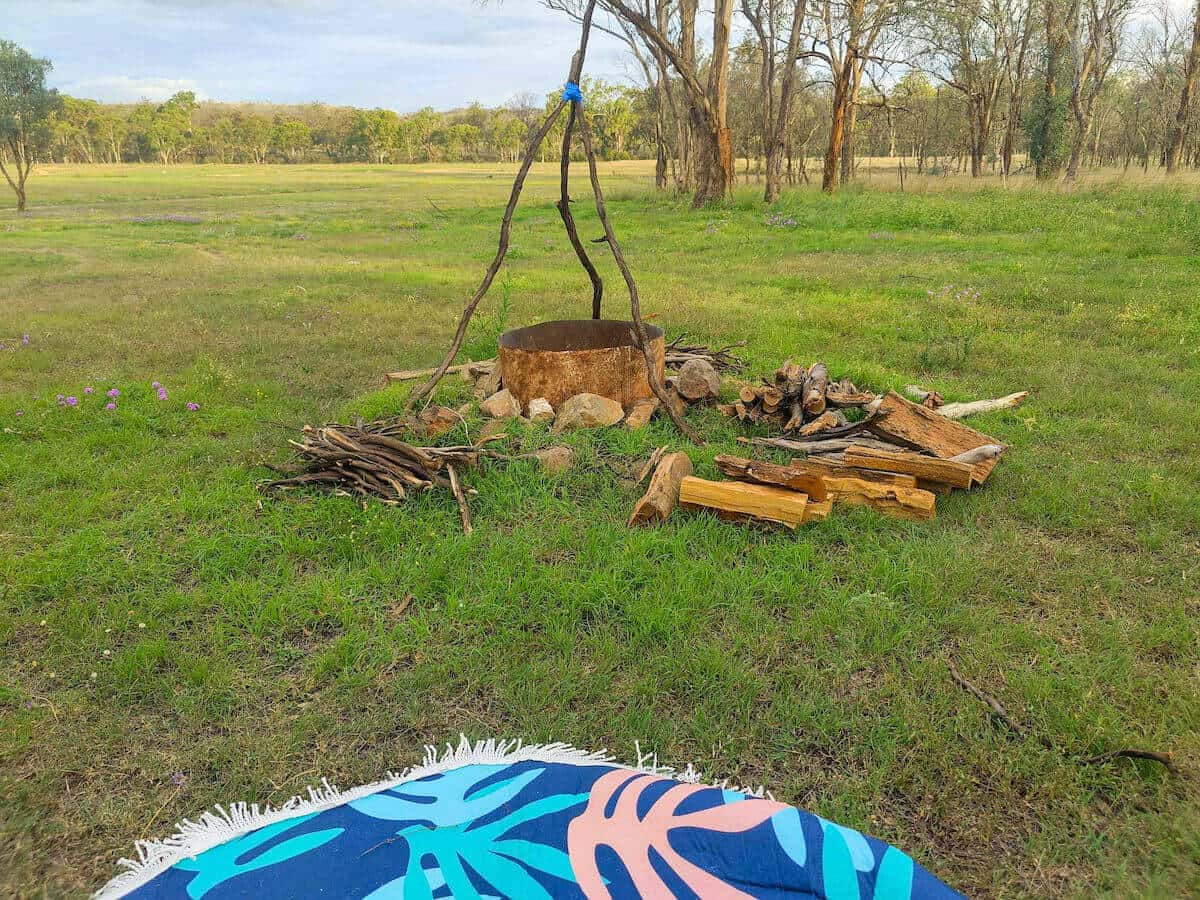 Family activities to enjoy at Glendon:
Motorbike tracks, including a "pee wee track" for younger children
Take a swim in the huge dam
Have a go fishing for yellow belly, silver perch, catfish and yabbies in the dam
Go for a bush walk
Take your metal detector (this is ours) out or go gold panning – the largest piece of gold found was 55 ounces
Enjoy the communal campfire
Take a walk around the petting farm
Explore the property with your 4WD
Go bird watching
3. Thunderbird Park
Location: Corner Tamborine Mountain and Cedar Creek Falls Road, Tambourine Mountain, Queensland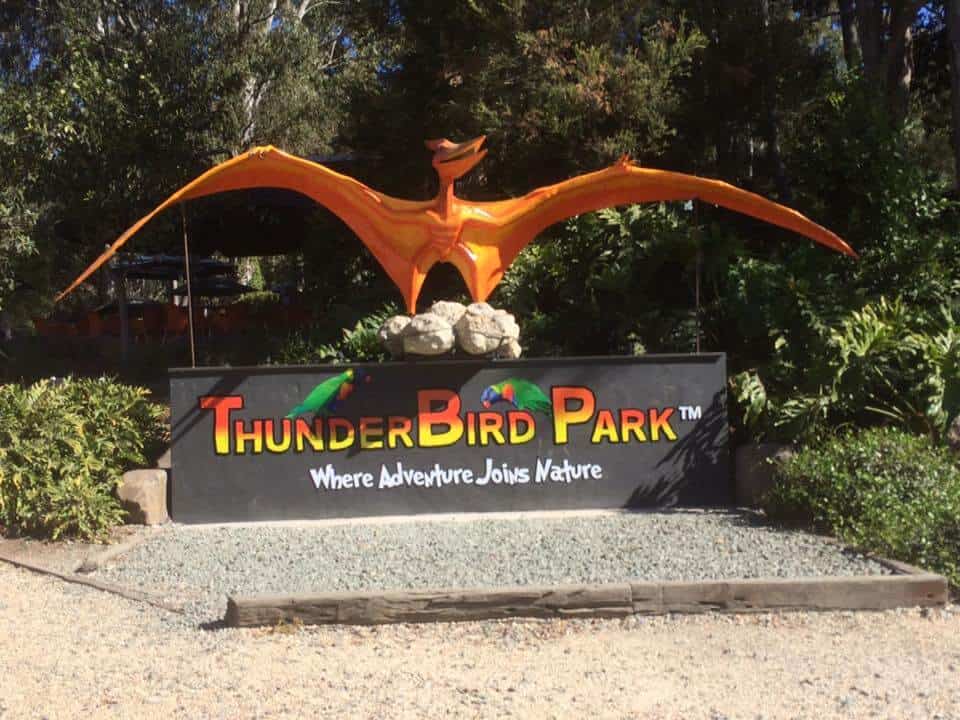 Thunderbird Park is located along the boundary of Tamborine National Park in a subtropical rainforest environment. The campsites are nestled along Cedar Creek.
Thunderbird Park is easily one of the most popular commercial campgrounds near Brisbane and the Gold Coast. It is popular for day trip visitors too!
This is quite a large camp site with set camping sites. We would personally recommend visiting Thunderbird Park during the off peak season if you're not a fan of over-crowding as the sites are closer together than some of the other campgrounds mentioned.
Thunderbird Park has a lot to offer with the main attraction being the Thunder Egg Crystal Mine – who wouldn't want to spend a day digging for minerals over thousands of years old! Plus, you also leave with your very own certificate!
Along with the mining, Thunderbird Park also offers:
Laser Skirmish
Mini golf
Rock pools
Cedar Creek Falls
Café and Bar
Bird feeding
Fun fair with paddle boats, water bikes, go-carts and loads more activities
While in the local area, don't forget to take some time to explore Tambourine Mountain. The Botanical Gardens are stunning. We headed off on a Mystery Picnic with AmazingCo in 2022 and thoroughly enjoyed our day taking in the beauty of this stunning subtropical mountain and its unique shops.
Other activities to do near Tamborine Mountain include:
Visit the breweries, wineries and distilleries
Witches Chase cheese factory
Tamborine Rainforest Skywalk
Visit nearby Lamington National Park, Springbrook National Park and the Natural Bridge
4. The Gorge
Location: 51 Gorge Road, Aratula, Queensland
Approximate Price: $10 per person per night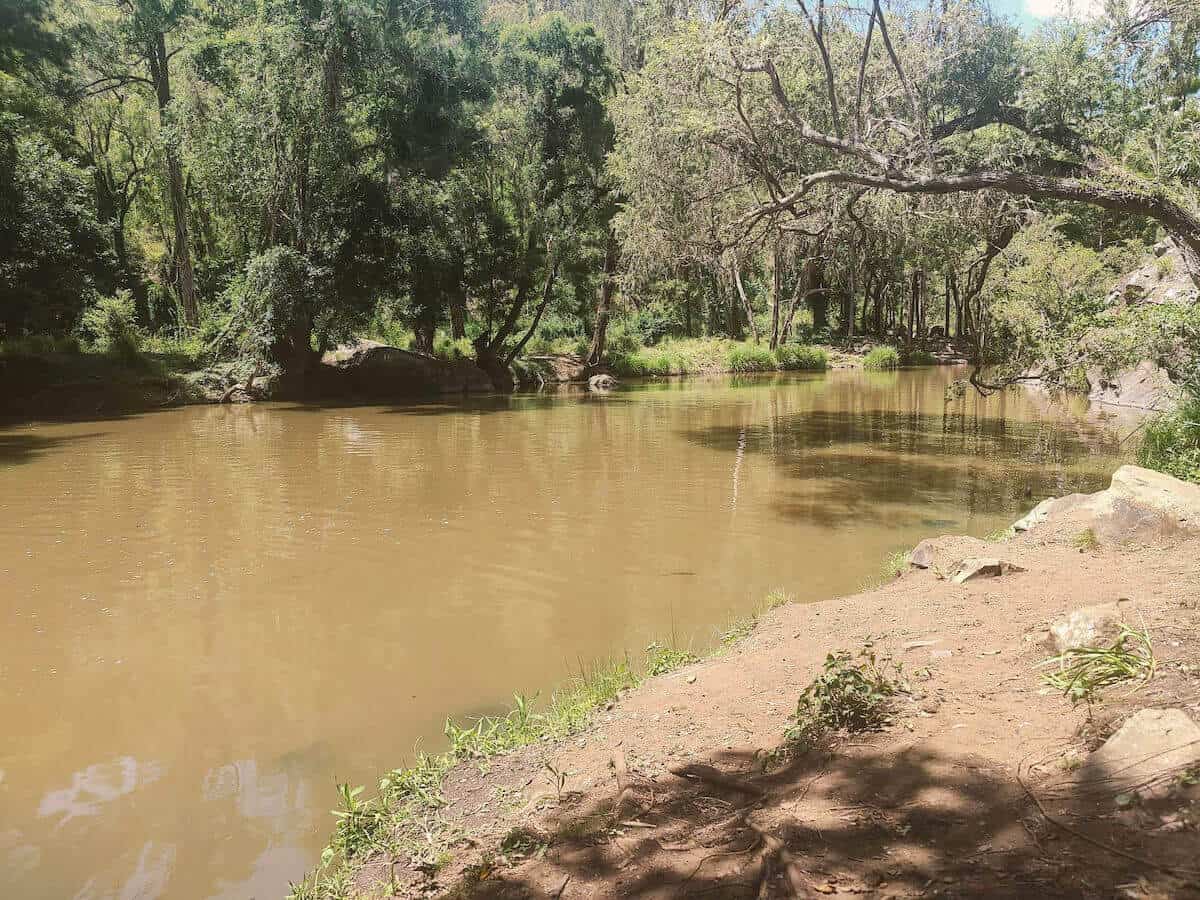 The Gorge is located off the Cunningham Highway in the small town of Aratula. This site is pretty special to me personally as I camped here as a child and only recently found it again a couple of years ago. The camping ground is situated on Reynolds Creek on the far side of Lake Moggerah.
You definitely must book ahead as there is only a limited amount of sites available. The campground is run by a lovely lady called Val. She really makes the place extra special with her hospitality.
After driving past some paddocks, you will turn down a dirt track, and once you reach the gate, you've arrived.
You will be pleasantly surprised by the beauty of this site. Each time we return, I forget how beautiful and surreal the overgrown canopies and the relaxing sounds of the creeks and birds are. This is 110% a place to recharge.
Facilities include flushing toilets. You may want to bring your own camping toilet and shower if you are camped down the back, as it is a bit of a hike.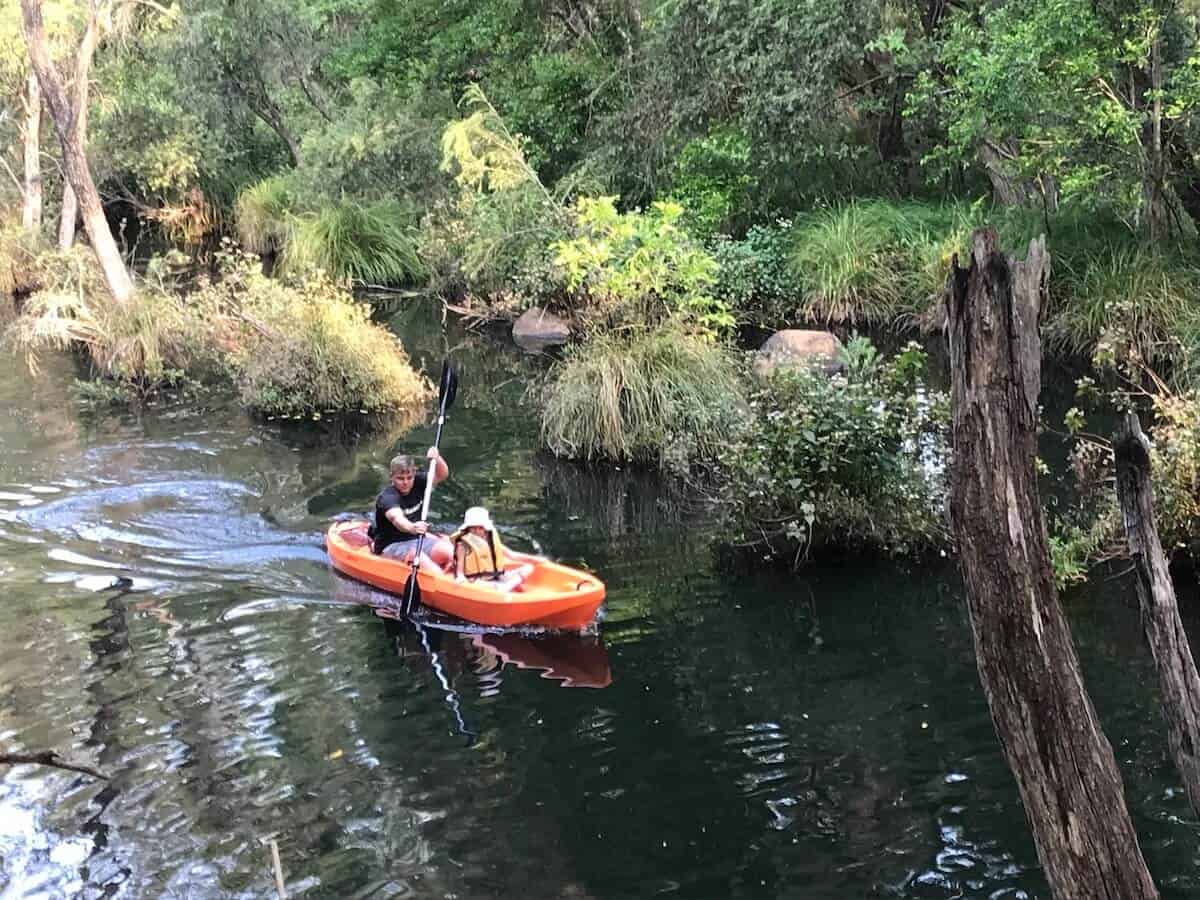 Along the campsite is a swimmable creek with two main access points. One has a ladder and steps to enter and the other is a walk-in. The creek is perfect for kayaking, pool inflatables or a SUP.
And yes… each campsite has a firepit.
Do take care though, as this is a very natural setting and you might spot snakes and other not-so-friendly wildlife. This caution is relevant to any camping ground though, especially during a South-East Queensland summer!
Activities to do at The Gorge camping ground:
Swimming and water activities
Wildlife spotting
Enjoy yummy camping desserts around your campfire
5. Moreton Island
Moreton Island (Mulgumpin) is located just off the coast of South Eastern Queensland. This stunner of an island is only accessible via boat or ferry ride. You can arrive on the island with just your camping gear, or take your car or van.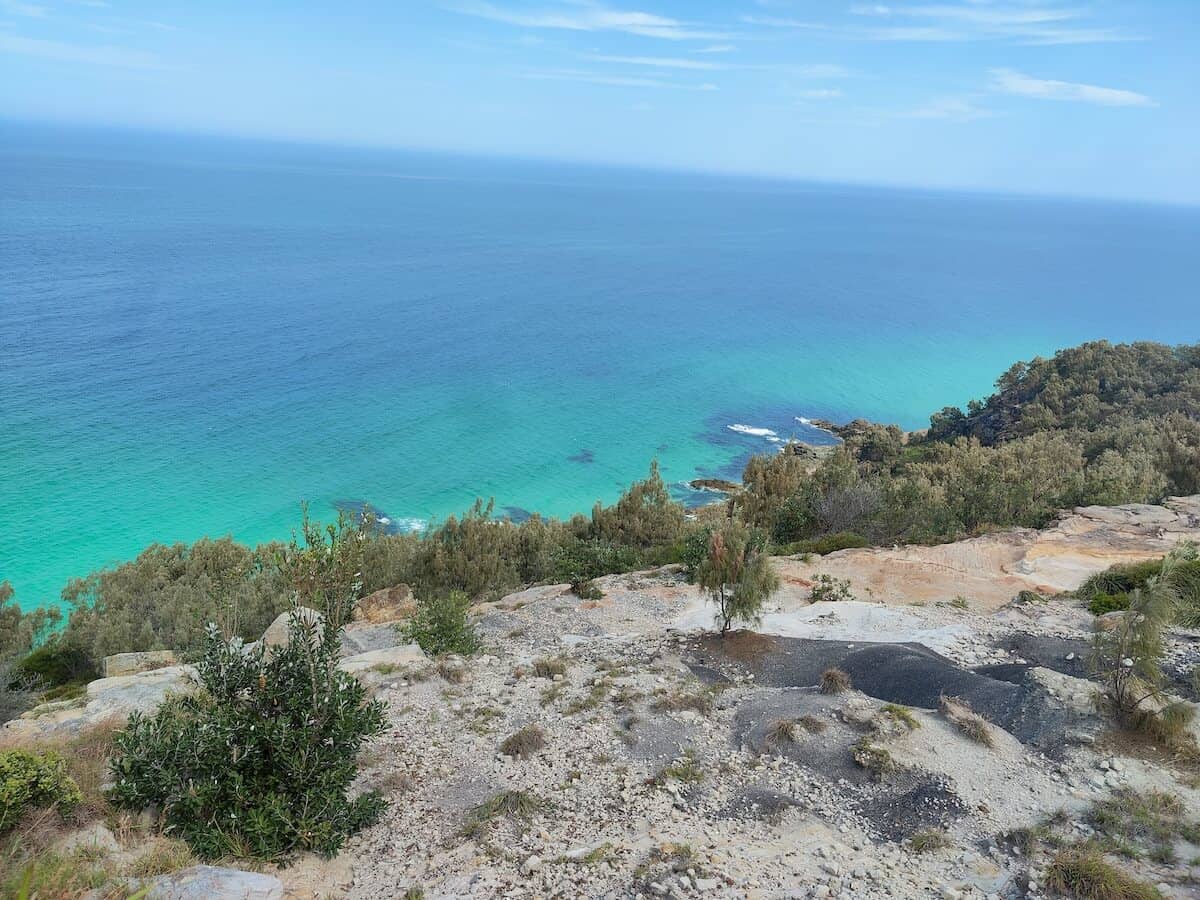 Before your visit, you do need to book a campsite, campsite permit and vehicle access permit for your visit, which are all managed by Mulgumpin (Moreton Island) Camping.
Moreton Island is home to sand dunes, wildlife, lakes, crystal clear waters and crisp white sands. While enjoying your time over here, you will be taken away by how much wildlife (especially birds) you will see around you.
This stunner is recommended for longer than a weekend as there is just so much to explore from walking through the desert, eating fresh oysters, land fishing, soaking in the champagne pools and Blue Lagoon and exploring the beached starfish at Tangalooma.
Moreton Island has many options for accommodation from camping in National Parks and other paid camping options. If tent camping isn't for you, or if you want to splurge for part of your trip, you can also stay at Tangalooma Resort.
Moreton Island is a popular choice for beach camping in South East Queensland.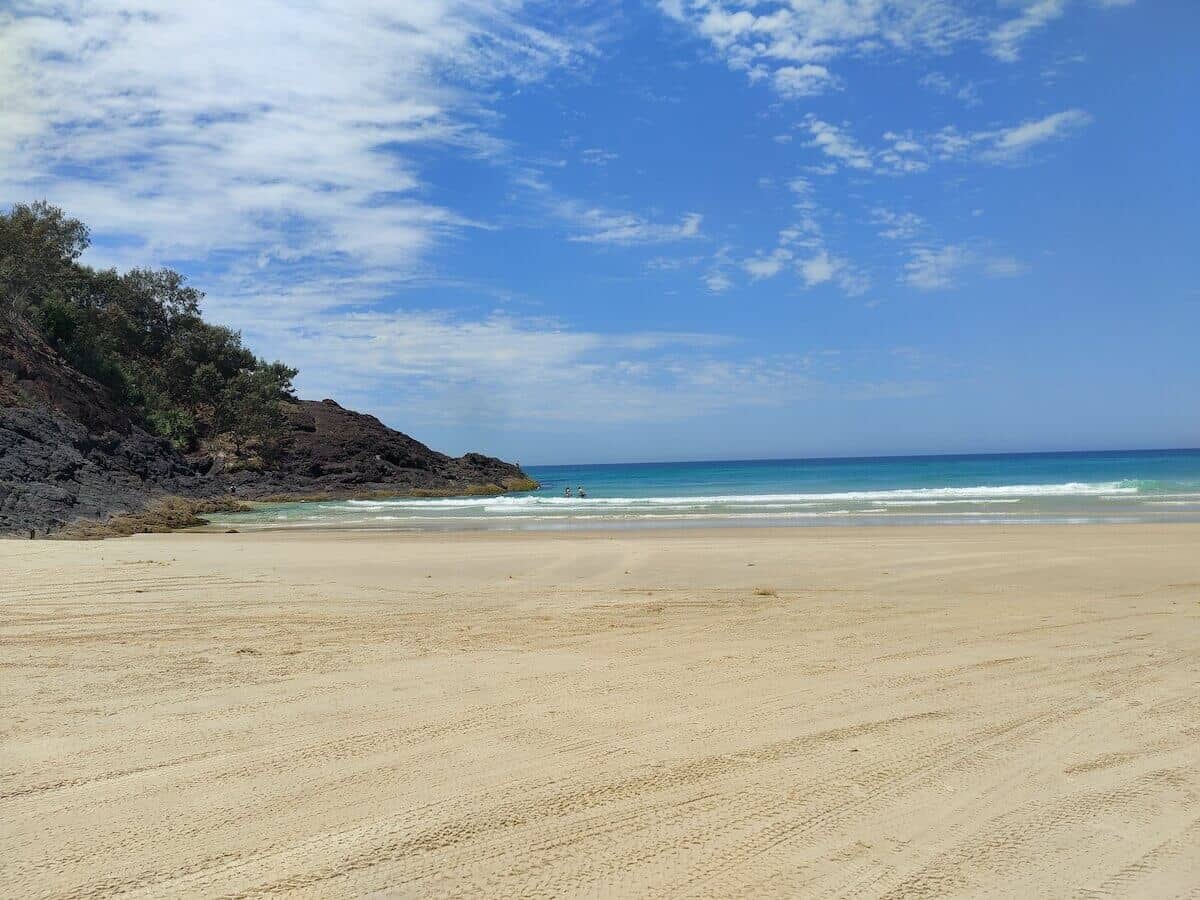 Moreton Island camping activities for families include:
Swimming and beach time
Snorkelling the Tangalooma Wrecks
Walking tracks throughout the National Park
Sand tobogganing
4WD tracks
Kayaking or standup paddleboarding
See our camping on Moreton Island guide for more information to help you plan your visit.
6. Cobb and Co Camping
Location: 1484 Noosa Rd, Tandur, Queensland
Approximate Price – $17 per adult, $12 per child (2yrs-17yrs) – first nights fee is paid upon booking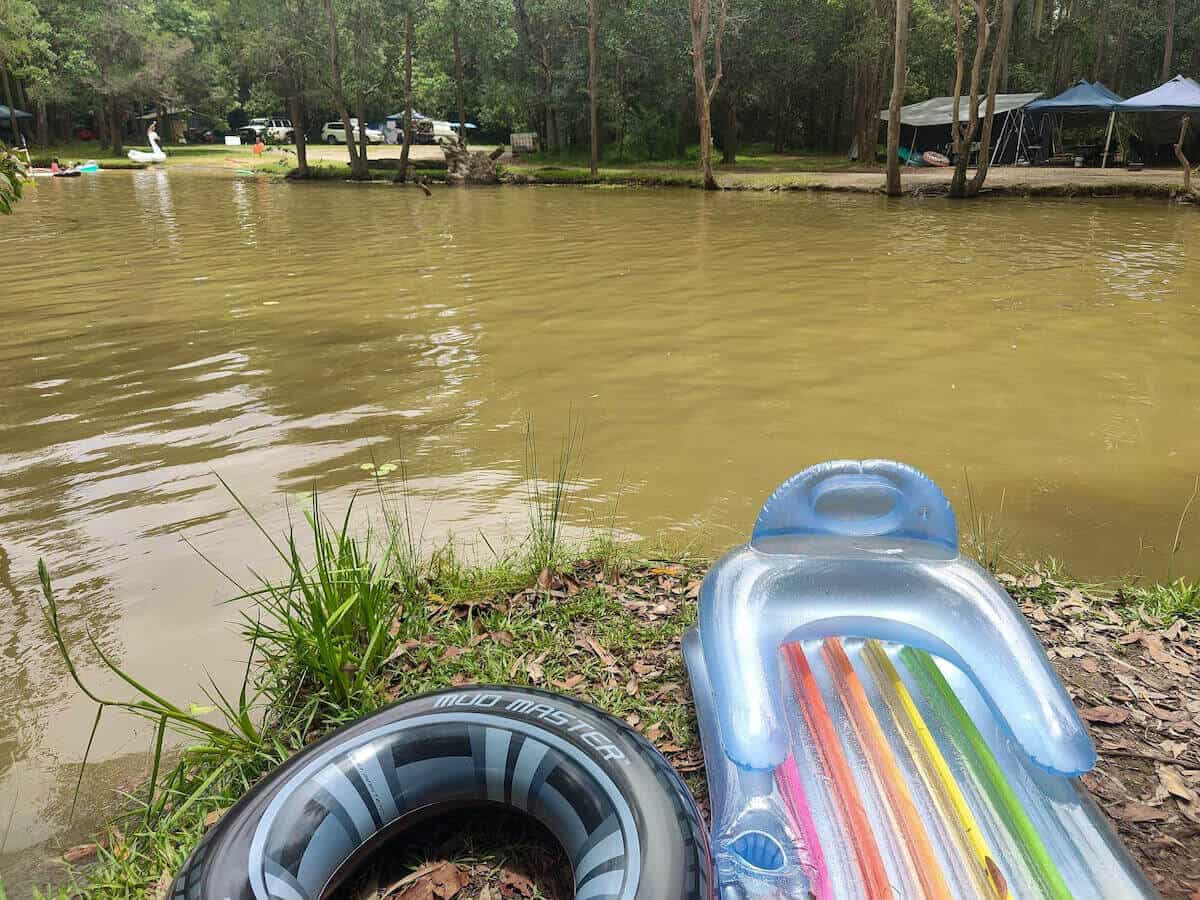 Cobb and Co Camping is close to the town of Gympie. There is a massive 50 acres of camping space to choose from. The sites are a bit closer together due to how popular this site is as a campsite and caravan park.
We chose this spot to spend our New Year's Eve celebrations with the family and we can 110% recommend this site for anyone with kids due to the number of activities available for kids of all ages!
The campsites have fire pits. You can also purchase firewood, freshly brewed coffee and other necessities at reception.
If basic camping is not for you, Cobb and Co also offer "Luxury Tents" and "Gypsy Wagons" to enjoy your stay.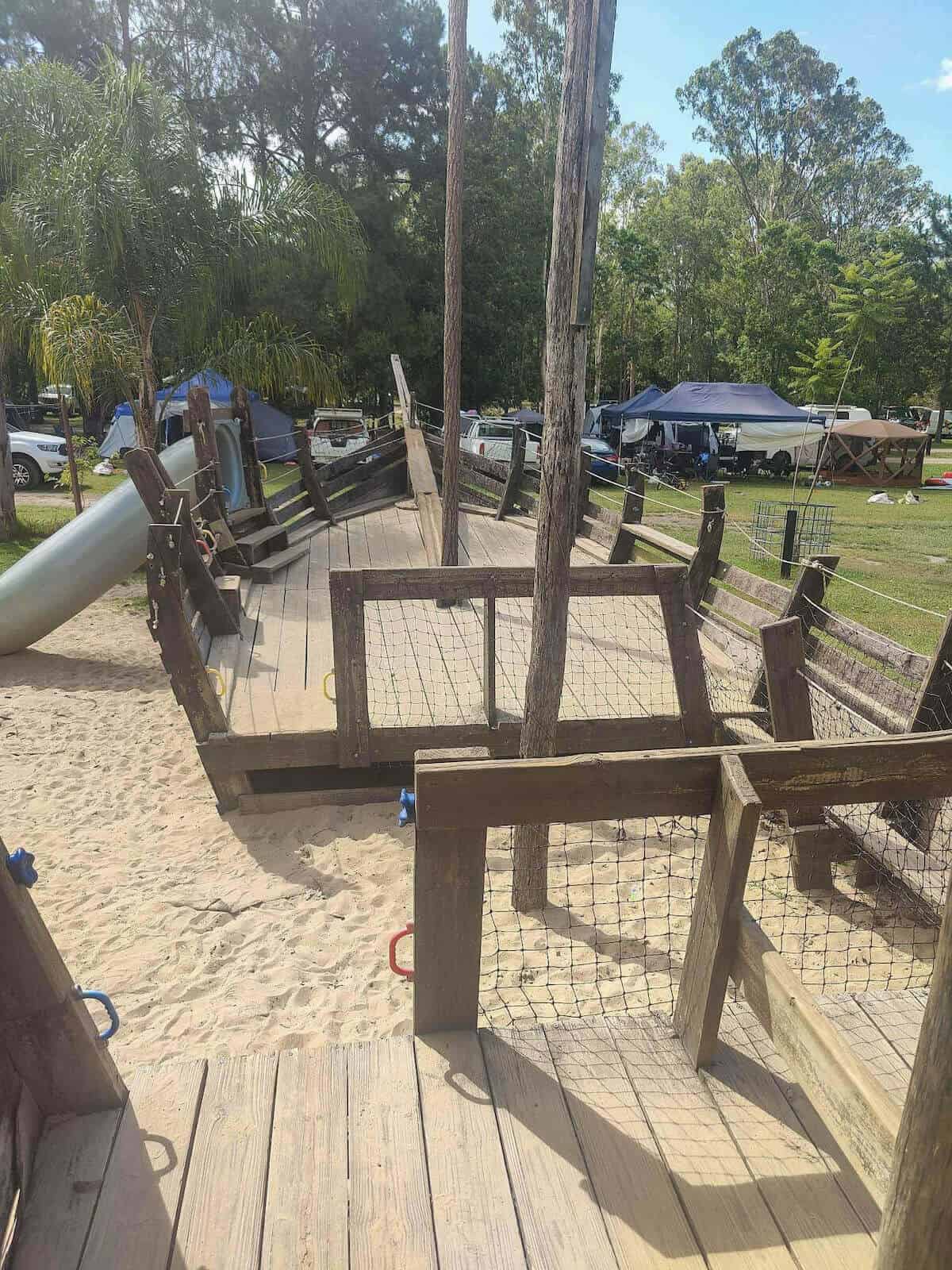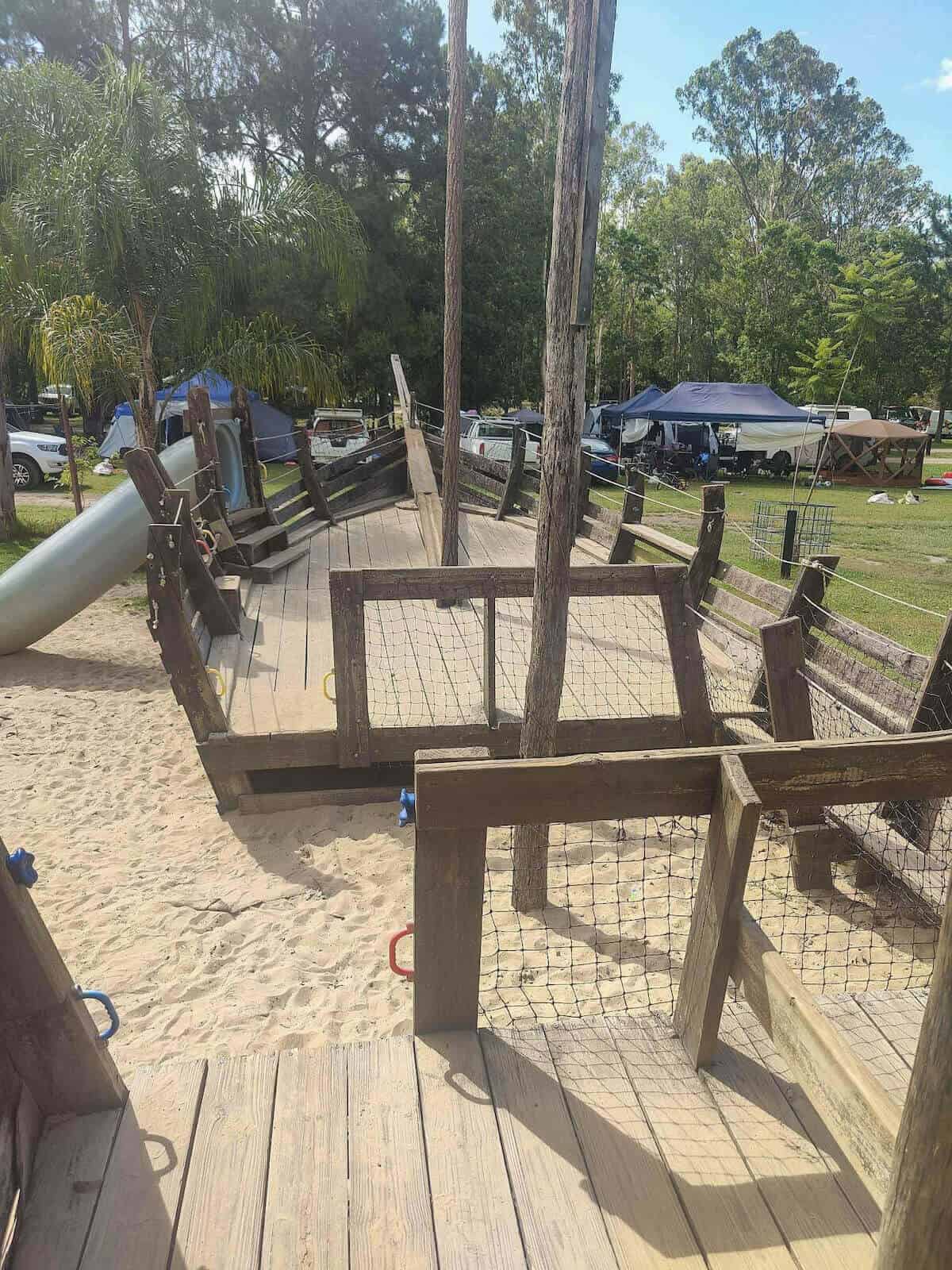 Other activities at Cobb and Co Camping:
Bike tracks
Playgrounds (including a pirate ship)
A swimmable billabong, perfect for SUPS and floaties
Water slide (only open certain times on weekends and school holidays)
Walking tracks
Cobbs Farm Yard
Additionally, if you're interested in a day trip, Mothar Rock Pools is a short 5-10 minute drive from the campsite and well worth a swim!
Other things to do near Gympie:
Explore the Sunshine Coast hinterland
Visit Lake Alford Recreation Park
Gold Mining and Historical Museum
Fossicking for gold at Deep Creek
Ride the Mary Valley Rattler train
7. Numinbah Valley Adventure Trails
Location: 2524 Nerang-Murwillumbah Road, Numinbah Valley, Queensland
Approximate Price: $15 per person per night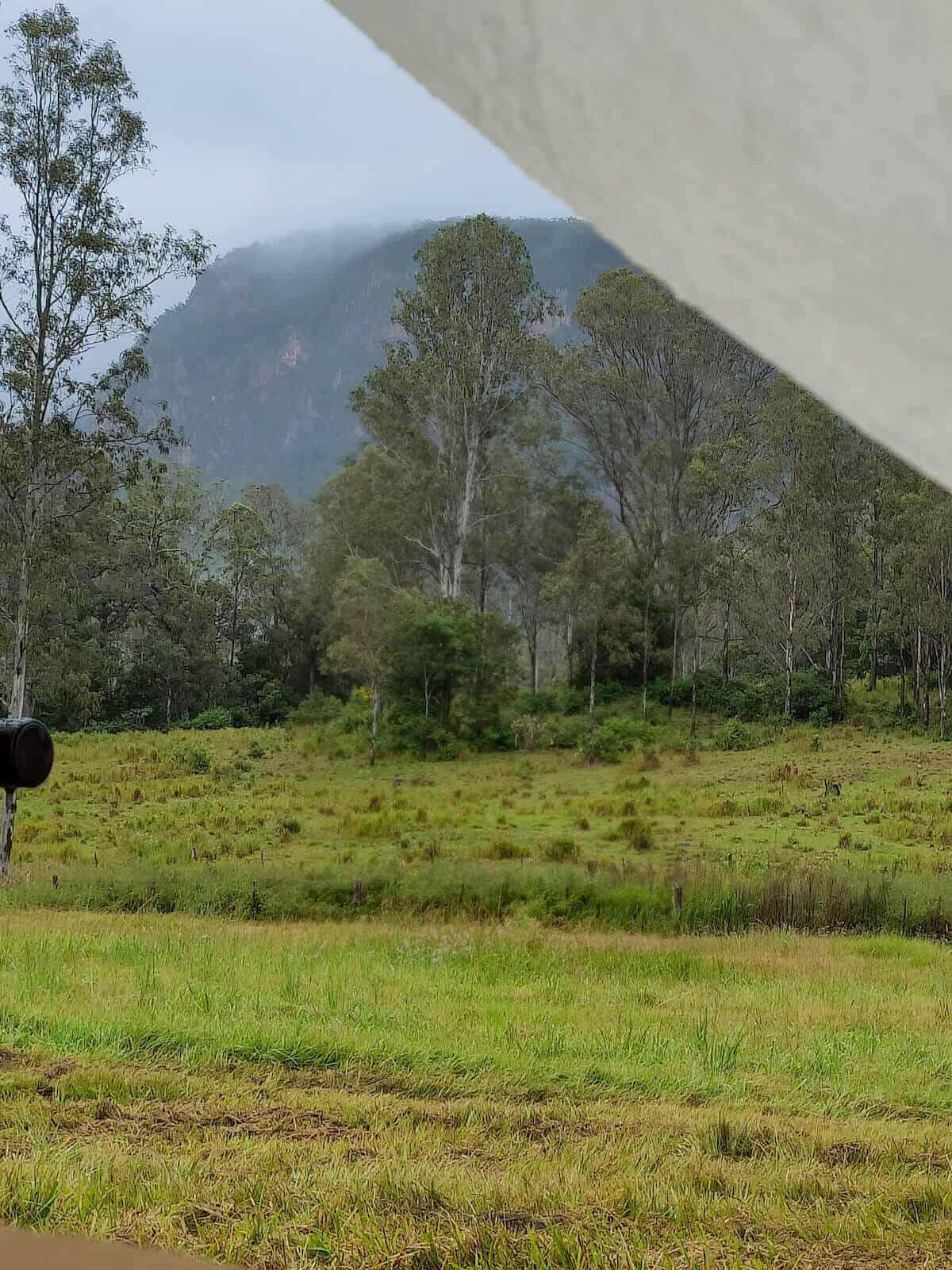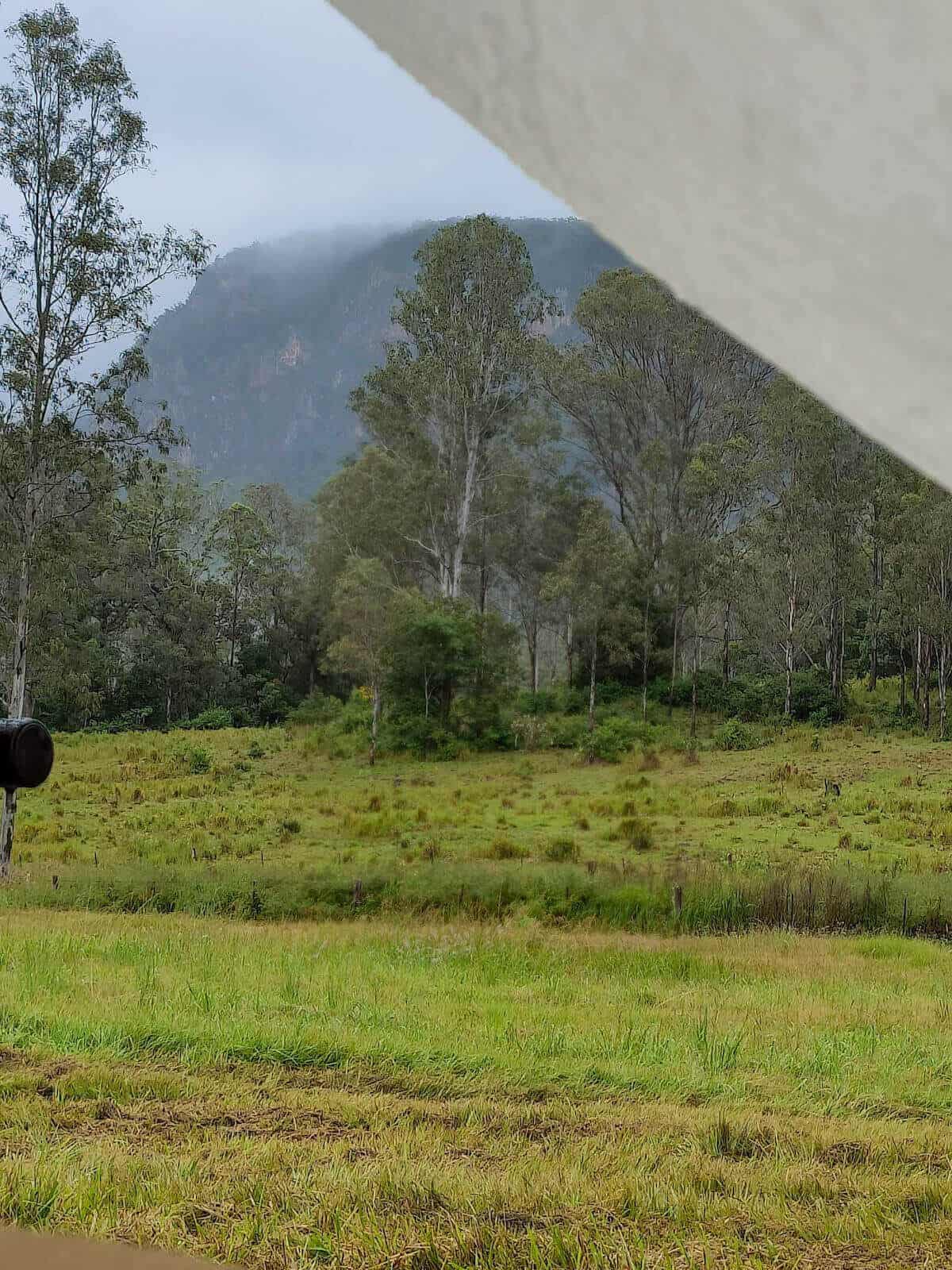 Numinbah Trails is surrounded by a beautiful lush environment, located approximately 20 minutes from the magical Springbrook National Park. Springbrook is one of the most popular Queensland National Parks to explore, being home to some spectacular waterfalls, glow worms and the Natural Bridge.
Along with the stunning views of the mountains, this large and open campsite is also home to creeks running through the outskirts of the property. We've loved each visit here as you can also find Chalcedony in the waters (for any of our fellow rock collectors).
While planning your weekend at this lush campsite, don't forget to plan a day trip to Springbrook Mountain! Springbrook is also home to glow worms and is well worth a visit.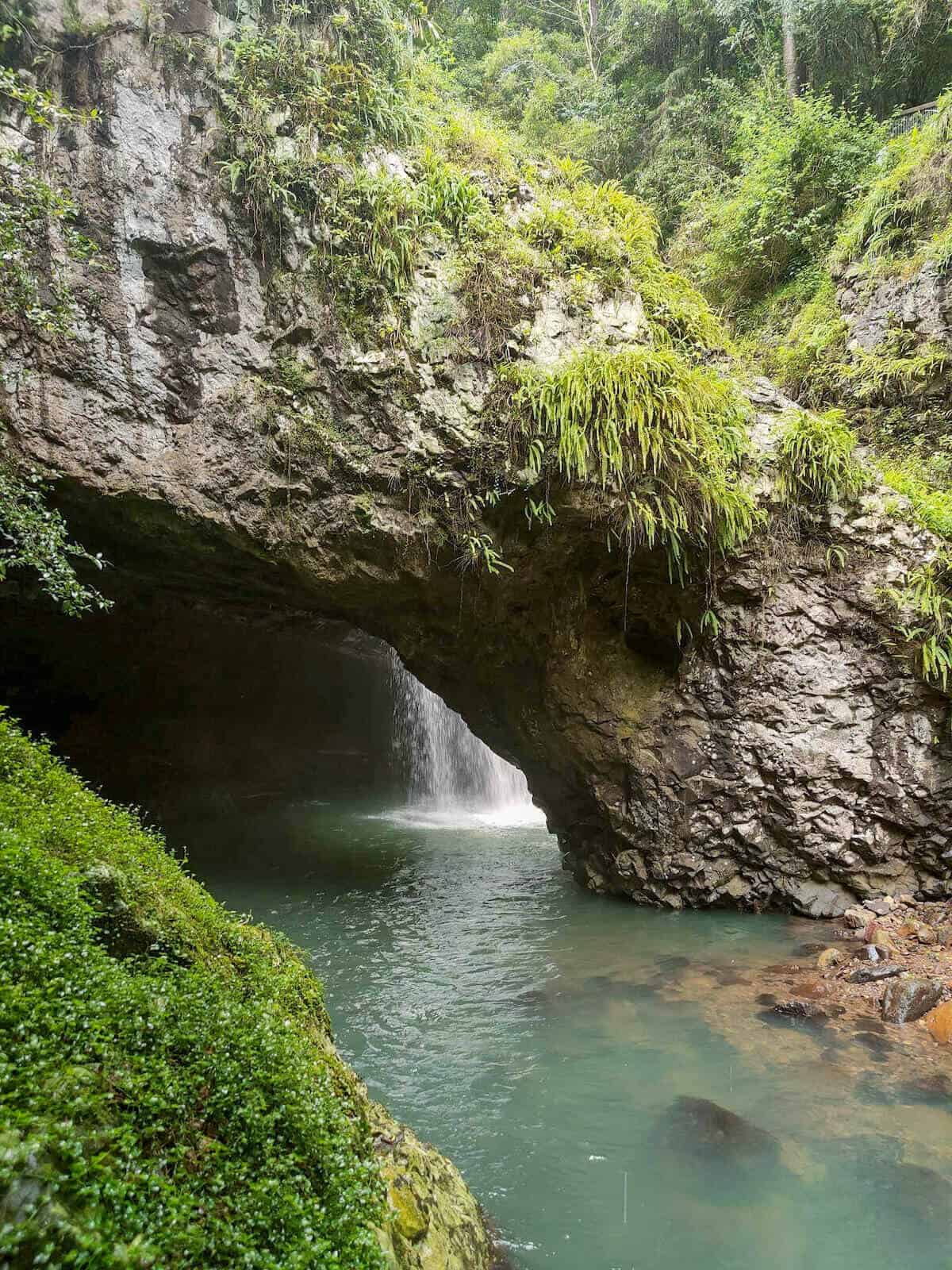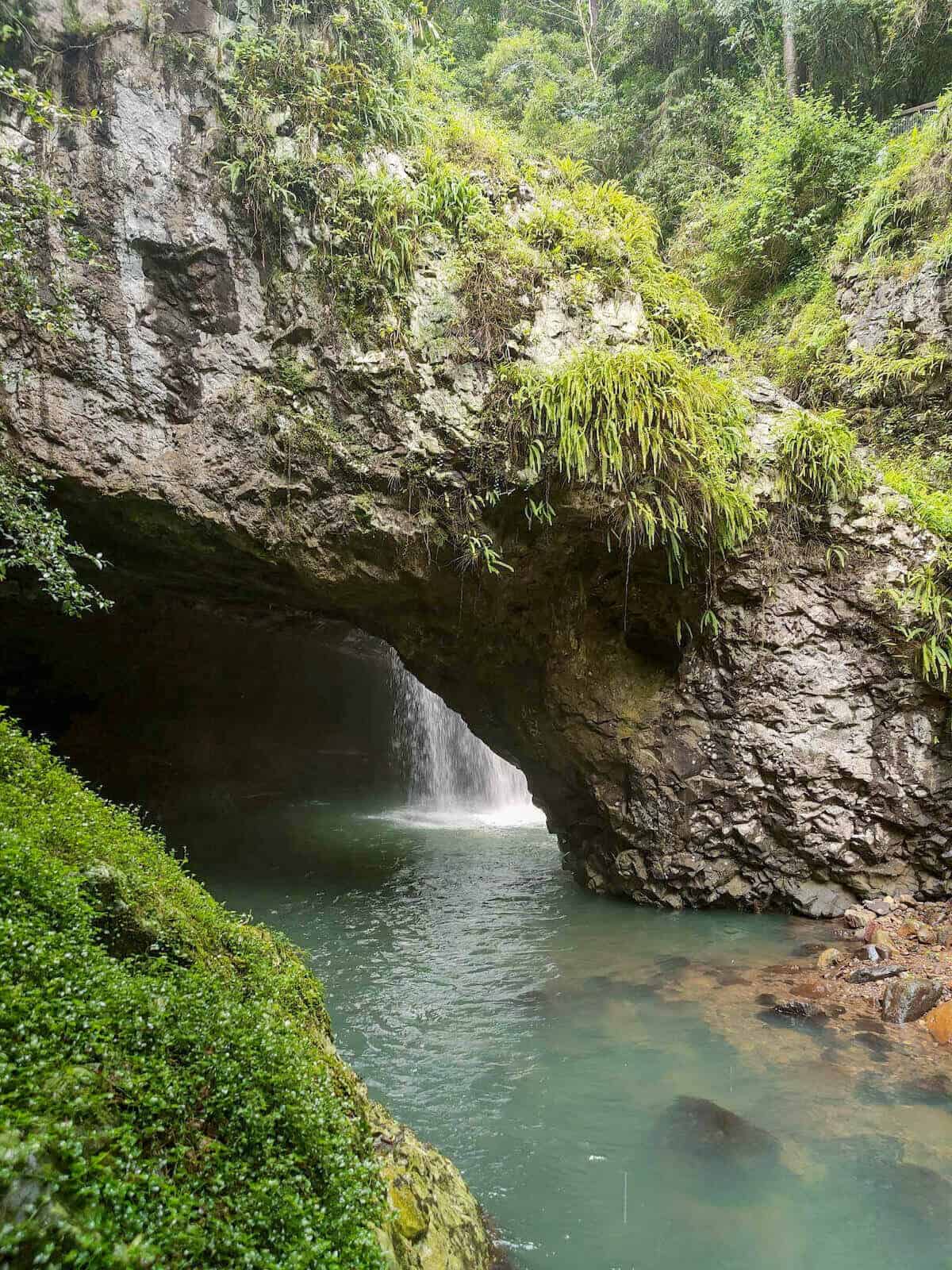 Activities for families at Numinbah Valley:
Bush walking tracks
Swimming
Day trip to Surfers Paradise or the Gold Coast hinterland
8. Flanagan Reserve Bush Camping
Location: 135 Flanagan Reserve Rd, Barney View, Queensland
Approximate Price: $6 per night per child | $12 per night per adult | family pack $40 (2 adults & up to 4 children)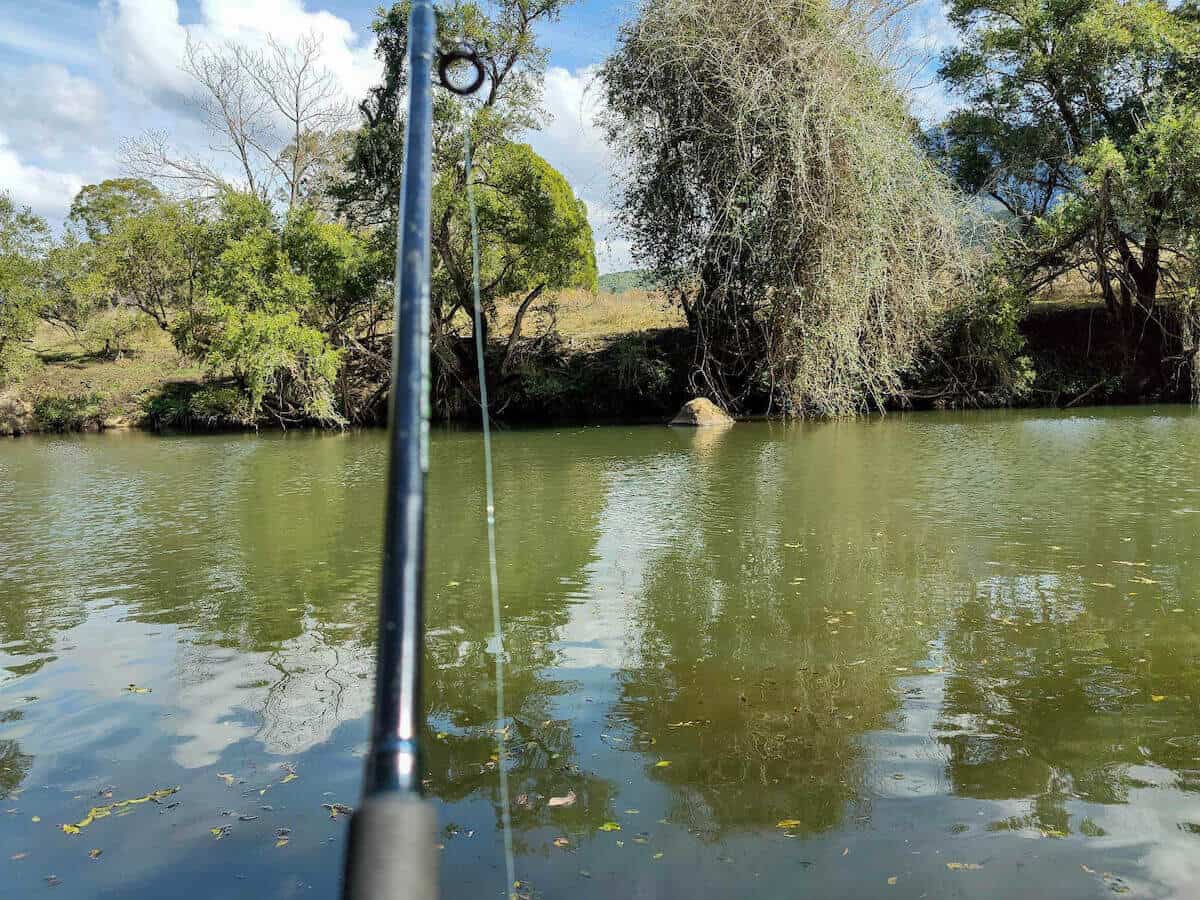 Flanagan Reserve campsite is located 45 km south of Beaudesert and offers 28 acres of open bushlands to call home for your stay.
Flanagan's Reserve is quite an open area with thin trees all throughout the property, dividing the sites.
Along with the feeling of being back in nature, Flanagan's also has Logan River running through the outskirts of the grounds. Don't forget to pack your swimmers and a fishing rod to really enjoy this site!
Facilities including flushing toilets & coin operated showers (20c per minute)
Family activities at Flanagan's campground:
Swimmable River
Fishing
Fire pits
Hiking tracks
Don't forget to leave some time to explore the local area. Maroon Dam is local to the area. We personally loved the Mount Barney hikes through the Mountain and would recommend the Lower Portals Walk.
Absolutely pack enough food and water for this hiking trip. While a 7.4km return doesn't sound too bad, the environment changes so frequently, it can be a tough walk.
9. Yarramalong Camping and Outdoor Recreation Centre
Location: 688 Lake Moogerah Road, Kalbar, Queensland
Approximate Price – $13 per night per adult | $10 per child 12-16 yrs | $8 per child 5-11 yrs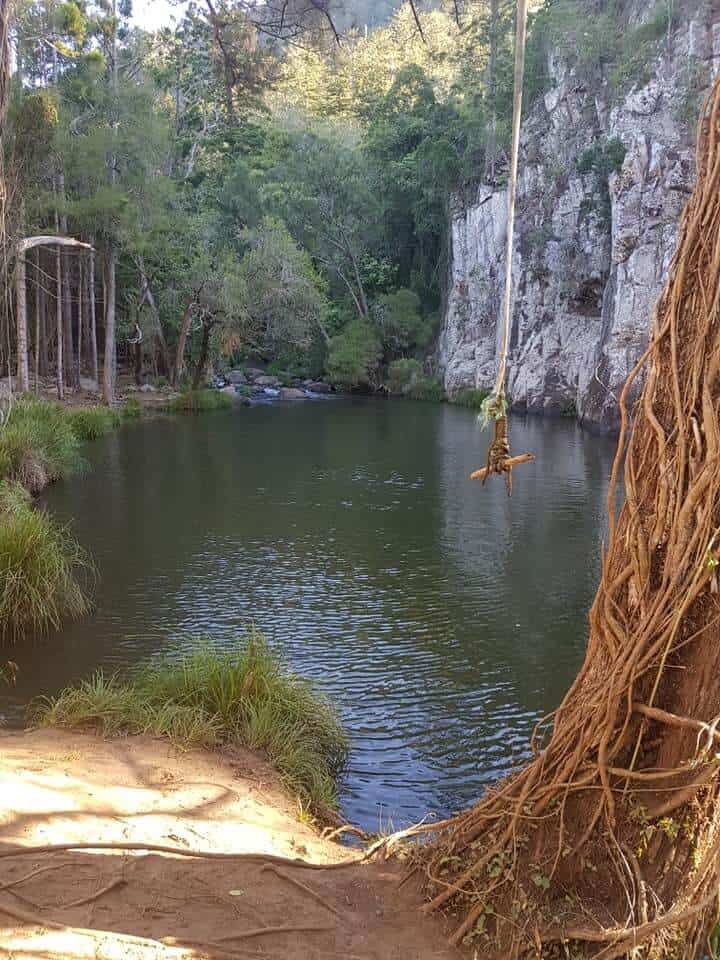 Yarramalong Camping is located, just a short drive from Moogerah Dam. Believe it or not, The Gorge and Yarramalong share the same section of river through the outskirts of their camping grounds.
This site also offers canoe hire to enjoy the creek in style. Alternatively, you can pack your own or bring pool floaties instead.
Firepits are located on site along with the usual facilities (toilets).
When we visited these beautiful bushlands we were pleasantly surprised with a koala spotting in one of the trees, so make sure to look up!
It always makes it extra special when there is native wildlife nearby. And Southeast Queensland has some incredible wildlife! You might even spot some platypus!
Activities for families are Yarramalong:
Swimming
Kayaking (available for hire)
Fishing
Bushwalking
Play table tennis or pool in the recreation centre
Bring your bikes for a bike ride
---
This is currently the shortlist of our personal recommendations for camping with children in the South East Queensland area. All of these sites offer swimming holes or beaches, as even for us it is a must when camping! After all, Queensland is known for its beautiful weather all year round!
More Great Camping In South East Queensland
If you are happy to travel a little further from Brisbane or Ipswich or you are looking for even more camping sites to add to your SE QLD camping spots list, here are a few other popular options.
Some of these we have camped at ourselves, while others are still on the list of camping areas to visit soon!
What To Look For In A Family Camping Ground
If you are looking for a great family camping ground to take your kids camping, whether you are an experienced camper or just starting out, there are a few things we always look for to make sure it's a great spot to take the kids!
Here are some of our recommendations for what to look for:
Basic facilities – Kids can be more reluctant than adults to use shared facilities such as toilets and bathrooms so make sure these are comfortable for them if you aren't self-contained.
Campsites near toilets – Once again, if you aren't self-contained, make sure you are only a short walk to the toilet will help avoid accidents for younger children.
Not too remote – Things can sometimes go wrong, so camping somewhere that isn't too far off the beaten track is ideal if you aren't as experienced at camping or if you have young children with you.
Plenty of activities – Whether the camping ground itself has great activities or if it is simply somewhere you can set up plenty of your own activities, make sure there is plenty for everyone to do such as swimming, walking tracks, a grassy area to play frisbee or cricket, nearby attractions, etc.
When it comes to camping in South East Queensland, we are spoilt for choice with options for all types of camping – beach camping, national park camping, bush camping and wonderful camping grounds with plenty of fun activities the whole family will love!
There are absolutely so many more sites, perfect for your little humans. Do you have any recommendations we missed?