20 Fun Camping Activities For Adults & Couples
Are you looking for fun camping activities for adults? Camping is the ultimate way to add a little adventure in the great outdoors and there are so many great things to do while camping. We share our favourite adult camping activities that always make our trips extra special and fun!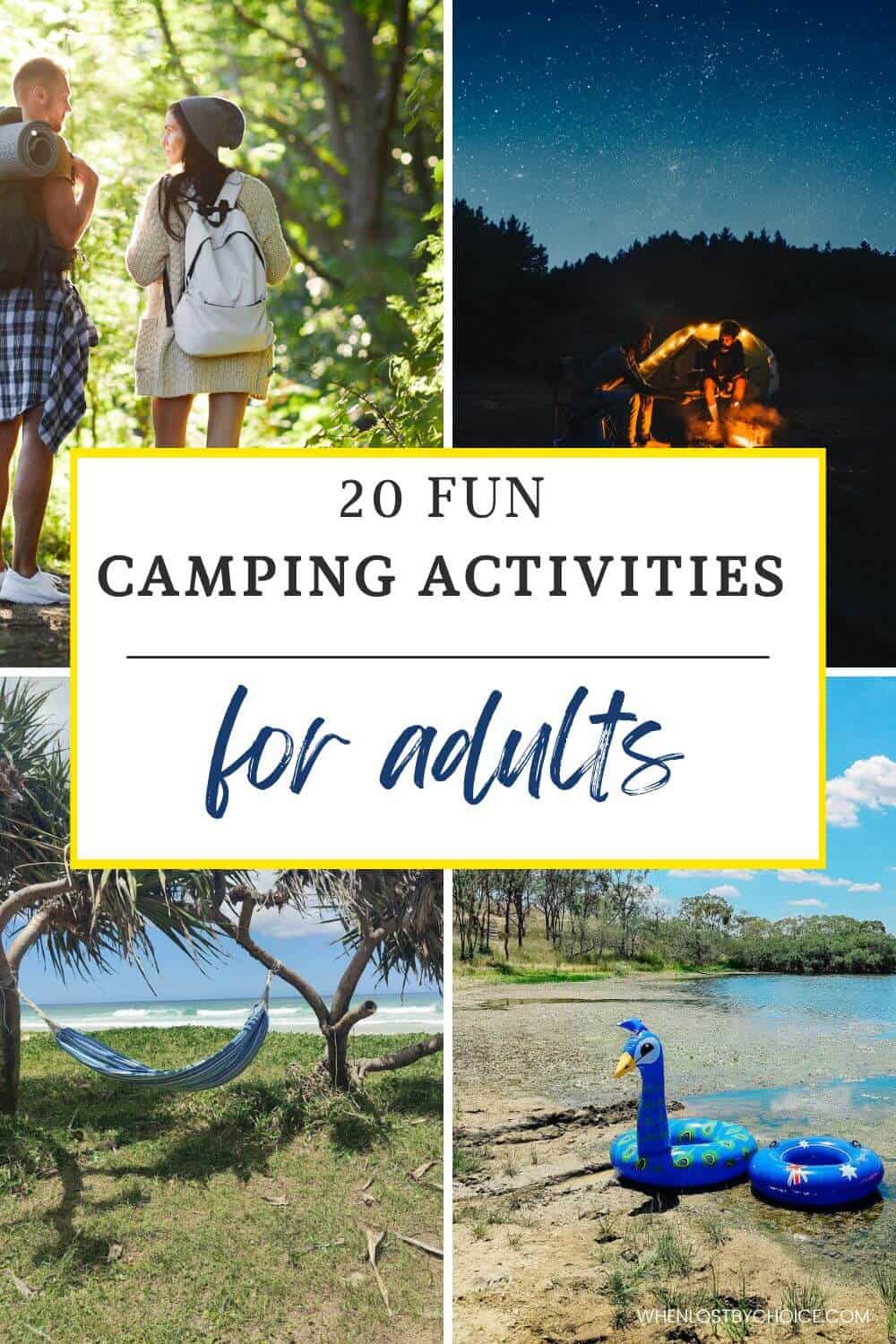 Things To Do While Camping For Adults & Couples
As you might now be aware, it's just the two of us, and our stick insect family! This means we've perfected the art of entertainment while enjoying the great outdoors.
While we do often camp with friends or family, we also do a lot of couple camping trips too and have some of our best times when it's just the two of us!
One of the biggest reasons we love camping is letting go and being present.
As a general rule of thumb, we don't talk house or work – no chores, no to-do list (okay I'm the only one with a to-do list in our house) and absolutely no stressing!
Camping for us is about getting back to basics. This means learning to unleash our inner child and just existing in the moment.
Check out our list below of our personal favourite camping activities:
Our Favourite Adult Camping Activities
These are some of the fun camping activities we love to do and they are perfect if you're looking for things to do while camping as a couple or fun activities for camping with friends. Of course, many of them are fun for kids too!
Camping Tip – Before you head to a new camping area, don't forget to research the surrounding areas. They might have a few camping activities available to you. Plus you will be surprised by how many hidden gems we have in our amazing country that might be just near your campsite!
1. Board Games or Card Games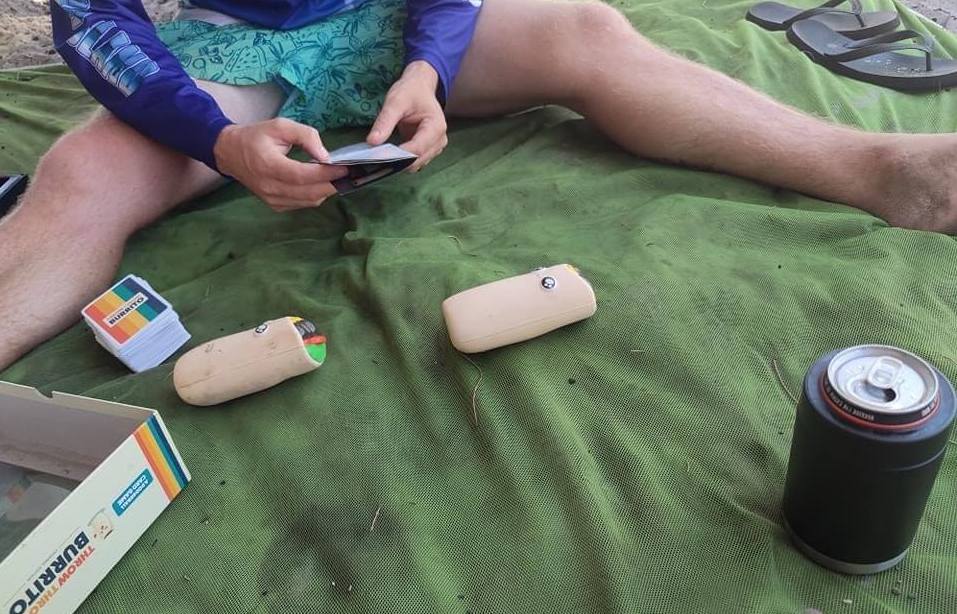 This is completely personal preference, but we always take a deck of playing cards, UNO, Jenga and other games such as "Throw, Throw Burrito." Over time the same game can get repetitive, so we've found changing the rules occasionally spices up our games!
An example of this – we play "street rules" UNO. You can place all skip, reverse and plus cards no matter the colour, or we change the number of cards we start with. This could be 1 card or 20 – make your own rules!
Having a few great games ready to go will also help keep you entertained if you need rainy day camping activities for adults too!
2. Conversational Games such as "Would You Rather" or "Two Truths, One Lie"
Conversation starters and word games can be a bit of fun for driving to or from camp, especially when the driver is tired as it really gets your brain working!
They can also be fun campfire games for adults or for adding a little extra entertainment to a hike.
See our other post a huge list of would you rather questions for couples to get the ball rolling.
This is also a great opportunity for other campfire games like telling campfire stories or mad libs where you put together a crazy story together, or 20 questions trying to guess a celebrity or famous person.
Or just tell some hilarious camping jokes!
3. Stargazing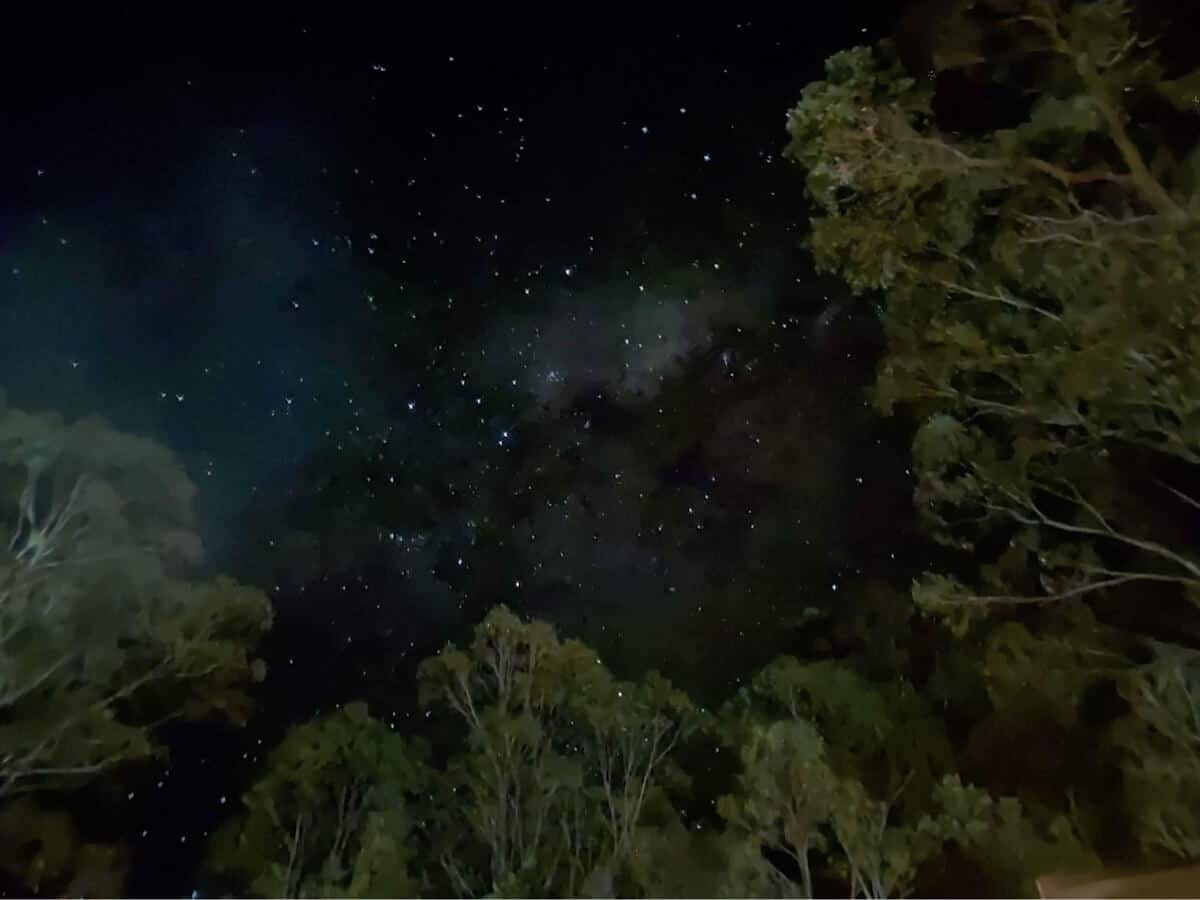 We personally live in a built-up town and the stars are absolutely stunning once you move away from the big smoke.
Grab a picnic rug and count how many shooting stars, constellations or satellites you can see!
If you have a decent camera, practice your photography skills with a night sky photo shoot. Sometimes the most simple things are the most fun things.
4. Go on a hike
Explore the local natural surroundings as you explore nature and enjoy some fitness with your fellow campers.
There's nothing quite like heading on a hike and spotting a new piece of scenery for those good nature vibes. The range of things you see is pretty magical from mushrooms to wildlife, lakes and foliage.
5. Doing Bush Crafts Or Survival Camping
A bush craft can be as simple as carving a piece of wood or weaving vines and other plant litter.
Camp crafts might also be fun if you love the type of craft hobbies you can bring with you, such as knitting under a shady tree or painting a picture.
6. Float in the local water hole
This is one of my favourite camping past times. We always love to camp somewhere with water and spend time swimming or floating in rivers or the ocean, if we are beach camping.
Accompanied by a packed picnic lunch, floating devices (like an inflatable pool ring) and a few drinks and you can have hours' worth of entertainment! Just make sure you don't forget your sunscreen, hat and sunnies!
There is no better way to enjoy nature on a hot day than with a swim!
7. Drinking games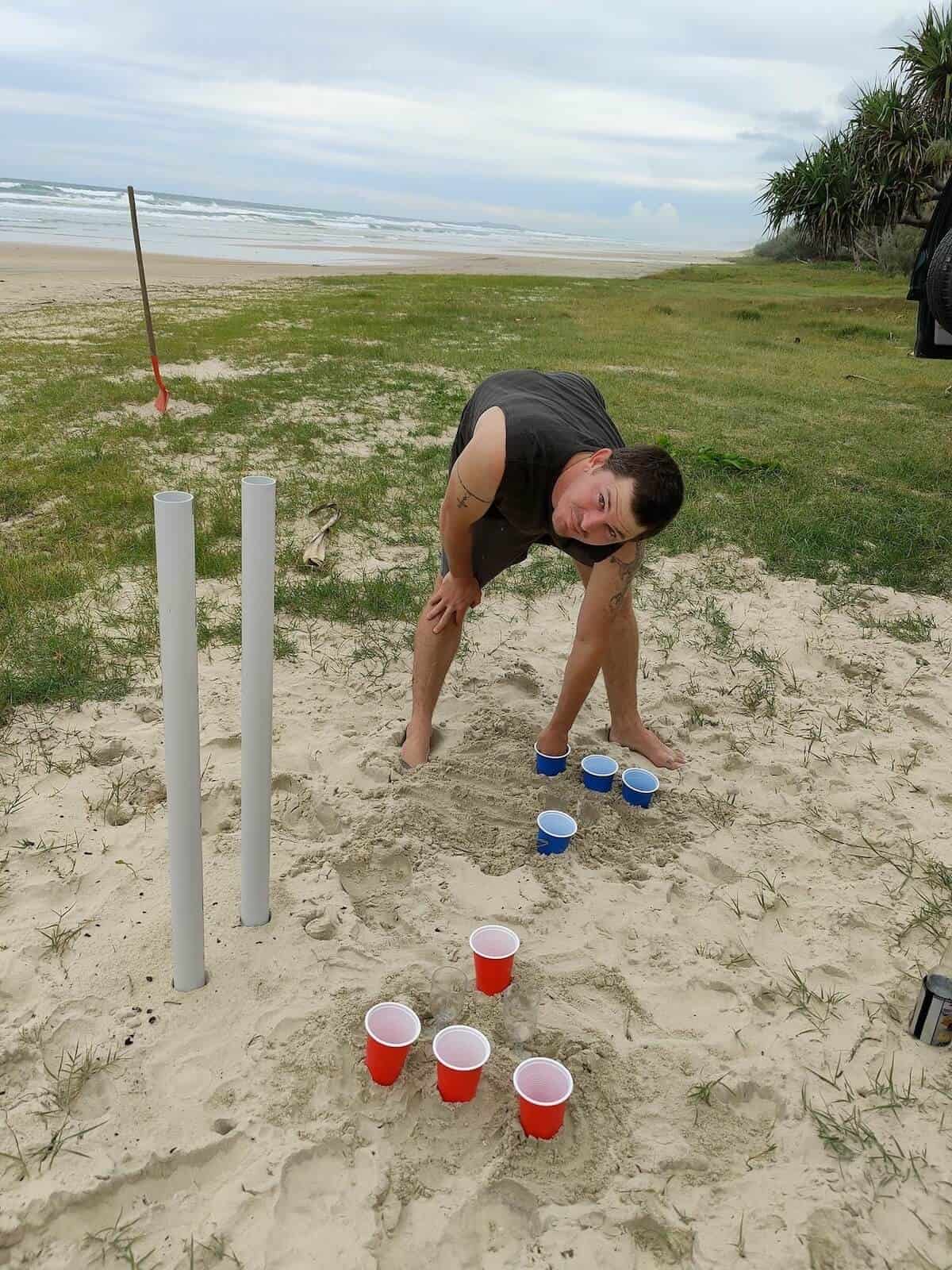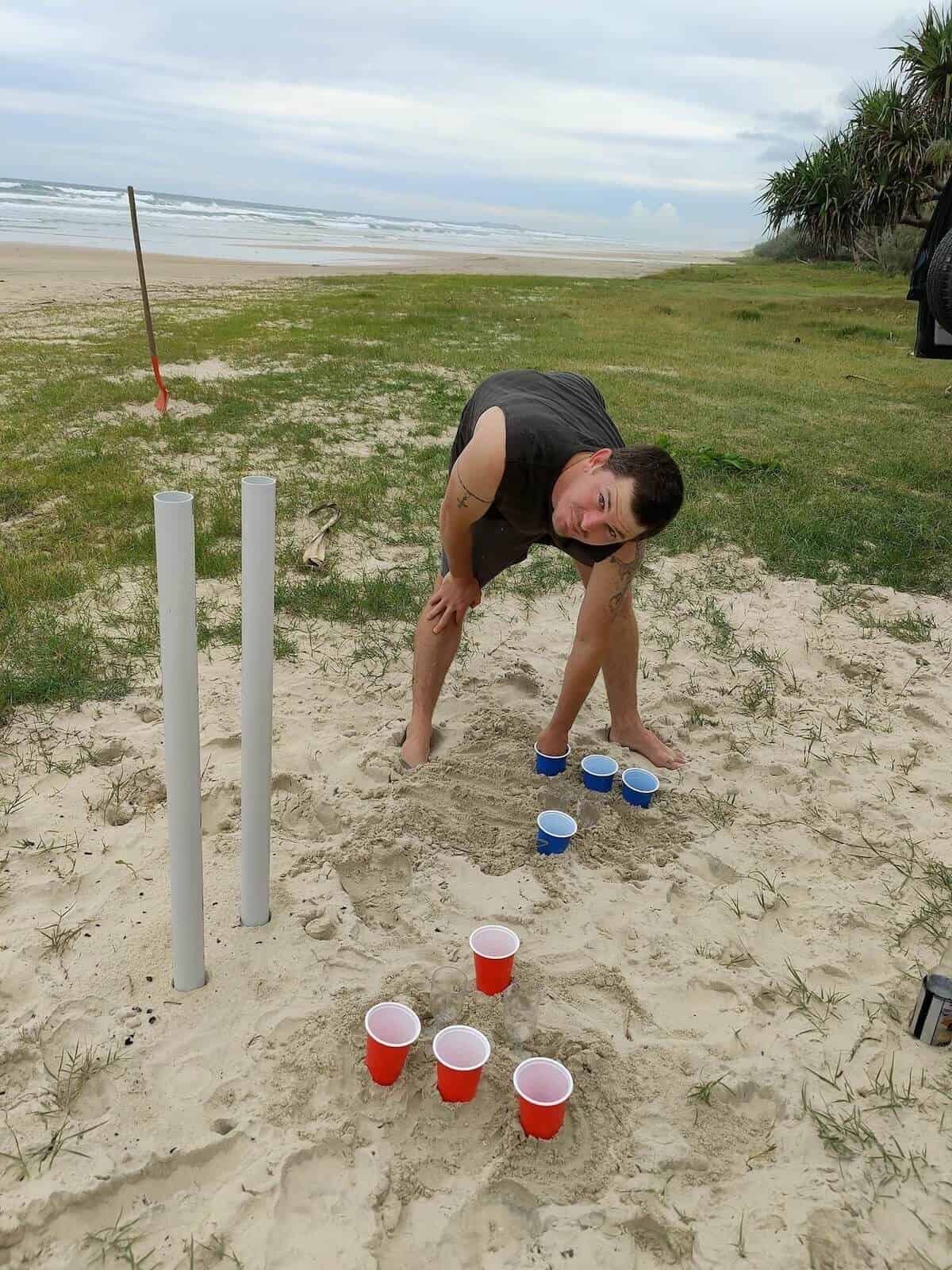 Even at the ripe age of being in our 30's we still enjoy a good game of kings cup! We have managed to change the rules to suit 2 players and it can be a ball of laughs. You also turn other games into a drinking game, such as Cards Against Humanity, if you get a little creative.
Or more physical drinking games such as Beer Pong to take on your next camping trip. Or just sit your cups in the sand like we sometimes do and throw your ping pong ball.
These can be fun games to play if you are camping with friends too!
8. Practice your photography skills
If photography is an activity you're interested in, the bush, beach or rainforest is a prime place to start. The possibilities are endless and with good lighting and steady hands, anyone can take a beautiful picture!
You can just use your mobile phone camera but better still if you have an actual camera to practice with.
9. Water Sports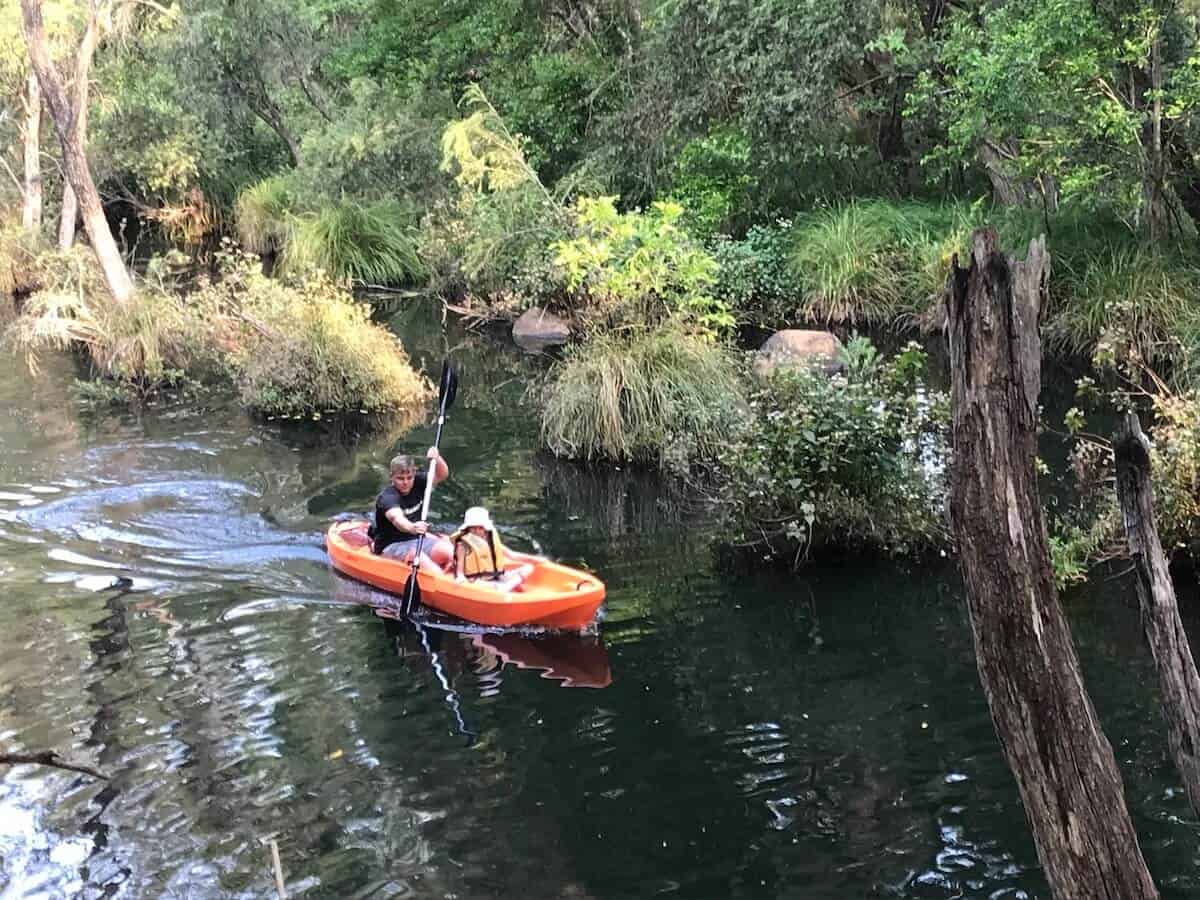 Once again, if you are camping near water, this gives you loads more fun camping activities to do together.
This can be taking the kayak for a trip around the local dam or lake, practising your balance with a stand-up paddle board, throwing a ball for a game of water volleyball or whatever else takes your fancy!
10. Fishing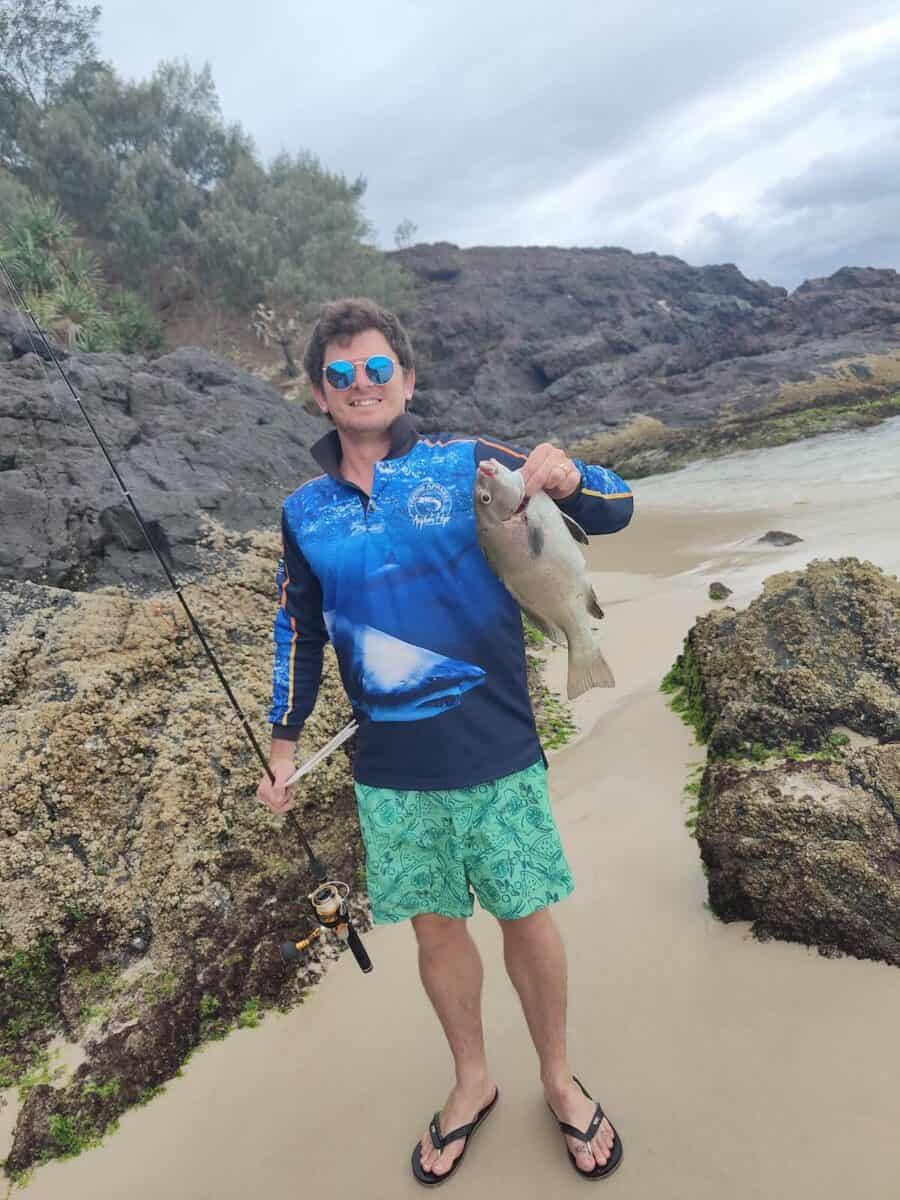 Land, kayak, jetty or boat fishing – any type of fishing can be a fun way to pass some time on your camping trip.
This camping activity depends on what is available in the local area, so don't forget to do your research before you leave home!
If you don't have time to do any research, pack some chicken breast in your cooler and your rods and you might stumble across a good fishing spot nearby.
11. Fossicking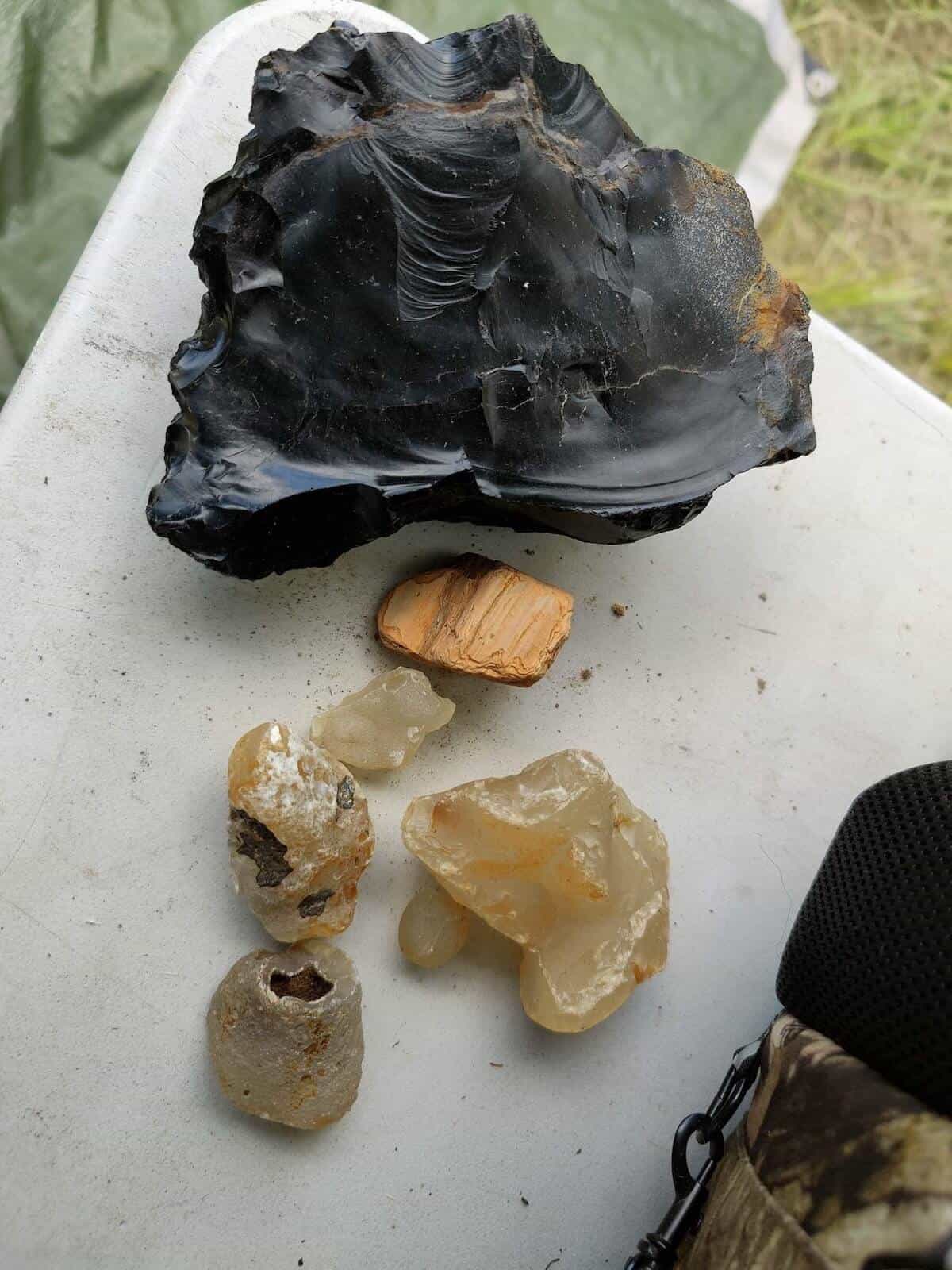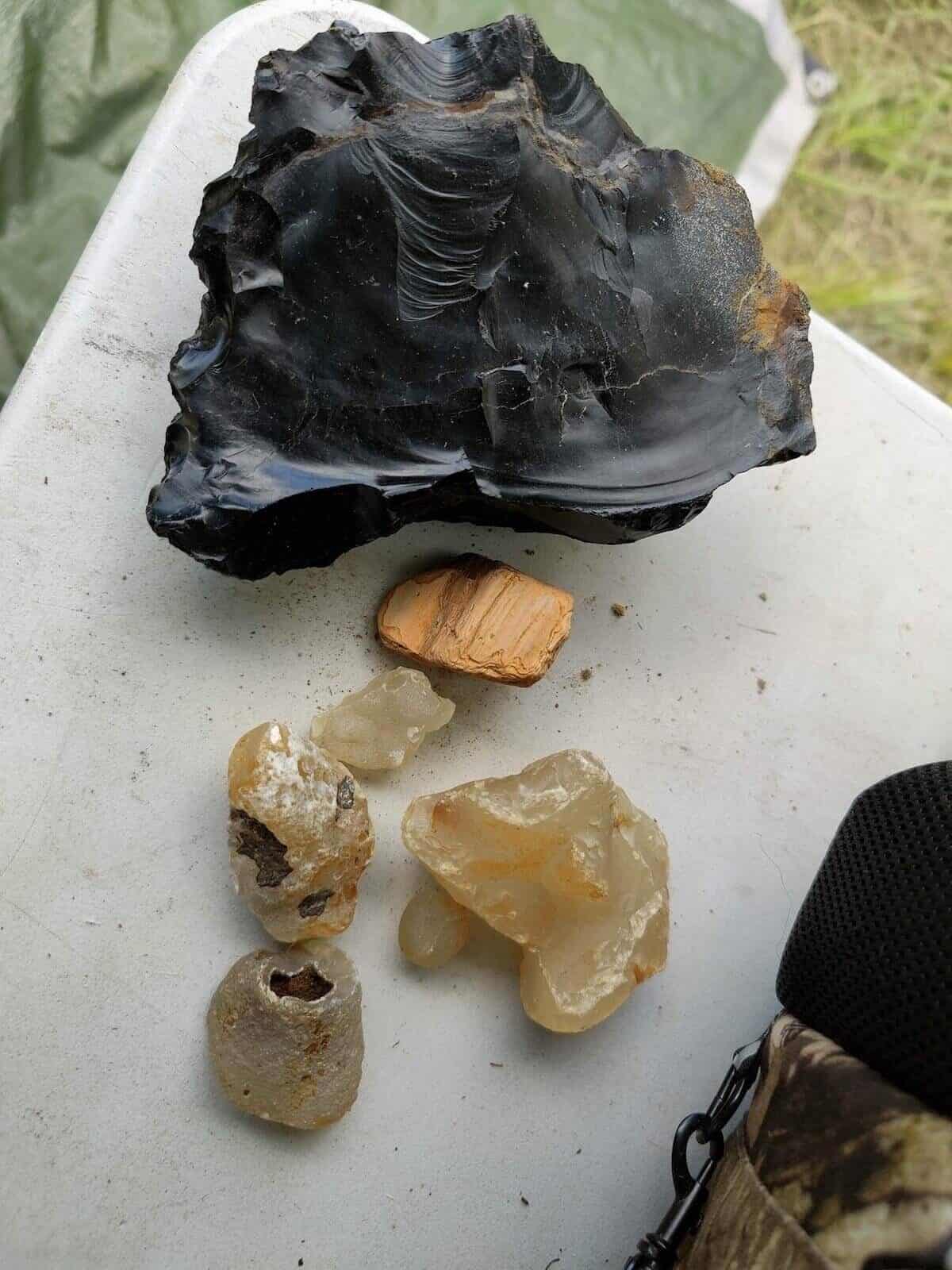 This one is dependent on the area. We love fossicking and have found a few spots over the years specifically for this activity.
My personal favourite type of gem hunting is 'sniping'. This is when you swim using a snorkel and mask searching for hidden gems in streams.
If you are camping on private property, make sure you get the land owner's permission before fossicking. No one wants to be responsible for getting a site that allows it to close the gates to the rock hounds!
Even if you aren't experienced in fossicking, even searching for pretty stones along hikes can be a fun way to add a bit of a treasure hunt to your hiking experiences.
Don't forgot to purchase your fossicking license online!
12. Ball Games
As a rule, pack your personal preference of balls and frisbees for when you just feel like being active. Who doesn't love the good feeling you get from physical activity?
Get your camping buddies up for a game of football or do a little dark frisbee with a glow in the night dark frisbee for a fun twist!
A portable volleyball net and ball can be fun if you've got a lot of space too. You might even get other campers wanting to join your sport camping games. New friends!
13. Fly a kite
Some days are just made for flying a kite! I don't know about you but when we've attempted at home we usually run into obstacles like power lines… in the bush, you have nothing but sky and trees to run up against… Fly that kite!
14. Hang in a hammock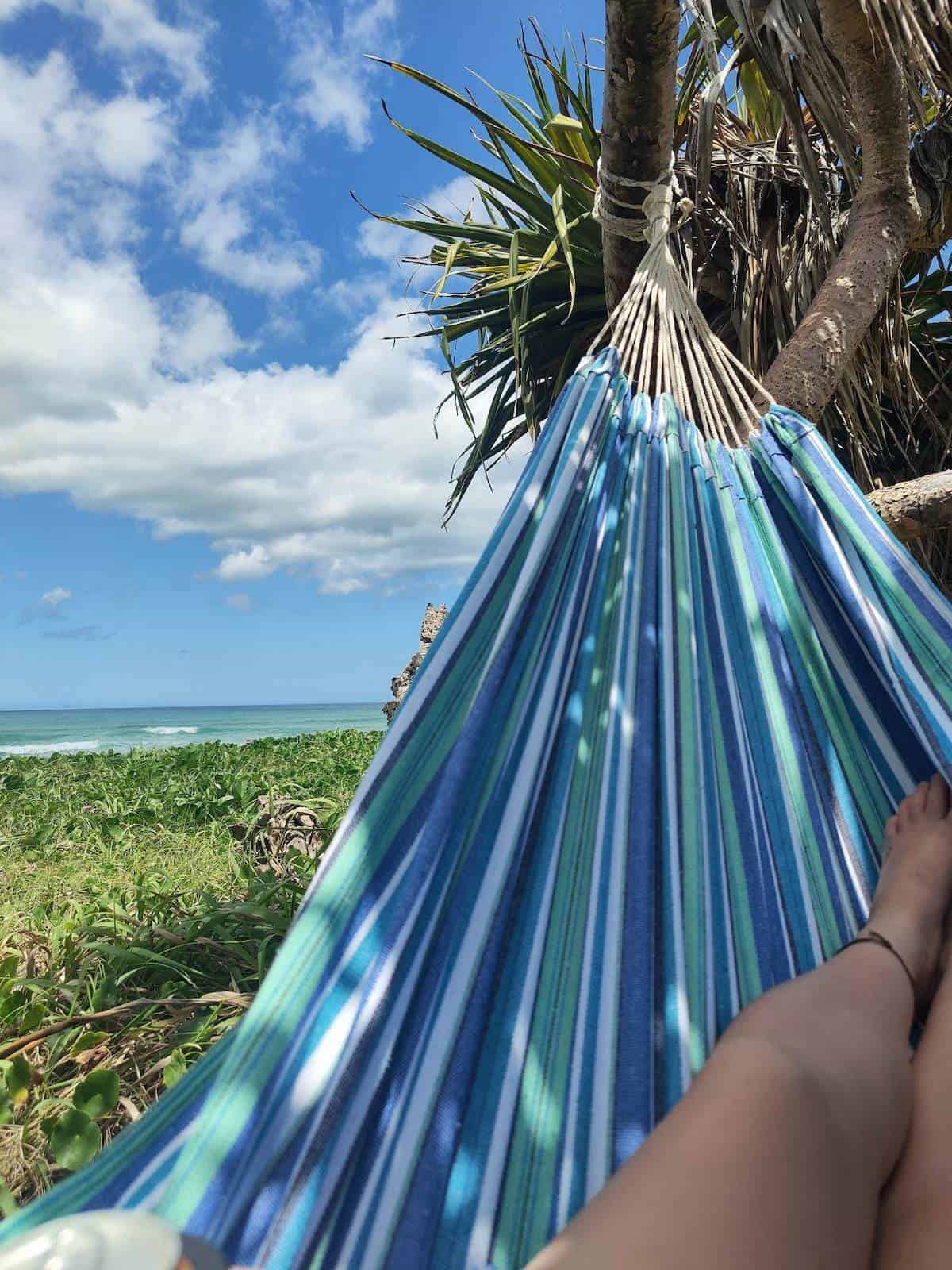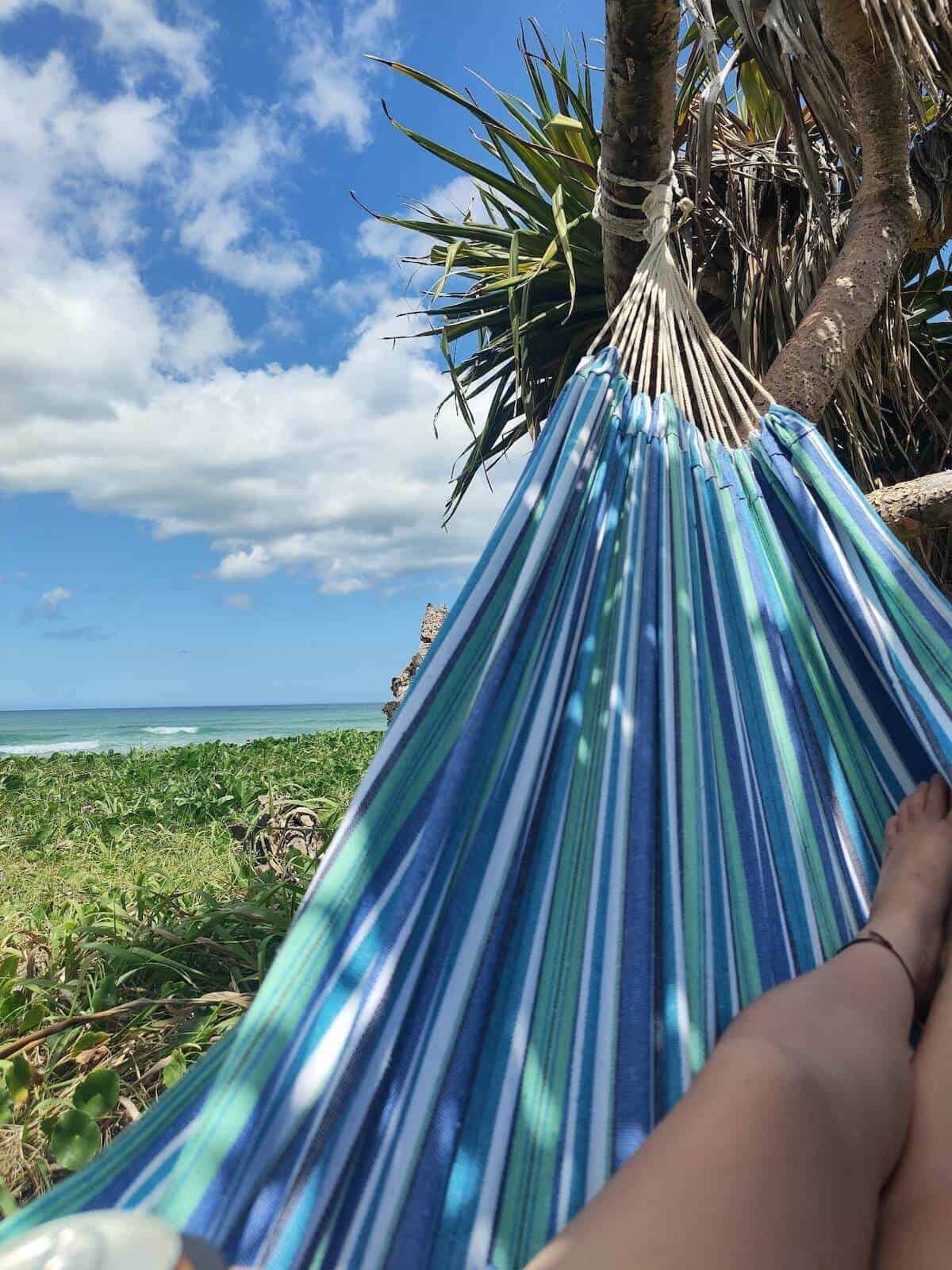 Another personal favourite of mine is relaxing in the hammock. There is nothing quite like finding that perfect tree to hang in.
We have a double hammock so we can both fit or be super spacious with 1 person.
A cool drink and a book to read can go a long way in a hammock. Safe to say I got through 2 books in a week when camping at Fraser Island, once our car decided to stop working. So grateful I packed the books.
15. Read a book
You don't need a hammock to read a book.
This activity deserves its own mention because it really is one of the most relaxing ways to spend some time when you don't necessarily want to play games or be active.
I don't know about you but I do not spend enough time reading when I'm at home. I make a conscious effort to take a book or two camping. It's the only time I give myself enough downtime to enjoy getting lost in a story.
Reading with the sounds of the birds and insects in the tree for background noise is pretty magical.
16. Campfire cooking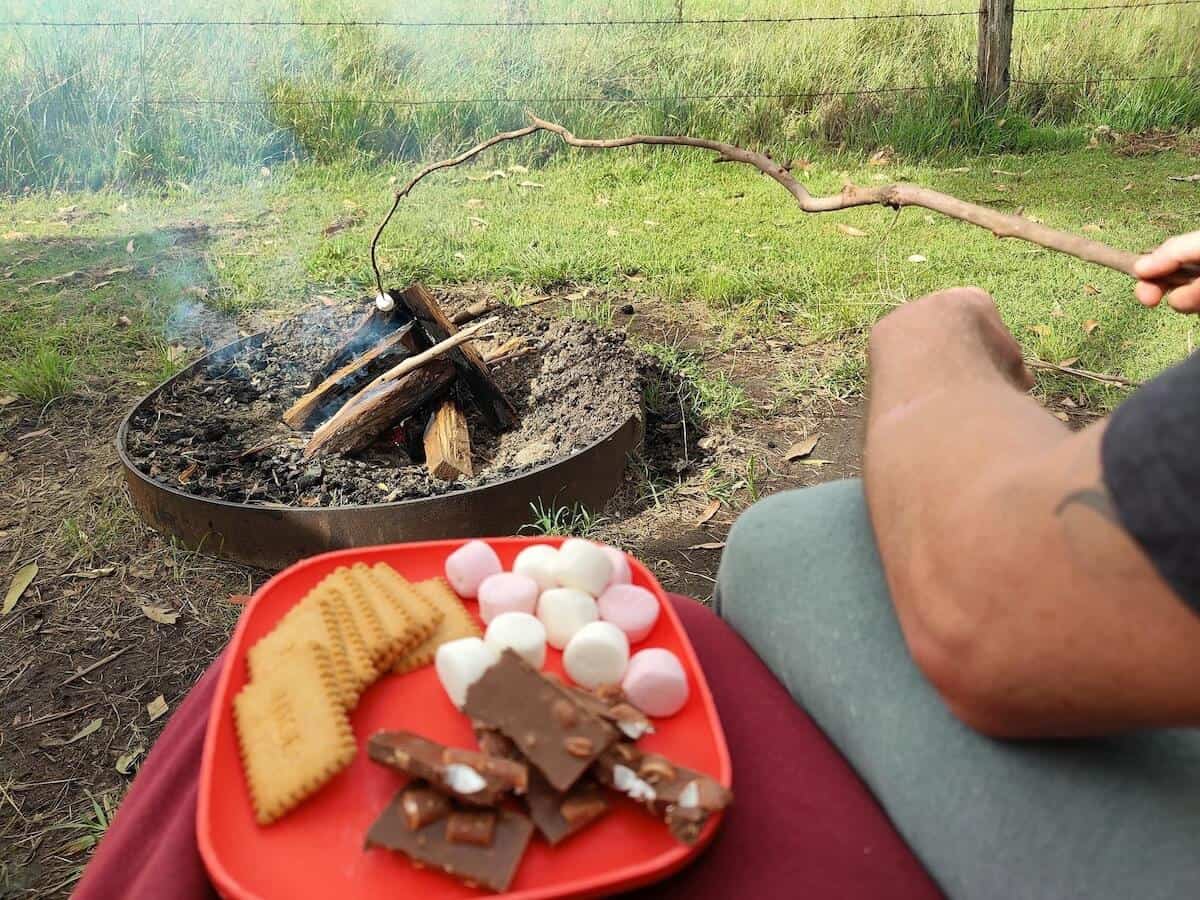 Tell you what, the best ribs we ever had were Aldi specials wrapped in aluminium foil – absolutely delish!
Pre-warning though, as you can't monitor the temperature, you need to keep a close eye on the food. We have attempted cooking damper which resulted in a black ball of coal.
Trying new camping recipes can be a lot of fun. Especially these camping desserts. But even these one-pot camping meals can be a lot of fun to make together with your partner or friends.
17. Yoga or Meditation
The great outdoors is the ultimate place to enjoy relaxation and mindfulness activities such as yoga or meditation.
This is something I want to add to my daily routine once we're permanently on the road. I find both practices are so beneficial mentally and physically and I don't personally take the time to give myself these moments.
It's safe to say practising meditation or yoga amongst the birds and fresh air is much better than my house in the 'burbs ever was.
18. Wildlife spotting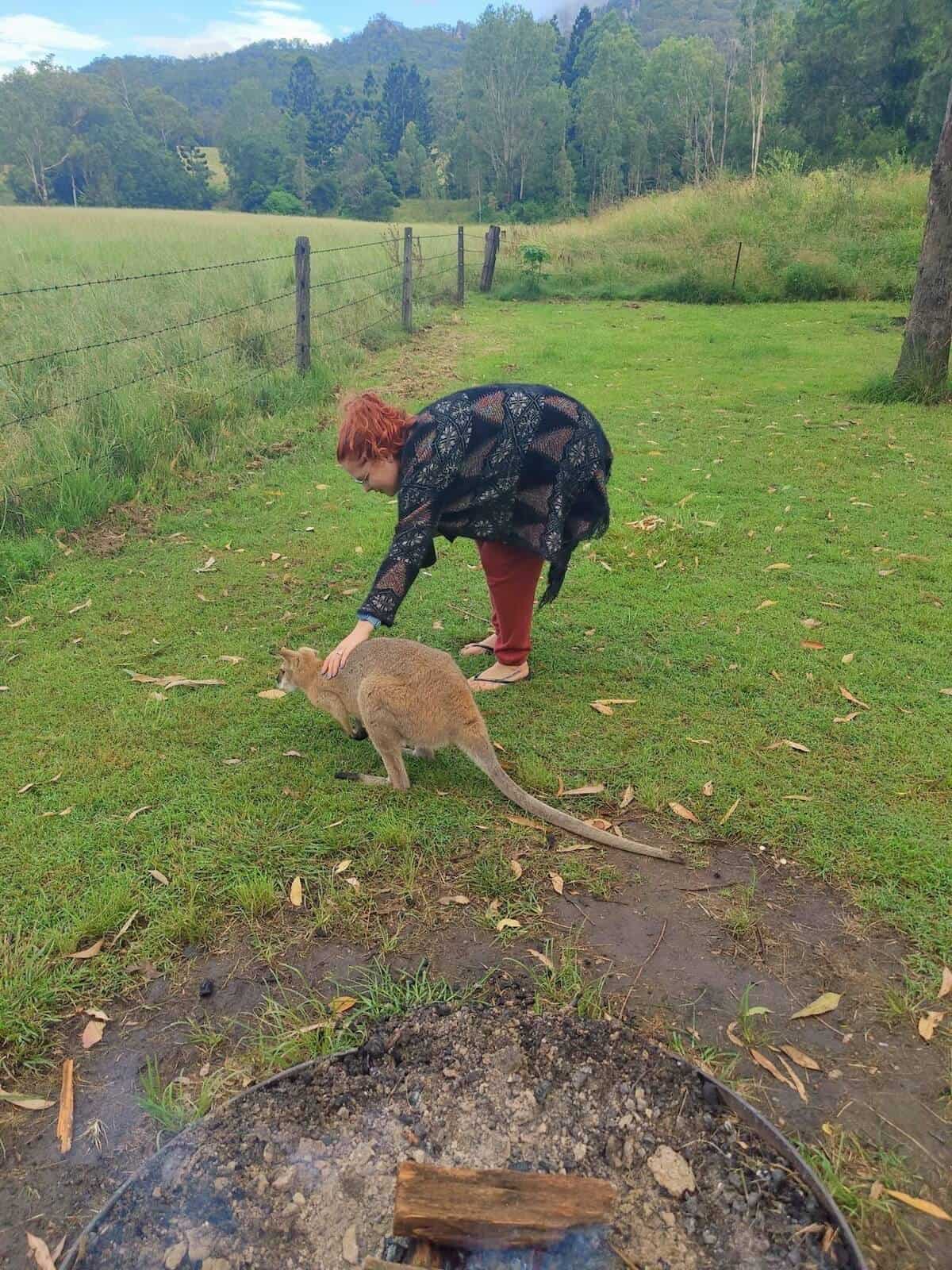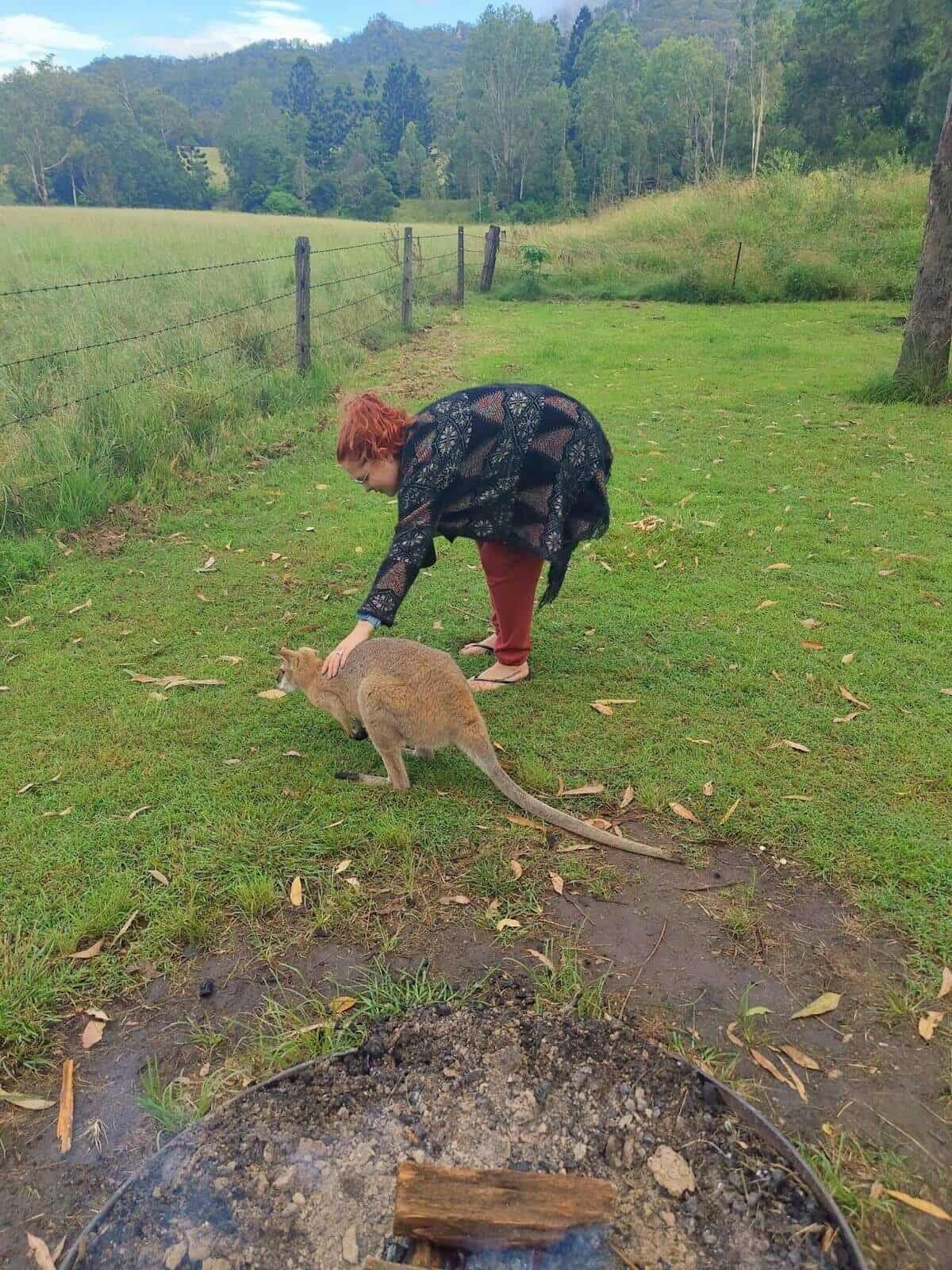 You can do this with or without an agenda. If you like birds, go bird watching. If you want to see what's living in the creek, follow the creek until you spot a living creature. Find a big tree and follow the branches.
But remember to be quiet when trying to spot wildlife – animals are pretty clever and know when to hide.
You could add an extra element of fun by turning it into a scavenger hunt style wildlife mission where you each have a list of animals (and other items in nature) that you try and see. A little like wildlife bingo, crossing off each on the list that you spot.
19. Colouring or Paint By Number
To most people, this is probably a younger kids' activity, but there are a wide range of adult colouring books and art kits these days that are perfect for mindfulness.
Getting creative is super therapeutic and something I rate highly.
Nick found a swear word colouring book for me a few years ago for Christmas and I love it – while working my day job at home I had a lovely colourful wall of swear words for all those colourfully worded customers I received on the other end of the phone.
The adult paint-by-number kits these days are really elaborate too and definitely make wonderful activities for adults while camping.
20. Survival Camping Challenges
Why not challenge your fellow campers with some survival challenges? You can focus on those survival skills by competing at who is the best or fastest at things such as shelter building or starting the campfire.
This can be great fun for all ages – even as a way to teach older kids some basic survival skills.
Just make sure you tear it apart before you go so it does not cause safety issues for the native wildlife or the next person camping in the area.
Rainy Day Camping Activities For Adults
Sometimes things don't go to plan and your perfect camping trip turns into a wet weather weekend of hiding in the tent. While we try not to ever let the rain ruin our fun, having a few entertaining camping activities you can do under shelter are a good idea!
Here are some fun rainy-day camping activities to try:
Card games
Reading a book
Board games
Word games
Colouring and art kits
Storytelling games each adding a sentence
A to Z game where you think of a theme and take in turns saying something with each letter for that theme
iSpy from the doorway of your tent
Dancing shadows using your hands on the tent walls to make shapes
Telling scary stories and ghost stories
Two truths and a lie
Never Have I Ever
Plan your next trip together
Create a bucket list
Name that song game with each taking a turn to say song lyrics
Realistically the possibilities for exciting camping activities for adults are endless.
Is there something you want to try but haven't? Do you want to learn to cook bread? Buy a camp oven and try making bread on a campfire.
If you want to go hiking but are nervous about getting lost, start on a small, guided track and ask a friend to come with you.
Do some research and bring the tools you need for a new or existing hobby with you camping where you don't have 300 chores and phone calls to make.
Life is all about learning and making the little moments count. We all seem to get stuck in our routines of the same stuff, different day. Make it different with your time camping and eventually if you practice something enough, it can become your normal.
That's a wrap for our adult camping activities and camping games for adults. We have no doubt missed a few of the things we love to do while camping so if there's anything you think we've missed, tell us in the comments! Do you have a favourite camping activity?
Plan Your Camping Trip