Kinkuna National Park Camping: Ultimate Guide To A Hidden Gem  
This is the ultimate guide to Kinkuna National Park Camping. If you looking for a gorgeous beach with camping right on the sand dunes or if are you already in the process of planning camping at Kinkuna National Park, look no further.
We provide you with everything you need to know when planning your adventure Kikuna camping adventure.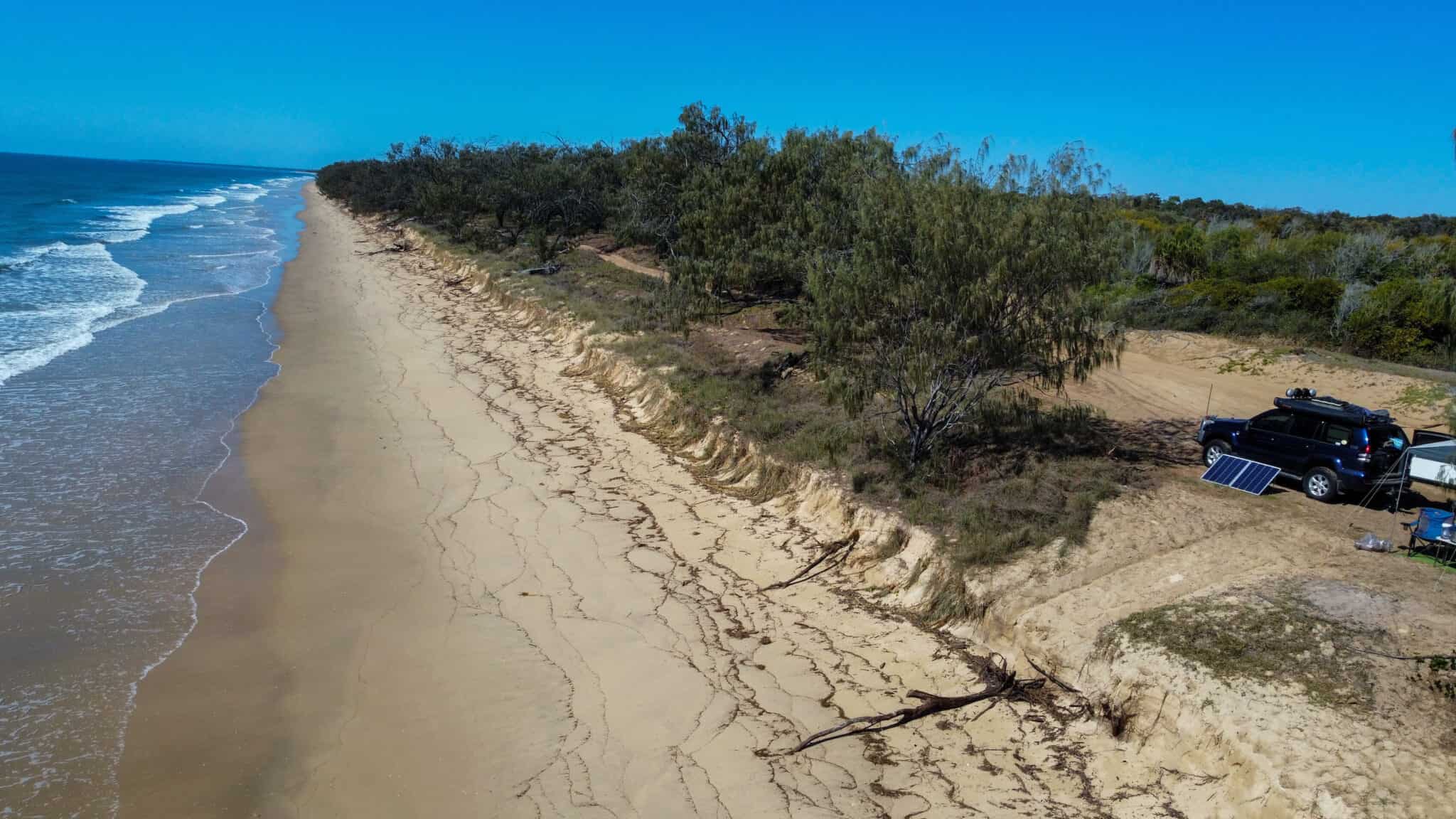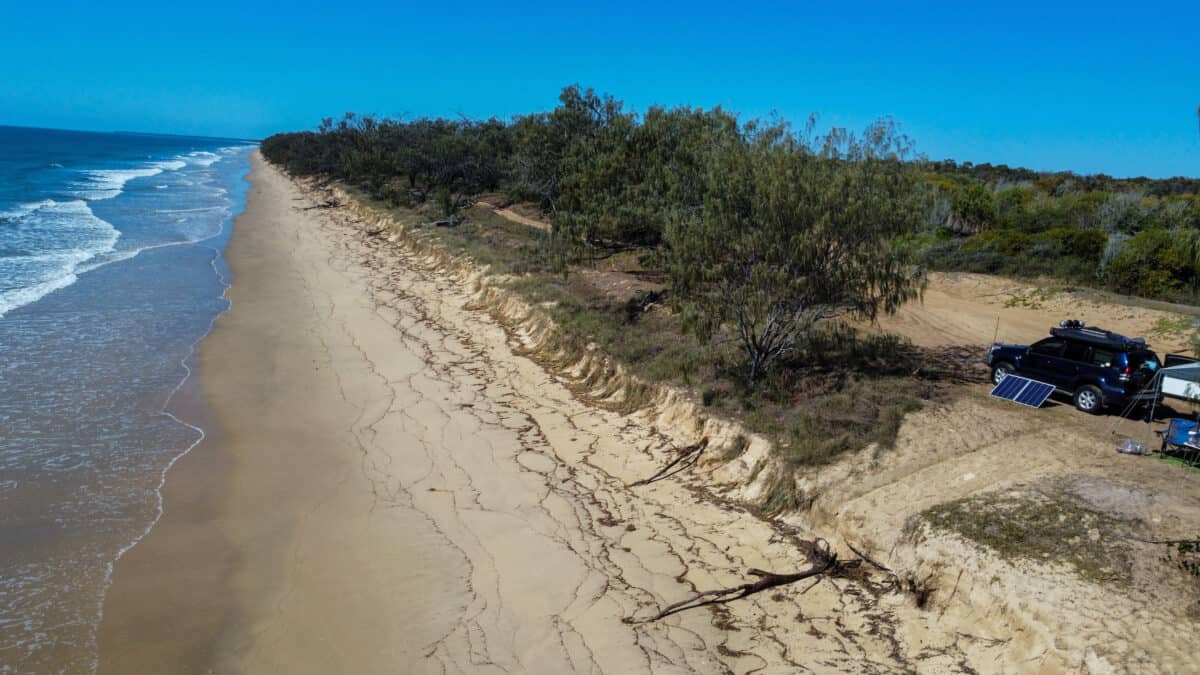 Where is Kinkuna National Park
Kinkuna National Park is a hidden gem on the Queensland coastline. Located between Woodgate and Bundaberg, the camping site is only accessible via high-clearance 4WD vehicles.
The Kinkuna National Park is known for its stunning beaches, coastal dunes and abundant wildlife.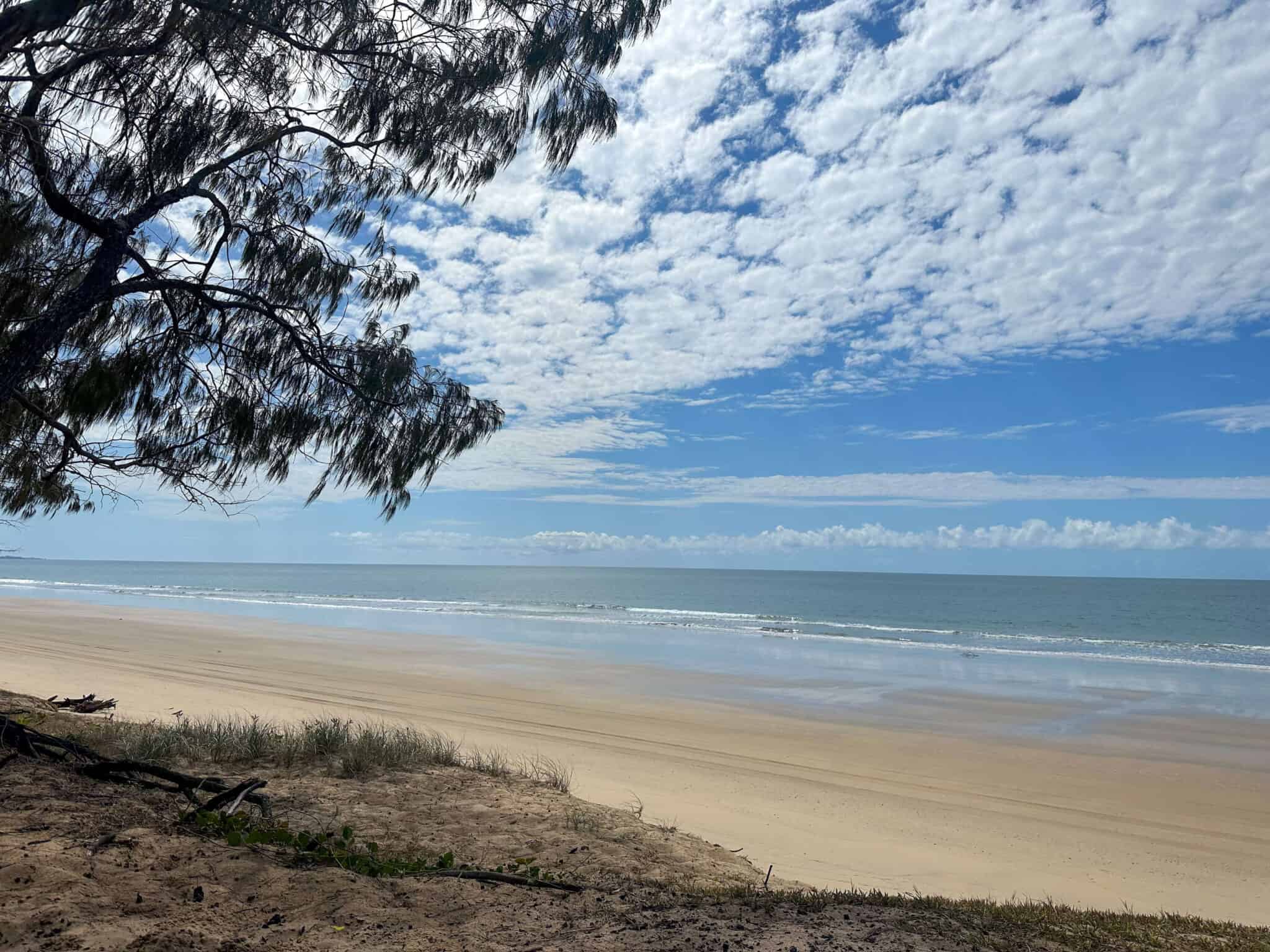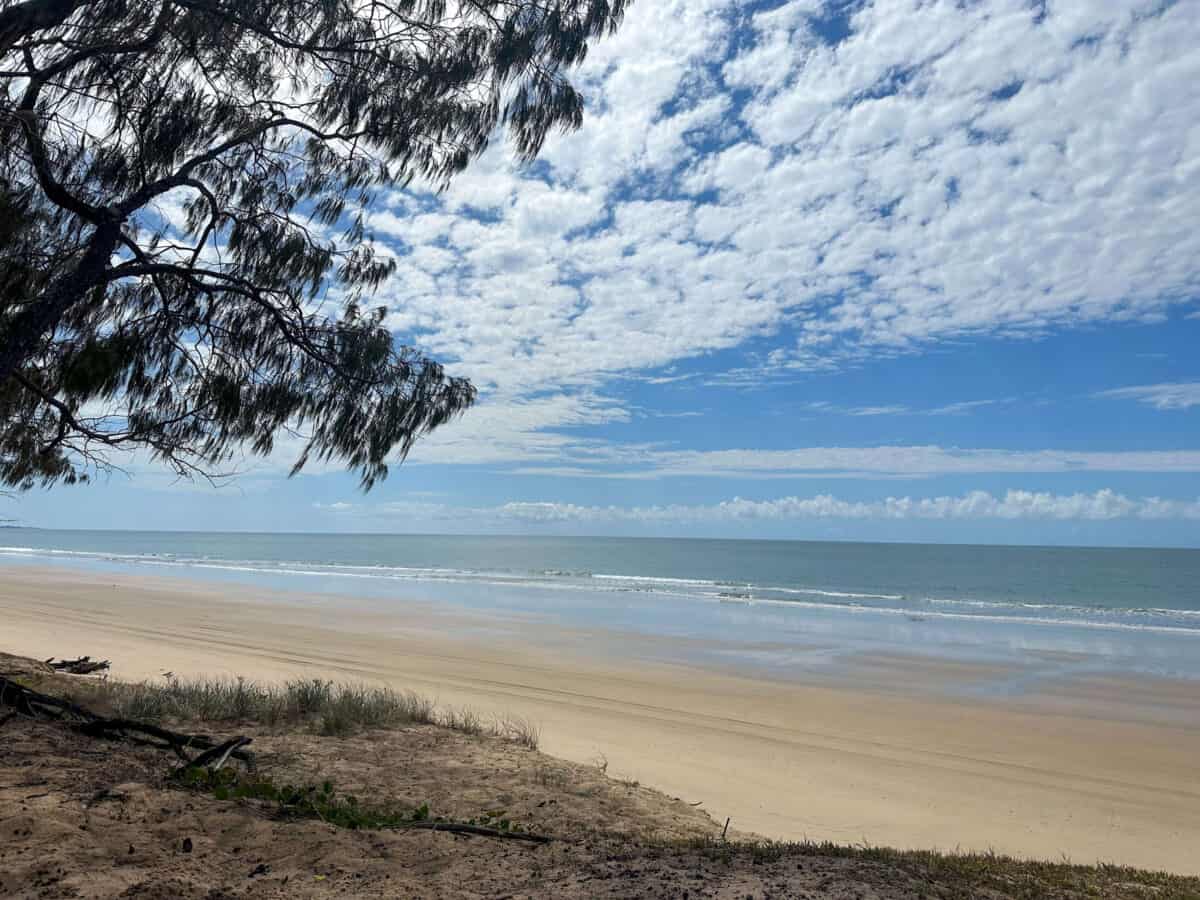 About Kinkuna National Park Camping
Camping is a popular activity at Kinkuna National Park, with two camping zones to choose from: Kinkuna and Burrum Point.
The Kinkuna camping zone is 4WD access only and located right behind the beach dunes, offering stunning views of the ocean.
No showers, toilets or drinking water is available at the camp site, however fire rings are supplied in the camping area.
The Burrum Point camping zone is also accessible via 4WD high-clearance vehicles and is located on the Burrum River. Facilities include toilets, cold showers and fire rings.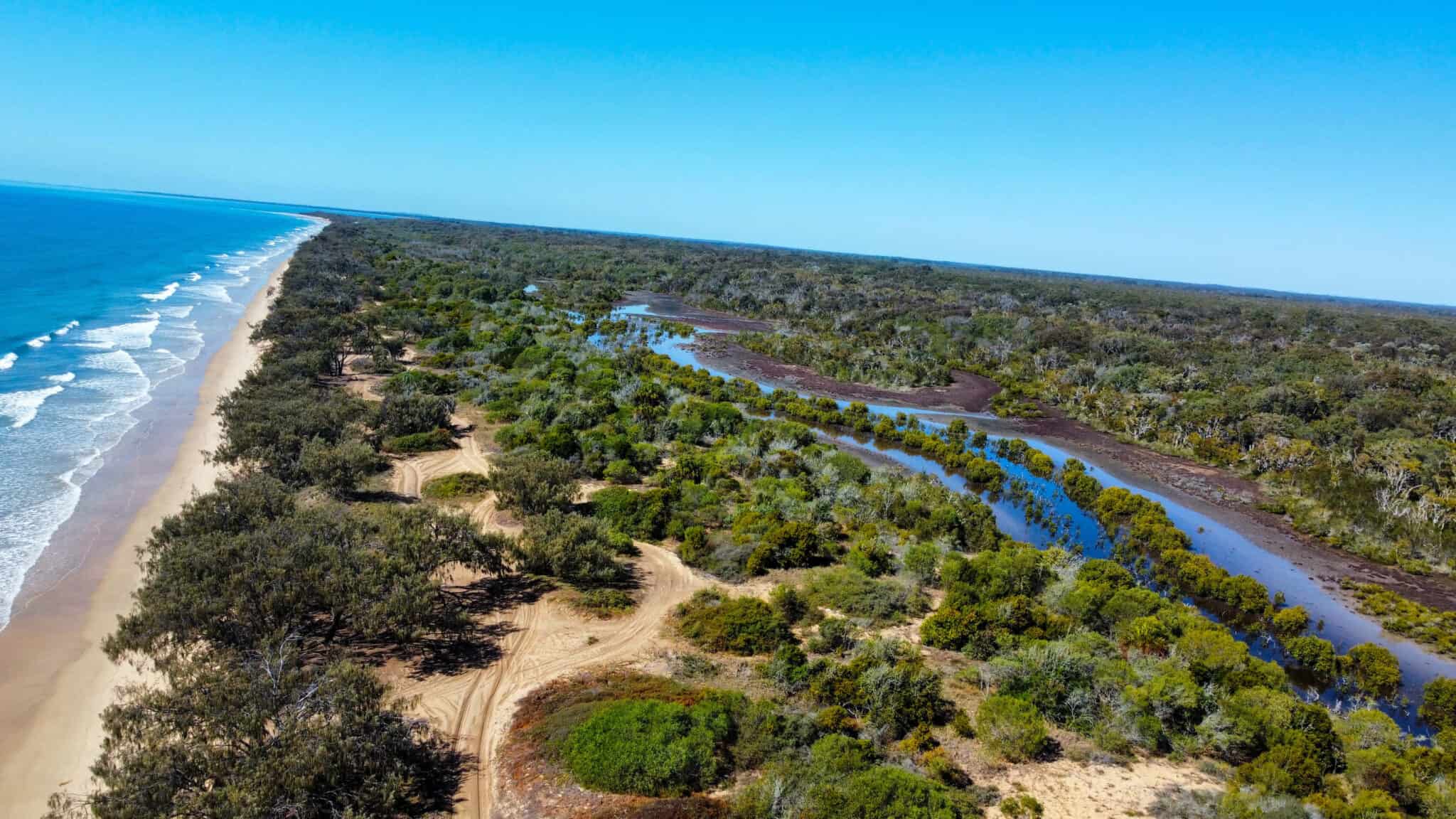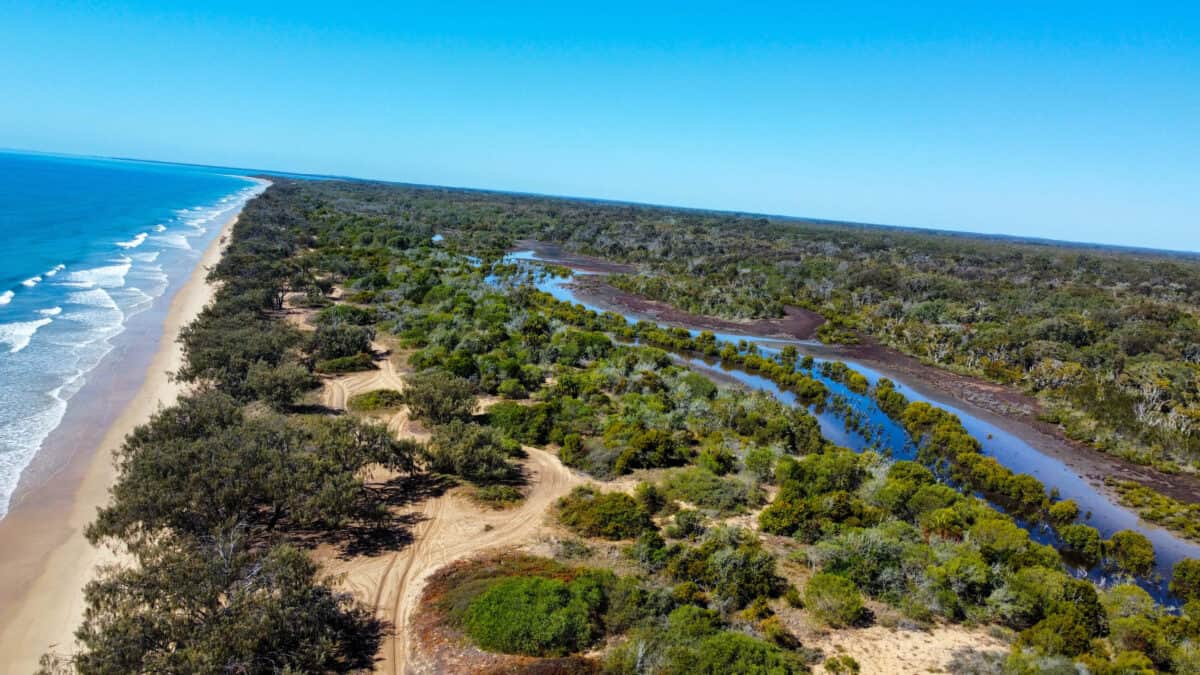 Tips for planning camping at Kinkuna National Park
Let's start with some tips to assist you with planning your camping trip to Kinkuna National Park:
Book your camp site in advance
Kinkuna National Park is a popular camping destination.
Make sure to book your Kinkuna National Park camping site via the National Park website prior to your journey, especially during long weekends and school holidays to secure your booking.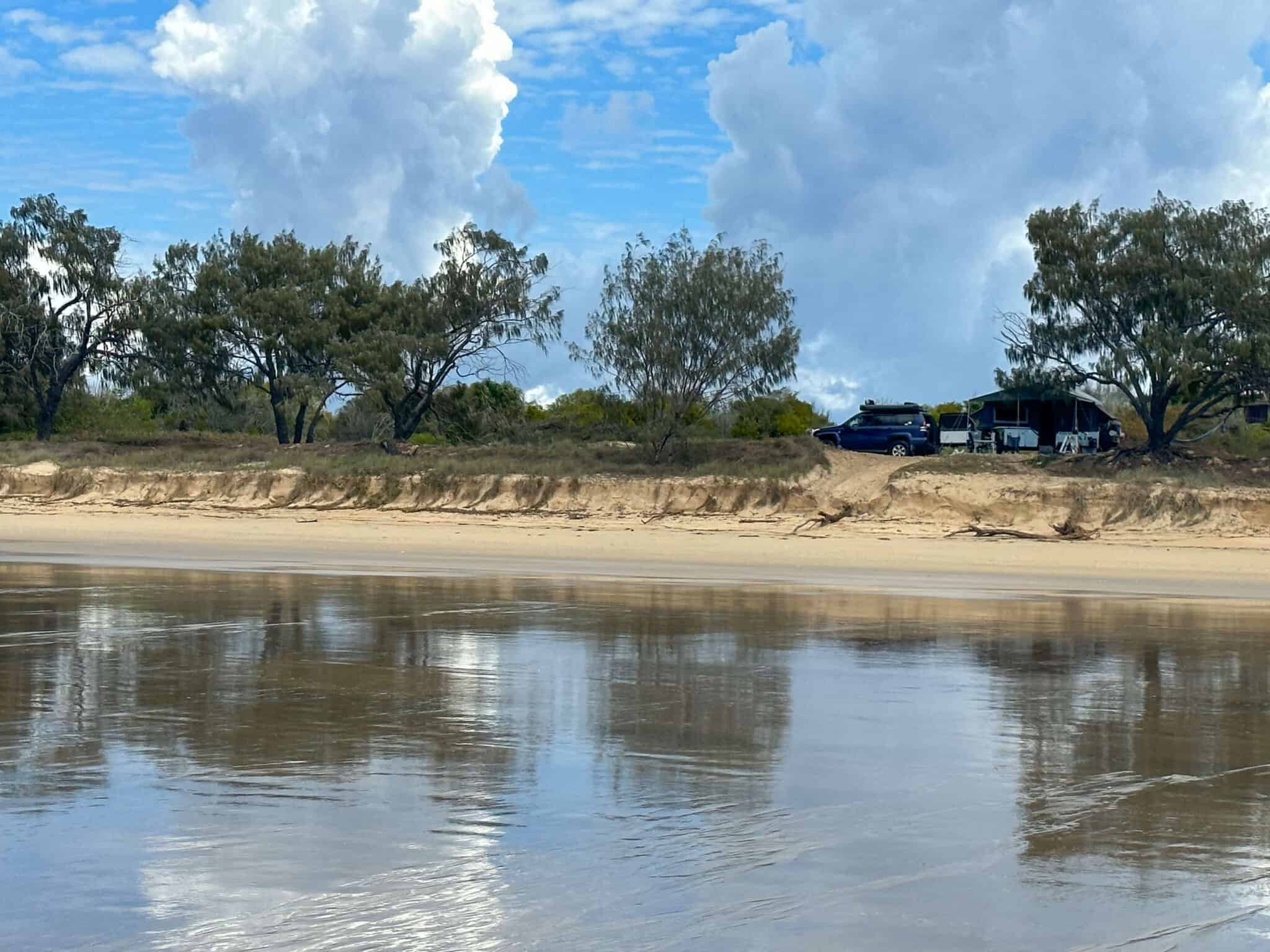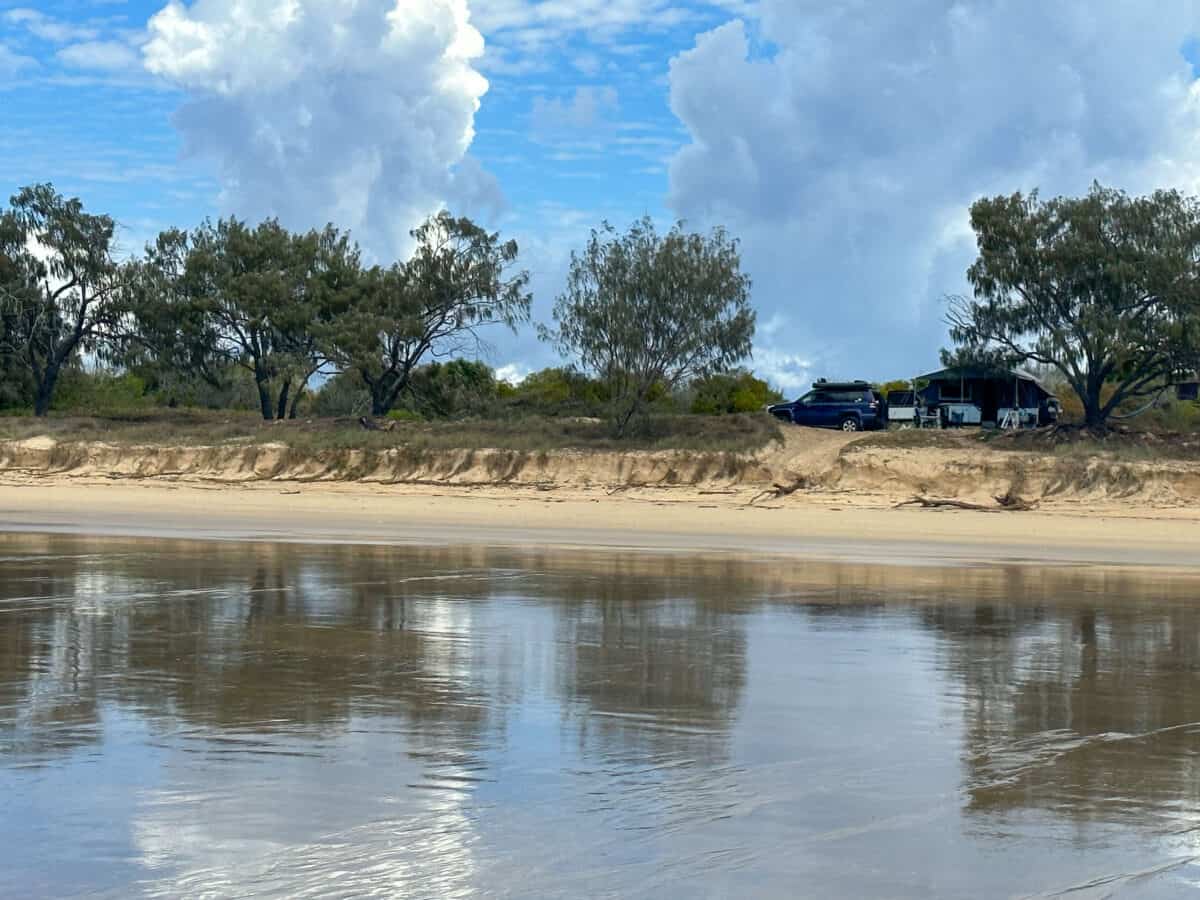 Arrive early to get the best spot
Kinkuna National Park camp sites are not numbered, which in turn means the earlier you arrive, the more options you have on where to set up your camp site.
Pack all your supplies
Kinkuna National Park is quite a remote park – don't forget to prepare by packing all your water, food, firewood and camping gear. Alternatively, it's a long journey back into town if you forget anything.
Be prepared for all weather conditions
Just like most beach camping areas, the weather can change quickly. Ensure to pack gear for rain (tarps, rain coats), high winds (additional pegs and rope).
In sunny weather make sure you bring sunscreen, sun safe clothing and plenty of drinking water. Keep an eye on the weather forecast prior to heading off on your journey.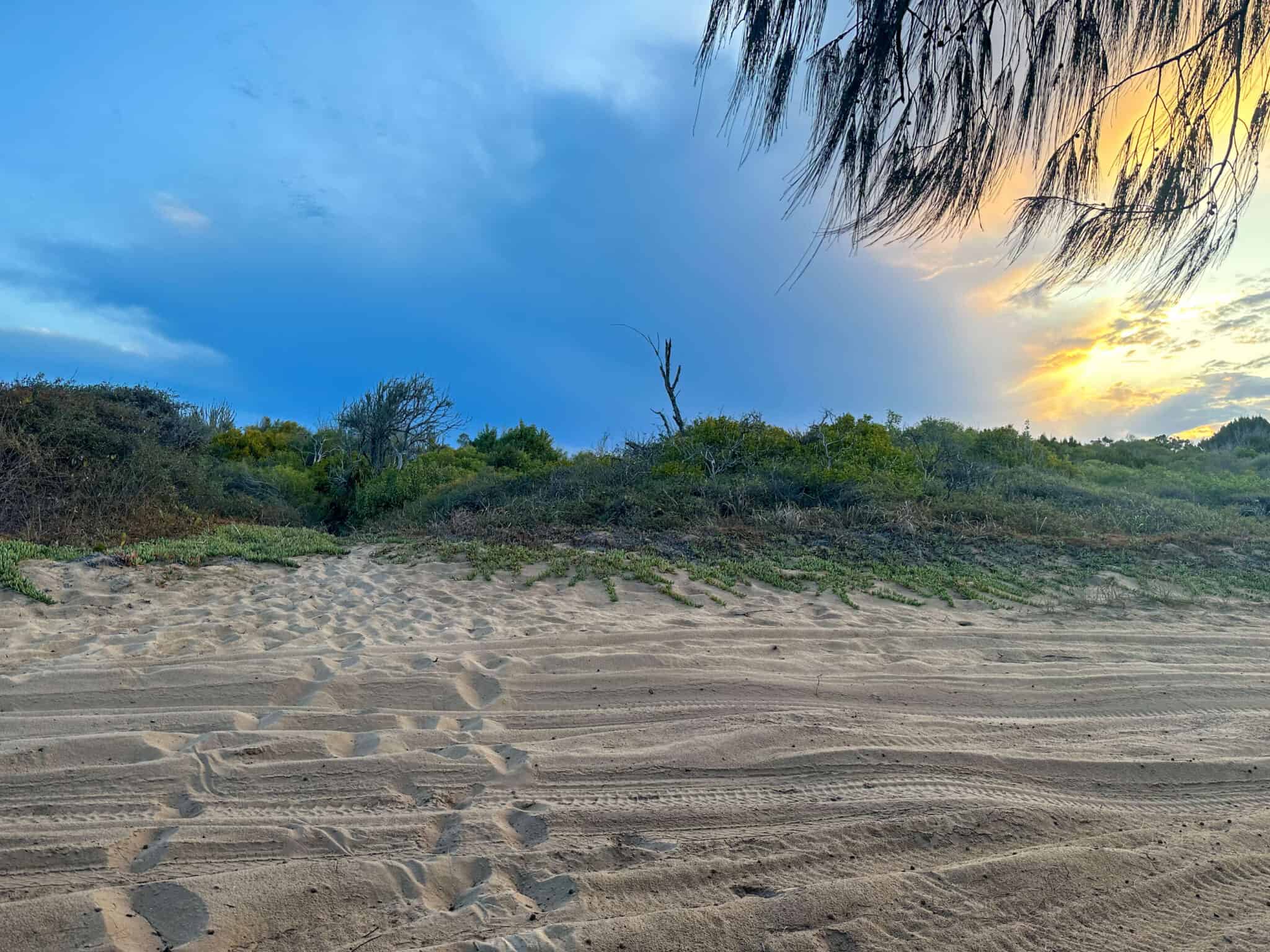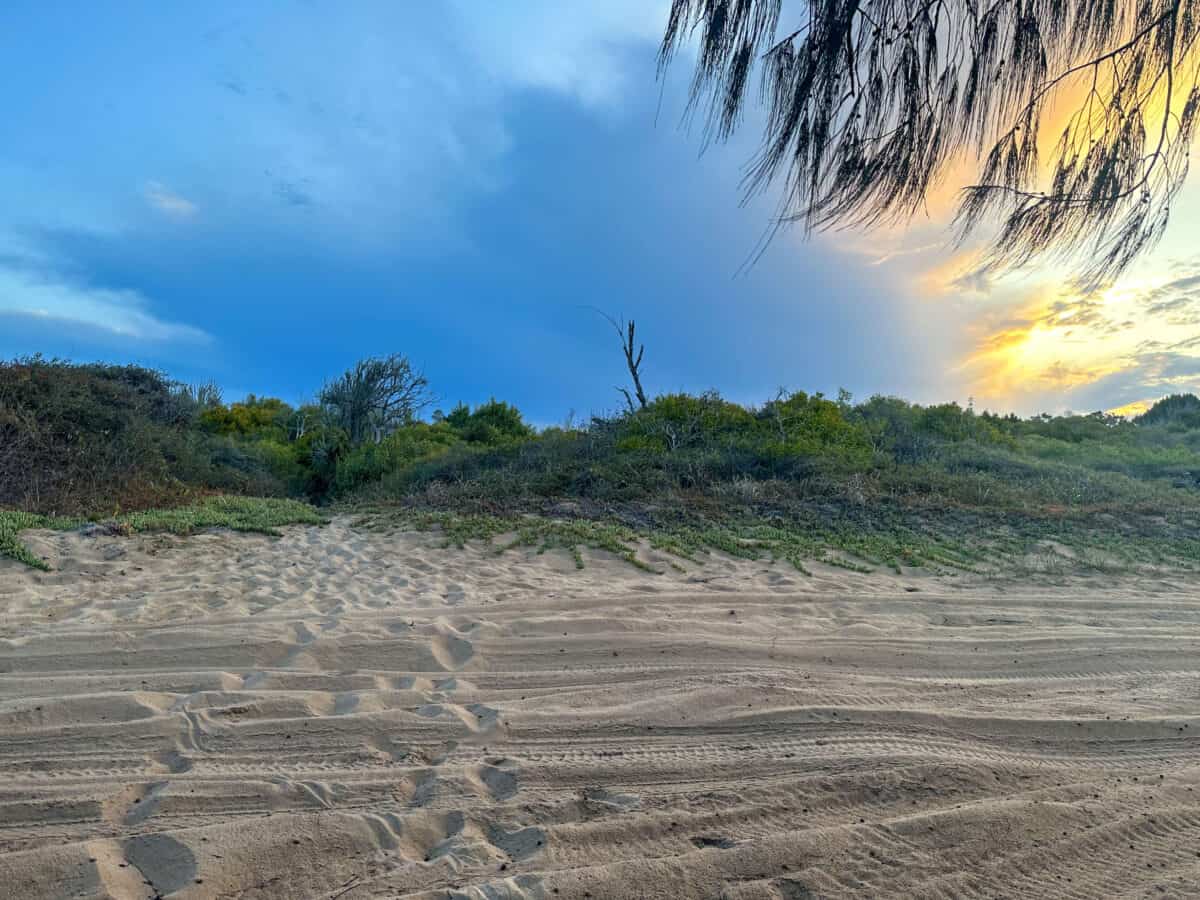 Leave no trace
The golden rule for camping – take all your rubbish with you and leave the campsite as you found it!
If you find rubbish on arriving at the camp site, help us keep the National Parks open by picking up this rubbish too.
Keep an eye on tide times
This is not extremely important as access to camp sites are inland tracks from both ends (north and south), however the tides are high at Kinkuna reaching the dunes.
If you intend to drive along the beach, make sure to keep an eye on the tide as access back onto the dunes can be spread out.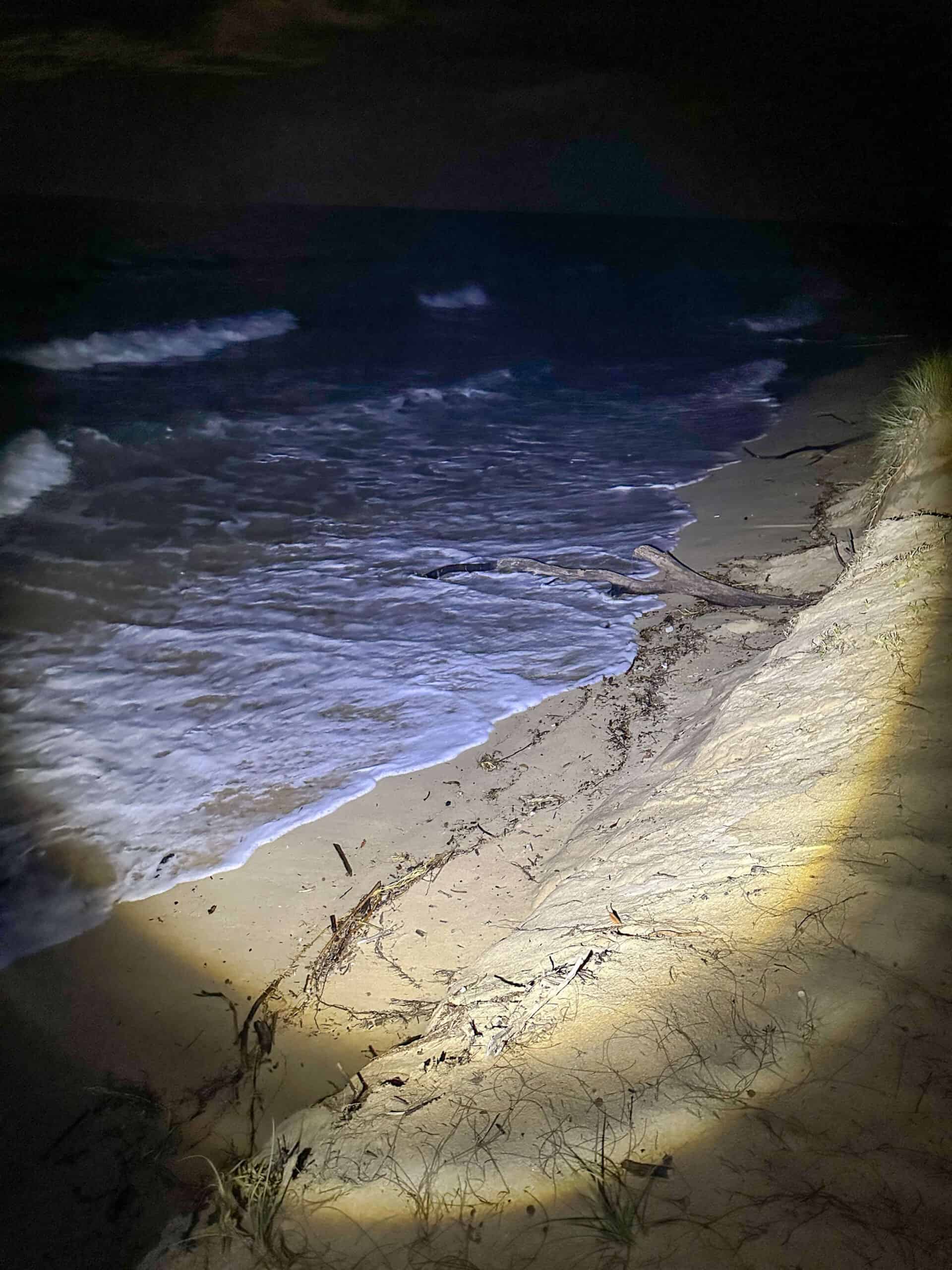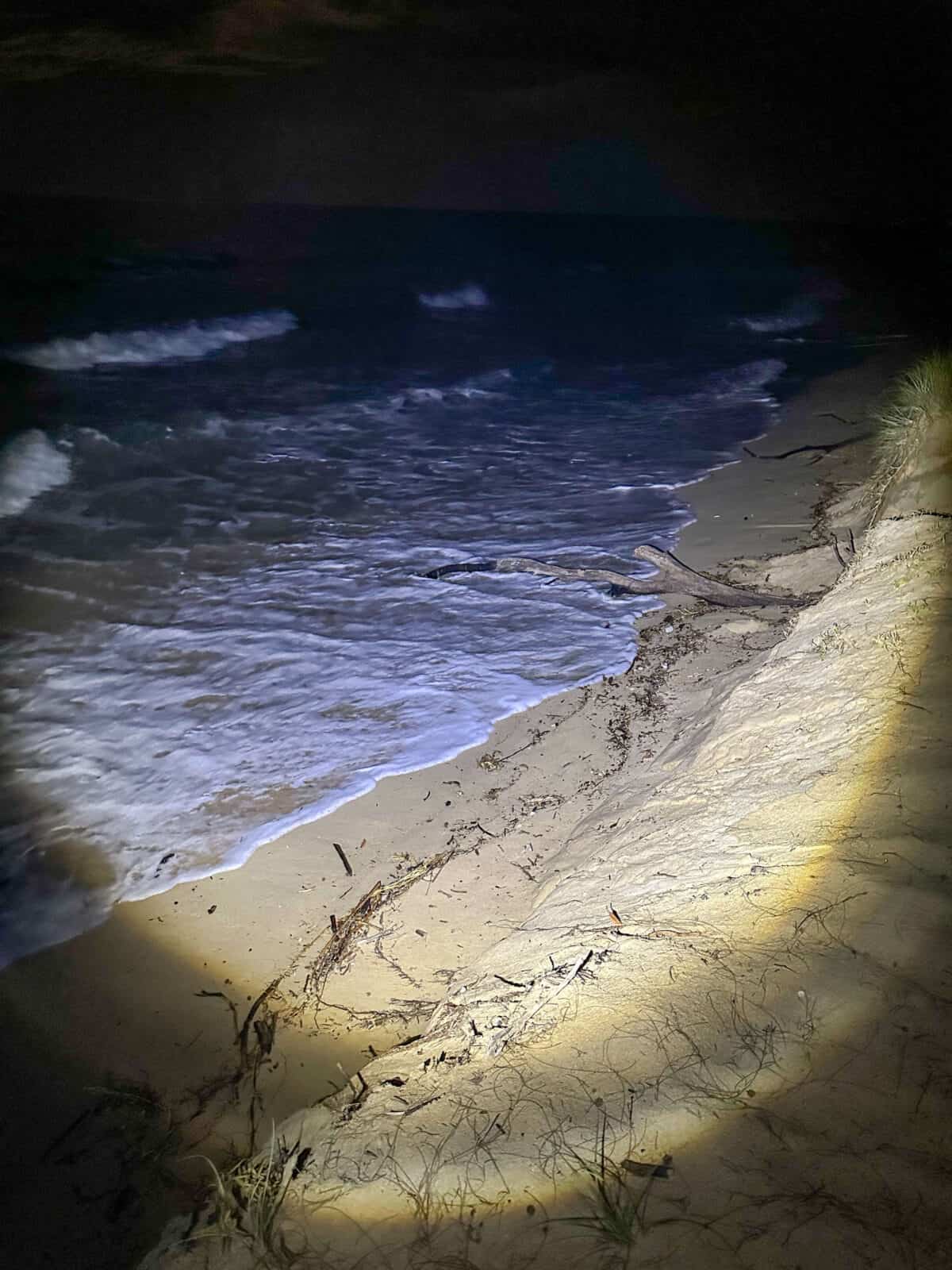 Pack your recovery gear
The second golden rule for beach camping – pack your recovery gear.
This includes recovery tracks, air compressor, tire gauge, snatch strap, shovel and an optional extra is a winch.
The sand at Kinkuna National Park is extremely soft – we got bogged on the inland track heading towards Bundaberg and required the use of our shovel, 4 recovery tracks and an hour and a half of sweating.
Lower your tire pressure
Lower your tire pressure as per the guidelines of your vehicles tires. We generally lower to around 18-20 depending on whether the sand is firm or hard.
As mentioned above, we got bogged on the inland track even with our tires lowered.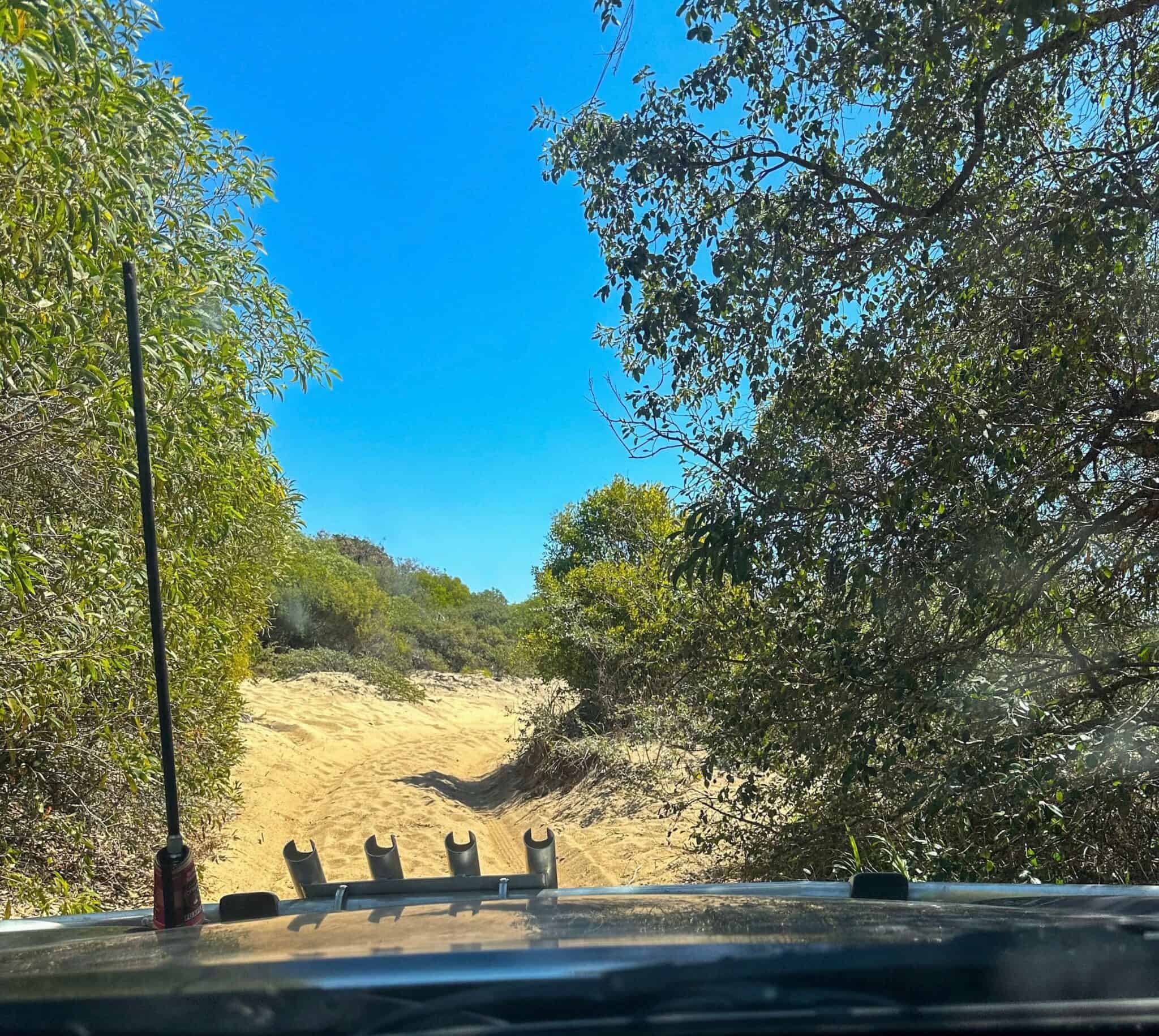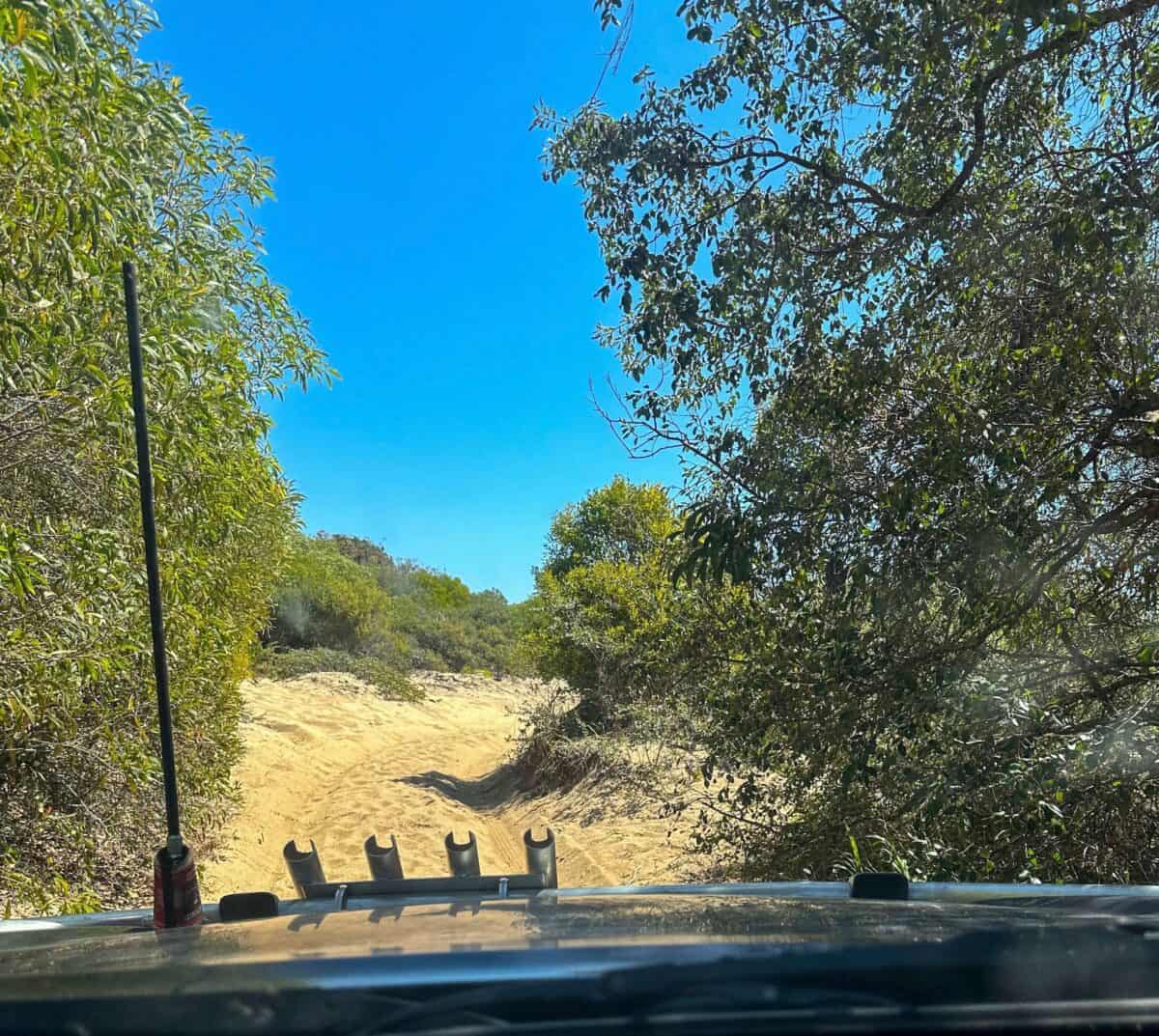 Things To Do In Kinkuna National Park While Camping
Camping at Kinkuna National Park is a fantastic way to experience the best of the Australian bush. While enjoying your camping at Kinkuna National Park, don't forget to add these to your list:
Swimming or sunbathing on the beach
Kinkuna National Park offers sensational beach views along the coast. With a short walk from the dunes, head on down with a towel for a swim or take in the sun rays while laying on the beach.
Cast a line
Kinkuna National Park is a prime fishing location with both ocean and freshwater options available. Flathead, bream, mangrove jack, mullet, whiting and a variety of other fish are known in Kinkuna.
Take a stroll through the National Park
There are several bushwalking trails in the Kinkuna National Park, ranging from easy to difficult.
Pack your water bottle or hydration pack and sun smart clothing and head off to explore the area.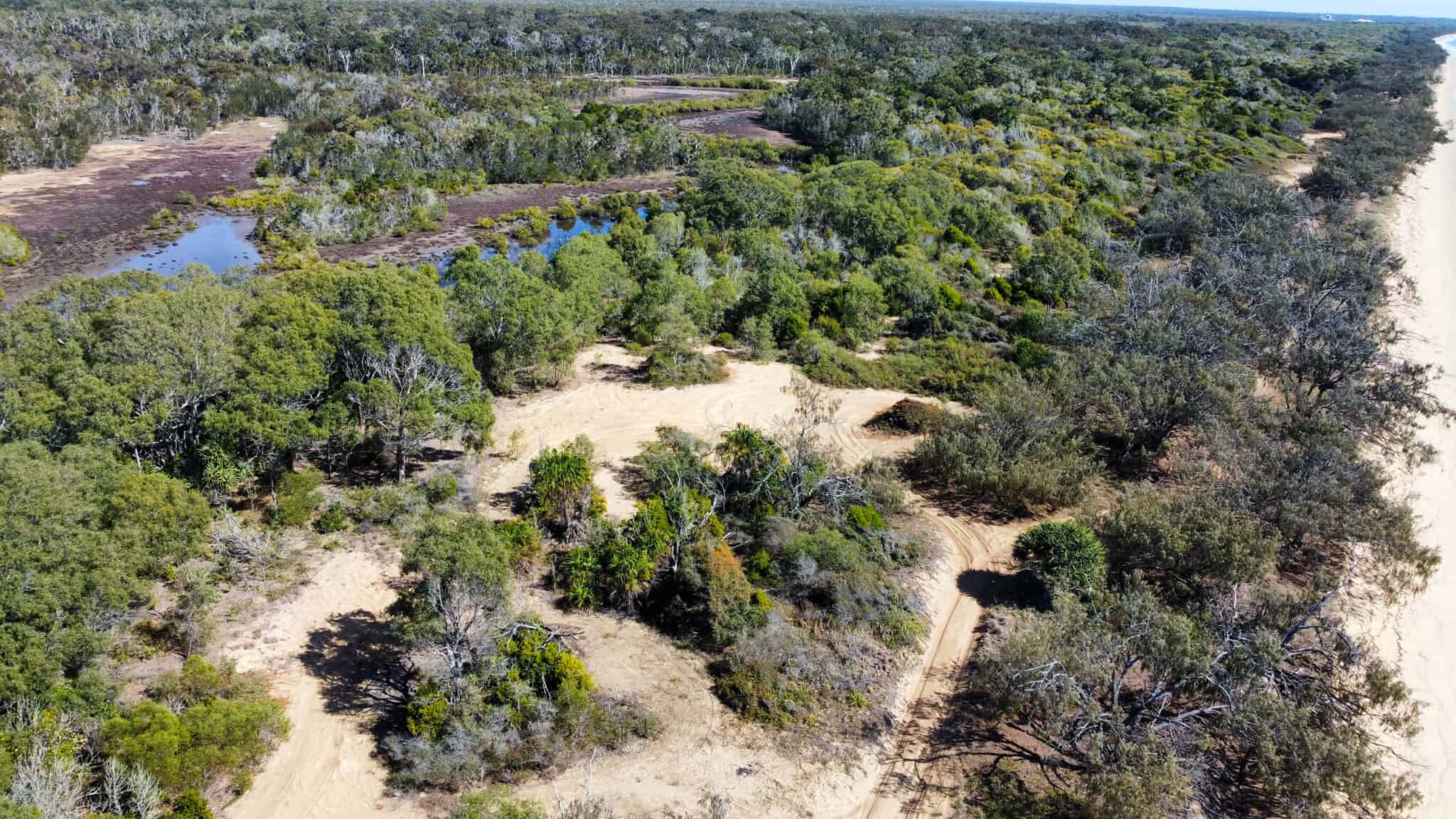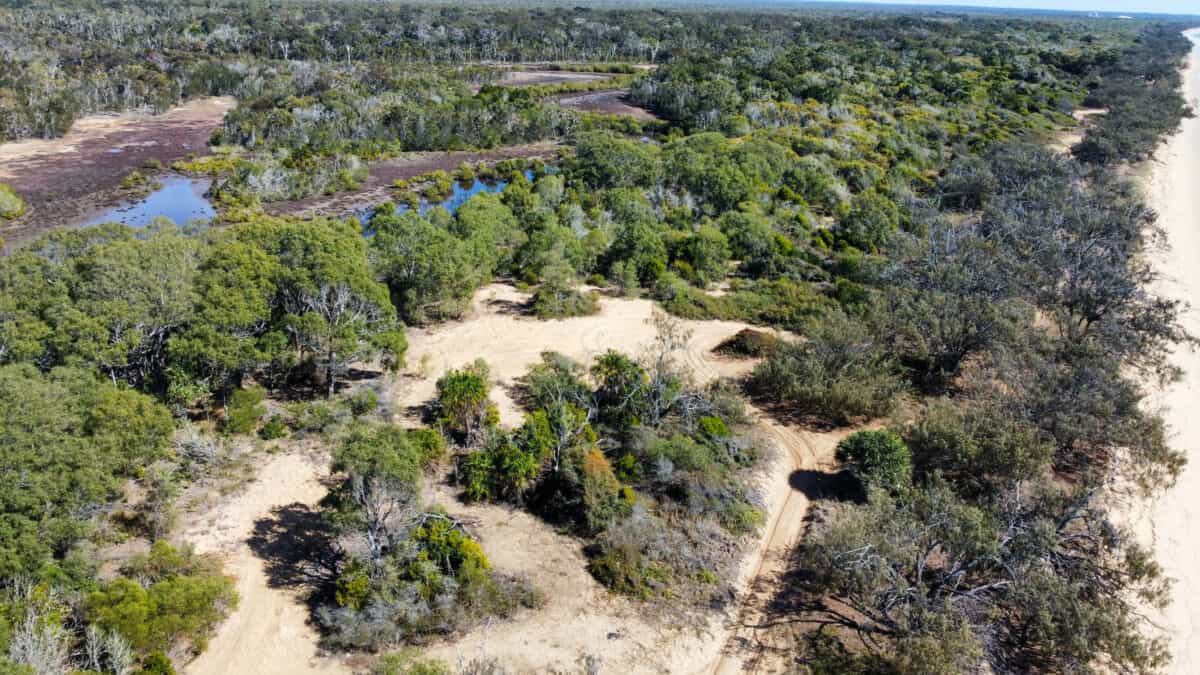 Watch the wildlife while camping at Kinkuna National Park
Kinkuna National Park is home to a variety of wildlife including kangaroos, koalas, kookaburras and other birds.
Keep an eye out while camping or bush walking. We've recently added a set of binoculars to our travel gear to get the best view of the wildlife.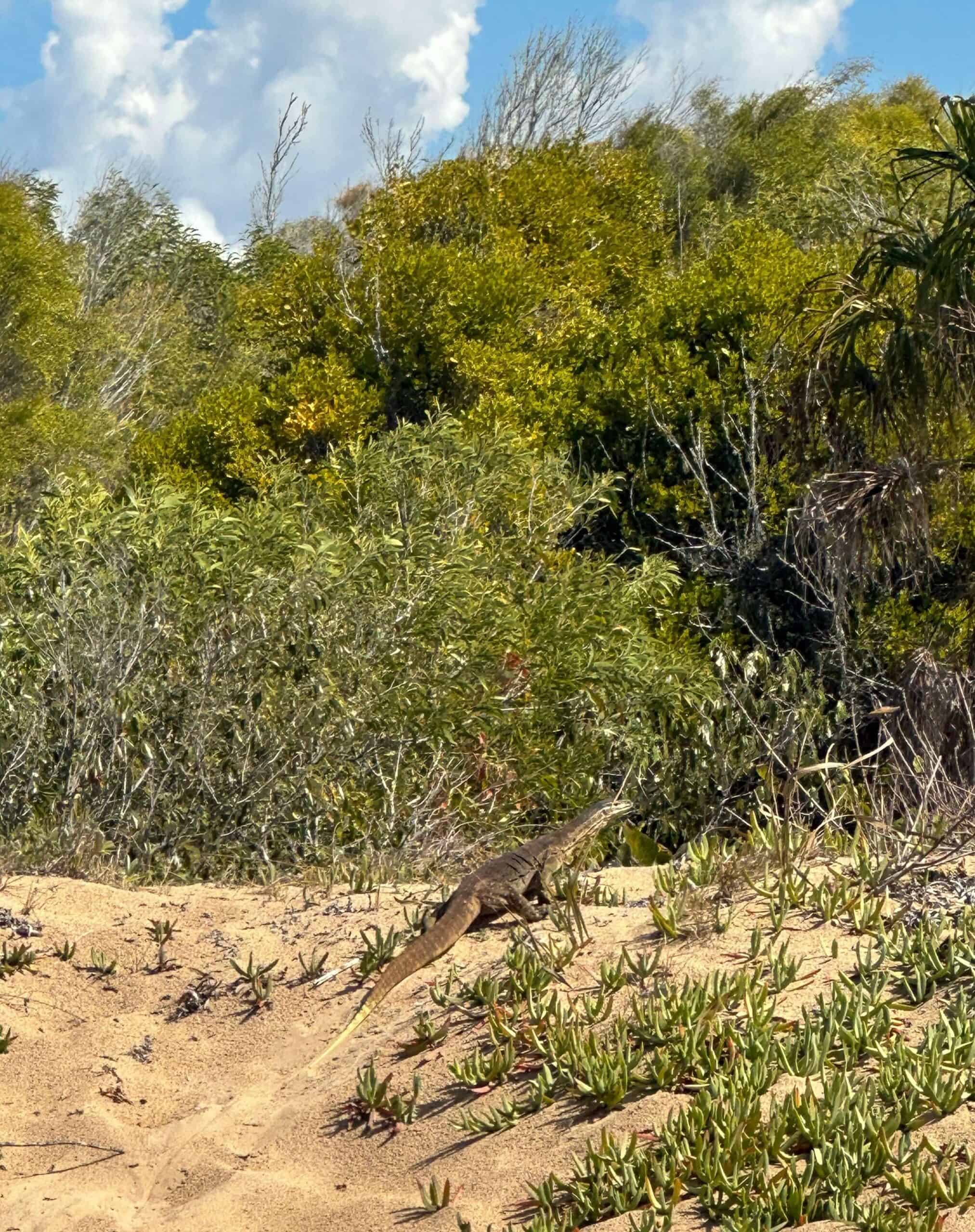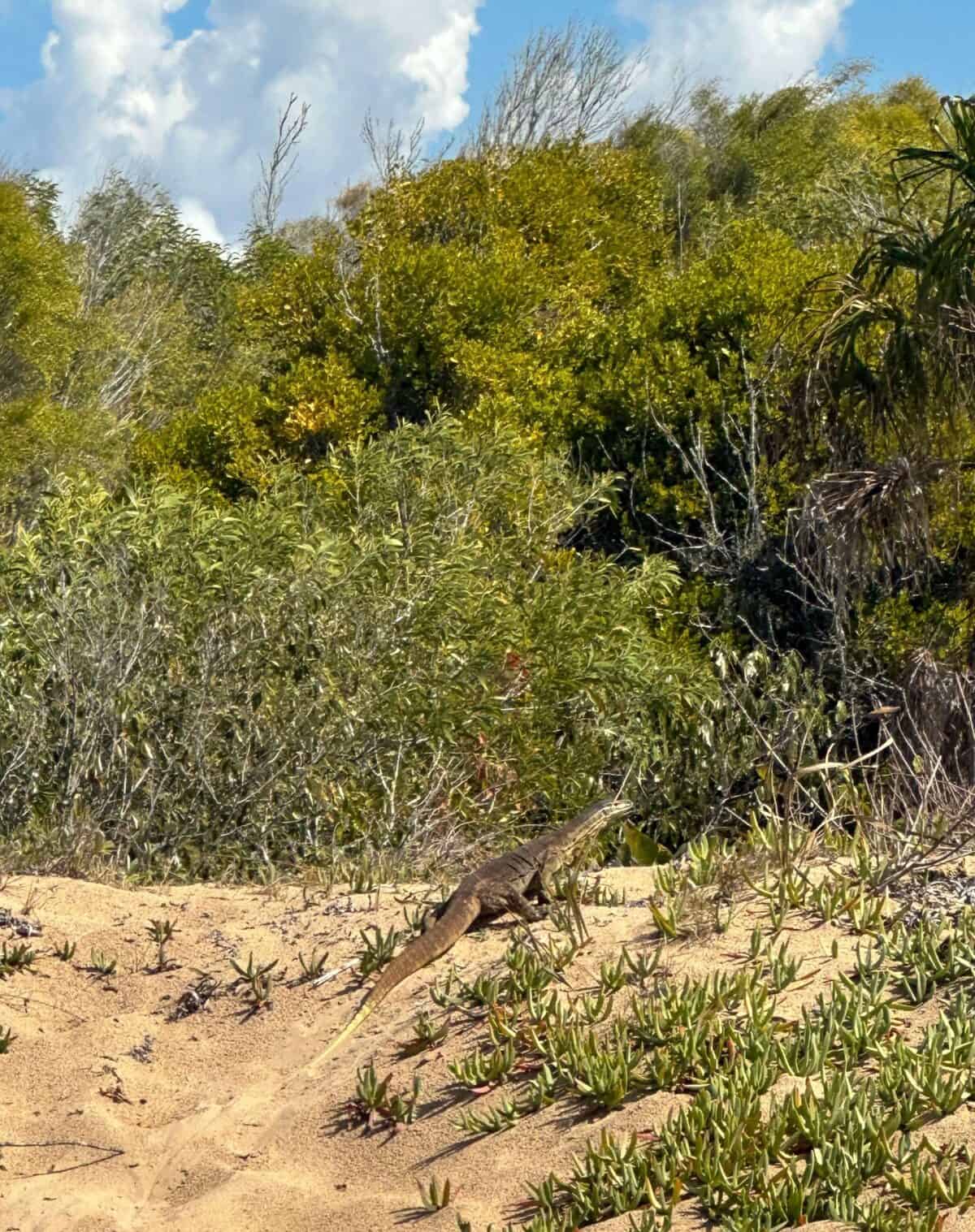 Enjoy a picnic on the dunes
With such an incredible view, make the most of your surroundings by embracing the natural beauty with your picnic lunch.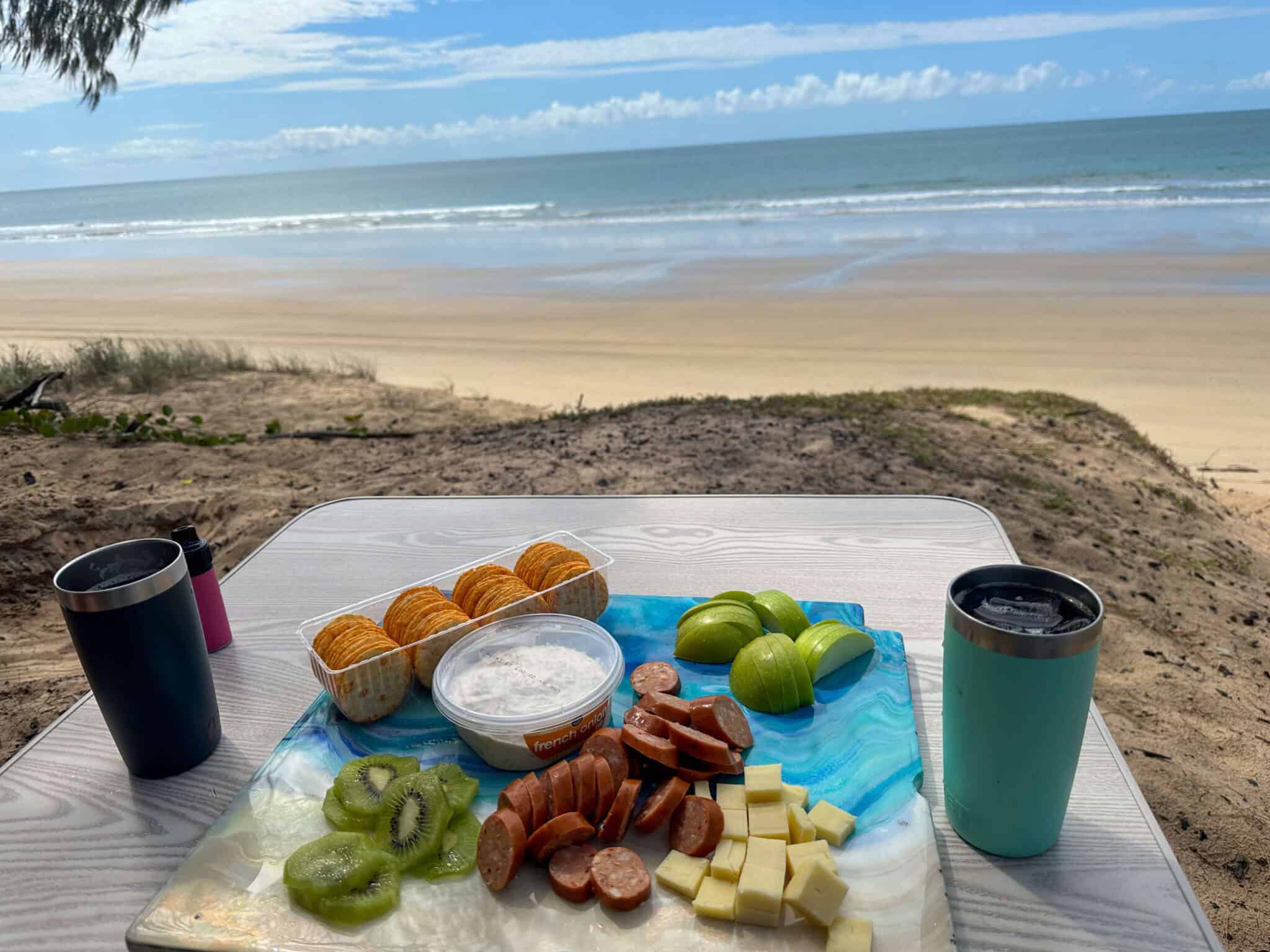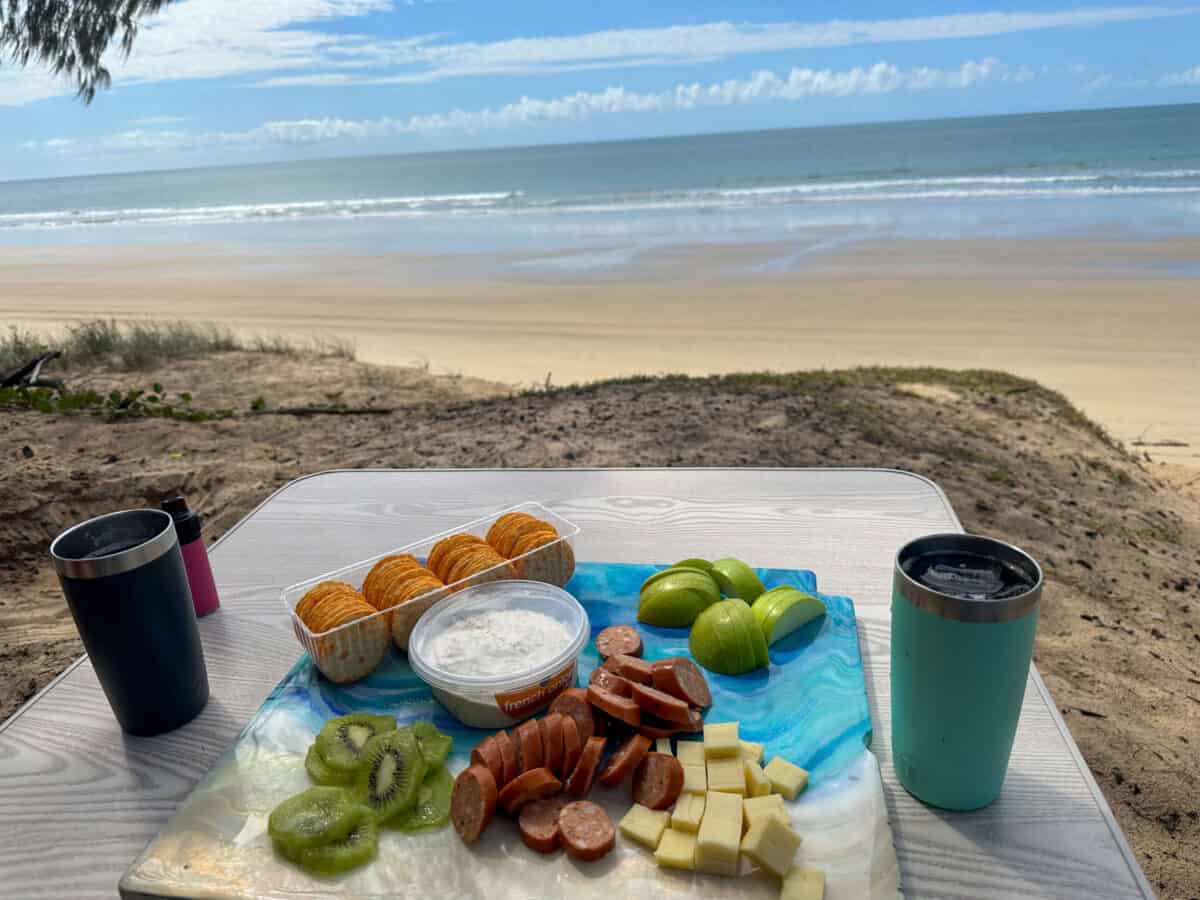 Build a sand castle or a nature village
You might think this is mainly an activity for children, but we beg to differ. Perfect natural building material washes up due to the extremely high tides including pumice, seeds pods, shells, etc.
You can easily spend a day using your creativity to build a village and watch the tide wash your hard work away at night.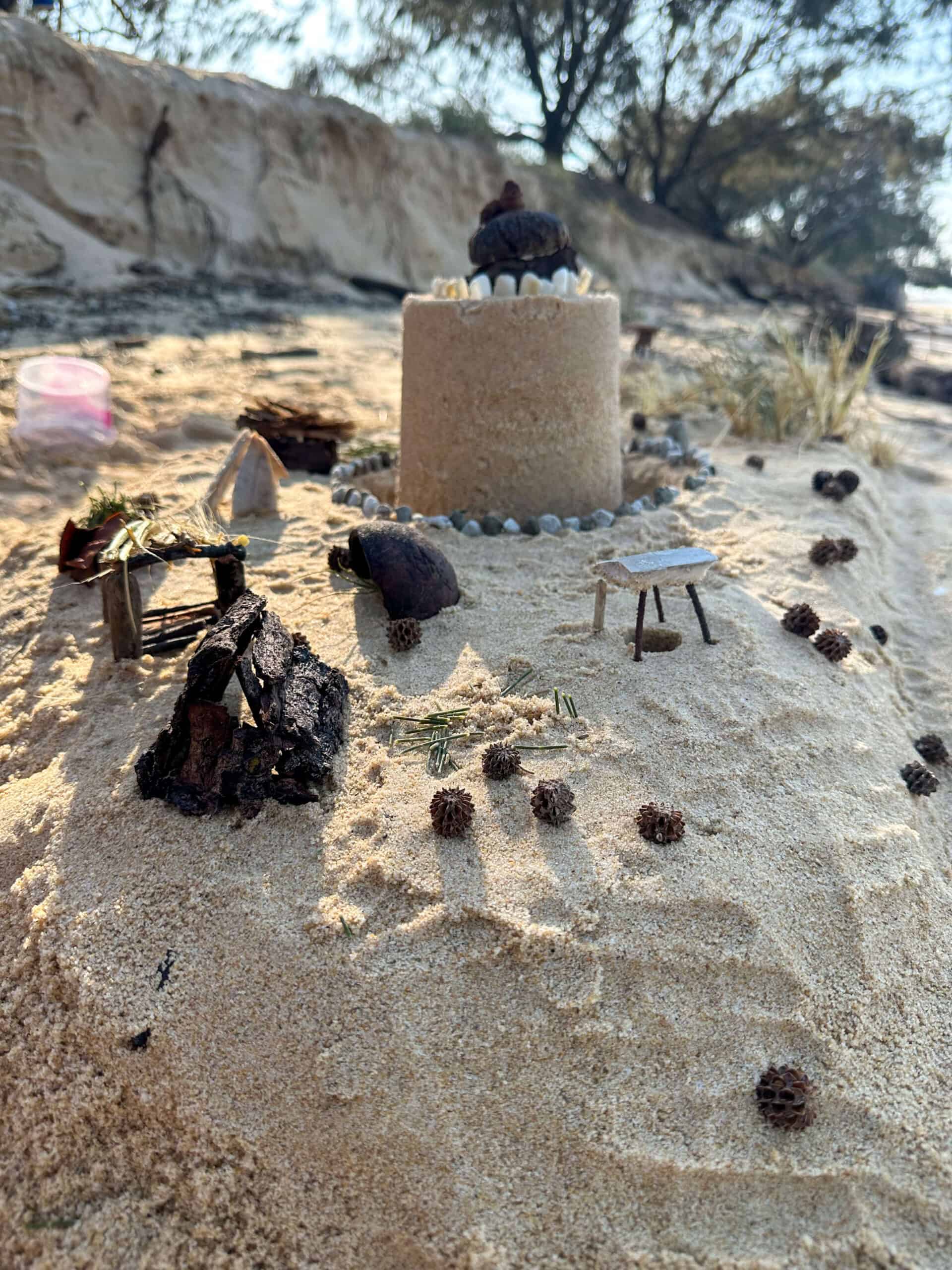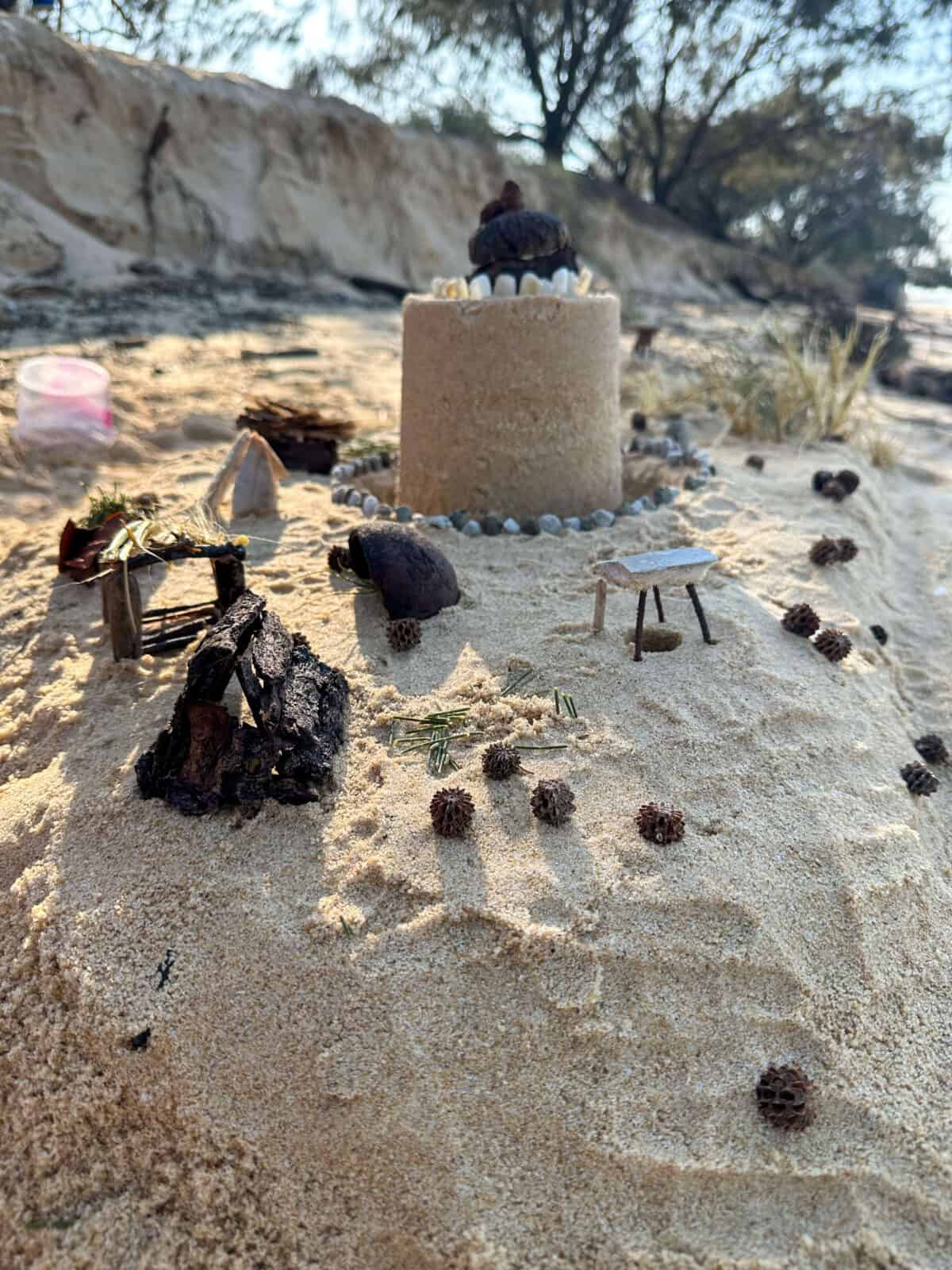 Laze in the hammock or read a book
The hammock is a must for all of our beach camping trips.
Pair this with a good book and you are immediately in the zone of relaxation while taking in the sounds of the ocean and the native wildlife.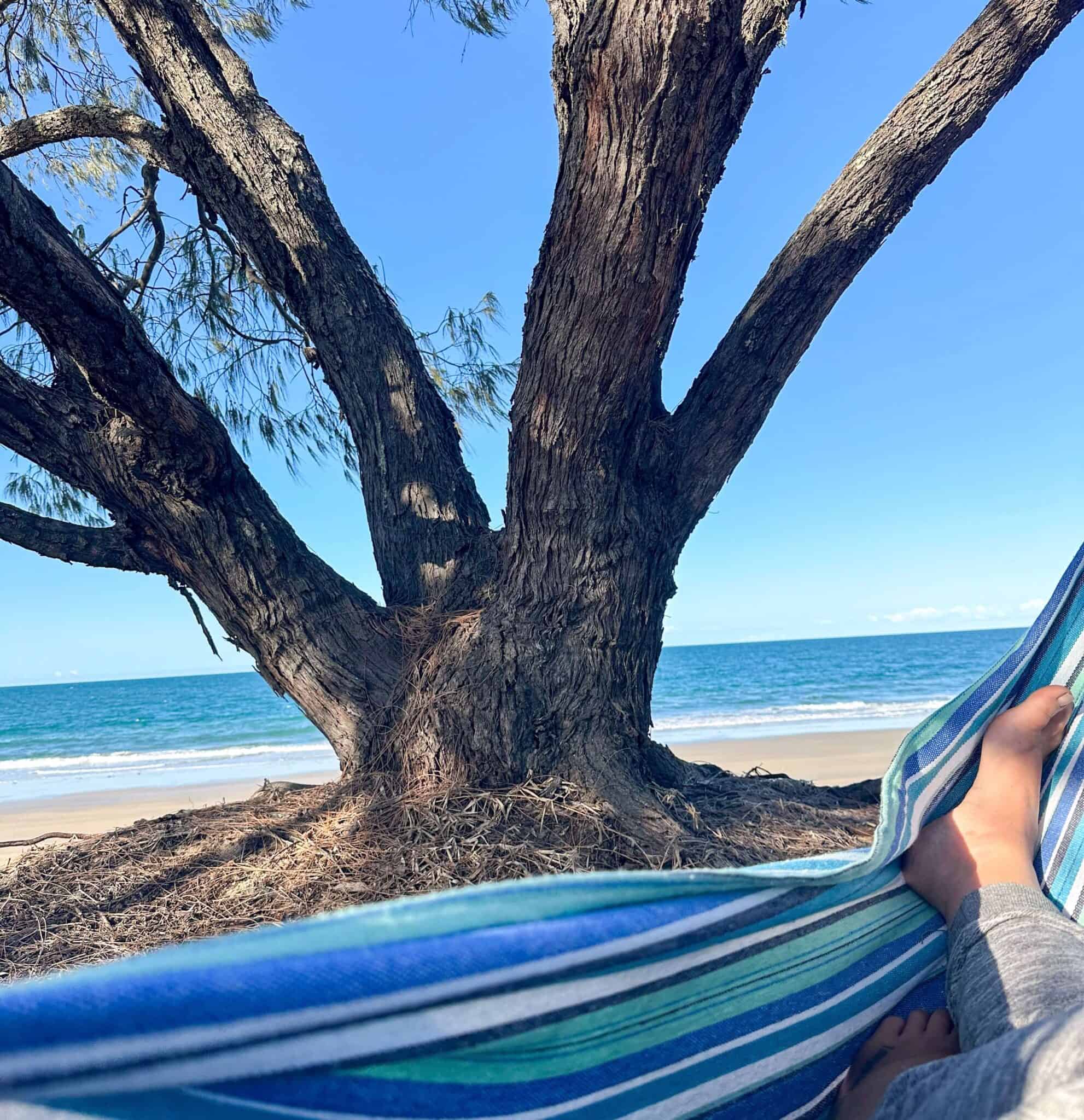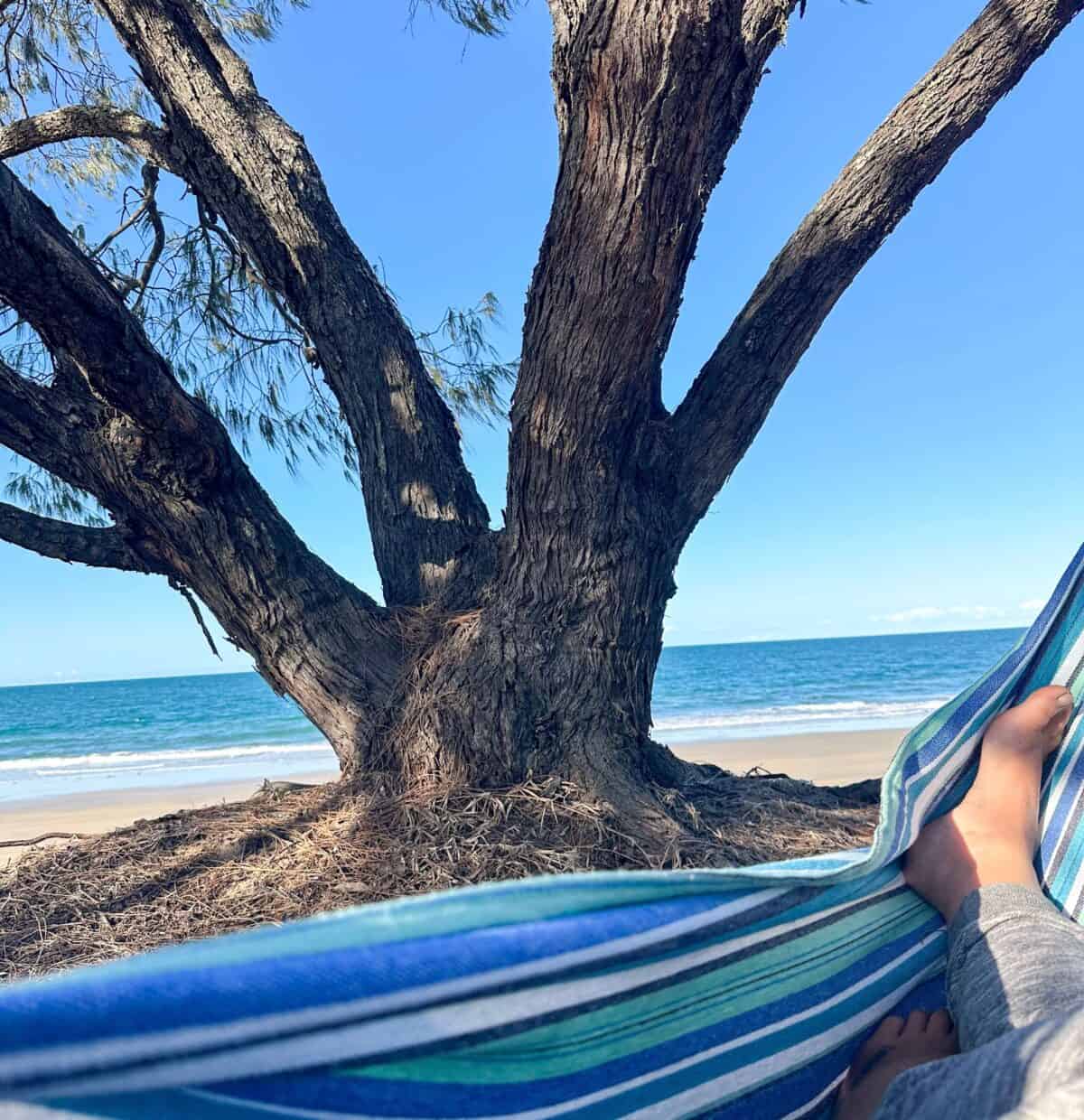 Watch the sunset or the moon rise
While camping at Kinkuna National Park, be sure to experience at least one sunset or moon rise.
We were extremely lucky to visit during a full moon and it was incredibly beautiful to watch the rise of the orange glowing moon.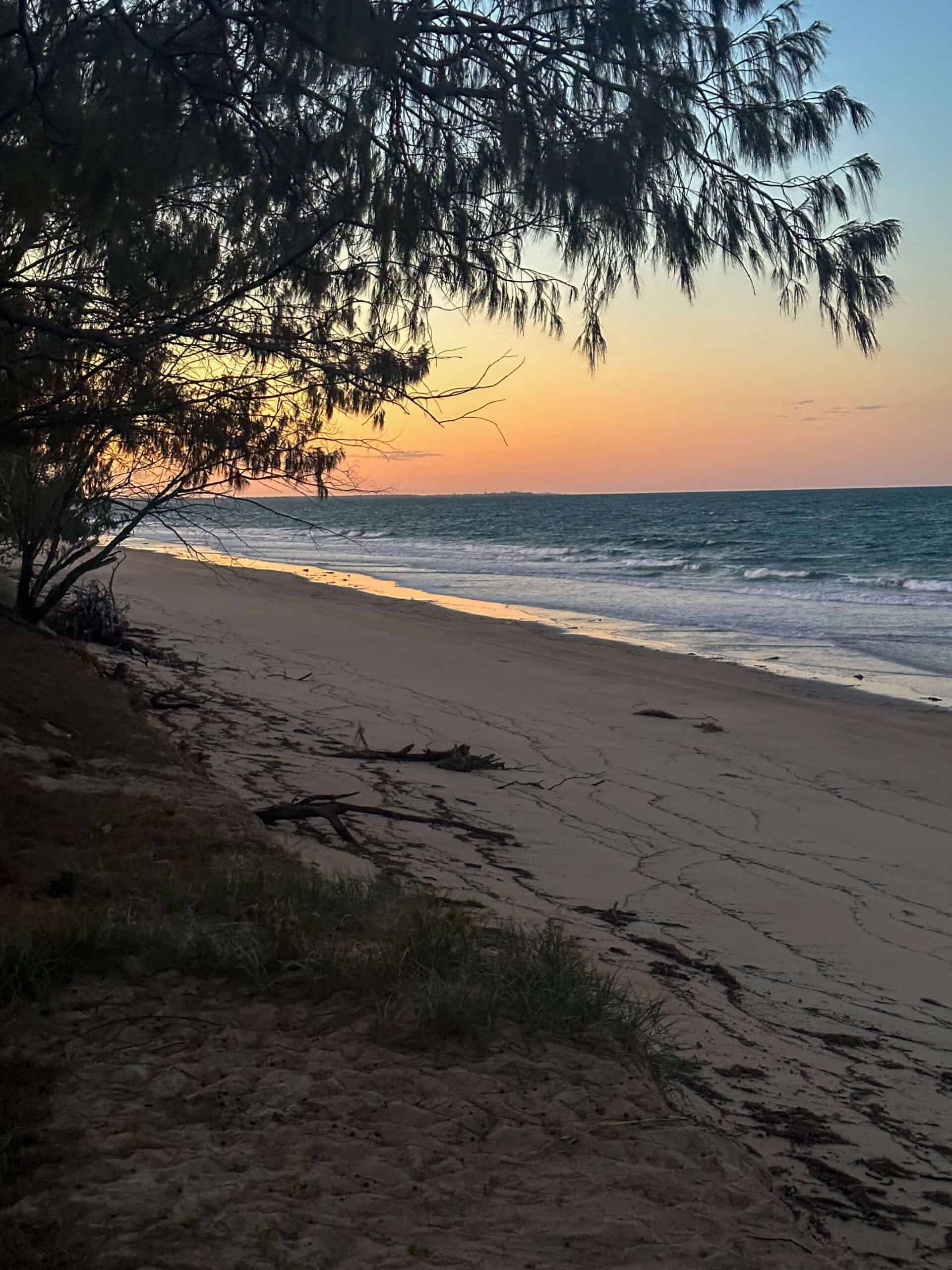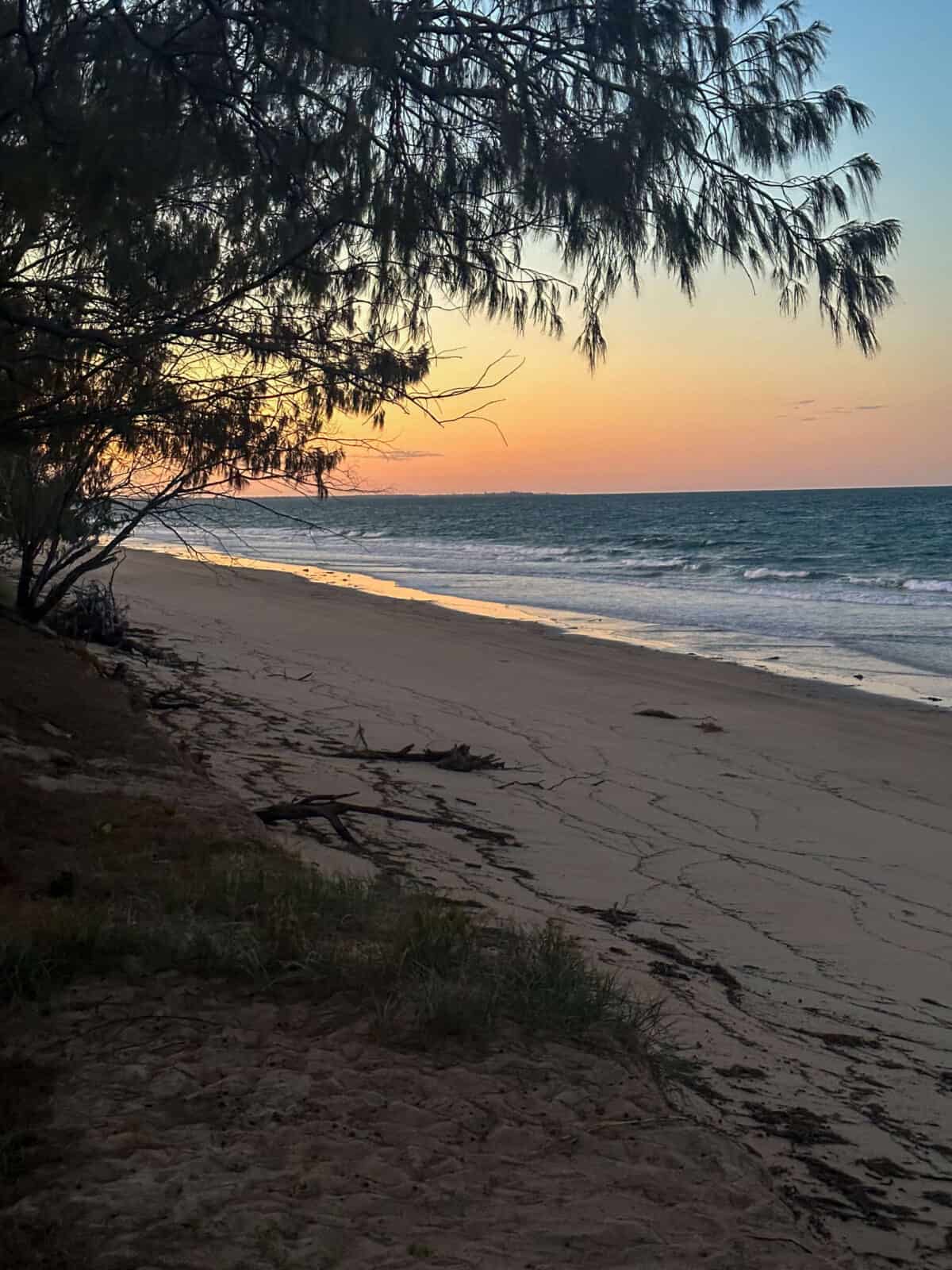 Why pick Camping at Kinkuna National Park
So you've reached the end of our guide to camping at Kinkuna National Park. We absolutely loved our time at Kinkuna and would recommend to anyone considering a trip to this beautiful hidden gem.
Camping on the dunes does mean you feel the winds more than a set back beach camp site. Really, this just means you are required to position your camp site and prepare with extra ropes and pegs.
Explore the surrounding area
Now you've finished camping at Kinkuna National Park, head on over to the local areas to explore what they have to offer.
We've supplied a list below of activities we would recommend from personal experience:
Final Thoughts: Book Camping at Kinkuna National Park today!
Kinkuna National Park is a one of kind gem, perfect to wash away the stress of every day life. Head on over to explore what the stunning coast line has to offer by heading to the Queensland National Park website.
We personally love National Park camping due to the natural beauty of the sites. Plus besides free camping, National Park camp sites are the most cost-effective camping grounds.
We hope we've assisted you with planning camping at Kinkuna National Park. Let us know in the comments if we've missed anything.
Happy adventuring!
Find more camping tips & resources: