18 Things to Do in Maryborough, Queensland
Are you looking for the best things to do in Maryborough? Look no further as we provide you with plenty of inspiration for your Maryborough itinerary in this must-see city filled with history.
Where is Maryborough
Maryborough is a beautiful historic town on the Mary River in Queensland.
Located in the Fraser Coast region of Queensland, approximately 4 hours drive from Brisbane. Maryborough is one of Queensland's oldest cities, also known as the "Heritage City."
A little snippet of Maryborough's history
Maryborough was founded in 1847 and named after the river, which was also named after Mary, the wife of Governor Sir Charles Fitzroy.
Maryborough originally ran as a wool port and was announced a town in 1861.
While still known as a town, Maryborough was also known as the Fraser Coast Immigration port (the second in the Eastern Australian waters). Later in 1905, Maryborough became a city.
As mentioned earlier, this is only a snippet… If you love history, Maryborough is a must-see!
18 Things to do in Maryborough, Queensland
We were blown away by the amount of history and things to do in the city of Maryborough. From the heritage-listed buildings, the unique Mary Poppins statue and the war memorial, Maryborough has something for everyone.
When planning a trip to Maryborough, we would recommend at least 2 days to really explore what the town has to offer.
Thursdays are the day the town comes to life so if you can plan your trip on a Thursday, there will be more on offer!
Best Maryborough Attractions For History Buffs
Maryborough is filled with a large amount of heritage-listed buildings and museums. There are also so many wartime monuments to discover. Let's start this guide with the historical must-dos:
1. Starting at Maryborough City Hall
Maryborough's Heritage-Listed City Hall is located on Kent Street.
Start your journey here where you'll find the Information Centre for all the helpful tips and hints for exploring the town.
Whether you are interested in following the mural trail or heading to a museum, the staff in the Information Centre will have you covered!
Don't forget to check out the additional rooms in City Hall before you leave, with the first piece of the "Mural Trail" beginning in the Hall.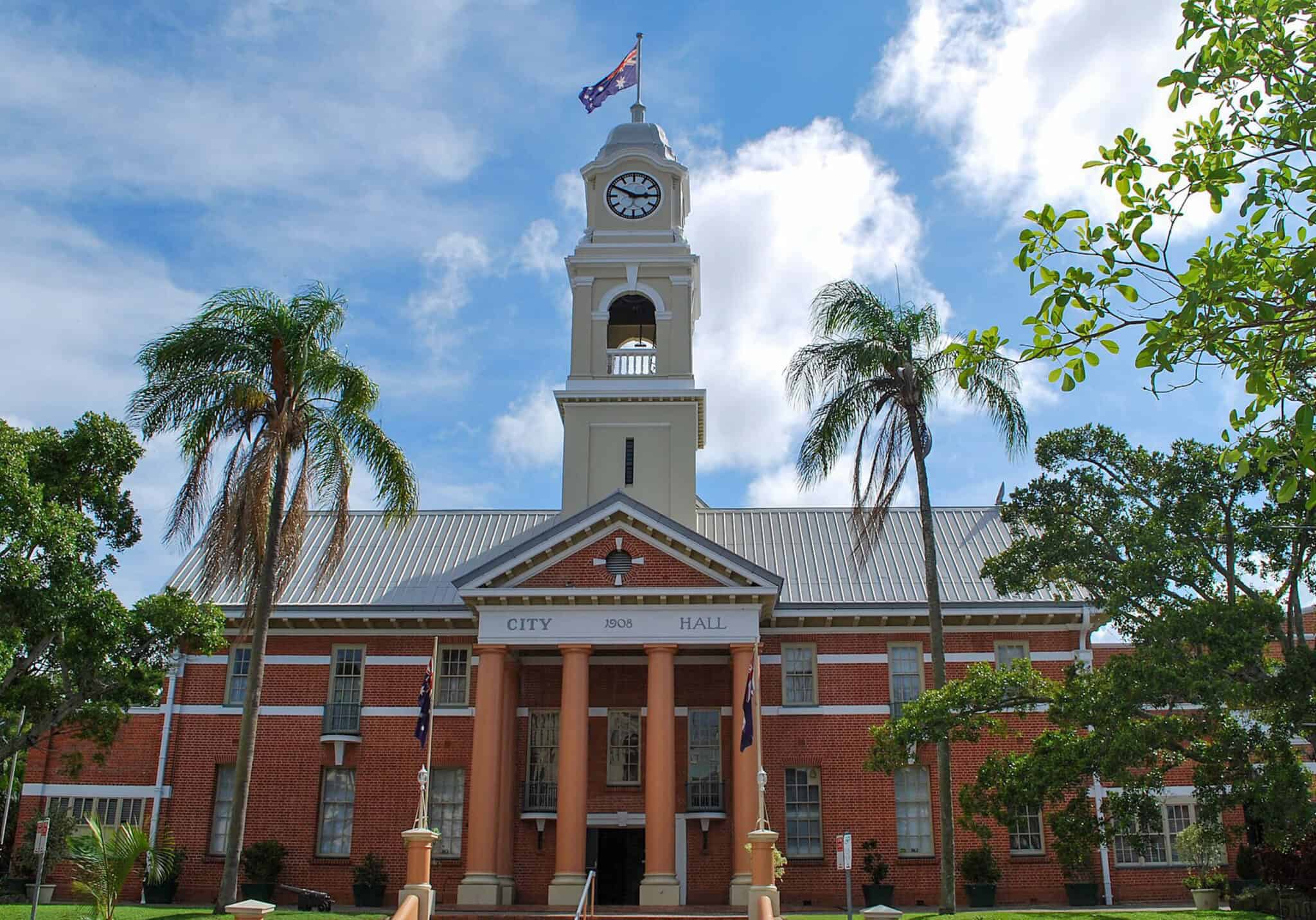 2. Wander through the Maryborough Family Heritage Research Institute
The Maryborough Family Heritage Research Institute is located on Richmond Street.
This source of history features the largest collection of genealogy records in all of Queensland.
Head on down to find your ancestors!
3. Take in the Maryborough Courthouse
As you walk through the town, take a peek at this Heritage-Listed Courthouse, located on Richmond Street.
The Maryborough Courthouse was constructed in 1877 and was one of the first courthouses erected in rural townships.
Located on Yaralla Street is the Heritage-Listed Wide Bay Hospital Museum. The Museum is an informative place to learn about the history of the health care in the region.
With over 25 years of research, the display includes documentation and items in regard to Maryborough's general public hospitals and maternity wards in the early days.
5. Stroll in the Maryborough Post Office
The Maryborough Post Office was built in 1865-1866. Another one of the beautiful historical Heritage Listed Buildings in the town of Maryborough. The Post Office can be located on Bazaar Street.
6. Wander through the Maryborough Mural Trail
Maryborough has a vibrant arts and culture scene. There are many galleries, theatres, and museums to explore.
Head on over to the Information Centre (located at Maryborough City Hall) to pick up the Art/Gallery Walk guide to explore all the artwork scattered throughout the town.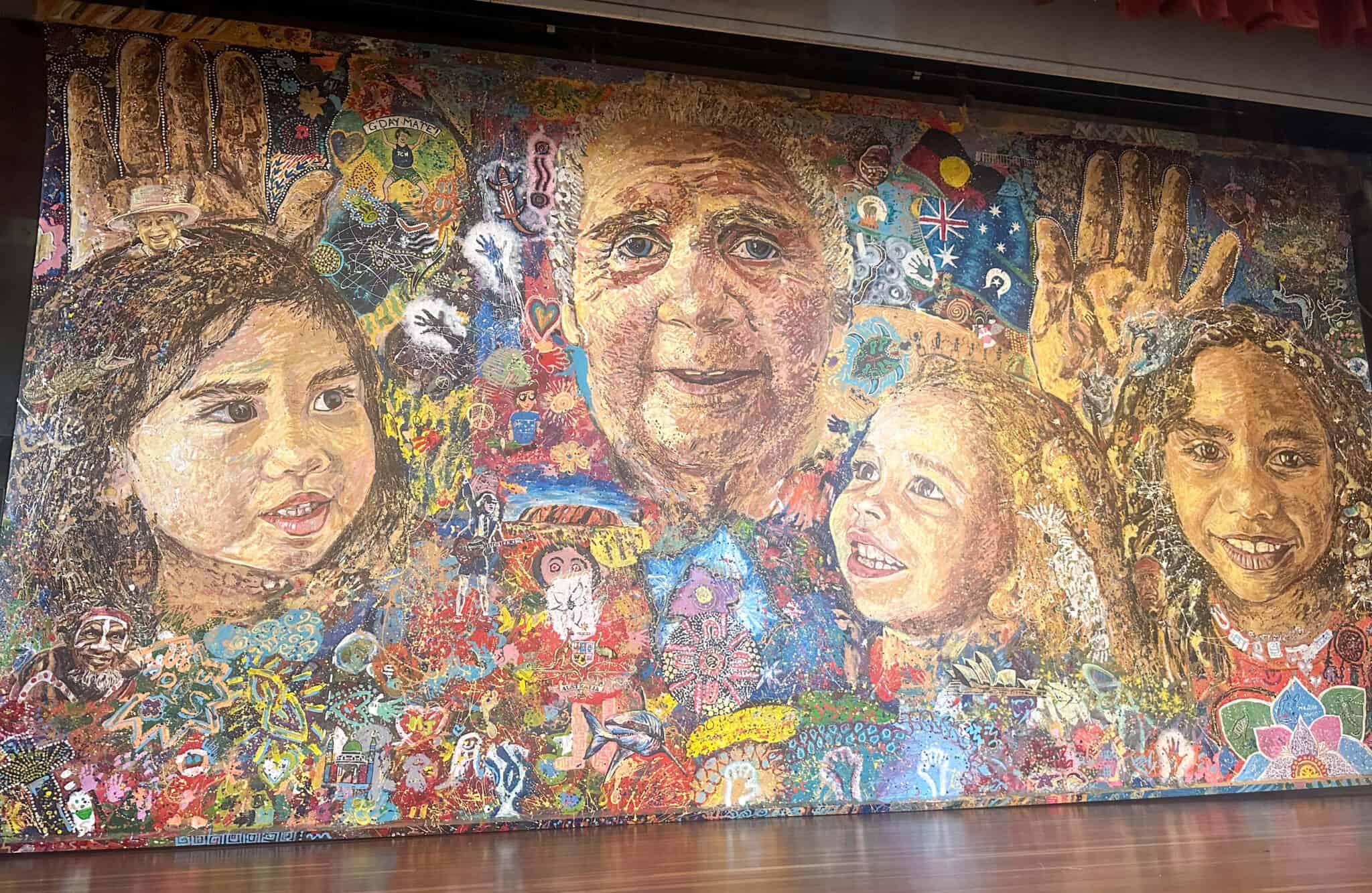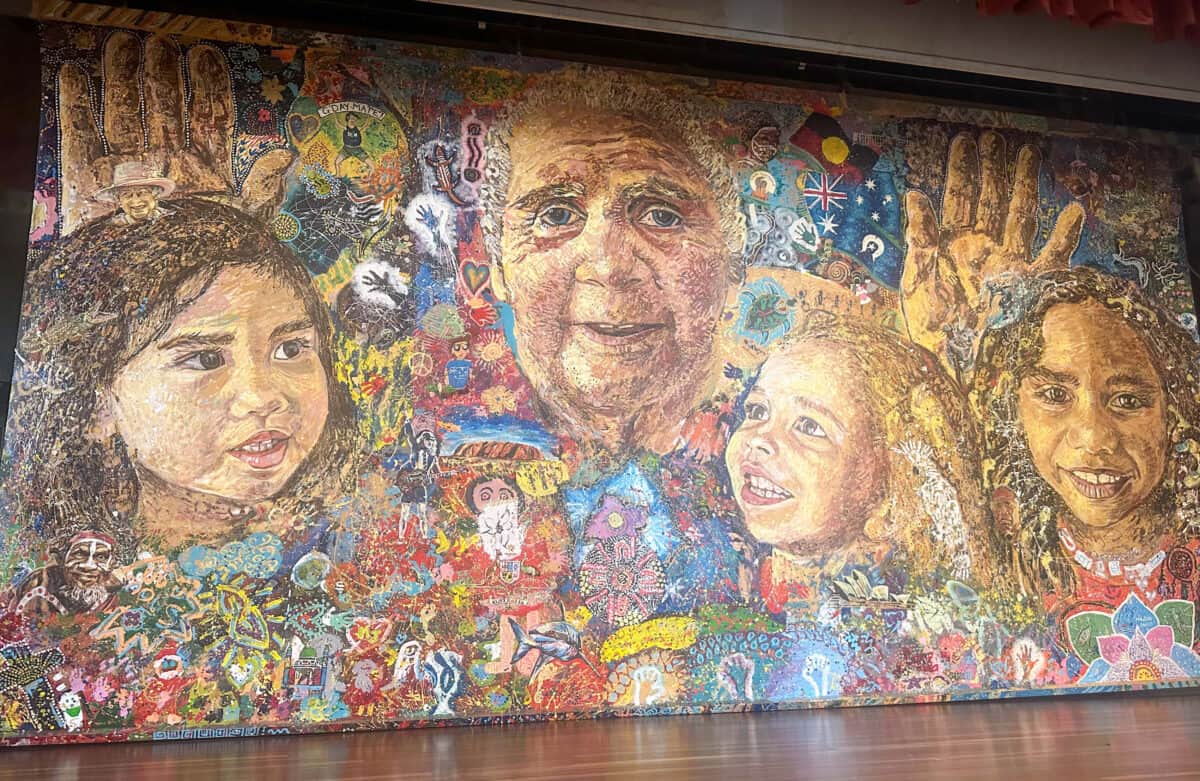 7. Visit the Mary Poppins Statue and Story Bank Museum
Believe it or not, Maryborough is home of the world famous author, P L Travers who created the Mary Poppins we all know and love.
Pop in over to the interactive Story Bank Museum to take a walk through the history of the successful author.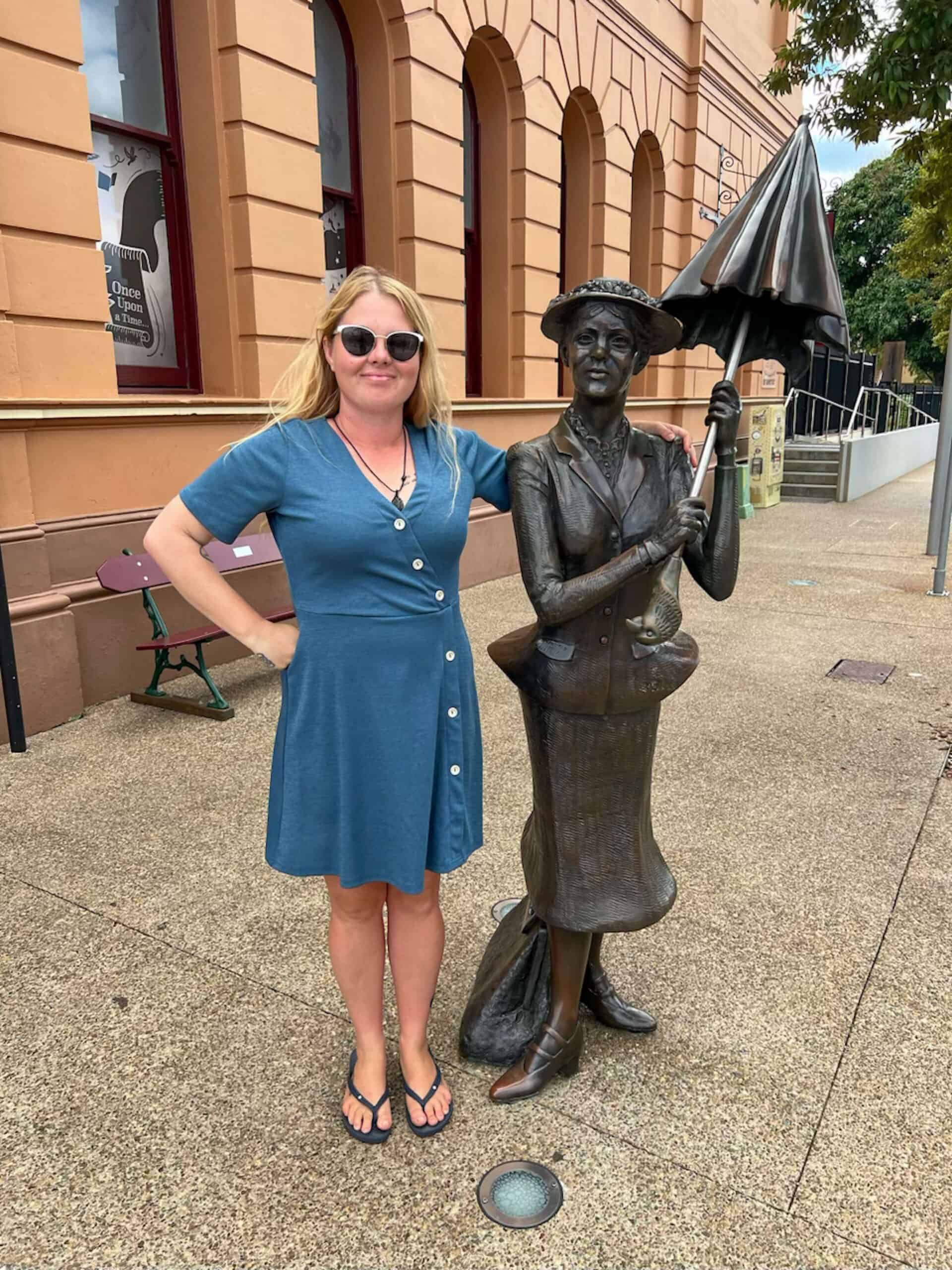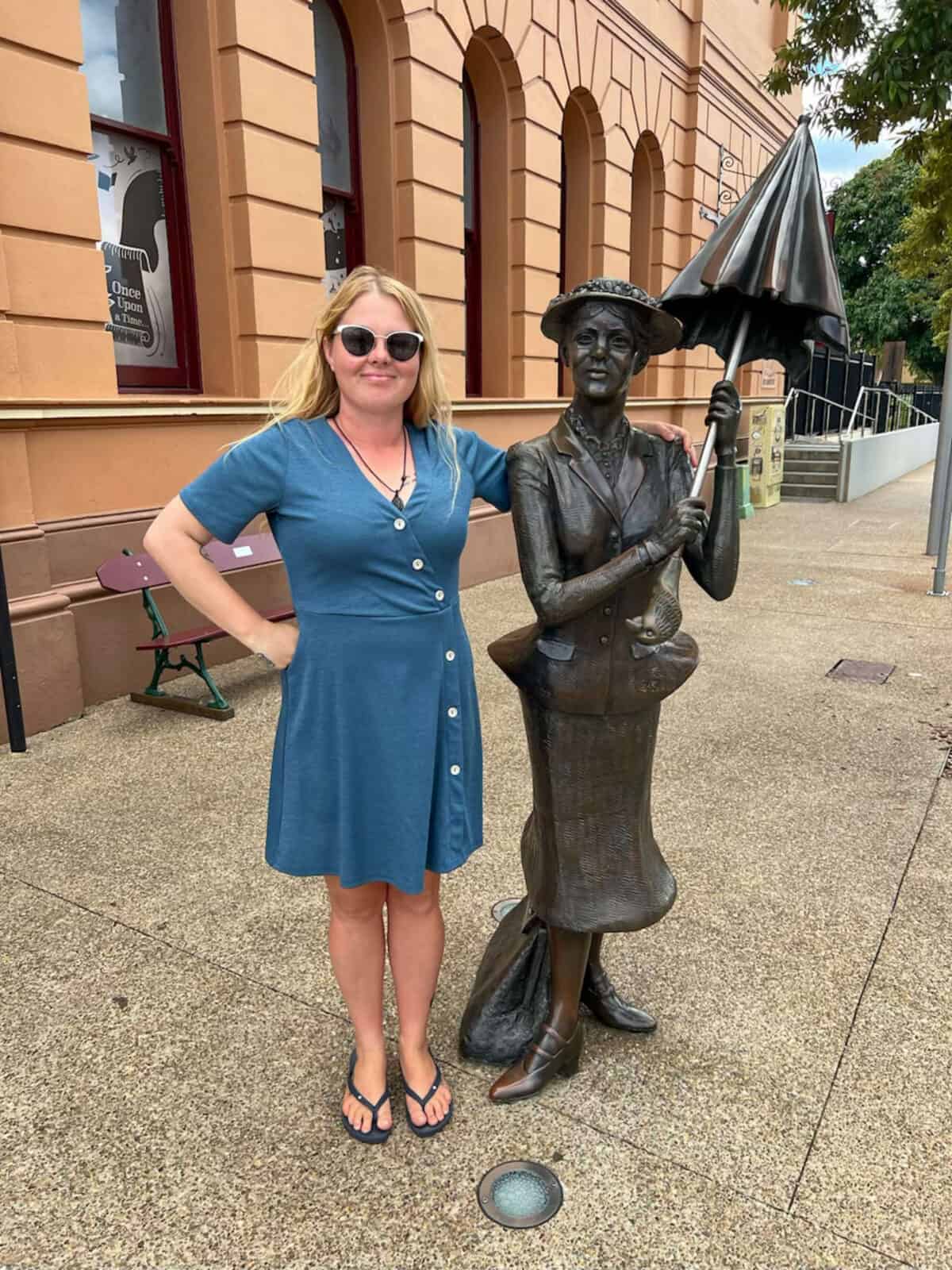 8. Take a walk through Queens Park
Queens Park was established in 1860. This beautiful park is located in the heart of Maryborough. It is home to a variety of gardens, massive fig trees (as pictured below), a waterfall, and a children's playground.
This is probably the best Queens Park I have ever visited!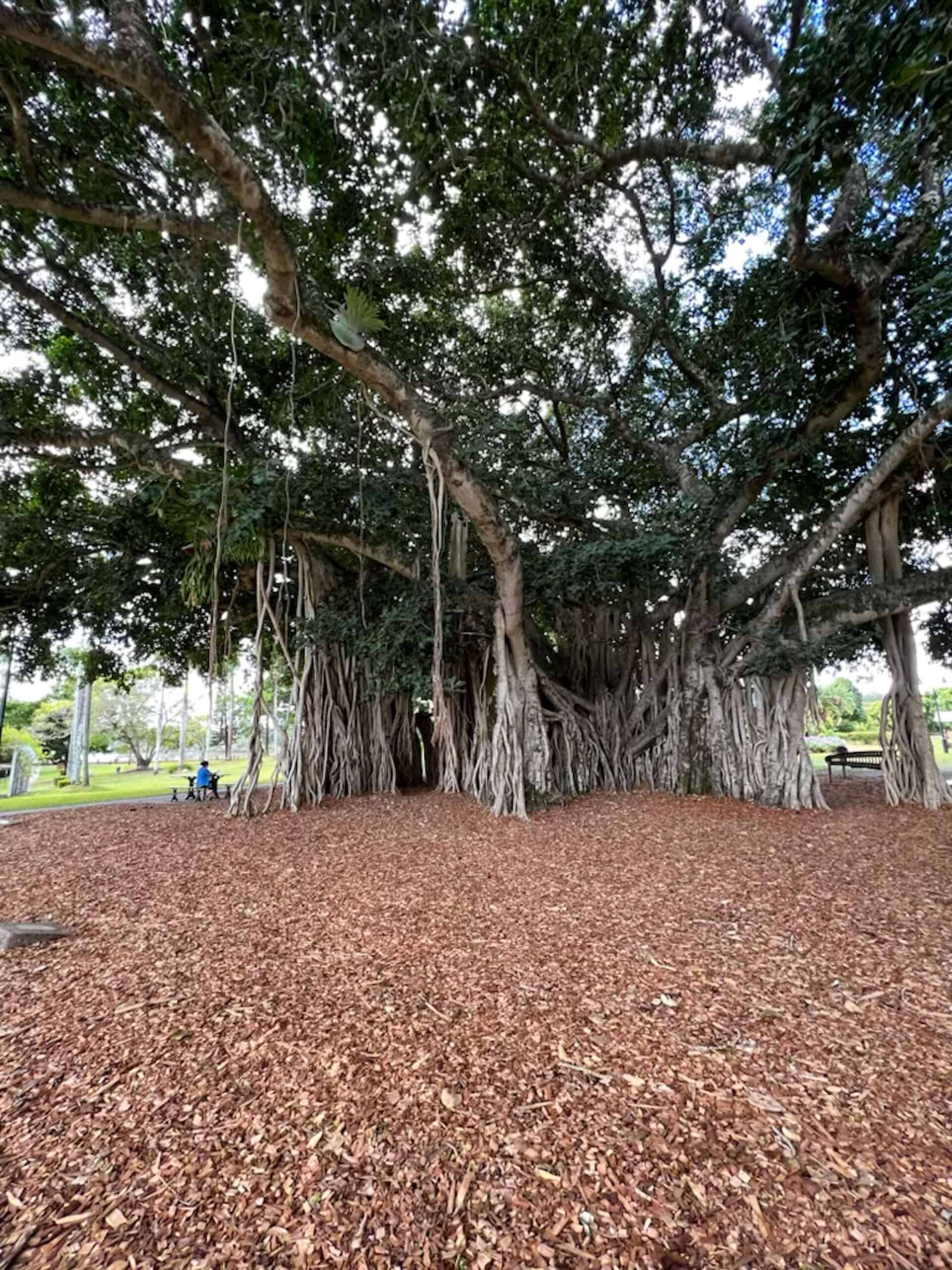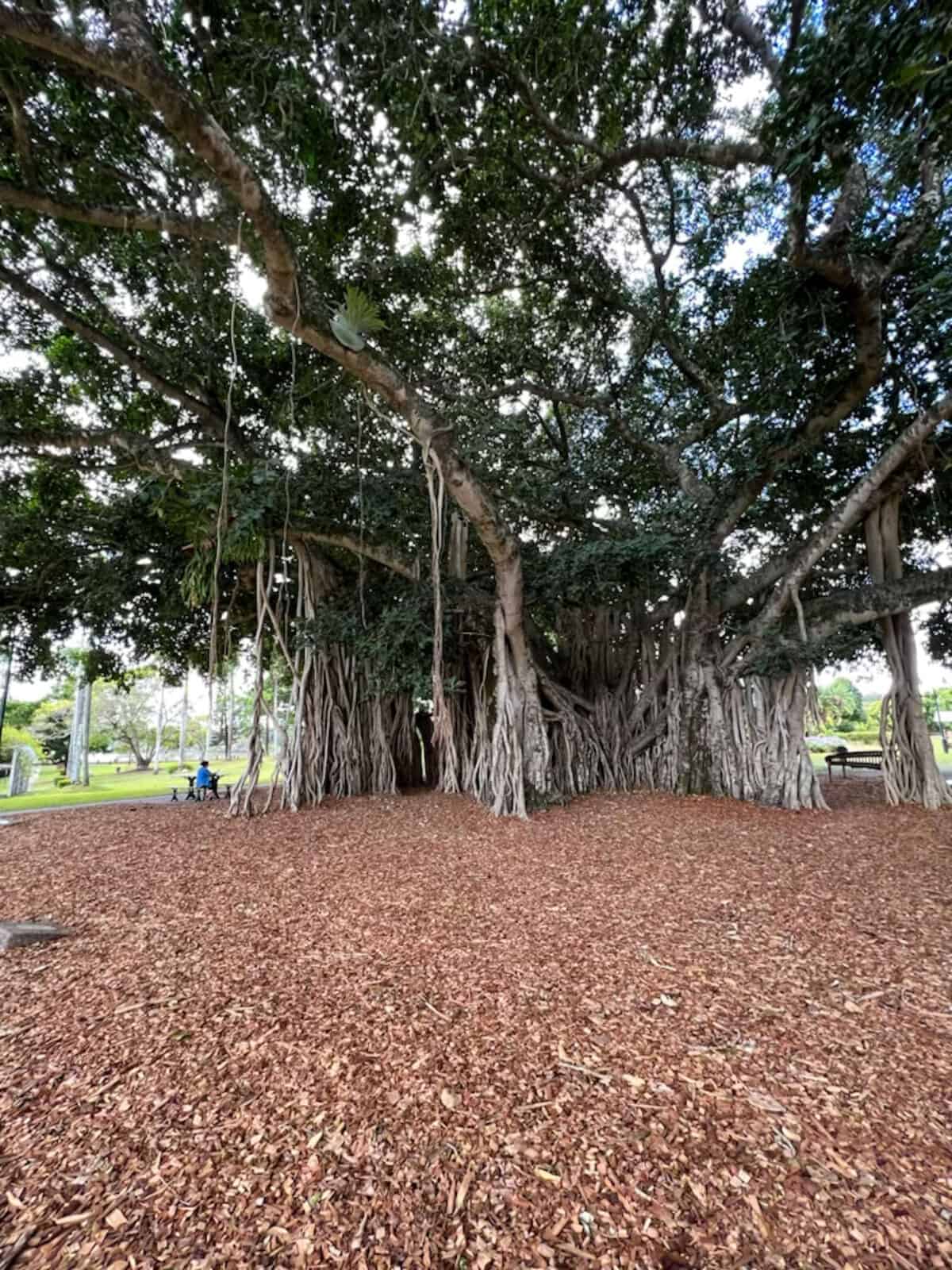 9. Walk through the ANZAC War Memorial at Queens Park
Located in Maryborough's Queen's Park is a beautiful award-winning tribute to the lives lost in World War One.
Originally a sole statue of Duncan Chapman was erected in 2015.
Over time, additional statues and timelines have been added to this Australian war memorial within Queen's Park for visitors to learn the history of the First World War.
The memorial is a self-paced experience through the green lawns and is well worth a visit to pay respect to the lives lost.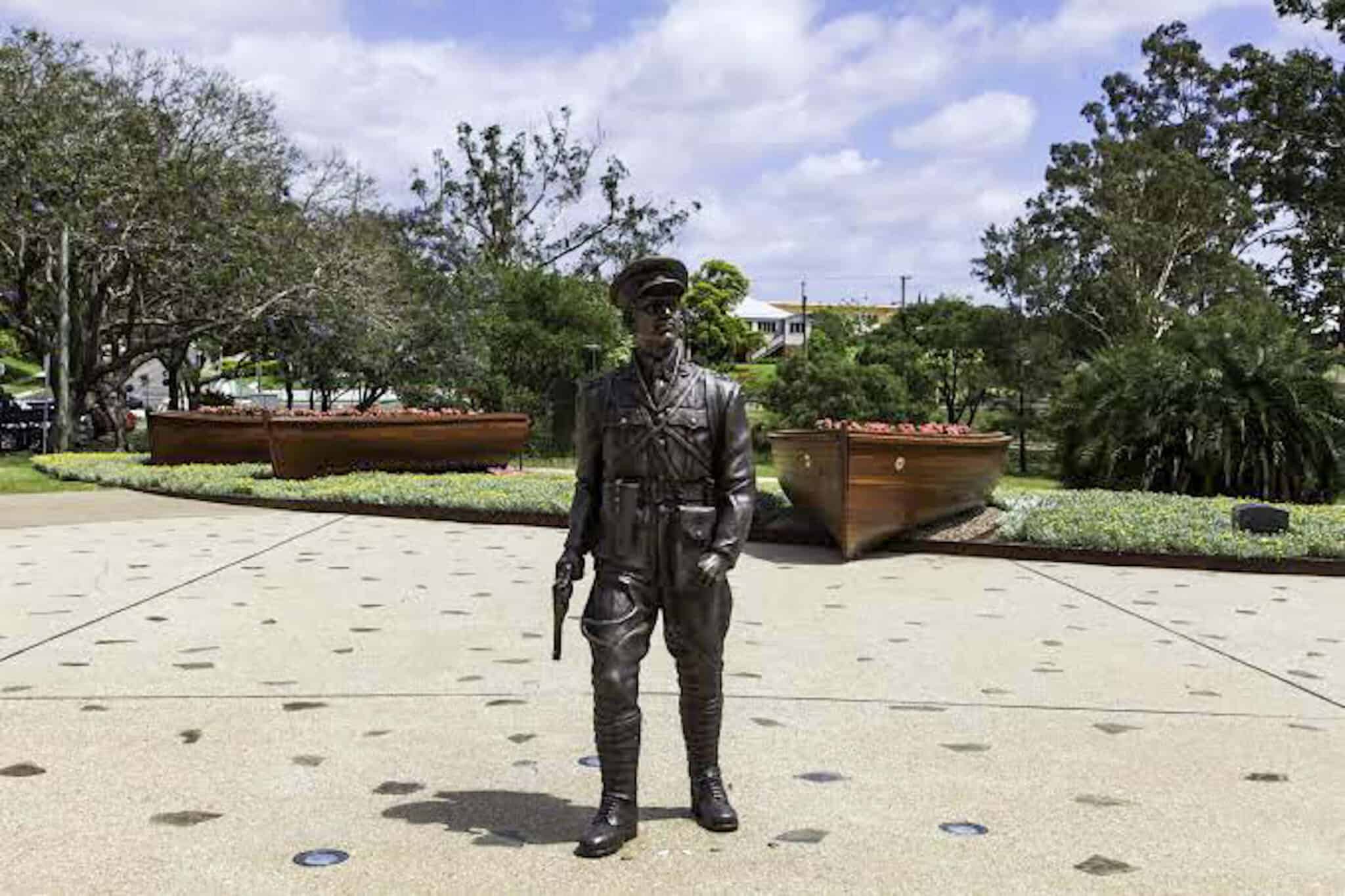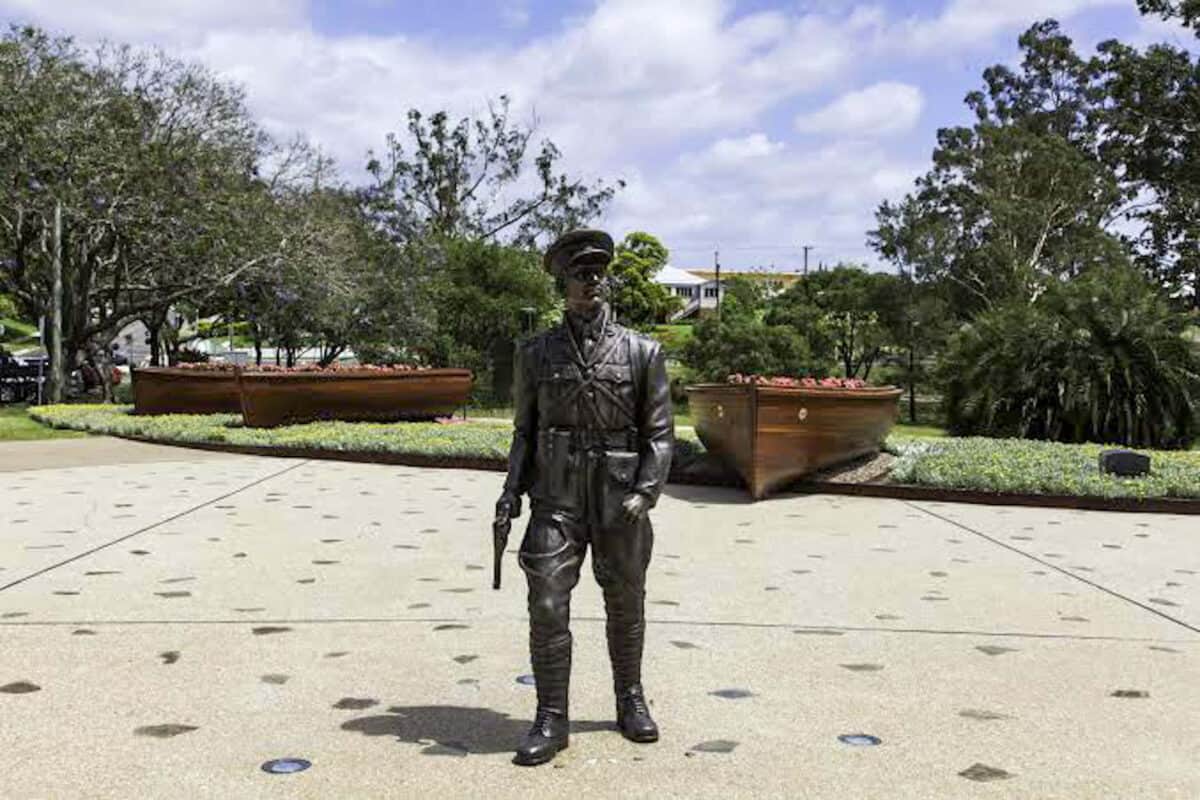 10. Visit the Maryborough Military and Colonial Museum
In the heart of Maryborough on Wharf Street, you will find the Maryborough Military and Colonial Museum containing memorabilia from all wars, however, focusing mostly on Queensland and Maryborough.
The unique Museum offers a glimpse into the region's military and colonial history, from the earlier days until the present. With over 10,000 items on display, ranging from uniforms and weapons to medals and photographs.
A guided tour can be arranged of the Military and Colonial Museum, or a small fee to enter the Museum for a self-paced wander through the military memorabilia.
11. Find the Golden Dunny
The Cistern Chapel is located at Maryborough City Hall. Here you will stumble upon the most unique public toilets you will find in Queensland.
Artwork has been filled from floor to ceiling and of course, you will find the golden toilet!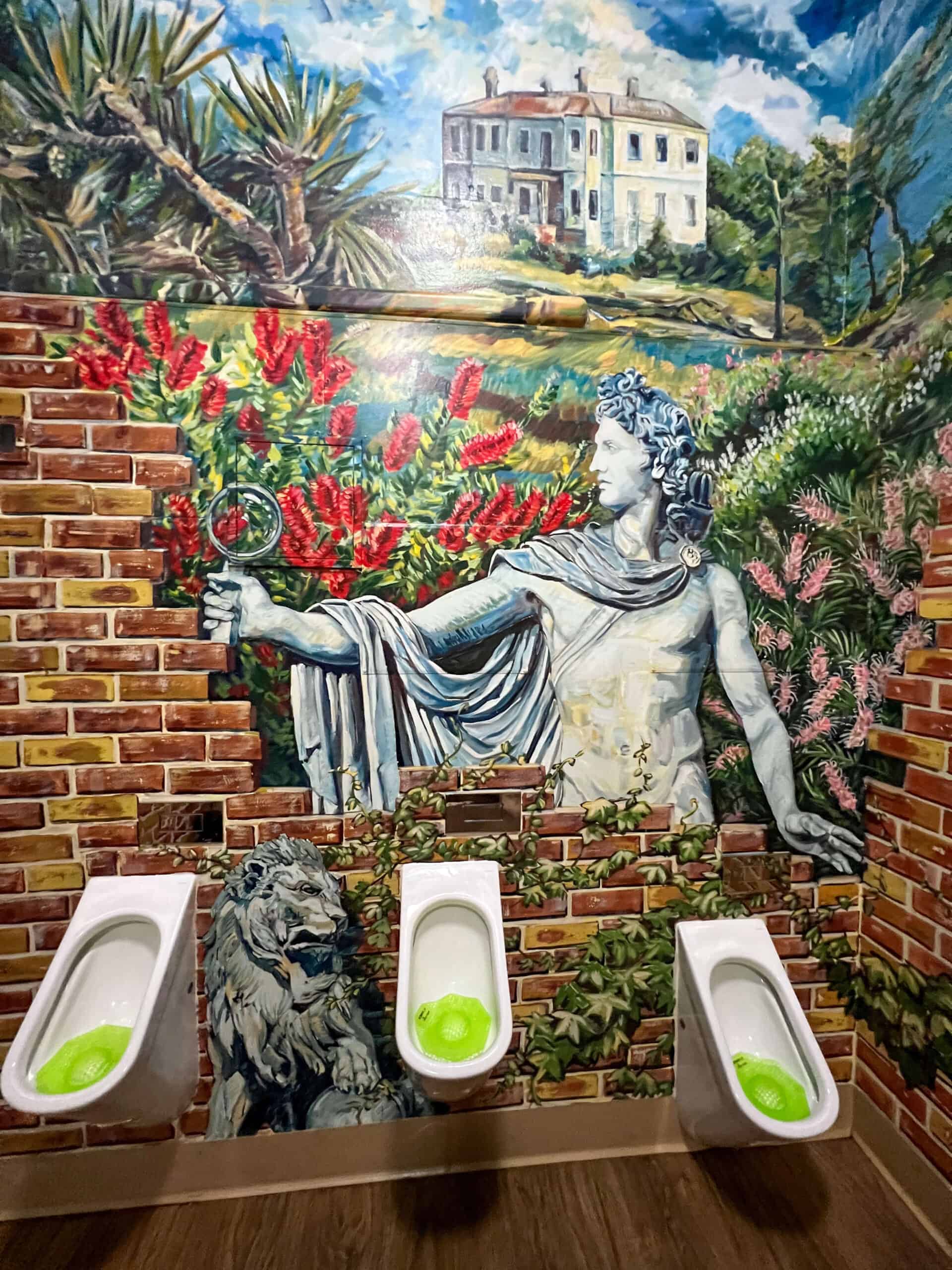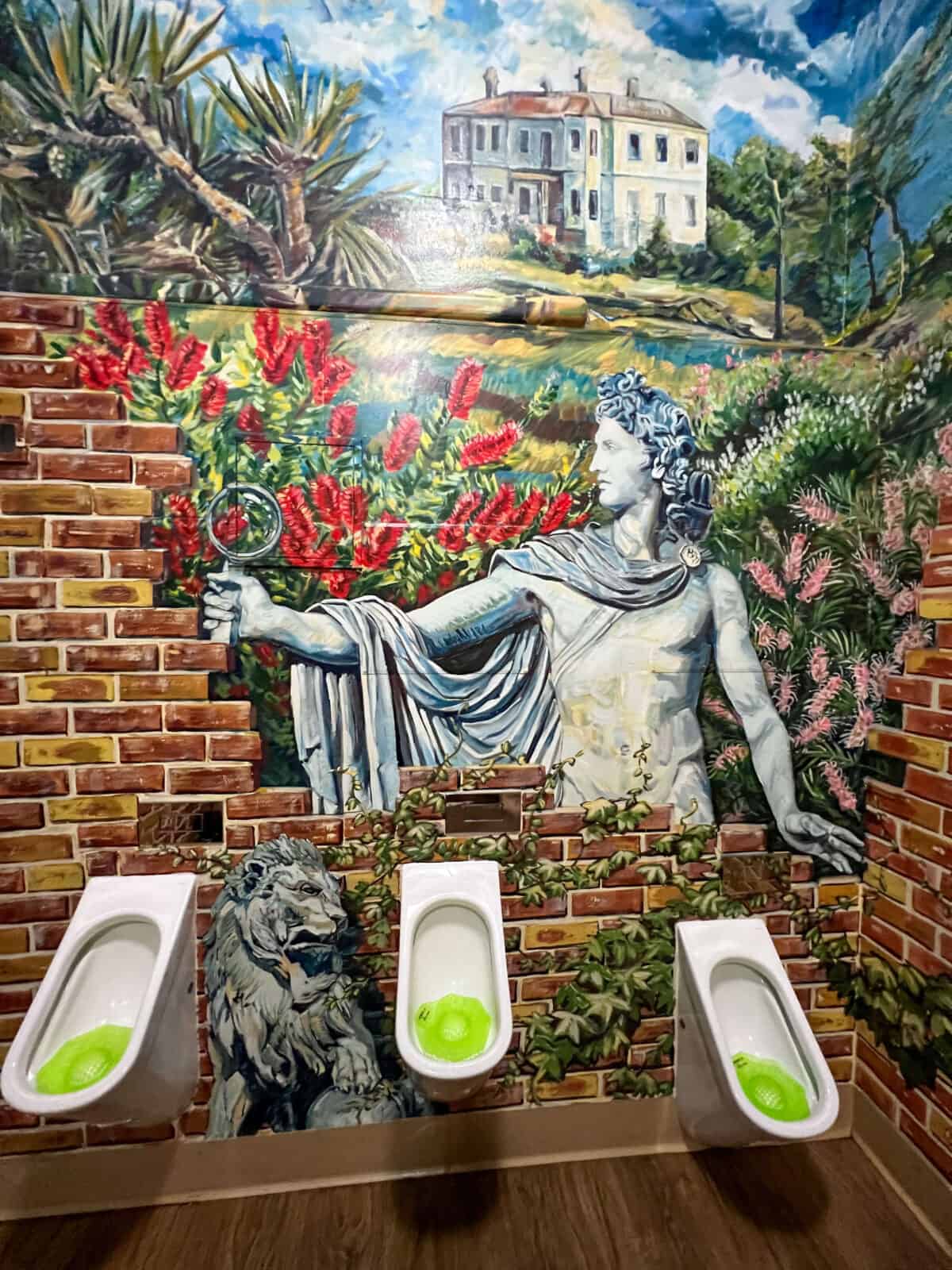 12. Visit the Whistle Stop Rail Museum and ride the Mary Ann steam train
The Whistle Stop Rail Museum contains a collection of railway memorabilia. Located in the railway complex on Lennox Street.
Each Thursday (market day) and the last Sunday of the month, the Mary Ann steam train is in operation to take visitors for a journey around town.
The Mary Ann was the first steam train to be built in Queensland.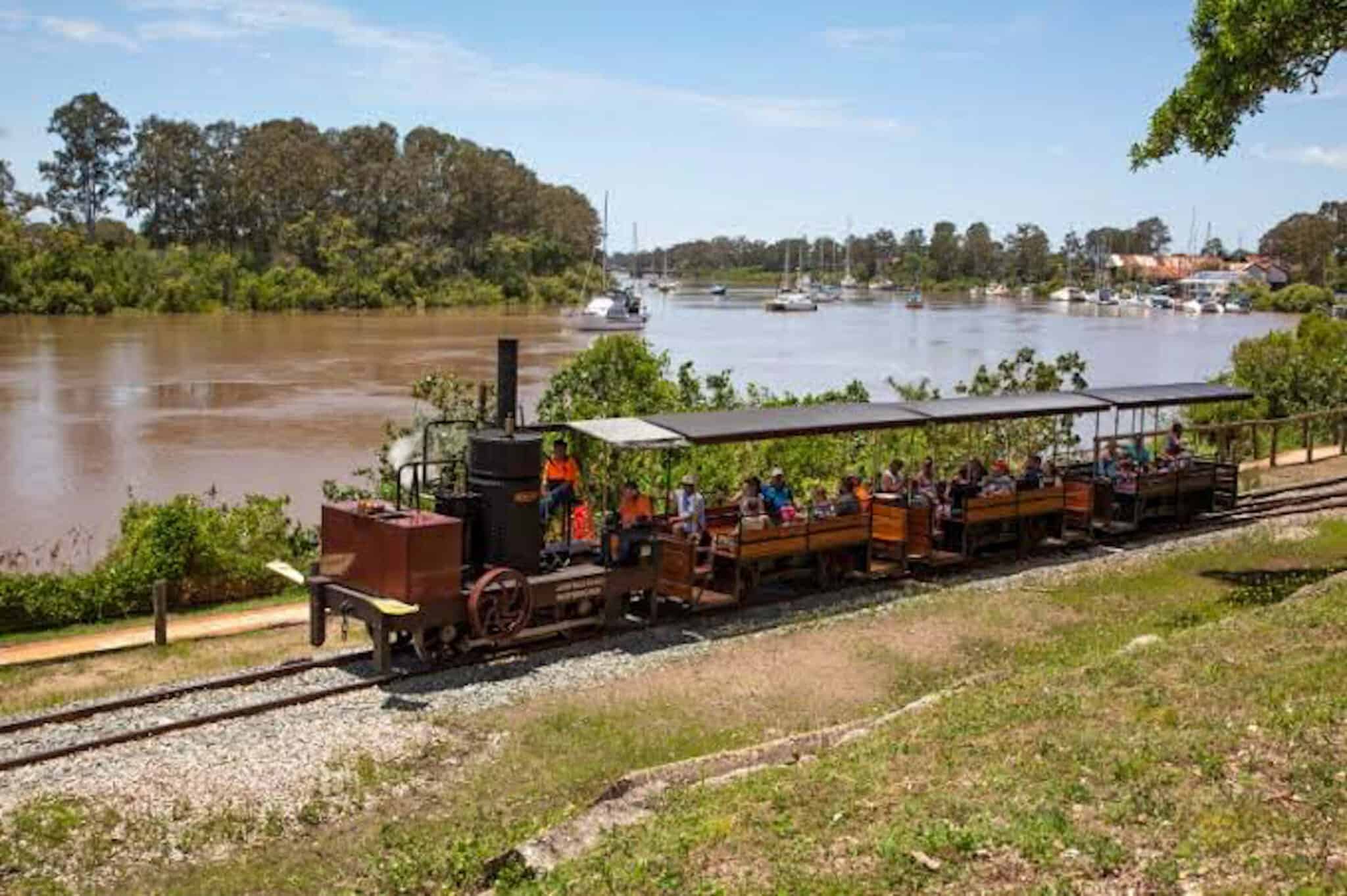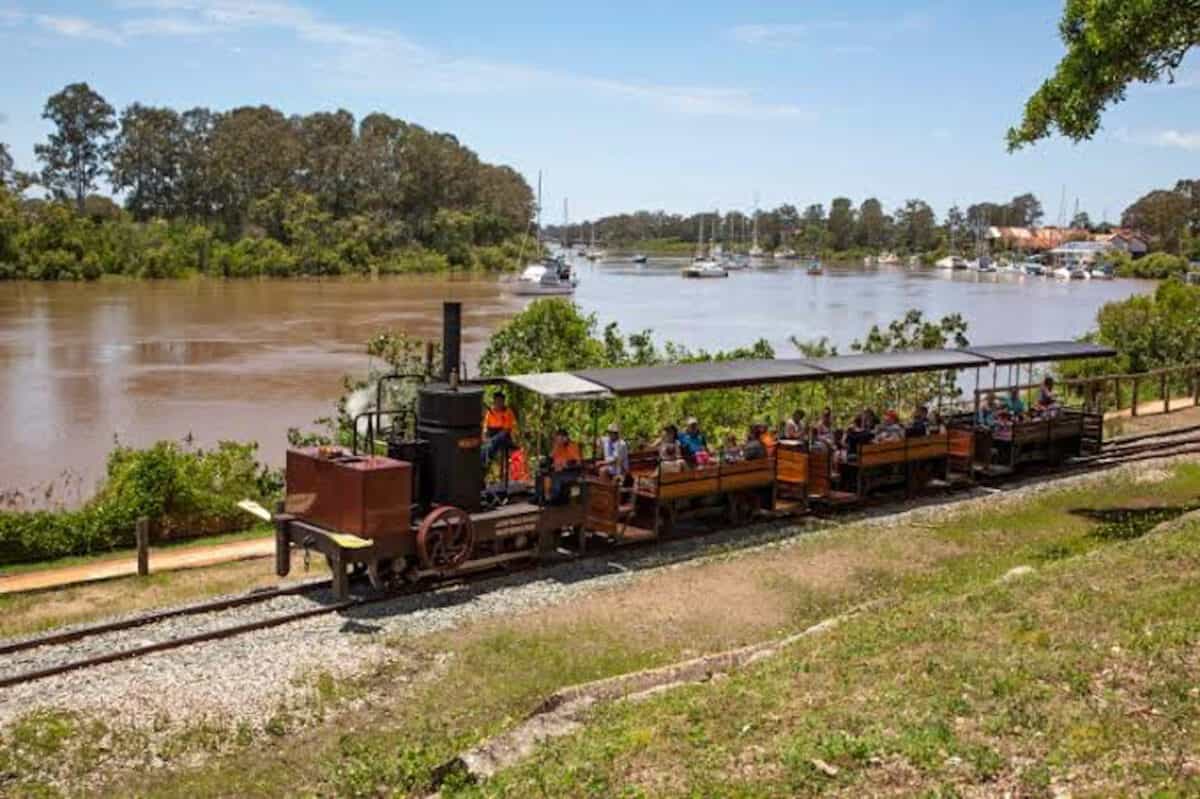 13. Check out the local Maryborough Markets
Just like their history, the town likes to stick to tradition, the Maryborough Markets have been held every Thursday since 1987. On this day, the town comes to life with the Mary Ann train rides, entertainment and stalls.
The Markets are held from 7 am to 12 pm on Adelaide Street.
14. Take in the 1800's Brennan and Geraghty's Store Museum
Brennan and Geraghtys Store Museum is located on Lennox Street. This Heritage-Listed store displays products and paperwork up to 150 years old.
Discover the retail shopping from the late 1800's as you wander through the Museum.
Fun Outdoor Maryborough Activities
If its nature that you love best, there are plenty of things to do in Maryborough for nature and wildlife lovers too!
15. Visit the native animals at Fraser Coast Wildlife Sanctuary
Located on Mungar Road, the Fraser Coast Wildlife Sanctuary provides a home to native animals and birds.
Head on down to this natural wildlife park to learn about dingoes, kangaroos and many other native animals of Australia.
16. Go whale watching
Is whale watching on your bucket list? With less than a 30-minute drive to Hervey Bay, why not book a whale-watching tour to observe the whales during whale migrating season?
After all, Hervey Bay is known as a Whale Heritage Site.
17. Hike the Mt Walsh Summit
If you're looking for a more adventurous day, hike the 4km return summit and reach the top of Mt Walsh National Park.
Make sure to come prepared with water, high-protein snacks and all the safety gear before heading off on this journey.
18. Take a swim at Utopia Falls
Does a day at the rock pools sound inviting? Utopia Falls has you covered with a 3km return moderate walk.
The creek flows through a series of rock pools in the granite and features a small water fall. Best explored after rain. However, even with no rain Utopia Falls was still a stunning spot for a picnic lunch and to take in the serenity of the area.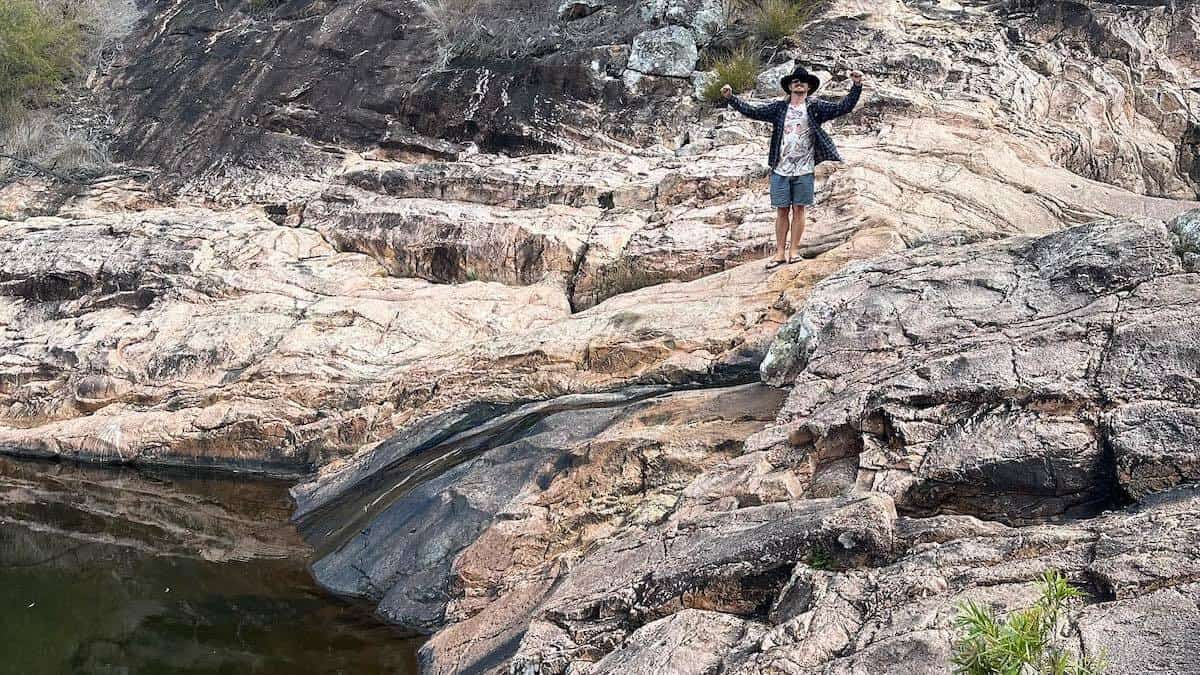 Where to Stay in Maryborough
Now you've had a look at what is available in the town of Maryborough, now it's time to find the right accommodation for you.
Maryborough has both camping and hotel options available to book your stay.
We stayed in the small town of Antigua at River Run Farm – safe to say this has been our most favourite bush camp site since starting our big lap of Australia. We even met the local echidna!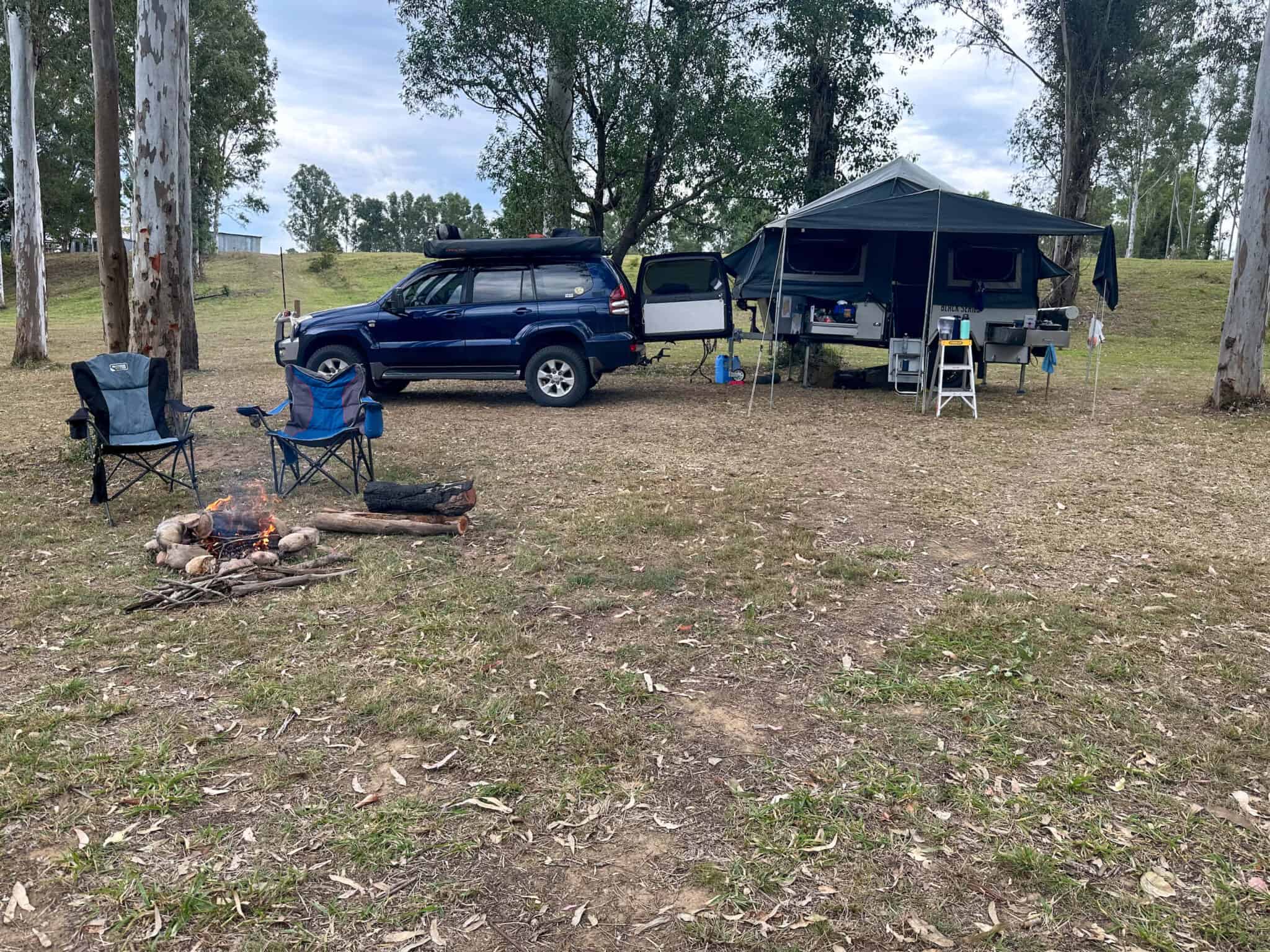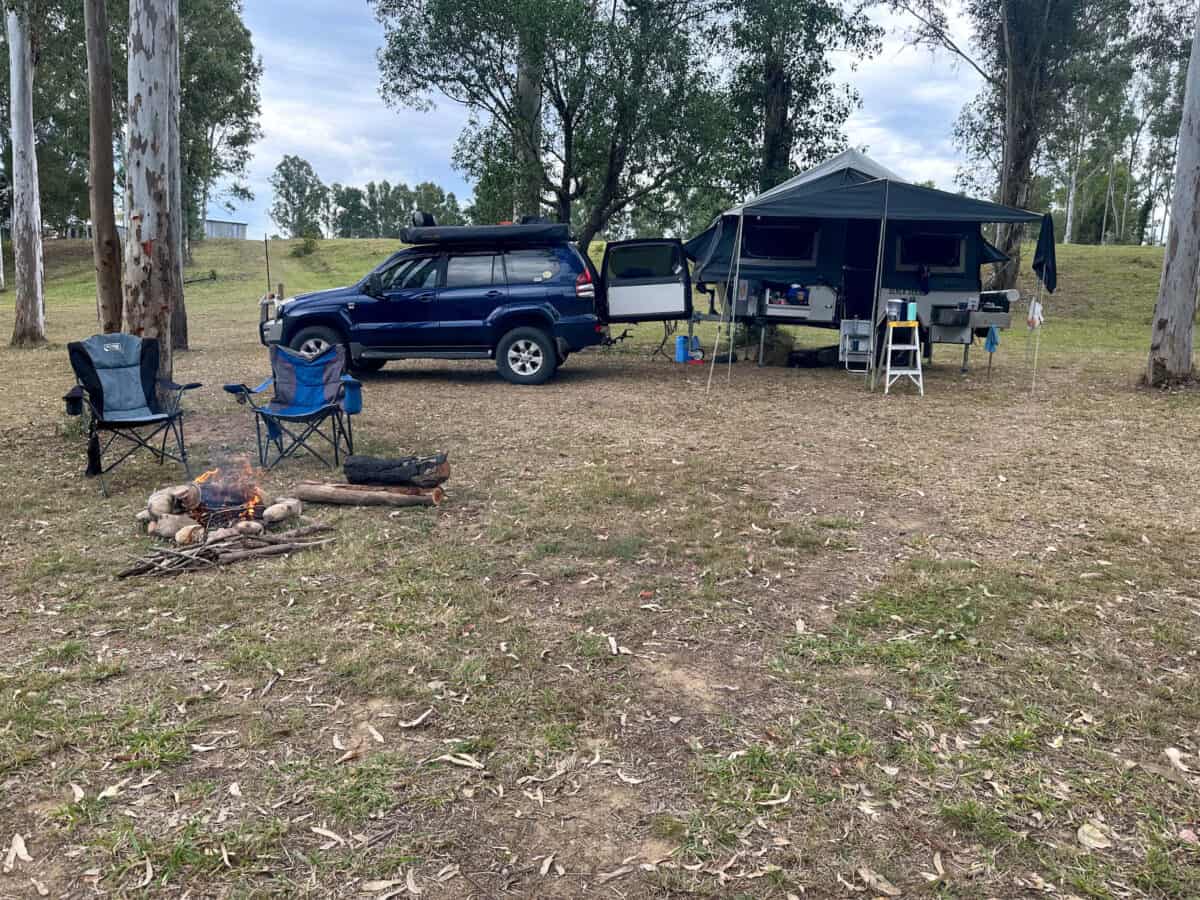 Places To Eat In Maryborough
If you don't feel like cooking during your stay in the City of Maryborough, no need to stress as they have everything covered from a hearty pub meal to a light cafe lunch.
Make sure to check the operating hours before planning your meals:
Federal Hotel
Fortune Chinese Restaurant
Additional Tips For Visiting Maryborough QLD
The best time to visit Maryborough is during the spring or fall (September to November or March to May). The weather is mild and sunny during these months.
Maryborough is a small city, so you can easily get around on foot or by bicycle. However, there is also a public bus system available.
There are many hotels, motels, and bed and breakfasts to choose from in Maryborough.
If you are planning on doing any whale watching, be sure to book your tour in advance. Whale watching is a popular activity in Hervey Bay and tours can sell out quickly.
The Maryborough Visitor Information Centre is a great stop to help you plan your itinerary at the start of your visit.
Conclusion: What To Do In Maryborough QLD
Now we've supplied a variety of the best things to do in Maryborough and great places to stay, it's time to start planning your next holiday!
I'm going to be honest here, when planning our lap of Australia we had no intention of adding Maryborough to our journey. However, we are so grateful we had the opportunity to take in the history of this beautiful town.
FAQS: Maryborough Guide
Is Maryborough worth a visit?
Yes, Maryborough may be a smaller town, but there are a surprising number of things to discover, making it well worth a stop or longer stay.

What is Maryborough famous for?
Maryborough is a historic city on the Mary River where the author of Mary Poppins was born. It also has several museums to discover the rich history of the country.
When is the best time to visit Maryborough?
The best time to visit Maryborough is during the shoulder seasons in spring (September to November) or Autumn (March to May).
Explore more of Queensland: