Best Things To Do In Rainbow Beach, Teewah & Inskip Peninsula 
Are you looking for the best things to do in Rainbow Beach and the surrounding areas? We've put together the ultimate guide to visiting Rainbow Beach, including Teewah and Inskip Peninsula so you can explore this beautiful area.
This guide includes not only the best things to see and do near Rainbow Beach, but also tips for Rainbow Beach camping.
We've camped at each of these places and love all of them so we are sure you will too!
What Is Special About Rainbow Beach?
Rainbow Beach is a sub-tropical coastal town in the area of Cooloola in Queensland. Also known as the gateway to the one and only K'Gari Island (formally known as Fraser Island).
This makes the location a popular choice for Rainbow Beach to Fraser Island day trips!
The name "Rainbow Beach" is said to come from the colour of the sands. Once you set your eyes on the varied colours of the sand, you will understand why.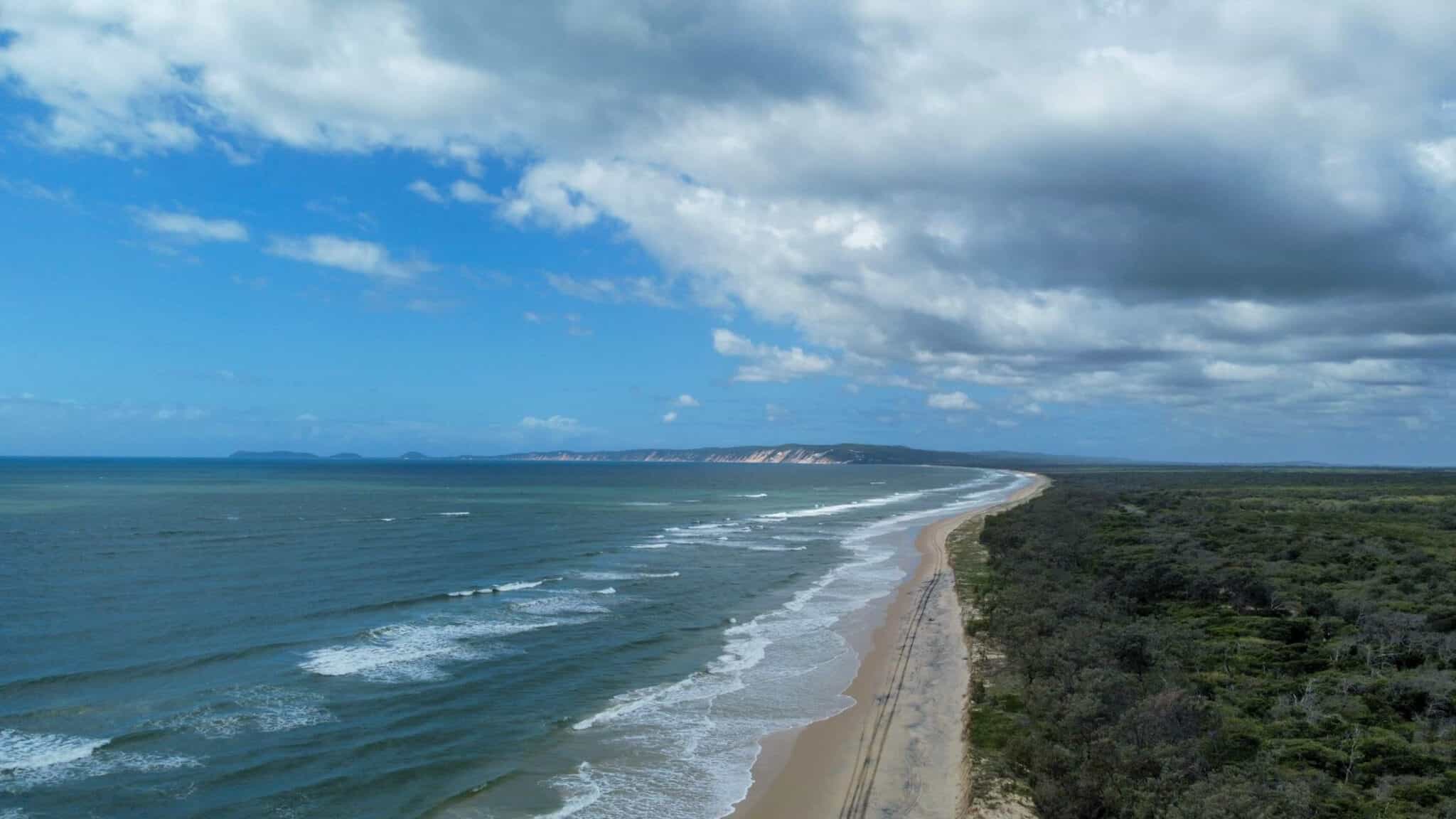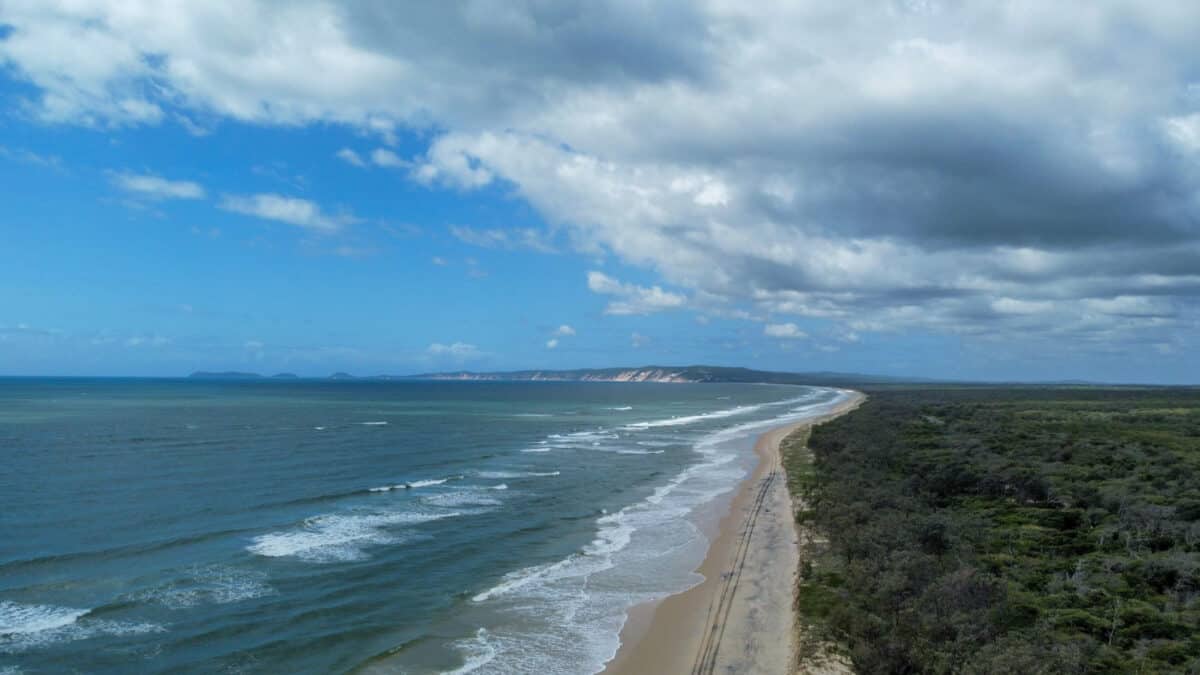 Best Things To Do In Rainbow Beach & Surrounds
If you're lucky enough to be spending a few days camping at Rainbow Beach, Teewah or Inskip, or you're staying nearby, you will find plenty of beautiful places to explore.
Here are our top picks for what to do at Rainbow Beach, including Teewah and Inskip:
Take In The View At Carlo Sand Blow
Carlo Sand Blow is located in the Great Sandy National Park on Cooloola Dr, Rainbow Beach in Queensland 4581.
A 900m walk from the car park will have you wandering through the rainforest to reach the large sand blow.
Once you have arrived, feast your eyes on the stunning 180-degree views over Double Island Point, Rainbow Beach, Inskip Peninsula and K'Gari/Fraser Island.
Some sandblows only feature viewing platforms, however, you can access Carlo via foot to really take in the view from above.
You can even arrive early to watch the sunrise on the ocean!


Take A Dip In Seary's Creek
Seary's Creek is located on your way into Rainbow Beach and is well worth a stop.
This shady day-use area not only has picnic tables and toilets, you can head on down for a boardwalk stroll along the creek, taking in the abundance of birdlife and plantlife.
When you reach the end of the boardwalk, the creek is accessible for swimming.
This is the perfect day trip on a hot summer day to enjoy the cool water in the shade.
Hike The Cooloola Great Walk
If hiking is your way of exploring an area, you won't be disappointed with the "Cooloola Great Walk" – along the walk, you will come across sand hills, rainforests and wildflowers.
This walk is approximately 102 km one way, taking approximately 5 days to complete. This is a grade 4 walking track and is only recommended for experienced hikers.
Enjoy The Freshwater Poona Lake
If your preference is a day adventure hike (like us), you also have the option of a 4.2km return hike to Poona Lake.
Head on through the Great Sandy National Park rainforest and arrive at the freshwater lake to cool off.
Don't forget to pack the floatie, stand up paddle board or kayak!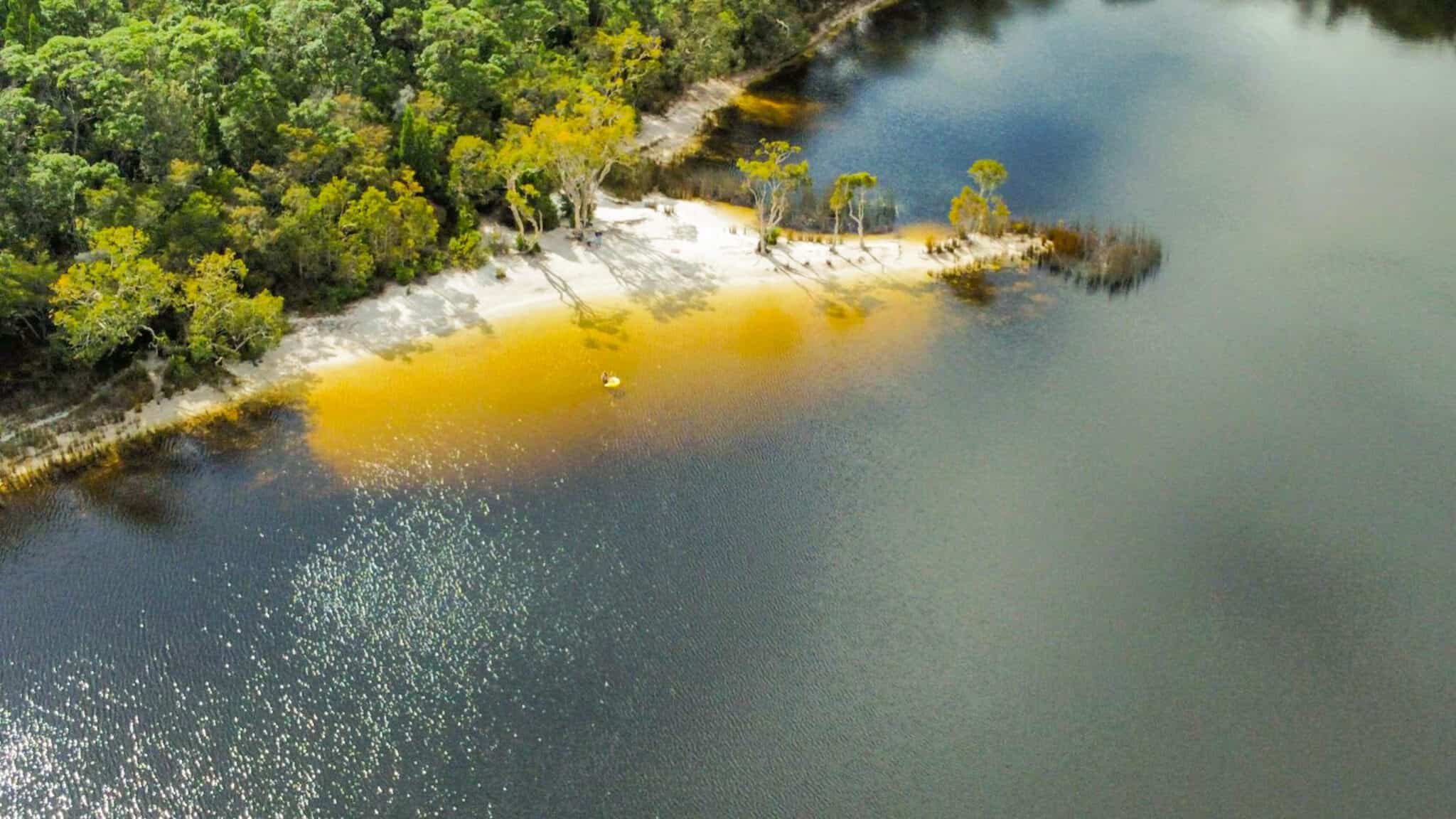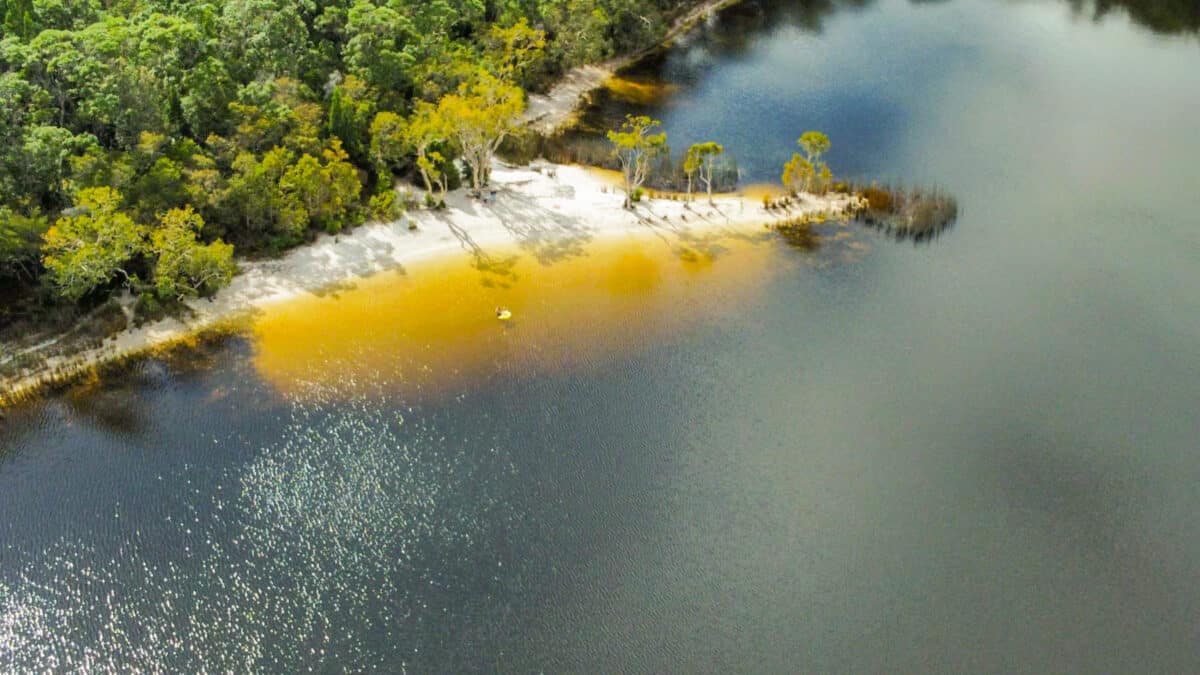 Spend The Day On The Beach
Rainbow Beach is a great spot to spend the day with swimming, fishing and building sand castles.
However, if you are looking for something a bit more adventurous, hire a kayak, take surfing lessons or hit up a tour for a day trip to K'Gari/Fraser Island.
You can even go kayaking with dolphins! So cool!
Test out the 4WD
There's nothing quite like driving on a beach. An added bonus is by driving, you can head on down to a more secluded section to enjoy your day away from the crowds. 
Some of the area requires vehicle permits to access the beach, so don't forget to check the Queensland National Park website to confirm before embarking on this trip.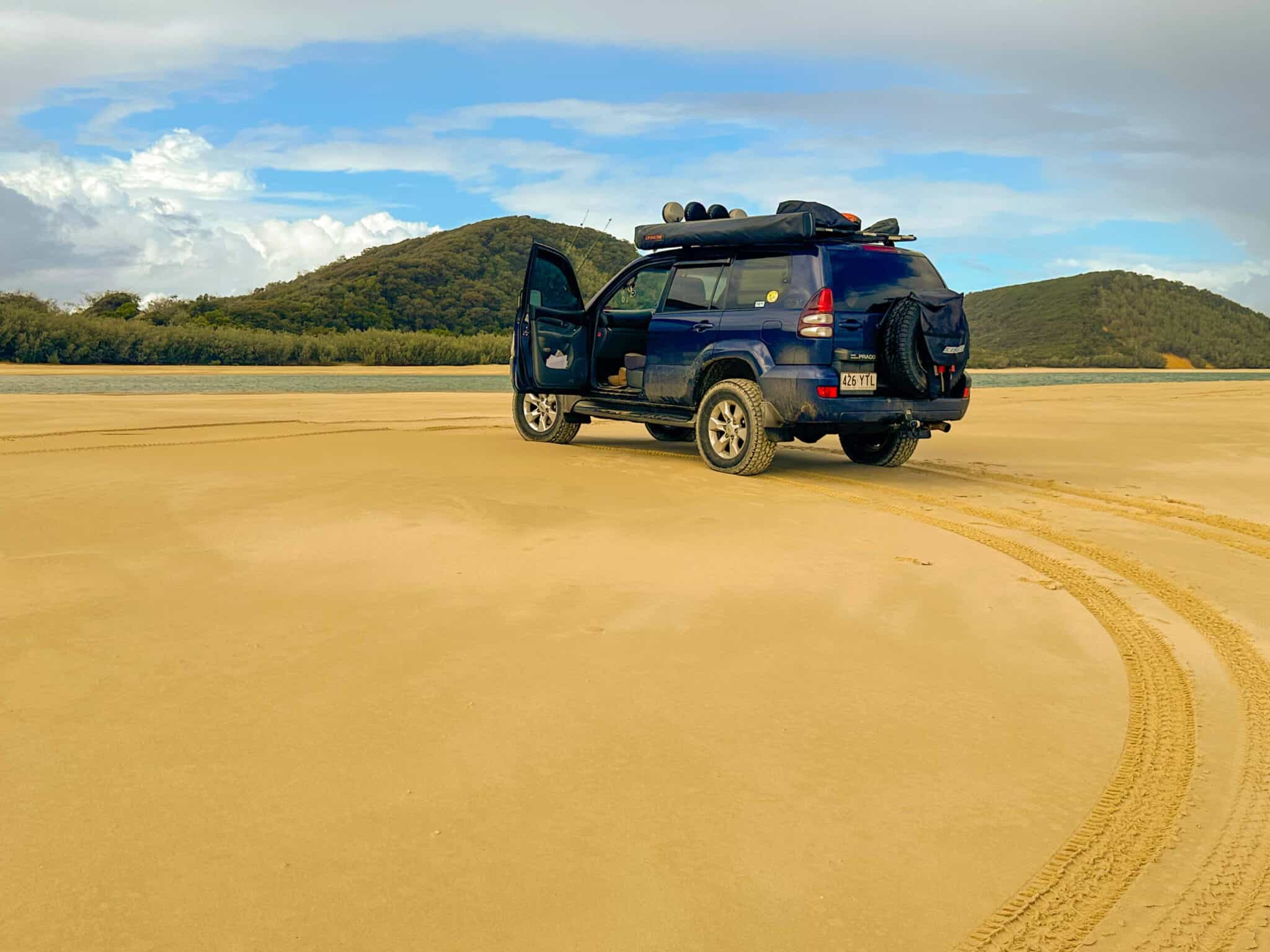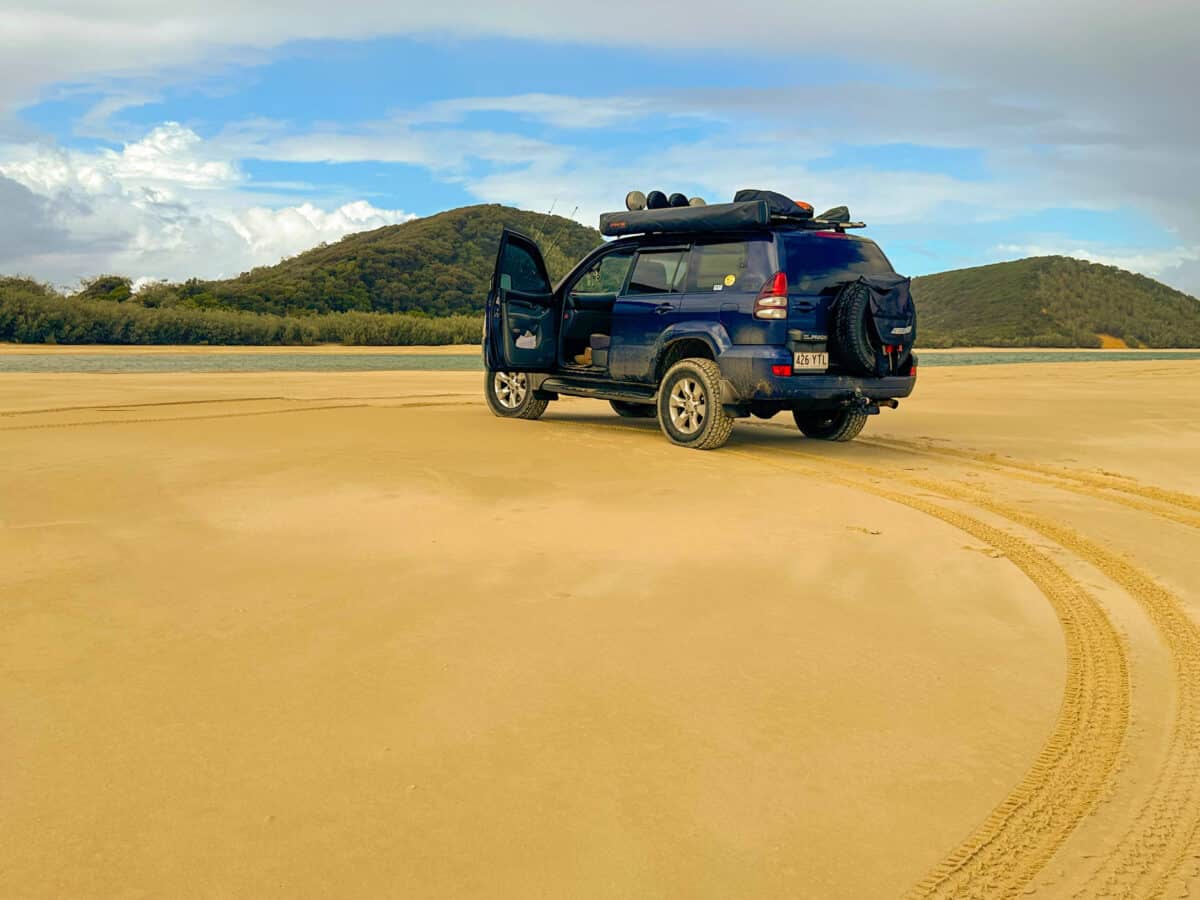 Where to Stay In Rainbow Beach
Whether you prefer sleeping in a tent or staying in a holiday rental, Rainbow Beach and its surrounds have all the accommodation options available!
Check out the informative list below for options that suit your perfect holiday accommodation:
Rainbow Beach Accommodation
If camping isn't your style, or you're only visiting for a short stay and don't want to set up camp for one or two nights, you can find accommodation at Rainbow Beach at the following:
Rainbow Beach Camping
If you are looking for camping on Rainbow Beach, there are quite a few options in Teewah and Inskip. Both of these areas we have enjoyed staying at on multiple occasions:
Teewah Beach Camping (zones 1 to 7)
Teewah campsites are remote and perfect for any type of getaway. Along with the natural beauty the land and the sea have to offer, you can also spend time exploring the surrounding area.
Prior to heading off on your Teewah adventure, don't forget to book your sites on the National Park website. Teewah camping and vehicle permits are required.
HOT TIP: 4WD access only. Don't forget to lower your tyre pressure and pack your recovery gear. And potentially the most important rule – pay attention to the tide times. No one wants to lose their vehicle on a king tide…
How To Get To Teewah Beach Camping
You can access the beachfront campsites via freshwater track or the Noosa ferry, depending on which direction you are travelling from.
Things To Do At Teewah Beach
Along with the typical beach camping activities such as; lazing on the beach with an alcoholic beverage, throwing a line in to catch a feed, watching the sun rise over the ocean and heading in for a swim, Teewah also offers some other amazing day adventures: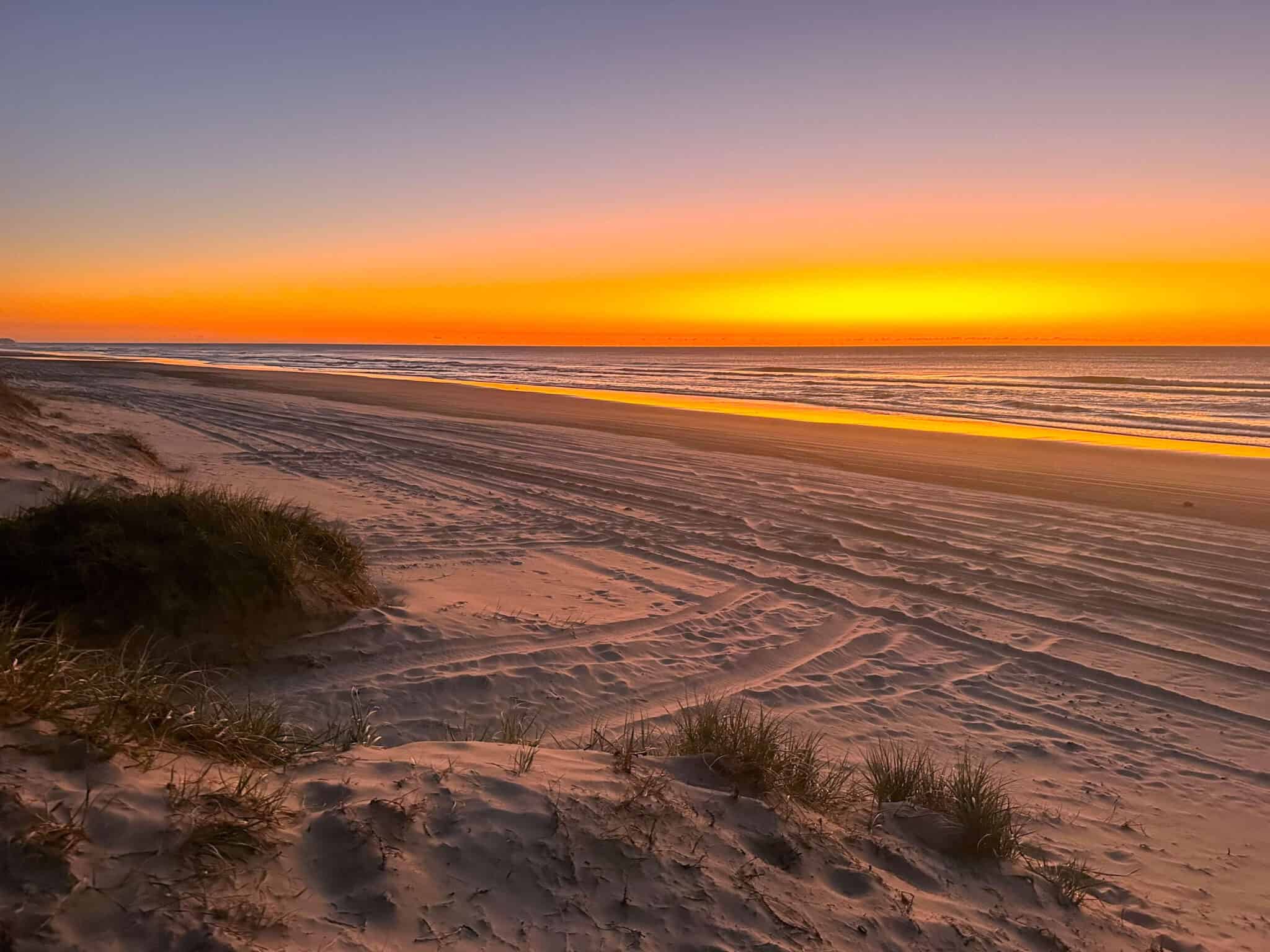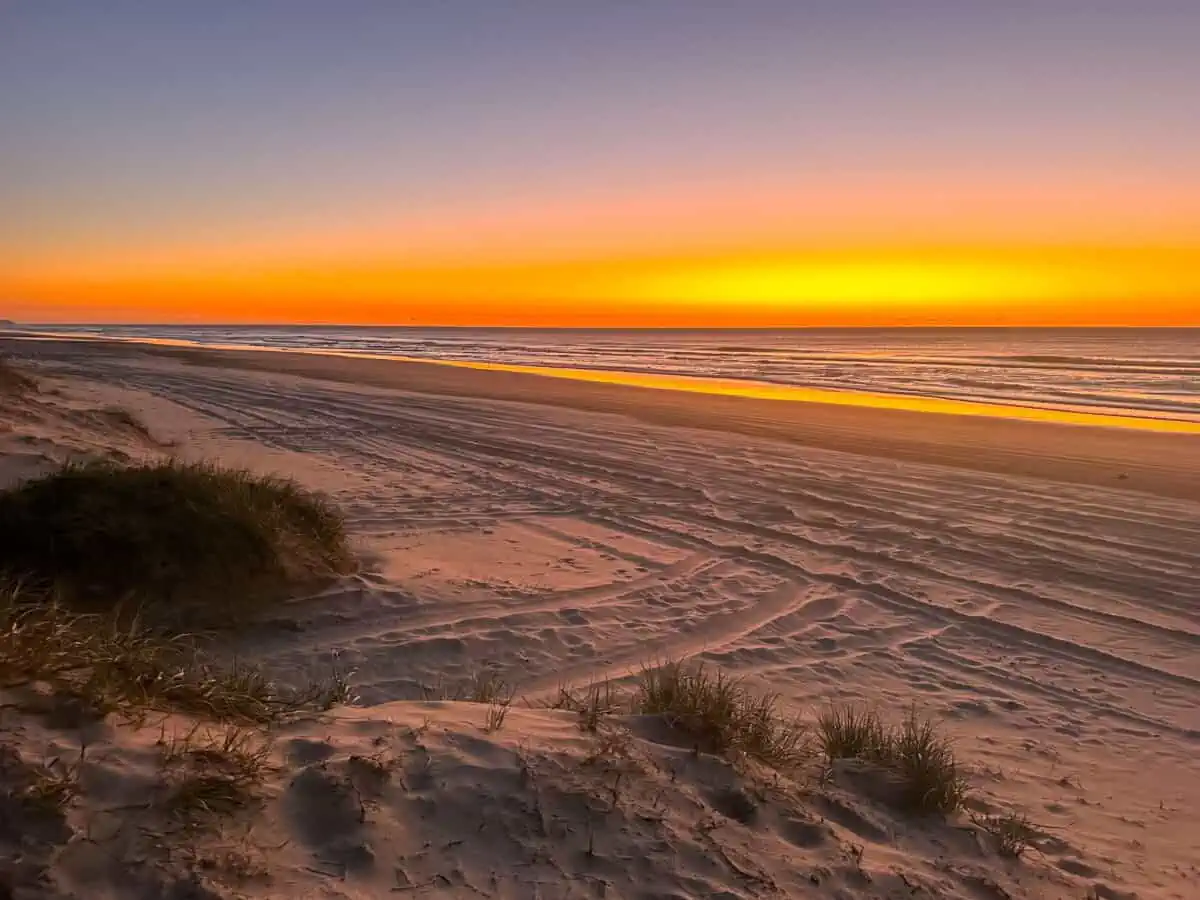 Take In The View At Double Island Point
Not only is this point a stunning view, you can also head up the lighthouse walk to check out the scenery from a different perspective.
Not far from the sand "car park" we found the very best viewing platform, where we spotted our very first pod of whales during our stay. This grassy patch was the perfect place for a picnic with a view.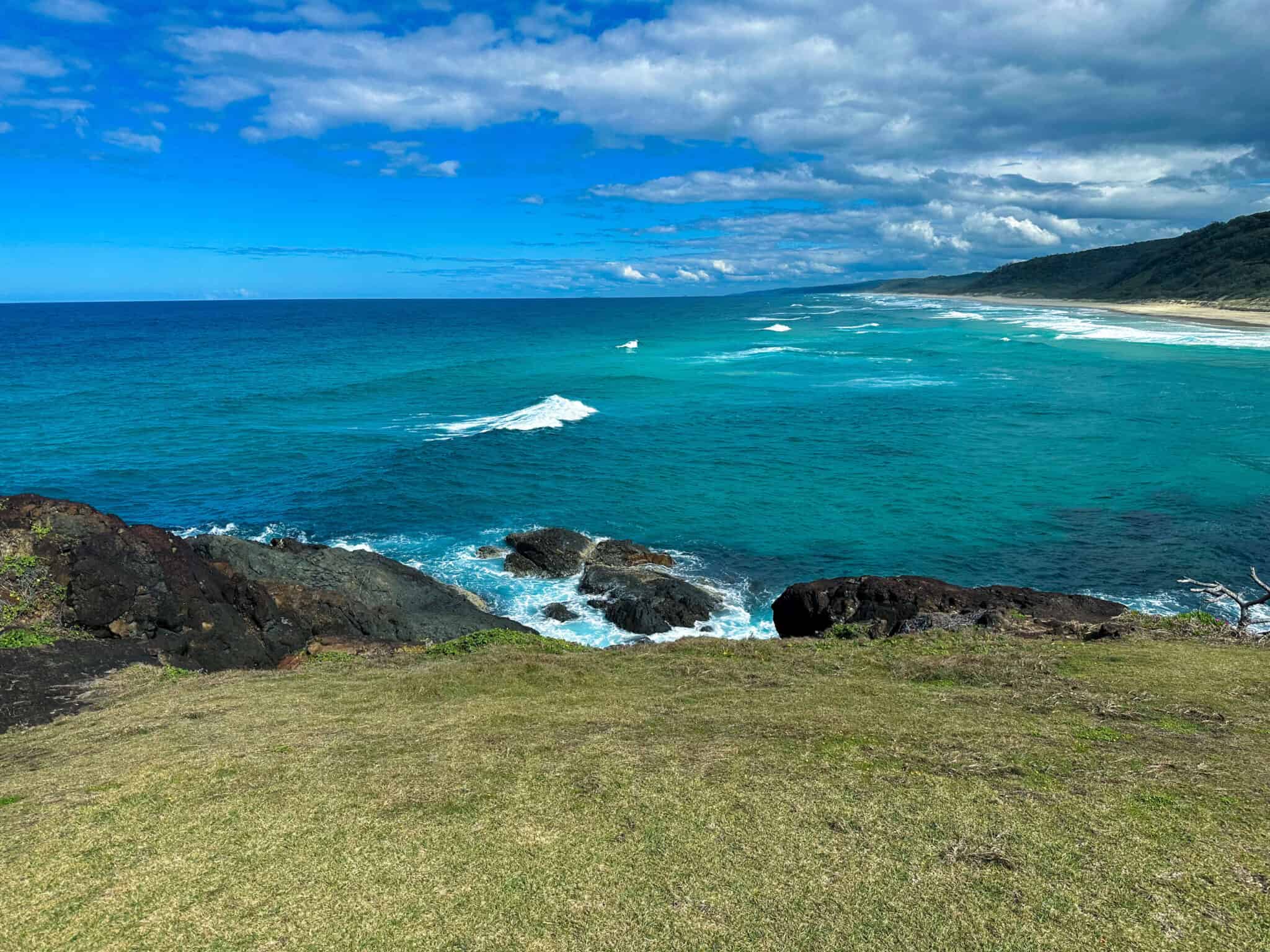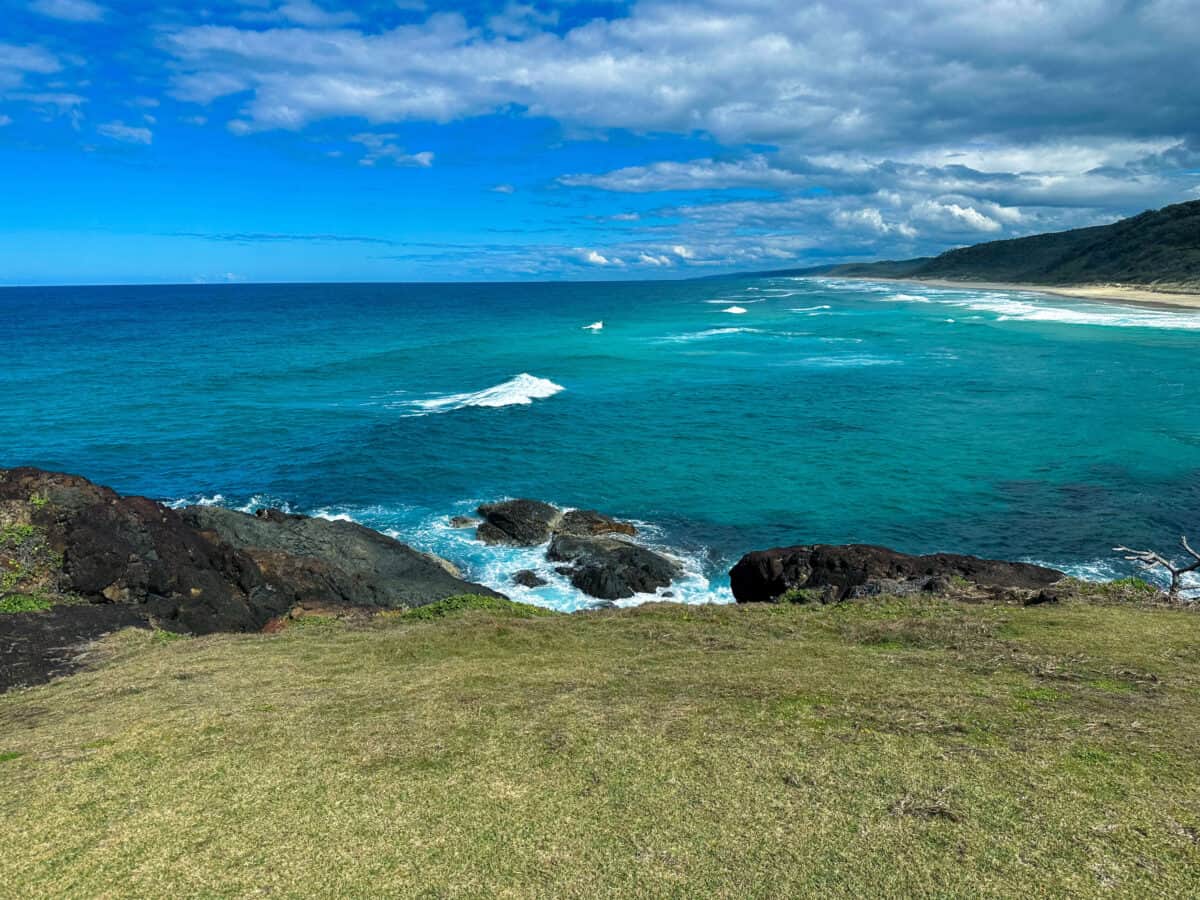 We arrived at the lighthouse during whale season and were lucky enough to not only see the whales jumping in the ocean but also to hear the slap of the water – it was an incredible experience!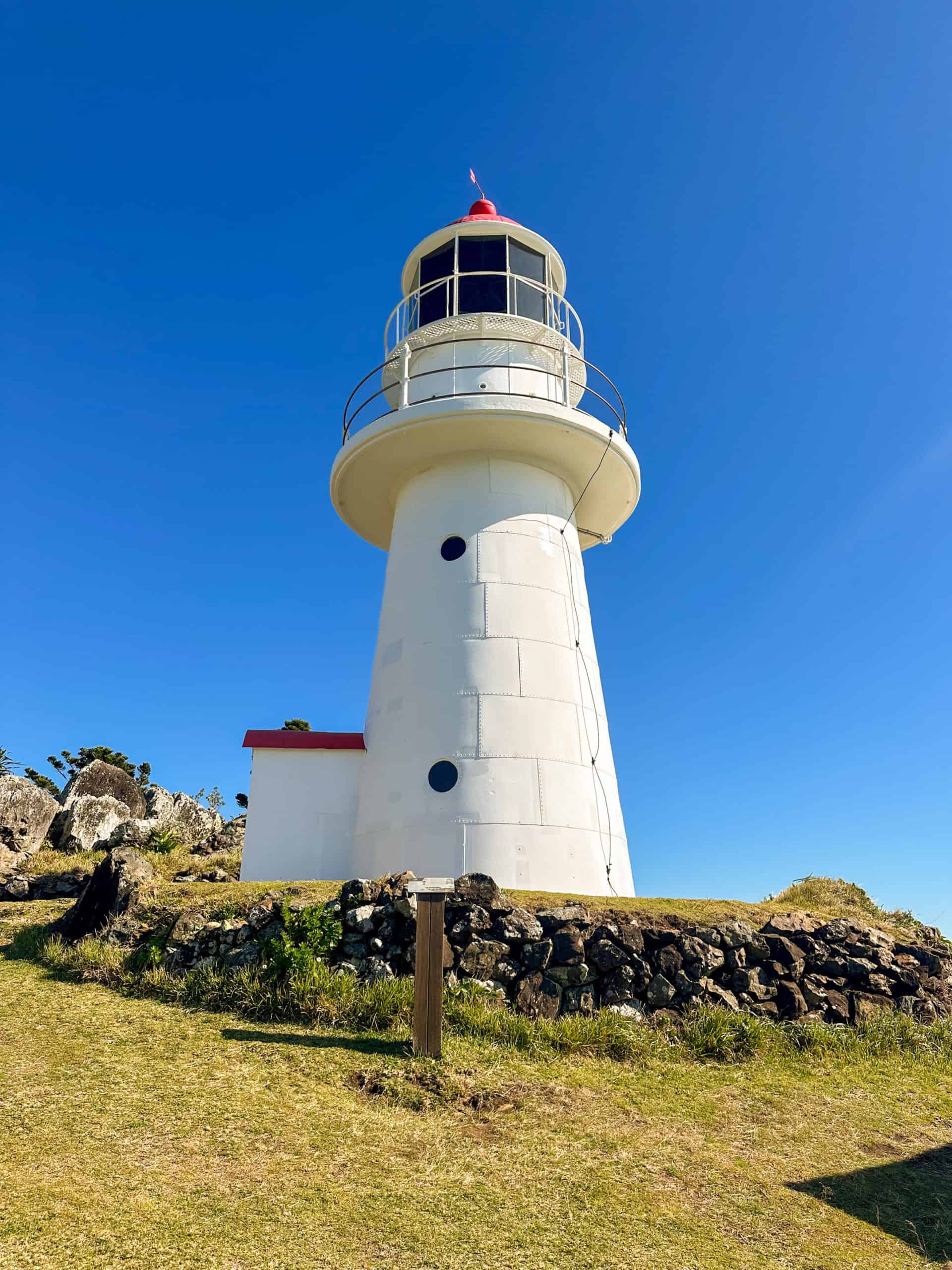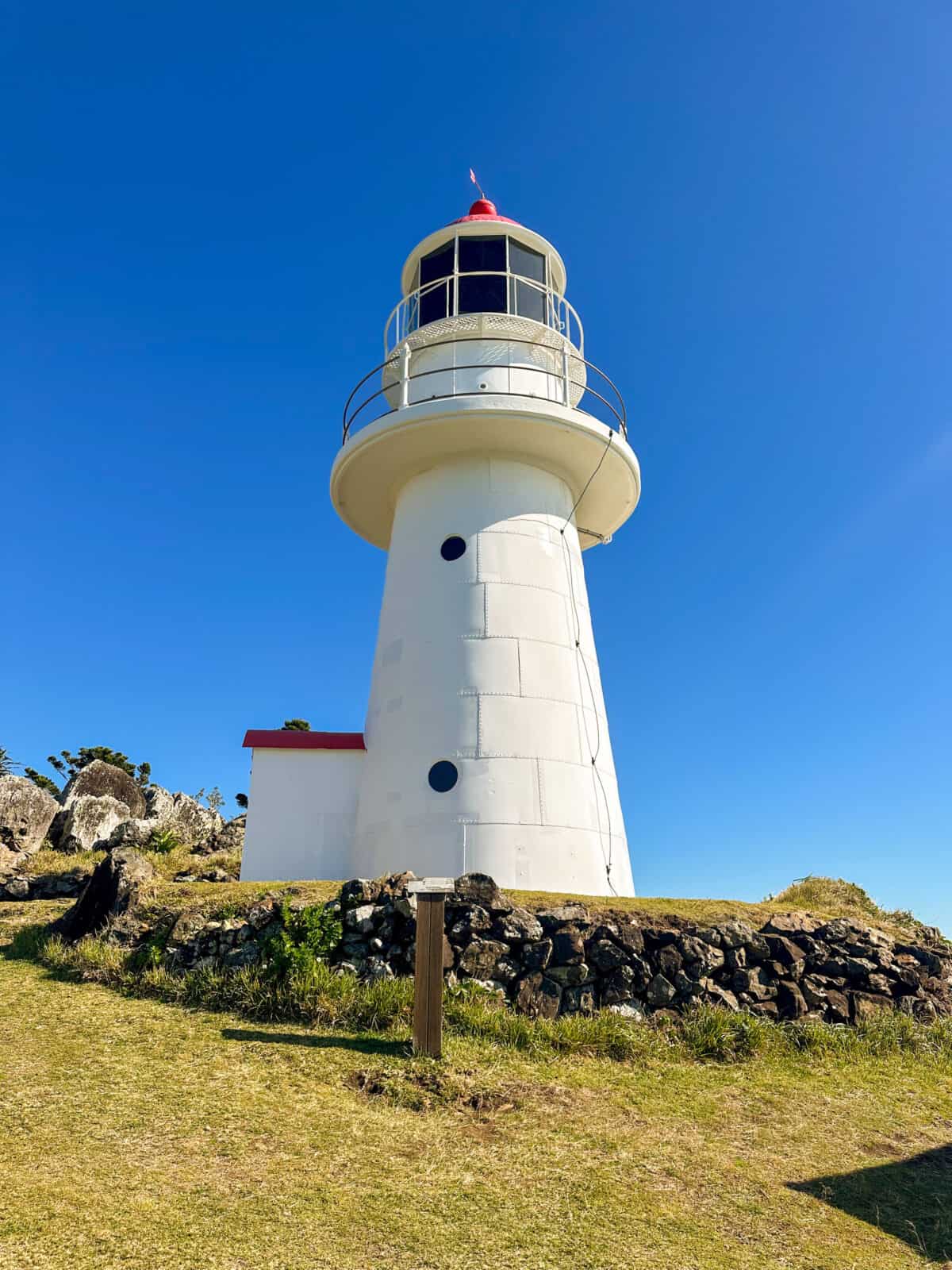 Cut Across The Leisha Track
The Leisha Track is a short inland track and well worth the visit. We called this "the calm side" – absolutely perfect for children and adults who like to avoid the hard crashing waves.
Not only are the waves calm, but you can also spot the coloured sand dunes along the coastline to Rainbow Beach.
It pays to check the National Park site but during low tide, you can usually make it to Rainbow Beach via the coastline. When we last visited trees had fallen, making it almost impossible to cross this section.
Take A Drive Through The Inland Freshwater Track
Take in the sub-tropical scenery of the Freshwater track, which can take you all the way to the township of Rainbow.
Along the way, you will find the day-use area with picnic tables, BBQs and facilities (cold showers, toilets, a dump point and taps with untreated water) and the Freshwater camping area.
TIP: This is a long track and we personally would not recommend towing whilst on the track due to being mostly one-way. It definitely makes it harder to give way to a fellow adventurer while towing.
Our Experience At Teewah Beach
While planning for our lap of Australia, Teewah Beach was always our first stop. We decided to spend a 2 week "holiday" here before heading off on our journey in north Queensland.
We loved our time here but would like to offer some tips for future campers:
Zone 1-2 are known for "those" campers who do doughnuts on the sand and don't stop for passing traffic – If you want to enjoy your time, try to avoid these zones
Take extra rubbish bags with you – we found a lot of litter during our fortnight stay both on the beach and behind the dunes in campsites. Our goal is always to leave a campsite better than our arrival to avoid closure – help us achieve our goal!
Plan a camping trip to Teewah during whale season, you will not be disappointed!
Inskip Peninsula Camping
The Inskip Peninsula is a narrow sandy area well known as a popular camping and fishing area.
The Inskip campsites are also run by the National Parks with named zones: Dorrigo South, MV Beagle, MV Natone, MV Sarawak, Pelican Bay, Sarawak West and SS Dorrigo.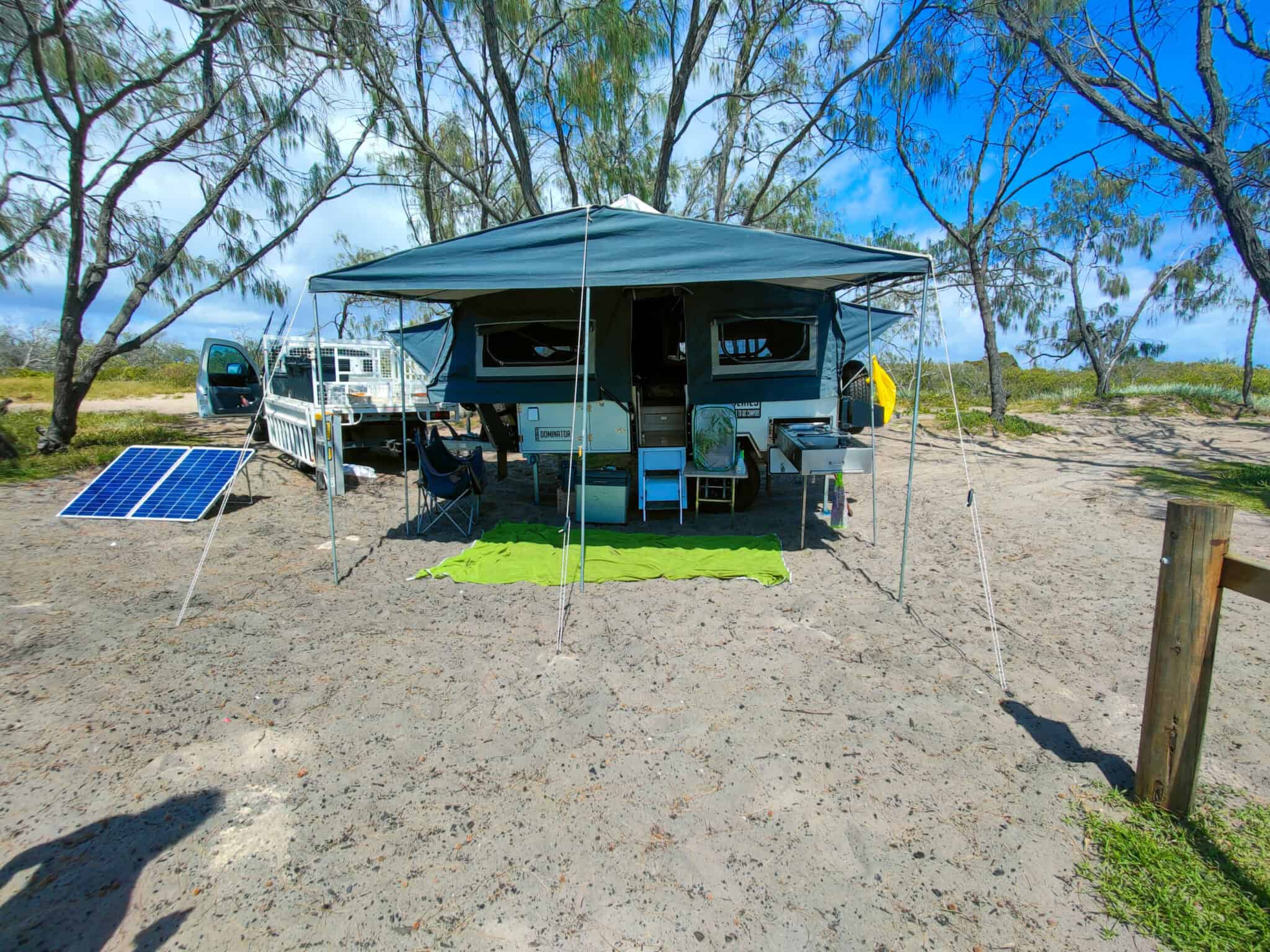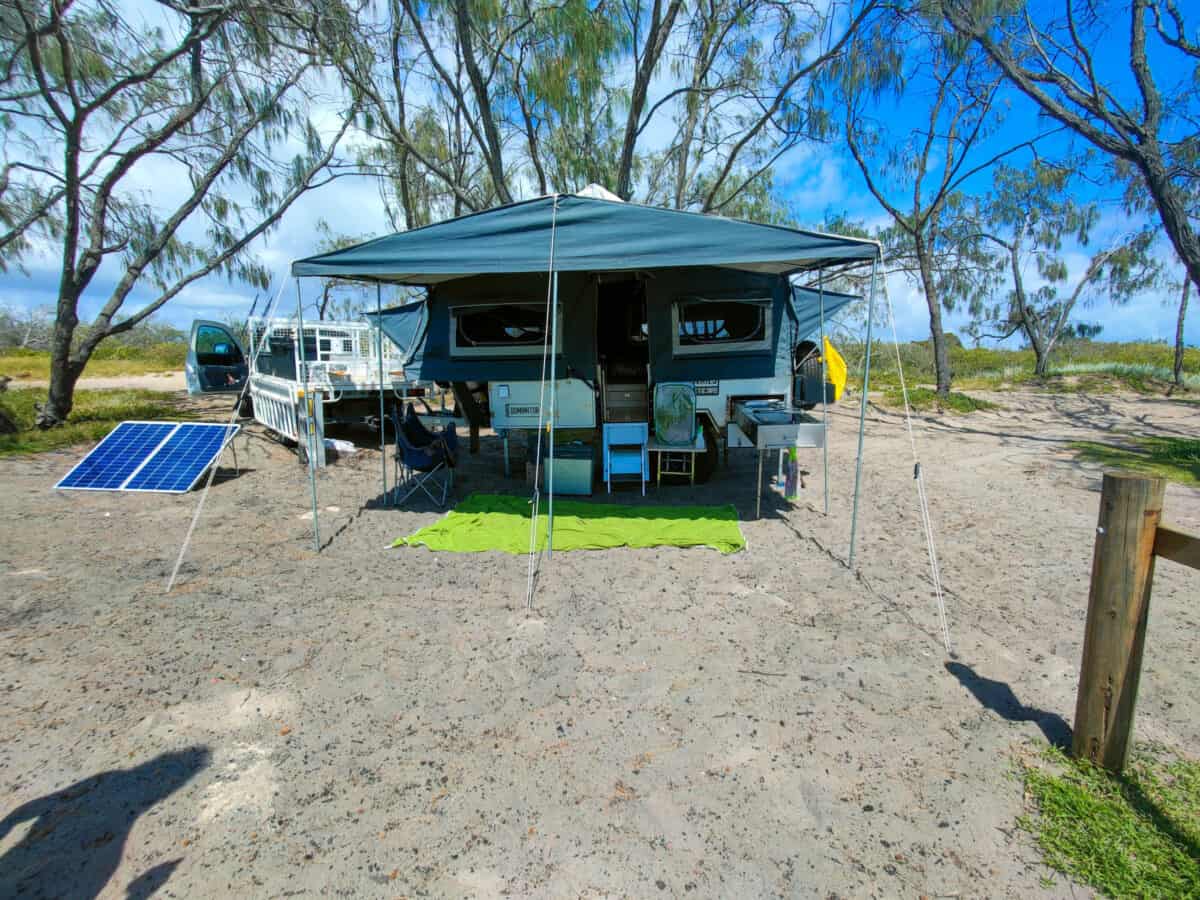 Inskip is the perfect place for beach camping in Queensland, without putting your vehicle through the stress of 4WD beach driving.
Unlike Teewah Beach, you are not required to drive along the beach to access the campsites behind the dunes. All sites are accessible via the bitumen road.
An added bonus – some sites are only recommended for 4WDs to access – ensure to do your research however as some of the sites have loose sand. 
Not only do the quiet beaches give you a great view of K'Gari/Fraser Island – but you will also spot a lot of sea life in the ocean.
During our stays in many of the camp zones, we have spotted sea turtles, dolphins, sharks, fish and crabs.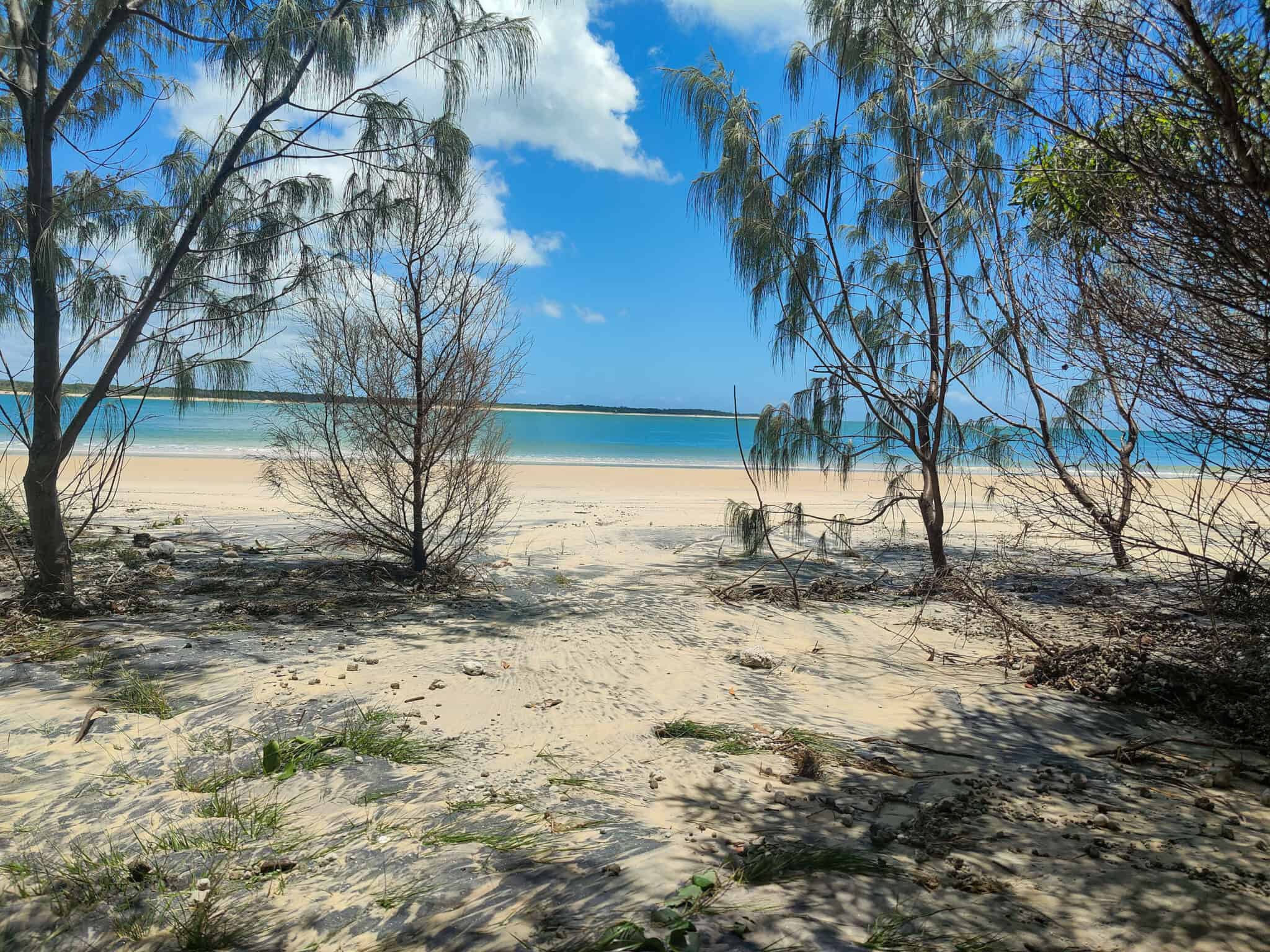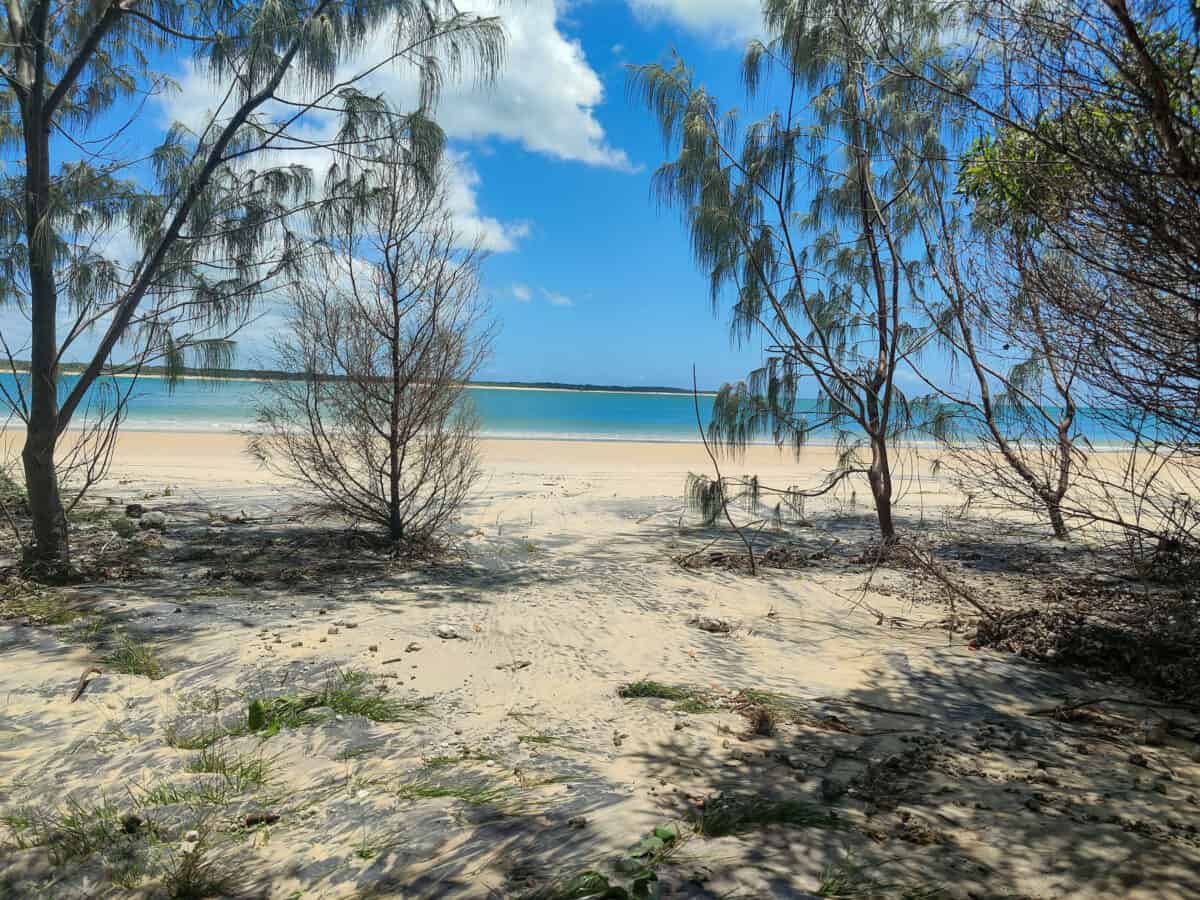 Things To Do Near Inskip
If you'd like to break up your time on the beach, here are more things to do in near Inskip and in the local area:
Take A Day Trip To K'Gari/Fraser Island
Inskip features one of the ferry points to reach Fraser Island. A short 10-minute ferry ride will get you to the island to discover the natural wonders of Lake Mackenzie, Eli Creek, the Champagne Pools and much more.
You can read our full guide of things to do at K'gari to plan your visit.
Alternatively, here are some of the best Fraser Island day tours:
Take A Boat Out Or Fish Off The Jetty
If fishing on the beach isn't your ideal way to fish, head on over to Bullock Point boat ramp to cast a line.
Alternatively, if you have the boat on hand, the boat ramp will take you amongst the islands for a beautiful day on the water. 
We were once lucky enough to cruise past the largest sea turtle ever while boating out this way.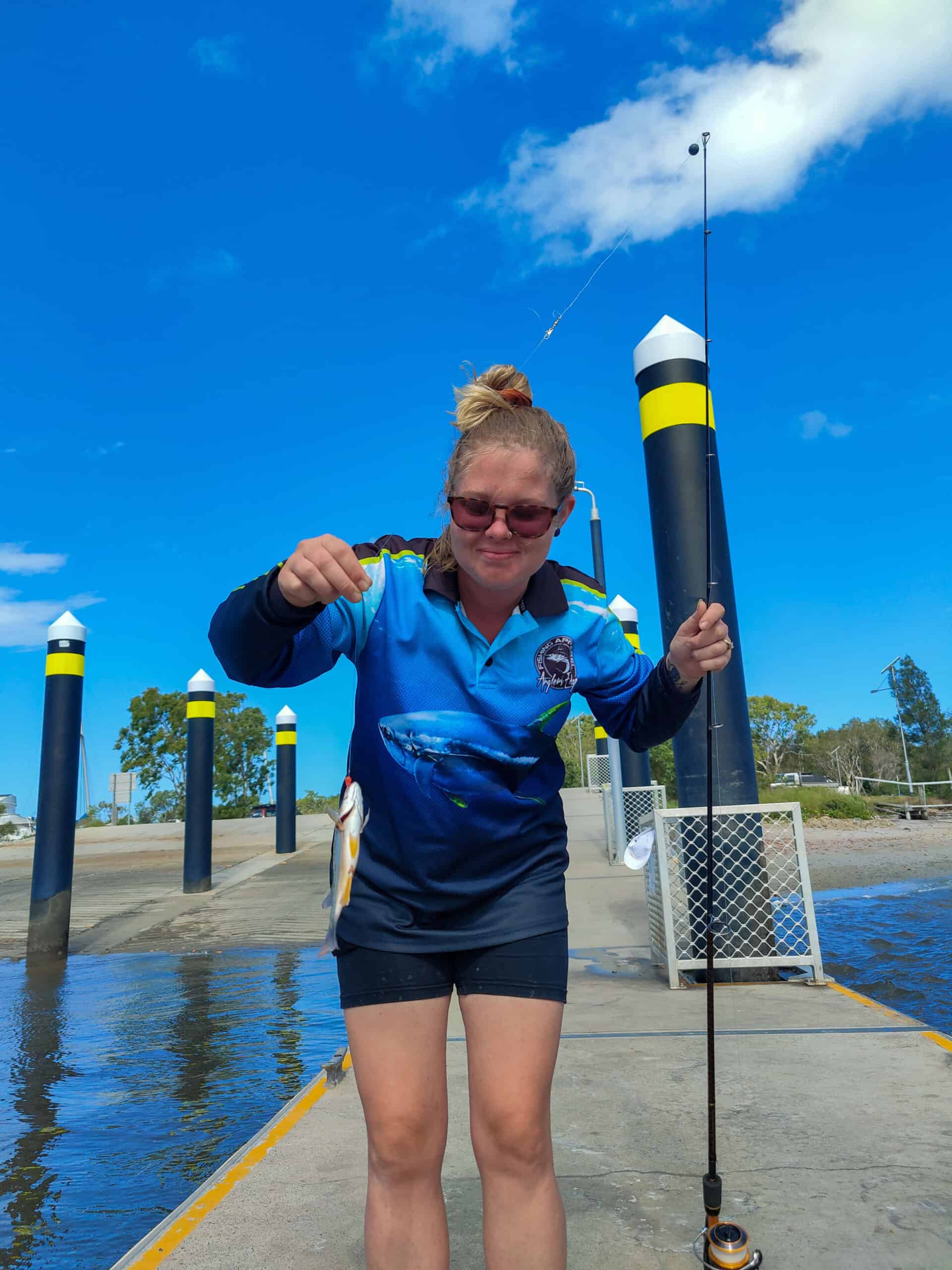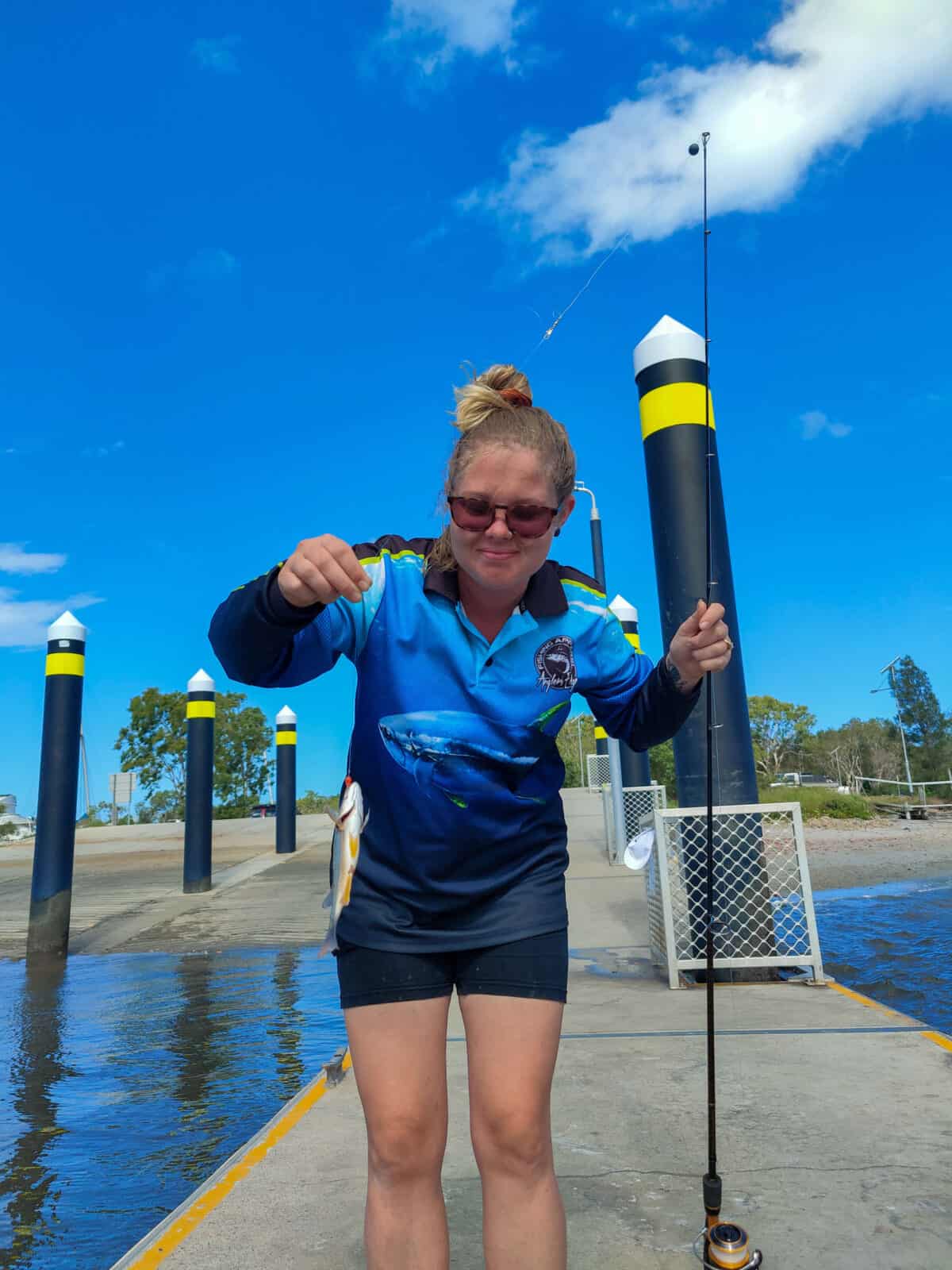 Conclusion: Rainbow Beach Activities
Over the years while preparing for our lap, we spent many long weekends in the surroundings and camping near Rainbow Beach, Teewah Beach and the Inskip Peninsula.
We both love the natural wonders the area has to offer and would recommend a visit to anyone, especially with a 4WD. As an added bonus, If you don't own a 4WD, you can hire one from Rainbow Beach!
We're currently 5 weeks into our lap around Australia and Teewah Beach camping is still tying as our favourite backyard so far!
Happy adventuring!
Explore more of Queensland: