Mitsubishi Delica Camper – What We Loved & What We Didn't
The Mitsubishi Delica Camper was our very first home away from home with wheels.
We began with a small 2-person tent – a swag and finally came the Delica. Originally, we were dreaming about modifying the Delica to become our vessel to transport us all around this beautiful country we call home…
We wanted to share our experiences with our Delica – affectionately named "The Bread Loaf", because we made a lot of wonderful memories during our Delica days!
Unfortunately, after a few camping trips, we found the cons outweighed the pros for our needs for travelling Australia..
But first, what even is a Delica?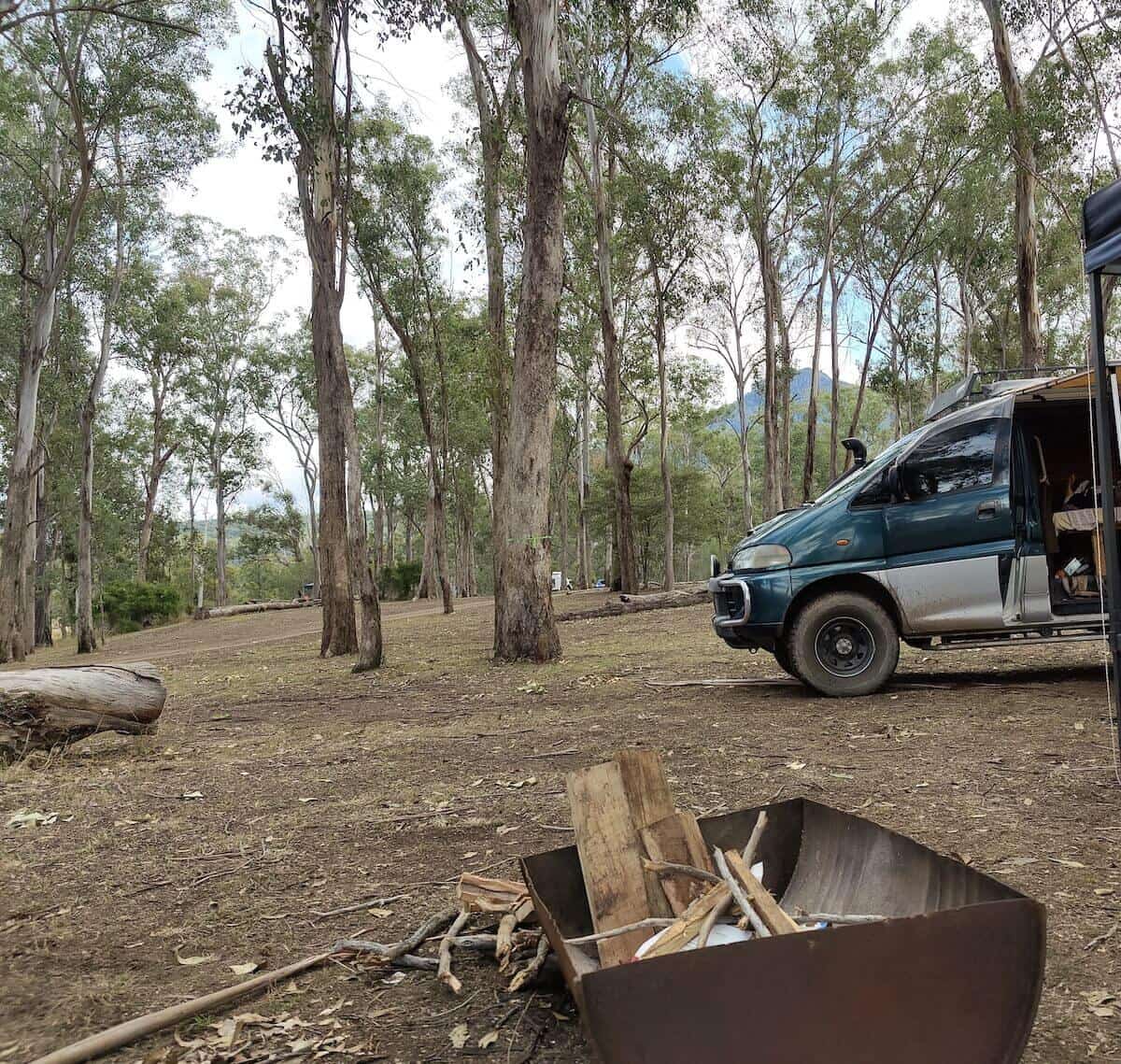 What Is A Mitsubishi Delica?
The Mitsubishi Delica is a popular Japanese imported van that was originally designed as a commercial vehicle. The name "Delica" comes from the English word "delivery", which is what these vehicles were primarily used for.
The original Delica was introduced in 1968 and was available in both two-wheel and four-wheel drive versions. Mitsubishi continued to produce the Delica under different models and generations over the decades, with the most recent models only available in Japan.
Their structure makes them a great option for converting into campervans! And after our first big road trip through Western Queensland, we thought this might be a great option!
Mitsubishi Delica Camper – The Good & The Bad
There's no doubt that the Mitsubishi Delica is a great converted camper. They're tough, spacious and have awesome 4×4 capabilities, making them perfect for exploring all those off-road tracks and unsealed roads.
Being an older converted camper makes them affordable too. But with age comes limitations also.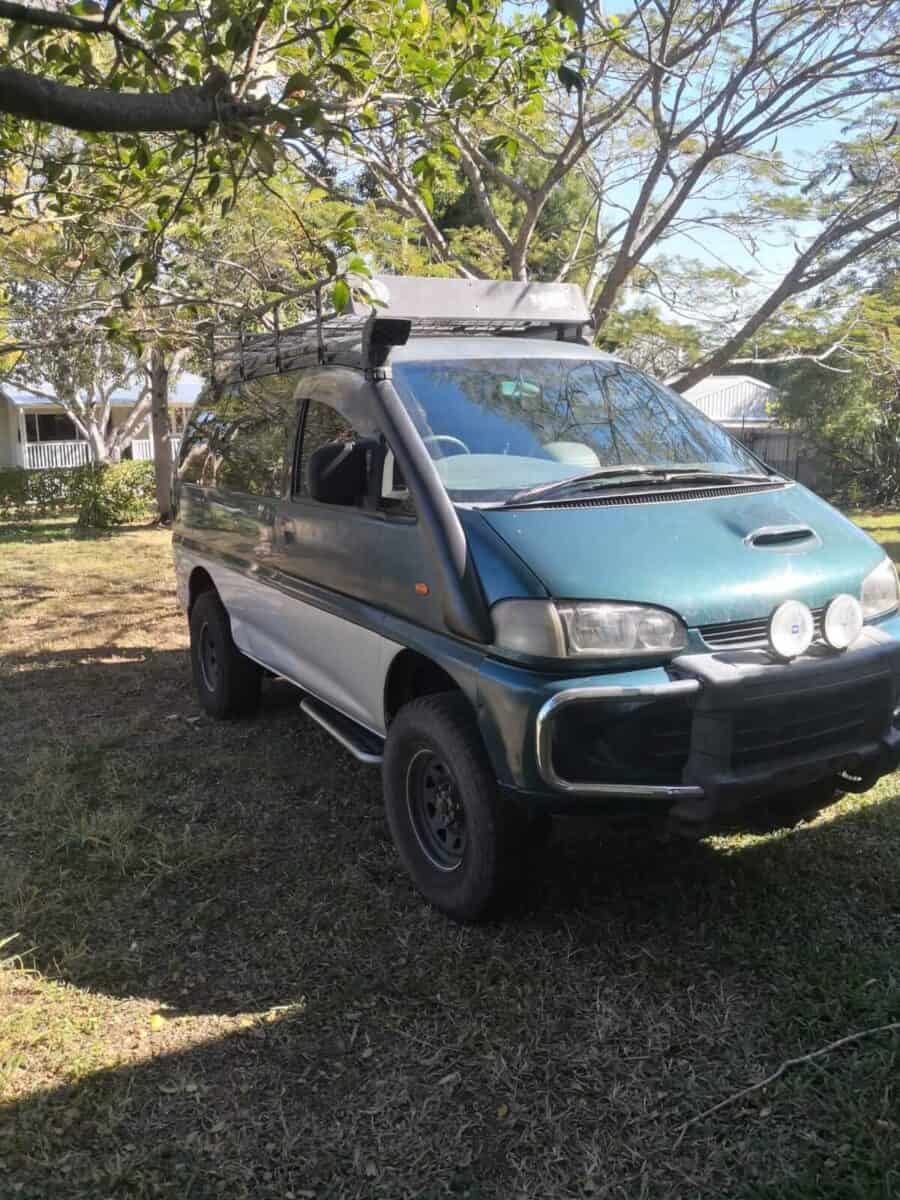 PROS
Less weight
4WD capabilities
One registration and insurance
Head turner sexy vehicle (says nick)
Amazing visuals with the high seats
Everything
Affordable!
CONS
Low storage
Inability to stand inside
Older vehicles that required a lot of maintenance
High centre of gravity when lifted on 33's which means a wild body roll
Parts are hard to come by
If we planned on camping only on weekends, like how we started – the Bread Loaf (Delica) would have been the perfect fit for us..but we had bigger plans in mind!
Check out these one-pot camping meals and easy desserts for camping.
Australian Campsites We Stayed In With The Delica
Although our Bread Loaf didn't make the cut for taking us around Australia, that's not to say you won't find this vehicle to be the best fit possible!
From our experience with the Delica, we would recommend this purchase for anyone keen on easy weekend getaways. With a bed all ready to go, you can really cover some large distances without the hassle of setting up a swag or camper.
However, as our lap of Australia could be 5 years, or even 10 years.. we wanted to make sure our home was as comfortable as possible while storing all the necessary adventure gear!
Let's finish off with a list of the Queensland and New South Wales camping adventures our Bread Loaf took us on: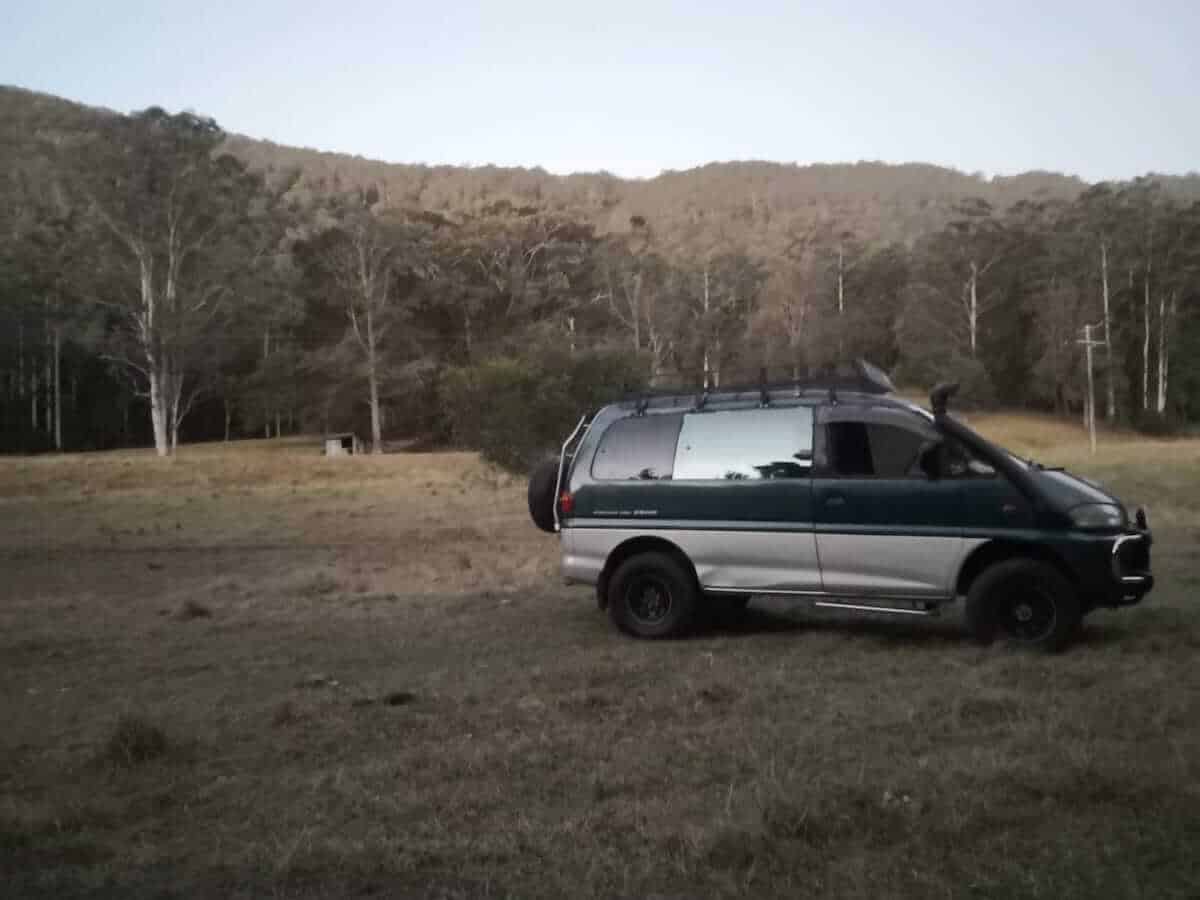 1. Numinbah Valley Adventure Trails at Numinbah Valley, QLD
A beautiful rainforest scenery approximately 20 minutes from Springbrook National Park. Springbrook National Park is home to glow worms, a stunning waterfall and glorious low-impact walks.
Numinbah is home to the Australian gemstone – chalcedony and you can find it all through the creeks on the campsite.
The campsite is a large open and lush campground with creeks running through the outskirts of the property. Port-a-loos are available, and showers are located at reception. Added bonus – fires allowed.
Cost To Camp: $15 per person per night
2. Red Cliff Grey Cliff National Park at Yuraygir, NSW
What can I say – my soul belongs at the beach and I left a part of myself in this very spot.
The beach is littered with an assortment of rocks and the gentle noise of the movement of the rocks with the waves could put a baby to sleep. I absolutely loved our time here, there is also a large number of rock pools and a stunning lookout above.
We absolutely recommend a stop over for at least two nights to really take in the environment, plus how often do you see kangaroos on the beach?
Side note – the rangers will tell you the fishing is lousy here but trust me at night it is insane. Four people caught 10 bream and a grey nurse shark (me!) in less than 4 hours.
Cost To Camp: $24.60 per night per campsite
3. Bestbrook Mountain Farmstay at Tregony, QLD
This was a special place for us. We spent every second weekend here at the very beginning of our relationship and even have a typical love lock on one of their fences.
This is a spot filled with activities, especially for children, including horse riding, whips and boomerangs, animal feeding, butter making, 4×4 tracks, trail walks and so much more. All of these activities are completely free except for horse riding.
There is a creek flowing through the humungous campsite, a gnome cave about 2km (ish) walk round trip (yep, we have added 3 to the collection during our trips with friends and family), a spectacular lookout and super friendly horses.
This is absolutely a family-friendly spot with plenty of room to spread out. You can also head up to reception for a meal and some drinks. Added bonus – you can have fires!
Cost To Camp: $100 per campsite of 6 people with a minimum of 2 nights booking
4. Flanagan Reserve Bush Camping at Barney View, QLD
This is an open campsite with a lot of skinny trees and a large swimming area. It has fantastic amenities and a real Aussie bush feel with a spectacular flat area to watch the sun.
We were lucky when we stayed here and had the opportunity to feed a very friendly possum. He sat on our laps and munched away on plain wraps (it's all we had) before clambering back up a tree.
Large open fire pits are available in the different camp areas. This little gem is located approximately 20 minutes from Mount Barney. If you have enough time I would absolutely recommend the Lower Portals walk.
The swimming area is like ice, but the view is magic. Don't forget to take appropriate footwear and lots of water and food, it can be a pretty intense walk. Do not go barefoot, you will regret it.
Cost To Camp: $12 per night adult, $6 per night for a child, $40 per night family (2 adults and up to 4 children)
5. Teewah Beach Camping, Zone 4 at Cooloola National Park, QLD
This was our first real "on the beach" camping experience and it's safe to say it blew my mind. Beach camping immediately became my favourite. There's nothing quite like waking up to the sound of the ocean and having coffee on the beach.
There is also a lot to do in the area including climbing the massive sand dunes, land fishing and exploring the surrounds of Rainbow Beach. If you like waking up with no reception and the sound of the waves, this is the place for you.
We wouldn't recommend camping at Rainbow Beach during popular times of the year (eg school holidays, New Year's, etc) as Teewah is a very popular spot. Unfortunately, you cannot access this beauty without a 4WD or a vehicle permit.
If you see people sitting on the dunes watching you as you drive past, chances are there is a freshwater rut across the beach, and they are just waiting for you to bounce through as the afternoon's entertainment. Please always check tide times when driving on the beach.
Cost To Camp: $7 per person per night
Vehicle Permit: Daily – $13.95 | Weekly – $35.50 | Monthly – $55.90 | Annual – $281.40
150 Funny Caravan & Camper Trailer Names
6. Glendon Camping Grounds at Thane, QLD
If gold detecting, 4WD tracks or motorbike riding appeals to you – this is your place. This incredibly huge 1600-acre property is cared for by an extremely lovely couple and their children who continue to add more value to their home and campground.
Glendon is home to an incredible large dam, called the "God Daamm" by the owners, absolutely perfect for floaties, kayaks and every other water activity you can think of (except boats).
The facilities are extremely clean offering toilets and showers and even laundry service. You can also choose to stay in a cabin if that is better suited for your needs. The reception also has some of those commonly left behind items to purchase and firewood. Of course, you can have a fire here, there is also a large community fire pit on the grounds.
Cost To Camp: Unpowered: $21 per night for 2 adults + $10 per additional adult + $5 per additional child Powered: $35 per night for 2 adults + $15 per additional adult + $7 per additional child
7. The Gorge at Aratula, QLD
I used to stay here as a child, it has been amazing re-exploring this hidden gem of a site in my adult years. The sites are not on top of each other and the land itself has been kept natural and rugged, but I love that about The Gorge.
The facilities are basic with flushing toilets and an old-school showering system that requires heating of the water prior to showering.
The Gorge is also home to a lovely creek that extends through the property. The owners have made it extremely convenient and installed pool steps to enter the water. And Val is probably in the top ten nicest people in Australia! Fires are a must while camping at the Gorge.
Cost To Camp: $5 per person per night – cash only
8. Yarramalong at Charlewood, QLD
Believe it or not The Gorge and Yarramalong share the same creek. Yarramalong is a much larger site, but that also means more noise and people…which for us is the reason to escape into the bush! Regardless we still enjoyed our time at Yarramalong.
If you stay here, don't forget to look at the stars at night! Fires are also allowed on this campsite. Facilities on-site include a large number of toilets.
Cost To Camp: $15 per adult + $10 per child (11-15) + $8 per child (6-10) + free for children under 5. A family of 4 – $40 per night + $5 per additional child – cash only
The Deli-Lama served her purpose with us, taking us on many different adventures. We loved her for the short time we had her and would absolutely recommend a converted Mitsubishi Delica Camper for a weekend adventure machine, she's just not quite suitable for our long-term needs.
To the next adventure….
Read about our next attempt at finding our home on the road – Tallulah the slide on camper!