The Trials of Wanda The Ford Ranger & Tallulah The Slide On Camper
This leads us to round two of finding our home on the road!
The Delica camper wasn't for us, but now it was time to embark on our next trial run for our home on wheels. After setting our budget, we began searching for a slide on camper to move us around Australia.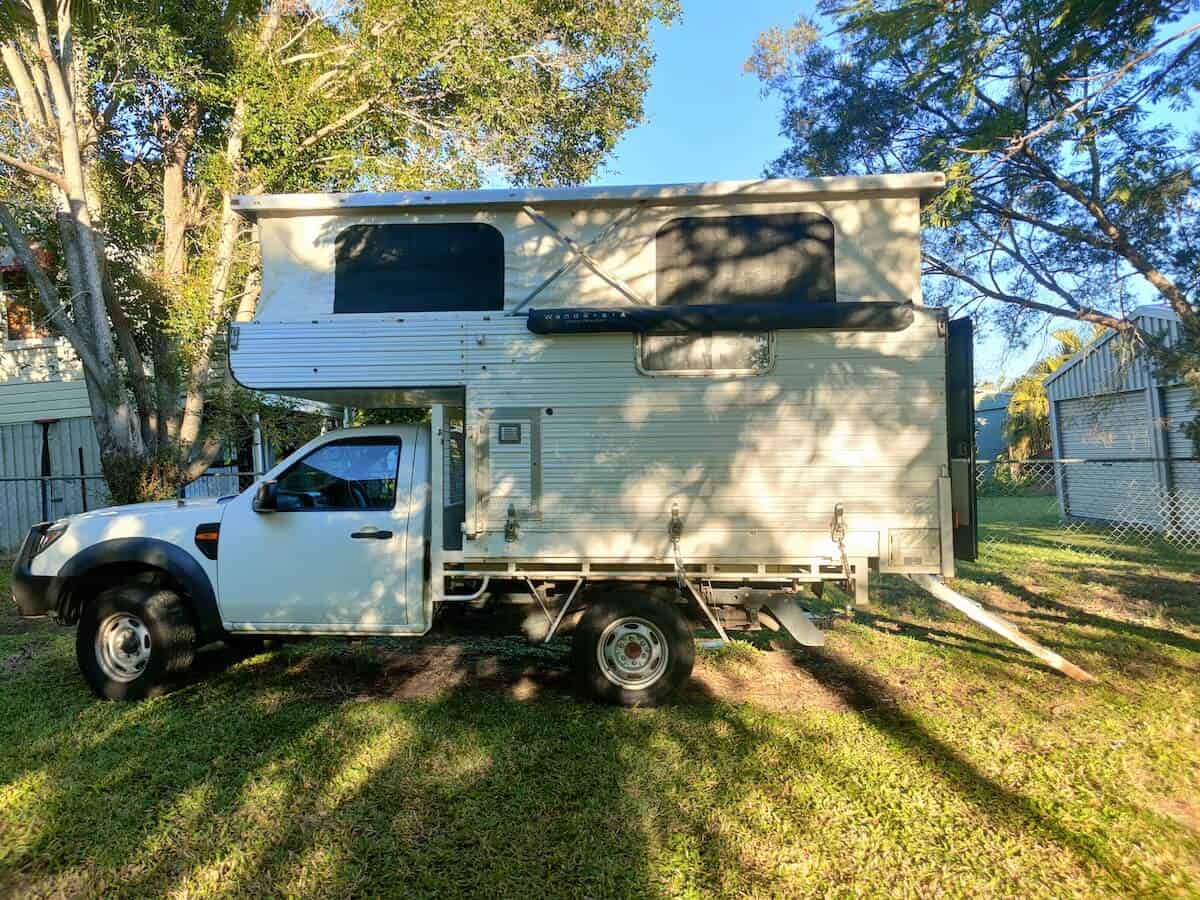 Our Slide On Camper Story
We decided to upgrade to "Wanda" the Ford Ranger to still be 4WD capable since beach camping is a must for us.
We fell in love with the second slide-on camper we viewed. This came with a complete solar system, running water and a real bed.
We truly believed we'd won, and our future was finally playing out.
We named our new home "Tallulah" and spent weekend after weekend giving Tallulah a makeover. We painted the interior, upgraded all the cupboard locks, installed a black marble kitchen bench and made her more 'homely'.
We don't regret this adventure for a second, it was such a fun experience renovating Tallulah the slide on!
What Is A Slide On Camper?
A slide on camper is essentially a secondary vehicle that can attach securely to the back of a ute or pickup truck. Normally it sits on top of the flat tray and has slide-out extensions for additional living space when needed.
Slide on campers typically contain a kitchen, sleeping areas, and general utilities for travelling. Slide ons can be a compact way of converting your existing vehicle into something much like a campervan, often with the benefits of still having good off-road capabilities too.
Renovating Our Slide On Ute Camper
Before we get into the details, here are some of our renovation process photos so you can see just how much work we put into turning this structure into the perfect mobile home.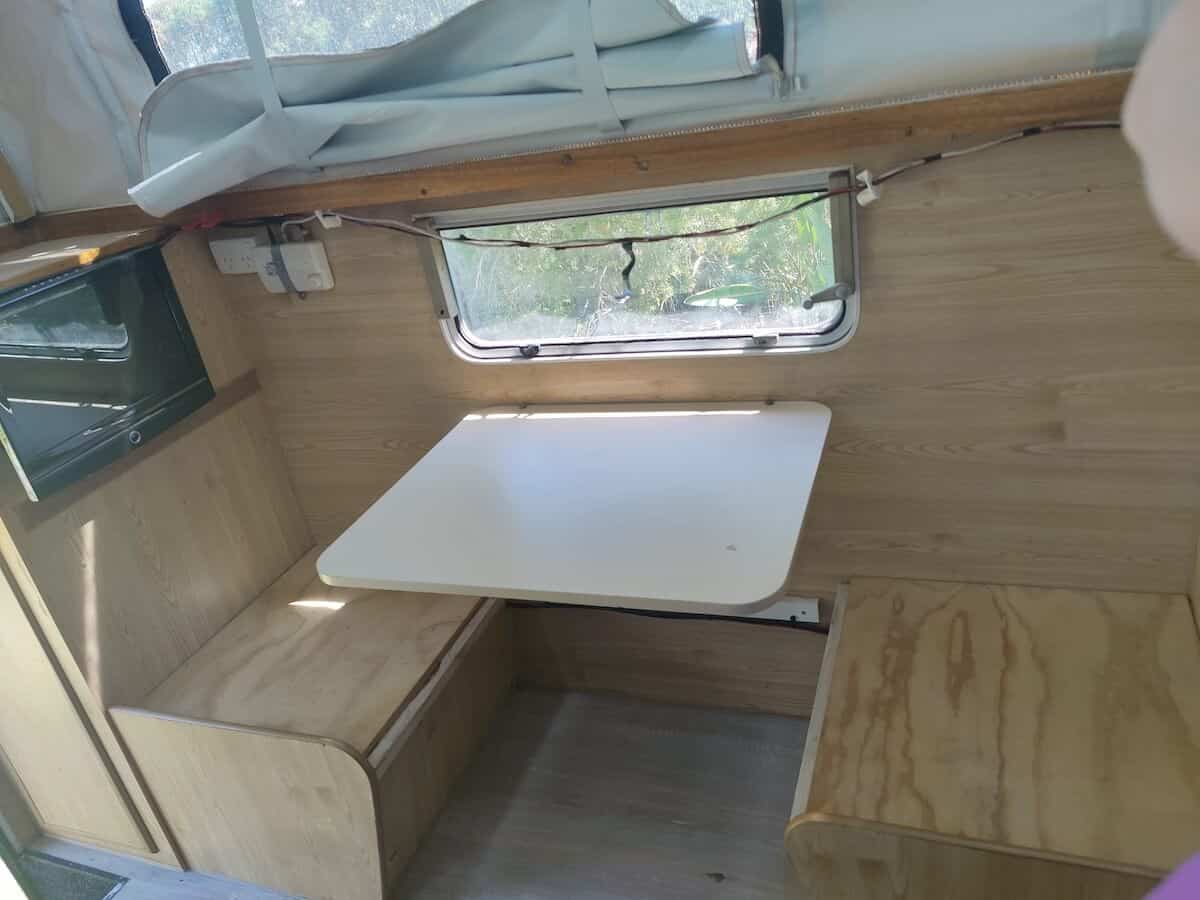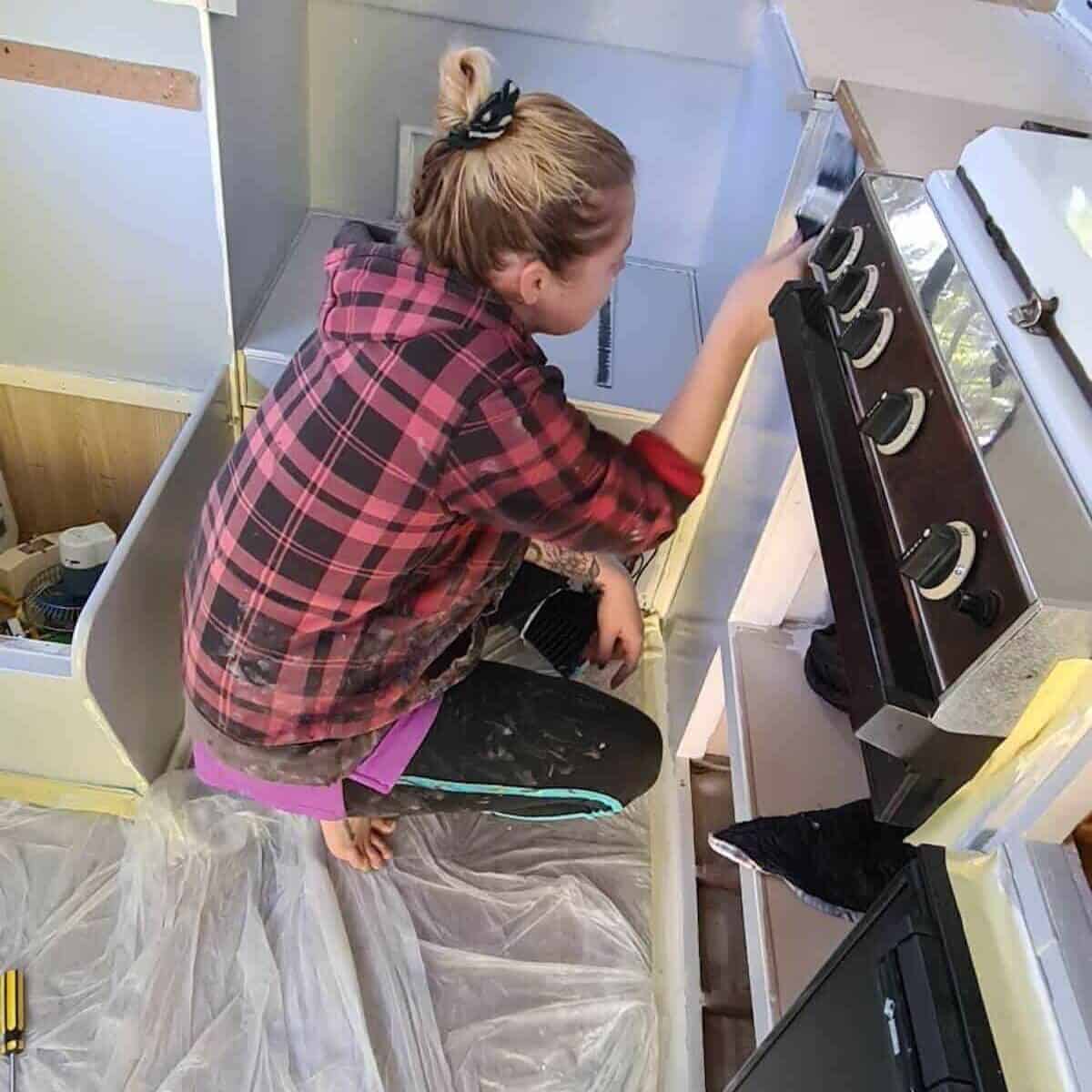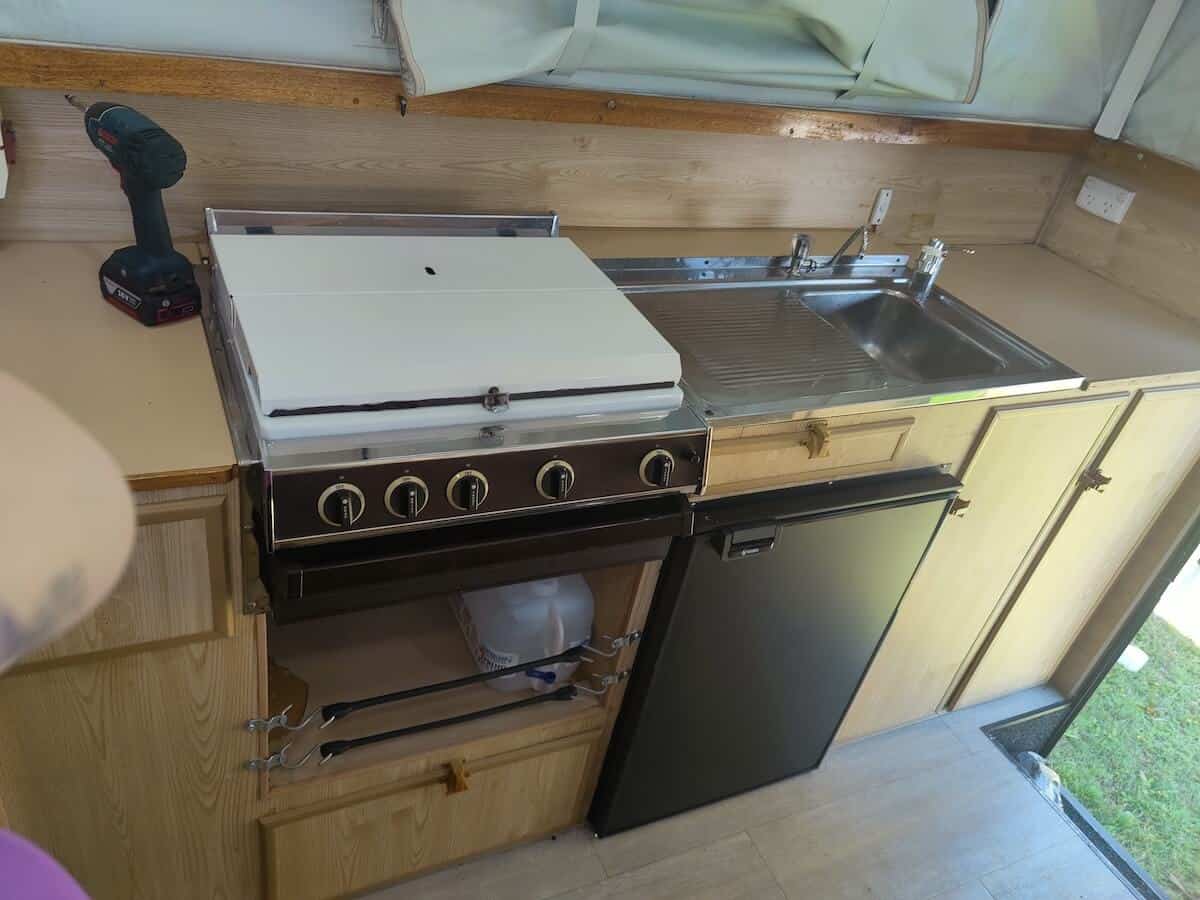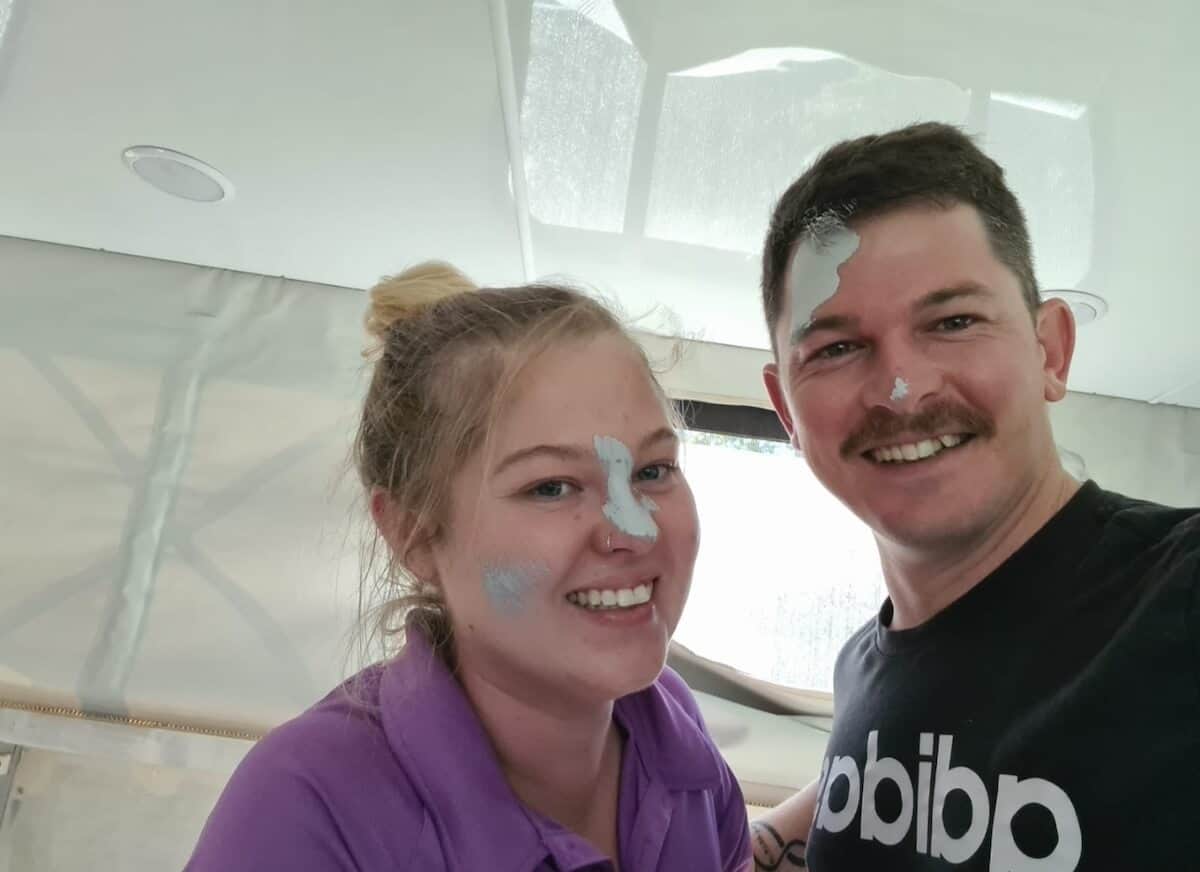 The Maiden Voyage
After we'd finished with the makeover, we took Tallulah on her first journey to Andrew Drynan Park.
Quick side note – From personal experience, we do not recommend staying at Andrew Drynan Park during school holidays or long weekends. This site is cash only and no booking is required. You wake up with hundreds (not exaggerating) of people around you, which really takes the fun out of camping.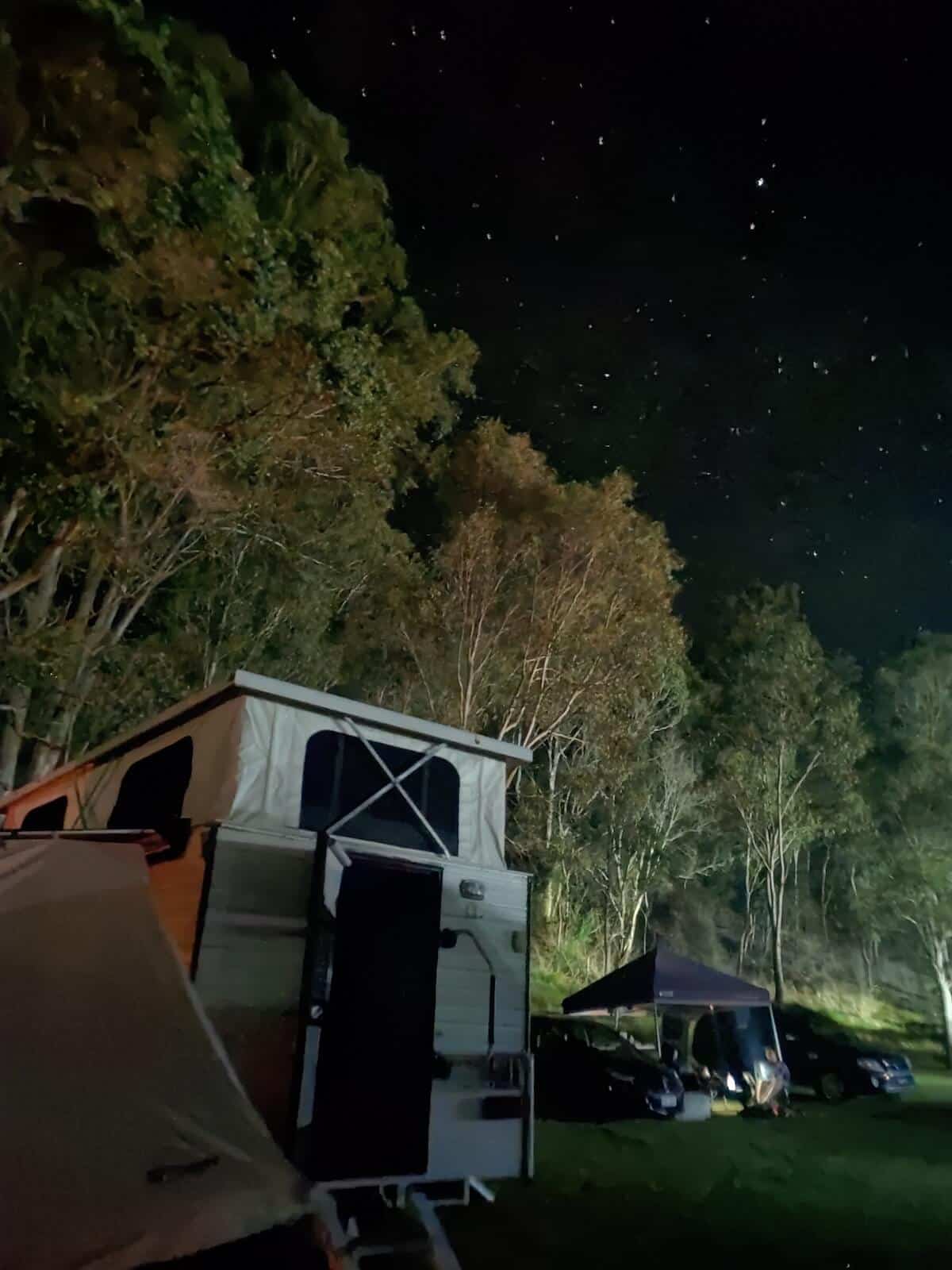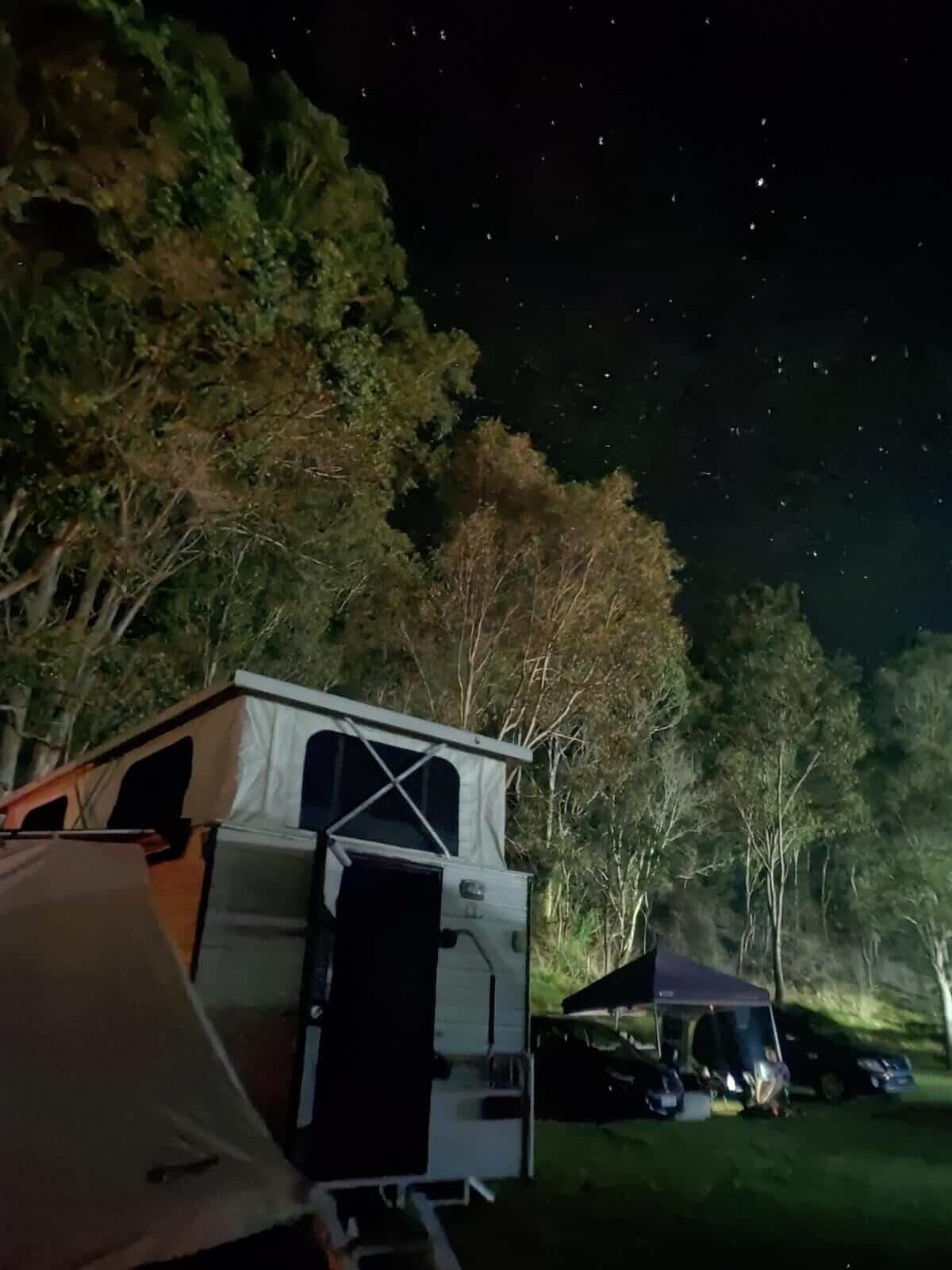 The site itself is well maintained with a beautiful swimming area across the road. Please learn from our mistake and head over during non-peak times.
Wanda the Ute handled her first drive with Tallulah the Slide On well, and the set-up was minimal. At this stage, we were so happy with our choice of home on wheels. Who doesn't love crawling into a real bed and a fridge keeping the food and adult soft drinks at prime temperature?
RELATED: Check out these one-pot camping meals and easy desserts for camping.
The Real Slide-On Ute Camper Trial – Moreton Island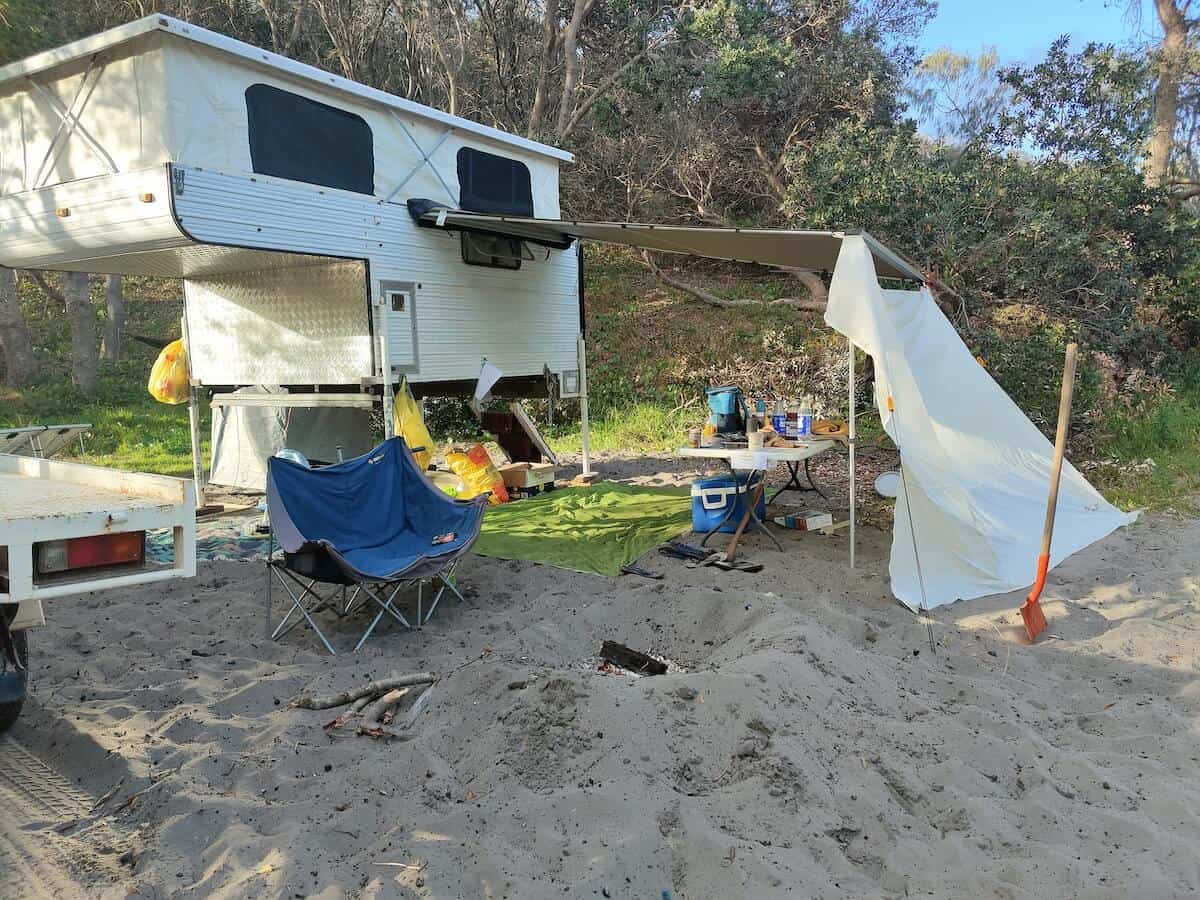 Our second and last journey with Tallulah was a deal breaker for us.
This was going to be our trial run for living on the road permanently.
We headed off for 8 days on Moreton Island and by golly, did she move like a boat over the sand. It was frightening, especially because these clever cats thought let's camp on the other side of the island where there will be fewer campers – major regret!
To give you a little insight, our Tallulah slide on camper was a heavier, older model with manual legs.
Unfortunately, after spending an incredible week on Moreton Island (read our camping on Moreton Island guide), it was time to pack up.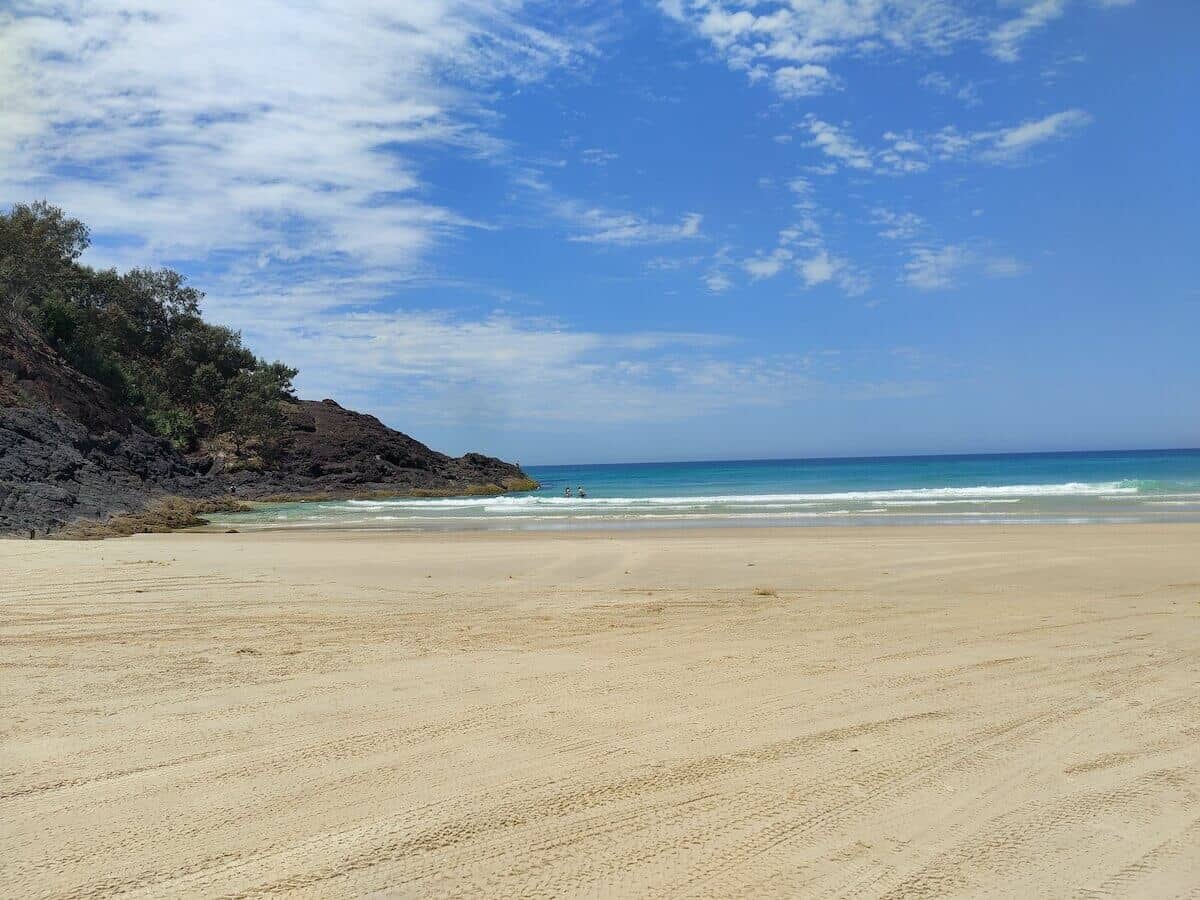 Besides the drive, we were still happy with our home on wheels… And then it happened! One of the leg mechanisms failed.
With the leg not engaging, we had to turn to plan B. We began digging out the sand under the slide on to ensure the ute had enough clearance. Besides fearing our life (if the slide on tipped at any moment, we could have died), then it began pouring rain.
A lot of time had passed by the time we were able to persist enough to have the camper back on the ute.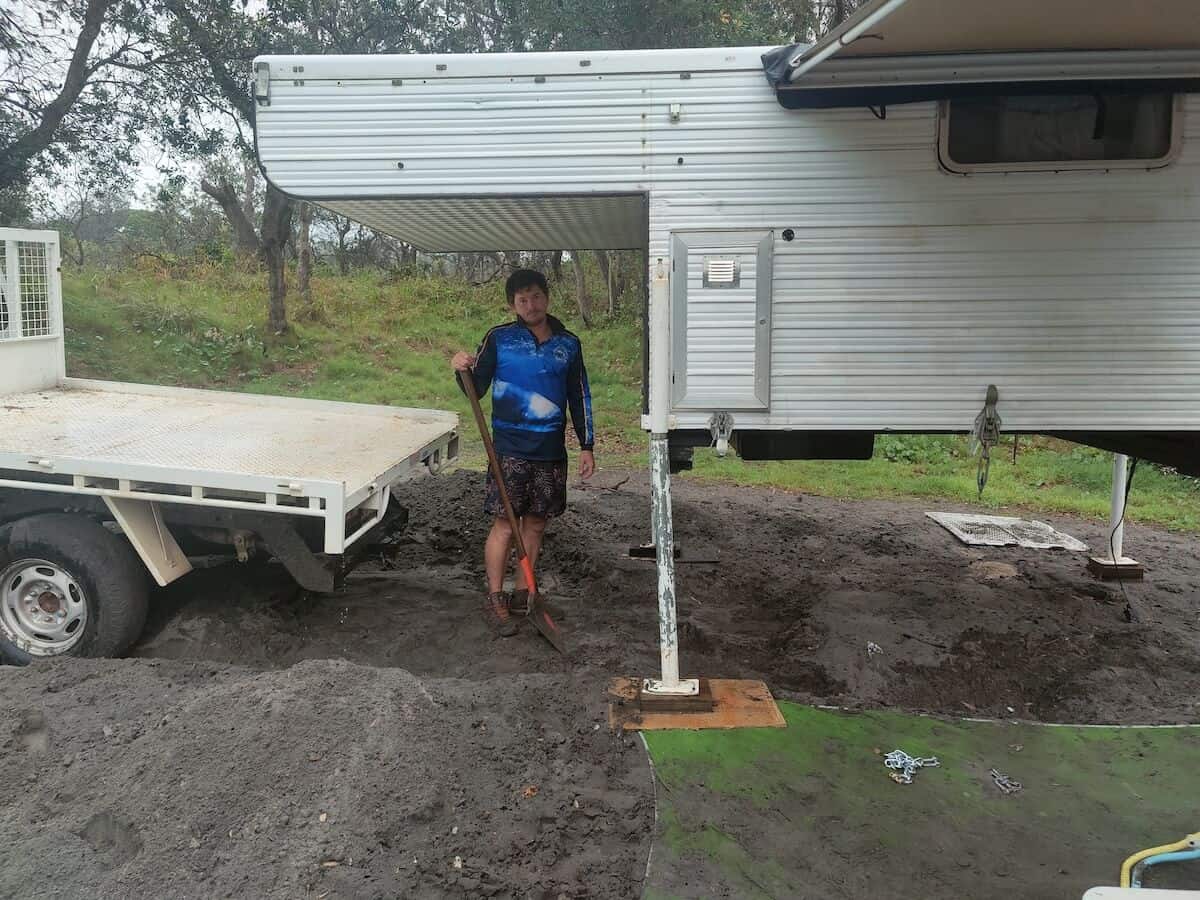 At this stage, we realised our dream in Tallulah was over.
We tried to persist when we arrived home and completed more research with our two problems:
Driving on the beach didn't feel secure
The manual legs could break at any time
Basically, our only options were to either upgrade our car to a 6-wheeler or buy a small truck and upgrade the legs. We looked at the pricing and how much this would set our dream back and began to replan our home on wheels.
I've added our pros and cons for using a slide-on camper. This is all based on our own needs, wants and experiences.
Someone else may have a much better experience than us or the right vehicle to make this a great option.
Keep in mind our slide-on camper was also older and weighed a lot more than the newer models.
PROS
Minimal setup
Comfortable bed
Standing fridge
Water tank
Solar panel and inverter with Bluetooth monitoring
4WD capable
Excellent storage
No additional registration
Only one vehicle maintenance (tyres, oil, etc)
Secure, lockable home
Drives great on bitumen
Ability to remove slide on when not in use
CONS
Manual legs that have the ability to fail
Upgrading to a six-wheeler or small truck to move the weight comfortably
A large amount of vehicle sway due to weight
Divorce-worthy arguments when aligning the slide-on to the vehicle
GVM upgrade required (we did this and still was not quite enough)
Not comfortable driving on the sand
Extra stress on the vehicle
Our Decision
Personally, for us, the cons outweighed the pros. We don't want to sacrifice not going off-road such as beach driving while on our lap of Australia, so it was time for a change. For an individual, couple or family planning to stick to the bitumen, this set-up would work perfectly fine.
This took us back to the drawing board and a few months later we began our next plan. After a lot more research we began looking for a 4WD and camper trailer.
As we no longer required a ute tray, we decided the best option would be additional storage in the vehicle. Fast forward a few months, and we became proud owners of "Petrie the Prado" and "Bucky the Camper Trailer".
Do you need some funny name ideas for your caravan or camper trailer? Check out this list of 150 camper name ideas that will have you laughing!